Eternal Sunshine of the Henin Mind
Justine Henin has wiped clean from her mind all the turmoil and petty discrepancies that many have sought to tie to her championship career over the years... or at least she's learned how to make it seem that way over the past eight months or so.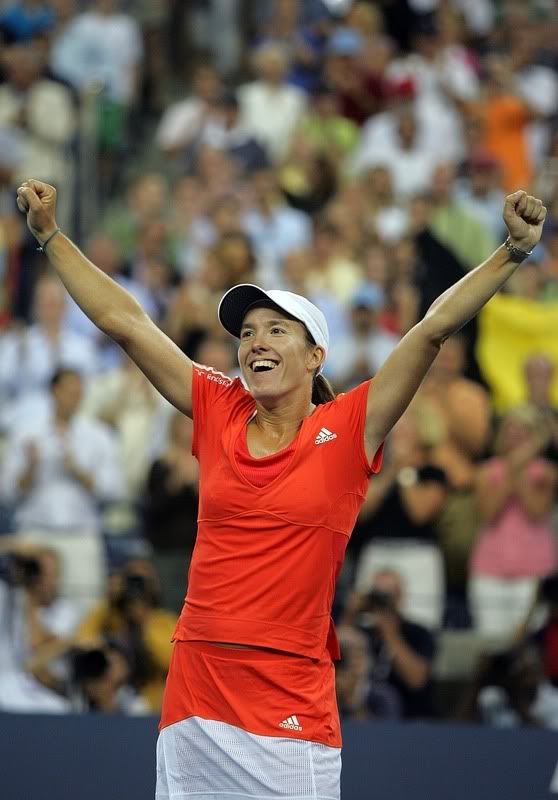 The Belgian's 6-1/6-3 win over Svetlana Kuznetsova in the US Open final on Saturday night put a fitting period at the end of the sentence that says a 2007 season that began with so much heartbreak has turned out to be the most important and revelatory year of her career, and arguably maybe even her entire 25 years.

"When I was a little girl, I was dreaming of winning just one grand slam in my career and I won seven. It's still hard to believe that I did that," Henin said.

For a player who nearly eighteen months ago was the target of much over-the-top criticism following her retirement in the Australian Open final, it's a transformation that is clearly visible to the naked eye.

The collapse of her marriage came first. Then, ironically, a sibling's serious accident offered Henin a lifeline at her time of most need. It was a moment which ultimately opened the door for a reconciliation with the family that she'd shut out of her life nearly a decade earlier due to personal issues and disagreements.

Fast forward five months and Henin was winning her fourth Roland Garros title, with her family in the stands watching for the first time. In Paris, she said she was finally "at peace."

Fast forward another three months. The Henin mood is even lighter, but still focused. She's called an "ultimate professional," and the poison-filled comments floating around after her matches are no longer directed at her, but instead are aimed at her "unlucky" opponents (hello, Serena).

Of all her slam titles, "this one is maybe the most important one," she said. "I had a lot of things to prove to myself -- not to anyone else, just to myself. And I did it."

Just how at ease is she? So much so that she even was able to laugh off Dick Enberg's faux pas of accidentally calling her "Henin-Hardenne" during the post-match trophy presentation. Whoops... but no harm, no foul. A spotless Henin mind is a wonderfully forgiving thing, I suppose.

Against Kuznetsova in the final, the match was a case of a classic story told in familiar fashion. A champion fighting for acceptance, if not from the world at large than of herself and the loved ones she's learning once again to rely upon and cherish. We knew going in that for the fifth straight year the US Open champion was either going to be a Belgian or a Russian... and we sort of had a feeling about WHO it was going to be, too. Kuznetsova just wasn't up to "ruining" this story. Not after Henin had gone through TWO Williams sisters to reach the final match (only the second time anyone's ever done that in a slam), and not after she'd altered so much about her life in order to find the "peace" that had alluded her while becoming a grand slam champion and the world's #1-ranked player in previous seasons.

Right out of the gate, Henin foreshadowed the final chapter of this New York story by breaking Kuznetsova in the first game of the match, just as she'd done against Serena and Venus in the previous two matches. After facing just one break point in the set, in a game in which she held with a SECOND SERVE ace (I know Justine enjoys jumping out of airplanes, but that's REAL risk-taking), Henin then waltzed to a 6-1 win.

Things were a little different in the 2nd set, as Kuznetsova's opportunities mounted. But Henin didn't budge, and instead pushed back with a break in a seven-deuce game to go up 3-1 after the Russian had once led 40-love in the game. After shrugging off two Contessova break points in the next game, Henin's biggest remaining hurdle was righting herself again to serve out the match after a "fan" yelled out during her service toss. After restarting her serve, she served back-to-back double faults, and threw in another later in the game to give Kuznetsova one final shot to get back into the set on a third break point of the game.

But it wasn't meant to be. It never was. Henin served out the set, and match, at 6-3 to put the finishing touch on what's turned into the "Year of the Taureau" even as so much discussion had centered around the rise of the Serbs and the resurgence of the Sisters leading into the Open.

New York City might not seem to fit Henin to a tee, but it's a pretty good match for La Petit Taureau. She was born there, after all, in that 2003 semifinal match against Jennifer Capriati, nurtured in the final the next day against Kim Clijsters, and given dramatic weight and a hard-won respect the last few days on Ashe as Henin became just the sixth woman in the Open Era to sweep through two slams in a single season without dropping a set in either.



**TWO SLAMS IN A YEAR, NO SETS LOST**




[OPEN ERA]


1972 Billie Jean King (RG/US)
1983 Martina Navratilova (Wimb/US)
1988 Steffi Graf (AO/RG)
1997 Martina Hingis (AO/US)
2002 Serena Williams (Wimb/US)
2007 Justine Henin (RG/US)

"I'm just feeling happy. And the fact that I have my family back in my life helps a lot," said Henin. "They give me a lot of support. I'm feeling at peace with myself and that's a very important feeling for me."

At 25, Henin has managed, when you factor in athletic expectations and the harsh realities of the players of the era, to construct the most successful women's tennis career since a teenager named Steffi Graf burst onto the scene in the mid-1980's.

Not the biggest. Not the strongest. Not the most popular, nor the most feared. But the best female tennis player in the world has a name... and it's "Justine Henin."

"It's more than a dream."

Indeed. And that's something that Justine won't be wiping from her mind anytime soon.





In the end, it's King Roger vs. the latest challenger for his throne, Novak Djokovic, in the Men's final. Once Rafa Nadal's body gave way, this was the only remaining matchup that would even give the appearance of a true contest on the final Sunday and, after a nice little run of good fortune that's lasted most of the last two seasons when it's come to grand slam finals, men's tennis has had another "dream" come true.

Of course, despite (or maybe because of?) his win over Federer in Montreal a few weeks ago, Djokovic might not exactly relish tomorrow. Not after he ticked off the Emperor by beating him the last time they met. Federer has a long memory, and it's hard to shake the thought that he might have been counting down the days to this final pairing even earlier and with more anticipation than Djokovic.



**2007 MEN'S SLAM FINALS**


AO: Roger Federer/SUI def. Fernando Gonzalez/CHI
RG: Rafael Nadal/ESP def. Roger Federer/SUI
WI: Roger Federer/SUI def. Rafael Nadal/ESP
US: Roger Federer/SUI vs. Novak Djokovic/SRB



**RECENT US OPEN MEN'S CHAMPIONS**


2000 Marat Safin/RUS def. Pete Sampras/USA
2001 Lleyton Hewitt/AUS def. Pete Sampras/USA
2002 Pete Sampras/USA def. Andre Agassi/USA
2003 Andy Roddick/USA def. Juan Carlos Ferrero/ESP
2004 Roger Federer/SUI def. Lleyton Hewitt/AUS
2005 Roger Federer/SUI def. Andre Agassi/USA
2006 Roger Federer/SUI def. Andy Roddick/USA
2007 Roger Federer/SUI vs. Novak Djokovic/SRB

As is always the case at this stage of a grand slam, it seems appropriate to run off the list of records and career numbers at play for Federer. Hmmm, well... this is Federer's tenth consecutive slam final (six more than any other man in the Open Era), and a victory would mean either he or Nadal will have claimed the last eleven slam singles titles. He's going for career slam #12, just two fewer than all-time record holder Pete Sampras. A fourth straight Wimbledon-US Open sweep is something that has never been done before, and a win would mean that Federer has won three slams in a season in three of the past four years. And I'm sure there are loads more, but we can't carry on like this forever, can we?

Ah, but "Novak the Entertainer" DOES have the game and confidence that might be able to turn all that history on its ear. One would think he'd NEVER dare to do a Federer impersonation on the court, but he could get away with such a thing if the impression was simply the act of holding up the US Open champion's cup as King Roger has done the past three seasons. It COULD happen, but, uhhh...



*FOR-WHAT-GOOD-IT'LL-DO FINAL PICK*




Federer def. Djokovic in 4 sets


...pressure doesn't seem to exist for the Serb, but he's never faced the king of tennis on the biggest stage in the sport, either. Federer seems destined to win this title, but there are enough turn-over-the-card-table genes inside Djokovic to make you wonder about the ultimate outcome of this match... at least a LITTLE bit.





Two junior titles were won on Saturday, and two more finals were set. And don't look now, but this US Open junior tournament has a decidedly Polish feel.

Poland's Urszula Radwanska won the doubles title with Belarus' Ksenia Milevskaya, and U-Rad also advanced to the Girls singles final (defeating Milevskaya in the SF) against unseeded Slovak Kristina Kucova, who claimed the "Junior Breakout" award after following up her upset of Anastasia Pavlyuchenkova with a SF win over Oksana Kalashnikova. Lithuania's Ricardas Berankis will play in the Boys final against, again, another Polish player, Jerzy Janowicz.

Meanwhile, in a result with no Polish references, France's team of Jonathan Eysseric and Jerome Inzerillo claimed the Boys doubles title.



**2007 JUNIOR BREAKOUT WINNERS**


AUSTRALIAN: Madison Brengle / USA
ROLAND GARROS: Mariana Duque-Marino / COL
WIMBLEDON: Urszula Radwanska / POL
US OPEN: Kristina Kucova / SVK



**RECENT US OPEN JUNIOR CHAMPIONS**




[GIRLS]


2000 Maria-Emilia Salerni / ARG
2001 Marion Bartoli / FRA
2002 Maria Kirilenko / RUS
2003 Kirsten Flipkens / BEL
2004 Michaella Krajicek / NED
2005 Victoria Azarenka / BLR
2006 Anastasia Pavlyuchenkova / RUS


[BOYS]


2000 Andy Roddick / USA
2001 Gilles Muller / LUX
2002 Richard Gasquet / FRA
2003 Jo-Wilfried Tsonga / FRA
2004 Andy Murray / GBR
2005 Ryan Sweeting / USA
2006 Dusan Lojda / CZE



2007 JUNIOR SINGLES CHAMPIONS**




[GIRLS]


AO: Anastasia Pavlyuchenkova / RUS
RG: Alize Cornet / FRA
WI: Urszula Radwanska / POL


[BOYS]


AO: Brydan Klein / AUS
RG: Uladzimir Ignatik / BLR
WI: Donald Young / USA



*2007 SINGLES FINALS*


8...Justine Henin (7-1)
7...Jelena Jankovic (4-3)
6...Svetlana Kuznetsova (1-5)
4...Anna Chakvetadze (4-0)
4...Ana Ivanovic (2-2)
4...Amelie Mauresmo (1-3)



*US OPEN FINALS - ACTIVE*


4...Venus Williams (2-2)
3...Justine Henin (2-1)
3...Serena Williams (2-1)
3...Martina Hingis (1-2)
2...Lindsay Davenport (1-1)
2...Svetlana Kuznetsova (1-1)
1...Maria Sharapova (1-0)
1...Mary Pierce (0-1)
1...Elena Dementieva (0-1)



*CAREER SLAM FINALS - ACTIVE*


12...Venus Williams (6-6)
12...Martina Hingis (5-7)
11...Justine Henin (7-4)
10...Serena Williams (8-2)



*2007 WIN STREAKS*




[WTA + FC]


16...Justine Henin (May-July)
13...Serena Williams (January-March)
13...Justine Henin (February-March)
13...Anna Chakvetadze (July-August)
12...JUSTINE HENIN (Aug-current)

*


12...Ana Ivanovic (May-June)
11...Jelena Jankovic (April-May)
10...Venus Williams (June-August)
10...Svetlana Kuznetsova (August-September)
10...Greta Arn (May)


---




*-active



Previous 2007 grand slam final Backspins:

Australian Open: "The Demolition Heard 'round the World"
Roland Garros: "The Pursuit of Happiness" Wimbledon: "Home is Where the Heart Is"






TOP QUALIFIER:

Alina Jidkova / RUS




TOP EARLY ROUND (1r-2r):

Maria Sharapova / RUS




TOP MIDDLE-ROUND (3r-QF):

Justine Henin / BEL




TOP LATE ROUND (SF-F):

Justine Henin / BEL




=============================




FIRST SEED OUT:

#29 Samantha Stosur / AUS




UPSET QUEENS:

Russians




REVELATION LADIES:

Ukrainians




LAST QUALIFIERS STANDING:

A.Cornet/FRA & E.Makarova/RUS (+WC A.Rolle/USA) to 3rd Rd.


IT GIRL:

Agnieszka Radwanska / POL




MISS OPPORTUNITY:

Svetlana Kuznetsova / RUS




COMEBACK PLAYER:

Vera Zvonareva / RUS




DOUBLES STAR:

(vacant)


SPECIAL:

CRASH & BURN- Maria Sharapova / RUS




JUNIOR BREAKOUT:

Kristina Kucova / SVK







All for Day 13.