The Daily Backspin, RG 1: Serving Up Empty Calories
This is where I was during much of the historic early third Sunday of play at Roland Garros:
It's not Chatrier or Lenglen, but it'll do.
(Full disclosure: these are the tennis courts of local Martinsburg High School, alma mater of Kevin Pittsnogle for any NCAA basketball fans out there.) It at least allowed me to work on my "lethal" serve: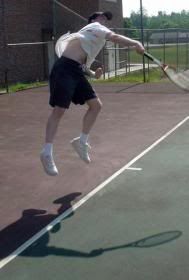 All in all, the early start is a good idea, and one that'll probably eventually be picked up on by the folks in Melbourne and New York (but not SW19, especially since the news of this "groundbreaking" idea will surely arrive late at the All England Club, what with the carrier pigeon mode of communication that's perfectly in tune with some of the "archaic" thoughts still bouncing around the greatest of the slam events... tis a pity.). Of course, it would have been nice to be able to ENJOY the extra day of "coverage." But in ESPN land that was an impossibility.

Now, don't get me wrong, the constant harping about bad television coverage for tennis can fray anyone's nerves, but hear me out for a moment. Wouldn't you think that on the Sunday morning of a HOLIDAY WEEKEND the "worldwide leader in sports" might have seen fit to show at least a few seconds of live coverage in a five-hour time window? Consider this strike two for ESPN's '06 Roland Garros coverage, with the first coming after national print ads for the tournament promoted four players: Roger Federer, Maria Sharapova, Venus Williams and James Blake. Total RG titles amongst them? Zippo. No mention of world #1 and Oz champ Amelie Mauresmo, or '05 titlist Justine Henin-Hardenne? Not even Rafael Nadal, blossoming into Federer's one true rival and a clay court master on a 53-match winning streak on the stuff? Come now. (James Blake, on clay?) On the bright side, Andy Roddick's face was nowhere to be seen.

Anyway, the five hours of "soul-less" coverage consisted of full, taped (though "live on tape," whatever that means) straight-sets wins by Federer and Mauresmo. That's all, even though major doings were going on as the audience was treated to the rough-and-tumble games of Diego Hartfield and Meghann Shaughnessy. Worse yet, as ESPN signed off, it was announced that the length of the two matches (again, they were finished in STRAIGHT sets, so there were no marathons in evidence) precluded showing any action from the Maria Sharapova-Mashona Washington match. But, as the announcers said at the time of the taping, Sharapova was up a set and was sure to "breeze through" to the next round. The credits ran without a single mention of what REALLY happened.




Apparently, if you look up "breeze" in the tennis dictionary it includes an ankle injury that hampered the Supernova in her first action in nearly two months, a 5-2 3rd set deficit, three saved match points and an ultimate 7-5 final set win. Yeah, a "breeze." Not for Sharapova and, in the end, not for Washington, either, with the 6-2/5-7/7-5 final scoreline.




With Iveta Benesova up in Round 2, Sharapova might have a lot of extra time to go shopping in Paris.

Supposedly, ESPN's coverage will be live the rest of the way, starting at 5am Monday morning. But that's no excuse for today. I just wish the network would kiss its viewers because, you know, some people like to be kissed when they're being (expletive deleted).

All this, and Barbaro still lives, too. Go figure. Oh, well, at least I got some extra work on my forehand:




*** *** *** *** *** *** *** ***

So, is it time to set up a steel cage match between Federer and Nadal (with uncle Toni giving pointers from the corner -- "Poke him in the eye, Rafa!!")? I guess a meeting in the final will do, though... Speaking of Federer, should we read anything into his tighter-than-expected 7-5/7-5/6-2 win over Diego Hartfield?

*** *** *** *** *** *** *** ***

Some Backspin housecleaning, as the May awards will be somewhat pointless once the Clay Court Awards arrive after Roland Garros:

==MAY (Week 18-21)==

=TOP PLAYERS=
1.Nadia Petrova
2.Shahar Peer
3.Martina Hingis
4.Jie Zheng
5.Kim Clijsters

RISER: Dinara Safina
SURPRISE: Jelena Jankovic
VETERAN: Martina Hingis
FRESH FACE: Romina Oprandi
DOWN: Justine Henin-Hardenne

=TOP PERFORMANCE=
Petrova wins Berlin

=TOP PERFORMANCE (in a loss)=
Safina defeats three Top 10 players, finishes RU in Rome

=TOP MATCH=
Berin F - Petrova d. JHH
...4-6/6-4/7-5. Coming of age for Scarlett? We'll know in two weeks.

=COMEBACKS=
...Molik returns to WTA tour...Martina Navratilova returns to the Czech Republic

=UPSETS=
Rome 3rd - Safina d. Clijsters
Warsaw 1st - A.Radwanska d. Myskina

*** *** *** *** *** *** *** ***

DAY 2: Monday, May 29


...hmmm, Match of the Day? Well, Alicia Molik returns to slam action against Antonella Serra-Zanetti. Nadal goes for 54 straight on clay against Robin Soderling. But I'll go with:



VIRGINIE PICHET vs. KIRSTEN FLIPKENS

...a rematch of their third round of qualifying tilt that saw French Pastry Pichet win 8-6 in the 3rd set. Have fun, girls.


All for Day 1.