Wk.31- The Scenarios Abound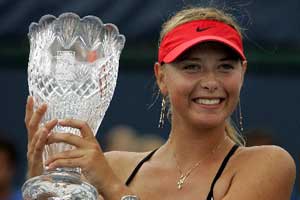 After seeing her experience so many near misses since she won Wimbledon in 2004, there are two ways to assess Maria Sharapova's title in San Diego.


One is to believe that Sharapova's finally had it up to here with "almosts" after losing in the semifinals of four of her last five slams (and five of seven in 2005-06).

This summer, she hasn't spent the bulk of her time between Wimbledon and the U.S. Open, as she has the past two seasons, promoting and selling her image on behalf of her sponsors and/or recuperating from injuries. This time, in her first action since SW19, she returned with better on-court movement and a mental mindset fit for playing winning tennis. This time, she won San Diego, got her first-ever victory over Kim Clijsters, and now heads to Los Angeles as the #1 seed with a shot at becoming the leading lady of this year's U.S. Open Series. A year ago, Clijsters rode similar momentum to a slam title in New York.

The "Sharapova Scenario" hinged on the Supernova, partly out of sheer exasperation, finally reaching her breaking point and forcing her tennis up another level. It stated that sometime in 2007 her game would kick into gear and she would be the dominant figure at the slams for a year to eighteen months afterward, and possibly challenge for a "Supernova Slam," even if she was unlikely to pull off a Roland Garros win to complete it.

Of course, the other way to look at her win over Clijsters is to note that, while impressive, at least an assist has to go the Belgian herself. As was the case earlier in the year when she openly questioned her ability to win slam titles and/or defeat Justine Henin-Hardenne, and then proceeded to turn the notion into a self-fulfilled prophecy, that Clijsters talked this week about being tired and needing a break surely made one question her confidence going into the final against Sharapova on Sunday afternoon (especially after having to win the SF during the night session on Saturday). Looked at under those circumstances, it's really not that much of a surprise that Clijsters would wilt under Sharapova's pressure in San Diego's final match. Good for Sharapova, but the incomplete shadow of Killer Kim was indeed a third competitor on the court on Sunday.

The truth probably lies somewhere between the two views. But, then again, when Sharapova won Wimbledon two years ago she did it at least a year ahead of most optimistic schedules for her ascendancy. Could it be that the Wimbledon SF loss was the final straw, and that we just witnessed the beginning of the roll in southern California... a year early?

Maybe Sharapova's about to follow in her own footsteps.


*WEEK 31 CHAMPIONS*


SAN DIEGO, CALIFORNIA USA (I-Hard)
S: Maria Sharapova d. Kim Clijsters 7-5/7-5
D: Black/Stubbs d. Groenefeld/Shaughnessy


PLAYER OF THE WEEK: Maria Sharapova
...I know everyone was holding their breath for it to happen, so it's all right be satisfied this Monday. Yes, Sharapova has indeed once again pulled into a tie with Anna Smashnova for career WTA titles with #12 coming in San Diego. Oh, and it was also her third career Tier I (second this year), and came after her first win in five tries against Clijsters.
------------------------------
RISER: Sania Mirza
...what light on yonder window breaks? Why, it's Princess Sania, finally showing a little life on the hard courts. She got San Diego wins over Srebotnik (who reached a career-high #20 this week) and Shaughnessy, then pushed Dementieva to three sets in the 3rd Round. Maybe she'll have some fun in New York again, after all.
-----------------------------
SURPRISES: Melanie South & Karin Knapp


...no, it's not the sighting of one Klara Zakopalova in the Stockholm draw as the #8 seed and wondering who the bleep she was (hint, she used to be a card-carrying Koukalova). Instead, I'll go with two recent "Surprise" winners in South and Knapp for their recent foundation-solidifying ITF titles. 20-year old Brit South won her 2nd '06 crown in Chengdu City, while 19-year old Noodle Knapp won the first of her career in Monteroni D'Arbia.
------------------------------
VETERANS: Patty Schnyder & Cara Black/Rennae Stubbs
...no, not Billie Jean King, who'll finally get her long overdue honor of having the USTA National Tennis Center officially named for her on the opening night of action at the U.S. Open. But, as for last week, while everyone was waiting to find out what firestorm her husband's autobiographical "The White Mile" book stirs up, Patty Schnyder got down to business on the court in S.D.. She gained wins over Dulko, Suarez and Dementieva before a tight 7-5/6-4 loss in the SF to Sharapova. In doubles, Black & Stubbs won their first '06 title as a team, and made it a big Tier I, too.
-----------------------------
FRESH FACES: Nicole Vaidisova & Anna Chakvetadze
...Vaidisova ultimately got the best of Chakvetadze in the San Diego QF, and after having beaten Hantuchova earlier in the week rode the new points (and Mary Pierce's failure to defend her title) into the Top 10 for the first time at #9. Chakvetadze really should have beaten Vaidisova, blowing a big lead against her in their match, but wins over Petrova and Ivanovic are sure to soothe over a least a few of the bruises left behind by the loss.
-----------------------------
DOWN: Dinara Safina
...I could pick Anna-Lena Groenefeld since her hard court season isn't exactly off to a winning start. She was 0-4 in WTT play, won just one match in Stanford and lost to Vesnina in the 1st Round in San Diego. But her doubles play has kept her head above water, and gives some hope for a quick turnaround, so I'll go with Safina. She lost in the SD 1st Round to Suarez, but just when you think it was because Marat's problems are contagious, big bro upsets James Blake in Washington and reached the SF. Maybe it means Dinara is in for a big week in L.A.?
-----------------------------




1.SD QF - Vaidisova d. Chakvetadze
...3-6/6-4/6-3. Chakvetadze led 6-3/2-0 and had a break point for 3-0. Maybe she was just wondering if the rumor sparked by Martina Hingis was true about the "original Anna" possibly making a comeback and simply got distracted.
-----------------------------
2.SD Final - Sharapova d. Clijsters
...7-5/7-5. Funny how it only takes a slight question in Clijsters' mind for a match that should be her's (based on her 4-0 record vs. the Russian before this match) to slip away in straight sets.
-----------------------------
3.SD SF - Clijsters d. Vaidisova
...6-2/7-6. Clijsters led 6-2/3-0 with four BP for 4-0, but the Dynamova stormed back to take a 5-4 lead in the set. In the end, Clijsters won the tie-break at love, but Vaidisova can at least build on the fact that she didn't give up in a match that seemed to be slipping away fast.
-----------------------------
4.SD 3rd - Clijsters d. Jankovic
...6-4/3-6/6-3. This was the second time in the past two weeks (she also did it in Stanford) that Jankovic took Clijsters to three sets only to lose the match.
-----------------------------
5.SD 2nd - Pierce d. Bammer
...6-1/6-7/7-6. Continuing the theme of blown (or nearly) leads the week, it must be noted that Bammer was up 5-3 in the 3rd before letting Pierce off the hook in her first match back since Paris in February.
-----------------------------
HM- SD Doubles SF - Groenefeld/Shaughnessy d. Raymond/Stubbs
...6-3/7-5. Backspin's Girl Friday might not be having the best hard court season in singles, but her doubles have been right on target. After winning a title a week ago in Stanford (with Shahar Peer), she and Shaughnessy knocked the world #1's en route to a RU result in San Diego. While ranking #16 in singles, she's up to #8 in doubles, as well.



**MOST 2006 WTA FINALS**
7...Henin-Hardenne (4-3)
5...Mauresmo (4-1)
4...Petrova (4-0)
4...CLIJSTERS (2-2)
4...SHARAPOVA (2-2)

**2006 TIER I TITLES**
2...MARIA SHARAPOVA (RUS)
2...Nadia Petrova (RUS)
1...Elena Dementieva (RUS)
1...Martina Hingis (SUI)
1...Svetlana Kuznetsova (RUS)

**MOST 2006 SINGLES TITLES**
[winners' nations]
10...RUSSIA
6....Belgium
5....France
4....Israel


...awwww, yet another week in San Diego where I pick the correct two finalists, but the wrong one wins. Let's see how things go a little farther up the California coast.



LOS ANGELES, CALIFORNIA USA (II-Hard)
05 FINAL: Clijsters d. Hantuchova
06 TOP: Sharapova/Petrova
=============================
SF: Sharapova d. Dementieva; Groenefeld d. Petrova
FINAL: Sharapova d. Groenefeld

...Sharapova's the pick, but I'll stick with ALG another week hoping that her doubles success will finally get her out of her hard court rut. It has to happen eventually.



STOCKHOLM, SWEDEN (IV-Hard)
05 FINAL: Srebotnik d. Myskina
06 TOP: Myskina/Li
=============================
SF: Myskina d. Gajdosova; Li d. Zheng
FINAL: Myskina d. Li

...the Czarina needs to wash that Serena loss right out of her hair.


All for now.