BACKSPIN TIME CAPSULE: 1987 Roland Garros
(first in a series)
From the old, old pre-Backspin notebooks of my youth, the first edition of "Backspin Time Capsule" has arrived.

Before Maria, Ana and Jelena, there was Steffi Graf. Like a freight train, the arrival of "her time" could be heard from a long distance away. The rumble was unmistakable... and not even the likes of an aging combo of Martina Navratilova and Chris Evert could keep the new phenom at bay forever.

Graf was a semifinalist at the U.S. Open in 1985-86 and put together a 64-6 match record in '86, but had yet to reach a slam final as 1987 began. She finally broke through in Paris in June, and went on to author an historical chapter in women's tennis. Let's flip the switch and travel back in time...

"The Changing of the Guard Appears in Sight in Women's Tennis" (June 1987)
As the sun sets on these two weeks of competition at the French Open it is quite obvious that a new era in women's tennis has now begun -- the Graf Era.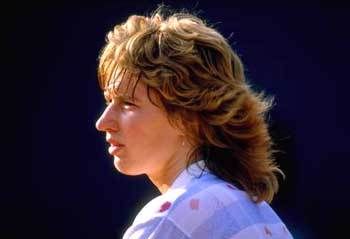 Steffi Graf has added a good backhand to her already potent forehand
Stefanie Maria Graf, the 17-year old West German and the heir apparent to the thrown of Martina Navratilova showed with her skill and concentration in clutch situations that she may well be the best female tennis player in the world. Graf defeated top-ranked Navratilova in the final 6-4/4-6/8-6 to win her first grand slam title and become the youngest woman ever to win the French Open singles crown. She turns only 18 next week.

Navratilova put up a fight but it was she, not the young Graf, who buckled under the pressure of the tight match. Navratilova double-faulted at match point, while Graf was down 3-5 in the final set in the final and also in the semifinal against Gabriela Sabatini. But in both matches she broke her opponent's serve and went on to win and become the first German woman to win in Paris since 1937.

Graf's meteoric rise in 1987 now includes streaks of thirty-nine consecutive match wins and seven consecutive tournament championships as she has yet to lose this year. Graf was extremely sincere when she said after the match that she was "sorry" that she had beaten Navratilova because she was such a great champion. Navratilova, the gracious champion that she is and that Graf undoubtedly will be, showed that she truly was a lady when, in defeat, she told a somewhat confused Graf what to do next. She told her to hold her trophy up and show it to the crowd because she won it and she deserved all the praise and adoration that she was getting.

For the first time in quite a while women's tennis is entering new ground as we have completed two of the four grand slam events this year and neither Navratilova or Chris Evert have walked away with one of the two singles titles (Hana Mandlikova defeated Navratilova in the Australian Open final). If this trend continues, and in Evert's case it most likely will, Navratilova's six and Evert's thirteen year streaks of winning at least one grand slam singles title a year will both come to an abrupt end. Navratilova, who has fifteen grand slam singles titles to her credit, has not won a tournament in 1987 but played with renewed confidence these past two weeks during which she railroaded Evert 6-2/6-2 in the semifinal as Evert held serve only once in the match. But Martina, unlike Chris, has a good chance to continue her streak as she will now prepare to defend her Wimbledon title in London in two weeks. She has won seven Wimbledon singles titles, the last five being consecutive.

But even if Evert and Navratilova do rally and win a grand slam they can't be expected to continue their superb play for many more years as they both creep into their thirties (Evert is 32, Navratilova 30). They both could probably play competitively for two or three more years if they choose to. Their love for the game could keep them here even longer. But even as Chris and Martina's playing days are entering their twilight, women's tennis is getting better. And when these two great champions do finally decide to leave the game behind they will leave it to a group of women who are ready, willing and able to assume the lead of their sport.

Graf and Sabatini, both 17, are the youngsters who will join their still young counterparts in Mandlikova and Pam Shriver, both 25, in the process of entering a new tennis age when the inevitable retirements do indeed happen.

Even though women's tennis is on course for the future it will still be a sad day in sports when Evert and Navratilova depart. But, as they say, all good things must come to an end.
Hard Copy - June 1987

It's been so long since the likes of Chris and Martina were active singles threats (or, in Navratilova's case, had barely crossed over to the other side of 30) that it seems like another lifetime to hear them spoken about in the present tense. And, in tennis terms, 1987 WAS a lifetime ago.

It seems almost mind-boggling now that Graf, at just 17, was coming into Paris without having yet lost a match on the season. Imagine a player doing that now... it's difficult to envision it. Of course, we are talking about Graf here. This was just her first slam title. She went on to win TWENTY-ONE more, with her last coming twelve years after the '87 RG win, also in Paris. She finished the '87 season with a 75-2 mark, then followed up with similar numbers in '88 (72-3) and '89 (86-2). Beginning in September 1986, Graf advanced to an amazing twenty-one straight finals until March '88.

While the questions about how many slams Graf might have won (certainly a good number fewer) had Monica Seles not been stabbed are interesting ones to ponder, it's just as intriguing an issue to consider how many the German would have claimed if there never was a Seles at all. She could very well have pushed her total to nearly thirty. Still, while we now marvel when a player such as Justine Henin or Serena Williams wins seven or eight career slams, it's important to note that those totals are miniscule compared to Graf's.

Graf defended her Roland Garros title in 1988, and went on to claim a "Golden Slam" (all four slams, plus Olympic Gold) that season. Starting in 1987, she reached four consecutive RG finals, ultimately won six singles titles there, and went on a streak of thirteen straight slam final appearances beginning with this match in Paris. She reached #1 in the rankings for the first time in August '87, staying there for a record 186 consecutive weeks, and was the top-ranked woman for a combined 377 weeks (also a record) in her career.

Evert's thirteen-season streak with at least one slam title did end in 1987, and she never won another. Her last came at Roland Garros in 1986, and her final appearance in a slam final was at the 1988 Australian Open. She retired after the 1989 U.S. Open.

Navratilova rebounded to win Wimbledon a month after losing in Paris to Graf, ending the German's then-45 match winning streak. Martina then won the U.S. Open that September, as well. Her final slam title came in Wimbledon in 1990, giving her eighteen in her career. Martina seemingly hung around forever, reaching her final Wimbledon final in 1994 at age 37. Just a few years ago, she was setting WTA records for wins and titles on tour by claiming doubles crowns into her late forties. She even returned to play singles at Roland Garros and Wimbledon in 2004, losing in the 1st and 2nd Rounds, respectively, to Gisela Dulko.

Of course, Martina has never REALLY gone away. She's still around, and is currently providing commentary on Tennis Channel's Roland Garros coverage.

All for now.

NEXT TIME CAPSULE:
1990 Wimbledon - Martina's final glory