W.5- Blade Runners, Pt.I
So, can anyone prevent Serena from reaching the final?


That's surely the prevailing -- and ONLY, really -- question with eight women now remaining in the bottom half of the Ladies' singles draw. With each round, the few players around who might be able to challenge Williams on a day when they play great and she plays poorly has shrunk just a little bit more. As of right now, I'd say there's really only one of THOSE players left. Well, actually, there's two -- but they play each other in the next round.

Here, in order, is how I'd rank the chances of the Bottom 8 to reach the final (not necessarily by their simple ability, but according to how the draw has panned out for them):

1.

#2 Serena Williams/USA:

From the start, the berth in the final has been her's to win or lose. The only player with a real shot to beat her would seem to be Azarenka, but that Williams lost to her in Miami and probably SHOULD have done so in Melbourne, as well, tells me that in NO WAY will she lose to the teenager in London if they meet next week.

2.

#4 Elena Dementeiva/RUS:

Looking at Punch-Sober's draw before the tournament, I said she had a good chance to reach the QF without facing a seed. If she defeats the unseeded Elena Vesnina in her next match, that'll happen. I also said that if things fell just right, she could even reach the SF without having a seeded player as an opponent. If she wins and Schiavone knocks off Razzano, there'd be a chance THAT could happen, too. While I couldn't bring myself to pick her to repeat her '08 SF performance here a week ago, it's almost difficult to think she WON'T now. If she doesn't reach the SF, then either Razzano, Vesnina or Schiavone will. Raise your hand if you picked any of them to have a shot to go that far... and don't be a fibber. Ah, just what I thought. Still, even as the #2 player here, I think she has ZERO shot to reach the final.

3.

#26 Virginie Razzano/FRA:

Hey, she can reach the SF without playing a true grass courter, and if someone could somehow upset Serena, or if Williams were to be injured, she might not even have to face her to reach a stunning slam final. That pretty much means she has as good a chance as anyone else, if not a better one than most...

4.

#8 Victoria Azarenka/BLR:

...including Azarenka. With Serena's generally ticked-off attitude in recent months not helped by that loss in Miami to HER, Azarenka might find herself in the wrong place at the wrong time in the QF if she DOES defeat Petrova and faces Williams in the final eight. Even though her hard groundstrokes and fiery attitude are reminiscent of those of the Supernova who defeated Serena on Centre Court five years ago, THAT teenager was something of an unknown to Williams. The American knows just who and what Azarenka is, and would never overlook her for a second. That's bad news for the Belarusan.

5.

Elena Vesnina/RUS:

She's either battling a back injury, or very cagey. I think she's got a chance to upset Dementieva in the 4th Round, but then I remember her Shakespearean dramatics against Wozniacki in that match a few months ago and just can't imagine that she could hold it together long enough to reach the final even if she somehow finds herself in the semifinal.

6.

Nadia Petrova/RUS:

Talent-wise, I'd rank Nadia third -- at worst -- on this list when it comes to grass court ability. But even if she manages to upset Azarenka next time out, which she's got the ability to do, she'd STILL likely have to defeat Serena... and she'd need ANOTHER win more after that to reach the final. As much as I wish she was capable of doing it all, I don't think she is without throwing in a stinker performance somewhere in that mix.

7.

Daniela Hantuchova/SVK:

She plays Serena in the 4th Round. Hantuchova likes the grass, and anything COULD happen when they meet. (pause) Yeah, I don't really buy that one, either.

8.

Francesca Schiavone/ITA:

Considering how long it took the Italian vet to win a tour singles title, and that her best slam result has been a pair of QF (the last of which was six years ago), it's hard to see her surprising SW19 run lasting much longer. Plus, Round of 16 opponent Razzano didn't even have to play today, and instead got an extra day of rest.

Tomorrow: thoughts about the top half of the draw.


=DAY 5 NOTES=
...in some of the actual matches today, the "according-to-form" personality of this Wimbledon continued on many levels.

Serena Williams didn't have much difficulty with Roberta Vinci, and almost seemed bored much of the time. Victoria Azarenka won over Sorana Cirstea in straight sets on Day 5, as well. People on ESPN today, while looking forward to the potential QF meeting, were constantly bringing up the Miami final in which Azarenka defeated an injured Serena. But, really, the match that makes a QF pairing something to look forward to is the Williams/Azarenka match in Melbourne from January, where the Belarusan teenager was whacking Williams before the heat caused her to retire, then Serena went on to win the title. Hopefully, IF they meet again, BOTH will be healthy this time. Next, Serena plays Daniela Hantuchova, who defeated doubles partner Ai Sugiyama today. Williams should win, but on occasion Hantuchova flashes the talent that got her to the Top 5 a few years ago. Things COULD get interesting when they meet. (Nope, I'm still not sure I'm buying that line.)

If nothing else, at least Serena shouldn't get bored.

Elena Vesnina, possibly using the time-honored perfectly-timed visit from the trainer to her full advantage, saw her match against Dominika Cibulkova turn in her favor after she had her back treated in the 3rd set. Thus, Vesnina's careening ride through the 2009 season continues to tilt in her favor. Her next opponent will be Elena Dementieva, who so far is taking full advantage of her easy draw.

Unfortunately, the great season that Vera Zvonareva was having a few months ago once again has been stalled. After tearing ligaments in her ankle in Charleston, she'd come back this week and managed to get to the 3rd Round. But today her opponent, Virginie Razzano, advanded to the Round of 16 in a walkover because the Russian's injury was not sufficiently healed enough for her to continue in the tournament. It's too bad, but if this decision gets her on the court full-time sooner down the line this summer then I suppose it's a good thing. It's too bad, though, because that section of the draw is SO wide open. Meanwhile, the Razzano/Marion Bartoli match-up won't come off now that La Trufflette has been dispatched from singles by Francesca Schiavone.

Showing why she's always been such a frustrating presence on tour, Gisela Dulko couldn't follow up her upset of Maria Sharapova with another win. At least she lost to a capable player in Nadia Petrova, though, and not a player she was favored to defeat, as often occurs the match AFTER a large upset.

...and, finally, with so little news to talk about coming out of Wimbledon today, I thought I'd take a few moments to talk about the sudden death of Michael Jackson yesterday.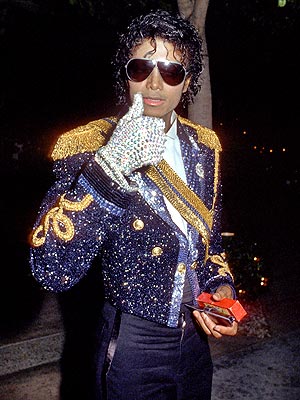 Not long after I posted yesterday's Daily Backspin, it all happened fairly quickly on Thursday, as reports about Jackson that first came at about 5:30pm Eastern time went from those of a hospitalization to a coma and, ultimately, to his death over the course of less than an hour.

I supppose it says a great deal about the direction that Jackson's life had gone over the past twenty-five years that my first reaction was that this might all be a trumped up story to delay his scheduled London concerts in July, or even cancel them altogether. When it became apparent how real the situation was, while stunned at the news, I couldn't say that I hadn't figured Jackson's life would come to some sort of abrupt end before he reached old age for quite a while now. How much of that was a case of facing reality, and seeking to distance myself from someone who'd gone from the biggest enterainment star I'll ever see in my lifetime to being the subject of constant jokes about his eccentricities and changing appearance to being reviled by many when those child molestation charges gave weight to all the raised eyebrows about his actions over the years, I don't know. What Jackson had become over the years made it so easy to lose the memory of what he'd once been. The reports of his death were somewhat surreal, but hardly flooring. I think so many people either had, or should have, prepared themselves for such a moment for a few years now, no matter what the ultimate CAUSE of his death turns out to be.

Unfortunately, now he'll surely be dragged through the tabloids again. There's already talk of prescription drugs maybe having played a role in this, and since the toxicology reports won't be known for weeks it'll lead to a whole new round of speculation on his life. Hopefully, though, in the end, he'll be remembered for his immense talent and, of course, the music. In the long run, I think he will be. The songs and video will survive. But, like Elvis Presley, there'll always be a potent mix of talent, eccentricity, scandal and tragedy that's attached to his memory. But that also means he's not going to be forgotten, and we might even see some sort of renaissance in terms of an appreciation for his career (not to mention, naturally, the inevitable movie about his life that will try to look behind the curtain of his fame, and determine whether or not it turned out to be his undoing).

His music was the theme for the first week of "American Idol" this past season, and it was nice to hear the songs on a big stage again. "Thriller" hit just before I went into junior high school, right before I became a teenager. So, obviously, I was very into his music and everything back in the mid and late-1980's. I can remember getting the VCR copy of his long-form "Thriller" video (I still have it) and watching it over and over again with my friends. One even got the "Beat It" jacket and wore it to school, as both it and the one from "Thriller" were being sold in stores at the time. I heard someone today call Jackson the "Elvis of Generation X," and I think that's right on target. Seeing such a person die serves to remind you of the passing of time, and that in and of itself makes you look at yourself and those around you in different ways than you might have before, even if only for a day or two.

Over the years, there'd always been the hope that he'd somehow resurrect something of his once brilliant career, but as time went by it seemed less and less likely. I suppose the London concerts were the last chance for that, and I wondered whether, if they were a success, he might one day have some sort of Elvis Presley-like career in Las Vegas, as there had been rumors about such a thing a year ago. Truthfully, I figured he'd do one or two London concerts, get decent reviews, but then suddenly cancel all the rest of them. Again, I guess recent years made that sort of thought natural. It would have been fascinating to see what happened. Now we'll never know.

Of course, there's a big media reaction o his death here in the U.S., but that happens when someone of far less importance in the entertainment industry and culture at large (think Anna Nicole Smith) passes, as well, so I'm not sure that means anything. I was glad to see people -- well, the REASONABLE people, at least -- focusing on his music last night and today rather than the scandals and "freakish" things, though it's difficult to separate the two when talking about his celebrity. The talent put him in the public eye, but after that it sort of eventually degenerated into a circus at times. It's not the first time it's happened, and it won't to be the last. As in tennis, sometimes the bigger they are the harder they fall in the end. Still, whenever Jackson gave a rare interview, I always watched it and came out liking him all over again, sometimes maybe even against my better judgment. You just WANTED to believe some of the things he said, even the sketchier ones, because you didn't want to see someone who was once so on top of the world become just the opposite over the course of a few years, ala say, O.J. Simpson. I never was among the group of people who'd come to view Jackson as a joke waiting for another punchline. He'd provided too much entertainment to too many for that.

Now, history will be his judge. Some will always appreciate the music and the talent. Others will focus on everything else. In the end, both will views will coexist to form the legacy of one of the most fascinating lives of the past century. But I'm sure that neither really tells the story of a life or its effect on so many others, whether it be as an inspiration to many of the artists we listen to every day in 2009 or those who will "discover" Jackson in the future, or even as a cautionary tale of what can happen to even an invididual blessed with so much talent and with seemingly so many opportunites in life.

Love him, hate him or disregard him personally, until yesterday, Jackson was quite possibly the most famous living individual on earth. And now it's over.

Nothing lasts forever. Above all else, that's probably the final lesson learned from the life and death of Michael Jackson.

TOP QUALIFIER:
#1q Victoriya Kutuzova/UKR
TOP EARLY ROUND (1r-2r):
#3 Venus Williams/USA
TOP MIDDLE-ROUND (3r-QF):
xxx
TOP LATE ROUND (SF-F):
xxx
TOP QUALIFYING MATCH:
Q1: Vesna Manasieva/RUS d. Noppawan Lertcheewakarn/THA 6-7/6-4/6-1
TOP EARLY RD. MATCH (1r-2r):
1st Rd. - Ana Ivanovic/SRB d. Lucie Hradecka/CZE 5-7/6-2/8-6 (saved 2 MP)
TOP MIDDLE-RD. MATCH (3r-QF):
xxx
TOP LATE RD. MATCH (SF-F):
xxx
=============================
FIRST SEED OUT:
#23 Aleksandra Wozniak/CAN (1st Rd.-Schiavone/ITA)
UPSET QUEENS:
The Germans
REVELATION LADIES:
The Italian vets
LAST QUALIFIERS STANDING:
xxx
IT GIRL:
xxx
MS. OPPORTUNITY:
xxx
COMEBACK PLAYER:
xxx
CRASH & BURN:
(Temporary: Maria Sharapova/RUS - lost to Gisela Dulko/ARG in 2nd Rd.)
ZOMBIE QUEEN:
(Temporary: Ana Ivanovic/SRB - saved two MP vs. Lucie Hradecka/CZE in 1st Rd.)
LAST BRIT STANDING:
Elena Baltacha/GBR (2nd Rd.)
DOUBLES STAR
xxx
JUNIOR BREAKOUT:
xxx



All for Day 5. More tomorrow.