Wk.5- Flavia & Anastasia To the Rescue
It was a Fed Cup weekend characterized by teams pulling themselves back from the edge of a cliff, and a new generation of tour would-be stars putting their national teams on their backs and carrying them to victory.
Well, all that and Kim Clijsters continuing her recent rampage through the WTA downtown like a racket-wielding Godzilla, with an eye on next knocking over a certain Dane's castle on the hill.


Ultimately, at the top of the FC pyramid, things didn't change much at all. For the third straight year, Italy, Russia and the Czech Republic will do battle in the semifinals come April, with Belgium pushing out the only other Final Four team from the past two years -- the U.S. -- by way of a commanding 1st Round victory this weekend. But the paths to "the usual" were quite different.

A quick rundown of some things gleaned from 2011's first weekend of FC action:



*FIVE THINGS THAT LOOKED GOOD*




1.

Flavia Pennetta, STILL the reigning Queen of Fed Cup after saving the Italians' bacon yet again


2.

The Belgian team without Justine Henin... as long as KC is around, the Waffles could be FC champions


3.

Russia becoming only the fourth team to climb from a 0-2 hole in a best-of-5 FC World Group series since '95


4.

Petra Kvitova dominating in the role of the Czech Maidens' on-court leader


5.

Andrea Petkovic, Kateryna Bondarenko & Bojana Jovanovski successfully putting their teams on their backs


*FOUR THINGS THAT DIDN'T*




1.

Maria Sharapova, who wilted on court, then saw Anastasia Pavlyuchenkova rise in her absence on Day 2


2.

Samantha Stosur once more faltering in the spotlight (and losing to Schiavone again, too)


3.

Bethanie Mattek-Sands, who again lost a lead vs. a top player, as a #1 singles player in FC play


4.

Melanie Oudin getting just seven points off Clijsters in the 1st set, and six total games in two matches



*ONE THAT IS STILL IMPRESSIVE IN RETROSPECT*


The Pastries ended up blowing their surprising 2-0 lead over the Hordettes on the road in Russia, but that doesn't take away from the Day 1 heroics of the team's pair of comeback stars -- Alize Cornet and Virginie Razzano. Cornet had never won a FC match, but that didn't stop her from overcoming a set and a break disadvantage against Svetlana Kuznetsova, and surviving to win despite turning her ankle in the 3rd set. Perhaps juiced by Cornet's upset, Virginie Razzano then came out and easily dispatched Maria Sharapova in straight sets in the #2 singles match. Both lost matches on Day 2 and the Russians climbed ALL the way back to win, but it doesn't pull all the petals off the pair of flowers that were the two Frenchwomen's performances on Saturday after suffering through disappointing seasons last year.



*AND ANOTHER THAT I'LL CONTINUE TO HARP ON*


Just think how more dramatic, if only for a few hours, some of this weekend's ties might have been if the Fed Cup best-of-five format played the doubles match in the #3 slot (as the Davis Cup does) rather than #5. Rather than often be a throw-away match as it was in five of the weekend's high-level ties, it'd have been a viable match in ALL eight, not to mentioned allowed all team members to contirbute in a "live" match and brought about some interesting coaching decisions since top singles players would be potentially-necessary doubles team choices while still possibly having to play an additional singles match later. Doubles matches that decide ties -- as the was the case with RUS/FRA, SRB/CAN and UKR/SWE -- are nice, but imagine if it was a head-to-head SINGLES match between top players that decided which team advanced. THAT would provide far better theater.



*WEEK 5*



=1st Round=


Italy d. Australia 4-1
Russia d. France 3-2
Belgium d. USA 4-1
Czech Republic d. Slovak Republic 3-2


=World Group II=


Spain d. Estonia 4-1
Germany d. Slovenia 4-1
Serbia d. Canada 3-2
Ukraine d. Sweden 3-2


=Zone Promotion Finals=


[Europe/Africa]: Belarus d. Poland 2-0
[Europe/Africa]: Switzerland d. Netherlands 2-1
[Americas]: Argentina d. Colombia 3-0
[Asia/Oceania]: Japan d. Uzbekistan 3-0




[1st Rd. MVPs]




Flavia Pennetta/ITA

(overall P.O.W.)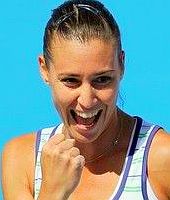 ...talk about deja vu. A year ago in the 1st Round against Ukraine, Francesca Schiavone lost the opening match in a road tie for the then-defending FC champions, leaving it to Pennetta to prevent the Italians from falling into a 0-2 hole. Fastforward to 2011, and again it was Schiavone losing the opening match in a road tie for the two-time defending FC champs, putting Pennetta into the position of having to keep a bad situation from becoming a disasterous one for Team Italia. In 2010, Pennetta took down both Bondarenkos sisters in back-to-back matches to push her team to victory and onto another FC title. This time, she dug herself in and won a tight three-setter over Sam Stosur to prevent the momentum from forcefully rolling in the Aussies' favor, ending Italy's 16-match FC losing streak to Australia, then clinched a SF berth by easily taking out Jarmila Groth in match #4. Italy won 4-1, but without Pennetta's save in Match #2, with an Aussie home crowd ready to pounce, things might have been VERY different.


=============================




Anastasia Pavlyuchenkova/RUS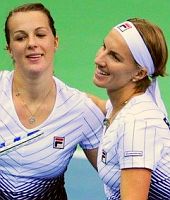 ...ah, how great it must be for Team Russia to be able to fall into a 0-2 hole on Day 1, then be able to turn to ANOTHER Top 20 player as a THIRD singles participant (while keeping another former-#1 player on the bench, no less). Thanks to Pavlyuchenkova striving in her first big-time FC moment in the sun, it all worked out for the Hordettes. Whew! After Maria Sharapova's bad loss to Virginie Razzano to end Day 1, it was Pavlyuchenkova who played singles match #3 rather than the ex-Supernova. It wasn't a good sign for Sharapova, but was a tremendous opportunity for her young countrywoman. After dropping the 1st set to Alize Cornet, Pavlyuchenkova ran off back-to-back 6-3 sets to save the Russians from elimination and, as it happened, turn the tide totally in her nation's favor. Team Russia never lost another set, as Pavlyuchenkova and Svetlana Kuznetsova teamed in doubles to defeat Cornet and Julie Coin 7-6/6-0 and send the Hordettes -- by the skin of their teeth -- back to the semis, where they'll meet the Italian team that has replaced them as the dominant FC club in recent seasons. If Russia reclaims its spot atop the FC pack, it should be noted that it couldn't have happened without this youngster, who might have taken a big step in her professional career this weekend.


=============================




Kim Clijsters/BEL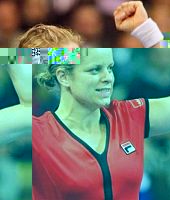 ...there was some thought that KC might have a bit of AO hangover/jetlag after her big doings Down Under. Umm, nope... at least it didn't show. She quickly knocked Melanie Oudin over the head in her opening match, winning the 1st set at love and dropping just seven points. She lost the opening set against Bethanie Mattek-Sands on Day 2, but then reeled off 6-2/6-1 set victories to clinch the tie. 21-3 in career FC matches, she's won 19 of her last 20 and is 4-0 in tie-clinching singles matches. She's the best player currently playing on tour at the moment, by a wide margin, and the rankings might soon provide further stats to back it up, too.


=============================




Petra Kvitova/CZE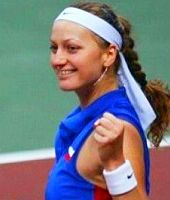 ...my, how far Kvitova has come in two years. In 2009, she was the FC victim of one of Melanie Oudin's first big moments as a professional, blowing a lead to the American and looking like she was ready to dissolve into a puddle of tears when it was all over. Since then, her game has continued to progress, but so has her ability to control her nerves. Just 20 and now in the Top 20, with a grand slam semifinal in her hip pocket, she was more than ready to lead the Maidens back into the SF on the road against the Slovak team. She destroyed both Dominika Cibulkova (6-2/6-3) and Daniela Hantuchova (6-4/6-2) to effectively "end" the tie early as the Czechs took a 3-0 lead without having lost a set (the Slovaks got two meaningless wins later to make the final score look close). After her slow-starting AO QF performance against Vera Zvonareva in Melbourne, this was just what the doctor ordered for Kvitova.


=============================





[WG II MVPs]




Maria Jose Martinez-Sanchez/ESP


...with Kaia Kanepi being Estonia's only real weapon, Spain simply needed to avoid a disasterous weekend from its singles players to avoid the upset on the road. Carla Suarez-Navarro lost a match to Kanepi, but MJMS held up her end by taking down Kanepi in Match #3 (in some ways, really the only match that mattered here) in three sets. Team Espana then coasted to a 4-1 win.


=============================




Andrea Petkovic/GER


...Petkovic's star has really started to rise in the last two slams, and suddenly Germany is a dangerous FC up-and-comer with her in the team's lead role. Against Slovenia, she reeled off two straight-sets wins to power the Germans to this spring's World Group playoffs via a 4-1 victory.


=============================




Bojana Jovanovski/SRB


...Bojo went into the weekend all alone on the Serbian FC island, without either Jankovoic or Ivanovic to take the lead. And with virtually the entire team on her shoulders against a dangerous Canadian team, she thrived in the pressure situation. In Melbourne, the teenager looked to all the world that she believed that she deserved to be on the big stage. This weekend, as has continually been the case since the closing months of '10, her results backed up her notion. Going 2-0 in singles (including a big straight sets win over Rebecca Marino), and then teaming with 17-year old Aleksandra Krunic in the deciding doubles match against Sharon Fichman & Marie-Eve Pelletier, she had a hand in every point in Serbia's 3-2 win. Good things look like they're going to continue to come Bojo's way.


=============================




Kateryna Bondarenko/UKR


...after missing time in '10 due to injury just when it seemed that her career was starting to take off (she fell from #32 to outside the Top 100), K-Bond has had to carve out a comeback over the last few months. In the tie against a Swedish team with a pair of underrated FC workwoman in Sofia Arvidsson & Johanna Larsson, K-Bond was forced to accept the team's sole leadership role with her sister Alona out with an injury. Both Arvidsson and Larsson got singles wins, but not against Bondarenko. Winning back-to-back-to-back tie-breakers against the Swedish pair in two straight sets wins, K-Bond then teamed with Olga Savchuk to take down the duo 7-5/6-2 in the deciding doubles match, too, in Ukraine's 3-2 victory.


=============================





[Zone Play MVPs]




Victoria Azarenka/BLR


...Belarus' blitzkrieged its way through the Europe/Africa Zone last week. Overall, the team went 12-0 in matches in Pool and promotion playoff action. Azarenka did the heavy lifting, namely getting wins over Sybille Bammer and, in the 2-0 promotion playoff win over Poland, Agnieszka Radwanska in a 7-5/7-5 match.


=============================




Timea Bacsinszky/SUI


...Bacinszky went 3-0 in Pool play, then got a win over Michaella Krajicek in Switzerland's 2-1 win over the Netherlands in the promotion playoff. Of note, she avoided having to face Caroline Wozniacki (3-0 in singles, though on the losing end in doubles matches that kept Denmark out of the playoff final) in Pool play, as Patty Schnyder got the "honor" and promptly lost, though Switzerland did win that particular tie by a 2-1 score.


=============================




Florencia Molinero/ARG


...with Gisela Dulko playing only two singles matches (and going 1-1 in doubles) in Argentina's four Americas Zone ties, it was Molinero whose undefeated (4-0) singles run propelled her nation to an easy advancement. While Dulko did obliterate Mariana Duque-Marino 6-0/6-0 in Argentina's 3-0 win over Colombia in the promotion playoff final, Molinero opening all four ties with a win in Match #1 gets her the MVP nod.


=============================




Ayumi Morita/JPN


...there was no Kimiko Date-Krumm last week, so it was up to the young Morita to lead the way for Japan, which also showed some good junior talent at the AO. Going undefeated -- 3-0 singles and 2-0 doubles -- Morita was easily the best player participating in the Asia/Oceania Zone playoffs.


=============================





[RISERS]




Agnieszka Radwanska/POL


...A-Rad lost to Azarenka in two tough sets in the promotion playoff, but she went 3-0 in Pool play, including a nice win over Shahar Peer.


=============================




Yanina Wickmayer/BEL


...Clijsters was the Belgian star of the weekend, but Wickmayer actually lost fewer games (nine, to KC's fourteen) than her countrywoman did against the same two opponents.


=============================





[FRESH FACE]




Arantxa Rus/NED


...Rus won Pool play matches over Greta Arn and Alexandra Dulgheru, and then defeated Schnyder in the Netherlands 2-1 loss to Switzerland in the promotion playoff.


=============================





[SURPRISES]




Lu Jing-Jing/CHN


...Lu, the only two-time ITF challenger champion thus far this season, upset Sania Mirza in Zone Pool play.


=============================




Kim So-Jung/KOR


...the 24-year old South Korean, ranked outside the Top 200, got a win over Sessil Karatantcheva in Asia/Oceania Pool play.


=============================





[VETERAN]




Virginie Razzano/FRA


...after losing to Sharapova two weeks ago in Melbourne, Razzano got some quick revenge on the Russian in Fed Cup play in probably the biggest upset of the weekend. Hmmm, but these sorts of losses aren't nearly as surprising as they USED to be, are they? (more below)


=============================





[COMEBACKS]




Alize Cornet/FRA


...after showing signs of life in the season's opening weeks, Cornet's big win over Kuznetsova is a yet another sign that she might be back for good. If she'd been able to take out Pavlyuchenkova after being up a set, ALL markers would point in her direction. At this point, though, she's done enough to warrant keeping an eye on again.


=============================




Maggie Maleeva/BUL


...the 35-year old, who announced the legitimacy of her comeback following a five-year retirement by winning the Bulgarian national championship last year, went 3-0 in doubles in Europe/Africa Zone play. It was her first Fed Cup action since 2005.


=============================





[DOWN]




Samantha Stosur/AUS


...the quicker Stosur gets out of Australia the better. Playing there under the pressure of expectation can't have done much good for her attempts to thrive in big moments anywhere other than at Roland Garros. After stumbling in the early rounds at the AO, she found herself in position to push Team Italia's collective back against the wall in the FC 1st Round. With Jarmila Groth having upset Schiavone, the Aussies were twice within a game of making a move that might prove to lead to the end of the two-time defending champs' reign. In Match #2, Stosur led Pennetta 5-3 in both the 1st and 2nd sets, failing to close out either after serving for the set in both. She did manage to knot the match by taking the 2nd set tie-break, but then lost another tight set in the 3rd to lose 7-6/6-7/6-4. On Day 2, Stosur lost to Schiavone in another close one, 7-6/3-6/7-5. Thus, Australia's 1-0 lead turned into a 2-1 deficit, and the Sheilas never won another match.


=============================




Maria Sharapova/RUS


...things are not looking good for Sharapova's successful comeback so far in 2011. In Melbourne, she couldn't string together enough matches where her (lack of a killer) serve didn't kill her chances of advancing out of the first week. Then, in her first FC action in three years, her serve was again a non-starter in a shockingly routine 6-3/6-4 loss to Virginie Razzano that nearly cost Russia its place in the semis. Sharapova is back in action in Paris this week, and could get Bethanie Mattek-Sands in her first match after an opening round bye. A loss there and her troubles (and all the questions) will continue to grow hair. A win and she might get Petkovic again, who took her down in Melbourne. It could be a big week for the Russian in Paris, but her trip there is just as likely (or maybe more?) to cause even more doubting eyebrows to be raised.


=============================




Tsvetana Pironkova/BUL


...still a ghost of the player who reached the Wimbledon semifinals last year, Pironkova went winless in Zone singles player, losing to Peer, Radwanska and even Mandy Minella.


=============================




Alexandra Dulgheru/ROU


...Dulgheru, who has been one of the more disappointing players on tour in 2011's early weeks, continued her slide, going 2-2 in Zone play, losing to Rus and Peer.


=============================




Sessil Karatantcheva/KAZ


...she went 1-3 in FC Zone singles play, losing to Noppawan Lertcheewakarn and Kim So-Jung. Then, after having reached her only career tour SF there a season ago, she lost to Ksenia Palkina in Pattaya City qualifying, too. I guess the extra "s" now appearing in Ses(s)il's name doesn't stand for "success."


=============================





ITF PLAYER:

Michelle Larcher de Brito/POR


...we haven't heard as much from Larcher de Brito in the last year or so. That is, until now. In the $25K challenger in Rancho Santa Fe, California the 18-year old from Portugal won her first career ITF crown, getting an early win over youngster Krista Hardebeck and then knocking off Madison Brengle in the final by a 3-6/6-4/6-1 score.



JUNIOR STAR:

Eugenie Bouchard/CAN


...fresh off her run to the Girls SF at the AO, Bouchard stayed in Australia and played in a $25K challenger event in Burnie along with a number of her junior counterparts. In the end, it was the 16-year old Canadian who was the last girl standing. After wins over Sally Peers and Daria Gavrilova, Bouchard took down Zheng Saisai 6-4/6-3 in the final to claim her first pro-level title.




1. FC 1st Rd - ITA/AUS #2: Pennetta d. Stosur
...7-6/6-7/6-4. The sort of match upon which ANOTHER championship run might just be built.


=============================


2. FC 1st Rd - BEL/USA #3: Clijsters d. Mattek-Sands
...6-7/6-2/6-1. After losing a 5-2 lead in the 2nd set tie-break of a straight sets loss to Wickmayer on Day 1, Mattek-Sands won the tie-break war to open Day 2 against Clijsters. But she still lost the match. She couldn't beat Henin despite having openings in their match at the Hopman Cup in Week 1, either. So maybe it's just a Belgian thing?


=============================


3. FC 1st Rd - RUS/FRA #1: Cornet d. Kuznetsova
...3-6/6-3/6-4. After blowing a 6-3/2-0 lead, suffering through the match's six straight breaks to start the 3rd, Cornet's subsequent long injury timeout after rolling her ankle, and THEN a loss in the match, kudos to Kuznetsova for coming back strong on Day 2 to take out Razzano in straights and play a part in the deciding doubles match.


=============================


4. WG II - SRB/CAN #3: Jovanovski d. Marino
...7-6/6-3. In a match-up of two of the tour's rising stars, BoJo states her compelling case that her time will come before Marino's.


=============================


5. FC 1st Rd - ITA/AUS #3: Schiavone d. Stosur
...7-6/3-6/7-5. Once again, just when you think that Francesca might not have any more to give, she gives some more and takes away Sam's moment... again.


=============================








**OVERALL FED CUP TITLES**


17...United States
6...Australia
5...Czechoslovakia
5...Spain
4...Russia
3...Italy
2...France
2...West Germany/Germany
1...Belgium
1...Slovak Republic
1...South Africa


[1960's]


4...United States
3...Australia


[1970's]


4...Australia
4...United States
1...Czechoslovakia
1...South Africa


[1980's]


5...United States
4...Czechoslovakia
1...West Germany


[1990's]


5...Spain
3...United States
1...France
1...Germany


[2000's]


4...Russia
2...Italy
1...Belgium
1...France
1...Slovak Republic
1...United States


[2010's]


1...Italy



=2011 Semifinalists=


Belgium
Czech Republic
Italy
Russia


=Group I Playoffs=


Australia
France
Germany
Serbia
Slovak Republic
Spain
Ukraine
United States


=Group II Playoffs=


Argentina
Belarus
Canada
Estonia
Japan
Slovenia
Sweden
Switzerland




PARIS, FRANCE (Premier $618K/greenset indoors)
10 Final: Dementieva d. Safarova
11 Top Seeds: Clijsters/Sharapova
=============================


=SF=


#1 Clijsters d. #8 Cibulkova
#4 Kvitova d. #6 Petkovic


=FINAL=


#1 Clijsters d. #4 Kvitova

...once again, Clijsters is in action this season. Who does she think she is, Wozniacki? Who isn't playing this week, by the way, and might see her #1 ranking go bye-bye. This is one of those post-Fed Cup tournaments where the results could be influenced by the highs and lows of the just-completed team competition since most of the top seeds played this past weekend, with results on both ends of the spectrum. Still, I'll mostly go with the players' recent forms, knowing that some might be distracted this week. Petkovic, for one, has a potentially VERY interesting road. She could face Makarova in the 2nd, then either Mattek-Sands or Sharapova (who she beat in Melbourne), followed by either Wickmayer or Kvitova in the semis. There's a chance for that just-missed-it rematch that didn't happen in the AO, too, as Clijsters and Petrova are lined up for a possible QF match. Poor, Nadia. Maybe poor Caroline, as well.



PATTAYA CITY, THAILAND (Int'l $220K/hard court outdoors)
10 Final: Zvonareva d. Tanasugarn
11 Top Seeds: Zvonareva/Ivanovic
=============================


=SF=


#1 Zvonareva d. Date-Krumm
#3 Kirilenko d. #2 Ivanovic


=FINAL=


#1 Zvonareva d. #3 Kirilenko

...while current world-#2 Barbie plays in Paris, world-#3 Zvonareva attempts to defend the only 2010 title she won in Pattaya City. The draw isn't quite as intriguing, but again this small event has some potential for some nice stories. Is Ivanovic fully recovered from her Perth injury, and her tough loss to Makarova in Oz? Peng Shuai is going for her third SF of '11, while countrywoman Zheng Jie returns this week after an injury break. I'll go with Zvonareva to keep her name in the proverbial hat in this season's looks-like-it-could-change-hands-all-year race for the #1 ranking.


All for now.