The Beginning of a Beautiful Friendship
In a rare moment of tennis certitude, on the 183rd day of 2011, a champion was born on Centre Court.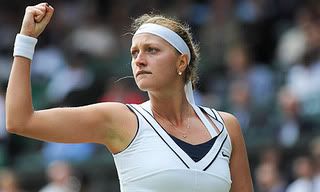 Sometimes when a player LOOKS like she's got "it," that indefinable quality that makes a champion, she really does. On occasional instances, such as when a young Russian validated all previous whispers of her virtues seven years ago in southwest London, the gestitation period before such an achiever's "coming of age" is a short one. In firing the first salvo for her tennis generation by claiming the Wimbledon Ladies title in a straight sets 6-3/6-4 victory today over Maria Sharapova (that aforementioned Russian), 21-year old Czech Petra Kvitova proved that she, too, has "it."

Tennis legend Billie Jean King has always believed that "pressure is a privilege" in the sport, and that any time a player manages to put themselves into position to do something great on a grand stage they should never allow themselves to be sold short, to exit the day without having given themselves their best chance to be successful and/or performed at the peak of their abilities. When the dust finally settles at the end of a grand slam event, according to BJK's principle, regret should never be part of the conversation. Over the last few years, though, that's pretty much been ALL there's been when it's come to the latest generation of women's tennis stars who'll soon be called upon to carry the burden of the WTA tour on their shoulders once the last of the previous group of champions is gone. The result has been at least one former "accidental" slam champion and a string of #1's or wanna-be's whose failures in the season's biggest -- and most viewed -- events has served to create a notion that the WTA is filled to the brim with a select group of "old" players fortunate enough to rise to the top against a pool of younger counterparts either with games too deficient to contend for major titles or personalities so immature that their emotions turn them into puddles of tears and perspiration on the courts of the biggest stages in the sport. None of that was every really true, but there was enough anecdotal "evidence" in the reality of the tour that it has been nearly impossible for it to garner enough ammunition or advertising to dissuade the prevailing opinion that the women's game was headed south just as that of the men's was experiencing what may one day be referred to as a "golden" age.

Enter Kvitova, who was more than worthy of the pressure she had the privilege to thrive under on this day. It was apparent that the Czech was determined to not be the next name on the "failed" list, but the first on an entirely new one altogether. Rather than fumble around trying to determine what it would take for her to be a slam champion, Kvitova simply went out and became one. No Shakespearean drama necessary. No handwringing required. For some players, slam titles can come after years of work, trial and error, and heartbreak. For others, the path to ultimate success is recognized as a straight line that is the shortest distance between two points. It comes naturally. It's part of their DNA. Sometimes it's just that simple.

In 2004, it was Sharapova who cut through all the pretense and was bold enough to play Serena Williams face-up in the Wimbledon final, defeating her at her own game with fearless groundstrokes and big serves and the inner belief that there was no reason why she SHOULDN'T win. Of course, now at age 24, the Russian has already lived through the sort of tough times that often put an end to such thinking. Before this weekend, she hadn't reached a slam final in three and a half years, the result of rotator cuff surgery in October '08 that took her out of the sport for ten months and wreaked havoc with her serve (as well as the confidence its strength had always infused into the rest of her game). But, deep inside, that old feeling was still there. "I always felt like I had a lot better things in me," she said the other day. Finally, this spring on the European clay, Sharapova rediscovered the confidence in her ability to call upon her old fearless game in a match's crucial moments. She won in Rome, then made the semis at Roland Garros. In reaching her first Wimbledon final since she won the title at the All-England Club seven years earlier, the next logical step seemed to be to re-assume her place atop the game by lifting another Venus Rosewater Dish.

The "x" factor for this final, though, was that no one could be sure of what was precisely going to happen inside the Czech in her first grand slam final. As Kvitova has spent more and more time in the spotlight over the past year, her game has been described as notoriously streaky. But it's also positively screamed that it was capable of very big things. From the huge lefty serve to the powerful groundstrokes and natural inclination toward aggerssiveness on the court, the shy Czech sports a game that is anything but bashful. When she's managed to avoid the sort of walkabout moments that cost her a set in the semfinals against Victoria Azarenka, she's often been an overwhelming presence on court this year. As she lined up to serve to open the Wimbledon final against world #6 Sharapova, she did so with the knowledge that she'd already managed to defeat -- dominate, really -- the likes of #2 Kim Clijsters, #3 Vera Zvonareva, #4 Li Na and #5 Azarenka this season.

This was a final that was part "past," part "present" and part "future." After quite a few slams that were questionably about "none of the above," it was a match-up that was good for women's tennis. And it promised to be competitive, too. Both players had managed to move through their semifinal matches while getting past moments when their games "left them." Kvitova dropped a set when her forehand went awry, while Sharapova tossed in thirteen double-faults. Still, considering the Czech's bigger overall game and serve, while the Russian's is no "powderpuff" attack, three-time slam champ Sharapova had to point to her experience to provide her with the most confidence. As she prepared to face Kvitova's first service game on Centre Court, though only three years separated them, the nearly 1100 more days of seasoning -- and the rough road she'd successfully traveled in her comeback -- seemed to play into the hands of the Russian.

Of course, Serena probably felt the same way in 2004.

From the outset of the match, a constant series of moments arose which served to test Kvitova's mettle. On nearly every occasion, the Czech responded with preternatural calm in the heat of battle. Sharapova broke her serve to begin the match, but Kvitova then used her forehand to power to a 40/love lead on that of the Russian's one game later, breaking back to even the 1st set. In Game #3, when a Sharapova shot was called long, Kvitova thought she was up 40/love on her own serve, but a replay challenge erased the call and she soon found herself facing her second break point of the match. But, again, she didn't waver. Instead, she put away the game with a wide serve that dragged Sharapova off the court, then followed it up with a down-the-line forehand winner. It would be a full set before the Czech would be so close to losing her serve.

As Kvitova held firm by varying her serves and winning power-vs.-power groundstroke rallies with Sharapova, it was the Russian who wobbled next. She dropped in her first double-fault of the match to go down 15/30. She held for 2-2, but two games later Sharapova's second double-fault gave Kvitova a break point, then a third one point later awarded her the game. Kvitova led 4-2, then proceeded to use her own big serves to hold for a 5-2 advantage. With the Russian sporting a sub-20% second serve win percentage, Kvitova put the pressure on her opponent, using a beautiful one-two punch of a slice shot to one corner and a typically hard and deep winner down the opposite line to help get to a break point/set point. But Sharapova would not go down easily. After not hitting an ace in her semifinal match until she held set point in the 1st, this time the Russian smashed her first of the final to prevent herself from falling a set down, then held for 5-3.

But it was only a temporary reprieve.

After she'd jumped on such a momentum-changing instant in the semis against Sabine Lisicki to reverse her slow start, Sharapova surely must have felt that she might to able to repeat the feat here. But Kvitova quickly unburdened her of such a notion. She held at love to take the set 6-3, locking away the lead by outplaying Sharapova on a point-by-point basis throughout the stanza. Kvitova was yet to hit an ace, but she didn't need to. Rather than go for too much, she'd instead chosen to serve smartly, using good location to move Sharapova into positions that set up Kvitova's own groundstrokes, allowing her to take early control in many rallies. Not only that, she played with a cleanliness that tends to make her unstoppable. With only three errors in her column for the set, the Czech was giving away virtually nothing, and preventing Sharapova from taking anything, either. At the conclusion of the set, after going through the entire fortnight by releasing sudden Rottweiler-esque (well, if they made six-foot tall Rottweilers, that is) barks as punctuations to moments of triumph, Kvitova chose to coolly walk to her chair with a clenched fist.

She knew her work wasn't finished. And with such tennis luminaries as King, Martina Navratilova (her childhood idol, and the last lefty to win Wimbledon), Jana Novotna (the last Czech), Ann Jones (another lefty SW19 champ) and others watching from the Royal Box, Kvitova wasn't about to get ahead of herself.

After having faltered in the 2nd set of her semfinal match, Kvitova came out with aggressive intent in Game #1 this time. After Sharapova's fifth double-fault got Kvitova to break point, she hit a penetrating forehand shot deep into the backcourt that caught the edge of both lines to give her a quick 1-0 lead. Challenged to prove herself again, Kvitova overcame two double-faults of her own in Game #2, holding with a wide serve and down-the-line winner combination and big serves that secured a 2-0 lead and prevented Sharapova from blowing up the Czech's brief lull into another "walkabout moment." Two games later, Sharapova DID get a break, as Kvitova failed to put away a ball at the net to end a rally which she'd controlled from the first ball struck, sending a forehand down the middle of the court to Sharapova's backhand, from which she promptly sent a lob over the Czech's head that landed inside the baseline to tie the score at 2-2.

It could have been another match-turning moment. But, yet again, Kvitova was up to the task of making sure it wasn't.

Taking a page from the battle plan of Sharapova's own defeat of Serena seven years ago, when the Russian's penetrating groundstrokes kept the American off balance and often tied her up with hard shots landing within inches of the baseline, Kvitova used her own deep shots to quickly put Sharapova in the position of having to defend another break point after a forehand shot was blasted at the Russian's feet. From there, the Czech's forehand crushed a second serve return to immediately reclaim the break advantage at 3-2. Not down yet, Sharapova managed to rachet up her return game, briefly managing to push the Czech back with HER shots, then sealing another service break with a big return to get back even at 3-3. Once again, Sharapova was tasked with trying to jam her foot in the door of another match in hopes of rescuing a set in which she'd been fighting uphill from the start. Would THIS be the moment that Sharapova rose while Kvitova blinked? Would the championship turn NOW?

Would the Czech in her maiden final let it happen, or instead take the opportunity to seize control once again? Ummm, of course, it was the latter.

And once Kvitova proved her mettle yet another time, it would be the last assault that she'd have to repel. For the rest of the way, it would be all about remaining calm in the face of the reality of being about to live out a dream. As soon as Sharapova gave her just a miniscule opening, a double-fault to level the score in Game #7 at 15/15, Kvitova pounced. She soon followed up with a winner that gave her double break point. On her second attempt, the Czech won another power-vs.-power rally to go up 4-3. And with the championship within her grasp, she didn't slow down to think about the moment. Using the pressure of her serve and big groundstrokes to coax errors out of Sharapova, Kvitova held for 5-3. Then, serving at 5-4, the Czech would provide nary a single crack in her game's foundation for the Russian to even think about taking advantage of. With the title on her racket, Kvitova stepped to the baseline and raced to a 40/love lead.

At triple match point, she'd managed to get to within a single shot of the Wimbledon title without firing an ace. "Inconceivable!," one might have though prior to the match. Yet, there she stood. As I watched from Backspin HQ, in my head, I couldn't help but think, "Come on, hit an ace. It's be a great way to end it." Then Kvitova reared back and blasted her first ace of the day, right down the service "t." THAT is how you do it, folks.

(See, I KNEW she'd have more aces than Lisicki did against Sharapova in the semifinal. I knew it all along. Ha.)

In the Player's Box, Kvitova's brothers and parents jumped up in elation, with her father celebrating while seemingly barely holding back an ocean's worth of tears. Meanwhile, on the Centre Court grass, Petra raised her arms over her head, dropped her racket over her shoulder, then put her hands to her mouth in disbelief over what she'd just done. She sank to her knees, then lowered her face to the ground, crying into the turf as her hands briefly hid her face.




In the process of the ceremomy in which she was handed the Ladies championship dish, Kvitova managed a smile and wave to Navratilova, who was dutifully using her cell phone to film the greatest moment (so far) of the career of a player she'd inspired when she was a child. A few seats down the row, Novotna applauded her countrywoman, maybe wondering what it must feel like to win a Wimbledon title on your FIRST attempt in the final, but also surely knowing the pure joy of what it feels like to actually win one at all. Following the on-court interview conducted by the BBC's Sue Barker, the former slam titlist ('76 RG) asked Kvitova, "Ready for your lap of honor?" "Yes, I'm ready," the Czech happily chirped back. Not that she really needed to say it... her performance in the final on this Saturday had already spoken volumes about her.


"I think we're seeing the new players taking charge. Most of all, they're playing to win. That's what I like to see: They're not scared out there. They're playing forceful tennis."

-

Martina Navratilova


And a Czech shall lead them. Chalk one up -- the first one -- for the next generation of young players who've been so admonished in recent months for not rising to the occasion in the slams. Thing is, I can remember a time when the post-Connors/McEnroe generation of American men's players were being lambasted for not living up to their potential. Needless, to say, the likes of Sampras, Agassi, Courier and Chang eventually more than made up for lost time. That's not saying that the current tour's early-twentysomethings are going to be as Hall of Fame-worthy as that bunch, but what Kvitova did at this Wimbledon, at least for now, changes that conversation. (Well, as long as those same critics look beyond the "Sharapova Loses" headline that will surely dominate many accounts of the final, that is.) What matters most is that when Kvitova was called upon to take her turn on the stage, she was more than ready to seize it. With luck, her performance will serve as a primer for others in her generation for how to do it. Most of those players might not be blessed with the array of shots that the Czech possesses, but just successfully employing the mindset of playing to win rather not to lose is enough to change more than one player's career. And, rest assured, there ARE players in Kvitova's age group with the sort of games that can claim slams, and playing with poise needn't be something that Kvitova corners the market on. It used to be that would-be champions were able to play without nerves because they were so young that they maybe didn't realize that they should PLAY nervously, even if they were FEELING nervous. As a teenage superstar, Monica Seles NEVER played nervous. With her, that only happened after she'd been put through an emotional ringer by things that really had nothing to do with anything happening in a match. Nowadays, though, even seemingly well-adjusted, barely out of their teens world #1's seem to be susceptible to feeling the pressure of expectation if they're beaten over the head with it long and often enough. And they are. Sometimes with merit, sometimes without it.

Of course, who really knows for sure just how unique Kvitova might be amongst her peers? After all, barely a year ago, Kvitova was ranked outside the Top 50, hadn't advanced to a slam QF and had never even won a match on grass. Flashforward to today and she's a Wimbledon champion knocking on the door of the Top 5, with a game that seems built for multiple SW19 crowns, and maybe just as grand potential elsewhere. She still a "beginner," and she's not even as good yet as she CAN be. There are still a few tweaks to make in her game. She could get into slightly better shape to improve her movement, and make an effort to get to the net a little bit more, too. Both should be easy fixes, especially the latter, considering the natural forward movement and desire to control of points she already possesses. She showed during the last fortnight that she could better control her walkabout tendencies, and even in the final proved with her tactical serving that she's capable of being more than just a player who likes to "go for the winners." Seriously, what's she capable of if she gets just 10-20% better than she was today?

Simple is as simple does, and Kvitova isn't very far away from making her matches even more "simple" than they already sometimes are. After the match, she called her accomplishment "the cherry on the cake," but Petra might have to come up with quite a bit more fruit/dessert combinations to compare her accomplishments to before she's through.

I figured before this final -- and this tournament -- that if Kvitova could hold firm and experience no damaging giveaway periods over seven matches, she'd win the title. If not this year, than some day. I didn't know if she was ready to do that yet. But she was. In it's pure form, Kvitova's game is simply better than Sharapova's. Actually, it's better than most every other player on tour, really. At her best, is there another player who can really take it to her? I mean other than Serena. Not coincidentally, Williams is the only other player out there who could say the same thing about HER game in no-holds-barred form, and it's served her career pretty well, I'd say. Interestingly, in last year's Wimbledon semifinal, an in-form Serena still got a bit of a fight from a then-green Kvitova, winning 7-6(5)/6-2 in a match that nearly became very interesting. The Czech is a heck of a lot better now than she was then, and when Williams won her 13th slam crown one match later she'd claimed five of the last eight women's singles slam titles. What does that say about Kvitova's future?

That might be the next big question in women's tennis.

In her celebration after match point, one could never quite tell if Kvitova actually kissed the Wimbledon lawn, as her shielding hands hid the visual evidence. Truthfully, it's probably a good thing that the secret remains between her and the turf. After all, one gets the feeling that this is only the beginning of what will be a beautiful friendship.



=DAY 12 NOTES=
...hmmm, it's hard to escape the comparison now, isn't it? While Caroline Wozniacki TALKS of possibly taking advantage of the tennis mind of Martina Navratilova, Kvitova embraces and embodies the 18-time slam champion's spirit. Maybe it explains a little about why the Czech now has a slam title and seems headed for more, while there's a sneaking suspicion around Backspin HQ that the Dane's chances of winning even ONE of her own might have gotten a whole lot smaller in the last twenty-four hours.

...of the fourteen active women who've reached slam singles finals, Kvitova is one of only four who won a title in her appearance in a major final. Since the Open era began in 1968, she's only the 21st of 63 women to do it.

...sure, I wish I'd picked Kvitova to win this title two weeks ago. I did so in Paris, and when I did I pretty much made the deal with the devil that I wouldn't be able to pick her AGAIN in London. Her loss in the Eastbourne final to Marion Bartoli, too, pretty much left me off the hook on the matter. It's probably good that I didn't pick her, though, since she'd likely failed to win if I HAD. Good for her. Ha.

Oh, well. As always, I'd rather be AHEAD OF THINGS when it comes to picking slam champions than BEHIND. So it's all good.

...meanwhile, Sharapova's slam progression over the last eighteen months goes like this: 1st Round to 3rd Round to 4th Round (3 times) to Semifinals to Runner-up. She might not have scratched her seven year Wimbledon itch, but it's pretty apparent what her next logical step MIGHT be at the slam which has always seemed to "fit" her best. After her admirable Roland Garros run, I had a feeling that her best chance at an '11 slam might be in NYC rather than SW19. She came even closer to the title in London, so I see no reason to think she won't probably be the favorite to bring her career full circle at the Open in about two months. Of course, there are a few other slam champions who might have something to say about that.

...here's something to look forward to: Russia and the Czech Republic will face off in the Fed Cup final. So no matter what happens at the Open, Kvitova has at least one more HUGE moment in her immediate future -- and Sharapova might be around to play a part in it.

...Sabine Lisicki and Samantha Stosur finally finished off Marina Erakovic and Tamarine Tanasugarn today in the conclusion of their contentious darkness-suspended semifinal, winning 8-6 in the 3rd. Later, they lost the final to #2-seeded Kveta Peschke and Katarina Srebotnik. It's Peschke's first career slam crown (she gets the "Doubles Star") of any kind, and Srebotnik's sixth, as she adds her first Doubles win to five Mixed titles.

The Mixed final will feature Iveta Benesova/Jurgen Melzer against Elena Vesnina/Mahesh Bhupathi. Either Benesova or Vesnina will win her first slam title. In the Men's Doubles, the Bryan twins won their second Wimbledon and eleventh overall slam title, tying them with Todd Woodbridge and Mark Woodforde for the most in the Open era.

...Liam Broady failed to become the first British male to win the Boys singles at Wimbledon, losing to Aussie Luke Saville. Australia could sweep the junior titles, as Ashleigh Barty (def. Indy de Vroome) will meet Hordette Irina Khromacheva (def. Caroline Garcia) tomorrow in the Girls final.

In Girls Doubles, the Netherlands' Demi Schuurs (w/ Tang Haochen) will try for her second junior doubles slam of the year in her third straight '11 slam final, facing the North American pair of Eugenie Bouchard (CAN) and Grace Min (USA).

*WOMEN'S SINGLES FINAL*
#8 Petra Kvitova/CZE def. #5 Maria Sharapova/RUS 6-3/6-4
*MEN'S SINGLES FINAL*
#1 Rafael Nadal/ESP vs. #2 Novak Djokovic/SRB
*WOMEN'S DOUBLES FINAL*
#2 Peschke/Srebotnik (CZE/SLO) def. Lisicki/Stosur (GER/AUS) 6-3/6-1
*MEN'S DOUBLES FINAL*
#1 Bryan/Bryan (USA/USA) def. #8 Lindstedt/Tecau (SWE/ROU) 6-3/6-4/7-6
*MIXED DOUBLES FINAL*
#9 Benesova/Melzer (CZE/AUT) vs. #5 Vesnina/Bhupathi (RUS/IND)
*GIRLS SINGLES FINAL*
#12 Ashleigh Barty/AUS vs. #3 Irina Khromacheva/RUS
*BOYS SINGLES FINAL*
#16 Luke Saville/AUS def. #15 Liam Broady/GBR 2-6/6-4/6-2
*GIRLS DOUBLES FINAL*
Schuurs/Tang (NED/CHN) vs. #2 Bouchard/Min (CAN/USA)
*BOYS DOUBLES FINAL*
#1 Golding/Vesely (GBR/CZE) vs. #2 Mason/Pavic (GBR/CRO)





*WON FIRST CAREER SLAM...*




[at Wimbledon, Open era]


1968 Billie Jean King, USA
1978 Martina Navratilova, TCH (CZE)
1994 Conchita Martinez, ESP
1998 Jana Novotna, CZE
2000 Venus Williams, USA
2004 Maria Sharapova, RUS
2011 Petra Kvitova, CZE


[in first slam final, active players]


1999 U.S. Open - Serena Williams
2004 Wimbledon - Maria Sharapova
2010 Roland Garros - Francesca Schiavone
2011 Wimbledon - Petra Kvitova



*CZECH-BORN SLAM SINGLES CHAMPIONS*


18...Martina Navratilova, 1978-90
8...Ivan Lendl, 1984-90
4...Hana Mandlikova, 1980-87
3...Jan Kodes, 1970-73
1...PETRA KVITOVA, 2011
1...Jana Novotna, 1998



*SHARAPOVA IN SLAM FINALS*




[junior/WTA]


2002 Australian Open Girls - lost to Barbora Strycova
2002 Wimbledon Girls - lost to Vera Dushevina
2004 Wimbledon - def. Serena Williams
2006 U.S. Open - def. Justine Henin-Hardenne
2007 Australian Open - lost to Serena WIlliams
2008 Australian Open - def. Ana Ivanovic
2011 Wimbledon - lost to Petra Kvitova



*WIMBLEDON "DOUBLES STAR" WINNERS*


2006 Yan Zi & Zheng Jie, CHN
2007 Cara Black, ZIM
2008 Samantha Stosur, AUS
2009 Serena & Venus Williams, USA
2010 Vania King & Yaroslava Shvedova, USA/KAZ
2011 Kveta Peschke, CZE



*CAREER SLAM DOUBLES TITLES - ACTIVE*




[Doubles+Mixed]


14...Serena Williams [12+2]
14...Venus Williams [12+2]
10...Cara Black [5+5]
9...Lisa Raymond [5+4]
6...Liezel Huber [4+2]
6...KATARINA SREBOTNIK [1+5]
6...Rennae Stubbs [4+2]
4...Samantha Stosur [2+2]
4...Daniela Hantuchova [0+4]



*ATP DOUBLES TITLES*




[Slams, Teams, Open era]


11...BOB BRYAN & MIKE BRYAN, 2003-11
11...Todd Woodbridge & Mark Woodforde, 1992-00


[All-time Slams, Teams, AO-RG-WI-US]


12...John Newcombe & Tony Roche, 1965-76 [4-2-5-1]
11...BOB BRYAN & MIKE BRYAN, 2003-11 [5-1-2-3]
11...Todd Woodbridge & Mark Woodforde, 1992-00 [2-1-6-2]


[Career ATP, individual]


83...Todd Woodbridge
78...John McEnroe
78...Tom Okker
75...MIKE BRYAN
74...Frew McMillan
73...BOB BRYAN
73...Daniel Nestor


[Career ATP, teams]


73...BOB BRYAN & MIKE BRYAN
61...Todd Woodbridge & Mark Woodforde
57...Peter Fleming & John McEnroe
57...Bob Hewitt & Frew McMillan







TOP QUALIFIER:

Alexa Glatch/USA




TOP EARLY-ROUND (1r-2r):

#8 Petra Kvitova/CZE




TOP MIDDLE-ROUND (3r-QF):

#5 Maria Sharapova/RUS




TOP LATE-ROUND (SF-F):

#8 Petra Kvitova/CZE




TOP QUALIFYING MATCH:

Q3: Alexa Glatch/USA def. Galina Voskoboeva/KAZ 3-6/7-6/12-10




TOP EARLY-RD. MATCH (1r-2r):

2nd Rd. - #23 Venus Williams/USA def. Kimiko Date-Krumm/JPN 6-7/6-3/8-6 (2:55)




TOP MIDDLE-RD. MATCH (3r-QF):

3rd Rd. - #9 Marion Bartoli/FRA def. #21 Flavia Pennetta/ITA 5-7/6-4/9-7 (3:09)




TOP LATE-RD. MATCH (SF-F/Jr.):

xx


TOP UNDER-THE-ROOF MATCH:

2nd Rd. - #23 Venus Williams def. Kimiko Date-Krumm 6-7/6-3/8-6 (2:55)




=============================




FIRST WIN:

Kimiko Date-Krumm/JPN (def. O'Brien/GBR)




FIRST SEED OUT:

#22 Shahar Peer (1st Rd. - lost to Pervak/RUS)




NATION OF POOR SOULS:

Australia (1-3 in 1st Rd., losses by Stosur & Dokic)




UPSET QUEENS:

Russia




REVELATION LADIES:

Great Britain




LAST BRITS STANDING:

Elena Baltacha, Anne Keothavong & Laura Robson (2nd Rd.)




LAST QUALIFIER STANDING:

Misaki Doi/JPN (3rd Rd.)




LAST WILD CARD STANDING:

Sabine Lisicki/GER (SF)




IT WOMAN:

(WC) Sabine Lisicki/GER




MS. OPPORTUNITY:

#8 Petra Kvitova/CZE




COMEBACK PLAYER:

#5 Maria Sharapova/RUS




CRASH & BURN:

#15 Jelena Jankovic/SRB (1st Rd. loss to Martinez-Sanchez/ESP, worst slam result since '05 RG)




ZOMBIE QUEEN:

#9 Marion Bartoli/FRA - down 3 MP vs. Dominguez-Lino in 2nd Rd., won 9-7 3rd set vs. Pennetta in 3rd Rd., saved 3 MP vs. Lisicki to force 3rd set in QF


DOUBLES STAR:

Kveta Peschke/CZE




JUNIOR BREAKOUT:


=Nominees=
Ashleigh Barty, AUS
Irina Khromacheva, RUS





All for Day 12. More tommorow.