AO 5.0 - 'Pova Pummels with Power
One of the unintended fringe benefits of top players sliding down the rankings are early-round matches in grand slams between two still-relevant players who've been previously ranked #1, and who share a total of eleven slam singles championships between them. Just like Night 5's match-up between 2nd-seeded Maria Sharapova and #25-seed Venus Williams, a potential 3rd Round contest that was circled on everyone's schedule when the draw was announced last week.


Both women had had their way with their first two opponents, with the Russian putting together the best slam-opening two-step in twenty-eight years with a pair of 6-0/6-0 victories. Coming in, Sharapova, 25, held a 4-3 head-to-head advantage over the 32-year old Williams, but the two had only met once since the summer of 2009. In slams, Venus held a 2-0 advantage (winning at Wimbledon in '05 and '07), while Sharapova was 3-1 on hard courts. But they had more in common than just Hall of Fame careers and match wins against one another. Both have seen health issues recently put their playing days in jeopardy, leading them to cherish their ability to play the game even more. Sharapova's appreciation came as a result of shoulder surgery, while Venus' was with the diagnosis of her energy-sapping, autoimmune disease Sjogren's Syndrome. In 2012, too, both women managed to resurrect some of their past tennis fortunes, as Sharapova won her first slam crown in four years, and Williams claimed her first tour singles title since 2010.

But none of that mattered on Thursday night. Well, at least not for Venus.

In the 1st set, while Sharapova had some difficulty getting her first serve inside the service box at times, the Russian did virtually everything better than Williams. Return. Move. You name it. She got an immediate break of Venus' serve to start the match, then staved off a break point in game #2 to hold for 2-0. Venus went up 30/15 on serve one game later, but then Sharapova struck back with a big return of a second serve, followed by a double-fault from Williams. Sharapova broke against to go up 3-0, then held for 4-0 and extend her game-winning streak in Melbourne to twenty-eight. It ended there, as Venus finally held, but was about all that she was able to manage. She dropped her serve for the third time n four tries two games later, as Sharapova took the opening set 6-1, her biggest advantage over Venus in any "official" set of tennis they've ever played.

Things looked as if they'd go the same way in the 2nd set, challenging Venus' worst-ever loss, a 6-1/6-1 defeat at the hands of Martina Hingis in the 2001 Aussie Open semis. Williams was broken for the fourth time in five service games to fall behind 2-0. Then, up 3-0 and 40/love, Sharapova actually missed shot. Pushed it wide. Truthfully, it was a bit of a shock. Maybe even to Maria, since all of a sudden some errors began to creep into her game. Venus came back to hold serve, winning five straight points, then took a 30/15 lead in Sharapova's service game after another error by the Russian. It was clear that THIS was the spot where Venus' last REAL stand in this match would occur. On the next point, she sailed a forehand long, her 14th FH error of the match. #15 soon followed, into the net, right ahead of #16 in the same place one point later. Poof! Williams' last best chance to get back into the match was gone. Sharapova held for 4-1.

Venus came back from a 15/40 hole in the next game, and even held a game point after a few more Sharapova errors let her back in. But an extremely intense Sharapova, realizing that no matter what the scoreboard said, the match wasn't over yet, simply would not let the game go easily. She got the break to go up 6-1/5-1. The match WAS over, but Venus gave at least a little hope to the Kerbers and Radwanskas of the bottom half of the draw by making Sharapova look a bit human down the stretch. It took five break point attempts in the next game, but Williams finally got the first break of the Russian's serve in this Australian Open to get to 5-2, the held serve by maneuvering her way into the net and winning several points, including a face-to-face, doubles-like exchange with Sharapova and an overhead smash to make the score 5-3. Trying to serve out the match, Sharapova found herself at 30/30 and still being challenged for the first time this week in Melbourne. But another long Venus forehand gave Sharapova a match point, and she emphatically accepted it with an ace to close out the 6-1/6-3 victory in 1:21.

So, while this match didn't come close to living up to its advance hype, it wasn't boring. And, in the closing moments, a case could be made both for Sharapova's mental toughness and competitiveness putting her in position to have a shot to win her second AO, as well as for the notion that Venus, even in the closing games of a defeat, managed to break the overwhelming spell that Sharapova has had over the courts of Melbourne this week.

Of course, The Radwanska might have some REALLY crazy plans for Maria before the end of this slam. But only It -- and maybe Aga -- knows for sure. Until the time comes when we're ALL informed, we wait.











=DAY 5 NOTES=


...at the start of Day 5, Aga Radwanska reappeared on the scene, ready to face off with Heather Watson in the 3rd Round to extend her unbeaten streak one more match (and two more sets) in 2013.

A-Rad defeated the Brit in the 3rd Round of Wimbledon last summer (6-0/6-2) en route to her first career slam singles final. For the most part, she didn't have much trouble today, either. Serving for the set at 5-2, though, Radwanska allowed a few uncharacteristic errors to slip into her game -- including one at break point down -- and failed to serve out the set. Gesturing in the direction that she SHOULD have hit the ball, and muttering to herself, Aga didn't look quite as calm, cool and collected as she normally is. Strange.

I'm thinking that The Rad was a little late arriving in Melbourne today, having "other things" (see below) to do this morning, and that might have had something to do with A-Rad's minor slip-up. Have no fear, though, It arrived in time to save the day. At 5-3, 30/30, Watson hit a fabulously bad shot as she awkwardly attempted a fadeaway, leaping overhead -- she nearly missed the entire net, to the right -- that gave Aga a break point/set point. Plan intact, one point later Radwanska approached the net and perfectly placed a forehand volley into the corner that Watson couldn't get back, taking the set 6-3.

From there, it was two against one. Aga took a 5-0 lead in the 2nd, but didn't melon Watson. Could it be that The Rad was showing Watson some mercy? I'd say perish the thought, but, you know, it's not wise to say a word like "parish" anywhere that The Radwanska might hear. It's never smart to plant any ideas in It's head.

A-Rad won 6-3/6-1.

...as A-Rad & Co. were putting away Watson, 5th-seeded Angelique Kerber, on her 25th birthday, was taking on wild card Madison Keys. The match began with three consecutive breaks, but while Keys has been kicking butt for the most part in 2013, it became quickly obvious that she wasn't quite ready for the big stage early on in this match as Kerber continued to feed Keys shots, producing numerous errors.

But the 17-year began to find her way in the 2nd set. At 3-3 in the set, Keys battled back from a love/40 hole to hold serve with five consecutive points and give the German a nice run. She held a break point for 5-3 one game later, but Kerber saved it just before the falling rain made the playing surface at Laver Arena too dangerous to play on and the roof was closed. When the players walked back out a short time later, Kerber held serve for 4-4. From there, the world #5 kept just enough ahead of the tiring Keys to never lose the lead, extending points and once more producing errors (40+ for the match) from the American, especially from her backhand. Kerber got a break to take a 6-5 lead and served for the match. Still, Keys wasn't quite finished. She managed to get to break point, but Kerber brushed it off and held to win 6-3/7-5. While Kerber moves on in this tournament, make no mistake about, the very promising Keys will soon be back for more, as well.

...in Day 5's second 3rd Round match-up of former #1's, Serbs Ana Ivanovic and Jelena Jankovic met in a slam for the first time since they faced off in the Roland Garros semifinals in 2008, with the winner claiming the #1 ranking (though, if you remember, AnaIvo's people knew better than to tell her that before the match... and her three-plus year slide after winning the RG title a few days later more than proved that the group was right in their assessment). Ivanovic, much thinner than in past years, has finally put her post-slam win slump behind her, but she still hasn't been able to reclaim the slam-contending form she had a handful of seasons ago. JJ, meanwhile, is just trying to stay relevant, as she's been vocal about not being pleased with her current standing outside the Top 20, sounding as if she might not be long for the tour if things don't improve in the near future. This match-up used to be one of the more anticipated ones in the game. Admittedly, the game's other rivalries are much better now, but this one sort of came across as an afterthought today, and the news that the formerly on-bad-terms countrywomen have "buried the hatchet" only served to take away even more of the potential anticipation for their meeting.

For a bit, this looked like it might be an interesting match. It took Ivanovic three attempts to serve out the 1st set, but she finally did at 7-5. Early in the 2nd, Jankovic injured herself reaching for an overhead, and then spent the rest of the match, a 7-5/6-3 AnaIvo win, seemingly just trying to not overextend herself and get to the end of the contest without injuring herself more than she already had.

JJ has moved on from her past, successful (though loud) coaching relationship with Ricardo Sanchez. But, since the split, JJ's fortunes have waned, while Sanchez hasn't been able to keep a job with any other female player -- including Wozniacki and Petrova -- for more than a few months. Is it wrong to wish for a reconciliation? Their's wasn't a "perfect" match, but it was effective, after all. And damn fun, too.

...one round after taking out Sam Stosur in come-from-behind fashion, after the Aussie twice served for the match, Zheng Jie had a shot to continue on to the Round of 16 today against Julia Goerges. But she ended up feeling just like Stosur... well, almost. Late in the 3rd set, Zheng broke Goerges and served for the match at 5-4, but the German earned the break and won nine of the last ten points of the match to steal away with the victory.

...in doubles, Kimiko Date-Krumm's remarkable run continued as she and Arantxa Parra-Santonja took out the #2-seeded team of Hlavackova/Hradecka in the 2nd Round. Also, Aussies Ashleigh Barty & Casey Dellacqua upset Maria Kirilenko & Lisa Raymond, while Anastasia Pavlyuchenkova & Lucie Safarova took out their frustration for their singles defeats on Americans Raquel Kops-Jones & Abigail Spears.

...DAY 5 "LIKE":

-- speaking of the "old school" Queen Chaos brand of odd fun, we DID get something resembling a classic "QC moment" in the JJ/AnaIvo match. At one moment in the 1st set, both players lost track of the score. As Ivanovic set to serve to one side of the court, she found JJ set up on the wrong side to receive. When AnaIvo went to switch positions, JJ started to do the same and they were still at cross-purposes. All we needed was for a wallaby to emerge from the shadows and hop across the court and it'd have been just like old times. Ah, memories.

...DAY 5 "PAMMY STYLE":

-- hmmm, what is it with Pam Shriver and Belgians, anyway? Remember, a few years ago, when Shriver asked Caroline Wozniacki about playing an upcoming U.S. Open semifinal against Yanina "WICK-mayer," said in a condescending, oh-so-Pammy tone? Even the Open crowd booed when she did it that night. Well, interviewing Sharapova after tonight's match on ESPN2, she asked Maria about going from playing a seven-time slam champion to, with a very "Wickmayer-esque" twist and tone, playing "Kristen Flipkens" (that the Belgian's name is actually "Kirsten" only twisted the imaginary knife a bit more) next.

Ah, memories.

...and, finally, this is what I was greeted by this morning in my car.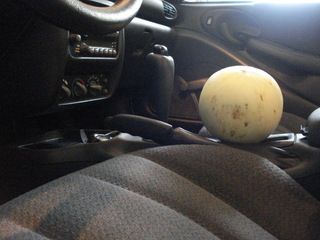 Hmmm, should I be worried?




*WOMEN'S SINGLES ROUND OF 16*


xx vs. xx
xx vs. xx
xx vs. xx
xx vs. xx
#6 Li Na/CHN vs. #18 Julia Goerges/GER
#13 Ana Ivanovic/SRB vs. #4 Agnieszka Radwanska/POL
#5 Angelique Kerber/GER vs. #19 Ekaterina Makarova/RUS
Kirsten Flipkens/BEL vs. #2 Maria Sharapova/RUS



*MEN'S SINGLES ROUND OF 16*


#1 Novak Djokovic/SRB vs. #15 Stanislas Wawrinka/SUI
Kevin Anderson/RSA vs. #5 Tomas Berdych/CZE
xx vs. #16 Kei Nishikori/JPN
#10 Nicolas Almagro/ESP vs. #8 Janko Tipsarevic/SRB
xx vs. xx
xx vs. xx
xx vs. xx
xx vs. xx











*AO "CRASH & BURN" LOSERS*


2008 Svetlana Kuznetsova, RUS (3rd Rd.)
2009 Venus Williams, USA (2nd Rd.)
2010 Maria Sharapova, RUS (1st Rd.)
2011 Jelena Jankovic, SRB (2nd Rd.)
2012 Samantha Stosur, AUS (1st Rd.)
2013 Samantha Stosur, AUS (2nd Rd.)



*SLAM MATCH WINS - WOMEN, OPEN ERA*


306...Martina Navratilova
299...Chris Evert
278...Steffi Graf
227...Serena Williams (post-2nd Rd.)
214...Venus Williams
210...Arantxa Sanchez-Vicario






TOP QUALIFIER:

#1q Lesia Tsurenko/UKR




TOP EARLY ROUND (1r-2r):

#2 Maria Sharapova/RUS




TOP MIDDLE-ROUND (3r-QF):

xx


TOP LATE ROUND (SF-F):

xx


TOP QUALIFYING MATCH:

Q1: Cagla Buykakcay/TUR d. Tamarine Tanasugarn/THA 4-6/6-2/10-8




TOP EARLY RD. MATCH (1r-2r):

2nd Rd. - Laura Robson/GBR d. #8 Petra Kvitova/CZE 2-6/6-3/11-9




TOP MIDDLE-RD. MATCH (3r-QF):

xx


TOP LATE RD. MATCH (SF-F/Jr.):

xx


TOP LAVER NIGHT MATCH:

2nd Rd. - Laura Robson/GBR d. #8 Petra Kvitova/CZE 2-6/6-3/11-9


=============================




FIRST VICTORY:

#2 Maria Sharapova/RUS (def. O.Puchkova/RUS)




FIRST SEED OUT:

#32 Mona Barthel/GER (lost to K.Pervak/KAZ in 1st Rd.)




UPSET QUEENS:

Russia




REVELATION LADIES:

United States




NATION OF POOR SOULS:

Australia (1-6 in 1st Rd.; 1-7 overall)




LAST QUALIFIER STANDING:

L.Tsurenko/UKR and V.Savinykh/RUS in 3rd Rd.


LAST WILD CARD STANDING:

Madison Keys/USA (3rd Rd.)




LAST AUSSIE STANDING:

#9 Samantha Stosur (2nd Rd.)




Ms. OPPORTUNITY:

xx


IT (???):

Nominees: M.Keys, L.Robson, S.Stephens, K.Date-Krumm


COMEBACK PLAYER:

Nominees: S.Kuznetsova, C.Wozniacki, K.Date-Krumm, V.Williams


CRASH & BURN:

#9 Samantha Stosur/AUS (lost to J.Zheng in 2nd Round; led 5-2 in 3rd and served for match at 5-2 and 5-4)




ZOMBIE QUEEN:

Nominees: #10 C.Wozniacki (down 3-0 in the 3rd set vs. Lisicki in 1st Rd.; had lost back-to-back 1st Rd. slam matches); L.Robson (down 3-0 in 3rd set vs. Kvitova in 2nd Rd.)


LADY OF THE EVENING:

Early Nominee: L.Robson


DOUBLES STAR:

xx


JUNIOR BREAKOUT:

xx






All for Day 5. More tomorrow.