Backtalk III - November 25

In the week of Thanksgiving in the U.S., Backspin silently shudders at the even-more-silent maneuvers of our most hated/most loved alter ego bent on world domination or destruction...
whichever causes the most pain.




Love/Love...

congratulations to Hordette Victoria Kan, the latest ITF "star of the week" for this offseason stretch. The Uzbeki-born 18-year old won her third 2013 challenger event, the biggest of her career, at the $75K in Sharm El Sheikh, Egypt. Kan defeated Katerina Siniakova in the QF, and then Timea Bacsinszky in the SF before taking out Slovenia's Nastja Kolar in the final.

Of note in the event, top seed Kaia Kanepi, still playing after another injury-marred campaign, knocked off ITF season title (8) leader Reka-Luca Jani in the 1st Round, only to then fall herself to Serb Jovana Jaksic in the 2nd.

In the week's other $75K, top-ranked Thai Luksika Kumkhum, 20, won her tenth career challenger (3rd of '13) with a win in the Toyota final over Japan's Hiroko Kuwata. It's her biggest title yet. In doubles, Kumkhum teamed with former Thai #1 Tammy Tanasugarn, but the duo couldn't make it past the semifinals.


=============================




Love/15...

as I alluded to in the WTA Yearbook, Nuria Llagostera-Vives has been suspended two years after testing positive for methamphetamine in Stanford.

Speaking of the Yearbook, I feel like Vika's impersonation skills were slightly given short shrift due to the size of the photo, so click on this photo to get a better view of her skills in mimicry when it comes to aping the celebratory faces of various ATP players: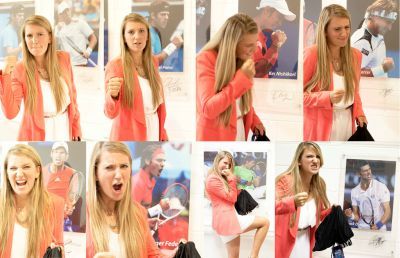 =============================




Love/30...

players and coaches continue to be matched up this offseason. Last week, Maria Sharapova chose to team up with Sven Groeneveld, who spent some time in the past working with the likes of players named Seles, Pierce, Ivanovic and Wozniacki.

The player who "unofficially" sent Sharapova's last coach -- Jimmy Connors -- packing after one match, Sloane Stephens, has hired Paul Annacone on a trial basis for the offseason. Annacone formerly worked with Pete Sampras, Tim Henman and (most recently) Roger Federer. He also served a stint as Great Britain's Davis Cup coach.

On another front, Wozniacki is already working with her new coach, Thomas Hogstedt. The Swede is looking forward to helping Caro attain her biggest goals, but he's also taking a realistic approach. Hogstedt says that the goal is to have the Dane in contention for her long-awaited first slam title... sometime in 2015. (Thanks to Leif/"Hoergren" for directing me to that little tidbit of information!)


=============================




15/30...

the WTA has handed out its official awards:



PLAYER OF THE YEAR:

Serena Williams (duh)


DOUBLES TEAM:

Sara Errani & Roberta Vini (and Hsieh & Peng hang their heads)


MOST IMPROVED:

Simona Halep (yep)


NEWCOMER:

Eugenie Bouchard (everyone on Team Genie raise your hand!)


COMEBACK:

Alisa Kleybanova (a feel good pick, but she might have an even bigger "on-court comeback" in '14 -- Jankovic or Pennetta would have been fine choices for '13, as well)

The voting for the WTA Fan Favorites ends today, so if you want to contribute to the fall of civilization as we know it, go ahead and have at it. I kid, of course. But, well, you know... when we get a shot like this I think it's best to be suspicious. Radwanska Threat Level is now set to "Concern."





=============================




15/40...

the USTA's Australian Open Wild Card Playoff tournament is set for December 20-22 in Norcross, Georgia. The eight-woman field includes (so far) Vicky Duval, Grace Min, Melanie Oudin, Shelby Rogers and Madison Brengle. News can be found at AustralianWildCard.com.


=============================




30/40...

hmmm, what is she up to now?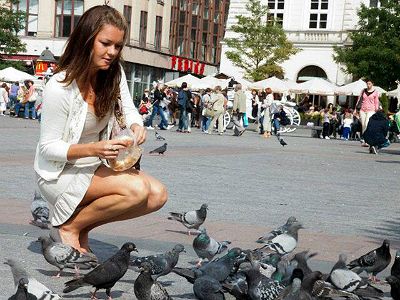 =============================
Deuce...




**MOST WTA TOP 10 SEASONS - 1975-2013**


19...Martina Navratilova, TCH/USA-CZE
14...Chris Evert, USA
13...Steffi Graf, FRG/GER
13...Monica Seles, YUG/USA
12...

Serena Williams, USA


11...Arantxa Sanchez Vicario, ESP
11...

Venus Williams, USA


10...Lindsay Davenport, USA
10...Gabriela Sabatini, ARG
9...Manuela Maleeva-Fragniere, BUL/SUI
9...Conchita Martinez, ESP
8...Jennifer Capriati, USA
8...Martina Hingis, SUI
8...

Maria Sharapova, RUS


8...Pam Shriver, USA
7...Elena Dementieva, RUS
7...Zina Garrison, USA
7...Justine Henin, BEL
7...Amelie Mauresmo, FRA
7...Jana Novotna, CZE
7...Mary Pierce, FRA
7...Wendy Turnbull, AUS
6...Kim Clijsters, BEL
6...Mary Joe Fernandez, USA
6...Hana Mandlikova, TCH/AUS
6...Helena Sukova, TCH/CZE
5...Tracy Austin, USA
5...

Victoria Azarenka, BLR


5...Evonne Goolagong, AUS
5...

Jelena Jankovic, SRB


5...Billie Jean King, USA
5...

Svetlana Kuznetsova, RUS


5...Kerry Melville-Reid, AUS
5...

Agnieszka Radwanska, POL


5...Virginia Wade, GBR
5...

Caroline Wozniacki, DEN


4...Dianne Fromholtz, AUS
4...Claudia Kohde-Kilsch, FRG
4...

Vera Zvonareva, RUS


3...Sue Barker, GBR
3...

Kimiko Date (Krumm), JPN


3...Anke Huber, GER
3...Andrea Jaeger, USA
3...

Petra Kvitova, CZE


3...

Li Na, CHN


3...Iva Majoli, CRO
3...

Samantha Stosur, AUS


3...Betty Stove, NED
3...Nathalie Tauziat, FRA
2...Marion Bartoli, FRA
2...Bettina Bunge, FRG
2...Rosie Casals, USA
2...

Jelena Dokic, AUS/YUG/SRB/AUS


2...

Sara Errani, ITA


2...Sylvia Hanika, FRG
2...

Daniela Hantuchova, SVK


2...

Ana Ivanovic, SRB


2...

Angelique Kerber, GER


2...Olga Morozova, URS
2...Anastasia Myskina, RUS
2...

Nadia Petrova, RUS


2...Barbara Potter, USA
2...Dinara Safina, RUS
2...Patty Schnyder, SUI
2...Natasha Zvereva, URS/BLR
1...Anna Chakvetadze, RUS
1...Amanda Coetzer, RSA
1...Margaret Court, AUS
1...Jo Durie, GBR
1...Francoise Durr, FRA
1...Bonnie Gadusek, USA
1...Julie Halard-Decugis, FRA
1...Kathy Jordan, USA
1...Anna Kournikova, RUS
1...Katerina Maleeva, BUL
1...Maggie Maleeva, BUL
1...Barbara Paulus, AUT
1...

Andrea Petkovic, GER


1...Nancy Richey, USA
1...Kathy Rinaldi, USA
1...Chanda Rubin, USA
1...Barbara Schett, AUT
1...

Francesca Schiavone, ITA


1...Irina Spirlea, ROU
1...Greer Stevens, RSA
1...Ai Sugiyama, JPN
1...Nicole Vaidisova, CZE
--


pink

- active


orange

- active; 2013 Top 10er



=============================




Advantage, Andrea Hlavackova...

guess who's having a whale -- well, a big fish -- of a time in Costa Rica!





=============================




Match...

and, finally, just as was the case with the WTA, it's a pretty easy task to pick the ATP "Player of the Year." Someone named R-a-... well, you know. Spacing out the rest of a subjective list of 2013's Top 10, though, leaves a bit more open to the imagination. For instance, how high does Andy Murray's Wimbledon title push him up the ladder, considering his season effectively came to a sudden halt immediately after that London afternoon in early July? Did the three slam-winning exploits of the Bryan twins allow them to climb past Novak Djokovic on the list, even with the Serb's season-closing 24-match winning streak? And where does Roger Federer fall on the list, even in his most disappointing season... and does he even make the list at all?

Find out on my ATP Players-of-the-Year list on ATP Backspin.


=============================




All for now.