FC I Preview: To Be an "A"-Team or a "B"-Team, That is the Question
It's almost time for the first Fed Cup weekend of 2014. Unfortunately, as it often the case each February, the opening round is mostly about playing with the Fed Cup team you have rather than the team that the various captains WISH they had.




*WORLD GROUP I 1st Round*




Italy at United States (Cleveland, USA - HCI)


USA: Keys, Riske, McHale, Davis
ITA: Knapp, Giorgi, Burnett, Matteucci
...the biggest question here is whether or not a teenager, thrust into the role of the #1 singles player on an American "B"-team in her maiden FC tie, can hold the ship together against the defending champs' own "B"-team in a rematch of a 1st Round clash won a year ago by the Italians. Maybe more so than any of the other opening weekend ties, the U.S./Italy match-up in Cleveland is more about who WON'T be playing than it is who WILL be. The Bannerettes are without either Williams Sister or Sloane Stephens, while the defending champion Italians are without any of the veterans that have powered Team Italia to four titles in the last eight years. Three of the four American team members are making their Fed Cup debuts, but Christina McHale's four career FC singles wins are still far more than the one total FC win put up so far by the combined four-woman Italian team. Karin Knapp (who pushed Sharapova in one of the best matches of '14 in the AO) and Camila Giorgi (a U.S. Open star last summer) have the usual Italian spirit, but 18-year old Madison Keys is the best player participating in this tie. But, considering her difficulty in closing out matches in Melbourne, it's probably going to take more than the big-serving youngster for the U.S. to pull off what would have to still be considered a minor upset even without the on-court presence of the likes of Errani, Vinci, Pennetta or Schiavone. This one might come down to the doubles, and I'll go with Italy is a very close one.


PICK:

Italy def. USA 3-2





Czech Republic at Spain (Seville, ESP - RCO)


ESP: Suarez-Navarro, Torro-Flor, Soler-Espinosa, Arruabarrena
CZE: Safarova, Zakopalova, Zahlavova-Strycova, Hlavackova


...usually, the Czechs' FC ties revolve around Kvitova, and the same is the case here. With Petra announcing that she's out due to her current virus bout, the Czechs have their proverbial backs against the wall in Seville. The Spaniards are threatening to climb back into the Fed Cup title mix, while the Czechs are trying to avoid slipping out after winning back-to-back titles in 2011-12. Kvitova had opened the season playing well in Perth, then broke down in more than one way in Melbourne before another respiratory illness took her out of Paris last week. The surface of an outdoor clay court favors the Spaniards, so Lucie Safarova is going to have to put the Czech team on her back for this to work. She's done it before, going 2-0 in the '12 final when (wouldn't you know it) Kvitova was ill and less than 100%, and sporting a 3-0 record in FC play during that season. Thing is, she's a combined 6-11 in FC singles the rest of her career, including 0-2 in last year's semifinal against Italy. If Safarova, fresh off failing to take out Li Na in the AO 3rd Round after holding match point, can pull #1 singles weight, things will hand off to Andrea Hlavackova and whoever is chosen to join her (though not former partner Lucie Hradecka) in doubles. The Czechs would seem to have the advantage there. If Safarova falters, look for Carla Suarez-Navarro to star and lead a successful Spanish upset bid.


PICK:

Czech Republic def. Spain 3-2





Germany at Slovak Republic (Bratislava, SVK - HCI)


SVK: Cibulkova, Hantuchova, Rybarikova, Cepelova
GER: Kerber, Petkovic, Goerges, Groenefeld
...the Slovaks are trying to recover from blowing that 2-0 lead over Russia in last year's semifinals, and it'll be AO finalist Dominika Cibulkova who'll be charged with taking the lead role. Of all the 1st Round ties, this one features the battle of the deepest teams (even Jana Cepelova showed some mettle in '13, winning an 11-9 3rd set vs. Bojana Jovanovski in last year's 1st Round). The indoor hard court would seem to suit both teams, but quite possibly helps the Germans the most, as all three of Angelique Kerber's tour titles have come indoors, while Andrea Petkovia and Julia Goerges have had some of their best moments in roofed matches, as well. ALG has replaced an injured Sabine Lisicki (shoulder) on the roster, and the presence of the (now, it seems) doubles specialist could end up being a boon to the Germans should things be knotted at 2-2 after singles play. I've gone back and forth on this one, but in the end I'll stick with the home team against a German group that hasn't won a 1st Round FC tie since 2002.


PICK:

Slovak Republic def. Germany 3-2





Russia at Australia (Hobart, AUS - HCO)


AUS: Stosur, Dellacqua, Barty, Sanders
RUS: Kan, Khromacheva, Solovyeva, Kudermetova
...the biggest question here has nothing to do with the actual tie. The Aussies are going to win this. If not, Alicia Molik should really be relieved of her FC coaching duties. No, the question here is when exactly the spitting match is going to end between the Russian Tennis Federation and the nation's top singles players. Four currently reside in the Top 25, and six are in the Top 100. But the highest-ranked Hordette in Hobart is young Victoria Kan, the world #158 making her FC debut. Even last year's FC final "almost miracle worker" Alexandra Panova isn't Down Under. Combined, the Russian team is 0-1 in career FC matches. On the other side, Sam Stosur has 25 FC wins and, in a stat I had to check twice (three times, actually) to make sure it was correct, the Slingin' one was actually on an eight-match FC winning streak on Aussie soil before going 0-2 there in 2011 against the Czechs. This one won't be close, but should provide Ashleigh Barty with some nice FC experience for her future role as Aussie FC singles #1. So, again, we go back to the original question. When is this going to end for Team Russia? Do the four-time FC champion Hordettes have to slip all the way down to zone play for '15 -- and at this rate they likely will -- for whatever compromise is necessary to finally get done? Meanwhile... wow, Australia is going to be in the Fed Cup semifinals. That hasn't happened since 1993. And with the right semifinal match-up this spring, it might not end there for the Aussies in 2014, either.


PICK:

Australia def. Russia 4-0





*WORLD GROUP II*




Serbia at Canada (Montreal, CAN - HCI)


CAN: Bouchard, Fichman, Dabrowski, Wozniak
SRB: Jovanovski, Dolonc, Jaksic, Krunic
...this one could get mighty interesting. Bouchard returns home from her Australian exploits, and has a chance to lead the Canadians back into the World Group I Playoffs for the first time since 2004. It helps that neither Ana Ivanovic nor Jelena Jankovic will be in Quebec, and that the top Serbian player (Bojana Jovanovski) is 4-7 in career FC singles matches. But Genie can't carry the entire load, as she can only notch two singles wins, so someone else is either going to have to win, or risk things going to the deciding doubles. Sharon Fichman teamed with both Gabriela Dabrowski and Bouchard last year in tie-deciding doubles wins that lifted Canada out of zone play and into World Group II, but "Serbian Good Luck Charm" Aleksandra Krunic is on the roster for this tie, and she was a co-winner in the three straight deciding doubles wins that pushed the Serbs into the 2012 FC final. The Serbian team is currently riding a three-tie losing streak since reaching that first-ever final, however, and a fourth would put them in the position of needing a win this spring to avoid dropping into zone play in 2015. As I said, this one could get mighty interesting.


PICK:

Canada def. Serbia 3-2





Poland at Sweden (Boras, SWE - HCI)


SWE: Larsson, Arvidsson, Peterson, Melander
POL: A.Radwanska, Piter, Kania, Rosolska
...so, is Radwanska over her post-Classic Aga funk? Operating mostly in zone play over the years, Agnieszka has been a Fed Cup ace, going 29-6 in singles and 6-1 in doubles. She'll be called upon to go up against some FC veterans in Johanna Larsson (24-14) and Sofia Arvidsson (34-23) in front of the Swedish crowd, though. She should get through, but if things come down to the doubles A-Rad won't be able to team up with injured sister Ula. Aga deserves a chance to get into World Group FC play, and she'll have that chance to play for that opportunity this spring if Poland can advance here. Really, if things go well, it's all on her shoulders. And she knows something about being hoisted upon shoulders when it comes to Fed Cup weekends.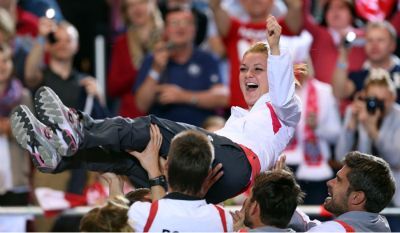 PICK:

Poland def. Sweden 4-1





Switzerland at France (Paris, FRA - HCI)


FRA: Cornet, Mladenovic, Garcia, Razzano
SUI: Voegele, Bencic, Golubic, Bacsinszky
...as has been the case for all but one tie over the last decade, the FC Pastries will go without Marion Bartoli. Alize Cornet will take on a big load in Paris, a week after playing twelve hours en route to the semifinals at the Paris indoors in the same stadium where this tie will take place. Cornet hasn't exactly been at her best in FC play -- 2-9 is career singles, and 2-4 in doubles -- but has played with great belief and put up some nice results in the early weeks of 2014. The tone for the weekend might be set in the first match, as Kristina Mladenovic (0-1 singles) will face Belinda Bencic (making her FC singles debut). If all goes mostly well for France, at least Mladenovic (4-0 doubles) will be around to help decide things in doubles.




PICK:

France d. Switzerland 3-2





Japan at Argentina (Buenos Aires, ARG - RCO)


ARG: Ormaechea, Irigoyen, Molinero, Pella
JPN: Nara, Doi, Ozaki, Aoyama
...after leading the Japanese team for so long, Ayumi Morita isn't in Buenos Aires. Morita (w/ 16 FC wins, often providing all of Japan's points in the nation's recently successful outings) left Sydney with a retirement a few weeks ago, but played two matches at the Australian Open (not sure if a recurrence of the injury is why she's absent, or if it's the clay surface -- Morita is 14-4 on hard courts, but 1-4 on clay). As it stands, the remaining Japanese team has just two career FC singles wins (one each by Kurumi Nara and Misaki Doi), while Argentine #1 Paula Ormaechea has been a rousing success while playing for her country, going 9-1 the last two seasons. The Japanese were swept on the clay in Spain last year, and the same might happen here.


PICK:

Argentina def. Japan 4-0





*ZONE PLAY*




Group I - Europe/Africa (Host: Hungary)




...some big names are in action here in a four Pool competition that has already begun in Hungary, as the likes of Yanina Wickmayer (BEL), Donna Vekic (CRO), Heather Watson (GBR), Timea Babos (HUN), Shahar Peer (ISR) and Elina Svitolina (UKR) are in the mix. It's difficult to trump the Romianian team, though, as it sports the likes of Simona Halep, Sorana Cirstea, Monica Niculescu and Irina-Camelia Begu, a team that could do some damage down the line if the Swarmettes can get out of zone play and into the WGII playoffs in the spring. Only two teams will be promoted.

PROMOTION PICKS:

Romania & Belgium





Group I - Americas (Host: Paraguay)


...this should be an interesting clash, as just one team will advance when the winner of Pool A (which includes the Mexican team of Ana Sofia Sanchez, Marcela Zacarias, Ximena Hermoso and Victoria Rodriguez vs. host Paraguay's Veronica Cepede Royg, Montserrat Gonzalez and Camila Giangreco Campi) meets the winner of Pool B (Brazil's Teliana Pereira, Laura Pigossi, Gabriela Ce, Paula Cristina Goncalves face off with Colmbia's Mariana Duque-Marino and Catalina Castano).

PROMOTION PICK:

Colombia





Group I - Asia/Oceania (Host: Kazakhstan)


...for once, the Chinese aren't playing with a "C" or "D" team, but the "A" is still absent. Peng Shuai (an A-?), Zhang Shuai, Zheng Saisai and Wang Qiang isn't a bad collection, though. But will it be enough to get past the host Kazakhs -- Voskoboeva, Shvedova, Putintseva & Karatantcheva -- for the one promotion spot?

PROMOTION PICK:

Kazakhstan





Group II - Asia/Oceania (Host: Kazakhstan)


...Sania Mirza is serving in the role of "Playing Captain" for India, and it should be a decision between Mirza & Co. and Marina Erakovic & New Zealand (both are in Pool D) for the one nation who'll be promoted here.

PROMOTION PICK:

New Zealand





Group III - Europe/Africa (Host: Estonia)


...Denmark and Estonia headline the GIII action, with Caroline Wozniacki and Kaia Kaneip leading the way. Two nations advance, so it would be a big shock if it's not one of those two. They're in pools that play each other after the round robin, though, so some nation is going to get lucky and advance.

PROMOTION PICKS:

Estonia & ummm, Greece, I guess






I'll do an update on Day 1 FC action on the weekend before the final recap. All for now.