The Djoker Has Another Last Laugh

He's the Djoker. He's the Wimbledon title smoker. He's a Big 4 debate stoker. But he sure don't want to hurt no one.
Djokovic: "For these matches you work all your life...you envision being on Centre Court holding this trophy" pic.twitter.com/wsLWDcsPKU

— Wimbledon (@Wimbledon) July 12, 2015


There are so many things about Novak Djokovic that he simply can't help, or change.

He's not Roger Federer, and he's not Rafa Nadal. He's not even Andy Murray. He'll never be the graceful king of the court who appeared to be incapable of doing wrong and made everything seem ridiculously easy no matter how difficult it might have been, nor his stylistic antithesis, the grinder who seemed to play harder than anyone ever had before on every single point and as if each one very well could be his last. He's not even the player who put an end to a sport-loving nation's nearly 80-year stretch of embarrassment, even if he IS the player who has played a huge role in laying down the foundation of his OWN nation's still-young tennis legacy. Hey, it's hard to beat the act of becoming a hero by waking sixty-four million people from a nightmare that had become an international punchline.

Djokovic can do nothing about any of that. But he can't be denied, either.



Some people call him the Serbian space cowboy. Some call him the gangster of 40/love. Some people call him Nole. Cause he speaks of the pompitous of love. People talk about him, baby. Say he's doing' 'em wrong. Well, don't you worry, baby. Cause he's right here, right here, right here at home.

And that might just be the case for a while, too. It certainly was in today's Wimbledon men's singles final.

In a rematch of the 2014 five-set final in which Djokovic denied a 32-year old Federer a chance to win career slam title #18, a record eighth title at SW19 and the distinction of being the oldest men's champ at the All-England Club in the Open era (surpassing '75 champ Arthur Ashe, who won the title at age 31), the Serb once again proved to be up to the challenge. Federer, now 33, was playing in a record tenth Wimbledon final, and was still trying to knock down each of those same marks he was eying twelve months ago. With an eleven-slam title drought, his longest since before he won his first slam crown at Wimbledon in 2003, Federer came into the Sunday match looking to be in classic form. Just like in the prime of his career, he'd been fairly well impervious on serve this grass season, being broken just once in ninety service games and coming off a near perfect serving performance in the semifinals against Murray. Having won twenty of his last twenty-one matches on grass, and with an eleven-match winning streak on the surface, it once again appeared that the death of the Swiss tennis god's slam championship-winning years had been greatly exaggerated.

But with Djokovic being his opponent, nothing was a certainty. And maybe the past few weeks would eventually be seen as not meaning as much as had been previously believed, either.

On a thirteen-match grass court winning streak of his own, and with a 19-1 surface record dating back to his run to the '13 Wimbledon final (he lost to Murray), so Djokovic by no means should have been looked upon as an anything remotely resembling an "underdog" in the match. The Serb arrived in London without having played a grass tune-up event (Federer won in Halle), but the break seemed to clear the world #1's mind of his potentially crushing loss to Stan Wawrinka in last month's Roland Garros final. With the greatest season of his career firmly on his racket that day in Paris, Djokovic had seen his hopes for the completion of his Career Slam go up in smoke on the terre battue even without Nadal on the other side of the net (he'd defeated him earlier in the tournament, in what turned out to be a truly anticlimactic long-sought obstacle finally cleared), as well as his chances for a 2015 Grand Slam that might have been effectively used as ammunition in his favor in any sort of "best of the era" discussions of the Big 4, none of which has ever been able to sweep all four majors in a single season. But, from the 1st Round forward at the AELTC, Djokovic seemed to have put his disappointment behind him until next spring. Faced with a tough draw, he moved through mostly with ease, only truly being challenged in the Round of 16 by Kevin Anderson. The South African had won two tight tie-break sets to take a 2-0 lead over Djokovic, only to see the Serb -- like he so often has in the past, as he and Serena Williams have the trait in common -- right a potentially flagging ship, get "that look" in his eye and charge back as if possessed by another more lethal version of himself. After knotting the match at two sets each, darkness pushed the 5th set to the next day, and after falling down a break Djokovic pulled through in five. After that, he had no trouble with U.S. Open champ Marin Cilic and Richard Gasquet en route to reaching his third straight Wimbledon final.

Still, as the unquestioned #1, the best hard court player in the world, the best clay courter not named Rafa (and, even then, mostly only at RG) over the last few seasons and the reigning Wimbledon champ, Djokovic wasn't favored by all against Federer, and surely wasn't the player everyone was rooting for in the final. No, that honor, as it always has been and always will be, went to the "sentimental" favorite Federer, already the all-time ATP leader with seventeen slam titles and acknowledged by many as the greatest player of all time. Such is the well-earned power of the Swiss great.

But Djokovic's longtime "third wheel," "uninvited guest" "Serbian Prince but not the Tennis King" standing wasn't going to play into what actually happened on the court. As previously noted, nothing was going to be denied him there unless it was literally snatched from his grasp. And, no matter how often people tend to forget it, that is not nearly as easy a task as one might be led to believe.

In the 1st set, Federer seemed well on his way to grabbing the early lead in the match. And when Djokovic played a positively awful sixth game, a sloppy mess that left him shaking his head at his sudden and shocking inadequacy, the Swiss vet appeared to have a clear path to taking the set with a 4-2 advantage. After all, with his serve in tip-top form, he surely wouldn't squander the lead, right? Ah, but remember, Djokovic is the best returner in the game, and with an urgency brought on by his brief lapse the Serb immediately turned up the level of his own game and got the break back one game later. He then opened game #8 with an ace and held to get things back even at 4-4. Serving down 5-6, Djokovic double-faulted and missed on a forehand to hand Federer the first of two set points. He saved the first with a big wide serve to Federer's backhand that forced a wide return, then saved second with another hard wide serve to the other corner. The Serb, in full scrapper mode, held with an ace to force a tie-break.

On the first point of the TB, Djokovic pulled off a magnificent outside-the-post backhand flick into the backcourt for a winner to go up a mini-break at 1-0, and the tone of the breaker was set. It never changed. The Serb held both his serve points to go up 3-0, and eventually won 7-1 on a Federer double-fault. While Federer had seemingly outplayed Djokovic for most of the set, the Serb has "stolen" it by upping his game at precisely the right time, committing just three unforced errors in all and using his own return game to hold back Federer's previously untouchable serve. Numbers-wise, Djokovic actually performed the best of the two on serve in the set, and that proved to be the difference.


A look back at some of the key first set stats... #Wimbledon pic.twitter.com/yg1N3vlfuF

— Wimbledon (@Wimbledon) July 12, 2015


In game #5 of the 2nd set, Djokovic saved a break point with a forehand off the line, the another with a forehand winner. Federer flubbed a forehand of his own to give the Serb a game point, which he put away with a forehand to the corner to hold for 3-2. Five games later, Djokovic went up 30/15 on Federer's serve. A double-fault gave the #1 seed his first set point of the 2nd for a 2-0 set lead, but he didn't take advantage of a forehand opportunity presented him during the point and Federer went on to hold. Djokovic would regret the missed chance later, as it very well could have cost him the title. Both won tight service games at the end of the 2nd, with Djokovic saving a BP in game #11 and Federer pulling ahead from 30/30 on his own serve a game later to hold and force another tie-break.

In the 2nd set TB, Djokovic saved a set point at 8-7, but only in the midst of holding and failing to convert six more set points (seven in all in the 2nd) of his own, failing on his final chance when a forehand sailed long on point #19 of the breaker. A netted forehand handed Federer his second SP, which he won with a serve-and-volley play off his second serve, putting away his second volley of the point to take the TB 12-10 and knot the match.

An angry Djokovic ripped off his shirt in the changeover area (though he never could quite rip it in half), then berated himself for most the period of time between sets.


After saving SEVEN set points, Federer grabs the 2nd set 7-6(10) with a stunning serve & volley play. ONE. SET. ALL. pic.twitter.com/OKrlW0kGL9

— Wimbledon (@Wimbledon) July 12, 2015


Both failed to convert chances early in the 3rd set. Djokovic went up 40/15 on Federer's serve, but failed to get the break; while Federer couldn't convert a BP of his own and grab the advantage in game #2. After going up 40/15 in game #3, Federer was then broken when he missed on a long forehand shot from his position at the net to give Djokovic a break lead at 2-1. He consolidated the break with a 3-1 hold, then both men left the court while the covers were dragged out for a brief rain delay at 3-2.

Such instances might have helped Federer regroup in the past in a big match, but the same has regularly been said of Djokovic, who can regroup or charge himself up during such a stoppage. That's what happened here, as well. Djokovic later said that coach Boris Becker (no shock here) had reminded him to be more aggressive when he returned to the court (ah, memories). As play resumed, the Serb was just that, and it proved to be the death knell to Federer's championship hopes. As Federer lost a bit of the edge off his game, Djokovic became even sharper. Serving three more times in the set, the Serb held at love in back-to-back games in the final two to take the set 6-4.

In the 4th set, Djokovic took a 30/15 lead in game #5. He immediately seized control of the next point with a return to the corner, and when Federer's error eventually ended a short rally the Serb was at BP. Another deep Djokovic return to Federer's backhand was barely pushed back to the net as the #1 seed went up a break at 3-2.

From there, Federer seemed incapable of turning the tide back in his favor, while Djokovic's serve and overall play continued to rise until the end of the match. As he has worked to become one of the fittest players in the sport over the last half-decade, Djokovic has turned into a glorious closer, able to take the momentum he's created and improve upon it until an opponent often no longer has an answer and eventually goes out with little fight-back. It's hard to say that the same happened to Federer here, but it was close.

Djokovic took a 40/love lead on serve in game #6, holding with an ace for a 4-2 lead. A Federer DF gave Djokovic the shot to run away with the set, but the world #2 managed to save the BP (as well as another) and held. He got as close as 30/30 on the Serb's serve a game later, but a long forehand return gave Djokovic a game point and essentially calmed any final Fed threat as the score moved to 5-3 with another hold.

In game #9, Djokovic's crosscourt forehand winner put him up 30/love on Federer's serve, then a backhand return off the baseline put him at double match point at 40/15. On the final point, a backhand to the corner and crosscourt forehand winner aimed behind the Swiss at the baseline closed things out at 7-6(1)/6-7(10)/6-4/6-3 with the fourth break of Federer's serve on the day.


THREE #Wimbledon crowns. NINE Grand Slam titles. @DjokerNole defeats Roger Federer 7-6, 6-7, 6-4, 6-3 pic.twitter.com/yi1bk8jFAo

— Wimbledon (@Wimbledon) July 12, 2015


While it didn't start out that way, Djokovic's third Wimbledon win (passing Nadal, and tying coach Becker and John McEnroe on the Open era SW19 list) ultimately evolved into what was a dominant final act. He more than earned yet another serving of his now-traditional grassy snack on the Centre Court lawn, even noting that, "The grass tastes very good this year. I'm not sure what the groundsmen have done, but it tastes very good."


Djokovic celebrated his Wimbledon title like anyone would: by eating grass (via @imbeccable): http://t.co/iUoKxEjJuB https://t.co/GBvMjpNU3a

— SB Nation (@SBNation) July 12, 2015


But did he earn a little more of the overall career respect that he's entitled to? Well, we'll have to see.

And now here I go with another version of this same argument yet again...

This Wimbledon title is surely another hit on the target toward that end. His missed chance in Paris to keep alive the hopes of a Grand Slam this season (which now looks like it may have been possible, in spite of the Serb's 1-4 record in U.S. Open finals, since last year's aberrational Cilic/Nishikori championship match isn't likely to repeat again so soon) may have forever lost the opportunity to devise a TRUE argument for there being a "near equal" standing with Federer and Nadal in this era. The Career Slam will eventually come, but it'll just a simple checking-of-a-box moment. He'll have to pull off something extraordinary to warrant such consideration by many.

But he battles on, knocking down more records and making it more and more difficult to avoid elevating him up the "all-time" list with every accomplishment. Slam title #9 moves him past the likes of Andre Agassi, Jimmy Connors and Ivan Lendl, and within two of Bjorn Borg. With Nadal slowing considerably and no longer a lock to win even one more major title, suddenly his (and Pete Sampras') fourteen titles is within reach. This match win was the 200th of Djokovic's slam career, and at a very fit 28 he's hardly considered "old," especially in an era where players are winning into their early to mid-thirties.


Novak Djokovic is catching up with the greats... #Wimbledon pic.twitter.com/6jn7mNM7Gg

— Wimbledon (@Wimbledon) July 12, 2015
Novak Djokovic becomes just the 7th man to win 200 Grand Slam matches pic.twitter.com/krbtL4lQs4

— Mark Masters (@markhmasters) July 12, 2015


Ultimately, it may help Djokovic's overall slam-winning case that the crop of "NextGen" slam contenders has so far mostly failed to materialize on anything resembling a consistent basis. Cilic seemed like a flash, while Tomas Berdych has never quite lived up to billing. Gael Monfils never will. Meanwhile, the likes of Grigor Dimitrov and Milos Raonic still have much to prove and don't look to be slam-worthy for at least a few more seasons. Kei Nishikori is intriguing, but not without questions. Murray will continue to be a threat, but the Serb "owns" him in slam match-ups (though the Scot HAS defeated Djokovic in the final while winning BOTH of his major titles). In the end, the late-blooming Wawrinka could end up being Djokovic's main challenger for slam wins over the next 2-3 years, save for a Federer run or two at Wimbledon, and maybe another surge by a comeback-minded Nadal in Paris. Well, unless the "NEXT NextGen" sees someone emerge big time from the group that includes the likes of Nick Kyrgios, Dominic Thiem, Borna Coric, etc.

There's no reason to think that Djokovic can't average 1.5-2 slam wins a year over the next three years, which would put him right in the 13-15 slam range. Maybe more, depending on how the young players improve (or don't improve). Federer's 17 is likely out of range, but it'd hardly be disappointing to finish second in all-time slam titles while playing in an era in which such a small group of players have won so many -- and nearly all -- of the major crowns. If Djokovic could put together the Grand Slam season in '16 (not likely, but not TOTALLY impossible) that eluded him this season, though, maybe Federer's number isn't outside of shouting distance. Even if one might go hoarse trying to speak loud enough to reach it.

But, still, again, this is a simple numbers argument. Federer and Nadal have already won the hearts and minds of history. Being viewed as masterful and romantically-above-it-all and awesome-and-to-be-feared will always win out over the scrappy-and-sometimes-crazed competitor who does everything well, but whose top skill (his return game) is more difficult to romanticize than those of his direct rival's best attributes. In some ways, Djokovic is to the men's game what Azarenka it to the women's -- likely forever to be undervalued for reasons that were never within their grasp to overturn, and whose sometimes-brash personalities many were slow to warm to in the "formative years" of their careers when "brand loyalties" were being firmly established. It doesn't matter that the Serb has been amazingly competitive against the very players he's stacked up against in this era's arguments -- 20-20 vs. Federer, 21-23 vs. Nadal, 19-8 vs. Murray (and, to look ahead, 18-4 vs. Wawrinka) -- and shown an ability to be able to win major titles even when not at his best. Nadal can't say the same on that front, and neither can Murray. Federer, either, for that matter... though, in truth, he was rarely ever NOT at his best when winning his slams titles. But when he hasn't been, including on the grass vs. Nadal, he didn't eventually lift another trophy anyway. Djokovic, much like current fellow #1 Serena, has most often managed to still find a way.

It's one of the ages-old questions in sport. What's more valuable and admirable? Being nearly impervious to defeat, or showing the oh-so-human qualities of being capable of being beaten but still finding a way to avoid it? I suppose that's why such arguments last for generations. Serena, of course, can play on both sides of that equation... it's why she's the most intriguing champion in decades, if not ever.

But Djokovic has time on his side. In a few years, if he's still picking up slam titles into his thirties, something which Federer has not been able to do and Nadal likely won't, longevity could be his overwhelming ally. Remember, Djokovic has constructed the framework of his career right alongside what could be considered the primes of both his main rivals. When he reached his first slam final at the U.S. Open in 2007, he lost to a TWENTY-SIX year old Federer (two years younger than the Serb is now) in the final. At the time, a 21-year old Nadal had won just three of his fourteen major titles (all at RG, too). Murray wouldn't win his first for another five years. Djokmovic won his first in his very next slam appearance. Meanwhile, eight years later, Djokovic is heading to New York looking to win three majors in a single season for the second time (2011). Nadal only did that once (2010), while Federer did it three times (but not since '07).

Still, Djokovic has never really been a rooting "underdog" in his career. When he might have been, while winning his first slam in Melbourne in '08 at just 20 years old, he did so right smack in the middle of the period when the Roger-vs.-Rafa rivalry was the dominant story in the sport, making him appear to be an "interloper" screwing with everyone's preferred viewing choices. But Djokovic IS the underdog. He always had been, and he will continue to be. Until all the titles are won, all the records are totaled and all the arguments are set down in writing for the final time. Then that "Numbers Guy" will have his say, whether anyone listens or not.

The Djoker's place in history is secure... it's just a matter of where he's standing in the queue.


Novak Djokovic says he hopes to be fighting for Grand Slam titles for "many more years" http://t.co/F8z4igWBod pic.twitter.com/VUShPep9jD

— BBC Sport (@BBCSport) July 12, 2015
"Don't you worry, baby. Cause he's right here, right here, right here..."










=DAY 13 NOTES=
...so, how was your weekend? Well, probably not as good as that of Martina Hingis. A day after taking the women's doubles with Sania Mirza to claim her first Wimbledon title in seventeen years, the 34-year old Swiss Miss claimed her second crown in less than twenty-four hours today in a dominating under-the-roof performance on Centre Court with Leander Paes (42) in the Mixed Doubles final. The pair defeated Timea Babos & Alexander Peya 6-1/6-1 in just forty minutes. As the BBC commentator called it, it was "Swiss mastery combined with Indian brilliance."

It's Hingis' eighteenth career slam title, and her third mixed crown. The pair also won the Australian Open Mixed title this year. So I guess she's in a dead heat with Serena and BMS in the unofficial How-Many-Slams-Can-I-Win-in-2015?" race.


Martina Hingis does the doubles double, teaming with Leander Paes to beat Peya/Babos 6-1, 6-1 in 40 mins #Wimbledon pic.twitter.com/lqFIICCyKP

— Wimbledon (@Wimbledon) July 12, 2015


The last woman to sweep the doubles titles at Wimbledon was Cara Black in 2004. Bethanie Mattek-Sands just pulled off the feat last month at Roland Garros, as well.

...in the juniors, unseeded six-foot-teen American Ryan Opelka took the boys singles crown, giving the U.S. back-to-back Wimbledon junior champs. Firing fifteen aces, Opelka defeated #12-seeded Mikael Ymer 7-6(5)/6-4.


Seventeen-year-old @ReillyOpelka of the USA is the 2015 #Wimbledon boys' champion, beating Mikael Ymer 7-6(5), 6-4 pic.twitter.com/2lfNgWobeH

— Wimbledon (@Wimbledon) July 12, 2015
Reilly Opelka receives his trophy in the royal box. pic.twitter.com/twLicAl13h

— LaWanda (@lawanda50) July 12, 2015


Anyone else think he slightly resembles Michael Phelps?

Opelka didn't pull off the sweep, though, as he and Japan's Akira Santillan lost to the Vietnamese/Indian pair of Ham Hoang Ly & Sumit Nagal 7-6(4)/6-4.


Reilly Opelka was juuuuust a bit taller than the rest of the #Wimbledon boys' doubles final. pic.twitter.com/BKsj4ioWSO

— Ben Rothenberg (@BenRothenberg) July 12, 2015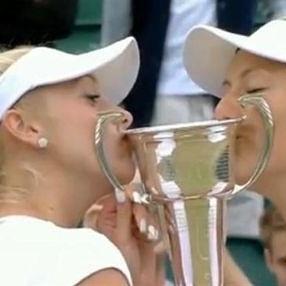 In the girls doubles, hungry Hungarians Dalma Galfi & Fanni Stollar (the #3 seeds who took out #1's Kolodjiezova/Vondrousova in the SF) defeated Vera Lapko and Tereza Mihalikova 6-3/6-2. Hungary has a history over the last decade of winning the girls doubles at Wimbledon. Timea Babos won in '10 (w/ Sloane Stephens), as did Agnes Szavay (w/ Vika Azarenka) in '05.

...in the wheelchair doubles final, in their seventh straight meeting in a slam final, #1 Yui Kamiji & Jordanne Whiley defeated #2 Jiske Griffioen & Aniek Van Koot 6-2/5-7/6-3 to win their sixth major title in those last seven slams.


Here's how @jordannejoyce92 & Yui Kamiji successfully defended their #WimbledonFinal title http://t.co/gYX5RGlj00 pic.twitter.com/zmGfQAnGl7

— BBC Sport (@BBCSport) July 12, 2015


Also, there was some big news for the Wheelchari event at Wimbledon. See below.

...on the ITF circuit, Swarmette Alexandra Dulgheru took the $100K clay challenger in Contrexville, France with a 6-3/1-6/7-5 win over Yulia Putintseva. It's the Romanian's fourth career $100K title. She's got two career WTA titles to her credit, and was in the Kuala Lumpur final earlier this year.

In the week's two $50K events, Carina Witthoeft (GER) defeated Swede Johanna Larsson in straight sets in Versmold, Germany to claim her third '15 challenger title, while 19-year old Turk Ipek Soylu won her biggest career title in the Bursa, Turkey challenger with a three-set win over Latvian Anastasiya Sevastova in the final.


Happy about my win today?? pic.twitter.com/GwDX4AhG7O

— Carina Witthöft (@WitthoeftCarina) July 12, 2015
Wow... 50 bin dolarlik Bursa Cup Sampiyonlugu.Herkese destekleri için çok tesekkür ederim.Inanilmaz bir hafta oldu ???? pic.twitter.com/ND9nJQYtZC

— Ipek Soylu (@soyluofficial) July 12, 2015


Pastry Alize Lim won her third career challenger title, but her first since 2010, at the $25K tournament in Turin, Italy. And she started the new tradition of, umm, licking the trophy?


My early self birthday present tastes better than a cake #trophyselfie #Torino ?? pic.twitter.com/acvMXQzw8h

— Alizé Lim (@AlizeLim) July 11, 2015


In the $10K challenger in Sharm El Sheikh, Egypt it was 19-year old Aussie Astra Sharma (so, Sharma in Sharm El Sheikh... naturally) winning her first pro title. A week after reaching a semifinals, Sharma played in her first pro final and defeated Egypt's Ola Abou Zekry, 6-3/2-6/6-0, denying the 28-year a sweep of both the singles and doubles titles. Sharma, as a Freshman, recently led Vanderbilt to its first women's team NCAA Championship and was named Tournament MVP.


Astra Sharma, the clincher of @Vandywtennis championship, has her own trading card in the new SI Kids Magazine! pic.twitter.com/1gkH7SW88l

— Parsa (@Smith_J1989) July 4, 2015





LIKE FOR DAY 13:

Grace in defeat


Federer: "Novak was tougher on the bigger points and at the end he was rock solid. That's how it goes" #Wimbledon pic.twitter.com/n5NtuunioG

— Wimbledon (@Wimbledon) July 12, 2015
Federer: "Novak played not only great today, but the whole week ... plus this year, plus last year. He deserved it" pic.twitter.com/0ddxOIJR2x

— Wimbledon (@Wimbledon) July 12, 2015
NO END IN SIGHT ON DAY 13:
And why should there be?
Federer: "I am still very hungry and motivated to keep playing. Matches like these help" #Wimbledon pic.twitter.com/y90oSe48Yg

— Wimbledon (@Wimbledon) July 12, 2015


After all, if Kevin Anderson takes out Djokovic earlier in the tournament like he probably should have after claiming the first two sets (and being up a break in the 5th) against the Serb in the Round of 16, Federer would likely have been lifting his eighth Wimbledon trophy today. A final against Marin Cilic (Djokovic's QF opponent) would have been intriguing with the Croat's serve (and that nation's history at this tournament on the men's side pulling him along), but does anyone believe Federer wouldn't have beaten Richard Gasquet (lost to Djokovic in the SF) if the Frenchman had made his way to the final? Exactly.




LIKE FOR DAY 13:

An Engraver's Work is Never Done: The Sequel


The trophy is ready for our 2015 champion @DjokerNole... #Wimbledon pic.twitter.com/gaJpNxSGLz

— Wimbledon (@Wimbledon) July 12, 2015





LIKE FOR DAY 13:

And Boris got another Wimbledon win over old SW19 rival Stefan Edberg (Federer's coach), too.


Anything you can do... Novak Djokovic is now level with his coach Boris Becker on 3 #Wimbledon titles pic.twitter.com/2qRYTZyrxC

— Wimbledon (@Wimbledon) July 12, 2015





LIKE FOR DAY 13:

I was just wondering the other day why they didn't stage the Wheelchair singles events at Wimbledon... and voila! If only I got my way with everything so easily.


#Wimbledon announces Wheelchair Tennis Singles Events from 2016 http://t.co/Mn8wj6FCFE pic.twitter.com/K44mjWt9Mt

— Wimbledon (@Wimbledon) July 12, 2015





"Hmmm..." FOR DAY 13:

I feel like I should make some sort of Rad, Anna or otherwise reference here. But I got nothin'.


The final day has dawned! #Wimbledon pic.twitter.com/PonLiw258q

— Rufus The Hawk (@RufusTheHawk) July 12, 2015





LIKE FOR DAY 13:

When little Martina was about the rule the tennis world, in 1996...


This was the beginning of the story!!! Aside Helena Suková in 1996 @Wimbledon doubles pic.twitter.com/tCTaMO1C3u

— Martina Hingis (@mhingis) July 12, 2015


And maybe as she's about to do it again?



Or maybe she already IS... the non-Serena part of it, anyway.


#Wimbledon: Leander Paes-Martina Hingis clinch mixed doubles title http://t.co/7wM5ORloFK pic.twitter.com/7F04dTMQXJ

— India Today (@IndiaToday) July 12, 2015





LIKE FOR DAY 13:

Don't cry for me, England.


When you're having that Evita moment https://t.co/7DOLHtTCIg

— WTA Reactions (@WTAreactions) July 11, 2015


Hmmm, and come to think of it, I didn't see Drake anywhere on Saturday... so maybe Madonna ran him off. (Get it? Madonna played Evita, so everything has now come full circle... oh, nevermind.)




THE REALITY OF A FINAL ON DAY 13:




The contrasting emotions on #WimbledonFinal day! http://t.co/SuxArjT72d pic.twitter.com/gJEYk6pAQQ

— BBC Tennis (@bbctennis) July 12, 2015
BECAUSE YOU CAN'T HAVE ONE WITHOUT THE OTHER ON DAY 13:
...and, finally...




BASTAD, SWEDEN (Int'l $227K/RCO)


2014 Final: Barthel d. Scheepers
2014 Doubles Final: Klepac/Torro-Flor d. Rae/Smith
15 Top Seeds: S.Williams/Stosur
=============================


=SF=


#1 S.Williams d. #3 Strycova
#2 Stosur d. #6 Siniakova


=FINAL=


#1 S.Williams d. #2 Stosur

...apparently, Serena is going to play on the clay here. Unless it's a splash-and-dash sort of situation, she'll probably be all right getting to the final, at the very least, and then she'll likely have a little rest before attacking the U.S. Open Series schedule. Sort of hard to pick against her here as long as she's there.













*LADIES' SINGLES FINAL*
#1 Serena Williams/USA def. #20 Garbine Muguruza/ESP 6-4/6-4
*GENTLEMEN'S SINGLES FINAL*
#1 Novak Djokovic/SRB def. #2 Roger Federer/SUI 7-6(1)/6-7(10)/6-4/6-3
*LADIES' DOUBLES FINAL*
#1 Hingis/Mirza (SUI/IND) def. #2 Makarova/Vesnina (RUS/RUS) 5-7/7-6(4)/7-5
*GENTLEMEN'S DOUBLES FINAL*
#4 Rojer/Tecau (NED/ROU) def. #13 J.Murray/Peers (GBR/AUS) 7-6(5)/6-4/6-4
*MIXED DOUBLES FINAL*
#7 Hingis/Paes (SUI/IND) def. #5 Babos/Peya (HUN/AUT) 6-1/6-1
*GIRLS SINGLES FINAL*
Sofya Zhuk/RUS def. #12 Anna Blinkova/RUS 7-5/6-4
*BOYS SINGLES FINAL*
Reilly Opelka/USA def. #12/WC Mikael Ymer/SWE 7-6(5)/6-4
*GIRLS DOUBLES FINAL*
#3 Galfi/Stollar (HUN/HUN) def. Lapko/Mihalikova (BLR/SVK) 6-3/6-2
*BOYS DOUBLES FINAL*
#8 Ly/Nagal (VIE/IND) def. #4 Opelka/Santillan (USA/JPN) 7-6(4)/6-4
*WOMEN'S WC DOUBLES FINAL*
#1 Kamiji/Whiley (JPN/GBR) def. #2 Griffioen/Van Koot (NED/NED) 6-2/5-7/6-3
*MEN'S WC DOUBLES FINAL*
Fernandez/Peifer (ARG/FRA) def. #2 Jeremiasz/Reid (FRA/GBR) 7-5/5-7/6-2











Watching #WimbledonFinal in my batman pjs ???? pic.twitter.com/yEVnomN0qg

— victoria azarenka (@vika7) July 12, 2015
Pssssst... "Robin" won. Hmmm, or was it actually Batman?
Congrats to @DjokerNole just bravo ?????? and much respect and love for @rogerfederer #WimbledonFinal

— victoria azarenka (@vika7) July 12, 2015




*RECENT WIMBLEDON MIXED DOUBLES CHAMPS*


2006 Vera Zvonareva & Andy Ram, RUS/ISR
2007 Jelena Jankovic & Jamie Murray, SRB/GBR
2008 Samantha Stosur & Bob Bryan, AUS/USA
2009 Anna-Lena Groenefeld & Mark Knowles, GER/BAH
2010 Cark Black & Leander Paes, ZIM/IND
2011 Iveta Benesova & Jurgen Melzer, CZE/AUT
2012 Lisa Raymond & Mike Bryan, USA/USA
2013 Kristina Mladenovic & Daniel Nestor, FRA/CAN
2014 Samantha Stosur & Nenad Zimonjic, AUS/SRB
2015 Martina Hingis & Leander Paes, SUI/IND



*2015 WTA/MIXED DOUBLES TITLES - INDIVIDUALS*


7...MARTINA HINGIS, SUI (5/2)
5...Bethanie Mattek-Sands, USA (4/1)
5...Sania Mirza, IND (5/0)
3...Timea Babos, HUN (3/0)
3...Kristina Mladenovic, FRA (3/0)
3...Lucie Safarova, CZE (3/0)
2...Ysaline Bonaventure, BEL (2/0)
2...Chan Hao-Ching, TPE (2/0)
2...Raquel Kops-Jones, USA (2/0)
2...Liang Chen, CHN (2/0)
2...Anabel Medina Garrigues, ESP (2/0)
2...Abigail Spears, USA (2/0)



*RECENT WIMBLEDON GIRLS DOUBLES CHAMPS*


2002 Elke Clijsters & Barbora Strycova, BEL/CZE
2003 Alisa Kleybanova & Sania Mirza, RUS/IND
2004 Victoria Azarenka & Olga Govortsova, BLR/BLR
2005 Victoria Azarenka & Agnes Szavay, BLR/HUN
2006 Alisa Kleybanova & Anastasia Pavlyuchenkova, RUS/RUS
2007 Anastasia Pavlychenkova & Urszula Radwanska, RUS/POL
2008 Polona Hercog & Jessica Moore, SLO/AUS
2009 Noppawan Lertcheewakarn & Sally Peers, THA/AUS
2010 Timea Babos & Sloane Stephens, HUN/USA
2011 Eugenie Bouchard & Grace Min, CAN/USA
2012 Eugenie Bouchard & Taylor Townsend, CAN/USA
2013 Barbora Krejcikova & Katerina Siniakova, CZE/CZE
2014 Tami Grende & Ye Qui Yu, INA/CHN
2015 Dalma Galfi & Fanni Stollar, HUN/HUN



*WHEELCHAIR SLAM DOUBLES CHAMPIONS - post-Vergeer*




2013=


A: Griffioen/Van Koot, NED/NED
R: Griffioen/Van Koot, NED/NED
W: Griffioen/Van Koot, NED/NED
U: Griffioen/Van Koot, NED/NED


2014=


A: Kamiji/Whiley, JPN/GBR
R: Kamiji/Whiley, JPN/GBR
W: Kamiji/Whiley, JPN/GBR
U: Kamiji/Whiley, JPN/GBR


2015=


A: Kamiji/Whiley, JPN/GBR
R: Griffioen/Van Koot, NED/NED
W: Kamiji/Whiley, JPN/GBR



*WON WIMBLEDON/U.S. OPEN BACK-to-BACK - Open era*


1970 Margaret Court
1972 Billie Jean King
1976 Chris Evert
1982 Chris Evert-Lloyd
1983 Martina Navratilova
1986 Martina Navratilova
1987 Martina Navratilova
1988 Steffi Graf *
1989 Steffi Graf
1993 Steffi Graf
1995 Steffi Graf
1996 Steffi Graf
1997 Martin Hingis
2000 Venus Williams *
2001 Venus Williams
2002 Serena Williams
2012 Serena Williams *
--
* - also own Summer Olympic Gold Medal



*WIMBLEDON MEN'S TITLES*




[all-time]


7...Pete Sampras
7...William Renshaw
7...Roger Federer
5...Bjorn Borg
5...Laurence Doherty


[Open era]


7...Pete Sampras
7...Roger Federer
5...Bjorn Borg
3...NOVAK DJOKOVIC
3...Boris Becker
3...John McEnroe



*RECENT WIMBLEDON MEN'S CHAMPIONS*


2003 Roger Federer, SUI
2004 Roger Federer, SUI
2005 Roger Federer, SUI
2006 Roger Federer, SUI
2007 Roger Federer, SUI
2008 Rafael Nadal, ESP
2009 Roger Federer, SUI
2010 Rafael Nadal, ESP
2011 Novak Djokovic, SRB
2012 Roger Federer, SUI
2013 Andy Murray, GBR
2014 Novak Djokovic, SRB
2015 Novak Djokovic, SRB



*MEN'S SLAM TITLES*




[all-time]


17 - Roger Federer
14 - Rafael Nadal
14 - Pete Sampras
12 - Roy Emerson
11 - Bjorn Borg
11 - Rod Laver
10 - Bill Tilden
9 - NOVAK DJOKOVIC


[Open era]


17 - Roger Federer
14 - Rafael Nadal
14 - Pete Sampras
11 - Bjorn Borg
9 - NOVAK DJOKOVIC
8 - Andre Agassi
8 - Jimmy Connors
8 - Ivan Lendl
7 - John McEnroe
7 - Mats Wilander



**SLAM FINALS - ACTIVE MEN**


26...ROGER FEDERER, SUI (17-9)
20...Rafael Nadal, ESP (14-6)
17...NOVAK DJOKOVIC, SRB (9-8)
8...Andy Murray, GBR (2-6)
4...Lleyton Hewitt, AUS (2-2)
2...Stan Wawrinka, SUI (2-0)
2...Robin Soderling, SWE (0-2)


[all-time]


26...ROGER FEDERER, SUI (17-9)
20...Rafael Nadal, ESP (14-6)
19...Ivan Lendl (8-11)
18...Pete Sampras (11-6)
17...Rod Laver (11-6)
17...NOVAK DJOKOVIC (9-8)
16...Bjorn Borg (11-5)
16...Ken Rosewall (8-8)



*WIMBLEDON BOYS CHAMPIONS - since 1998*


1998 Roger Federer, SUI
1999 Jurgen Melzer, AUT
2000 Nicolas Mahut, FRA
2001 Roman Valent, SUI
2002 Todd Reid, AUS
2003 Florin Mergea, ROU
2004 Gael Monfils, FRA
2005 Jeremy Chardy, FRA
2006 Thiemo de Bakker, NED
2007 Donald Young, USA
2008 Grigor Dimitrov, BUL
2009 Andrey Kuznetsov, RUS
2010 Marton Fucsovics, HUN
2011 Luke Saville, AUS
2012 Filip Peliwo, CAN
2013 Gianluigi Quinzi, ITA
2014 Noah Rubin, USA
2015 Reilly Opelka, USA



*U.S. OPEN SERIES WINNERS*




[women]


2004 Lindsay Davenport, USA
2005 Kim Clijsters, BEL *
2006 Ana Ivanovic, SRB
2007 Maria Sharapova, RUS
2008 Dinara Safina, RUS
2009 Elena Dementieva, RUS
2010 Caroline Wozniacki, DEN
2011 Serena Williams, USA
2012 Petra Kvitova, CZE
2013 Serena Williams, USA *
2014 Serena Williams, USA *


[men]


2004 Lleyton Hewitt, AUS
2005 Andy Roddick, USA
2006 Andy Roddick, USA
2007 Roger Federer, SUI *
2008 Rafael Nadal, ESP
2009 Sam Querrey, USA
2010 Andy Murray, GBR
2011 Mardy Fish, USA
2012 Novak Djokovic, SRB
2013 Rafael Nadal, ESP
2014 Milos Raonic, CAN
--
* - also won U.S. Open title





TOP QUALIFIER:
Petra Cetkovska, CZE
TOP EARLY-ROUND (1r-2r):
#2 Petra Kvitova/CZE
TOP MIDDLE-ROUND (3r-QF):
#20 Garbine Muguruza/ESP & #4 Maria Sharapova/RUS
TOP LATE-ROUND (SF-F):
#1 Serena Williams/US
TOP QUALIFYING MATCH:
Q1: #21 Michelle Larcher de Brito/POR d. Ysaline Bonaventure/BEL 1-6/6-3/12-10 (saved 4 MP)
TOP EARLY-RD. MATCH (1r-2r):
1st Rd. - #6 Lucie Safarova/CZE d. Alison Riske/USA 3-6/7-5/6-3 (Riske up set and 4-2, served 5-4, 2-0 in 3rd)
TOP MIDDLE-RD. MATCH (3r-QF):
3rd Rd. - #1 Serena Williams/USA d. Heather Watson/GBR 6-2/4-6/7-5 (Watson up dbl-bk 3-0 in 3rd, served at 5-4, 2 pts from win)
TOP LATE-RD. MATCH (SF-F/Jr.):
Girls QF - #12 Anna Blinkova/RUS d. (WC) Tornado Black/USA 1-6/6-3/12-10 (3:07)
=============================
FIRST WINNER:
#23 Victoria Azarenka/BLR (def. Kontaveit/EST)
FIRST SEED OUT:
#24 Flavia Pennetta/ITA (lost 1st Rd. to Diyas/KAZ)
UPSET QUEENS:
The Bannerettes
REVELATION LADIES:
The Swiss
NATION OF POOR SOULS:
Italy (Pennetta "FSO" - ITA 4/6 FSO at Wimbledon; Schiavone another 1st Rd; Knapp ret.; Vinci disappoints)
LAST QUALIFIER STANDING:
Olga Govortsova/BLR (4th Rd.)
LAST WILD CARD STANDING:
Jelena Ostapenko/LAT (2nd Rd.)
LAST BRIT STANDING:
Heather Watson/GBR (3rd Rd.)
IT ("??"):
("Vandeweghe") Coco Vandeweghe/USA (1st slam QF, lives up to family history w/ New York Knick commentary)
Ms.OPPORTUNITY:
#20 Garbine Muguruza/ESP
COMEBACK:
#13 Aga Radwanska/POL
CRASH & BURN:
#12 Genie Bouchard/CAN (1st Rd. loss to qualifier #117 Duan; was '14 finalist; two con. slam 1st Rd. losses) & #3 Simona Halep/ROU (1st Rd. loss to #106 Cepelova; lost to Bouchard in '14 SW19 semi)
ZOMBIE QUEEN:
#1 Serena Williams (3rd Rd. - down double-break 3-0 in 3rd set vs. Watson, who served for match at 5-4 and was two points from victory)
THE RADWANSKA AWARD (June 26):
Aga Radwanska & the seagull (in Eastbourne, bird swoops at Radwanska as she serves... one day later, she loses in the final)
THE RADWANSKA AWARD (Day 3):
Day 3 is the hottest day ever recorded in Wimbledon history (35.7 C / 96 F), fire alarm evacuates Centre Court
DOUBLES STAR:
Sania Mirza/IND
KIMIKO DATE-KRUMM VETERAN CUP (KDK CUP):
Martina Hingis/SUI
JUNIOR BREAKOUT:
Sofya Zhuk/RUS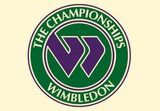 All for now. Grass Court Awards this week.