Wk.5- Confetti, Blood, Tears and Cheers
The time has arrived to sort through what's left of the confetti, blood, tears and cheers of a Fed Cup week full of sky-high highs and down low lows too numerous to count.
Conveniently, both far ends of the spectrum were represented in Moscow...
They don't have a top 100 player - but Netherlands are through to the #FedCup semifinals: https://t.co/7qOc88JXey pic.twitter.com/iJ2F84tiwU

— Fed Cup (@FedCup) February 7, 2016


A quick rundown of some stand-outs from 2016's first week of Fed Cup action:



*TEN THINGS THAT WERE GOOD*




1.

Karolina & the Secret Weapon

7 - straight wins
8 - straight semifinals
100 - #FedCup tie victories

Czech Rep win again: https://t.co/z7p874E7Ax pic.twitter.com/aLRO6kIQNN

— Fed Cup (@FedCup) February 7, 2016



========================================




2.

Amelie & the Pastries


========================================




3.

The Swiss Rock & the Original Swiss Miss


========================================




4.

Kiki & Richel


========================================




5.

Garbi & CSN (Garbi's the one without the superhero utility belt)

========================================




6.

a Belarusian named Vika Aliaksandra


========================================




7.

Slingin' Sam


========================================




8.

(gulp) Mary Joe Fernandez (gulp) & the Bannerettes (gulp) -- I need some water!

The USA team celebrating its win over Poland in Hawaii #FedCup pic.twitter.com/OYAusnQMYI

— Fed Cup (@FedCup) February 7, 2016



========================================




9.

Annika, Rodionova & Mo-ni-ca


========================================




10.

and Dutch Captain Paul Haarhuis having his name attached to something other than this match, and THAT point


========================================





*FIVE THAT WEREN'T*




1.

Petra. Oh, Petra.


========================================




2.

Russia. Nyet, nyet, nyet, nyet...


========================================




3.

China. You can bring a horse to water, but you just can't make it drink. Still.


========================================




4.

Petko & JJ


========================================




5.

and the end of an Italian Fed Cup era (and this time it may be true)


========================================





*FIVE THAT WERE SOMEWHERE IN BETWEEN*




1.

Sveta... simultaneously reminding us why we watch, and why we often have to cover our eyes


========================================




2.

Mo-ni-ca (the Puerto Rican one)


========================================




3.

The Canadian Aleksandra


========================================




4.

The French Kiki & the NextGen Italian #1


========================================




5.

and Si-mo-na


========================================





*AND ONE THAT PROVES THAT GOOD LUCK DOESN'T EXIST WITHOUT THE BAD LUCK THAT GIVES IT LIFE*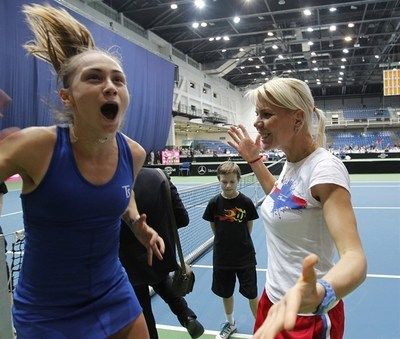 Aleksandra Krunic, living up to her Serbian Good Luck Charm nickname, and then some... even without picking up a racket.

Krunic played a key role in Serbia's climb into its first-ever Fed Cup final back in 2012, either by teaming with Jelena Jankovic or Ana Ivanovic to win deciding doubles matches en route, or simply by boosting the team's karma with her presence in an important role on the squad. But after 2012, the Serbian Powers That Be made the fatefully wrong decision to either disregard Krunic, totally leaving her off the team or relegating her to mop-up duty after the likes of favored "replacement" players like Vesna Dolonc (the former Hordette who'd been officially a Serb for about two minutes when she was elevated into a key roster spot over The Bracelet, only to fall on her face time and time again) had sealed the squad's (losing) fate. During this stretch, Team Serbia lost five consecutive ties and fell all the way into zone play in 2015.

Re-enter the Bracelet.

Finally, with Krunic back -- and playing a lead role, first by design in February, then due to Jelena Jankovic's injury in the spring -- the Serbs stormed through Europe/Africa I zone play and the World Group II Playoffs. Krunic went undefeated (3-0 in singles, 1-0 doubles) the first FC week, then did so again (2-0/1-0) in the spring as she put the team on her small shoulders and lifted it back into World Group II for 2016.

But Krunic was absent from this weekend's tie against Spain due to having surgery to remove a benign thyroid tumor -- she's reported it went well, and that'd rest for three weeks before returning to the court -- leaving the JJ-led, AnaIvo-absent Serbs to fend for themselves.


Well, needless to say, it was ugly. The Spanish throttled the Serbs 3-0 in their WG II tie (never giving up more than seven games in three singles matches), and then didn't even "gift" them a dead rubber doubles win to avoid a total shutout as the Spaniards claimed a 10-7 match-deciding super-tie break to bring down the curtain on a disastrous home tie in Kraljevo, Serbia.

Maybe come springtime, The Bracelet will return to the team, and bring her usual good luck with her. It's become clear that Team Serbia needs it, and her.




[Fed Cup Captain Threat Level Chart - 2016 FC I]




Dutch Captain Paul Haarhuis - keep calm and carry on... you're playing with house money now
French Captain Amelie Mauresmo - destined to one day be the last one standing?
Swiss Captain Heinz Guenthardt - yeah, that's how it's supposed to work out
Czech Captain Petr Pala - what, me worry?
Australian Captain Alicia Molik - feelin' good about the future
Spanish Captain Conchita Martinez - ditto
Belgian Captain Ann Devries - I'm just goin' with it. No pressure.
Israeli Captain Tzipi Hirsh-Obziler - hey, that turned out better than I expected
Future Indian Captain Sania Mirza - Karman and Pranjala... you've got my number, right?


Romanian Captain Alina Cercel-Tecsor - we'll get another chance, right?
German Captain Barbara Rittner - et tu, Petko?
British Captain Judy Murray - Johanna? Are you busy, dear?
Belarusian Captain Eduard Dubrou - see you soon, though... right, V?
Ukrainian Captain Mikhail Filima - see you soon, though... right, E?
Canadian Captain Sylvain Bruneau - do I always have to do this with one hand tied behind my back?


U.S. Captain Mary Joe Fernandez - this can't last long


Italian Captain Corrado Barazzutti - we'll always have pasta


Polish Playing Captain Alijca Jans-Ignacik - did I sign up for this?
Slovak Captain Matej Liptak - oh, Kristina
Serbian Captain Tatjana Jecmenica - just give me a little Luck


Russian Captain Anastasia Myskina - who's there? Am I the only one here? Help me.


*AND ANOTHER THAT I'LL CONTINUE TO BRING UP AT THIS TIME EACH SEASON...this year, with another "option" included*
The past few seasons in this space, I've used the occasion of the first FC weekend of the year to comment on how great it would be if the Fed Cup adopted the same rule that Davis Cup uses regarding doubles matches. Namely, that each tie's doubles match be moved from the #5 to #3 position, making it a viable match in EVERY tie, not to mention allowing all team members to contribute in a "live" rubber and bringing about some interesting coaching decisions, since top singles players would be potentially-necessary doubles team choices while still possibly having to play an additional singles match later (and, with best-of-three matches in play, the ties wouldn't have to be stretched from two to three days, unlike with DC). I've always longed for the sort of dramatic winner-take-all singles matches that would occur if the FC adopted the DC format. Three years ago, the decision was made to move the doubles match up from #5 to the #4 dead rubber position if the first three singles matches are won by the same nation, throwing at least a small bone to the doubles participants (in many cases, young FC newbies).

Often, with some top players arriving injured (or healthy and simply begging off by choice) and confining themselves to doubles, moving the usual #5 match to #3 would mean that those players would be assured of taking part in a "live" match. While four of the eight World Group ties this weekend ultimately DID come down to the doubles (SUI/GER, CZE/ROU, AUS/SVK and BLR/CAN), one that didn't (NED/RUS) would have meant that Maria Sharapova, only scheduled for doubles this weekend (for one or several of, likely, many reasons), would have seen the court in Moscow. And, now, there are a few headlining players (like Martina Hingis) who ONLY play doubles, so it usually takes some doing to assure them a significant role. The change would play to that reality, as well.

Of course, there is another option to make things more conducive to Fed Cup maybe regaining some of its past glory, and luring top players far more often. It sort of goes hand in hand, doesn't it? The overall yearly format could be changed.

As it is, the current February/April/late-season Final yearly format remains intact, but there is the option of, say, moving to the sort of large week-long World Group competition such as the one that last took place in 1994, which would mean most of the game's best players would only have to commit to ONE week of Fed Cup action a season. If not that, there's also the idea of a modified version of that format which was last used in 2000), with the semis and final taking place during the same week.

Anything that would bring top players to the FC on a more regular basis -- even if only in doubles, in which some, though not all, Top 10-level players are proficient -- is worth considering, since it would allow them to be a meaningful part of their nation's FC team (and become Olympic eligible) while not being pressured into tiring themselves out by also playing singles right after the Australia/Asia swing, and immediately before big tour events in the Middle East and North America... then still needing to commit two MORE weeks to Fed Cup in a potential championship year if their respective country is to field a consistent team over the course of a season.

Hey, a Backspinner can (continue to) dream (maybe even in color), right?




*WEEK 5*



=1st Round=


Czech Republic def. Romania (H) 3-2
Switzerland def. Germany (H) 3-2
France (H) def. Italy 4-1
Netherlands def. Russia (H) 3-1


=World Group II=


Australia def. Slovakia (H) 3-2
Spain def. Serbia (H) 4-0
United States (H) def. Poland 4-0
Belarus def. Canada (H) 3-2


=Zone I Promotion Finals=


[Europe/Africa]: Belgium def. Great Britain 2-0
[Europe/Africa]: Ukraine def. Israel 2-0
[Americas]: Argentina def. Paraguay 2-0
[Asia/Oceania]: Taiwan def. Japan 2-1


=Zone II Promotion Finals=


[Americas]: Venezuela def. Guatemala 2-0
[Americas]: Chile def. Puerto Rico 2-1

[1st Round]




Czech Republic def. Romania 3-2 [Cluj-Napoca, ROU]


...in a match-up of two teams coming in on dueling two-season winning streaks, the Czechs fended off a stiff challenge from their Swarmette hosts as Petra Kvitova's first-ever 0-2 FC weekend was overcome by (yet again the solid team leader) Karolina Pliskova, who had a hand in all three points in the 3-2 win. The two-time defending champion Maidens, who picked up their 100th win here, thus advance to an eighth straight semifinal, and continue the quest for a fifth FC title in six years. No team has won three straight crowns since Spain from 1993-95, the most dominant stretch since Czechoslovakia won three in a row between 1983-85. Meanwhile, the game Romanian squad next must win another tie in the spring, then hope for a slightly better 1st Round draw for 2017.



[MVP]




Karolina Pliskova/CZE

[Overall FC I MVP]
...one can easily question Pliskova's slam results, but she has most definitely fully embraced her place on the Czech Fed Cup stage. In fact, this turned out to be the second straight tie -- w/ last year's final -- in which she arrived, cape around her neck, to erase a 2-1 Sunday deficit with back-to-back singles and doubles wins to clinch victory. She opened the weekend by coming back from a set down to defeat Simona Halep (she'd been 0-3 vs. the Romanian in her career) in Match #1, staved off elimination by defeating Monica Niculescu in Match #4, then teamed with Barbora Strycova (for the second straight tie) to win the deciding doubles.


========================================




[RISER]




Monica Niculescu/ROU


...with Alexandra Dulgheru absent, Niculescu filled the role of "fiery Romanian" on the weekend, pulling off the biggest upset of the weekend by frustrating and upending Kvitova in Match #2 -- to chants of "Mon-i-ca, Mon-i-ca" -- immediately after Halep's loss to Pliskova had seemingly painted the Swarmettes into a corner. Said Niculescu, "I said I am going to play (forehand) slice because it is my game. In the end it was perfect -- I think the slice was bothering her." Playing for a spot in the semis, she put up a valiant fight against Pliskova in Match #4, only to lose in three sets.


========================================



ROMANIA 2-1 CZECH REP: Halep defeats Kvitova 64 36 64 to put Romania a point away from their first ever semifinal! pic.twitter.com/JS8O1FFm00

— Fed Cup (@FedCup) February 7, 2016



[COMEBACK]




Simona Halep/ROU


...it wasn't a perfect weekend by any means for Halep, but her ability to immediately rebound from a potentially-crushing Match #1 loss to Pliskova by knocking off Kvitova on Day 2 allows her to head off for her delayed nasal surgery with her head held high and her confidence restored. A 0-2 weekend could have been a potential disaster for Halep, who will now return in a month and a half with the lingering memory in her mind of rising to the occasion in a pressure situation. The Swarmettes lost, largely because of her opening match defeat in a contest that she was THIS CLOSE To taking over late in the 2nd set, but her weekend surely ended better than it COULD have for Si-mo-na.


========================================




[DOUBLES]




Barbora Strycova/CZE


...while Krunic is Serbia's Good Luck Charm, Strycova is the Czechs' Secret Weapon, hiding in the weeds all weekend until being called into action in the closing moments to play a part in putting a period at the end of another winning effort. For the fourth straight time (going back to the 2011 semis, and including the '14 QF and last year's final), Strycova was part of a deciding doubles win that secured a 3-2 victory during the Maidens' ongoing dynastic run. Just as she did last fall, Strycova teamed with Pliskova to clean up a messy weekend, defeating Romania's Andreea Mitu & Raluca Olaru 2 & 3 to clinch a trip back to the semis.


========================================




[DOWN]




Petra Kvitova/CZE


...don't look now, but the former unchallenged leader of the Maidens may have abdicated her leadership role on the Czech squad, at least for the moment. For the first time ever, Kvitova went 0-2 in singles on a Fed Cup weekend... and did it on an indoor hard court, where she'd previously inspired legit fear in opponents. Immediately after an early upset in Melbourne and the dismissal of her longtime coach, Kvitova committed 46 errors and was upset 6-3/6-4 on Saturday in Match #2 by Monica Niculescu (preventing the Czechs from taking a 2-0 lead). A day later, she fell to 0-3 in her career head-to-head vs. Simona Halep as she shifted all the pressure to the shoulders of Pliskova, who went on to record singles and doubles wins to put away the tie. Kvitova has now lost three FC matches in a row after going 20-2 from 2011 through Day 1 of last year's final. Oh, Petra.


========================================


Match #1 - Ka.Pliskova/CZE d. Halep/ROU 6-7(4)/6-4/6-2
Match #3 - Halep/ROU d. Kvitova/CZE 7-6(4)/4-6/6-2. Halep led 7-6/4-4 before being broken for 5-4 in the 2nd. Tossing her racket in disgust, she then lost seven of the next nine games and put Romania behind the 8-ball after a 2:30 loss. At least her win over Kvitova smoothed over some of the hurt of a lost opportunity.

Match #2 - Niculescu/ROU d. Kvitova/CZE
...6-3/6-4. Kvitova committed 46 unforced errors, while Niculescu had 12.

Wow! Monica Niculescu stuns Petra Kvitova 63 64 & it's Romania 1-1 Czech Rep #ROUCZE #FedCup pic.twitter.com/1QfO9QQZdH

— Fed Cup (@FedCup) February 6, 2016


Match #4 - Ka.Pliskova/CZE d. Niculescu/ROU 6-4/4-6/6-3
Match #5 - Ka.Pliskova/Strycova (CZE) d. Mitu/Olaru (ROU) 6-2/6-3
...Pliskova for the win. Twice. Again. But can she translate this sort of clutch performance to the majors?

CZECH REP WINS!! The defending champs clinch a thrilling tie, Pliskova/Stryvova winning the deciding doubles 62 63 pic.twitter.com/03SRtURI5r

— Fed Cup (@FedCup) February 7, 2016



========================================






Switzerland def. Germany 3-2 [Leipzig, GER]


...one wasn't quite sure which Germany team we'd see this weekend, what with Angelique Kerber making her way to Leipzig immediately after her Australian Open title run, and usual German heroine Andrea Petkovic hoping to push through a bad start to the season and reclaim her usual FC glow. As it turned out, Petko (0-1 singles) wasn't able to pull the greatness out of herself, while Kerber went 1-1. Meanwhile, the Swiss Dream Team of Bencic, Bacsinszky and Hingis (w/ Golubic) was on top of its game even while the Queen of Mexico (Timea) went 0-2 in a pair of straight sets losses. With Belinda Bencic leading the way, and Martina Hingis being pulled into action for the deciding doubles (where Germany was perhaps one player short -- an injured Julia Goerge or Sabine Lisicki -- as Petko was called upon again for doubles, and was never able to find her stride), the Swiss pulled out a road win to reach their first FC semifinal since 1998... a 17-year old Hingis was on that team, while the now 18-year old Bencic was all of eighteen months old.

WATCH the moment @swiss_tennis reached their first #FedCup semifinal since 1998! @mhingis @BelindaBencichttps://t.co/E9rX5yr7Gt

— Fed Cup (@FedCup) February 7, 2016




[MVP]




Belinda Bencic/SUI


..."I really feel I belong in between the best players in the world. It makes me happy to be on the big stage," Bencic said after her Saturday tie-opening over Petkovic. All she did was back it up on Sunday. Winning her third match in three meetings with Kerber, Bencic was The Swiss Rock. After Bacsinszky failed to clinch the tie, the teenager returned with (part-time mentor/coach/inspiration/maybe Olympic doubles partner?) Hingis to handily down the German duo of Groenefeld/Petkovic to win 3-2.


========================================




[RISER]




Annika Beck/GER


...German Captain Barbara Rittner did her best Mauresmo impression when she turned to a debuting Beck to replace Petkovic to play the ultra-important Match #4 against Bacsinszky. The 21-year old, two-time tour titlist more than "made her bones" with a straight sets victory over the same higher-ranked Swiss star she'd knocked off in the 2nd Round of this year's Australian Open, sending the tie to the deciding doubles.

You did it! Congrats to @BeckAnnika! @Porsche Team Deutschland is back in the game vs @swiss_tennis #FedCup #GERSUI pic.twitter.com/KyO62xYVkm

— Porsche Tennis (@PorscheTennis) February 7, 2016



========================================




[DOUBLES]




Martina Hingis/SUI


...last spring, with Bencic absent, Hingis played two SINGLES matches for Switzerland (going 0-2 vs. the Radwanskas), injured herself by overplaying and wasn't able to play in the deciding doubles (Bacsinszky/Golubic got the win to get the Swiss to this FC stage), then immediately afterward lost two of her next three matches with Dream Team doubles partner Sania Mirza on the regular tour. Things went more according to plan this time, as Bencic did the singles work, then Melanie Molitor's two generations of pupils combined to clinch the tie. Bencic was on her game from the start, while Hingis admitted it took her a little while to warm up. But she soon did, and it was pretty much over for the Germans as Hingis recorder her first FC match win in eighteen years.


========================================




[DOWN]




Andrea Petkovic/GER


...the hope was that wearing the national colors would inspire Petko to her former heights, but it didn't happen. After getting off to a quick start, she was crushed by Bencic 3 & 4 to open the tie, then arguably played even worse in the 3 & 2 deciding doubles loss with partner Anna-Lena Groenefeld. Hopefully this doesn't lead to another season of soul-searching for Petkovic, not after she'd seemed so inspired by Kerber's run in Melbourne.


========================================


Match #1 - Bencic/SUI d. Petkovic/GER
...6-3/6-4. Petko had a break lead in the 1st, but once Bencic took control, she never gave it up. The German had 28 unforced errors, while the Swiss converted four of seven BP chances.

Match #3 - Bencic/SUI d. Kerber/GER
...7-6(4)/6-3. Kerber led 4-1 in the 1st, but Bencic battled back to win the set in a TB and eventually served out the match at love with big serves. The 18-year old is already 6-1 in singles in her FC career.

Germany 1-2 Switzerland: Bencic ends Kerber's winning run with a 76(4) 63 victory in Leipzig #GERSUI pic.twitter.com/gLf6rG3Ib5

— Fed Cup (@FedCup) February 7, 2016


Match #5 - Bencic/Hingis (SUI) d. Groenefeld/Petkovic (GER)
...6-3/6-2. After falling behind 2-0 in the 1st, the Swiss held for 3-2 in the key game of the match. They broke at love to go up 5-3, then ran away with the match. Bring on the Maidens in the semifinals!

SWITZERLAND WINS!! Hingis/Bencic too strong for Petkovic/Groenefeld, winning 63 62 to reach the #FedCup semifinals pic.twitter.com/a7x0zJ1NZZ

— Fed Cup (@FedCup) February 7, 2016



========================================






France def. Italy 4-1 [Marseille, FRA]


...a year ago, on a shoddy clay court, the Pastries overcame a 2-0 Day 1 deficit to pull off an historic road comeback in World Group play against the Italians. Despite a quick start for Italy this time around, the drama was quite a bit less intense in Marseille. While Captain Amelie Mauresmo's favored weapon Kristina Mladenovic stumbled early, she rebounded and was helped along by a perfect weekend from Caroline Garcia, who really should talk to Mauresmo about anything and everything -- maybe even some part-time coaching? -- in an attempt to find a way to carry over her out-sized FC heart to the big stages of the slams, where her play is often heart-less. The French are in the semifinals for a second straight year, but this time around the Pastries will be the "favorites" in a home tie (for what that's worth vs. the Dutch... yes, the Dutch... but more on that in a moment).




[MVP]




Caroline Garcia/FRA


...quite simply, Garcia's play was glorious on the weekend. Clean, clutch and aggressive, she showed all her game in a pair of straight sets wins over Sara Errani (w/ 31 winners) and Camila Giorgi, the former after Mladenovic had lost Match #1, and the latter to clinch the tie for France on Sunday. She even got on the court with Olympic year doubles partner Mladenovic to pick up a third win. In the 1st Round a year ago against Italy, after losing to Errani on Day 1, Garcia won singles (Giorgi in three sets) and doubles matches on Sunday to complete the comeback from 2-0 down.

France made it back-to-back #FedCup semifinals with victory over Italy in Marseille: https://t.co/vIN3Tyd9OF pic.twitter.com/LQvCnPSHkR

— Fed Cup (@FedCup) February 7, 2016
========================================
?? @KikiMladenovic beat Sara Errani 7-6, 6-1 to give France a 2-1 lead against Italy in Masellie. #FedCup ?????? [GETTY] pic.twitter.com/E64zU761V0

— AmMaD (@AmmadZahid) February 7, 2016



[RISERS]




Kristina Mladenovic/FRA & Camila Giorgi/ITA


...both these two went 1-1 in singles on a mixed bag weekend, but there was enough good in their performances to stamp down any of the bad. Giorgi defeated Mladenovic in the opening match as the Pastry's serve fell apart in the final two sets, and despite her Match #4 loss to Garcia she staked her claim as the NextGen leader of the NEW Team Italia going into the future. Meanwhile, Kiki bobbed back UP on Sunday to put France ahead 2-1 with a Match #3 win over Errani, paving the way for Garcia to stick a pin in the Italian balloon a couple of hours later.


========================================




[DOWN]




Sara Errani/ITA


...coming in as the seeming leader of the Italian team, Errani came up small, losing six straight sets in singles and doubles. "The spirit left me a little bit," she said after losing in singles. "During the second set, I didn't manage to play my usual game. I didn't return the ball the way I wanted to. I played badly, basically." The Italians, with the help of Flavia Pennetta, held off the definitive end of their era of Fed Cup heroism for one year. Is it now time to pay the reaper? Italy could very well be playing in World Group II at this time next year.


========================================


Match #1 - Giorgi/ITA d. Mladenovic/FRA
...1-6/6-4/6-1. Mladenovic had 10 aces, but 11 double-faults. In the final two sets, she served at 32% and 28% clips as Giorgi won 30 of 44 return points.


========================================






Netherlands def. Russia 3-1 [Moscow, RUS]


...oh, where do we begin? Well, naturally, with the pre-tie controversy surrounding Maria Sharapova, who led Team Russia to the brink of a FC title in '15 only to see Anastasia Pavlyuchenkova give it all away in the final vs. the Czech Republic. While it seemed as if Sharapova had met her FC commitments for Olympic eligibility last year, she was essentially publicly threatened by the back-from-suspension longtime Russian Tennis Federation head honcho/former FC Captain Shamil Tarpischev, who said that if she didn't show up for play in Moscow that she'd be left off the Olympic team. She showed up, but then was listed as only playing doubles vs. the Netherlands. Her choice, or that of Captain Anastasia Myskina? Looking out for a potentially nursing-a-forearm-injury Sharapova who'd helped bring the former dominate Russian team back from the stench of recent discord a year ago, or on "orders from higher up" as punishment for Sharapova daring to challenge the authority/word of the Federation? Or was there even more to it? Remember, before Tarpischev was suspended for a year late in 2014 over some ugly remarks/"jokes" about the Williams Sisters, the Russian team had stumbled from its perch as the best squad on earth to become an embarrassment that saw its top players boycotting Fed Cup due to never-publicly-stated issues with the Federation, ruled over by Tarpischev. After Myskina, a former FC star herself and recent team coach, stepped in as the official Captain in Tarpischev's absence, the big names filtered back (albeit with Olympic eligibility at stake) and Russia advanced to the final. With Tarpischev having returned from exile, however, the controversy and whisper campaigns (Sharapova refused to play, Sharapova says this will be her final FC appearance...) returned anew.

And then they played the tie. And as hard as it was to believe, things only got worse with every passing moment for the Russians.

Even with all the "extracurricular activity," the Hordettes seemed a safe bet to advance past the Dutch squad. While the Netherlands had won seven straight ties, with Kiki Bertens and/or Arantxa Rus pulling the load, the nation entered the weekend without a Top 100 player for a road tie vs. Sharapova (Career Slam), Svetlana Kuznetsova (two slams wins), Ekaterina Makaraova (slam semifinalist) and Daria Kasatkina (who opened her year with a win over Venus Williams, then followed up a good U.S. Open run with one in Melbourne). Even Dutch Captain Paul Haarhuis said it'd take a "miracle" to emerge with the victory.

Well, wish granted, and the "Miracle of Moscow" became a reality. With emphasis.

Bertens kicked things off with a straight sets win over a frustrated Makarova, then Richel Hogenkamp won the longest-ever FC match (4:00) over Russian all-time Fed Cup match leader Kuznetsova, saving MP and putting Netherlands up 2-0. Everyone wondered if the lineup would change and Sharapova would play singles match #3, or at least a fresh Kasatkina might be plucked from the bench to face Bertens on Sunday. Since, you know, surely Sveta wouldn't be called upon to play the first match after losing the marathon match #2 the night before. But she was and, understandably, was a shadow of her usual FC self (and more like her "off" self on her worst tour match days), losing quickly to Bertens. Afterward, Kuznetsova seemed confused that Bertens played better than she normally does in her tour events. Bertens' win pushed her career FC singles mark to 13-1, but really her win ONE DAY EARLIER should have been enough for Kuznetsova to realize she wasn't going to roll over. The win clinched a stunning upset of epic proportions -- even with the Dutch's team's under-the-radar the-whole-is-greater-than-the-sum-of-our-parts credo a living, breathing player in this tie from the start -- and quite possibly sends the Russian team back down the Fed Cup rabbit hole. As Women Who Serve's Diane Dees said, the entire Team Russia is having a giant "Oh, Nadia" moment.

Was the decision to sacrifice Kuznetsova on Day 2 a Myskina, she-had-too-much-faith-in-her-friend, mistake, or one from "higher up" that would serve to put a quick end to this tie and attempt to shift blame onto Sharapova never having taken the court? And what of Myskina's unwavering -- and questionable -- faith in non-Original Hordette Pavlyuchenkova in last year's final? Was that the Czarina trying, but failing, to "pull a Mauresmo" by putting the team on the shoulders of a younger player in "gut choice," or was that, too, maybe "someone else's call" to remove any possible glory from Sharapova or any of the "more powerful" Russian women in the Fed Cup mix?

With Tarpischev back in play, anything seems possible, if not probable. The wheels seems to have come off the Russian Fed Cup wagon yet again. It's difficult NOT to think it's something more than a mere coincidence. I'm just sayin'.



[MVP]




Kiki Bertens/NED


..."No one expected we could win. I don't think even we did. It's an unbelievable feeling," Bertens said after the dust of the Fed Cup weekend had settled. It was mostly stirred up by her, kicking things off with a quick win over Makarova, then punishing Kuznetsova to clinch the tie one day after Richel Hogenkamp had worn her down in a 4:00 marathon. While Hogenkamp had the headline-grabbing victory in the tie, Bertens has been the heart and soul of the improbable Dutch run to the semifinals, where they'll face off with France for a berth in the final (it'd be the third by the Dutch, after 1968 and 1997, the latter in which they lost to France).

NETHERLANDS WINS!! Bertens d Kuznetsova 61 64 to give the Dutch a 3-0 win + one of the biggest ever #FedCup upsets! pic.twitter.com/1vsOKA0pm3

— Fed Cup (@FedCup) February 7, 2016



========================================




[FRESH FACE]




Richel Hogenkamp/NED


...the #141-ranked 23-year old, who has one grand slam MD match in her career, turned out to be the unlikely star of the weeekend. Her four-hour, longest-ever FC match win over Kuznetsova provided the signature moment of this huge upset. Not only did her win put the Dutch up 2-0, it essentially won a SECOND match as Kuznetsova was in no shape to really win anything the next time she hit the court a day later.


========================================




[DOWN]




Svetlana Kuznetsova/RUS, Ekaterina Makarova/RUS, Captain Anastasia Myskina/RUS...


...where do you start? Kuznetsova fought with honor in yet another marathon match. Once again, though, she lost. Had Makarova, finally back from injury that prevented her from a role in last year's final (though she was on the roster), defeated Bertens in the opening match would the Dutch have gained such unstoppable momentum? And then there's Myskina, who did well to keep the Russian team afloat during the dark times of a few years ago. Her apparent misplaced faith in Pavlyuchenkova last fall was one thing, but to send Kuznetsova back out as a sacrifice to the Fed Cup Gods (if it was indeed totally her decision) is an almost unforgivable decision for a team captain in charge of keeping the squad in a tie, especially with firebrand Kasatkina (who'd combine with Makarova for a doubles win to avoid a shutout) on the bench already with a history of upset-minded performances in her young career. Oh, Czarina. Of course, I leave Sharapova out of this whole equation because it's difficult to judge her true role. Was she but a puppet in the machinations of a power hungry and vindictive Federation, or did her desire to sit this one out (not once, but twice) provide the match that lit the fire of this whole debacle? If she was indeed the pawn in this, though, you have to think she'd be crazy to ever play Fed Cup again under the Russian flag as long as certain people are in charge of the decisions. Of course, though it would go against her stated feelings on the subject, there WOULD be other options for her -- one, in particular -- if she wants to play in the Olympics in 2020.


========================================


Match #2 - Hogenkamp/NED d. Kuznetsova/RUS
...7-6(4)/5-7/10-8. In an historic four-hour match, the #141-ranked player who hadn't played a FC singles match in two years bested Russia's #17-ranked all-time FC match win leader. After taking the 1st set in a tie-break, Hogenkamp came back from 3-0 down in the 2nd to extend Kuznetsova, who eventually got a break of serve to knot the match. In the 3rd, the Dutch failed to serve out the match at 5-4, then saw the Russian earn a MP at 7-6. Hogenkamp outlasted Kuznetsova, though, converting her own MP in game #18 of the final set to finish with a 146-145 point advantage in the match. While Kuznetsova led in winners (44 to Hogenkamp's 34), she also had more unforced errors, totally 72 to the Dutch woman's equally "impressive" 56.

After a record-breaking 4 hours on court, Hogenkamp won 146 points to Kuznetsova's 145. She won 76 57 108 #FedCup pic.twitter.com/yEnHs2RrQV

— Fed Cup (@FedCup) February 6, 2016
========================================
"I will definitely have several alcoholic drinks!" - Dutch captain Paul Haarhuis. More: https://t.co/7qOc88JXey pic.twitter.com/CD95g5KCrZ

— Fed Cup (@FedCup) February 7, 2016




[WORLD GROUP II]




Australia def. Slovakia 3-2 [Bratislava, SVK]


...the Aussies lost a pair of 4-1 ties last season, but were safely away from the pressure-filled notion of playing on Australian soil in this tie. With Slovak #1 Anna Karolina Schmiedlova so far this season a shadow of her fast-rising '15 self (though she may have shown signs of a spark this weekend), Aussie vet Sam Stosur stepped up and starred, having a hand in all three points, including the deciding doubles win with Casey Dellacqua, to push the suddenly-soon-to-be-deeper Aussie squad into contention for a possible '17 run for the semifinals/final. With vets Stosur and Dellacqua providing the backbone of the team, Arina Rodionova was a surprise force in this tie (sister Anastasia wasn't on the roster), while one would think that Daria Gavrilova will soon make her Australian FC debut, and just today Ashleigh Barty announced that she's made the decision to return to tennis after having retired at age 17. There are some good junior Aussies in the pipeline, too, including one (Kimberly Birrell, who played when Captain Alicia Molik -- it's become a "thing," I guess -- "pulled a Mauresmo" and went w/ an untested player in a big match, then banked the loss as a "good experience" for the future) in this tie. Team Australia would seem to have some bright days ahead.



[MVP]




Samantha Stosur/AUS


...Stosur was as good in a leadership role as her long career would seem to forecast, though sometimes the results don't always reflect it at FC time. She was unassailable in Bratislava, though. She downed both Jana Cepelova and Schmiedlova in straight sets, then after junior Birrell lost to Dominika Cibulkova to force things to the doubles, Stosur teamed with Dellacqua (back from her concussion) to defeat Cepelova & Daniela Hantuchova in three sets to clinch the win.

Sam Stosur has spearheaded Australia to a memorable #FedCup World Group II victory. https://t.co/iUPMglnnuM pic.twitter.com/EsAUUGfjMf

— 7Sport (@7Sport) February 7, 2016



========================================




[SURPRISE]




Arina Rodionova/AUS


...ranked 246 places below her opponent, Rodionova pushed Schmiedlova to the limit in the opening match of the tie. Ultimately, she wasn't able to close out the big upset in her FC debut, but she wore AKS down enough to soften her up a bit for Stosur on Sunday. As the Russians fell apart this weekend, it's interesting to note that former Hordette Rodionova was a bright light for the Aussies, while another Russian-turned-Aussie (Dasha) waits in the wings for later competition.


========================================




[VETERAN]




Dominika Cibulkova/SVK


...Cibulkova only played one match, but it was a big one. She handled teenager Birrell to send things to the deciding doubles.


========================================




[DOUBLES]




Casey Dellacqua/AUS


...her concussion issues finally a thing of the past, Dellacqua made her triumphant return to the court by teaming with Stosur to take out Cepelova/Hantuchova in the deciding doubles. With Barty making a comeback, might a re-connection soon take place between the great former doubles duo, if not on tour than during a future FC tie?


========================================




[DOWN]




Anna Karolina Schmiedlova/SVK


...2016 hasn't been kind to Schmiedlova. She was looking to right her errant season in Bratislava. After surviving the Rodionova threat, it seemed as if she may have found a way to do it. But after being successfully featured as the new Slovak team leader in '15, she failed to get the important Match #3 win over Stosur that would have shifted the pressure onto the shoulders of the Aussies, forcing Molik to make a different decision for Match #4 than to send Birrell out in her FC debut in order to keep the tie live. Jarmila Wolfe, injured in Melbourne and with a history of dramatic FC losses, would have likely been called upon to breathe life into Aussie hopes alive vs. Cibulkova. Hmmm, what were the odds of that happening? Schmiedlova's struggles vs. Rodionova was the domino that led to the less-than-another-marathon Stosur (keeping the vet fresh for doubles) that helped seal the fate of the Slovaks on the weekend.


========================================


Match #1 - AK.Schmiedlova/SVK d. Ar.Rodionova/AUS
...5-7/7-5/6-0. The drama started early as Rodionova cramped up in the 1st set, while Schmiedlova's miss-hits and DF handed the Aussie an opportunity, which she finally took advantage of by serving out the set on her second try. AKS fell behind 7-5/4-1, only to finally see her game catch fire. A limping Rodionova saved three SP at 5-4, then Schmiedlova bloodied her knee trying to reach a shot before holding for 6-5 and then breaking serve to take the 2nd set. In the 3rd, Rodionova ran out of gas, going out in 32 minutes to end the 3:02 match. "It had blood, tears, cramping...there was everything out there," said the Aussie.

Match #5 - Dellacqua/Stosur (AUS) d. Cepelova/Hantuchova (SVK)
...5-7/6-1/6-2. The Aussies dropped the 1st set after leading 3-1, but the Slovaks now have a short-term history of FC losses. They've lost five of their last six ties.


========================================






Spain def. Serbia 4-0 [Kraljevo, SRB]


...no Krunic. No win. Of course, this was always going to be a tough "get" for the Serbs as long as Garbine Muguruza was healthy, in form and over whatever it was that led to her disappointing early loss at the Australian Open. As it turned out, she was fine and it went even worse than expected for the Serbs, as they lost all six sets in singles and couldn't even muster a "dead rubber" doubles win to avoid a shutout.

¡¡¡¡Vamos!!! #Equipo pic.twitter.com/zQcAeKFSUB

— Garbiñe Muguruza (@GarbiMuguruza) February 7, 2016




[MVP]




Garbine Muguruza/ESP


...we still don't know whether or not her '16 season is going to be held back by the foot injury that troubled her in January, but for one weekend Garbi was back on top of the world, allowing just four games to Ivana Jorovic and seven to Jelena Jankovic. Seemingly committed to Fed Cup, she alone makes Spain a force to contend vs. ANY team with ANY other player in the #1 singles position through the end of the 2017 FC process.


========================================




[VETERAN]




Carla Suarez-Navarro/ESP


...and with CSN around playing the "dutiful" #2 role, the Spanish have a one-two punch they haven't had since the glory days of Sanchez & Martinez (the current FC Captain), the last Team Espana to win back-to-back-to-back Fed Cup titles two decades ago.


========================================




[DOWN]




Jelena Jankovic/SRB


...no Krunic. No AnaIvo. And not a very top-flight JJ, either. Jankovic lost back-to-back singles matches, badly, to CSN and Muguruza to seal the fate of the Bracelet-less Serbs.


========================================


Match #5 - Arruabarrena/Dominguez-Lino (ESP) d. Jorovic/Stojanovic (SRB)
...4-6/7-6(6) [10-7]. Boot meets neck. Or, in this case, boots meet necks.


========================================






Belarus def. Canada 3-2 [Quebec City, Quebec, CAN]


...in a tie lacking the star power that many may have been expecting -- Genie Bouchard begged off, while Vika Azarenka was a late withdrawal -- the underrated depth of the Belarusian team won out as the Canadians lost another tie on home soil, this time in the deciding doubles match with Canada's Gold Medal-winning Pan-Am Games doubles champions (Toronto '15) going down in defeat.



[MVP]




Aliaksandra Sasnovich/BLR


...it was expected that Olga Govortsova was going to play the lead role for Belarus with Azarenka sitting things out, but it turned out to be the 21-year old Sasnovich. She opened the tie with what turned out to be a key three-set win over Francoise Abanda, then returned in Match #4 to help the team climb out of the 2-1 hole down which Govortsova's poor singles performance had thrown the Belarusians. In the end, she teamed with Govortsova in doubles to drag Team Belarus into the World Group Playoffs this spring.

#CANBLR Aliaksandra Sasnovich keeps Belarus' hopes alive with a 64 64 win over Wozniak! Who will win the doubles? pic.twitter.com/OYCbW58qAs

— Fed Cup (@FedCup) February 7, 2016



========================================




[COMEBACK]




Aleksandra Wozniak/CAN


...Canada's all-time FC match win leader, in her first action for Team Canada since 2014, Wozniak provided the Match #2 win over Govortsova that gave the team hope that it may just be able to survive and thrive without their absent Quebec native. But with the tie on her racket in Match #4, A-Woz wasn't able to close things out against Sasnovich.


========================================



Canada 2-1 Belarus: Francoise Abanda beats Olga Govortsova 64 64 to give the hosts the edge in World Gp II #CANBLR pic.twitter.com/ftS6xD5Bnm

— Fed Cup (@FedCup) February 7, 2016



[FRESH FACE]




Francoise Abanda/CAN


...the just-turned 19-year old was the wild card in this tie, still inexperienced but having shown some real moxie last year vs. Romania, when she upset Irina-Camelia Begu and pushed Alexandra Dulgheru to three sets. She lost a three-setter to Sasnovich to begin the tie, but came back strong on Sunday to handle Govortsova 4 & 4 to put Canada up 2-1 and give Wozniak a chance to clinch the tie.


========================================




[DOUBLES]




Olga Govortsova/BLR


...Govortsova, pushed into the lead role when Azarenka exited the roster, dearly needed to make up for her poor singles performance in the deciding doubles, and she took advantage of her third chance. 2 & 2 and 4 & 4 losses to Wozniak and Abanda, respectively, nearly doomed Belarus' chances, but Govortsova teamed with weekend star Sasnovich to take out the Gold Medal-winning duo of Gabriela Dabrowski & Carol Zhao in a 6-2/6-4 match that kept alive the chances for Belarus (which didn't even use AO junior champ Vera Lapko in this tie) to become the NEXT under-the-radar team to make an unexpected deep push into the Fed Cup WG draw.


========================================


Match #3 - Abanda/CAN d. Govortsova/BLR
...6-4/6-4. Abanda, the world #343, surged back from 4-2 down in the 1st set to win ten of fourteen games to (briefly) put Canada in the lead position in the tie.


========================================






United States def. Poland 4-0 [Kailua Kona, Hawaii, USA]


...without the Radwanskas on the roster (or their coach as FC Captain), it seemed far fetched that the U.S. team could lose this tie. Captain Mary Joe Fernandez had even constructed a deep, versatile roster that included a Williams, a rising star (Sloane Stephens), a versatile young player (CoCo Vandeweghe, fresh off a good doubles run at the AO) and a veteran (Bethanie Mattek-Sands) who could step in for any of them in an emergency. All the bases seemed to be covered. But you see never know (see RUS/NED), and MJF is always one roster decision away from turning a victory lap into an abject disaster. Wonders never ceased, though, and things went according to plan... but not without a few anxious moments. Like Stephens' 0-4 hole in the 2nd set in match #1, Venus' sometimes-listless performances in match #2 and the windy conditions that greeted the players on Day 2 that might have led to a hail of unforced errors, but didn't. But, again, the Tennis Gods were kind the Bannerettes THIS time. Which makes you wonder what horror awaits them in the spring.



[MVP]




Venus Williams/USA


...Williams, playing at something less than 100% and seeking her first match win of '16, saw Paula Kania serve for the 1st set in her first match, but she broke the Pole twice to end the set and weathered the storm to win 7-5/6-2. On Day 2, she was in better form in a 1 & 2 win over Magda Linette, pushing her career FC singles record to 19-2.

.@Venuseswilliams clinches the tie for the USA, def. Linette, 6-1, 6-2. Go USA! #USATennis pic.twitter.com/9KpAYhmvhx

— US Fed Cup Team (@USFedCupTeam) February 7, 2016



========================================




[RISER]




Sloane Stephens/USA


...after winning the opening set over Linette 6-2, Stephens fell behind 4-0 in the 2nd. She then ran off an "unofficial" bagel to end the match. One day, if things work out as the USTA likely wishes, Stephens and Madison Keys will form the backbone of the U.S. Fed Cup efforts. We'll see.


========================================


Match #2 - V.Williams/USA d. Kania/POL
...7-5/6-2. At some point during that 1st set, Mary Joe had to be wondering if any U.S. FC Captain had even been left behind to fend for themselves when the post-tie team plane lifted off the tarmac. Because, really, if the U.S. had lost this one she should have just slipped into the Witness Protection Program and hoped that no one had any mustache-less photos of her that would give away her true identity.


========================================










[EUROPE/AFRICA I ZONE - Eilat, ISR]


...two nations advanced the World Group II playofs, and the hosts almost pulled off a surprise.
=Promotional Playoffs=
Belgium def. Great Britain 2-0
Ukraine def. Israel 2-0


[MVP's]




Alison Van Uytvanck/BEL & Lesia Tsurenko/UKR


...the big-hitting Van Uytvanck did the dirty work for Belgium as the Waffles went undefeated and advanced to the World Group II Playoffs with a sweep of Great Britain in the Promotional Playoff. In round robin play, Van Uytvanck notched wins over Jelena Ostapenko and Tsvetana Pironkova, then clinched the PP victory with a three-set triumph over Heather Watson.

Playing without Elina Svitolina, Tsurenko shared the lead role with teammate Kateryna Bondarenko, with both going undefeated in singles. Tsurenko, though, pulled off a come from behind win over Rebecca Peterson (who led by a set and a break in a 1-6/6-2/6-0 match) of Sweden in round robin play, then in the Promotional Playoff vs. the host Israelis she clinched the win with a 7-6(1)/7-6(2) win over Julia Glushko that won Ukraine promotion to the World Group II Playoffs this spring.

We made it! Big thanks to #teamukraine???????? #olgasavchuk #anastasiyavasylyeva #katerinabondarenko #eilat #victory pic.twitter.com/6LuYdwfxKL

— Lesia Tsurenko (@LTsurenko) February 7, 2016



========================================




[RISERS]




Heather Watson/GBR & Cagla Buyukakcay/TUR


...Watson went 2-0 in round robin singles as Great Britain reached the Promotional Playoff. Down 1-0 vs. Belgium, Watson played to a 6-4 3rd set loss to Van Uytvanck in the match that clinched promotion for the Waffles. Meanwhile, Buyukakcay, a year after she had the best week of her career in Fed Cup play (a stretch which included an upset win over Watson), once again showed a knack for the big occasion in Eilat, getting round robin victories over Julia Glushko and Ana Konjuh, then defeating Rebecca Peterson to clinch a placement playoff victory over Sweden to prevent Turkey from being relegated to Europe/Africa II zone play.

.@CaglaBuyukakcay helps Turkey to win the @FedCup Relegation Play-Off as she stuns Sweden's Peterson 2-6, 6-4, 6-0. pic.twitter.com/WMEqgogkcb

— TENIS DÜNYASI (@tenisdunyasi) February 6, 2016



========================================




[VETERAN]




Kateryna Bondarenko/UKR


...K-Bond went undefeated in singles (3-0) and doubles (1-0) for Ukraine, including getting a 6-1/6-1 win over Shahar Peer in the opening match in the Promotional Playoff vs. Israel.


========================================




[FRESH FACES]




Ysaline Bonaventure/BEL, Anett Kontaveit/EST and Ipek Soylu/TUR


...Waffle Bonaventure went undefeated (4-0 singles/2-0 doubles) in Belgium's successful attempt to earn promotion, defeating Katie Swan in three sets to get the first of two wins in a 2-0 victory over the Brits in the Promotional Playoff. Estonia's Kontaveit got wins over Ana Konjuh and Cagla Buyukakcay in pool play, while Ipek Soylu continued to provide the underrated Turkish squad with good depth. The 19-year old's biggest win was a defeat of Israeli vet Shahar Peer in round robin action.


========================================




[JUNIOR STAR]




Katie Swan/GBR


...the 17-year old, the youngest Brit to ever play Fed Cup, went 2-0 in round robin singles action and took Bonaventure to three sets in a loss in the Promotional Playoff vs. Belgium.


========================================




[DOUBLES]




Julia Glushko/Shahar Peer, ISR


...the host Israeli team gave the local fans a thrill, upsetting Croatia in the final round robin match of their pool to make a surprise run to the Promotional Playoff. The win was achieved when Peer & Glushko combined to defeat Darija Jurak & Ana Konjuh 6-4/7-6(2) to advance to the PP vs. Ukraine, which they then lost.


========================================




[DOWN]




Rebecca Peterson/SWE


...20-year old Peterson, assuming the role as the #1 Swede (after either Sofia Arvidsson or Johanna Larsson have done so for years), unfortunately stalled. She went 1-2 in singles, losing to Tsurenko in round robin playing after leading by a set and a break, then losing the clinching match to Buyukakcay as Turkey escaped relegation to Europe/Africa II, a fate which Sweden was not able to avoid.


========================================


Pool C Round Robin - Peer/Glushko (ISR) d. Jurak/Konjuh (CRO)
...6-4/7-6(2). The Croats seemed a good bet to reach the PP, winning their first two ties, but then Israel nipped them at the finish line due to this match in the final tie in round robin play. Peer & Glushko overcame at 4-1 1st set deficit in this deciding doubles match then, in the 2nd set TB, the Isreali duo jumped to a quick 5-0 lead before finishing off the Croats to clinch the win.


========================================






[ASIA/OCEANIA I ZONE - Hua Hin, THA]


...in one of the rare instances this past week where some BIG names were in action in zone play, Taiwan's most famous tennis siblings provided the key to victory.
=Promotional Playoff=


Taiwan def. Japan 2-1




[MVP]




Chan Hao-Ching/Chan Yung-Jan/TPE


...the Chan sisters were 1-1 in pool play, but when promotion to WG II came down to one match they were the dominant duo on the court. In the deciding doubles in the Asia/Oceania I Promotional Playoff vs. Japan, the Chans defeated Shuko Aoyama & Erin Hozumi 6-3/6-3 to clinch the tie 2-1.

========================================




[SURPRISE]




Han Na-Lae/KOR


...South Korea went 0-3 in pool play, winning just two of nine matches. Both victories came from the racket of Han, 23, who got victories over Chang Kai-Chen and Wang Yafan.


========================================




[VETERAN]




Hsieh Su-Wei/TPE


...Hsieh assumed the lead singles role in Taiwan's promotion run, notching round robin wins over Zheng Saisai and Jang Su-jeong, then sent things to the deciding doubles in the Promotional Playoff with a three-set win over Japan's Nao Hibino (in her FC debut, she went 1-3), 4-6/6-3/6-3.


========================================




[DOUBLES]




Shuko Aoyama/Erin Hozumi (JPN) and Liang Chen/Wang Yafan (CHN)


...the Japanese duo ultimately lost the deciding doubles in the Promotional Playoff to the Chan sisters, but if not for their spotless round robin record Japan would never have advanced so far. In ties vs. India and Thailand, Aoyama/Hozumi won deciding doubles contests over, respectively, Mirza/Thombare and Buayam/Plipuech (in the final rr match) to secure both of Japan's two wins on the week to push the team into the PP. Meanwhile, yet another disappointing performance from a more-talented-than-their-results Chinese FC squad was saved a bit of face with the performance of the doubles duo of Liang/Wang, who went 3-0 in pool round robin play, including putting up a victory over the Chan sisters.


========================================


Pool B Round Robin - Chang/TPE d. Shvedova/KAZ
...4-6/7-6(2)/7-6(4). The Kazakh has a history of losing long, drawn-out Fed Cup matches that you'd think someone of her experience would find a way through, only to go down in flames yet again. This one is just the latest, as Kazakhstan once again underperformed at FC time.

Pool A Round Robin - Sharipova/UZB d. Nara/JPN
...6-3/6-2. The 21-year old Uzbeki pulled the upset over the Japanese tour title winner ranked 150 places above her on the WTA computer.


========================================






[AMERICAS I ZONE - Santa Cruz, BOL]


...with a new star (and a new Nadia) leading the way, the Olympic host nation was denied a pre-Games moment of triumph on the continent.

=Promotional Playoff=


Argentina def. Paraguay 2-0




[MVP]




Nadia Podoroska/ARG


...the #319-ranked 18-year old, the winner of six ITF titles since 2013, led Argentina out of Americas I zone play and back into the WG II playoffs, going 3-0 in pool play (including a win over Brazil's Beatriz Haddad) then notching the clinching win against Montserrat Gonzalez in the 2-0 victory over Paraguay in the Promotional Playoff.


========================================




[RISER]




Montserrat Gonzalez/PAR


...the #218-ranked 21-year old won three singles and three doubles matches during the week, running her career FC match win totals to 15 and 18 while getting singles victories over Mexico's Victoria Rodriguez and Bolivia's Maria Fernanda Alvarez-Teran while lifting Paraguay into the Promotional Playoff.


========================================




[JUNIOR STAR]




Dominique Schaefer/PER


...a recent Coffee Bowl semifinalist, 17-year old Schaefer put up a nice 6-1/4-6/7-6(3) victory over Ecuador's Charlotte Roemer in pool play.


========================================




[DOUBLES]




Maria Irigoyen/Catalina Pella, ARG


...the Argentine duo combined to defeat Brazil's Paula Cristina Goncalves & Beatriz Haddad (tour title winners in '15 in Bogota) in the deciding doubles to advance their nation into the PP with a 2-1 victory


========================================


Promotional Playoff Match #2 - Podoroska/ARG d. M.Gonzalez/PAR
...6-4/6-2. Oh, Nadia!


========================================






[AMERICAS II ZONE - Bayamon, PUR]


...Monica Puig had a great week going. Well, until she didn't.
=Promotional Playoffs=
Venezuela def. Guatemala 2-0
Chile def. Puerto Rico 2-1


[MVP's]




Andrea Gamiz/VEN and Andrea Koch-Benvenuto/Daniela Seguel, CHI


...world #258 Gamiz went 3-0 in singles, including the Promotional Playoff clinching win over Guatemala's Melissa Morales in Paraguay's 2-0 victory. Koch-Benvenuto & Seguel claimed the deciding doubles match in the PP vs. host Puerto Rico, ending Puig's previously undefeated week with a loss that prevented PUR from promotion to America's I, but sent Chile forward.


========================================




[RISER]




Monica Puig/PUR


...Puig was living the good life in Bayamon all week, going 4-0 in singles (winning 48 of 50 games) and 3-0 in doubles while carrying Puerto Rico into the PP vs. Chile. She won her singles match over Daniela Seguel to force the deciding doubles, then held MP along with Ana Sofia Cordero in the 3rd set vs. Seguel & Koch-Benvenuto. But it wasn't enough, as all her work went for nothing as the Chileans battled back to win and be promoted to Americas I zone play.


========================================




[SURPRISE]




Aymet Uzcategui/VEN


...the 20-year old, ranked outside the Top 1000, was a combined 0-4 in FC play heading into last week (0-2 in both singles and doubles), but ultimately provided a nice #2 to Gamiz in Venezuela's run to promotion. She notched two singles and one doubles win in pool play, then won the opening match over Kirsten-Andrea Weedon in the PP vs. Guatemala, setting up Gamiz to put the tie away one match later.


========================================


Promotional Playoff Match #3 - Koch-Benvenuto/Seguel (CHI) d. Puig/Cordero (PUR)
...6-1/3-6/7-5. In the 2:10 match, the host Puerto Ricans led 5-3 in the 3rd and held MP before it all came crashing down. Ouch. I guess Puig now knows how Kristyna Pliskova felt in Melbourne... well, sort of.

#AMII ¡Gran victoria de Chile! Koch-Seguel salvaron un match point y vencen a Puig-Cordero por 6-1, 3-6 y 7-5. pic.twitter.com/YUAeMdx3gV

— Fed Cup ES (@FedCup_es) February 6, 2016
========================================




**OVERALL FED CUP TITLES**


17...United States
6...Australia
5...Czechoslovakia
5...Spain
4...Czech Republic
4...Italy
4...Russia
2...France
2...West Germany/Germany
1...Belgium
1...Slovakia
1...South Africa


[Finals since 2010]


4...Czech Republic (4-0)
3...Russia (0-3)
2...Italy (2-0)
1...Germany (0-1)
1...Serbia (0-1)
1...United States (0-1)



=2016 Semifinals=


Czech Republic at Switzerland
Netherlands at France


=World Group I Playoffs=


Australia
Belarus
Germany
Italy
Romania
Russia
Spain
United States


=World Group II Playoffs=


Argentina
Belgium
Canada
Poland
Serbia
Slovakia
Taiwan
Ukraine


??????@Broncos #SB50 pic.twitter.com/CxiJJob2nZ

— victoria azarenka (@vika7) February 8, 2016

Such a dream come true!! Was chosen to be the Danish flag bearer at the opening ceremony at the Rio Olympics! ???? pic.twitter.com/mIfFj0pnPz

— Caroline Wozniacki (@CaroWozniacki) February 5, 2016





ST.PETERSBURG, RUSSIA (Premier $688K/HCI)


15 Final: Jelena Ostapenko def. Patricia Maria Tig (ITF $50K - February)
15 Doubles Final: Viktorija Golubic/Aliaksandra Sasnovich d. Stephanie Foretz/Ana Vrljic
16 Singles Top Seeds: Bencic/Vinci
=============================


=SF=


#1 Bencic d. Kasatkina
#4 Ivanovic d. #2 Vinci


=FINAL=


#1 Bencic d. #4 Ivanovic

...if the stage is big enough, I guess.






KAOHSHIUNG, TAIWAN (Int'l $427K/HCI)


15 Final: Lee Ya-Hsuan def. Hsu Ching-wen (ITF $10K - June)
15 Doubles Final: Lee Pei-chi/Hirono Watanabe d. Lee Ya-hsuan/Pai Ya-yun
16 Singles Top Seeds: V.Williams/Doi
=============================


=SF=


#1 V.Williams d. Chang
#2 Doi d. Kulichkova


=FINAL=


#1 V.Williams d. #2 Doi

...Doi held MP vs. Kerber in the AO. Do over?

And then there's this...


Valentines Day is just around the corner so if u have a secret crush on me now would be a good time 2 let me know ?? pic.twitter.com/lEj8PWUHdK

— Heather Watson (@HeatherWatson92) February 7, 2016



All for now.