The Olympic Tennis Medal Stand



RIO DE JANEIRO, BRAZIL
Come one, come all (
well, not ALL
) to Rio...
where still more Olympic tennis moments are about to become reality.


The 2016 Summer games will be the eighth straight Olympiad in which tennis will be a full medal sport, having been reinstated as such in 1988 after being eliminated following an original Olympic run that lasted from 1896 until 1924, a period during which the likes of Suzanne Lenglen ('20) and Helen Wills ('24) were the most successful all-time greats who claimed Gold. Since the sport's return, nearly every major player over the last quarter-century has added an Olympic chapter to their career resume, from the "Golden Slam" achieved in 1988 to the series of historic triumphs that occurred in 2012.



THE OLYMPIC TENNIS CENTRE in RIO


With quite a few Olympic feats of note taking place since the last time I compiled this list before the 2012 games in London, I've updated the rankings, as well as made a few slight adjustments here and there. Thus, it's time for another look back at the greatest moments in the contemporary Olympic tennis era (1988-2012)... in Gold, Silver and Bronze position.



*Graf's "Golden Slam"*
1988 Seoul Singles Gold - Steffi Graf (FRG) def. Gabriela Sabatini (ARG)

...6-3/6-3. The most-difficult-to-get cog in the wheel that was Steffi's "Golden Slam" -- winning all four slams and Olympic Gold in 1988. Graf was the more-than-appropriate winner of the Gold medal as tennis returned to the games for the first time in sixty-four years. The German had an overall record of 72-3 in '88. Graf's Golden triumph wasn't just the most expected of all Olympic tennis results, but it was also the most historic. Her run in South Korea came in the midst of a 45-match winning streak (tied for the longest of her career) and stretch in which she went 76-1 during a period spanning the 1988-89 seasons. In fact, from 1987-90, Graf strung together the four best statistical years of her career, putting up a stunning combined won-lost mark of 305-12.


===============================================




*Great Golden Scot!*


2012 London Singles Gold - Andy Murray (GBR) def. Roger Federer (SUI)
...6-2/6-1/6-4. Great Britain's long national tennis nightmare (well, the first of them, anyway) came to an end as the Scot became the first British man to claim Olympic singles Gold in 104 years, since Josiah Ritchie stood atop the medal stand at yet another summer games held in London in 1908. The result in the final was a complete reversal of Murray's fortune on the very same Centre Court grass at the All-England one month earlier, when Federer defeated him in a four-set final to win career slam title #17. The loss prevented Federer, who'd had to go 4:26 to win his semifinal over Juan Martin del Potro, from finally claiming Olympic singles Gold, the only major singles title to elude him during his career. Murray's win provided the foundation for a more confident, aggressive game that allowed the Scot to conclude his summer by claiming his first career slam crown at the U.S. Open, ending Britain's 76-year drought (Fred Perry '36) of men's slam champs. In 2013, Murray won Wimbledon, as well, to become the first home-grown British men's winner at SW19 in seventy-seven years.

===============================================


*Serenativity Unbound*
2012 London Singles Gold - Serena Williams (USA) def. Maria Sharapova (RUS)
...6-0/6-1. As great as Williams has been at various stages throughout her long career, she may have never been better than she was in the London games. She never lost a set, was broken just once, defeated three players who'd been ranked #1 (and another who'd been #2), including the reigning #1 (Victoria Azarenka) and #3-ranked (Sharapova) players in the world to complete a Career Golden Slam while becoming the first woman to sweep both the singles and doubles Golds since her sister Venus in 2000. Serena was so good her spectacular serve wasn't even necessary. When she did see fit to use it at full power and effectiveness, sometimes it felt like an additional weapon she'd found reason to pull out of her back pocket to bludgeon her already beaten, bloodied and bedraggled opponent just a little bit more. You know, simply to remind them who they were dealing with. Truthfully, it was almost overkill. But not really. For Serena-at-her-best is all about the absolute destruction of anything in her path. In the final, that poor soul was Sharapova. A couple of months earlier, she'd completed her Career Grand Slam in Paris, returned to #1 and was the toast of tennis once again. But a month after winning Wimbledon (her first slam win in two years), Williams returned to the AELTC to hand Sharapova her worst defeat on the very same court on which Serena had lost to the Russian in the '04 SW19 final that launched the then 17-year old's superstar career. That summer, after returning to action following what could have been a life-threatening pulmonary embolism, Williams found a late-career fountain of youth that would see her go on to win three of the next five slams. From the start of the summer of '12 until the Rio games of '16, Williams had jumped her career major total from thirteen to twenty-two, tying Steffi Graf for the most in the Open era.

===============================================
*La Petit Taureau's Greatest Victory?*
2004 Athens Singles Gold - Justine Henin-Hardenne (BEL) def. Amelie Mauresmo (FRA)

...6-3/6-3. Smack dab in the middle of her bout with the cytomegalovirus that kept her out of action for the three months prior to Athens, Henin put together maybe the most remarkable performance of her career. She survived a 5-1 3rd set deficit against Anastasia Myskina in the SF, then took out Mauresmo for the Gold. It was only later, once the full knowledge of her illness was known, that we found out just how deep Queen Justine had had to dig to pull this one out. Following her Athens win, still fighting the virus, Henin only played one more tournament (losing in the 4th Round of the U.S. Open) the rest of the '04 season.


===============================================




*Venus & Serena: Together Forever*


2000 Sydney Doubles Gold - S.Williams/V.Williams (USA) def. Boogert/Oremans (NED) 6-1/6-1
2008 Beijing Doubles Gold - S.Williams/V.Williams (USA) def. Medina-Garrigues/Ruano Pascual (ESP) 6-2/6-0
2012 London Doubles Gold - S.Williams/V.Williams (USA) def. Hlavackova/Hradecka (CZE) 6-4/6-4


...as has pretty much been the case throughout their careers, the toughest out in all of tennis is the Williams

Sisters on the doubles court. They've played together at three Olympics. Naturally, they're 15-0 and have three Golds for their efforts. With both having also won singles Gold (Venus in '00, Serena in '12) their four career Golds are the most won in Olympic tennis history.

===============================================
*The Russians Have Their Day*
2008 Beijing Singles Gold - Elena Dementieva (RUS) def. Dinara Safina (RUS) 3-6/7-5/6-3
2008 Beijing Singles Bronze - Vera Zvonareva (RUS) def. Li Na (CHN) 6-0/7-5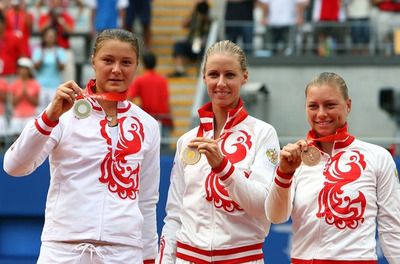 ...after populating the WTA landscape with their deep pool of talent during the 2000's, the Russians went into China and took care of business, completing the first sweep of the medal stand in Olympic tennis in one hundred years. Showing the Hordettes' depth, the women who earned the honors weren't any of the three Russians who'd won grand slam singles titles, but instead were three of their countrywomen who'd all failed to do so in their careers (going 0-7 in slam finals). Dementieva retired two years later, hailed as possibly the best player never to have won a major title. After winning in '08, the Russian held up her Gold-winning moment as not only the best of her career... but also one that she'd cherish even more than she ever would an actual grand slam crown.


===============================================




*The Golden Summer of Venus*


2000 Sydney Singles Gold - Venus Williams (USA) def. Elena Dementieva (RUS)

...6-2/6-4. The conclusion of Williams' spectacular summer of 2000, during which she notched grand slam victories at Wimbledon and the U.S. Open, came with her claiming of Olympic singles Gold Down Under. Also grabbing the Sydney doubles Gold with sister Serena, Venus became the first woman since Helen Wills in 1924 to sweep both medals at the same Olympics. Twelve years after Venus accomplished the feat, Serena finally matched it in London, taking her first singles Gold and third in doubles (w/ Venus, of course).


===============================================




*The Surprise Medalist*


2004 Athens Singles Gold - Nicolas Massu (CHI) def. Mardy Fish (USA)
...6-3/3-6/2-6/6-3/6-4. Talk about a stunner! With his win, Massu became Chile's first-ever Olympic Gold medalist (and then the first two-timer when he won in doubles with Fernando Gonzalez). He was the first man to sweep the singles and doubles Golds since Vincent Richards in 1924.

===============================================
*The Kid Before the Comeback*


1992 Barcelona Singles Gold - Jennifer Capriati (USA) def. Steffi Graf (GER)
...3-6/6-3/6-4. At 16, with all her long-talked about promise still seemingly in front of her, Capriati
took down the defending Olympic champion to become the youngest-ever tennis Gold medalist. But, by the end of 1994, Capriati had been arrested for drug possession and would miss nearly two full years of WTA action. She'd finally return in '96, but wouldn't play a complete season until '99. In 2001, eight and a half years after winning Gold, her gradual comeback took flight as she won the first of what would be three slam titles and reached #1. Twenty years after her Olympic triumph, Capriati was inducted into the International Tennis Hall of Fame.


===============================================


*Keeping It In the Family... eventually*
1996 Atlanta Singles Gold - Andre Agassi (USA) def. Sergi Bruguera (ESP)

...6-2/6-3/6-1. Agassi and Steffi Graf are two of the three players (w/ S.Williams) to have ever won all four slams, plus Olympic singles Gold and a season-ending tour championship title. Before he won Gold on American soil, Agassi had already won titles at three different slams, but he was still viewed as something of an "underachiever." After Atlanta, he'd win five more slams and go down as one of the game's most respected ambassadors. Agassi finally won his first Roland Garros title in 1999, completing his career "Six Pack" of the sport's biggest singles crowns, something that Graf had finished up eleven years earlier. Agassi and Graf were married in 2001 and have had two children.


===============================================




*Home is Where the Heart Is*



1996 Atlanta Singles Gold - Lindsay Davenport (USA) def. Arantxa Sanchez Vicario (ESP)
...7-6/6-2. Since the sport's Olympic return in '88, the only woman to win singles Gold in her home nation has been Davenport. A 20-year old Davenport was the second of three straight American Olympic women's champions (sandwiched between Capriati and Venus). She'd go on to win three slams from 1998-00 before essentially being overtaken at the top of the game by the crafty Martina Hingis, then the Williams Sisters.


===============================================




*When They Were Young*


1984 Los Angeles Women's Final - Steffi Graf (FRG) def. Sabrina Goles (YUG) 1-6/6-3/6-4
1984 Los Angeles Men's Final - Stefan Edberg (SWE) def. Francisco Maciel (MEX) 6-1/7-6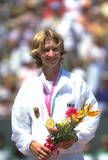 ...four years before tennis became an official medal sport again, it was a demonstration, non-medal event in L.A..
As it turned out, the results in L.A. proved to be quite prophetic. The winners? A 15-year old, #8-seeded Steffi Graf of West Germany, three years before her first slam victory (she'd go on to win 22), and 18-year old Swede Stefan Edberg (#3), who'd win the first of his six career slams the next season in Australia. Four years later, Graf would win the first singles Gold in tennis' official return to the games, then pick up a Silver in '92. Edberg won the Bronze in '88.


===============================================




*First of Her Kind*


2012 London Singles Bronze - Victoria Azarenka (BLR) def. Maria Kirilenko (RUS) 6-3/6-4
2012 London Mixed Doubles Gold - Azarenka/Mirnyi (BLR) def. A.Murray/Robson (GBR) 2-6/6-3 [10-8]

...just days after celebrating her 23rd birthday, the world #1 from Belarus reacted to her Bronze medal-winning feat in a joyous way that was very similar to how she'd likely have reacted to winning Gold. Azarenka won Belarus' very first Olympic tennis medal with a Bronze Match victory over Kirilenko, then a day later teamed with Mirnyi to claim the nation's first Gold, as well, by defeating the home favorite Brits to become the champions of the first Mixed Doubles competition held at the Olympics since 1924.


===============================================





*Roger "versus" Rafa*


While Roger Federer and Rafael Nadal have done battle numerous times in their grand slam pasts, they've never met in the Olympics. In fact, their fates at the games couldn't be more different. Federer, the all-time men's slam title leader, has participated in four Olympics (as the #1 seed three times) but never won Gold in singles. Defeats in '04 (2nd Round to Tomas Berdych) and '08 (QF - James Blake) were preceded by a Bronze Medal Match loss to Italy's Arnaud Di Pasquale in Federer's Olympic debut in '00. In 2012, on his favored grass at the All-England Club after having just won slam title #17 at Wimbledon, the stage seemed set for one additional Golden coronation. But Federer was forced to play a 4:26 semifinal vs. Juan Martin del Potro. He won 3-6/7-6(5)/19-17 in the longest three-set men's match in the Open era, with the 3rd set alone lasting 2:43. In the final, he simply wasn't the same legendary Fed. Whether the marathon win cost him his best chance at Gold will forever be a "what if?," but the fact remains that, one month after defeating Andy Murray in the Wimbledon final, Federer lost in straight sets to the Scot in the Olympic final at the AELTC. The resulting Silver was the first medal won by the Swiss in singles play, but the loss to Murray looks as it will be Federer's Olympic swan song, as he was forced to withdraw from the '16 Rio games with a knee injury.

2008 Beijing Singles Gold - Rafael Nadal (ESP) def. Fernando Gonzalez (CHI)
...6-3/7-6/6-3. Meanwhile, Nadal has played in just one Olympics, but he won Gold in Beijing in '08. One day after the games, Rafa became #1 in the rankings for the first time, ending Federer's record 237 week streak in the top spot, after having spent a record 160 consecutive weeks at #2.


2008 Beijing Doubles Gold - Federer/Wawrinka (SUI) def. Aspelin/Johansson (SWE)
...6-3/6-4/6-7/6-3. Federer HAS won an Olympic Gold medal, though. In the same Beijing games in which Nadal was crowned singles champion, he and Swiss teammate Stan Wawrinka claimed the top spot on the doubles medal stand.


===============================================




*The Argentine Survivor*


2012 London Singles Bronze - Juan Martin del Potro (ARG) def. Novak Djokovic (SRB)
...7-5/6-4. After losing a marathon 19-17 3rd set in the semifinals vs. Roger Federer, at 4:26 the longest three-set men's match in the Open era (the 3rd set alone lasted 2:43), del Potro would have been given a pass had he suffered a letdown and not had enough left to fight for a medal. But this was a player who'd shown great promise while winning the U.S. Open at age 20 in 2009, only to have to battle back against a possibly career-altering wrist injury pretty much ever since. In London, he looked as good as he'd looked in years, pounding those thundering groundstrokes that he used to take down both Federer and Nadal in Flushing Meadows. Rather than go home from London empty-handed, he took Bronze by taking out Djokovic, who actually hit more winners (28-21) and aces (10-5), was fairly even in unforced errors (15-13) and had a better 1st serve win percentage (74%-64%). But Djokovic was 0-for-6 on break point attempts, while del Potro was 2-for-6. And that was the difference in a straight sets victory that brought him to his knees... in a good way.

===============================================




*The Twins Have It*


2012 London Doubles Gold - B.Bryan/M.Bryan (USA) def. Llodra/Tsonga (FRA)
...6-4/7-6(2). The Bryan twins -- Bob & Mike -- complete a Career Golden Slam by taking men's doubles Gold at the London games in 2012. The only other doubles duos to accomplish the feat are three-time Gold winners Serena & Venus Williams and the Woodies, Todd Woodbridge & Mark Woodforde, who won Olympic Gold in 1996 four years before completing their major title set with a Roland Garros title in 2000.

===============================================
=HONORABLE MENTIONS=
In 1992 in Barcelona, Marc Rosset becomes the answer to a trivia question, becoming the only Swiss man to win Olympic singles Gold. In the 20+ years since, Roger Federer and Stan Wawrinka have combined to win nineteen singles slam titles... but Rosset still stands alone atop Switzerland's tennis medal stand.


===============================================


Yevgeny Kafelnikov defeats Tommy Haas in the '00 men's singles final in Sydney, becoming the first Russian to win Olympic tennis Gold


===============================================


In Seoul (1988), Slovak-born Miloslav Mecir, playing for Czechoslovakia, wins the men's singles Gold. To date, no other player representing either side -- Czech Republic or Slovakia -- of the former Soviet era nation has won Olympic tennis Gold.

===============================================


In the 2012 2nd Round in London, Frenchman Jo-Wilfried Tsonga defeats Canada's Milos Raonic in an Olympic record 25-23 3rd set. In the final set alone, Tsonga led 129-128 in total points. Although, for the match, the losing Raonic held a 180-178 edge.


===============================================


Before the Williams Sisters, another U.S. women's duo -- Florida-born Mary Joe Fernandez & Puerto Rico's Gigi Fernandez (no relation) -- team to win back-to-back Olympic doubles Golds in 1992 and 1996

===============================================
After Jelena Dokic came up short in her medal quest Down Under in the Sydney games in '00, losing in the Bronze Medal Match to Monica Seles, Alicia Molik pulled off the feat by taking Bronze four years later in Athens, defeating three seeds (#4 Dementieva, #8 Ai Sugiyama & #3 Myskina). Molik defeated Anastasia Myskina, months after the Russian sparked her nation's tennis revolution by winning at Roland Garros, in the Bronze Medal Match. Myskina had blown a 5-1 3rd set lead to eventual Gold medal winner Justine Henin-Hardenne in the semifinals. Molik is still the only Australian singles player, male or female, to win a medal in Olympic history.


===============================================




And a miss...



*The Best Laid Plans...*


2004 Athens Doubles Gold - Li Ting/Sun Tiantian (CHN) def. C.Martinez/Ruano Pascual (ESP) 6-3/6-3
2008 Beijing Doubles Bronze - Yan Zi/Zheng Jie (CHN) def. A.Bondarenko/K.Bondarenko (UKR) 6-2/6-2
2008 Beijing Singles Bronze - Vera Zvonareva (RUS) def. Li Na (CHN) 6-0/7-5

...in 2004, four years before China hosted the games in Beijing, Li Ting & Sun Tiantian earned the first Chinese medal in tennis. The Chinese tennis federation put much effort into building up the sport within the nation in time for Beijing, banking on even greater success there. Right on schedule, the Chinese Fed Cup team reached the semifinals for the first time in '08. Then came the Beijing games. The Russian sweep of the singles medal stand (medalists Safina & Zvonareva went 4-0 vs. Chinese opponents) meant zero medals were earned there for the home nation, as Li Na succumbed to the pressure of the moment and lost in the Bronze Medal Match. Meanwhile, Yan & Zheng's Bronze in doubles was actually a step back (or two) from the success the Chinese had had four years earlier. China failed to win any tennis medals in 2012.






**WOMEN'S SINGLES MEDALISTS, since 1988**




[GOLD]


1988 Steffi Graf, West Germany
1992 Jennifer Capriati, USA
1996 Lindsay Davenport, USA
2000 Venus Williams, USA
2004 Justine Henin-Hardenne, Belgium
2008 Elena Dementieva, Russia
2012 Serena Williams, USA


[SILVER]


1988 Gabriela Sabatini, Argentina
1992 Steffi Graf, Germany
1996 Arantxa Sanchez Vicario, Spain
2000 Elena Dementieva, Russia
2004 Amelie Mauresmo, France
2008 Dinara Safina, Russia
2012 Maria Sharapova, Russia


[BRONZE]


1988 Manuela Maleeva, Bulgaria & Zina Garrison, USA
1992 Arantxa Sanchez Vicario, Spain & Mary Joe Fernandez, USA
1996 Jana Novotna, Czech Republic
2000 Monica Seles, USA
2004 Alicia Molik, Australia
2008 Vera Zvonareva, Russia
2012 Victoria Azarenka, Belarus



**MEN'S SINGLES MEDALISTS, since 1988**




[GOLD]


1988 Miloslav Mecir, Czechoslovakia
1992 Marc Rosset, Switzerland
1996 Andre Agassi, USA
2000 Yevgeny Kafelnikov, Russia
2004 Nicolas Massu, Chile
2008 Rafael Nadal, Spain
2012 Andy Murray, Great Britain


[SILVER]


1988 Tim Mayotte, USA
1992 Jordi Arrese, Spain
1996 Sergi Bruguera, Spain
2000 Tommy Haas, Germany
2004 Mardy Fish, USA
2008 Fernando Gonzalez, Chile
2012 Roger Federer, Switzerland


[BRONZE]


1988 Stefan Edberg, Sweden & Brad Gilbert, USA
1992 Goran Ivanisevic, Croatia & Andrei Cherkasov, Unified Team
1996 Leander Paes, India
2000 Arnaud di Pasquale, France
2004 Fernando Gonzalez, Chile
2008 Novak Djokovic, Serbia
2012 Juan Martin del Potro, Argentina



**WOMEN'S DOUBLES GOLD MEDALISTS, since 1988**


1988 Pam Shriver/Zina Garrison, USA
1992 Mary Joe Fernandez/Gigi Fernandez, USA
1996 Mary Joe Fernandez/Gigi Fernandez, USA
2000 Serena Williams/Venus Williams, USA
2004 Li Ting/Sun Tiantian, China
2008 Serena Williams/Venus Williams, USA
2012 Serena Williams/Venus Williams, USA



**MEN'S DOUBLES GOLD MEDALISTS, since 1988**


1988 Ken Flach/Robert Seguso, USA
1992 Boris Becker/Michael Stich, Germany
1996 Todd Woodbridge/Mark Woodforde, Australia
2000 Sebastien Lareau/Daniel Nestor, Canada
2004 Fernando Gonzalez/Nicolas Massu, Chile
2008 Roger Federer/Stanislas Wawrinka, Switzerland
2012 Bob Bryan/Mike Bryan, USA



**MIXED DOUBLES GOLD MEDALISTS, since 2012**


2012 Victoria Azarenka/Max Mirnyi, BLR



**MULTIPLE OLYMPIC TENNIS MEDALS, since 1988**


4...

Serena Williams, USA


4...

Venus Williams, USA


4...Arantxa Sanchez Vicario, ESP
3...

Mike Bryan, USA


3...Mary Joe Fernandez, USA
3...Fernando Gonzalez, CHI
3...Steffi Graf, FRG/GER
3...Conchita Martinez, ESP
3...Jana Novotna, TCH/CZE
2...

Victoria Azarenka, BLR


2...

Bob Bryan, USA


2...Elena Dementieva, RUS
2...

Roger Federer, SUI


2...Gigi Fernandez, USA
2...Zina Garrison, USA
2...Goran Ivanisevic, CRO
2...Nicolas Massu, CHI
2...

Andy Murray, GBR


2...Miloslav Mecir, TCH
2...Virginia Ruano Pascual, ESP
2...Helena Sukova, TCH/CZE
2...Todd Woodbridge, AUS
2...Mark Woodforde, AUS


[other actives w/ 1 medal]


Julien Benneteau, FRA
Juan Martin del Potro, ARG
Novak Djokovic, SRB
Richard Gasquet, FRA
Andrea Hlavackova, CZE
Lucie Hradecka, CZE
Anabel Medina-Garrigues, ESP
Max Mirnyi, BLR
Rafael Nadal, ESP
Daniel Nestor, CAN
Leander Paes, IND
Laura Robson, GBR
Maria Sharapova, RUS
Jo-Wilfried Tsonga, FRA
Stan Wawrinka, SUI
Zheng Jie, CHN
--
ALSO: Haas,M.Kirilenko,N.Petrova,Zvonareva




All for now.