Wk.30- Don't Blame It On Bueno
For the first time in decades --
literally more than a lifetime ago in the case of the majority of WTA stars, and nearly TWO in the cases of a few
-- Teliana Pereira has made Brazilian tennis relevant once again. Brazilian WOMEN'S tennis.
Imagine that.
It's been a while.
.@TelianaPereira captures 2nd title of 2015! Beats Beck 64 46 61 at @BrasilTennisCup--> http://t.co/NEZwNg0nZN #WTA pic.twitter.com/uCw5orpKWq

— WTA (@WTA) August 1, 2015


What was true in Bogota in Week 15 held to be so once again in Florianopolis in Week 30 -- Pereira is one of the better clay court players on tour, even if the Aguas Belas-born 27-year old isn't likely to ever challenge the likes of Serena Williams, Maria Sharapova or even the slightly-more-attainable Sara Errani for anything near top billing on the surface on tour. Still, no one has won more clay titles in 2015 than she has.

Pereira's recent success has shined a rare light on tennis -- especially women's tennis -- in Brazil. It's a curious oddity. Of course, that's to expected there, where soccer/futbol is never too far from the mind of the Brazilian sports fan, even at an actual tennis event...


Casa cheia na final do Brasil Tennis Cup, no Costão do Santinho! Ao vivo no @BandsportsTV! #BTC2015 pic.twitter.com/zIdf496hEZ

— Brasil Tennis Cup (@BrasilTennisCup) August 1, 2015


But that hasn't prevented at least one male tennis star from South America's largest country from becoming bigger than life, and attaining the one-name status that signifies and cements such importance. Hence, Guga. Florianopolis, by the way, is his hometown. There wouldn't be a tournament there, one would suspect, if not for that very fact.


.@gugakuerten marca presença na final do @BrasilTennisCup! Ele está distribuindo autógrafos antes da final! pic.twitter.com/axS3DcFcro

— Brasil Tennis Cup (@BrasilTennisCup) August 1, 2015


The former #1, three-time Roland Garros champ is the only player to defeat Pete Sampras and Andre Agassi in the same tournament ('00 Masters Cup), and he rightfully achieved worldwide fame because of his play and personality. But before Kuerten, there was Bueno. Maria Bueno.




(Bueno's section starts at 3:30... and isn't the video quality great on this?)

Bueno won Wimbledon as a 19-year old in 1959. She became the first non-North-American woman to be crowned champion at both Wimbledon and the U.S. Open in the same year that season. She returned to Brazil as a national heroine, was honored by the nation's president and given a ticker-tape parade on the streets of Sao Paulo, her hometown. She'd go on to win two more Wimbledons and three additional Open titles. She even reached finals at the Australian Open and Roland Garros during her career. In all, she won nearly 80 singles titles as a professional, and even while her very long career barely extended into the Open era, she's STILL the nation's women's title leader (with 3) for the period that began over forty years ago.


Bueno, at 75, is still around and kicking, too. She attended the Davis Cup tie at the All-England Club just last month. She was inducted into the Hall of Fame in 1978, thirty-four years BEFORE Kuerten was. You'd think we'd see and hear more of and about her, especially when you consider her description on her HOF bio page:



"The word legend and Maria Bueno's name are indelibly linked together.

Bueno went about her tennis business with both grace and style, flair and artistry, leading tennis writers of the era to bestow praise. In his Tennis Encyclopedia, Bud Collins wrote '...the incomparably balletic and flamboyant Bueno. Volleying beautifully, playing with breathtaking boldness and panache, the lithe Brazilian became the first South American women to win the Wimbledon singles.' In Wimbledon: The Hidden Dream, Gwen Robyns penned, 'She looked like an exotic Siamese cat as she roamed the court. Maria was sinuous, sensuous and feminine. The called her the Queen of Wimbledon.' In his book 100 Wimbledon Championships, A Celebration, fellow Hall of Famer John Barrett waxed poetically, writing, 'Between 1959 and 1964 we were treated to three regal wins from the artistic racket of the elegant queen of Brazilian tennis, Maria Bueno. Here was poetry in motion whose every movement combined the grass of a ballet dancer with the controlled power of a top gymnast.'

Newspaper headlines proclaimed: 'Maria – She's Bueno.'

Bueno merged dominant tennis with her inherent beauty. She was glamorous and chic on court, wearing specially-designed dresses created by the incomparable Hall of Famer Ted Tinling. All this did what magnify Bueno's appeal to a global audience. While she was beloved in Brazil, her Wimbledon victory in 1959 leading to a parade on the streets of Sao Paulo – and throughout South America, she was developing a worldwide following that adored her game, her style and panache."

You'd THINK we'd hear more about her, but we just don't. Many casual -- and maybe more -- tennis fans today likely don't even know she ever existed. It's too bad. Of course, it's not unexpected in a sports media world where something that happened five years ago -- heck, maybe even five MONTHS ago -- is considered old news in a sport like tennis when it comes to entities like ESPN, which is ironically THE media outlet for the game's biggest events during the season. If it happened before the "golden age" of American tennis in the 1970's/80's and/or it didn't involve a U.S. player it may as well have happened on Mars. No, check that... on Uranus. Literally, or in a figurative, snickering sense.

Any influx of female talent from Brazil (or the South American continent as a whole) onto the tour would be a great thing, but it's never really happened. Not after Bueno, and only marginally so after Kuerten. Of course, cultural differences and how young girls and woman are treated and directed when it comes to athletics are always different around the world and play into such things. The general dearth of South American talent on the women's tour -- while it's plentiful on the men's -- would seem to speak to such issues. Who knows, maybe if Gabriela Sabatini had had the sort of amazing career -- rather than simply a very good one -- that was expected of her back in the 1980's and early 1990's that history would have played out quite differently the past few decades, but one can never really know, I suppose.

As it is, it probably wouldn't be difficult for many American niche sports fans to be able to name more current top PBR bull riders from Brazil -- Silvano Alves, Guilherme Marchi, Renato Nunes, Valdiron de Oliveira, Joao Ricardo Vieira... and I'm really not even trying -- than movers and shakers from Brazil in the last four decades in what has become the "niche sport" of tennis in the U.S.. On the ATP tour, at least, there have been a few Brazilians of note in recent years: Thomaz Bellucci, Bruno Soares and high-ranking junior Orlando Luz among them.

The same has not been able to be said, though, for female players. A few have popped up on occasion. Neige Dias won two tour titles in the late 1980's, but only recently have the likes of Pereira (it took 27 years for Dias to welcome another Brazilian champ into the winner's circle), Beatriz Haddad Maia (a doubles winner on tour in '15) and a few others begun to make even slight waves. The new Brazilian depth IS starting to show in Fed Cup play, as well, where the team has had some good results the last few seasons (Pereira, naturally, has been the star, going 21-5 in her career) just as the nation prepares to host the Olympics next summer. Ah, one immediately, thinks -- as happened with Chinese tennis leading into Beijing '08 -- THAT is what they've been gearing up for. It's a nice thought but, Well, not really.

Naturally, the tennis event in Rio will be held on hard court... so Pereira will likely be an afterthought. But, who knows, any sporting event that might inspire young boys AND girls could lead to something bigger down the road.

After all, Brazil, as Bueno showed, loves its athletes. Male or female. It'd be nice if the women's tennis world had a few more on which to bestow such attention, though.

Maybe one day.


*WEEK 30 CHAMPIONS*
FLORIANOPOLIS, BRAZIL (Int'l $227K/Red Clay)
S:

Teliana Pereira/BRA def. Annika Beck/GER 6-4/4-6/6-1


D:

Annika Beck/Laura Siegemund (GER/GER) d. Irigoyen/Kania (ARG/POL) 6-3/7-6(1)
BAKU, AZERBAIJAN (Int'l $227K/Hard Court)
S:

Margarita Gasparyan/RUS def. Patricia Maria Tig/ROU 6-3/5-7/6-0


D:

Margarita Gasparyan/Alexandra Panova (RUS/RUS) d. Vitalia Diatchenko/Olga Savchuk (RUS/UKR) 6-3/7-5
WORLD TEAM TENNIS FINAL (Wash.DC; Hard Court)
Washington Kastles def. Austin Aces 24-18
NANCHANG, CHINA (WTA $125K Series $115K/Hard Court)
S:

Jelena Jankovic/SRB def. Chang Kai-Chen/TPE 6-3/7-6(6)


D:

Chang Kai-Chen/Zheng Saisai (TPE/CHN) d. Chan Chin-Wei/Wang Yafan (TPE/CHN) 6-3/4-6 [10-3]



PLAYER OF THE WEEK:

Teliana Pereira/BRA


...when Pereira won her first career title earlier this season in Bogota it'd been twenty-seven years since a Brazilian woman had won a singles title on tour. Well, now Pereira has two. And the 27-year old did it in Florianopolis, too, meaning she's now the first Brazilian woman to win a tour title IN Brazil in twenty-EIGHT years (Neige Dias in Guaruja in '87). Wins over Maria Irigoyen, Risa Ozaki, Laura Siegemund, Anastasija Sevastova and Annika Beck in a three-set final moves Pereira from #78 to #48 as her career season continues. After winning in Bogota while ranked #130, Pereira has now been two of the four lowest-ranked singles champions on tour this year (and it could have been two of three had it not been for the #112 vs. #154 showdown in Baku this weekend). Maybe Pereira's success will be contagious, both in Brazil and South America. It'd be fun to see.

E abraço emocionado de @telianapereira na mãe após conquistar o título do Brasil Tennis Cup? #BTC2015 pic.twitter.com/nV7QyMkH0d

— Brasil Tennis Cup (@BrasilTennisCup) August 1, 2015
===============================================



TEAM OF THE WEEK:

Washington Kastles


...the Kastles won a World Team Tennis record fifth consecutive title (six in seven years), taking the league's 40th anniversary final with a 24-18 win over the Austin Aces. With Martina Hingis (part of both the mixed and women's doubles set wins on Sunday), Anastasia Rodionova (the season's female co-MVP with California's Anabel Medina-Garrigues), Sam Querrey, Leander Paes (finals MVP) and Madison Brengle in attendance in what was a home court final in Washington, the Kastles won the first four sets of play and led 20-13 prior to the 5th set women's singles. There, Austin's Elina Svitolina defeated Brengle 5-3, cutting things to 23-18 and sending things to extra time. If Svitolina could win five more straight games, the championship would go to a deciding super tie-break... but Brengle put an end to any drama by taking the very first additional game to clinch the title. Washington set a North American team record for a consecutive victories a few seasons ago, and are now second on the list for consecutive championships, behind only the eight straight NBA titles won by the Boston Celtics from 1959-66.

#InstantVideo: Madison Brengle clinches first-ever #MylanWTTFinals #fivepeat for @washkastles. #MylanWTT40 https://t.co/6wHUMF9ZKn

— Mylan WTT (@WorldTeamTennis) August 2, 2015
===============================================
1st final of 2015! @BeckAnnika edges Mattek-Sands to set @BrasilTennisCup final vs Pereira--> http://t.co/ck8Yq4Onn1 pic.twitter.com/AGpdqKfxbg

— WTA (@WTA) July 31, 2015



RISERS:

Annika Beck/GER & Karin Knapp/ITA


...Beck, 21, reached her third final in as many seasons with her run to the championship match in Florianopolis. The German reached the Luxembourg final in 2013-14 (losing to the Caroline Wozniacki the first time around, then defeating Barbora Strycova to win her first tour title last year), while her run this week included wins over Alize Lim, Brazilian Gabriela Ce and Bethanie Mattek-Sands before she fell in three sets to another Brazilian, Teliana Pereira. She didn't leave empty-handed, though, as she picked up her first career tour doubles crown with countrywoman Laura Siegemund. A week after her run to the Bad Gastein final, which included a pair of 2:30 matches on the final Sunday, Knapp continued her success with a semifinal result in Baku after wins over Stefanie Voegele, Johanna Konta and Alexandra Panova. As was the case in last week's final against Samantha Stosur, Knapp had the chance for even more. She came back from 6-3/4-0 down vs. Gasparyan in the semis, pushing things to a 3rd set and taking a 3-1 lead before losing yet another 2:30 contest.


===============================================




SURPRISES:

Patricia Maria Tig/ROU


...21-year old Tig had never even reached a tour-level singles QF before her qualifier-to-finalist run this past week in Baku. She'd won twelve ITF singles titles the last three years, though, including seven in 2014 alone as she raised her ranking from outside the Top 800 to a year-ending #243. That was enough for me to include Tig -- along with Denisa Allertova (a recent Top 100 climber who upset Siniakova at SW19), Andreea Mitu (a '15 Fed Cup star and RG Round of 16er) and Wang Qiang (who's slipped a bit, though she did reach back-to-back ITF finals in July, so maybe something bigger is coming soon) -- in my pre-season picks for 2015's "Surprise Player"... so I'm counting this as a big win for me. Ha! The Swarmette didn't get the title, but wins over Olga Savchuk, Donna Vekic and #1-seeded Anastasia Pavlyuchenkova will jump her ranking from #154 to #115 on Monday, and she's now very much on everyone's Romanian radar. I guess I'll have to start prepping Tig's countrywoman Irina Maria Bara for "Surprise" status for '16 now.

Patricia-Maria Tig makes 1st career #WTA QF with 75 64 win over Savchuk at Baku Cup--> http://t.co/cS9MOvwPvc #tennis pic.twitter.com/kqjfvZolSg

— WTA (@WTA) July 30, 2015
Patricia Maria Tig: Romania's Next Star?: Romanian-on-the-rise Patricia Maria Tig continued her breakthrough w... http://t.co/5m9FssmDmv

— Romania News Links (@dlromania) August 1, 2015

In the Nanchang WTA $125K Series event, 25-year old Han put together a semifinal run that included a win over the #3-seed (and aforementioned... come on, pick it up, Qiang) Wang and '14 runner-up Liu Fangzhou before falling to Jelena Jankovic. Not bad for the #183-ranked player in the world who has played quite a bit over the years -- winning six ITF singles and sixteen ITF doubles titles, racking up over 500 career combined wins -- while having her name be about as anonymous on the tennis tour as it would be back home amongst the billions of fellow Chinese.


===============================================




VETERANS:

Jelena Jankovic/SRB & Bethanie Mattek-Sands/USA


...JJ took a step down a half-level last week, playing as the world #25 in one of the WTA $125K Series events that were originally designated as being for "up and coming" players. Oh, well. Not shockingly, the 30-year old Serb won the title without dropping a set while only playing one player ranked higher than #179. #105 Duan Yingying was really the lone question mark standing in the way of Jankovic's title run, which included victories over the world #179, #826, #183 and #191. Still, JJ had gone 0-4 in WTA finals -- including a big one in Indian Wells in March -- since winning her last title in Bogota in 2013, so if it helps her build on her Wimbledon momentum (def. Kvitova) as she returns to North America last week will have served a distinct purpose. Of note, this is the smallest title Jelena has won since she claimed her only ITF singles crown at age 18 in a $50K challenger in Dubai in 2003 (def. Henrieta Nagyova). Fellow 30-year old Mattek-Sands, a virtual doubles superhero this season, reached the SINGLES semis in Florianopolis, defeating Mandy Minella, Ana Bogdan and Tereza Martincova before losing to Annika Beck. The result is her first QF/SF since her return from spring '14 hip surgery, and her first singles semi of any kind since April '13 in Stuttgart. She'll jump back into the singles Top 100 on Monday.


===============================================




COMEBACKS:

Anastasija Sevastova/LAT & Chang Kai-Chen/TPE


...25-year old Sevastova retired in May 2013 due to a continual string of injuries, but she returned this past January to rather immediate success with her refreshed and healthy body showing signs that it might be able to take her back to where she once belonged. The Latvian won 25 of her first 26 matches and claimed four ITF singles and two doubles titles in the early months of '15, raising her ranking into the Top 200 before she began to venture back into WTA events. Sporting a 40-5 ITF mark, she put on a successful qualifying run in the WTA's Bad Gastein event before losing in the 1st Round to eventual champ Sam Stosur. But she was back this past week in Florianopolis, knocking off Louisa Chirico, Veronica Cepede Royg and Maria-Teresa Torro-Flor to reach her first WTA semifinal since she won the title in Estoril in 2010 (one of two SF-or-better results that season which included wins over the likes of Peng Shuai, Jelena Jankovic and Alize Cornet). Once again, she lost to the eventual champ, Teliana Pereira. Sevastova will rise from #188 to #144 on Monday, as Latvia will have two Top 150 (Jelena Ostapenko) players.

Sevastova trešo reizi karjera sasniedz WTA turnira pusfinalu http://t.co/N1I75oSwg4 pic.twitter.com/wLvjiWXZj0

— TVNET Sports (@SportsTVNET) July 30, 2015

Meanwhile, Chang is hardly an unknown quantity. The 24-year old from Taiwan has had some big moments in her career, including putting up a 3-3 record vs. Top 10 players with wins over Marion Bartoli, Samantha Stosur (in Osaka, where the Aussie is 24-3 in her career) and then #1 Dinara Safina (in 2009 when Chang was #132 -- she's still the fifth-lowest ranked player to ever knock off a reigning world #1). In 2010, she reached a career-best #82, won her second of two career $50K challengers in '11 (the other win came in '08) and a season later reached a WTA singles final, as well as one in the WTA $125K Series, losing both. She ended '12 at #89, but pretty much fell off the map after that, playing with injury and going 2-12 in 2013 before finally taking a long break in October '13 to properly heal as her ranking nearly fell outside the Top 600. Chang returned in July '14, going 14-8 and lifting her standing to #462. Finally healthy, 2015 has seen a more concentrated resurgence. She was victorious in the playoff tournament for Asia's wild card into the Australian Open draw last December, and she won a MD match in Melbourne, her first in three years. In March, she won a $10K challenger, her first title since her second of two career $50K wins 2011, and was the runner-up in a $50K in May. Last week in the WTA $125K Series tournament in Nanchang, she came in ranked #191 and took out Hsieh Su-Wei and Wang Yafan, then saved a match point in the semis to reach the final, where she lost to Jelena Jankovic. She did win the doubles with Zheng Saisai, though, finally giving her a 125 Series crown (she had been 0-3 in finals) to go along with her WTA (4) and ITF (10) titles. Chang is nearly back in the Top 150 (#151) this week, sporting a 25-13 record for the season so far.


===============================================



Margarita Gasparyan wins 1st career #WTA title! Tops Tig 63 57 60 at Baku Cup--> http://t.co/8kOyTS6Ehb pic.twitter.com/pBe1vwCXKg

— WTA (@WTA) August 2, 2015



FRESH FACES:

Margarita Gasparyan/RUS & Francesca Di Lorenzo/USA


...well, Gasparyan truly IS a Hordette to watch now. She'd already shown signs of it earlier this season, winning three ITF singles titles before she faced off with -- and player pretty well against -- Serena Williams in the 1st Round at Wimbledon. Before this week, though, she'd yet to record her first career main draw tour singles victory (0-5). She got that with a nice win over Dominika Cibulkova in the opening round in Baku, then followed that up with four more, including wins over Evgeniya Rodina, #2-seed Karin Knapp and qualifier Patricia Maria Tig in 2015's first battle for a title between a pair of first-time tour singles. Gasparyan defeated Tig to become the ninth first-time champ this season, squandering a chance to serve things out in straight sets, but bouncing back to win the 3rd set at love. She's 37-8 in singles in '15, and is the first maiden champ from Russia since 2013 (Elena Vesnina). Oh, and she even swept the doubles to take her first tour title there, as well, joining Johanna Larsson (Bastad) as the only players to win singles and doubles titles at the same event this season.


Meanwhile, 18-year old Di Lorenzo, in just her third pro event (she'd yet to record an ITF main draw win before last week), won the $10K challenger in Austin, Texas. The incoming Ohio State freshman defeated Lynn Herring, a recent University of Georgia product who was attempting to win her second straight challenger crown, 4-6/7-6(2)/6-2 in the final. The loss ended 22-year old Herring's 13-match winning streak.



===============================================




DOWN:

Kristyna Pliskova/CZE


...things haven't gone well for Pliskova since she reached the 3rd Round at Wimbledon, notching wins over Tereza Smitkova and Svetlana Kuznetsova while outlasting her sister Karolina in the SW19 draw. Since then, she's gone 0-2, losing in Istanbul qualifying to Sara Tomic and then last week in the 1st Round in Baku to Zhu Lin in three sets.


===============================================




ITF PLAYER:

Petra Cetkovska/CZE


...the 30-year old Czech, a recent Wimbledon qualifier, reached her second straight challenger final since leaving London, taking four three-setters over five matches to win the $75K title in Sobata, Poland after losing in the $50K Olomouc, CZE final two weeks ago. Her 3-6/7-5/6-2 victory in the final over Latvian teenager Jelena Ostapenko gives her 22 career ITF titles. After missing the final quarter of the '14 season with a left hip injury, Cetkovska returned to action in March. She opened 1-5 and after ending '14 at #59 she'd dropped all the way to #227 before this past week's title run. When she entered Wimbledon qualifying in June she'd recorded just one singles match win since last August, but she's since gone 12-2.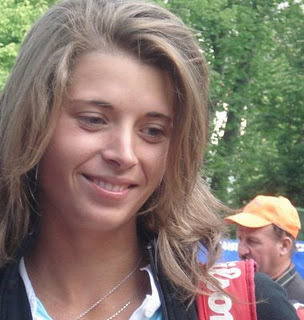 ===============================================




JUNIOR STARS:

Xu Shilin/CHN, Claire Liu/USA, Bianca Andreescu/CAN & Tessah Andrianjafitrimo/FRA


...a loaded field of winners... well, honorees, at least. The current junior #2, 17-year old Xu reached the biggest pro final of her career at the $15K challenger in Hong Kong, where she lost to Korean Lee So-Ra. The Chinese teen went 2-0 in two $10K finals in 2013. Liu, 15, notched a main draw win over India's Ankita Raina in the biggest pro event she's played so far in her career, the WTA $125K Series (though it was only a $115K event) tournament in Nanchang. She lost in the 2nd Round to #1-seed and eventual champ Jelena Jankovic. Back in March, when she was still 14, Liu won a $10K challenger in Orlando and became the first player born in the 2000's (May '00) to earn a WTA ranking. Playing above her age once again this spring, Liu also has an Easter Bowl 18s title in her column in '15. In the $25K Gatineau event in Quebec, 15-year old Andreescu made her professional tournament debut. All she did was take down two seeded players (including veteran #3 Shuko Aoyama) and Pan-Am Games star Victoria Rodriguez to reach the final, losing to top-seeded Alexa Glatch.

TESSAH ANDRIANJAFITRIMO ALERT!
TESSAH ANDRIANJAFITRIMO ALERT!

Meanwhile, in the $10K in Valladolid, Spain challenger it was 16-year old Pastry Andrianjafitrimo reaching her first career professional final, as well. She lost to Spaniard Maria Jose Luque Moreno. Once of these days, people will have to learn to say and spell her name... and it'll be fun to watch. But I can be patient.


===============================================




DOUBLES:

Laura Siegemund/GER & Alexandra Panova/RUS


...both women provided doubles support last week to players who put on singles runs, as well. Siegemund won her second doubles title of '15 while taking the Florianopolis crown with singles runner-up Annika Beck. All three of the 27-year old German's career tour finals have come this season, with her other title coming on the grass at Rosmalen with Asia Muhummad. Panova, partnering Baku singles champ Margarita Gasparyan, picked up her fifth career tour doubles title (all since 2010). This is the first WTA title the Russian has shared with a fellow Hordette, having won her other four others with players from Belarus (Tatiana Poutchek), the Czech Republic (Eva Birnerova & Petra Cetkovska) and Britain (Heather Watson). Panova actually pulled off a successful defense of her Baku crown, having won the same title a year ago with Watson.


===============================================






A single Sharapova gathers no moss....



#Summer ?? pic.twitter.com/Vut4Vh3vJN

— Maria Sharapova (@MariaSharapova) July 28, 2015
...compiles a nice travelogue
...and has a ready-made cover shot if she ever desides to release a musical CD.
Speaking of covers. This one is really nice... but maybe at least one of the Wimbledon champions could have gotten a more prominent placement. I'm just sayin'.
Hey @AusTennisMag Cover. You're cool and sparkly and I like it! ?? pic.twitter.com/3Uzq8TafJ6

— Maria Sharapova (@MariaSharapova) July 31, 2015
Teliana Pereira, you're my kind of player! (Photo: Brasil Cup) pic.twitter.com/Ff33xLv31s

— Chris Oddo (@TheFanChild) August 1, 2015

1. Florianopolis Final - Pereira d. Beck
...6-4/4-6/6-1. There was all kinds of celebrations in Brazil after Pereira's second title. Fireworks, champagne, etc. Of course, they're probably not expecting to break either out next summer with the Olympic tennis event in Rio on hard court rather than clay. But, hey, at least they won't have to go into the water.

Filthy Rio de Janeiro water could pose a serious health risk to athletes at the 2016 Olympics http://t.co/q4hae9NGnO pic.twitter.com/w9xBZYqLeK

— The New York Times (@nytimes) July 30, 2015



===============================================


2. Baku Final - Gasparyan d. Tig
...6-3/5-7/6-0. The Russian served at 6-3/5-4 before being forced to a 3rd, where she took things into her own hands. The only other time these two met came back in January in the 2nd Round of a $25K challenger in Andrezieux-Boutheon. The then #219-ranked Gasparyan defeated then #215 Tig 6-2/7-5. In their wildest dreams, they surely didn't think they'd be meeting up again six months later in the first career WTA finals for both, looking to become a tour champion. Next time they meet they'll likely both be in the Top 100, though the Romanian has a little more work to do to ensure that.


===============================================


3. Nanchang Final - Jankovic d. Chang
...6-3/7-6(6). This trophy won't have a prominent place on JJ's mantle, but it earns a spot because a win is a win... and she hasn't had one in over two years.

Nice week in Nanchang for @jelena_jankovic , 5 wins without losing a set = title :) pic.twitter.com/g5V4d9oPql

— dupla greska (@duplagreska) August 2, 2015



===============================================


4. Baku 1st Rd. - Pavlyuchenkova d. Kulichkova
...4-6/6-2/7-6(4). Kulichkova had four MP at 5-4 in the 3rd against her fellow Hordette. Naturally, #1 seed Pavlyuchenkova didn't take advantage of her survival and lost to qualifier Tig in the semis.


===============================================


5. Baku SF - Gasparyan d. Knapp
...6-3/5-7/6-3. Knapp just can't help herself. After being forced to work overtime last weekend, she did it again here. Gasparyan led 6-3/4-0 before the Italian battled back to force a 3rd set and take a 3-1 lead. The Russian swept the final five games as Knapp's week ended once again on the wrong side of a two and a half hour match.


===============================================


7. Baku 1st Rd. - Gasparyan d. Cibulkova
...6-3/7-5. Gasparyan had been 0-5 in career WTA main draw matches until this win. I guess you can say it created something of a "monster" in Azerbaijan for the rest of the week, as the Hordette charged to her first tour title.


===============================================


8. $50K Lexington Final - Alexa Glatch d. Bianca Andreescu
...6-3/6-3. #1-seeded Glatch cut down a slew of Canadians in front of their home crowd in Quebec, taking out Francoise Abanda (QF) and Carol Zhao (SF) before defeating Andreescu.


===============================================


9. Florianopolos 2nd Rd. - Martincova d. Tomljanovic
...6-1/4-6/6-1. Another Czech to keep an eye on.

Tereza Martincova upsets Tomljanovic 61 46 61 in @BrasilTennisCup 2R--> http://t.co/1B359FnuQw #WTA #tennis pic.twitter.com/nWIbJSXaIl

— WTA (@WTA) July 29, 2015
===============================================
.@DonnaVekic reaches 1st QF of 2015! Beats Lin Zhu 64 06 63 at Baku Cup--> http://t.co/XJURueEkq0 #WTA #tennis pic.twitter.com/GYZNiuVlal

— WTA (@WTA) July 29, 2015

10. Baku 1st Rd. - Vekic d. Schiavone
...6-4/6-2. Vekic, who came into the week having fallen all the way down to #140, ended up reaching the QF last week, her first final eight result in a tour event since winning her maiden tour singles titles in Kuala Lumpur in April of last season. She's gone just 21-34 since that title run, but things have started to turn around ever so slightly of late. She's 12-10 since she took a temporary step down to play an ITF event in Istanbul in April, her first lower circuit appearance since 2013. Of note, she lost in the QF that week to Gasparyan in an 8-6 3rd set tie-break. The Russian, of course, was again on the scene this week, winning the title in Baku.


===============================================


HM- $25K Darmstadt 1st Rd. - Sofiya Kovalets d. Patty Schnyder
...5-7/6-4/5-7. Better late than never, it should be noted in this space that Schnyder -- yes, that Schnyder -- made a return to professional tennis in Week 29. In a tight 3:00 battle, her first match since 2011 (and since having a child at the end of 2014), the 36-year old actually led 4-1 in the 3rd set before tiring out and being caught and passed by the Ukrainian.

The Schnyder Showcase: Patty's Dream Melts in Darmstadt http://t.co/YI5Bqmzusq #tennis #feedly

— Steph (@StephintheUS) July 23, 2015
===============================================
Radwanskas x 2
Sistas ?????? pic.twitter.com/UMs5ptfMHy

— Aga Radwanska (@ARadwanska) July 27, 2015
And respect must be paid.
Happy #NationalCheesecakeDay ??! Think @ARadwanska's excited ?? #WTA pic.twitter.com/X2tqWFrxNh

— WTA (@WTA) July 30, 2015

1. Stanford Q1 - Date-Krumm d. Naomi Osaka
...6-7(3)/6-4/6-3. 44-year old KDK stages a comeback to take out the 17-year old. Osaka was born in October 1997, a year after Date's original '96 retirement. So, in Naomi's eyes, her countrywoman's first go-around really WAS in another lifetime.

The legend moves on! Kimiko Date-Krumm is through to Q2 at the @BOTWClassic pic.twitter.com/cPKfrEIaDv

— Jimmie48 Photography (@JJlovesTennis) August 1, 2015



================================================


2. Baku 2nd Rd. - Pavlyuchenkova d. Kateryna Bondarenko 3-0 ret.
Stanford Q1 - Kateryna Bondarenko d. Doyle 6-0/6-0
Stanford Q2 - Kateryna Bondarenko d. Martic 6-3/3-6/6-3
...K-Bond's recent good run ended unceremoniously in Baku, but the Ukrainian vet has picked things up again quite well in Cali.


================================================


3. Baku 1st Rd. - Zhu d. Kristyna Pliskova
...3-6/7-5/6-3. Even with her third loss in a row, Pliskova is still 35-14 in singles matches on all levels in 2015. Of course, some will never allow Zhu to live down her little "incident" in a match with Francesca Schiavone in Indian Wells earlier this season.


================================================


HM- Nanchang SF - Chang d. Lu Jiajing
...3-6/7-6(3)/7-6(3). Lu's twin -- Jia-Xiang -- hasn't played a match on tour since the start of last season, but #253-ranked Jiajing had every chance at reaching by far the biggest final of her career here. The 25-year old led Chang 6-3/5-3, then was up again at 5-3 in the 3rd set with a match point. Chang eventually pulled out the 2:50 match.


================================================





Vika for the cause.
Pro tennis players @vika7, @Madison_Keys, & @CoCoVandey raised their racquets for a cause: http://t.co/SAVVvySCqj pic.twitter.com/NaN47NndVD

— Los Angeles magazine (@LA_mag) July 29, 2015
26 on the floor.
Last day of being 25 ?????? pic.twitter.com/1BGPz14wQh

— victoria azarenka (@vika7) July 30, 2015
Happy Birthday @Vika7 Azarenka from the #WTA!! http://t.co/PLo9Srq4Rb ?????? pic.twitter.com/Noku4goFlb

— WTA (@WTA) July 31, 2015
Thank u everyone for birthday wishes and making it such an amazing day!!! Love u all ?????? pic.twitter.com/O1XfGIG8oJ

— victoria azarenka (@vika7) August 1, 2015
Got to the practice court and realized we forgot to bring tennis balls?? no unforced errors in today's practice?? #blondemoment #shadowtennis

— Caroline Wozniacki (@CaroWozniacki) July 22, 2015
Passion! Excitement! Sorry I know that was 2 words! Can't wait to be back soon @usopen !! https://t.co/z9dJpTjCBd

— Caroline Wozniacki (@CaroWozniacki) July 29, 2015
Daria still thinks no one gets her humor.
What time is it? I can only understand digital clock ?????? https://t.co/PttWrBb2aU

— Daria Gavrilova (@Daria_gav) August 1, 2015
I was joking btw...

— Daria Gavrilova (@Daria_gav) August 1, 2015
No, she'll have no bananas...
.@Daria_Gav geared up for @BOTWClassic by giving a prize wheel a spin. Don't think she won or maybe she just won a ???? pic.twitter.com/5VLZw3eCVJ

— WTA Rising Stars (@WTARisingStars) July 31, 2015
All clear.... #ornot ?????? pic.twitter.com/vPmOon19Y4

— Daria Gavrilova (@Daria_gav) July 27, 2015



**MOST 2015 WTA TITLES**


4 - Serena Williams, USA
3 - Simona Halep, ROU
3 - Angelique Kerber, GER
2 - Maria Sharapova, RUS
2 - Petra Kvitova, CZE
2 - Timea Bacsinszky, SUI
2 - Samantha Stosur, AUS
2 - Anna Schmiedlova, SVK
2 - TELIANA PEREIRA, BRA



**MOST WTA TITLES IN OPEN ERA - Brazilians**




3...Maria Bueno, 1957-74 (won 68 titles pre-Open era)
2...Neige Dias, 1987-88
2...TELIANA PEREIRA, 2015



**2015 FIRST-TIME SINGLES CHAMPIONS**


Katowice - Anna Schmiedlova (SVK, age 20, #67)
Bogota - Teliana Pereira (BRA, age 26, #130)
's-Hertogenbosch - Camila Giorgi (ITA, age 23, #35)
Nottingham - Ana Konjuh (CRO, age 17, #87)
Eastbourne - Belinda Bencic (SUI, age 18, #30)
Bastad - Johanna Larsson (SWE, age 26, #72)
Istanbul - Lesia Tsurenko (UKR, age 26, #71)
Baku - Margarita Gasparyan (RUS, age 20, #112)



**2015 LOW-RANKED CHAMPIONS**


#130 - Teliana Pereira, BRA (Bogota)
#112 - MARGARITA GASPARYAN, RUS (BAKU)
#87 - Ana Konjuh, CRO (Nottingham)
#73 - Daniela Hantuchova, SVK (Pattaya)
#72 - Johanna Larsson, SWE (Bastad)
#71 - Lesia Tsurenko, UKR (Istanbul)
#67 - Anna Schmiedlova, SVK (Katowice)
#60 - Anna Schmiedlova, SVK (Bucharest)



**2015 TWO UNSEEDED FINALISTS**


Hobart - Heather Watson/GBR d. (Q) Madison Brengle/USA
Pattaya - Daniela Hantuchova/SVK d. Ajla Tomljanovic/AUS
Doha - Lucie Safarova/CZE d. (WC) Vika Azarenka/BLR
Notthingham - Ana Konjuh/CRO d. Monica Niculescu/ROU
Istanbul(*) - Lesia Tsurenko/UKR d. Ula Radwanska/POL
Baku - Margarita Gasparyan/RUS d. (Q) Patricia Maria Tig/ROU
--
* - all unseeded in SF



**YOUNGEST 2015 FINALS**


41 yrs. - Marrakech = Svitolina (20) d. Babos (21)
41 yrs. - Baku = Gasparyan (20) d. Tig (21)



**2015 QUALIFIER REACHED FINAL**


Hobart - Madison Brengle, USA (#84) - lost Watson
Prague - Lucie Hradecka, CZE (#74) - lost Ka.Pliskova
Baku - PATRICIA MARIA TIG, ROU (#15) - lost Gasparyan


[lost in SF]


Sydney - Tsvetana Pironkova/BUL (#67)
Acapulco - Sesil Karatantcheva/BUL (LL/#158)
Charleston - Lucie Hradecka/CZE (#110)
Rome - Daria Gavrilova/RUS-AUS (#78)



**MULTIPLE FINALS IN 2015 EVENT**




[singles/doubles]


Marrakech - Timea Babos, HUN (L/W)
Roland Garros - Lucie Safarova, CZE (L/W)
Bastad - Johanna Larsson, SWE (W/W)
Florianopolis - ANNIKA BECK, GER (L/W)
Baku - MARGARITA GASPARYAN, RUS (W/W)


[doubles/mixed]


Roland Garros - Bethanie Mattek-Sands, USA (W/W)
Wimbledon - Martina Hingis, SUI (W/W)


[WTA 125]


Nanchang - CHANG KAI-CHEN, TPE (L/W)



**LOW-RANKED FINALISTS IN 2015**


#154 PATRICIA MARIA TIG, ROU (lost to Gasparyan - Baku)
#130 Teliana Pereira, BRA (def. Shvedova - Bogota)
#112 MARGARITA GASPARYAN, RUS (def. Tig - Baku)
#99 Ula Radwanska, POL (lost to Tsurenko - Istanbul)


[WTA 125]


#191 CHANG KAI-CHEN, TPE (lost to Jankovic - Nanchang)



**RECENT WTT FINALS**


2006 Philadelphia Freedom def. Newport Beach Breakers 21-14
2007 Sacramento Capitals def. New York Buzz 24-20
2008 New York Buzz def. Kansas City Explorers 21-18
2009 Washington Kastles def. Springfield Lasers 23-20
2010 Kansas City Explorers def. New York Sportimes 21-18
2011 Washington Kastles def. St. Louis Aces 23-19
2012 Washington Kastles def. Sacramento Capitals 20-19
2013 Washington Kastles def. Springfield Lasers 25-12
2014 Washington Kastles def. Springfield Lasers 25-13
2015 Washington Kastles def. Austin Aces 24-18



**LONG NORTH AMERICAN TEAM CHAMPIONSHIP STREAKS**


8 years - Boston Celtics (NBA), 1959-66
5 years - New York Yankees (MLB), 1949-53
5 years - Montreal Canadiens (NHL), 1956-60
5 years - WASHINGTON KASTLES (WTT), 2011-15
5 years - San Diego Sockers (MISL), 1988-92



**HAVE WON BOTH WTA & WTA $125K SERIES TITLES**


Lara Arruabarrena, ESP
JELENA JANKOVIC, SRB
Bojana Jovanovski, SRB
Shahar Peer, ISR
Elina Svitolina, UKR
Zhang Shuai, CHN



**RECENT JUNIOR FED CUP 14s FINALS**


2007 United States d. France
2008 United States d. Great Britain
2009 United States d. Czech Republic
2010 United States d. Ukraine
2011 Serbia d. United States
2013 United States d. Russia
2014 Russia d. Ukraine





One half of that memorable Roland Garros semifinal is nearly back...



Aunty having my nephew on my back for a hike! ??????????#sportyaunt #familymoments #alwaysreadyfornewchallenges pic.twitter.com/TriCXSGUOV

— Timea Bacsinszky (@TimiBacs) July 27, 2015
?? Yes ! ?? pic.twitter.com/Qj8CtMry7T

— Timea Bacsinszky (@TimiBacs) July 30, 2015
While the other's return will have to wait. Of course, that doesn't mean Serena can't work on mastering another skill during the break.
Love my #Berlei bras!! #MasterTheBounce @BerleiUK pic.twitter.com/AWqzbkeobN

— Serena Williams (@serenawilliams) July 28, 2015


Can we have this sort of attrition in the GOP primary field please? Well, I guess we can wait until after the Trumpian circus comes to town and leaves a few piles of steaming you-know-what on the stage at the first "debate" in Cleveland this week, though. Jon Stewart has to have something good to talk about on his last week on the "The Daily Show," right?


Azarenka pulls out of @CitiOpen tournament in Washington, D.C. with injured right shoulder: http://t.co/8dwFAdCHtH pic.twitter.com/rHTeymBC4I

— TENNIS.com (@Tennis) July 31, 2015
World No.1 @SerenaWilliams has withdrawn from @BOTWClassic with a right elbow injury--> http://t.co/FQCGBeOtQD #WTA pic.twitter.com/X9RBJO9QI9

— WTA (@WTA) July 31, 2015
.@GenieBouchard withdraws from @CitiOpen due to an abdominal injury--> http://t.co/ZeJ5KJyGRY #WTA pic.twitter.com/i1E3Zb23Mf

— WTA (@WTA) July 31, 2015



STANFORD, CALIFORNIA USA (Premier $666K/HCO)


14 Final: S.Williams d. Kerber
14 Doubles Final: Muguruza/Suarez-Navarro d. Kania/siniakova
15 Top Seeds: Wozniacki/A.Radwanska
=============================


=SF=


#7 Keys d. #1 Wozniacki
#5 Kerber d. #3 Suarez-Navarro


=FINAL=


#7 Keys d. #5 Kerber

...California-born Lindsay Davenport, Keys' coach, won back-to-back Stanford titles in 1998-99. This final would be a rematch of that great green clay final in Charleston earlier this year. It ended like this...


Congrats @AngeliqueKerber Great finale @FamilyCircleCup pic.twitter.com/ED7PC7msf6

— Marine Dupomont (@MarineDupomont) April 12, 2015



WASHINGTON, D.C. (Int'l $227K/HCO)


14 Final: Kuznetsova d. Nara
14 Doubles Final: Aoyama/Dabrowski d. Kuwata/Nara (Aoyama champion 2012-14)
15 Top Seeds: Makarova/Stosur
=============================


=SF=


#1 Makarova d. #3 Bencic
Mladenovic d. Watson


=FINAL=


#1 Makarova d. Mladenovic

...Mladenovic upset #1-seeded Lucie Safarova in the 1st Round last year, then defeated Taylor Townsend in the 2nd before losing in the QF. The Pastry faces #2 Stosur in her opening match, then could face wild card Townsend again in the 2nd Ruond this year. Makarova lost in the semis to eventual champ Kuznetsova in '14. So, everyone moves forward.






JUNIOR FED CUP 14s SF/FINAL (Prostejov, Czech Republic)


14 Final: Russia def. Ukraine
=============================


=FINAL=


United States d. Russia

...another pleat in the cape of the notion that Kathy Rinaldi should be the future U.S. Fed Cup Captain?


Don't worry, while Garbi isn't back yet, I'm sure she'll get her sense of direction worked out soon.


Colega donde esta la playa? Dude where is the beach? #nobeach #tennistime #donut ?? pic.twitter.com/D49rQ4u9Kk

— Garbiñe Muguruza (@GarbiMuguruza) July 31, 2015


Meanwhile, Clean Petra is waiting in the wings. Err, I mean tub.




All for now.