The Decade's Best: Roland Garros, 2000-09
The 2000's began in Paris one year after a nearly 30-year old Steffi Graf had won her final grand slam title at Roland Garros in 1999 and then retired later that season. The decade now ends two RG tournaments after four-time champion Justine Henin walked away from the sport while having a stranglehold on the game's #1 ranking.
In between, there was never a shortage of stories.


A Frenchwoman won the title for the first time in thirty-three years, but Martina Hingis NEVER did. Jennifer Capriati's comeback grew teeth in Paris, but Kim Clijsters came up just short, when Roland Garros hosted what could arguably go down as the best women's match of the decade. A year later, Serena Williams started her "Serena Slam" run with a title on the red clay, but then saw her leading role in the game usurped by the unquestioned Queen of Clay of the 2000's, "La Petit Taureau." The Russian slam revolution kicked off in Paris with the most stunning titlist of the decade. And when the Queen walked away from her throne, the goings-on at Roland Garros became a chaotic free-for-all, with the final two tournaments crowning a new #1 and yet another Hordette champion.

In all, seven different women lifted the Coupe Suzanne Lenglen over the past ten years. The #1 player during the span is easy to identify. After that, it's a matter of opinion. Here's mine:



*2000's TOP 10 - ROLAND GARROS*




1.

Justine Henin, BEL: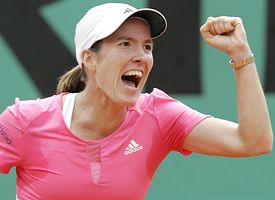 The story of Roland Garros in the 2000's will always begin and end with Justine Henin. Serena's one title year aside, before La Petit Taureau, it was any woman's title to win. Then Henin won four titles in five seasons, only losing during her bout with the cytomegalovirus in '04. Once she was gone, once again it was anyone's tournament to claim. Rarely has an athlete left bigger void with their absence, and the re-ordering of the players at the top of the women's game in the post-Henin era is still likely to play out for at least the first half of the 2010's.


=============================




2.

Virginia Ruano-Pascual, ESP:

The unquestionable Doubles Queen of Paris this decade. Her '09 Women's Doubles title gives her seven Roland Garros titles (6 Doubles/1 Mixed) with three different male/female partners.


=============================




3.

Mary Pierce, FRA:

Pierce's '00 title was the first in Roland Garros by a woman representing France since Francois Durr in 1967. That same year, Pierce also won the Doubles with Martina Hingis.


=============================




4.

Jennifer Capriati, USA:

After opening 2001 with a surprise slam win in Melbourne, Capriati solidified her amazing comeback from her arrest for drug possession by winning a second consecutive slam at Roland Garros, outlasting Kim Clijster in an epic 12-10 3rd set in the final.


=============================




5.

Serena Williams, USA:

Often the victim in Paris of either Henin or her own focus, Williams would never have completed her "Serena Slam" run of four straight slam wins without first claiming her only Roland Garros title in 2002 in her single career appearance in the final.


=============================




6.

Ana Ivanovic, SRB:

The last player Henin defeated at Roland Garros, AnaIvo made the immediate (but not long-term) line of Paris succession a cut-and-dry affair one year later, becoming #1 and taking her first slam title in her second straight final.


=============================




7.

Svetlana Kuznetsova, RUS:

In an alternate reality, Kuznetsova might have been THE Roland Garros player of the decade. As it is, she'll have to be content with one title (2009), a RU (2006) and holding match points against the eventual champs in 2004 and '05.


=============================




8.

Kim Clijsters, BEL:

Always the perpetual Parisian bridesmaid, Clijsters continually seemed to sell herself short when it came to her prospects on the red clay. One wonders if the two-time RG finalist might have followed a completely different path had she won that epic '01 final against Capriati.


=============================




9.

Anastasia Myskina, RUS:

The Russian slam revolution began in 2004 when Czarina Myskina became the first female Hordette to win a slam singles crown, defeating countrywoman Elena Dementieva in the final. Unfortunately, the streaky and oft-flighty Myskina only advanced past the 3rd Round one other time in Paris, and was essentially out of the game for good three years after her title season.


=============================




10.

Paola Suarez, ARG:

She won four Doubles title with VRP, and put up both a QF and SF result in singles.


=============================





*DOUBLES*




1.

Virginia Ruano-Pascual, ESP:

7 overall (6 Doubles/1 Mixed) titles in the decade with partners Paola Suarez (4), Anabel Medina-Garrigues (2) and Tomas Carbonell (1).


=============================




2.

Paola Suarez, ARG:

VRP's partner-in-crime during a four-titles-in-five-years run, plus two RU, while reaching six straight finals from 2000-2005.


=============================




3.

Lisa Raymond, USA:

won Mixed and Doubles crowns


=============================




4.

Anabel Medina-Garrigues, ESP:

she helped get VRP back on the map, winning the RG Doubles in 2008 and '09


=============================





*DOUBLES TEAMS*




1.

Virginia Ruano-Pascual/Paola Suarez, ESP/ARG




2.

Anabel Medina-Garrigues/Virginia Ruano-Pascual, ESP/ESP





*JUNIORS*




Agnieszka Radwanska, POL & Sesil Karatantcheva, ex-BUL/currently KAZ:

A-Rad was the only player to defeat Anastasia Pavlyuchenkova in the Russian's four career overall Girls slam finals (RG '06); before "all the rest," Sesil was the Roland Garros junior champ in 2004, one year before she upset Venus Williams in Paris in the 3rd Round and reached the QF.


=============================




Virginie Razzano (2000), Alize Cornet (2007) and Kristina Mladenovic (2009):

Pastries who won junior singles titles in their home country.


=============================





*UNDERRATED*




[singles]




Patty Schnyder, SUI:

consistent (5 4th Round/1 QF), but unspectacular


Nadia Petrova, RUS:

two SF, but not in '06 when she came into Paris as the hottest player on the WTA clay circuit, then promptly injured herself in practice and was bounced in the 1st Round


[singles/doubles]




Mary Pierce, FRA:

the only woman to win both singles and women's doubles titles in the decade


Samantha Stosur, AUS:

she won a doubles title with Lisa Raymond, and just made the women's SF in '09 when she decided to focus on her singles career


[doubles]




Ai Sugiyama, JPN:

won one title, and reached three finals with three different partners



*DISAPPOINTMENTS*




[singles]




Kim Clijsters, BEL:

one near-miss in '01, and a 0-2 record in finals


Amelie Mauresmo, FRA:

she never handled the home nation pressure well, with her best result a pair of QF


Martina Hingis, SUI:

from 1997-01, she played in two finals and three SF in Paris, but never won the title. After retiring and then staging a comeback, she only played in one RG (a QF in '06) the rest of her career. She did win a doubles title with Pierce in '00, though.


Dinara Safina, RUS:

she reached both finals in the post-Henin years, but lost both (and was hardly a factor once she got there)


[doubles]




Cara Black/Liezel Huber, ZIM/USA:

the pair has won four slam titles at the other three slams, but none in Paris. They've reached one final (2005), and both have won Mixed Doubles crowns in Paris.



*BEST COMEBACK*




[Singles Champion]


Jennifer Capriati's 2001 title


[Doubles Champion]


Alicia Molik's surprise win with Mara Santangelo in 2007


[non-champion]


Maria Sharapova reaches the singles QF in '09 after missing ten months following shoulder surgery



*REDEMPTION*


After twice failing to convert match points against the eventual RG champs in '04 and '05, Svetlana Kuznetsova finally wins the title in 2009



*STUNNER*


Anastasia Myskina becomes the first Russian woman to win a slam singles crown, defeating countrywoman Elena Dementieva in the 2004 final. Even though it's only been five years, she's already appearing in trivia questions as if she's effectively been lost to the fades pages of history... and, hard as it would have been to believe a few years ago when she had something of a Jankovician presence on tour even before the actual Queen Chaos, that might just be the case.



*FAMILIAR SHOWDOWNS*




[Russians]


2004: Myskina def. Dementieva to become first Russian slam winner
2009: Kuznetsova def. Safina for first RG title


[Belgians]


2003: Henin def. Clijsters for first RG title


[Serbs]


2008: Ivanovic def. Jankovic in SF in battle for #1 ranking


[Sisters]


2002: Serena def. Venus in only RG final appearance by either Williams



*MOST DOMINANT DISPLAYS*


2005 Final - Henin-Hardenne d. Pierce 6-1/6-1
2003 Final - Henin d. Clijsters 6-0/6-4



*BIGGEST UPSET*


2004 2nd Rd. - Garbin d. Henin-Hardenne
...suffering the effects of the cytomegalovirus that eventually caused her to miss most of the rest of the season, JHH suffered her only loss in Paris during the five-year stretch in which she went 28-1 and claimed four RG titles.



*CONTROVERSY*


2003 SF - Henin d. S.williams
...to wave or not to wave, whether Justine did was not the question. She did, but the Belgian wouldn't admit it. Serena had a fit.
2009 4th Rd. - S.Williams d. Martinez-Sanchez
...to hit or not to hit, whether the ball hit MJMS's arm was not the question. It did, but the Spaniard wouldn't admit it. Serena had another fit.



*TOP MATCH*


2001 Final - Capriati d. Clijsters 1-6/6-4/12-10
...it was the only three-set RG women's final in the entire decade.



=NOTES=


Henin was the only multiple singles title winner in the decade, but five other women (Clijsters, Ivanovic, Kuznetsova, Pierce and Safina) made multiple appearances in finals.


=============================


Multiple Doubles titles by teams: Ruano-Pascual/Suarez (4), Medina-Garrigues/Ruano-Pascual (2)


=============================


Won both Doubles and Mixed titles: Virginia Ruano-Pascual, Lisa Raymond


=============================


Doubles finals with multiple partners: Ruano-Pascual (6-Suarez, 2-Medina-Garrigues), Sugiyama (1-Clijsters/1-Hantuchova/1-Srebotnik), Raymond (1-Stosur/1-Stubbs)


=============================


Surprise semifinalists: Dominika Cibulkova, Clarisa Fernandez, Elena Likhovtseva, Samantha Stosur, Paola Suarez


=============================


In 2000, Spaniards Arantxta Sanchez-Vicario and Conchita Martinez both appeared in the last slam singles SF of their career. Martinez reached the final, losing to Pierce.


=============================


DID YOU KNOW?: In 2006, in the SF against Svetlana Kuznetsova, Nicole Vaidisova was one point (she had an open shot, but missed it) from having a match point to reach her first career slam final.


=============================


Surprise Quarterfinalists: Sorana Cirstea, Sesil Karatantcheva, Lina Krasnoroutskaya, Petra Mandula, Chanda Rubin (2), Carla Suarez-Navarro


=============================


Justine Henin (1997) and Jennifer Capriati (1989) were the only past RG junior champs who also won Women's championships in the 2000's. ('09 Women's champ Kuznetsova was the Girls RU in '01.) Actually, Henin and Capriati are the only two former junior winners to go on to win the Coupe Suzanne Lenglen in the last thirty years since Hana Mandlikova was Girls champ in 1978.





The quest to rank the Top 20 "Players of the Decade" has reached its second checkpoint. This cutdown of the original nomination list -- from a new total of 79 to 26 -- eliminates the four players who met the quaifications to be nominated, along with forty-nine others.

Here are the additions/subractions lists of the qualified players, in chronological order, and then the players remaining on the list:



*FIRST CUT (29)*


Nicole Arendt
Shinobu Asagoe
Sybille Bammer
Daja Bedanova
Kristie Boogert
Elena Bovina
Severine Bremond
Els Callens
Casey Dellacqua
Mariaan de Swardt
Clarisa Fernandez
Janette Husarova
Sesil Karatantcheva
Michaella Krajicek
Lina Krasnoroutskaya
Li Ting
Petra Mandula
Marta Marrero
Miriam Oremans
Tatiana Perebiynis
Kimberly Po-Messerli
Anastasia Rodionova
Barbara Schett
Magui Serna
Antonella Serra-Zanetti
Karolina Sprem
Patricia Tarabini
Dominique van Roost
Fabiola Zuluaga



*ADDITIONS (4)*


Dominika Cibulkova (qualified with slam SF)
Sorana Cirstea (qualified with slam QF)
Vania King (qualified with slam Mixed Doubles RU)
Elena Vesnina (qualified with slam Doubles RU)



*SECOND CUT (53)*


Marion Bartoli
Alona Bondarenko
Kateryna Bondarenko
Chan Yung-Jan
Anna Chakvetadze
Chuang Chia-Jung
Dominika Cibulkova
Sorana Cirstea
Amanda Coetzer
Eleni Daniilidou
Nathalie Dechy
Jelena Dokic
Siliva Farina Elia
Tatiana Golovin
Anna-Lena Groenefeld
Julie Halard-Decugis
Anke Huber
Kaia Kanepi
Vania King
Anna Kournikova
Li Na
Elena Likhovtseva
Conchita Martinez
Anabel Medina-Garrigues
Sania Mirza
Alicia Molik
Corina Morariu
Shahar Peer
Flavia Pennetta
Nadia Petrova
Kveta Peschke
Agnieszka Radwanska
Chanda Rubin
Lucie Safarova
Arantxa Sanchez-Vicario
Mara Santangelo
Francesca Schiavone
Monica Seles
Meghann Shaughnessy
Anna Smashnova
Katarina Srebotnik
Samantha Stosur
Carla Suarez-Navarro
Ai Sugiyama
Sun Tiantian
Agnes Szavay
Tamarine Tanasugarn
Nathalie Tauziat
Nicole Vaidisova
Elena Vesnina
Yan Zi
Zheng Jie
Vera Zvonareva



*REMAINING NOMINEES (26)*


Victoria Azarenka
Cara Black
Jennifer Capriati
Kim Clijsters
Lindsay Davenport
Elena Dementieva
Daniela Hantuchova
Justine Henin
Martina Hingis
Liezel Huber
Ana Ivanovic
Jelena Jankovic
Svetlana Kuznetsova
Amelie Mauresmo
Anastasia Myskina
Martina Navratilova
Mary Pierce
Lisa Raymond
Virginia Ruano-Pascual
Dinara Safina
Patty Schnyder
Maria Sharapova
Rennae Stubbs
Paola Suarez
Serena Williams
Venus Williams

Until the next cut, during Wimbledon.

All for now.







BEST OF THE DECADE SERIES:


...Players of the 2000's: Nomination List, Decade's Best: Australian Open 2000-09