#1: What If... Kim Clijsters Had Won Roland Garros in 2001?
The most talented tennis players in the world, despite the usual outward appearances, aren't simply destined for greatness. Nothing is that easy. Becoming a "player for the ages" is a process that begins in childhood, is made possible through years of hard work, and becomes a reality only after a series of learning experiences manage to teach the player how to become a champion. Sometimes, fate DOES intervene (
see Monica Seles
) to alter the course of history... but often it's what DOESN'T happen that makes all the difference.


While the "path to greatness" is made up of a series of connective actions and decisions, often there iS ONE moment that stands out from the rest. One career-defining instant when everything "clicked" and after which the player was never the same. One timeless victory that simultaneously allowed the benefits of all the hard work to come to fruition, and whetted the appetite for more of the same.

For Justine Henin-Hardenne, it was likely her comeback from a 1-4 3rd set deficit against Lindsay Davenport in the 2003 Australian Open QF. After previously struggling to rise above the moment, JHH overcame intense heat and debilitating cramps to win the deciding set 9-7. It proved to Henin-Hardenne that she did indeed have inside her what it'd take to win a slam title, and by the end of the '03 season she'd won two slams and was the #1-ranked player in the world. For Maria Sharapova, too, her "moment of consciousness" may not have been her Wimbledon final victory over Serena Williams in 2004, but her SF come-from-behind triumph against Davenport after staring at a 6-2/3-1 hole. The commonality in both the "births" of Le Petit Taureau and the Supernova wasn't just Lindsay, though. It was the confidence the two players discovered in winning those matches. From that instant forward, neither player has ever looked back. Their confidence has never abandoned them. They've combined to win seven grand slams over the past four years, and seem primed to only add to their takes in this and future seasons.

But what if they hadn't won those matches? It's easy to think their "moments" would have simply come later. But maybe not. Missing THE perfect opportunity to ascend to a higher level of achievement could have unalterably changed everything. A slight delay in "destiny" can easily become a seemingly neverending one... and the ground that was lost and accomplishments that never were are rarely ever recovered (even for a great such as Andre Agassi, whose early slam misfires will forever leave him a half-step behind Pete Sampras). Why, just look at the curious case of Kim Clijsters. Neither JHH nor Sharapova are more talented or experienced than her, yet they've both become more successful slam contenders since Clijsters was the first of the three to reach a grand slam final at Roland Garros in 2001 at age 18-years and a day.

It's possible that June 9, 2001 was Clijsters' "moment," and she missed it. On pure talent, she still fashioned a Hall of Fame career and (four-plus years later) did win a slam title at the U.S. Open in 2005 after continually flaming out in the semfinals and finals of slams (often against JHH). But as she embarks on her farewell season on the WTA tour, what altered history might she be bringing to Melbourne in January 2007 for her final Australian Open had she won that magnificent Paris battle against Jennifer Capriati in '01? What sort of effect could a grand slam title at 18 have had on her confidence and career? What did she -- and we -- miss out on over the last half decade?

Just for kicks, why don't we imagine how it'd be today...

if Kim Clijsters had won Roland Garros in 2001.



>>>>

"What If" DATELINE: January 13, 2007

<<<<



MELBOURNE, Australia--

When Kim Clijsters was engaged to Adelaide-boy Lleyton Hewitt, the Belgian tennis star became affectionately known Down Under as "Aussie Kim." Without a homegrown top female player for decades, the locals seized upon the chance to "adopt" one of the best.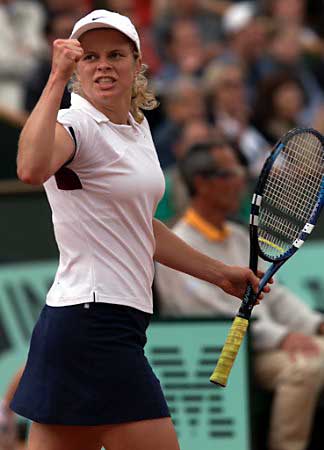 The Kim/Lleyton love match didn't work out (he's married and a father, while she's engaged to be married in July), but it's emblematic of Clijsters' winning personality and reputation as the tour's nicest player that she still manages to hold onto the allegiance of her former extended Aussie family. And in a spare-me-your-troubles nation such as Australia, that's quite a compliment.

But the upcoming family reunion will include a handful of goodbyes, as well as tears. At her first press conference of her last Australian Open at the beginning of her final year on tour, Clijsters took the time to reflect on the fantastic career she'll soon leave behind for family life with her future husband and yard full of little Kims.

When asked about the key to the career and slam success that brought her four slam titles in one of the most competitive eras of the sport, Clijsters was decisive.

"Desire. Desire and fun. To be really successful, at least as far as me and my game have been concerned, I had to have a combination of the two. Especially with the players I was up against. Serena, Venus, Lindsay, Justine... and, lately, Maria. Great competitors. It's been an honor to play against them. It really has," Clijsters said.

Whomever her competition, Clijsters held up pretty well. After winning the epic 2001 Roland Garros final against Jennifer Capriati -- which included the longest 3rd set in the tournament's fabled history -- Clijsters proceeded to gradually grab a piece of history all her own at each of the other three slams. She won Wimbledon in 2003, then the Australian Open in 2004. In 2005, her U.S. Open title completed the career Grand Slam.

But is there one moment that stands out as the biggest, or most important, in her career?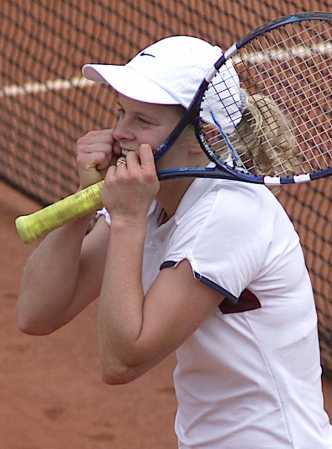 "Sure. Probably when I beat Jennifer in Paris in '01," Clijsters chirpily shot back, as if she'd been anticipating the question all along. "I'd just turned eighteen the day before, and then to be in my first slam final the next day... it was quite amazing, really. I very easily could have just been satisfied with being there. I remember getting off to a great start, winning a bunch of games in a row. Then Jennifer started playing better, which you had to expect from her."

"That long 3rd set," she said, shaking her head at the memory, then wiping away the sudden moistness in her eyes.

"I almost lost it, too. But I fought. I was ready to leave everything on the court that day. I mean, I didn't know if I'd ever get another chance at a slam, and I wasn't going to give it up very easily," said Clijsters, pausing slightly before flashing a satisfied smile. "I"m really proud of that match. It was like a dream come true... which is was."

Her laughter filled the room, and was instantly contagious. But what if she'd lost the match? What would have happened then?

"I don't know. Maybe it'd made me hungrier?," she said, then quickly corrected herself. "Or not. I'm not sure. Maybe it'd made things tougher, actually. Having to think about losing that one... it might have played on my mind. Winning a slam isn't easy, and it's better not to have the memory of coming so close stuck in your head before you ever win one. You have to be confident that you're going to win. And when you lose, you know that you CAN. You'd rather not know that."

She could hold it back no longer. The smile returned.

"Luckily, I never had to find out. I've been very lucky."

Of course, they say that you usually make your own luck. Prepared to leave with a sense of closure to her career, Clijsters will exit the sport knowing that she lived up to her great early promise. She held her own in battles with fellow Belgian Justine Henin-Hardenne, outmanuevered the injury-prone and oft-distracted Williams sisters, and has been able to stay in contention through the rise of Russian tennis, as well.

But, at 23, Clijsters is still a young woman. Is this REALLY the end? Could her impending retirement be temporary? Could she return one day?

"Well, I'd say never... but you should never say never. But why would I? I've got nothing left to prove, really. I've had my fair share of injuries, but I'm still able to be at the top of my game after ten years. It's been great. But I think the timing is right. I really do."

Does she have any goals for her final season?

"I want to have a good time, of course. Stay healthy. And, no doubt, I want to win. Four slams is nice, but one or two more would be nice, too," she said with a grin. "You know, slams are kind of like dogs... you can never have enough."

Holding court with flair, she was quick to offer an explanation.

"(Fiance) Brian (Lynch) told me the other day that I'd be just as happy with four dogs as four slam titles. I'm not sure if he's right about that, though. Maybe he is," she said with a laugh. Then, upon further reflection, "I love my dogs... but I'm not giving back my trophies."

And with that, Clijsters' first last words were complete. She left the room with the smile that will soon be missed at all the various stops along the WTA tour. She'll miss everyone, too. But she won't look back on her career with regret. She has no reason to. She quite literallly won it all on the court.

Now she wants to HAVE it all off it. And why shouldn't she enjoy the fruits of her labor? Even if she IS just 23.


>>>>

THE REALITY

<<<<

The 18-year old Kim Clijsters didn't win Roland Garros in 2001. Jennifer Capriati did, 6-1/4-6/12-10 in an epic 2:21 match that took place in front of Crown Prince Philippe and Princess Mathilda of Belgium.




In the SF, Clijsters had been a point from going down 6-2/5-2 to Justine Henin-Hardenne but had battled back to become the first Belgian to reach a slam singles final. She carried over her momentum into the final against Capriati, running off a string of seven straight games after going down 0-1 in the opening set. She nearly ran away with the title, four times coming within two points of the championship.

But in the 3rd set, which would become the longest final set in the history of the Roland Garros women's final, Clijsters broke Capriati when the American served for the title at 7-6 and 10-9, but then she was broken herself at 10-10 on a twenty-shot rally that ended with a Capriati overhead. Two games later, Capriati won the match with a forehand down the line. In the final tally, though, Clijsters had won 131 points to Capriati's 126.




Instead of becoming the first Belgian slam champion, Clijsters pushed Capriati to greater heights. The American's Roland Garros championship was her second straight slam title in '01, and she went on to win the Australian Open the following season while enjoying a run of six straight slams with SF-or-better results just a few years after her career had appeared to be over in the wake of off-the-court difficulties and brushes with the law.

Clijsters used her Roland Garros runner-up result as an immediate springboard, as well. 2001 was her breakout year as she attained her first Top 10 ranking, won three titles, got her first win over a Top 5 player and helped Belgium to its first Fed Cup championship. But she didn't get the big prize that had slipped away in Paris.

In 2003, Clijsters became just the fifth woman to simultaneously hold the #1 ranking in both singles and doubles. A wrist injury nearly ended her career in 2004, but she returned in '05 to win nine titles and finally claim her first grand slam crown at the U.S. Open. This week, she won her 34th career WTA singles title in Sydney.




Clijsters' Roland Garros final in '01 took place in just her 8th slam appearance. It took her two years to reach another slam final, and over four years before she finally won in Flushing Meadows in her 22nd slam appearance.

After what she'd done to defeat Henin-Hardenne in the '01 RG SF, one has to wonder if the near miss against Capriati played a part in Clijsters' later slam struggles. Over time, JHH's ability rose in the big stage moments while Clijsters' faltered. The pair's meeting in Paris in '01 was their first slam matchup. They've had six since, and Henin-Hardenne has won five times. It was JHH who became the first Belgian slam champion at Roland Garros in 2003... less than five months after her "moment" against Davenport in Melbourne. Meanwhile, Clijsters developed a bad pattern, losing three times in three-sets matches in slam SF (in 2002 and 2003) and four more times in slam finals (2001-04) before she won the U.S. Open at age 22.

Winning her first slam title at barely 18 would have been a striking achievement, but most of the "great" players over the last fifteen years have done precisely that at similar ages, from Seles to Hingis to Serena to Sharapova. If Clijsters had joined that list in 2001, her slam title appetite may have been more readily primed for more since feeling such elation at so young an age has generally led to a craving for more than a single slam title by the sorts of players with Clijsters' obvious talent.

Clijsters had the shots, legs, speed, athleticism and defensive skills to win multiple slams... and, yes, even win a career Grand Slam. She grew up with Steffi Graf posters on her wall. Graf was one of the all-time great slam title collectors, winning 22. Clijsters' one is less than .05% of Graf's career total. For a player with so much going for her, especially during a timespan when a fellow Belgian with a decided size disadvantage has managed to claim five, it's hard to argue against Clijsters' being a career underachiever on the slam front. The '05 U.S. title saved her from being labeled the best player to never win a slam... but then the player who inherited the position, Amelie Mauresmo, immediately trumped Clijsters by winning two slams in 2006.

Was Clijsters' preternatural "niceness" an essential missing ingredient in her grand slam recipe? In that '01 Roland Garros final, it's interesting that Capriati complained about the chants of Belgian fans and other annoyances throughout. Her edginess played a big part in Capriati's slam success, just as JHH's single-minded drive has been in her's. Sharapova, too, has often been criticized for being aloof and insular... even though those traits are what allow her to focus so much better on the big stage than most of her opponents.

Clijsters has never been accused of such things. Often, she's seemed more about having fun and making friends than actually winning. That's a great characteristic in a human being, but world class athletes generally aren't "normal"... and that's something of the key to their success. Clijsters is a slam champion, but she's better known for her personality and splits than she is for big-time victories.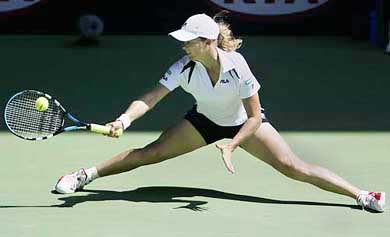 She's seemed content being Miss Congeniality, running through puddles and squeegeeing courts during rain delays. But would the same have happened had she won Roland Garros in '01, or was it in some small way Clijsters' way of dealing with what she didn't accomplish and, until 2005, didn't know if she ever would? Not wanting to be haunted by what she didn't do, she made herself believe it wasn't a big deal.

Maybe it wasn't for her, either. After she lost in '01 she may have realized it wasn't the end of the world. She wanted to win a slam, but she knew it wouldn't ruin her enjoyment of her career if she didn't. Many said over the years that Clijsters might be "too nice" to dominate the sport -- she didn't have the stomach to be the "rude" person it might take to end the dreams of so many fellow competitors. In many ways, that notion DID play out over the course of Clijsters' career, especially when it's compared to that of the oft-chastised Henin-Hardenne.

Clijsters' has been an admirable career, but it hasn't been one of an "all-time great." With her 24th birthday and '07 retirement imminent, she's already begun her farewell tour. Or did it REALLY begin after she won the U.S. Open in '05? Since wrapping up that incomplete chapter of her career, she's appeared "done" as a true slam contender... or is she?

2007 offers Clijsters one final, small window of opportunity for a fairy tale ending to her story. Could she actually be the player this season that she COULD have been since '01 now that she clearly sees her career's finish line? Maybe "the Kim that never was" will have a cameo over the next eleven months as she plays with complete abandon, knowing any tournament could be her last.

Of course, if she's as reckless as she was after injuring her wrist in Montreal last year, she won't last the season. But a race to the finish line without stopping for a proverbial pitstop (save for her July wedding to American basketball player Brian Lynch) could surely be an invigorating experience. She could "run out of gas," but by putting the "pedal to the metal" Clijsters might end up walking away with a going away present (or two?) for her trophy case. In a sense, JHH has been doing it since 2003... maybe Clijsters will see fit to try it for a few weeks and/or months before she's out the door. Who knows? She might like it.




We'll get a better sense in Melbourne if Clijsters' grand farewell tour could be a slamming experience. Surely, opening her '07 season by winning an exhibition in Hong Kong and then the title in Sydney is enough to make one think it's a least POSSIBLE.

It's too late, barring a remarkable (and improbable) literally Grand exit of the '88 Graf variety (Roger Federer's the best bet for that feat... maybe ever), for Clijsters to become the Kim of "What If" dreamland, though. THAT Kim would have no reason to ever come back to the sport after 2007, but what about this one?

Bjorn Borg retired in his 20's, and tried to come back in his 40's. The Martinas Navratilova and Hingis couldn't stay away, either. Will Clijsters?

While it wouldn't be totally shocking to see Kim return in a year or two, the better odds on her playing beyond '07 would have to be under a scenario in which she didn't retire at all. If she DOES walk away, one would think she'll just keep walking without looking back. For her part, Clijsters DID recently say, "This is it. You'd better believe it" when asked about whether she will stick to her retirement plans.

If there is no icing placed on Clijsters' career slam cake in '07, it's still sometimes difficult to fathom an athlete of her class who wouldn't some day ponder the "what if" scenarios of her career. Sure, she'll say she has no regrets... but you still wonder if that'll ever change. Some day. At some time.

Of course, if but for a few points in one match nearly six years ago, Clijsters might have been able to walk away after this season with absolutely nothing left on the table. If only.

All for now.