WTA Backspin 1Q Awards
Who needs lions and tiger and bears when you have Maria, Serena and Ana? Oh, my.
**1Q (Week 1-14) Awards*
**TOP PLAYERS**
1. Maria Sharapova, RUS



Torsten Blackwood/AFP/Getty Images




...Serena stole a bit of her thunder in recent weeks, but it's a long season and the Supernova seems better equipped for the long haul.




2. Ana Ivanovic, SRB




...she still has to prove she can close out a slam run, but if she can the competitive balance of the tour changes yet again.




3. Justine Henin, BEL




...she was never going to repeat her "dream" '07 season, but at this brief instant in time it wouldn't be absolute insanity to broach the notion that Henin could actually go slam-less in '08. But there's a reason why that hasn't happened since 2002, so it probably won't this time around, either.




4. Serena Williams, USA




...she has as many titles now as she did at this point in the season a year ago, so let's see how it goes from here on out this time around.




5. Flavia Pennetta, ITA




...if she could only come up large in a big event.




6. Alona & Kateryna Bondarenko, UKR




...sisters who fight, win and play on. Imagine that.




7. Elena Dementieva, RUS




...never a true "star," but a reliably Sober contender with the ability to come up huge once or twice a season.




8. Jelena Jankovic, SRB




...maybe we should just appreciate all she gives rather than fretting about whether the show will last as long as we'd like.




9. Anna Chakvetadze, RUS




...she's still perfect in the biggest matches of her career in a season that can only be viewed as a gift after the way things COULD have turned out before it ever began.




10. Lindsay Davenport, USA




...maybe Mama Lindsay will hit full stride in late summer.




HM- Li Na, CHN




...imagine if she has one of her "on" weeks in Beijing this August.




HM- Cara Black & Liezel Huber, ZIM/USA




...as with the Bryan twins, 2008 has been a hit-or-miss proposition for the world's #1 doubles team.





**RISERS**


1. Ana Ivanovic, SRB
2. Alona Bondarenko/Kateryna Bondarenko, UKR
3. Jelena Jankovic, SRB
4. Anna Chakvetadze, RUS
5. Li Na, CHN
6. Vera Zvonareva, RUS
7. Chan Yung-Jan/Chuang Chia-Jung, TPE
8. Elena Vesnina, RUS
9. Ashley Harkleroad, USA
10. Yan Zi, CHN
HM- Olga Govortsova, BLR & Karin Knapp, ITA



**FRESH FACES**


1. Caroline Wozniacki, DEN
2. Tamira Paszek, AUT
3. Agnieszka Radwanska, POL
4. Sabine Lisicki, GER
5. Michelle Larcher de Brito, POR
6. Victoria Azarenka, BLR
7. Casey Dellacqua, AUS
8. Petra Kvitova, CZE
9. Alisa Kleybanova, RUS
10. Sorana Cirstea, ROU
11. Alize Cornet, FRA
12. Dominika Cibulkova, SVK
13. Marina Erakovic, NZL
14. Timea Bacsinszky, SUI
15. Elena Makarova, RUS
16. Raluca Ioana Olaru, ROU
17. Carly & Chelsey Gullickson, USA
18. Yanina Wickmeyer, BEL
19. Elena Rodina, RUS
20. Katarzyna Piter, POL
21. Anastasia Pavlyuchenkova, RUS
22. Arantxa Rus, NED
23. Zhou Yi-Miou, CHN
24. Melanie Oudin, USA
25. Anna Lapushchenkova, RUS
HM- Anastasia Pivovarova, RUS & Asia Muhammad, USA



**SURPRISES**


1. Sabine Lisicki, GER
2. Casey Dellacqua, AUS
3. Ashley Harkleroad, USA
4. Marina Erakovic, NZL
5. Sofia Arvidsson, SWE
6. Petra Kvitova, CZE
7. Kaia Kanepi, EST
8. Maria-Emilia Salerni, ARG
9. Mariya Koryttseva, UKR
10. Carla Suarez-Navarro, ESP
HM- Vesna Manasieva, RUS & Betina Jozami, ARG



**VETERANS**


1. Flavia Pennetta, ITA
2. Elena Dementieva, RUS
3. Lindsay Davenport, USA
4. Cara Black & Liezel Huber, ZIM/USA
5. Nuria Llagostera-Vives, ESP
6. Patty Schnyder, SUI
7. Kveta Peschke & Rennae Stubbs, CZE/AUS
8. Sun Tiantian, CHN
9. Iveta Benesova, CZE
10. Ai Sugiyama & Katarina Srebotnik, JPN/SLO
HM- Francesca Schiavone, ITA & Venus Williams, USA



**COMEBACKS**


1. Nuria Llagostera-Vives, ESP
2. Barbora Zahlavova Strycova, CZE
3. Klara Zakopalova, CZE
4. Iveta Benesova, CZE
5. Hsieh Su-Wei, TPE
HM- Sesil Karatantcheva, BUL & Marta Domachowska, POL



**DOWN**


1. Nicole Vaidisova, CZE
2. Nadia Petrova, RUS
3. Marion Bartoli, FRA
4. Michaella Krajicek, NED
5. Julia Vakulenko, UKR
6. Agnes Szavay, HUN
7. Maria Kirilenko, RUS
8. Sybille Bammer, AUT
9. Tatiana Golovin, FRA
10. Amelie Mauresmo, FRA
HM- Svetlana Kuznetsova, RUS (in finals)



**ITF PLAYERS**


1. Iveta Benesova, CZE
2. Barbora Zahlavova Strycova, CZE
3. Johanna Larsson, SWE
4. Ekaterina Dzehalevich, BLR
5. Elena Chalova, RUS
6. Elena Kulikova, RUS
7. Anastasia Kharchenko, UKR
8. Magdalena Rybarikova, SVK
9. Polona Hercog, SLO
10. Elena Baltacha, GBR
HM- Sara del Barrio-Aragon, ESP & Kristina Barrois, GER



**TOP PERFORMANCE**


...Maria Sharapova claims career slam #3 in Melbourne without dropping a set, knocking off Davenport, #1 Henin, #3 Jankovic and #4 Ivanovic. Her winning streak ultimately reached 18 matches before coming to an end in Indian Wells.



**MEMORABLE MATCHES**




=WILDEST=




Australian 1st - Jankovic def. Paszek - 2-6/6-2/12-10


...in 3:09, Jankovic teetered on the edge of oblivion as the Austrian teenager held three match points and served for the match FIVE TIMES in a 116-minute 3rd set. After fifteen breaks of serve in that deciding set, Jankovic lived to push her body to the limit for another week and a half. It turned out to be the overriding 1Q theme for maybe the most entertaining (and frustrating) player on tour.


=PUSHING #1 TO THE LIMIT=




Dubai 2nd - Henin def. Srebotnik - 7-5/6-7/6-3


...Henin needed thirteen aces to overcome her eight double-faults in this three-hour marathon that underlined the just-slightly-off nature of the world #1's game in the 1Q.


=A BLAST FROM THE PAST=




Bangalore SF - S.Williams def. V.Williams - 6-3/3-6/7-6


...the sisters' first meeting since the 2005 US Open turned out to be one of the best. Too bad this couldn't have happened in all those grand slam finals a few years ago.



=BEST COMEBACK=




Mia 2nd - Jankovic def. Arvidsson - 6-7/1-6/7-6


...just the typical Jelena match. She comes back from 1-5 down in the 3rd to save five match points and win an 11-9 tie-break.



=BIGGEST UPSETS=




Fed Cup 1st Rd. - Lisicki def. Davenport - 6-1/7-5


...Lindsay was 31-2 in Fed Cup play before this stunner threatened to trip up the Americans against the Germans.


Australian Open 3rd - Dellacqua def. Mauresmo - 3-6/6-4/6-4


...the tears of Dellacqua's grandmother in the stands may have been as memorable as anything else in the tournament.


Memphis 1st - Kvitova def. V.Williams - 2-6/6-4/6-3


...the big-serving Czech Maiden made a name for herself here after Venus failed to close things out after being up a break in the 3rd.



=TELLING RESULTS? STAY TUNED.=


Australian Open QF - Sharapova def. Henin - 6-4/6-0
Mia QF - S.Williams def. Henin - 6-2/6-0
...not exactly the types of scorelines we usually associate with La Petit Taureau," but there they are. She did as least play well against Sharapova, but was unable to prevent the Russian avalanche from overtaking her on Rod Laver.



*GREAT RUNS*




1. Chakvetadze's 7-0 career record in WTA singles finals


2. Sharapova's 24-of-26 points won in the 2nd set of the Australian Open final against Ana Ivanovic
3. Henin's 28 straight wins in Sydney (and counting)
4. Sharapova's 18 straight wins


5. A.Radwanska's 24-of-28 points won in the 3rd set against Nadia Petrova, as the hobbled Russian lost the Oz 4th Round match after having led 6-1/3-0


HM- Serena's 10 straight wins (and counting)



*RUN BUSTERS*




1. Sharapova ends Henin's 32-match winning streak in the Australian Open QF


2. Kuznetsova ends Sharapova's 18-match winning streak in the Indian Wells SF


3. In the first week of action in the year of the Beijing Olympics, Li Na ends her three and a half year title drought by taking Gold Coast


4. Schiavone ends Henin's 17-match Dubai unbeaten streak in the QF


5. Monica Seles' short-lived run on "Dancing with the Stars" ends when she exits on the first elimination night


HM- Henin wins Antwerp, her first title in her home country since she won her maiden WTA title in her '99 tour debut at age 16 in the same city



*CRAZY*




1. Martina Hingis' two-year ban after a failed drug test precipitates her second retirement


2. The Chakvetadze family home in Moscow is robbed by six masked gunman, who tie up Anna and her parents, beat her father and make off with over $100,000
3. Jankovic plays on in the Hopman Cup, "risking her career" (her words) after a hamstring injury results in two retirements and one walkover
4. FSN's meager attempt at tennis coverage in Indian Wells and Miami makes ESPN's past efforts look absolutely brilliant, as even the players complain about not being to catch matches on TV
5. Sania Mirza, stop me if you've heard this before, got into trouble with religious authorities. First, she was accused of trespassing on the grounds of a mosque without permission for a TV commercial, then threatened with jail time for disrespecting the Indian flag after a picture was taken during Hopman Cup play that made it appear as if she was placing her bare feet near a flag (she was actually only resting her feet on a seat several rows away.... and how ridiculous is it that an explanation is even needed in this case?).
HM- Nicole Vaidisova and Radek Stepanek got engaged... or did they?



*SANE*




1. Evonne Goolagong Cawley become the 16th women's #1. Sure, it happened in 1976 and the "bookkeeping error" wasn't officially acknowledged until this past December. But, hey, better late than never, right?


2. Ashley Harkleroad "rescues" the USA in Fed Cup play vs. Germany by doing what Lindsay Davenport did not... defeating Sabine Lisicki


3. Kim Clijsters welcomes daughter Jada into the world. Start the clock now on the comeback "rumors" that'll likely begin sometime in 2009.


HM- K-Swiss finds its new blond fashion model... err, I mean tennis spokeswoman -- Alona Bondarenko. Check out the latest ad in Tennis magazine. Hmmm... weird how she doesn't seem to be taking advantage of the durability of her tennis gear here. Nice work if you can get it, I guess, right?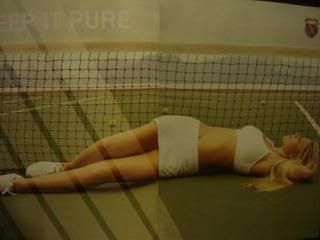 AND LEST YOU THINK THE 2Q WILL BE ANY QUIETER...


....it began with Venus Williams taking a short leave from the tour to deal with undisclosed "medical issues." Ah, the WTA world never stops turning, does it?


All for now.



NEXT:
Backspin Volley: On 2nd Thought