BACKSPIN SPECIAL: The Best of Clijsters
Kim Clijsters may be gone, but the memory of her lingers. Thus, this Special Edition of WTA Backspin offers up ten specially selected samples from the Clijsters-centered columns that have appeared here (
and on Tennisrulz.com
) over the nearly five years of this space's existence.
Included:
From Waffle to Wattle?

(January 11, 2003)


Easy-Bake Kim

(July 29, 2003)


Prelude to a Kiss... or another kiss-off?

(November 12, 2003)


The Edge of Night [US Open Day 12]

(September 9, 2005)


Killer Kim Slays Her Albatross [US Open Day 13]

(September 10, 2005)


Anatomy of a Killer [Miss Backspin '05]

(November 15, 2005)


The Curious Case of Kim Clijsters

(November 6, 2006)


WHAT IF...Kim Clijsters Had Won Roland Garros in 2001?

(January 13, 2007)


Lemon Harangue

(April 30, 2007)


Turn Out the Lights

(May 7, 2007)





(January 11, 2003)





FROM WAFFLE TO WATTLE?



Her name is Kim Clijsters. She became a champion (again) this week. Twice, actually -- she won both the singles AND doubles in Sydney.




She wasn't even challenged, in fact. She mowed through her far-from-light competition without dropping a single set. Of course, these exploits are nothing new for the Waffle of late.

Clijsters arrives in Melbourne this week for the Australian Open on a roll of confidence that is, well, Serena-like.

LAST 12 WTA MATCHES......12-0
LAST 20 WTA MATCHES......19-1
LAST 3 WTA EVENTS....3 TITLES
LAST 5 WTA EVENTS....4 TITLES

Take a whiff. Do you smell it? Can you catch the scent of a minor (with the potential to be major) sea change in women's tennis? If Clijsters, with the Aussie crowd cheering their adopted daughter on, can outrace Serena Williams for the Oz title (she's 1-1 against her head-to-head in their last two meetings), the Waffle could transform right before our eyes.

A win in Melbourne might mean big things beyond a single match. It could hasten Clijsters' much-rumored potential Australian citizenship, providing the opportunity for a dual-Aussie #1 reign along with boyfriend (and men's #1) Lleyton Hewitt. Ah, but that's not all.

Clijsters has been a Waffle for oh-so-long, but it might be time for a transformation. I think the Waffle might just be about to become a... Wattle. Maybe even a Golden one.

Confused? Curious? Take a look at Kim's potential future namesake: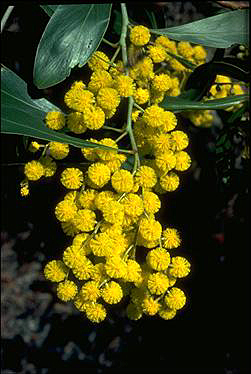 The best chance to derail the "Serena Slam" may reside in the form of this blossoming (soon-to-be) Australian, ready to burst out all over Down Under in Melbourne.

Hmmm, who knew the journey from breakfast food to golden flower could be quite so enjoyable?







(July 29, 2003)





EASY-BAKE KIM



Last week, Stanford hosted an edition of "Easy-Bake Kim" where all the ingredients were pre-packaged and the final result was all but assured. With no Serena in sight, Kim Clijsters avoided her "dead zone" and found her "comfort zone" conveniently in its place, as expected.

Of course, Clijsters did her usual by blowing another lead (4-1 in the 1st set), but overcame it to win a tight 2nd set before handily putting away the 3rd over a Jennifer Capriati who was fighting a pectoral muscle injury and a titleless streak that has now reached sixteen months.

The result shows that Capriati is getting closer to her top form (unless the injury becomes worrisome), but what it says about Clijsters is still up in the air. Excluding her aberrant Scottsdale result against doubles partner Ai Sugiyama, Clijsters hasn't had much problem winning just about every event she's entered as long as she doesn't have to face a Williams or another Belgian along the way.

*CLIJSTERS BY THE NUMBERS*
59-8...2003
55-8...WTA events
0-5....vs.a Williams
3-2....vs.Henin-Hardenne
56-1...vs.non-Williams/JHH

But, of course, it's a Williams named Serena and fellow Waffle Justine Henin-Hardenne who are her only challengers in the race for the "best" season of 2003.

Clijsters goes into San Diego trailing #1 Serena by just 264 points. And with yet another tiresome last minute withdrawal by Serena, she has a chance to eclipse the American as the #1-ranked woman in the sport with her 6th title of 2003 against the right combination of opponents. Of note, Clijsters is just 54 points behind Paola Suarez for #1 in doubles, as well, leaving open the enticing possibility of her holding both #1 spots before the US Open.

But the "Serena Choke" in Melbourne still lingers in the air, and for the second week Clijsters won't get the expected opportunity to erase it from memory on the tournament's final day. But with Henin-Hardenne likely standing on the other side of the net rather than Serena, one still gets the feeling it won't exactly be another easy-bake situation in San Diego.







(November 12, 2003)





PRELUDE TO A KISS... or another kiss-off?



Justine Henin-Hardenne did enough in Los Angeles to gain the #1 ranking for 2003, but it was Kim Clijsters who managed to grab the final WTA Championships headline and, maybe more importantly, some meaningful momentum... again.

Oh, haven't we been here before? Say, about twelve months ago. Come now, surely you remember last November. Back then, Clijsters emerged from a hot October to upset Serena Williams in the WTA Championships final and earn her biggest career title. In January, she opened the 2003 season by sweeping the singles and doubles in Sydney before heading to Melbourne with all things seeming possible. She led Williams 5-1 in the 3rd set at the Australian Open, ready to make a potential "Serena Slam" a mere historical footnote. And that's where everything fell apart.

Thus, the "Serena Choke" was born, writing the script for a series of big match collapses against the game's best players during an otherwise banner season for Clijsters. She reached #1 and won more singles titles (9) than anyone else, but couldn't end her grand slam shutout and won't even finish the year with the top ranking despite all her accomplishments. It's quite a big missing piece to her 2003 puzzle... a puzzle that would have at least been closer to complete had the "Serena Choke" never occurred. If Clijsters had won that match, she'd have ended the season at #1 (rather than trail JHH by a mere 75 points at the wire).

Now, ten months later, Clijsters finds herself stepping in the same footsteps she set down last year after having impressively defended all three of her fourth quarter singles titles (Filderstadt, Luxembourg & WTA) this fall. Come January, Clijsters could get a rare second chance in Melbourne. If so, will her past experiences prove to make a difference?

In L.A., Clijsters seemed even more confident and in control the second time around. Sure, there were no Williamses, she didn't have to play JHH and final opponent Amelie Mauresmo ended up going just 2-3 over the course of the tournament, but Clijsters wasn't surprised by her feat this time. She'd been down this trail before, and knew how to maneuver her way through a Championship point... something that was decidedly lacking in many of her biggest matches over the course of 2003. What last November ultimately unsuccessfully set the stage for has now been set up again by her second consecutive dominating end to a season.

Clijsters now heads to Australia for an offseason over which she'll again assume the role of Oz's adopted daughter. Shortly, we'll see if she can carry this momentum to (and through) Melbourne this time. If she can, then consider this repeat in L.A. as a prelude to a kiss... right on the shiny side of an even more important (critic-silencing & legacy-securing) trophy she'll receive in late January. If not... well, 2004 could be another year of "what-ifs" for Easy-Bake Kim.

The countdown to the answer now officially begins.







(September 9, 2005)



THE EDGE OF NIGHT (U.S. Open Day 12)

In the dual "Battle of the Blondes" matches to determine the U.S. Open finalists on Friday, all four competitors were pushed to the edge of the day. But only two -- Kim Clijsters & Mary Pierce -- now move on to dance on the edge of night on Saturday.



==DAY 12 PLAYER AWARDS==





PLAYER OF THE DAY: Kim Clijsters


...
on that edge of night, Clijsters' future will be decided. We saw
both
sides of her against Maria Sharapova. Entering the match with a 3-0 career mark against the Supernova, Clijsters handled her in the opening set after exchanging breaks the first four games. In the 2nd, she ran out to a 6-5 lead and was up triple match point, 40-0 on Sharapova's serve. Then the old "Kim C. Clijsters" appeared. Five blown match points and a tie-break later, Sharapova was alive and well and into a 3rd set. Then the visage of the former #1 re-appeared, and it was suddenly 4-0 Clijsters. But wait! Just as quickly, Clijsters wavered again as Sharapova fought back, breaking to close within 4-2 and 5-3... before Clijsters finally got a final break of serve to win 6-3, and breathe a sigh of relief. Sharapova wasn't quite up to par in this match, but wouldn't go down without a struggle. Clijsters was all over the board, winning out against her worse tendencies in the end. But as Saturday night edges on, which side of Clijsters will prove to be more dominant? The one who's 6-0 in singles finals in 2005, or the one who's 0-4 in slam finals during her career? She's one win away from redemption... or one more loss away from threatening to become the best women's player to
never
win a slam.

(September 10, 2005)
KILLER KIM SLAYS HER ALBATROSS (U.S. Open Day 13)
al*ba*tross

\al-buh-tros\ n. 1:
any of various large web-footed seabirds;
2a:
something that causes persistent deep concern or anxiety;
2b:
something that greatly hinders accomplishment;
3:
the avian creature former #1 Kim Clijsters has been allowing to live on her shoulder for the past four years.
Bloods and guts were sloppily spilled on the freshly painted court of Arthur Ashe Stadium on Saturday night... and for once they didn't belong to Kim Clijsters. They didn't belong to Mary Pierce, either, though you'd have a hard time proving it after the Canadian-born, America-residing, French-representing 30-year old put forth her second feeble effort in a grand slam final in a matter of three short months. No, the carcass that was flopping on the ground a little before 10pm New York time was that of the albatross that's been Clijsters' constant companion ever since she failed to put away Jennifer Capriati in the Roland Garros final's 12-10 final set back in 2001. It took over four years, but on her fifth try "Nice Kim" transformed enough into "Killer Kim" to finally sew up the gaping hole in her career resume. The U.S. Open title is her's... and she has avian blood on her racket to prove it.
"Albie" is dead. Long live "Albie."

(November 15, 2005)
ANATOMY OF A KILLER (Miss Backspin '05)
1.KIM CLIJSTERS
: As this season began, Clijsters' future was in doubt after she'd ended her 2004 season in Hasselt with a wrist injury that a Belgian doctor said might end her career. A year later, Clijsters won the title in Hasselt for her ninth crown of 2005 to further dress up a season of redemption of a magnitude rarely seen on the WTA tour. Killer Kim won more titles and matches than any other woman this year, was 9-0 in finals, and ended her long slam drought by claiming the U.S. Open. The swoon at the WTA Championships that prevented her from ending the season at #1 can't cloud the fact that Clijsters was the top player on tour in 2005. Even a newly-armed assassin has to have some downtime.

(November 6, 2006)
THE CURIOUS CASE OF KIM CLIJSTERS
This weekend's headlines celebrated Kim Clijsters' defense of her Hasselt title in her native Belgium after a ten-week layoff because of an injured wrist.
The facts highlight all that is good and bad about Clijsters, and her career.
Clijsters began 2006 looking as if her U.S. Open title the previous fall might have changed everything. A big-time win at 2005's YEC DID change the course of Amelie Mauresmo's career this season, but Clijsters didn't experience the same overwhelming desire to satisfy any pangs of hunger for more of the same. Instead, her season devolved into the same old pattern that defined her career previous to her shining moment in New York, including crumbling against fellow Belgian Justine Henin-Hardenne in a slam SF, then pushing herself onto the court against all sense in Montreal, where she ultimately injured that left wrist badly enough to be unable to defend her Open title. Not to be outdone by herself, Clijsters recently put her health in jeopardy again when she bruised her tailbone after falling over her dog while, of all things, kicking a soccer ball in a garden with her fiance less than two weeks before the YEC.
It's a recklessness intrinsic to a player who's never much looked beyond the moment presented before her, a trait that's both the key to her much-talked-about likability, but also why she'll forever be the champion who never seemed to really care about being a champion.
As anticipated in this space at the start of the season, it looks as if that Flushing Meadows crown will indeed be the aberration that will prevent Clijsters' career from being a footnote... but won't prevent history from wondering what she might have accomplished had she had the same drive and (
yes, self-centered
) attitude that fellow Belgian Henin-Hardenne and every true champion really needs to overcome long odds.
Tiger Woods doesn't play well in Ryder Cup competition? So what? Golf's best champion is all about winning major titles... not some ridiculously overhyped non-event in which he must join up with the same players he routinely pysches out on the PGA tour. In many ways, Woods is very much like Maria Sharapova (
who's yet to play her first Fed Cup match, though she's schedule to do so next year... which should be quite an interesting experiment, should she actually go through with it
)... but not Clijsters.
Did the U.S. Open title quench Clijsters' desire, what little there was of it, to be the very best in her chosen profession? Maybe.
Oh, Clijsters still wants to win. She wouldn't be a world class athlete, and daughter of another, if that wasn't the case. But sacrifices have to be made for a champion to be all that she can be, and some of them aren't necessarily easy ones for an easy-going, fun-loving, Miss Congeniality-type like Clijsters. Separating herself, if not actually physically, then mentally and in spirit from her competitors would cause her to flirt with actually being perceived as "unlikable"... and that's a so very un-Kim like thing to do. Remember, this is the same player who spends rain delays running through on-court puddles and squeegeeing with the stadium workers. In a way, to commit herself to being such a player whose very presence and attitude could intimidate would probably sap a great deal of the fun out of the entire endeavor for her.
That's why there'll always be a "what if" component to her career, which she still says she plans to end sometime next season. At this point, it looks like she'll keep her word, citing her numerous injuries and her want to live a "normal" and "healthy" life as the main reason. Another player, just months after reaching her career pinnacle at age 22, might have used 2006 as a fueling station for a long career full of even greater success, but Clijsters seems to have made it a rest stop before a long goodbye in 2007.
I know I, for one, WANTED to like Clijsters when she was first bursting onto the scene. Ironically, at the same time, I didn't particularly care for Henin-Hardenne. But, over time I realized that JHH cared more (
maybe too much for her own good at times?
) than Clijsters. The lack of ego is all fine and good in a "normal" person, but in an athletic champion? Where's THAT person without the will to achieve because she WANTS it more than anyone else to a point where it makes her physically ill to see another player accomplish something she knows SHE should have done? (
Hmmm, JHH in Melbourne? Nah... right?
) If they're as talented as Clijsters, it leaves them with a career littered with wasted opportunities. Henin-Hardenne will have to be dragged off the court well past her sunset, leaving no regrets behind, while Clijsters seems like she'll skip off while it's still daylight.
Oh, she can have all her Hasselt titles, which I'm sure she'll always "cherish" because they were won "at home." But, to paraphrase a famous movie line, all the Hasselt (
and Antwerp
) titles "don't amount to a hill of beans in this crazy world." The same goes for all the "felt good at the time" titles on Clijsters' ledger... when the grander ones that would have been more "painful" to attain, but also more rewarding in the long run, are commemorated by the trophies in someone else's case.
Thing about it is, Clijsters won't likely care. And if she ever wakes up one morning and does, it'll probably be too late for her to do anything about it. Oh, well.
C'est La Vie
.

(January 13, 2007)
WHAT IF... Kim Clijsters Had Won Roland Garros in 2001?
The most talented tennis players in the world, despite the usual outward appearances, aren't simply destined for greatness. Nothing is that easy. Becoming a "player for the ages" is a process that begins in childhood, is made possible through years of hard work, and becomes a reality only after a series of learning experiences manage to teach the player how to become a champion. Sometimes, fate DOES intervene (see Monica Seles) to alter the course of history... but often it's what DOESN'T happen that makes all the difference.

While the "path to greatness" is made up of a series of connective actions and decisions, often there iS ONE moment that stands out from the rest. One career-defining instant when everything "clicked" and after which the player was never the same. One timeless victory that simultaneously allowed the benefits of all the hard work to come to fruition, and whetted the appetite for more of the same.

For Justine Henin-Hardenne, it was likely her comeback from a 1-4 3rd set deficit against Lindsay Davenport in the 2003 Australian Open QF. After previously struggling to rise above the moment, JHH overcame intense heat and debilitating cramps to win the deciding set 9-7. It proved to Henin-Hardenne that she did indeed have inside her what it'd take to win a slam title, and by the end of the '03 season she'd won two slams and was the #1-ranked player in the world. For Maria Sharapova, too, her "moment of consciousness" may not have been her Wimbledon final victory over Serena Williams in 2004, but her SF come-from-behind triumph against Davenport after staring at a 6-2/3-1 hole. The commonality in both the "births" of Le Petit Taureau and the Supernova wasn't just Lindsay, though. It was the confidence the two players discovered in winning those matches. From that instant forward, neither player has ever looked back. Their confidence has never abandoned them. They've combined to win seven grand slams over the past four years, and seem primed to only add to their takes in this and future seasons.

But what if they hadn't won those matches? It's easy to think their "moments" would have simply come later. But maybe not. Missing THE perfect opportunity to ascend to a higher level of achievement could have unalterably changed everything. A slight delay in "destiny" can easily become a seemingly neverending one... and the ground that was lost and accomplishments that never were are rarely ever recovered (even for a great such as Andre Agassi, whose early slam misfires will forever leave him a half-step behind Pete Sampras). Why, just look at the curious case of Kim Clijsters. Neither JHH nor Sharapova are more talented or experienced than her, yet they've both become more successful slam contenders since Clijsters was the first of the three to reach a grand slam final at Roland Garros in 2001 at age 18-years and a day.

It's possible that June 9, 2001 was Clijsters' "moment," and she missed it. On pure talent, she still fashioned a Hall of Fame career and (four-plus years later) did win a slam title at the U.S. Open in 2005 after continually flaming out in the semfinals and finals of slams (often against JHH). But as she embarks on her farewell season on the WTA tour, what altered history might she be bringing to Melbourne in January 2007 for her final Australian Open had she won that magnificent Paris battle against Jennifer Capriati in '01? What sort of effect could a grand slam title at 18 have had on her confidence and career? What did she -- and we -- miss out on over the last half decade?

Just for kicks, why don't we imagine how it'd be today...
if Kim Clijsters had won Roland Garros in 2001.
>>>>
"What If" DATELINE: January 13, 2007
<<<<
MELBOURNE, Australia--
When Kim Clijsters was engaged to Adelaide-boy Lleyton Hewitt, the Belgian tennis star became affectionately known Down Under as "Aussie Kim." Without a homegrown top female player for decades, the locals seized upon the chance to "adopt" one of the best.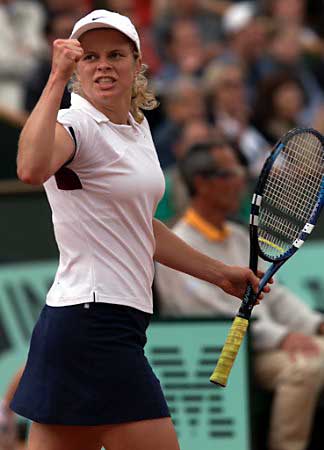 The Kim/Lleyton love match didn't work out (he's married and a father, while she's engaged to be married in July), but it's emblematic of Clijsters' winning personality and reputation as the tour's nicest player that she still manages to hold onto the allegiance of her former extended Aussie family. And in a spare-me-your-troubles nation such as Australia, that's quite a compliment.

But the upcoming family reunion will include a handful of goodbyes, as well as tears. At her first press conference of her last Australian Open at the beginning of her final year on tour, Clijsters took the time to reflect on the fantastic career she'll soon leave behind for family life with her future husband and yard full of little Kims.

When asked about the key to the career and slam success that brought her four slam titles in one of the most competitive eras of the sport, Clijsters was decisive.

"Desire. Desire and fun. To be really successful, at least as far as me and my game have been concerned, I had to have a combination of the two. Especially with the players I was up against. Serena, Venus, Lindsay, Justine... and, lately, Maria. Great competitors. It's been an honor to play against them. It really has," Clijsters said.

Whomever her competition, Clijsters held up pretty well. After winning the epic 2001 Roland Garros final against Jennifer Capriati -- which included the longest 3rd set in the tournament's fabled history -- Clijsters proceeded to gradually grab a piece of history all her own at each of the other three slams. She won Wimbledon in 2003, then the Australian Open in 2004. In 2005, her U.S. Open title completed the career Grand Slam.

But is there one moment that stands out as the biggest, or most important, in her career?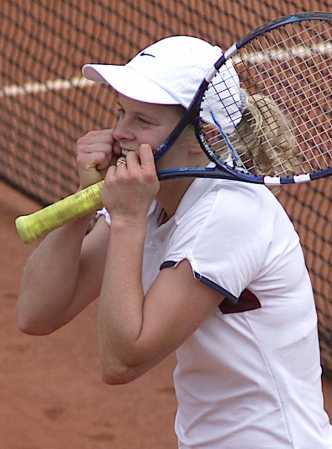 "Sure. Probably when I beat Jennifer in Paris in '01," Clijsters chirpily shot back, as if she'd been anticipating the question all along. "I'd just turned eighteen the day before, and then to be in my first slam final the next day... it was quite amazing, really. I very easily could have just been satisfied with being there. I remember getting off to a great start, winning a bunch of games in a row. Then Jennifer started playing better, which you had to expect from her."

"That long 3rd set," she said, shaking her head at the memory, then wiping away the sudden moistness in her eyes.

"I almost lost it, too. But I fought. I was ready to leave everything on the court that day. I mean, I didn't know if I'd ever get another chance at a slam, and I wasn't going to give it up very easily," said Clijsters, pausing slightly before flashing a satisfied smile. "I"m really proud of that match. It was like a dream come true... which is was."

Her laughter filled the room, and was instantly contagious. But what if she'd lost the match? What would have happened then?

"I don't know. Maybe it'd made me hungrier?," she said, then quickly corrected herself. "Or not. I'm not sure. Maybe it'd made things tougher, actually. Having to think about losing that one... it might have played on my mind. Winning a slam isn't easy, and it's better not to have the memory of coming so close stuck in your head before you ever win one. You have to be confident that you're going to win. And when you lose, you know that you CAN. You'd rather not know that."

She could hold it back no longer. The smile returned.

"Luckily, I never had to find out. I've been very lucky."

Of course, they say that you usually make your own luck. Prepared to leave with a sense of closure to her career, Clijsters will exit the sport knowing that she lived up to her great early promise. She held her own in battles with fellow Belgian Justine Henin-Hardenne, outmanuevered the injury-prone and oft-distracted Williams sisters, and has been able to stay in contention through the rise of Russian tennis, as well.

But, at 23, Clijsters is still a young woman. Is this REALLY the end? Could her impending retirement be temporary? Could she return one day?

"Well, I'd say never... but you should never say never. But why would I? I've got nothing left to prove, really. I've had my fair share of injuries, but I'm still able to be at the top of my game after ten years. It's been great. But I think the timing is right. I really do."

Does she have any goals for her final season?

"I want to have a good time, of course. Stay healthy. And, no doubt, I want to win. Four slams is nice, but one or two more would be nice, too," she said with a grin. "You know, slams are kind of like dogs... you can never have enough."

Holding court with flair, she was quick to offer an explanation.

"(Fiance) Brian (Lynch) told me the other day that I'd be just as happy with four dogs as four slam titles. I'm not sure if he's right about that, though. Maybe he is," she said with a laugh. Then, upon further reflection, "I love my dogs... but I'm not giving back my trophies."

And with that, Clijsters' first last words were complete. She left the room with the smile that will soon be missed at all the various stops along the WTA tour. She'll miss everyone, too. But she won't look back on her career with regret. She has no reason to. She quite literallly won it all on the court.

Now she wants to HAVE it all off it. And why shouldn't she enjoy the fruits of her labor? Even if she IS just 23.
>>>>
THE REALITY
<<<<
The 18-year old Kim Clijsters didn't win Roland Garros in 2001. Jennifer Capriati did, 6-1/4-6/12-10 in an epic 2:21 match that took place in front of Crown Prince Philippe and Princess Mathilda of Belgium.




In the SF, Clijsters had been a point from going down 6-2/5-2 to Justine Henin-Hardenne but had battled back to become the first Belgian to reach a slam singles final. She carried over her momentum into the final against Capriati, running off a string of seven straight games after going down 0-1 in the opening set. She nearly ran away with the title, four times coming within two points of the championship.

But in the 3rd set, which would become the longest final set in the history of the Roland Garros women's final, Clijsters broke Capriati when the American served for the title at 7-6 and 10-9, but then she was broken herself at 10-10 on a twenty-shot rally that ended with a Capriati overhead. Two games later, Capriati won the match with a forehand down the line. In the final tally, though, Clijsters had won 131 points to Capriati's 126.




Instead of becoming the first Belgian slam champion, Clijsters pushed Capriati to greater heights. The American's Roland Garros championship was her second straight slam title in '01, and she went on to win the Australian Open the following season while enjoying a run of six straight slams with SF-or-better results just a few years after her career had appeared to be over in the wake of off-the-court difficulties and brushes with the law.

Clijsters used her Roland Garros runner-up result as an immediate springboard, as well. 2001 was her breakout year as she attained her first Top 10 ranking, won three titles, got her first win over a Top 5 player and helped Belgium to its first Fed Cup championship. But she didn't get the big prize that had slipped away in Paris.

In 2003, Clijsters became just the fifth woman to simultaneously hold the #1 ranking in both singles and doubles. A wrist injury nearly ended her career in 2004, but she returned in '05 to win nine titles and finally claim her first grand slam crown at the U.S. Open. This week, she won her 34th career WTA singles title in Sydney.




Clijsters' Roland Garros final in '01 took place in just her 8th slam appearance. It took her two years to reach another slam final, and over four years before she finally won in Flushing Meadows in her 22nd slam appearance.

After what she'd done to defeat Henin-Hardenne in the '01 RG SF, one has to wonder if the near miss against Capriati played a part in Clijsters' later slam struggles. Over time, JHH's ability rose in the big stage moments while Clijsters' faltered. The pair's meeting in Paris in '01 was their first slam matchup. They've had six since, and Henin-Hardenne has won five times. It was JHH who became the first Belgian slam champion at Roland Garros in 2003... less than five months after her "moment" against Davenport in Melbourne. Meanwhile, Clijsters developed a bad pattern, losing three times in three-sets matches in slam SF (in 2002 and 2003) and four more times in slam finals (2001-04) before she won the U.S. Open at age 22.

Winning her first slam title at barely 18 would have been a striking achievement, but most of the "great" players over the last fifteen years have done precisely that at similar ages, from Seles to Hingis to Serena to Sharapova. If Clijsters had joined that list in 2001, her slam title appetite may have been more readily primed for more since feeling such elation at so young an age has generally led to a craving for more than a single slam title by the sorts of players with Clijsters' obvious talent.

Clijsters had the shots, legs, speed, athleticism and defensive skills to win multiple slams... and, yes, even win a career Grand Slam. She grew up with Steffi Graf posters on her wall. Graf was one of the all-time great slam title collectors, winning 22. Clijsters' one is less than .05% of Graf's career total. For a player with so much going for her, especially during a timespan when a fellow Belgian with a decided size disadvantage has managed to claim five, it's hard to argue against Clijsters' being a career underachiever on the slam front. The '05 U.S. title saved her from being labeled the best player to never win a slam... but then the player who inherited the position, Amelie Mauresmo, immediately trumped Clijsters by winning two slams in 2006.

Was Clijsters' preternatural "niceness" an essential missing ingredient in her grand slam recipe? In that '01 Roland Garros final, it's interesting that Capriati complained about the chants of Belgian fans and other annoyances throughout. Her edginess played a big part in Capriati's slam success, just as JHH's single-minded drive has been in her's. Sharapova, too, has often been criticized for being aloof and insular... even though those traits are what allow her to focus so much better on the big stage than most of her opponents.

Clijsters has never been accused of such things. Often, she's seemed more about having fun and making friends than actually winning. That's a great characteristic in a human being, but world class athletes generally aren't "normal"... and that's something of the key to their success. Clijsters is a slam champion, but she's better known for her personality and splits than she is for big-time victories.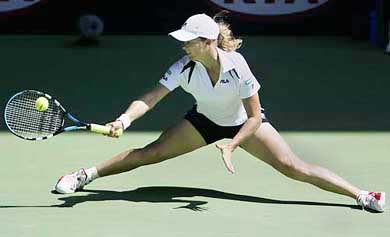 She's seemed content being Miss Congeniality, running through puddles and squeegeeing courts during rain delays. But would the same have happened had she won Roland Garros in '01, or was it in some small way Clijsters' way of dealing with what she didn't accomplish and, until 2005, didn't know if she ever would? Not wanting to be haunted by what she didn't do, she made herself believe it wasn't a big deal.

Maybe it wasn't for her, either. After she lost in '01 she may have realized it wasn't the end of the world. She wanted to win a slam, but she knew it wouldn't ruin her enjoyment of her career if she didn't. Many said over the years that Clijsters might be "too nice" to dominate the sport -- she didn't have the stomach to be the "rude" person it might take to end the dreams of so many fellow competitors. In many ways, that notion DID play out over the course of Clijsters' career, especially when it's compared to that of the oft-chastised Henin-Hardenne.

Clijsters' has been an admirable career, but it hasn't been one of an "all-time great." With her 24th birthday and '07 retirement imminent, she's already begun her farewell tour. Or did it REALLY begin after she won the U.S. Open in '05? Since wrapping up that incomplete chapter of her career, she's appeared "done" as a true slam contender... or is she?

2007 offers Clijsters one final, small window of opportunity for a fairy tale ending to her story. Could she actually be the player this season that she COULD have been since '01 now that she clearly sees her career's finish line? Maybe "the Kim that never was" will have a cameo over the next eleven months as she plays with complete abandon, knowing any tournament could be her last.

Of course, if she's as reckless as she was after injuring her wrist in Montreal last year, she won't last the season. But a race to the finish line without stopping for a proverbial pitstop (save for her July wedding to American basketball player Brian Lynch) could surely be an invigorating experience. She could "run out of gas," but by putting the "pedal to the metal" Clijsters might end up walking away with a going away present (or two?) for her trophy case. In a sense, JHH has been doing it since 2003... maybe Clijsters will see fit to try it for a few weeks and/or months before she's out the door. Who knows? She might like it.




We'll get a better sense in Melbourne if Clijsters' grand farewell tour could be a slamming experience. Surely, opening her '07 season by winning an exhibition in Hong Kong and then the title in Sydney is enough to make one think it's a least POSSIBLE.

It's too late, barring a remarkable (and improbable) literally Grand exit of the '88 Graf variety (Roger Federer's the best bet for that feat... maybe ever), for Clijsters to become the Kim of "What If" dreamland, though. THAT Kim would have no reason to ever come back to the sport after 2007, but what about this one?

Bjorn Borg retired in his 20's, and tried to come back in his 40's. The Martinas Navratilova and Hingis couldn't stay away, either. Will Clijsters?

While it wouldn't be totally shocking to see Kim return in a year or two, the better odds on her playing beyond '07 would have to be under a scenario in which she didn't retire at all. If she DOES walk away, one would think she'll just keep walking without looking back. For her part, Clijsters DID recently say, "This is it. You'd better believe it" when asked about whether she will stick to her retirement plans.

If there is no icing placed on Clijsters' career slam cake in '07, it's still sometimes difficult to fathom an athlete of her class who wouldn't some day ponder the "what if" scenarios of her career. Sure, she'll say she has no regrets... but you still wonder if that'll ever change. Some day. At some time.

Of course, if but for a few points in one match nearly six years ago, Clijsters might have been able to walk away after this season with absolutely nothing left on the table. If only.

(April 30, 2007)
LEMON HARANGUE
Kim Clijsters is in action in Warsaw this week. Get a good look at her...
while you still can.
Even though it's only the end of April, this Belgian's ride is just about over.
As it is, this week's Tier II in Poland is Clijsters' only scheduled 2nd Quarter clay event, which goes along rather nicely with the fact that Wimbledon will be her only 2nd Quarter grass event, not to mention her final grand slam since she's not showing up in New York come August, either. Oh, she'll pop in a couple times in the 4th Quarter to "officially" bring down the curtain on a career that will one day be celebrated in Newport (
largely because of the good will she's courted for so many years, as opposed to the S.O.P. of the other top-ranked Waffle
), but, really, this week is as good to say "goodbye" as any... or at least to riff one final time on ol' KC. So I will.
I'm not here to bury Kim Clijsters once again, but I'm not here to extol the virtues of a talent whose surface was only scratched throughout her career, either. I mean, I'm not going to compromise MY principles.
Of course, I DID try to reach something of a peace accord with my memory of Clijsters back in January's
"Volley,"
embracing the notion of a grand final season that might garner a career-reshaping second slam crown ala Amelie Mauresmo's Wimbledon title last year. Sure, I probably should have known it would turn out to be a lost cause, but I won't feel bad for trying. I mean, who would have guessed that Clijsters herself would put the kibosh on the possibility of a fairy tale ending by skipping half the slams in her final go-round (
including the only one she ever won, the U.S. Open... where her '05 title run ultimately turned out to be an end rather than a new dawn for career accomplishment
)?
Now, it would be easy to whine, fret and complain about Clijsters' decision to forego the vast majority of her "farewell" season. But that's been done here and elsewhere (
even Pierre Cantin allowed himself an "I can't believe she's doing it" moment in recent weeks
), and since part of me will honestly miss the occasional Backspin "Kim purity test" once she's gone for good, I'm tempted to put on one final "mother of all flare-ups" act here this week... but, really, why bother? At this point, it's not even fun to expose the Party Planner's machinations since there's not enough time left for her to provide enough evidence to turn the long standing opinion around. (
Well, unless she were to put together a stunning SW19-winning run... but what're the odds of that?
) Essentially, after this week in Warsaw, Clijsters becomes the "Soon-to-be-Mrs. Invisible."
If nothing else, I'll miss Clijsters for all the variety she's brought to these parts. She is the unquestioned queen of nicknames. Clijsters more than any other player in Backspin history has allowed your friendy neighborhood columnist/blogger to stress whatever notion he holds dear but sometimes doesn't have the heart to follow through on --
that when in doubt, always take the cynic's point of view.
Kim has made it so easy, as her entry in the Backspin Nickname Page
log
attests.
**CLIJSTERS NICKNAMES...THROUGH THE YEARS**
2003 The Waffles (w/ Henin)
2003 The Wattle (when in Australia)
2003 Kim C. Clijsters
2003 The So-Called #1
2003 Easy-Bake Kim (still my favorite)
2004 FilaKim
2005 Nice Kim
2005 Killer Kim (at U.S. Open)
2006 Tweety
2007 (My Gal) Kim
2007 The Party Planner
2007 Soon-to-be-Mrs. Invisible (or ... ........, the player formerly known as Kim Clijsters)
Ah, but I never utilized her propensity to grab a squeegee during a rain delay for yet another moniker. A missed opportunity, which is sort of fitting, if you look at it through Backspin's dark-tinted glasses.
In the end, it'd have been nice if Clijsters had been more like Henin, more focused on success on the tennis court... but then Henin wouldn't be "
Le Petit Taureau
," would she? So, in some ways, while Henin has often "suffered" in comparison to Clijsters over the years, she'll more than benefit from the juxtoposition of their career legacies by future generations. For better or worse, Clijsters just never had that single-mindedness in her to devote what were the prime years of her athletic life to climbing every mountain the sport presented her. As has been said here before, it's a fine and admirable trait in a friend and human being, but a world class athlete without the overwhelming desire to prove themself in the eyes of their critics, competition and history usually results in a career that is destined to fall short of expectations and possibilities. Clijsters' name is but another on an already long list. She was motivated by other things, which is all well and good... but how fantastic things
might have been
had she found within herself the same sort of obstinate fire that so often fuels Henin and Serena Williams. If Henin took "lemons" (
her size, the loss of her mother
) and made lemonade, then Clijsters took "apples" (
superb athletic genes and opportunity
) and made lemon marangue pie.
Sweet, but ultimately not nearly as thirstquenching. I know I love lemon marangue pie (
it's my favorite
), but I wouldn't want to eat it every day.
It's because of these developments that the Henin/Clijsters match-up ends up more an all-Belgian novelty than anything resembling the long-hoped-for follow-up to the Evert-Navratilova rivalry. Of course, Venus/Serena didn't live up to the hype, either (
though their string of slam final meetings is something to behold
). Nor did Graf/Seles (
thanks, Gunther
), nor Graf/Sabatini. (
Actually, the Serena/Sharapova combination, if it can have a few more chapters added over the next few years, might be the top rivalry of the last 10-20 years if things work out right.
)
In many ways, Clijsters is very similar to Gabriela Sabatini. They both won just a single slam (
both the U.S. Open
), far fewer than anticipated when they first started, but still managed Hall of Fame careers. Still, Sabatini will ultimately be lost to history thanks to the exploits of Graf and Seles during her era. Clijsters will be, as well, with both Williams sisters, Henin, Hingis, Davenport, Capriati, Mauresmo and Sharapova all winning multiple slam crowns during the era compared to KC's one. Her on-court splits will linger longer in the memory of tennis history than any single victory she had during her career.
**CLIJSTERS IN MAJOR FINALS**
1998 Wimbledon Jr. - lost to Srebotnik 6-7/3-6
2001 R.G. - lost to Capriati 6-1/4-6/10-12
2002 WTA Chsp - def. S.Williams 7-5/6-3
2003 R.G. - lost to Henin-Hardenne 0-6/4-6
2003 U.S. - lost to Henin-Hardenne 5-7/1-6
2003 WTA Chsp - def. Mauresmo 6-2/6-0
2004 Aust. - lost to Henin-Hardenne 3-6/6-4/3-6
2005 U.S. - def. Pierce 6-3/6-1
No matter what Clijsters accomplishes in what little remains of her '07 farewell tour, her career can be accurately summed up. Off the court, she's been more relatable than the vast majority of players she's ever faced, and equally as admirable as the best of them. On the court, she put together a career that would have been a salivating ride for 99.9% of the women's pros out there, but should have been a dissatisfying one for a player, like those in the .1% group to which Clijsters belongs, who could have done so much more. But don't expect her to lose any sleep over the ramifications of a fact such as that.... which in so many ways both condemns and solidifies the opinions of the Belgian that've been expressed here for so long.
So is the curious case of the career of Kim Clijsters. Case closed (
or almost so
).

(May 7, 2007)
TURN OUT THE LIGHTS
Sometimes, timing is everything, isn't it?
First, I'm proud to say that mine was pretty accurate last week, when I essentially said my "final goodbyes" to Kim Clijsters as she returned to action in Warsaw. She lost her opening match, then over the weekend I was alerted by an ever-vigilent e-mail from
Tennisrulz
Head Honcho Pierre Cantin that she'd up and called it a career --
effective immediately
-- nearly six months earlier than previously expected.
There'll be no farewell slam. No spotty farewell tour running the course of the remainder of the '07 season. Just like that, saying "it's been more than fun," Clijsters also said that it is all over. To borrow a phrase, her tennis career has "gone dark."
I must say, as I told Pierre on Sunday, that I actually sort of respect Clijsters more for this act than for many of the other things she's done throughout her career. Sure, she probably should have made this announcement after the Australian Open so that she could have received a proper send-off in Melbourne from the fans who've most closely identified with her on the slam calendar. She enjoyed a heartfelt goodbye moment Down Under, but hardly the sort she would have been the object of had everyone known that her semifinal loss to Maria Sharapova there would bring down the curtain on her slam career. Sporting careers rarely ever end with the star exiting the stage in a shower of confetti and awash in admiration. Even Pete Sampras, who won the U.S. Open title in his final tour match, dragged out his actual retirement announcemnt over most of the following season.
Perfection isn't always pretty, and is even more rare.
Since January, it's been fairly obvious from the swiftly shrinking nature of her proposed '07 schedule that Clijsters' heart wasn't in any long, drawn-out goodbye tour nor a final fist-shaking run at tennis history. That she saw fit to end the charade and quietly close the show rather than glad hand for the sake of glad handing out of some sense of obligation to tournament organizers and/or fans over the next six months is, dare I say it, "admirable."
That sentiment certainly hasn't been common around these parts over the years when it's come to Clijsters, but she does at least deserve a final salute for leaving something of a smile on this ol' grinchy Backspinner's face.
Nice, Kim.
**CLIJSTERS...BY THE NUMBERS**
427...
career wins
104...
career losses
34...
career WTA singles titles
19...
weeks as WTA singles #1 (
2003=12, 2006=7
)
11...
career WTA doubles titles
10...
wins over Justine Henin (
vs. 12 losses
)
4....
weeks as WTA doubles #1 (
Aug/Sep '03
)
3....
weeks as simultaneous s/d #1 (
Aug/Sep '03
)
3....
career ITF singles titles
3....
career ITF doubles titles
2....
career WTA Chsp. (
YEC
) titles (
2002-03
)
2....
slam doubles titles (
'03 RG/Wimb
)
1....
slam singles titles (
2005 US Open
)
1....
Jr.slam doubles titles (
'98 RG
)
1....
Fed Cup titles (
Belgium '01
)
All for now.