The Daily Backspin, RG 2: The Pusillanimous Pigeons of Peril
Ah, now I know what I missed by not being able to see Sunday's Maria Sharapova/Mashona Washington match live: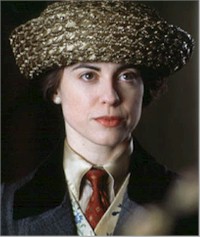 No, not actress/composer/wife of David Mamet, Rebecca Pidgeon... I'm talking about the pusillanimous pigeons of peril (or, if you prefer, the dastardly avian deliverers of doom) that landed inside the service box on Sharapova's side of the net just as Washington was about to serve while leading 5-3 in the final set.




Washington lost the point, the second of her three match points, and, ultimately, the match. Did the pigeons' arrival portend the American's doom, flying off with her chances as the ball kids chased them away? Would things have gone in Mashona's favor had the winged creatures landed on HER side of the court rather than Maria's?

Just the questions that pop into your head on an otherwise fairly uneventul Day 2 on the women's side of the draw at Roland Garros, where the best viewing was the (better late than never) ESPN replay of the last set-plus of the match that should have been aired on Sunday.

Maybe Sharapova's Round 2 opponent, Iveta Benesova, should walk on court with a pocket full of birdseed, eh?

*** *** *** *** *** *** *** ***

"Match of the Day" UPDATE: the intriguing Pichet vs. Flipkens rematch didn't quite have the punch of the qualifying match-up that ended with an 8-6 3rd set win by the 23-year old Frenchwoman. This time, the "lucky loser" Waffle had it over the Pastry, by an easy 6-2/6-3 score. Does this make Pichet an "unlucky winner?"

*** *** *** *** *** *** *** ***

The first slam category winner was crowned in disappointing fashion on Day 2, as #18-seed Elena Likhovtseva (a surprise semifinalist a year ago) fell in her opening match to Karolina Sprem, thereby gaining the dubious distinction of being the first seed to be dumped out of the tournament, even beating men's top-guy-out, #16 Jarkko Nieminen.

#28 Lucie Safarova soon followed Likhovtseva's lead, wrapping up her downbeat clay court season with a straight sets loss to Romanian qualifier/one time Oklahoma University star, Anda Perianu, sending up a warning flare for the forthcoming Romanian contingent (which includes Raluca Olaru and Monica Niculescu) on the cusp of making some noise on the big tour.




Elsewhere, Alicia Molik got the first win of her comeback from that inner ear condition, a 7-5/7-6 victory over Antonella Serra-Zanetti; and qualifier Julia Vakulenko, Backspin's hopeful pick for "Last Qualifier Standing," defeated Meng Yuan.

*** *** *** *** *** *** *** ***




As expected, a win over Robin Soderling allowed Rafael Nadal to break a tie with the 1977 record of 53 consecutive clay wins held by Guillermo Vilas (pictured above, today with Nadal).... Evgeny Korolev, cousin of Anna Kournikova, advanced to 2nd Round with a win over Andreas Seppi... and in the longest-yet final set of the draw, Nicolas Massu took out "Rubberband Emotions Man" Xavier Malisse 11-9 in the 5th.

*** *** *** *** *** *** *** ***

DAY 3: Tuesday, May 30




"MATCH OF THE DAY" WATCH:

Petrova/Morigami, maybe? But I'm afraid that might jinx Scarlett against a potentially tricky opponent

Hmmm, there are a few others to choose from, though:

1) Monfils/Murray...an exciting prospect on the men's side, but it might be a better match on hardcourts or grass.
----------------------------
2) Gonzalez/Safin...you never know what will happen with Dinara's brother.
----------------------------
3) Myskina/Mirza...both have seen better days, though.
----------------------------
4) Medina-Garrigues/Azarenka...the winner might eventually play Clijsters. AMG is more accomplished, but 16-year old Azarenka (the second-youngest in the women's draw, after France's Alize Cornet) is very intriguing.
----------------------------
5) Hantuchova/Dominguez-Lino...Wonder Girl could take another step back here.
----------------------------

But I'll go with:


TATIANA GOLOVIN vs. JIE ZHENG

...like Sharapova, Golovin hasn't played since Miami. Golovin's ankle injury there, though, was quite a bit more substantial than the one Sharapova was nursing coming into Paris. The Supernova barely survived the 1st Round, and the Cookies have already put three (Na Li, Shuai Peng and Tiantian Sun) of four main draw players (Meng Yuan lost) into the 2nd Round, with two more (Zheng & Yan) yet to play. The crowd was with The Frussian Pastry in Miami, and she might need the support just as much tomorrow in Paris.


All for Day 2.