Day 4: La Belle Dame Sans Merci & the Grand Deception
Quick! Someone find a strainer to catch at least a little of what's left of Daniela Hantuchova before she goes down the drain!
Whoops... looks like it might be too late.


On Day 4, while Wonder Girl continued her "one step forward, two steps back" headlong plunge toward oblivion, the Supernova was still running on the leftover adrenaline from Day 3's outing in the little black dress.

Maria Sharapova's skin apparently retained some remnants of the little black dress' magic, or at least that's the idea that Emilie Loit had to be clinging to as she fell behind 6-0/4-0 against the #3 seed in their 2nd Round match. The afterglow did eventually go away, but it didn't stop Sharapova from advancing while surrending just one game in the match. So far at this Open, it's fair to say that the Supernova has assumed the role of La Belle Dame Sans Merci -- the beautiful lady without mercy.

(All right, I admit it. I've had that one setting around for quite a while, waiting for an appropriate moment to use it... and this seemed as good a time as ever, don't you think?)

It certainly appears that Hantuchova will never be able to claim such a title. In her 2nd Round match against Serena Williams, all the old bugaboos came back to haunt her once again. Serving up 5-3 in the 1st set, her game simply became unhinged. Bad drop shots. Double faults. Soon she'd lost the set 5-7, and was down 0-3 in the 2nd. With the match all but over, she finally rejoined the rest of us in 2006... not that it mattered. She still lost 5-7/3-6.

Four years ago, when Hantuchova claimed her first singles title in Indian Wells, the tennis world saw fit to build her an impromptu throne. She was dubbed the next great marketing doll for the tour, and one with a game to back up all the attention. I, for one, never really bought into the hype, hence the dripping-with-sarcasm birth of her "Wonder Girl" moniker (originally, it was meant to be said with an accompanying eye roll... though it's now used without such disdain), but I was open to being wrong about her.

I wasn't, though. The "legend" of Hantuchova DID turn out to be THE grand deception of the 21st century so far (well, at least the biggest one that doesn't involve the Bush administration). The Tour's post-Kournikova dream scenario never happened (well, at least not for Hantuchova... it DID become a reality with Sharapova, and could again with Nicole Vaidisova).

Hantuchova reached the Top 5, then crashed physically and emotionally. She's never been able to come close to reclaiming her former position, nor even win another title. Rather than being a prelude to a great career, Indian Wells '02 has turned out to be a teasing aberration. Collapses like the one against Williams today are just another sign that things are still a very long way from turning around... if they EVER will.

Maybe Hantuchova should be given some credit for trying, though. Some can't handle the long climb back (Jelena Dokic, at #4 when Hantuchova was #5, has chosen to alternately swim upstream or just flat out disappear). But, then again, there are few sights in sports that are more discouraging than watching what was thought to be the career of a grand talent turn out to be something so far less than expected that the athlete becomes something of a figure of sadness even though their performances would be lauded were they someone who'd been burdened with far less expectation when they were young.

Who knows, maybe Hantuchova will one day rise from the ashes ala Jennifer Capriati... but it's difficult to envisoin such a resurrection when Wonder Girl has days like she had today.



Love-Love... poor, Jelena Kostanic. Lindsay could have at least given her ONE game in their 2nd Round match, don't you think? Hmmm... nah, that'd be too much of a Kim-like thing to do. Bagels for everyone!
=============================
15-Love... It's already that time of the Open:

**EARLY ROUND (1st/2nd) AWARDS**
=TOP PLAYERS=
1.Maria Sharapova
2.Justine Henin-Hardenne
3.Lindsay Davenport
HM-Nadia Petrova

RISER: Nicole Vaidisova
SURPRISES: Virginie Razzano & Anastasia Rodionova
VETERANS: Lindsay Davenport & Mary Pierce
FRESH FACES: Victoria Azarenka & Jarmila Gajdosova
DOWN: Martina Hingis & Anastasia Myskina

UPSET QUEENS: French (Rezai, Razzano, Fedossova)

LAST QUALIFIER STANDING: 5 reached 2nd Round (Birnerova, Fedossova, Flipkens, Lepchenko, A.Radwanska)

BIGGEST UPSET: 2nd - Razzano d. Hingis 6-2/6-4... Martina's worst U.S. Open -- ever!

BEST ESCAPE: 1st - Kuznetsova d. Kloesel 6-2/2-6/6-3... the Contessova was down a break in the 3rd

WORST CHOKE: 2nd - S.Williams d. Hantuchova 7-5/6-3... it's too deep into her career for the one-time Wonder Girl to still be spectacularly imploding in such a fashion that it scares little children.

BEST COMEBACK: Nadia Petrova, after dropping five straight matches heading into New York, has won two in a row while giving up a combined five games (including rolling over Virginia Ruano-Pascual in the 2nd Round, the same Spanish vet who kicked her butt in one of those matches during the losing streak). Plus, today in doubles, she and Martina Navratilova allowed just two games to the team of Osterloh/Rolle. (Nudge, nudge... way to go, Scarlett.)

=============================
30-love... the Cookies continue to get more and more attention (including a write-up in USA TODAY on Thursday), but they didn't have great success at the Open this year. Four of the six in the main draw lost in the 1st Round, and Jie Zheng went out today. Only Na Li survived into the 3rd Round.
=============================
40-love...

*THE WOMEN'S FINAL 32*
[by nation]
10...Russia (Sharapova, Dementieva, Petrova, Kuznetsova, Safina, Kirilenko, Chakvetadze, Likhovtseva, Zvonareva, Rodionova)
---
6....France (Mauresmo, Pierce, Golovin, Bartoli, Razzano, Rezai)
---
2....Italy (Schiavone, Santangelo)
2....Serbia (Ivanovic, Jankovic)
2....USA (S.Williams, Davenport)
---
1....Belarus (Azarenka)
1....Belgium (Henin-Hardenne)
1....China (Li)
1....Czech Republic (Vaidisova)
1....Estonia (Kanepi)
1....Israel (Peer)
1....Japan (Sugiyama)
1....Slovak Republic (Gajdosova)
1....Slovenia (Srebotnik)
1....Switzerland (Schnyder)

...and for the record, BOTH Pierre and I -- even with numerous different picks -- managed to correctly forecast exactly 23 of the final 32 to reach the 3rd Round.
=============================
GAME, "Attention wise, fashion foolish?"... Bethanie Mattek, the same player who brought us the 1970's boardwalk rollerskater & soccer enthusiast look at Wimbledon, gave the world another loopy look the other day: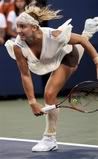 Who knew living room curtains could double as sporting attire? And, yes, those look like leg warmers (naturally). Well, at least she got her picture distributed all over the net again. "Good" for her... right? Yeah, maybe not.
=============================


All for Day 4... but not Night 4. There are a million stories in the naked city, and there was one more on Thursday than could fit into a single Daily Backspin (see "Backspin Plus" for coverage of Andre Agassi's latest late night epic).