Exquisite in the City
What will the 2006 U.S. Open be most remembered for? Andre Agassi's farewell, Martina Navratilova's one final audacious spit in the eye of time, Roger Federer's continuation of his dominance over a resurgent Andy Roddick... or Maria Sharapova's exquisite night on the town?
If her career holds true to form, bet on the Supernova. For she continues to stay one step ahead of the expectation game.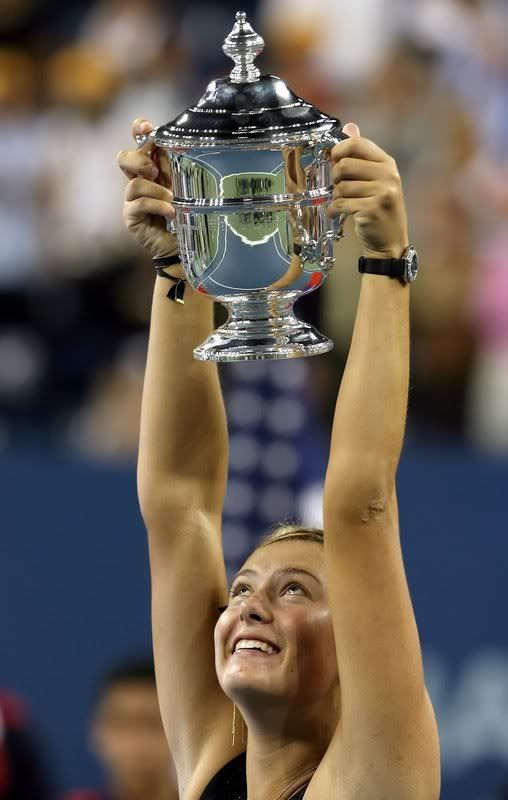 The reason Sharapova has so far managed to continue to defy the high expectations that her Wimbledon title and marketing plan have generated is because she always manages to jump on top of them early. From the moment she shed her wrap to reveal the little black dress on Day 3, one could sense that something special could be in the making in New York... then she spent two weeks doing nothing to dissuade the possibility, culminating in her caving in the roof on Justine Henin-Hardenne in a 6-4/6-4 win in the final to claim her first U.S. Open title.

Sharapova's final match in Flushing Meadows highlighted her old power strokes and big-point prowess, but also provided tantalizing hints of what could be to come. The Open put the advancement of Sharapova's game on full display. Better movement. Good preparation and a semblance of a gameplan. A willingness to move toward the net and force the action (something that should come in handy at SW19), even if it meant beating a five-time slam champ at her own game. Again, the scenarios abound after something like this.

Swinging defiantly. Grunting with abandon. Clenching a fist in triumph. And, just as importantly, doing it with exquisite style. A supernovic star in full luminosity.

In many ways, Sharapova is a symbol of all that makes New York -- which she says is her favorite city -- New York. She has the style and grace to inspire notions of romance and grandeur, but enough heart and in-your-face confidence in herself and her abilities to never waver from her intended course. Some flash for the paparazzi, but enough substance to satisfy the rest of us.

Talk about a marriage made in sports heaven.

The Supernova has fashioned quite a story over the past two years, but could this maiden U.S. Open title signal the beginning of something even bigger? The "Sharapova Scenario" envisioned a moment like this but, true to form, the 19-year old may have made it happen about a year ahead of schedule.

Was this Open simply a titillating prelude, or has Sharapova's brief 12-18 month run of brilliance already begun? Needless to say, that will be the question du jour in these parts come Melbourne in January.

Her thirteenth career title will surely go down in tennis history as anything but unlucky, but is Sharapova in danger of attaining perfection?

Uh... naaah.

Forget for a moment about all the forehand and service winners that magically rocketed from her racket on Saturday, and remember that after the match Sharapova said that she had wanted to "do the opposite" and reverse her previous four-match losing streaking against Henin-Hardenne by completing a "360-degree flip" of all her previous actions in those matches. Of course, she meant to say "180-degrees," since a 360-flip would have brought her right back to where she started and this Backspin would have been lauding JHH's sixth grand slam title rather than Sharapova's second. Then, after her directional faux pas, Sharapova proceeded to knock the lid off the champion's cup when she held it up in girlish celebration.

(Hmmm, after the thing with the cell phone in '04, it looks like Maria needs to schedule some additional practice time to help her become more adept at working with props, doesn't it?)

Oh, well. Hey, the girl's not perfect. But she has time to work on that.



LOVE-LOVE... sure, Roger Federer's four-set win over Andy Roddick in the men's final went off without a hitch (especially in the first and last sets, where he put on two more of those grand slam final clinics that are almost scary, what with the precise accuracy of his surgical dissection of a world-class opponent), but did Roddick's two-week Connors-inspired Open journey provide enough evidence to think that the men's game could become something other than a Federer/Nadal two-man play? Well, yeah. Maybe. If this U.S. Open Series was Roddick just scratching the surface of what he's capable of, then 2007 could very well see a THREE-headed monster terrorizing the ATP tour. Of course, that possibility does nothing to change the fact that Federer and Nadal have combined to win the last seven grand slam titles (could the Navratilova/Evert 15-slam hegemony from 1981-85 be in danger of being challenged?) and that Federer's ninth slam title means he's just became the first man to concurrently win three straight Wimbledon and three straight U.S. Open championships.

Yeah, Roddick has his work more than cut out for him.
=============================
15-LOVE...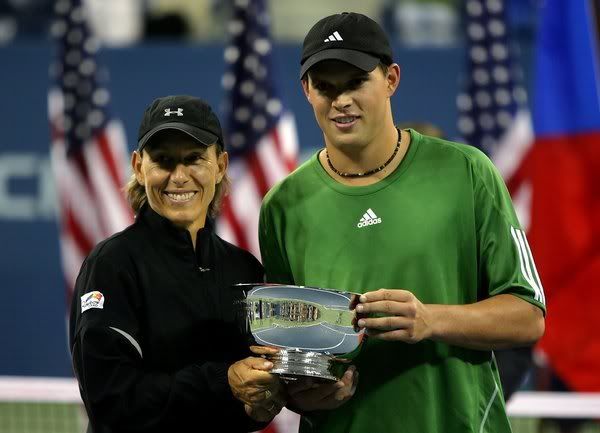 ...fittingly, Martina Navratilova's career apparently went off into the proverbial sunset (actually, the sun went down quite a few hours earlier in the day) with -- what else? -- another doubles title to add to her ridiculously long resume. A month shy of her 50th birthday, Navratilova and Bob Bryan handled Kveta Peschke/Martin Damm (both from Martina's native Czech Republic, to make things all the more apt) 6-2/6-3 in the Mixed Final that occurred after the Women's Singles festivities had wrapped up on Saturday.

But is her monstrously remarkable career REALLY over? This was her 59th career slam title, just three shy of Margaret Court's record. Hmmm... sounds like something to shoot for (not to mention the temptation of finally besting Billie Jean King with one more Wimbledon crown), doesn't it?

Said Martina, after the late night finish of the Mixed Final, "This is the last match. This is definite. Not allegedly. This is a closed chapter. It's past midnight. It's past my bed time."

Always leave 'em wanting more, I guess... even thirty-three years after it all began.
=============================
30-LOVE... in the other Doubles finals, unseeded Nathalie Dechy & Vera Zvonareva defeated #8-seeds Dinara Safina & Katarina Srebotnik. It was Dechy's first slam title, and Zvonareva's third ('04 US & '06 Wimbledon Mixed).

In Men's Doubles, #6 Martin Damm/Leander Paes upset #2 Jonas Bjorkman/Max Mirnyi to claim Damm's first career slam trophy and Paes' ninth.
=============================
40-LOVE...

**LATE-RD. (SF+) AWARDS**
TOP PLAYER: Maria Sharapova (naturally)
RISERS: Safina/Srebotnik
SURPRISES: Dechy/Zvonareva
VETERAN: Martina Navratilova
FRESH FACE: Anastasia Pavlyuchenkova
DOWN: Amelie Mauresmo & Raymond/Stosur

=TOP LATE-ROUND MATCH=
SF - Henin-Hardenne d. Jankovic
...4-6/6-4/6-0. Jelena wasn't Maria. JHH looked ready to be sent home, with Jankovic up 6-4/4-2 and serving at 40/30. But a tiff with the chair umpire broke the Serbian's concentration. In the blink of an eye, her serve was broken, too. Jankovic never won another game. Even the easy going Jankovic (did her attempt to hide her smile when the crowd applauded the replay of her stretching leg split in the backcourt signal that she realized that she SHOULDN'T be laughing on the court during a U.S. Open SF match, although doing as such without an attack of conscious might be precisely the attitude that had helped turn around her results the last few weeks?) will have to struggle for a few days to forget about what she DIDN'T do in New York and instead focus on the great things she DID. Kind of like Justine, really. While she'll ultimately feel proud of having become the first player since Martina Hingis in 1997 to reach all four slam singles finals, who wants to wager that she'd rather have made just two if it meant she'd cached a pair of slam titles rather than the reality of the 1-3 slam final record that'll go into her '06 career bio. But down the stretch, as she grasps at the #1 ranking (she'd have overtaken Amelie Mauresmo had she won on Saturday) and "Player of the Year" honors, her current stretch of having made six straight singles finals (and 9-of-12 overall this season) will salve at least a few of her wounds... or maybe spur her on to attempt to reverse that 1-3 record in '07.

=BEST ENDING=
Martina Navratilova going out in grand slam style. Well, that is, if she STAYS retired this time... considering she DID say that she thought she could remain competitive on the court for another five years if she desired to make the effort.
=============================
40-15... Hordette Anastasia Pavlyuchenkova (remember the name, as if you could ever forget it -- it's spelling it correctly that's the tough part) won her second Girls slam title of the year, adding the U.S. Open crown to her Australian Open title (she was also RU in Roland Garros) when she rallied to defeat Tamira Paszek 3-6/6-4/7-5 in the Girls Singles final.

In Doubles, Pavlyuchenkova was denied completing a Girls Doubles Grand Slam for '06 when she and Sharon Fichman were defeated in the final by the Romanian team of Mihaela Buzarnescu & Raluca Olaru. The Russian had won the Oz and Roland Garros titles with Fichman, and Wimbledon with Alisa Kleybanova.

Czech Dusan Lojda ended Canadian Peter Polansky's run in the Boys Singles, winning the final by a 7-6/6-4 score. Meanwhile, the American team of Jamie Hunt & Nathaniel Schnugg won the Boys Doubles over Americans Jarmere Jenkins & Austin Krajicek (no relation... I think). It was Schnugg's second Boys slam doubles crown of '06, having won Wimbledon (and been RU in Oz) with Kellen Damico.
=============================
40-30...

**2006 JUNIOR SLAM CHAMPIONS**

[Girls]
Australian: Anastasia Pavlyuchenkova (RUS)
Roland Garros: Agnieszka Radwanska (POL)
Wimbledon: Caroline Wozniacki (DEN)
U.S. Open: Anastasia Pavlyuchenkova (RUS)

[Boys]
Australian: Alexandre Sidorenko (FRA)
Roland Garros: Martin Klizan (SVK)
Wimbledon: Theimo de Bakker (NED)
U.S. Open: Dusan Lojda (CZE)

=============================
GAME, "And as for the other bookkeeping statistics."

...your friendly neighborhood Backspinner closed the gap ever so slightly on Head Honcho Pierre in the '06 Battle Royale, but time and opportunities are getting short for a come-from-behind victory to be something to count on. The totals after the Open:

(US Open 3rd Round: tied 23-23)
Round of 16: Pierre 70-66 (US: Backspin 11-9)
QF: Backspin 50-45 (US: Backspin 4-3)
SF: Pierre 33-29 (US: tied 2-2)
F: Backspin 13-12 (US: tied 2-2)
W: Pierre 2-0 (US: 0-0)
=============================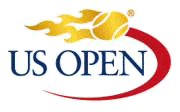 All for now.

=============================

COMING UP: 3Q Awards, The Sharapova Quiz... and who's in the running to be 2006's "Ms. Backspin?"