WTA Backspin 3Q Awards
This summer in North America,
"La Belle Dame Sans Merci"
was the belle of the hard court ball.


**TOP PLAYERS OF 3Q**
1. Maria Sharapova... the whispers can now officially be silenced for good
-----------------------------
2. Justine Henin-Hardenne... so close, but yet so far. In many ways, it's been a running theme for JHH this season. Still, though, she might end up with the #1 ranking at the end of the season.
-----------------------------
3t. Ana Ivanovic & Jelena Jankovic... the Serbian pair had the summers of their lives. Ivanovic won the U.S. Open Series, then Jankovic picked up where AnaIvo left off with a surprising SF result at the U.S. Open.
-----------------------------
5. Vera Zvonareva... she started the quarter with a singles title in Cincinnati, and ended it by winning the Doubles crown at the U.S. Open (her second slam doubles title this year, having won the Mixed at Wimbledon).
-----------------------------
6. Flavia Pennetta... she led the way for Italy as the Noodles advanced to their first Fed Cup final.
-----------------------------
7. Elena Dementieva... rather quietly picked up a title in Los Angeles, then reached the QF at the Open.
-----------------------------
8. Martina Navratilova... wrapped up her amazing career with a Tier I Doubles title in Montreal, then a Mixed championship (her 59th slam title) at the U.S. Open.
-----------------------------
9. Jie Zheng... her third career singles title in Stockholm gives her more than all the other Cookies combined.
-----------------------------
10. Kim Clijsters... she was going along fairly well until that game of Russian Roulette with her wrist blew up in her face in Montreal.
-----------------------------

*RISERS*
1t. Jelena Jankovic
1t. Ana Ivanovic
3. Vera Zvonareva
4. Flavia Pennetta
5. Tatiana Golovin
6. Dinara Safina
7. Jie Zheng
8. Na Li
9. Samantha Stosur
10. Katarina Srebotnik

*SURPRISES*
1. Stephanie Dubois
2. Aravane Rezai
3. Virginie Razzano
4. Karin Knapp
5. Melanie South
6. Sara Errani
7. Bethanie Mattek
8. Lauren Albanese
9. Youlia Fedossova
10. Varvara Lepchenko

*VETERANS*
1. Martina Navratilova
2. Meghann Shaughnessy
3. Anna Smashnova
4. Lindsay Davenport
5. Severine Bremond

*FRESH FACES*
1. Anna Chakvetadze
2. Nicole Vaidisova
3. Shahar Peer
4. Victoria Azarenka
5. Anastasia Pavlyuchenkova
6. Kirsten Flipkens
7. Jarmila Gajdosova
8. Agnieszka Radwanska
9. Tszvetana Pironkova
10. Vania King

*DOWN*
1. Nadia Petrova
2. Anna-Lena Groenefeld
3. Daniela Hantuchova
4. Shuai Peng
5. Martina Hingis (at U.S. Open)

=TOP PERFORMANCE (on & off-court)=
...Maria Sharapova was simply exquisite in the city, from her "I Feel Pretty" Nike ads to the little black dress, from the Roddick denials to her U.S. Open championship.

=TOP PERFORMANCE (collective=
...the Russians are coming! Again. Sharapova wasn't the only member of the Horde grabbing headlines this hard court summer. Zvonareva and Dementieva won singles crowns, Anastasia Myskina reached a final, Anna Chakvetadze had her best-ever run of results and 15-year old Anastasia Pavlyuchenkova won the U.S. Open Girls title (her second junior singles slam win in '06, to go along with her additional three junior doubles slam titles).

=BEST MATCH=
US Open SF - JHH d. Jankovic
...4-6/6-4/6-0. Behind 4-6/2-4 30/40, JHH took advantage of Jankovic's lapse in concentration and reeled off ten straight games to complete her four-for-four cycle in 2006 grand slam finals.

=BEST EXCHANGE THAT NEVER HAPPENED FACE-TO-FACE=
... in the US Open SF, JHH (here's another "shocker") was accused of gamesmanship for possibly "faking" an injury when she bent down in apparent pain one point from 2-5 in the 2nd set against Jankovic. After the match, Jankovic said, "For me that's not quite fair play." As for Henin-Hardenne... she said the ridiculousness of the accusation "makes her laugh." The beat goes on.

=DUMBEST CRITICISM=
...the overreaction of everyone running around like chickens with their heads cut off because Sharapova's coach and father signalled for her to take a drink and eat a banana during a match. As Sharapova said, "I believe, at the end of the day, personally, my life is not about a banana. It's not about what I wear. It's not about the friends that I have. My career right now is about winning a tennis match. And right now, I'm sitting here as a U.S. Open champion, and the last thing I think people need to worry about is a banana." Amen.

=WORST CHOKE=
US Open 3rd - Peer d. Schiavone
...6-3/6-7/7-6. Schiavone led 5-1 in the 3rd and blew 5 match points before finally losing in a tie-break.

=BIGGEST UPSET/DUMBEST DECISION=
Montreal 2nd - Dubois d. Clijsters
...1-6/3-2 ret. Sure, Clijsters' wrist injury ended this one prematurely, but that wasn't Dubois' fault. Clijsters, already with a chronic wrist problem, called for a trainer at 2-1 and 2-3 in the 2nd set, but continued to play after each break. Pushing her luck, she paid for it. She fell on her wrist after lunging for a Dubois passing shot. Goodbye, US Open title defense. So long, Fed Cup final.

=MOST DISAPPOINTING UPSET=
US Open 2nd - Razzano d. Hingis
...6-2/6-4. It was the Swiss Miss' worst Open result ever.

=CHANGING FORTUNES=
...not only did Sharapova win her second slam title at the U.S. Open, but she spent the summer reversing her career fortunes against some of the best players in the world. Her win in the San Diego final over #4 Clijsters was her first in five matches against the Belgium. The US Open SF win over Amelie Mauresmo made her 1-3 against the world #1, and the win in the final over JHH ended her four-match losing streak against the #2-ranked player.

=BIGGEST WIN=
...Italy's dominating Fed Cup SF win over Spain sent the Noodles into their first final and cemented the country's surprisingly rising fortunes in '06.

=MS. WILLIAMS, I presume?=
...no, Venus wasn't in action in the 3Q (except for a quick cameo in WTT play), but Serena WAS. She reached the SF in Cincinnati and Los Angeles, then pushed Mauresmo in a three-setter in the US Open Round of 16. Give her a few healthy months, and she might just be celebrating in Melbourne in January.

=ANNA SHOULD HAVE KNOWN=
...Anna Smashnova's bio says nothing about any phobias about the number thirteen, but after running her career WTA singles final record to 12-0 in Budapest, she witnessed the destruction of one of the more remarkable records in today's tennis that doesn't involve Roger Federer. In her thirteenth career final in Forest Hills, Smashnova lost to Meghann Shaughnessy 1-6/6-0/6-4. 12-1 is still very good, but it's just not the same.

=UNFAIRLY KICKING VENUS WHILE SHE'S DOWN=
...in Venus Williams' absence with a wrist injury, Brenda Schultz-McCarthy reclaimed the fastest recorded women's serve record.

and finally...

=STILL MAKING US COVER OUR EYES IN FASHION HORROR=
...apparently, Bethanie Mattek has found her calling. Sure, she had some good results in the 3Q, but she'll be most remembered for following up her past fashion "oh-no's" with another at the Open. This time, let's call it the "living room curtains and leg warmers" look.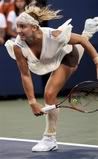 =============================




**MOST 2006 WTA FINALS**
9...Justine Henin-Hardenne (5-4)
5...Amelie Mauresmo (4-1)
5...Maria Sharapova (3-2)
4...Nadia Petrova (4-0)
4...Kim Clijsters (2-2)

**2006 WEEKS IN SINGLES TOP 10**
[of 36 weeks]
36...Amelie Mauresmo*
36...Justine Henin-Hardenne*
36...Maria Sharapova*
36...Kim Clijsters*
36...Elena Dementieva*
36...Nadia Petrova*
36...Patty Schnyder*
32...Lindsay Davenport
30...Mary Pierce
24...Svetlana Kuznetsova*
12...Venus Williams
6....Nicole Vaidisova*
4....Martina Hingis*
--
(*)-currently in Top 10

**2006 WEEKS AS DOUBLES #1**
[solo #1]
22...Samantha Stosur
4....Cara Black
[co-#1's]
10...Samantha Stosur*/Lisa Raymond*
--
(*)-current #1's

----------




FED CUP FINAL
CHARLEROI, BELGIUM (HCI)
====================
Italy (Schiavone, Pennetta, Santangelo, Vinci) vs. Belgium (Henin-Hardenne, Flipkens, Maes, Butkiewicz)

...Clijsters is out, of course, so the pressure shifts to Henin-Hardenne to lead the Waffles to a championship over the Noodles (anyone else hungry?). Italy has the deeper team, but SF star Pennetta hasn't done much of consequence since then and Schiavone is coming off her US Open collapse against Peer (not that either means much here). But if Flipkens, who filled in for JHH in the SF, can manage to steal a singles win over either of the Italians' top two players, Belgium could win this far easier than it rightly should. Then again, if JHH is tired from her Open run and suffers an upset, the same could be said for Italy. In the end, I'll stick with Justine's experience (this is Italy's first FC final, remember), and go with Belgium in a 3-2 victory that could come down to the final doubles match (which wouldn't likely be left in the hands of Maes & Butkiewicz if the title hangs in the balance).



BALI, INDONESIA (III-HCO)
05 F: Davenport d. Schiavone
06 TOP: Kuznetsova/Schnyder
====================
...this one started on Monday, of course, but my pick is still alive as of this writing. Well, at least 50% of it is, as I picked Davenport over Ivanovic (who travelled all the way from New York to lose in the 1st Round... thank goodness for frequent flier miles, I guess) in the final.


All for now.

=================

COMING SOON: Maria Sharapova Quiz, and "Player of the Year" update