#3/#4: The Star, and the Understudy
Blonde. Beautiful. And bound to butt heads... or so the WTA hopes.


The tour has been searching for an honest-to-goodness rivalry to push the women's game back closer to the top of the nightly sports report for years. Ever since the ultimate "Rivals" Chrissie vs. Martina ruled the courts, there have been a series of anticipatory moments followed by a round of sighs after the inevitable letdown when a big-time rivalry didn't pan out.

The past two decades have been haunted by Murphy's Law. Steffi/Gaby was too lopsided, as Graf soared far above Sabatini and everyone else. Steffi/Monica has great promise, then Seles' career was irrevocably shortcircuited by a lathe operator with a knife. Venus/Serena had all the appropriate hype (it even led to the U.S. Open going to a nighttime final), but the spirit was missing from the non-rivalry since neither really wanted to see her sister lose.

In 2006, Justine Henin-Hardenne and Amelie Mauresmo were a compelling combo, but it was likely a one-year blip that developed out of the overblown overreaction to JHH's retirement in Melbourne. Plus, it paled in comparison to the Federer/Nadal hoopla on the ATP tour.... which itself died down in the season's second half as Federer reasserted his dominance while Nadal's results withered away.

Nothing against Mauresmo or Le Petit Taureau, but any headline-grabbing WTA rivalry with the "sexiness" to reach beyond the tennis fanatics would have to include Maria Sharapova. She's the most visible female tennis star in the world, if not the most covered female athlete period. She may not be the #1-ranked player at the moment, but she's been everything the tour could have ever wanted since she burst onto the scene. On-court and off, she's a star... and, more importantly, a champion.

But even with all the Russians and non-Hordette teens bouncing around the tour, none have ever really jumped out to create a rivalry with the Supernova. Oh, there was the brouhaha with Anastasia Myskina concerning the Fed Cup a while back, but that was more about the Czarina's problem with Yuri than Maria (plus, since then, the first female Russian slam champ has been eclipsed by a handful of her countrywomen). We also get the occasional sniping about Sharapova not being "friendly" enough with the other players (Ivanovic was the latest to make headlines with this gripe), being isolated in the lockerroom, or not immediately running to the side of an injured opponent (Golovin in Miami) as if she were a medic-in-training... but no one besides Serena Williams has really butted heads with her on the court consistently. And Serena's barely played the last two seasons.

In 2007, Sharapova vs. Henin-Hardenne could be the flavor of the moment. Interestingly, their critics have some of the same criticisms about JHH as they do about Sharapova. They don't "play well with others"... they're "too competitive" and not "nice" enough on the court... they push the rules of sportsmanship to the limit ("Eat a banana now"... "I'm too sick to play"). Blahblahblah. What's important about these two is that their focus and drive to win are never questioned, and that could produce some compelling moments between them throughout the 2007 season.

But Maria/Justine probably isn't the "move the needle" match-up of the WTA's dreams -- the rivalry that could ultimately become a "happening" like the Venus vs. Serena slam finals that rarely lived up to the billing of "the world's two best players facing off for all the marbles." But there IS a player out there who could one day become an intriguing rival for Sharapova... Nicole Vaidisova.

A series of battles on big-time stages by two photogenic blonde bombers, one a natural saleswoman for the sport and the other with great potential to be the same, would be like a pile of gold dropping from the sky right into the WTA's lap. Sharapova vs. Vaidisova for, say, the U.S. Open title could be the most glamorous athletic contest in sports history. (Not to mention the most photographed since one of those Kournikova vs. a young tennis hottie one of the Fleet Street tabloids had "adopted" during Wimbledon.)

The Dynamova would fit rather nicely on that centerstage next to the Supernova. The "I (heart) Maria" horde would be facing off with the "Kiss Me Nicole" crazies in the stands and outside the stadium. The on-air commercials during the match would include both players hawking every product known to mankind (Maria just added Gatorade and Tropicana to her mind-boggling list of endorsements). And, in the end, one would raise a shiny trophy... and be on the cover of every sports periodical within twenty-four hours.

The WTA would feel like it'd died and gone to 'ova heaven.

Of course, the prospective parallel courses of the careers of Sharapova and Vaidisova have been chronicled here since before the Supernova's '04 Wimbledon coming out party, as well as the effect their individual rises through the tennis and cultural ranks could have on the sport's expansion. These are the last three season's chart-topping "Intriguing Questions":

2004 #1: How Far will Maria's World Expand?
2005 #1: Can Sharapova Survive What the Supernova has Wrought?
2006 #1: Just What is It that Vaidsova is on the Verge Of?

If things go according to schedule, the potential Maria vs. Nicole story could be hitting full stride as the 2000's are about to turn into the 2010's in two years. But will the "dream" become a reality?

But, wait. Hold on!

Thing is, we don't really know if the combination actually has the heart and fire necessary to compliment the obviously pleasant aesthetic that the sight of Sharapova and Vaidisova on opposite sides of the court would provide. They've never actually played in a match that counts. Their only meeting with anything on the line came in a WTT event (Vaidisova won the race to five games), and their potential matchup this week in Hong Kong would take place in an exhibition. So far, there's no official record as far as Maria vs. Nicole is concerned.

They're a blank slate, with a whole lot of valuable potential... sort of like an empty lot in New York City. But real estate analogies aside, in the words of one Jelena Dokic, "you have to play matches to win them." For a rivalry to develop, the players have to actually PLAY each other.



IQ #3: After All That Maria's Accomplished, is World Domination Her Next Goal?



Well, yeah.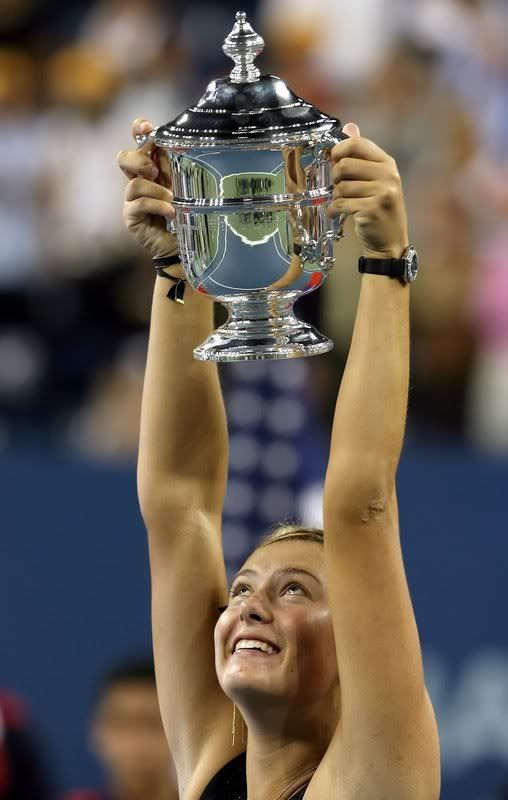 While BOTH Sharapova and Vaidisova perfectly fit the template for what bestows "automatic" tennis fame in 2007 -- blonde, photographer-friendly, European (though a female star along the lines of Michelle Wie WOULD be a nice change) and Bollettieri-trained, make no mistake that it's the Supernova who's leading the way here. The Girl Brigade that was in many ways founded by Evert, kept alive by Sabatini and came of age with Kournikova now calls Maria it's Queen. There are all kinds of multimedia-starring tennis teens out there right now (from Kirilenko to Ivanovic to Poutchkova), but Sharapova's the only one who's proven she has the staying power to perform all the extracurricular duties off the court and STILL be a champion on it. She's the real thing -- a star always, but a competitor first.

In 2006, she proved it all over again. In the course of one season, she went from a multi-slam SF loser to Sports Illustrated model to Roland Garros match choker to banana eater to U.S. Open champion and dominating force with increasing ease. Even though she experienced her share of bumps in the road last year, she never missed a beat and remained on course for her intended forceful takeover of the WTA tour.

Compared to twelve months ago, Sharapova is stronger and fitter, as well as a better mover on court and volleyer at the net. When she could have rested on her laurels and admired the trappings of fame, she instead set her mind on getting better. One slam was not enough for her.

Sharapova blew a 5-1 3rd set lead to Dinara Safina at Roland Garros in May, then lost on grass to Jamea Jackson in June. But she didn't lose confidance and waste time contemplating her navel, she bore down and went on a rampage in North America, starting a string of 19 straight match wins that included her "Exquisite in the City" run in Flushing Meadows. At the YEC, she had a shot to grab the season-ending #1 ranking. She didn't pull off the feat, but her second half march through the heart of the WTA tour could very well have been accompanied by that "duuhhhh-dum" music from "Jaws."

The Supernova is charging... and just about ready to surface.

As long as she emerges from Hong Kong unscathed, she'll arrive in Melbourne as the favorite to win her second straight slam title. She might not get it, but slam win #3 (and probably #4 and #5, too) aren't that far away. Anyone who doesn't feel that must be actively fighting against it. The possibility of a "Sharapova Scenario" with the Supernova dominating the tour (and the slams) for a 12-18 month stretch is definitely in the air, and somewhere over the course of the '07 season we might look up and realize "it" is already here as the Siberian-born soon-to-be 20-year old is racking up titles at an alarming rate... just like everyone thought she was capable of a few years ago when she "declared her intentions" at Wimbledon.

Everything Sharapova does, and everything she accomplishes, is just a little more important than if another player does the same, or slightly more. Case in point, in the recent Associated Press Female Athlete of the Year voting, she finished ahead of world #1/four-time slam finalist Henin-Hardenne, and just barely behind two-time slam winner Mauresmo. Obviously, all eyes are on Maria all the time... and she hasn't batted an eyelash at the pressure. Which means she's far from finishing what she started.

So, yeah... the world COULD very well be at her feet by the end of 2007.



IQ #4: So, Maria Will Make the Rivalry Date... but will Nicole?





While Sharapova is the star, Vaidisova is still the understudy. When her time to step up to a lead role on tour arrives, it'll likely be the result of a sneak attack along the lines of Sharapova's assault on SW19 in '04.

For a brief moment last year, it looked as if the 17-year old Czech might be ready to declare HER intentions by ascending at Roland Garros. Vaidisova upset Amelie Mauresmo in the Round of 16, and led Svetlana Kuznetsova 7-5/5-3 in the SF only to open the door to defeat by suddenly getting a case of nerves and backing off her previously stinging shots. At one moment, after having battled to 5-5 in a 2nd set tie-break, she had a wide open forehand down the line that would have given her a match point for her first grand slam final. She didn't take it, choosing to hit a risky flick-of-the-wrist crosscourt shot behind Kuznetsova. The ball sailed out, giving Kuznetsova a set point. Vaidisova never mentally let go of her blown opportunity, and the Dynamova's spotlight was extinguished 7-5/6-7/2-6.

She wasn't ready. Not yet. A year after winning three singles titles in small events, Vaidsova won just one while playing in larger events in '06. She was 1-6 in singles SF. She came a long way last year as far as developing some maturity and better controlling her sometimes-raging temper, but she still hasn't shortened the learning curve that will allow her to take a place next to Sharapova in the WTA hierarchy. Emotionally and decision-making wise, as Roland Garros showed, she's not quite there... yet. She can see the path she needs to take, but was too tentative to go down it when she first came upon the "yellow brick road." Next time, to fulfill her hoped-for destiny, she'll need to find the courage to do it.

Vaidisova did nothing last season that would dissuade anyone from thinking she WILL eventually do it, though. As much as her Roland Garros loss was symbolic of how close she was to advancing to the "big girl's table," her late-season win over Mauresmo (after being down 1-6/2-5 and surviving three match points, no less) and year-ending Top 10 ranking (by a single point over Dinara Safina) was just as much of a sign that she's moving along at her own pace, one step at a time.

Yes, Vaidisova is the "next big thing" in women's tennis... but she needs a little more seasoning and experience to be able to face off against Sharapova and have everyone sit up and take notice. If she's to fulfill her promise, 2007 will be an important year. She needn't crash the party and figuratively elbow Sharapova in the side, but she DOES need to develop a greater consistency and avoid taking a step back after being "this close" in '06.

Vaidisova is still on the verge of something special, but a season of discontent would put that still-new maturity to the test... and tennis history is littered with potential star players who couldn't deal with mounting adversity. (Think Daniela Hantuchova and Jelena Dokic, one who'll probably never quite climb as high as she once was, and the other one more bad season away from being written off for good... if that hasn't happened already.) Vaidisova may not have yet built the emotional foundation that will allow her to fight off a protracted string of disappointing results at age 17-18, so 2007 should be as much about maintaining her position as it is about taking that big leap that would instantly make her a worldwide star. Not that THAT couldn't happen this year, of course.

The sneak attack is ALWAYS possible... especially for a player so closely following in Sharapova's footsteps.

Meanwhile, the WTA wonders if 'ova vs. 'ova could one day stand up to Federer/Nadal in tennis terms, and Tiger/Phil when it comes to TV-friendly, everyone-take-a-side rivalries. By the end of the decade, most of the other current top players will be either gone or in the final stages of their careers. Will Maria and Nicole be the two left standing the tallest, and ready to butt heads on a continual basis on the game's biggest stages? 2006 gave us some tantalizing hints that this collision course is right on schedule, but Vaidisova wasn't quite ready to assume her role.

Thus, everyone waits, and hopes. And the search goes on for the next One who'll either challenge the Supernova, or eventually replace her, if Vaidisova turns out not to be able to hold up her end of this would-be bargain.

In other words, the tennis world can wait... just not for very long.

PREDICTION DART BOARD: Sharapova and Vaidisova will play at least two meaningful matches in '07, and Sharapova will win them all... Vaidisova will win two titles, one a Tier II for her biggest title yet... Vaidisova won't repeat her slam SF of '06... Sharapova will add to her career slam title tally (winning at least two), and will be named Female Athlete of the Year


All for now.

=============================

NEXT IQ: Can Justine & Amelie recapture the "magic"?