BACKSPIN TIME CAPSULE: 1990 Wimbledon, Pt.I
(second in a series)
World #1 Steffi Graf was experiencing growing pains (mostly thanks to her father's off-court legal and personal difficulties), and her streak of thirteen straight slam final appearances had just ended in the Wimbledon semifinals. A new force, 16-year old Roland Garros champion Monica Seles, was threatening to take the sport -- and Graf -- by storm. Chris Evert was less than a year into retirement. Gabriela Sabatini STILL hadn't won a grand slam title. And Jennifer Capriati, 14, was the talk of the tennis world.

Meanwhile, 33-year old Martina Navratilova was still plugging away, holding onto the #2 ranking and looking to claim another grand slam title in her epic career, not to mention a record ninth Wimbledon singles championship, against first-time slam finalist Zina Garrison.

Let's flip the switch and travel back in time, as I saw it back in July 1990...



"All Hail the New (and Old) Queen of Centre Court" (July 1990)

Okay, now everyone out there who one year ago believed that at the the conclusion of the 1990 Wimbledon the women's tennis tour would be littered with teeny-boppers who were giving a serious run at the number one player in the world, raise your hand.

Okay, now everyone who thought that if one of two players other than Steffi Graf were to win the U.S. Open in September, either would move past the West German to #1 raise your other hand.

Okay, now for the real kicker. Everyone who thought that Graf would lose three straight tournaments, miss time with a broken finger, suffer sinus troubles, battle tabloid stories about her father, miss a grand slam final for the first time in fourteen tries, talk of early retirement AND that a 33-year old and a 16-year old would be those two who could surpass her do a back flip and recite the Gettysburg address while lighting up the American flag.

(No movement.)

Aha, just as I suspected.

Well, believe it or not, all of that has happened in the space of just one little year. Graf is far from lonely at the top (at least not competitively) -- and this Wimbledon final made her tiny room just a little bit more crowded. In an all-U.S. final (the first since 1985) and an all-Texas loving final (I think I can go out on a limb and say the first ever), 33-year old Martina Navratilova defeated 26-year old Zina Garrison 6-4/6-1 to become the first nine-time Wimbledon singles winner ever (surpassing Helen Wills-Moody's eight) and the oldest since 35-year old Dorothea Douglass Lambert Chambers in 1914.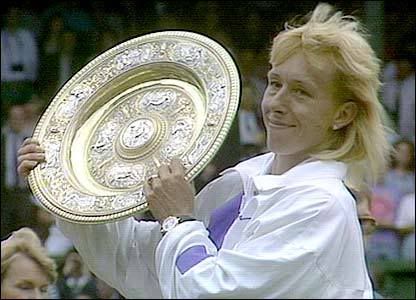 Martina... to the nines



Where as Navratilova was an old hand at this gig (nine straight Wimbledon finals, and eleven total), Garrison was a virtual kindergartner in her first grand slam final in singles. Garrison overcame #1 Graf and that 16-year old, #3 Monica Seles in the semis and quarters, respectively, to gain the opportunity to become the first black woman to win this title since Althea Gibson (present at the final) in 1957-58 -- and do it as the lowest seed to reach the final (#5) since 1962. She made the semis here in 1985, but has always failed to live up to expectations as nerves (she cried throughout a match versus Virginia Wade in 1984, lost many close matches and was more upset at defeating Chris Evert in her last U.S. Open than Evert was at losing) combined with her mother's death and a battle with bulimia held her back from reaching the top. But this self-described "old person" has come a long way since her days at MacGregor Park in Houston. She recently married and, I must say, it seems to have done wonders for her game. (Maybe Martina's clothing line helped out a bit, too, since she lost just when she stopped wearing it here.)

Navratilova came into this final knowing that this was the best possible scenario for her ninth title. With Graf gone, her major foe was no longer able to be a thorn in her side (she defeated Navratilova in the last two Wimbledon finals). And even though some may say that the title is tarnished with Graf's absence, it goes down as a win -- and that's what counts. Anyway, who's to say she wouldn't have beaten Graf? Martina's certainly more mentally strong now, fourteen months after she began working with Billie Jean King in an attempt to return to the top (as if #2 wasn't at the top). Her play in this final didn't show much weakness, and her entire tournament went by without a loss of a set (the fourth time she's done that).

Garrison took the first five points of the match, but when Navratilova overcame a break point to go to 1-1 in the 1st set the door of opportunity for Garrison was promptly slammed into her face. Martina had a first serve percentage of 77% and took the opener 6-4.

The 2nd set saw Navratilova finally break Garrison on the fifth break point of a seven-deuce game to go up 2-1, and she never looked back as she breezed to a 6-1 final set triumph. She committed just nine unforced errors in the match and became the first non-#1 seed to win Wimbledon since Evonne Goolagong in 1980. The new (and old, in more ways than one) champ pulled a Casher (a Pat Cash-er, that is), too, as she ran into the stands (much easier than Cash, by the way) to hug her friends and supporters -- a sight that over the past two years seemed to be something that we would never be able to see again.

Navratilova, now with 17 Wimbledon titles (second to King's 20) to her credit, has expressed in the past an affinity with the number nine. Well, this record-smashing win certainly provided a great number of them. It's her ninth title, she did it as age 33 (3 X 3 = 9), she is now 99-9 in her career at Wimbledon, it was her 29th match versus Garrison, it is 1990, and it's her 18th grand slam title and 18th career Wimbledon appearance (multiples of nine). To the nines, as it should be.

While Garrison has now positioned herself as yet another challenger on the tour, Navratilova has positioned herself in a far grander way. This match was televised in her native Czechoslovakia as she is now not classified as a "non-person" after her defection in the 1970's. Finally, her birth country can take full pride in the accomplishments of this magnificent athlete.

Navratilova amazes us at age 33 much the same way Nolan Ryan has by pitching a no-hitter at age 43. No matter the age, she is still at the top of her game. She could be "officially" the best again in the current tense with a win at Flushing Meadows, but she is far greater than that in the sense of overall history.

Let's go ahead and say it. Martina Navratilova is the best women's tennis player. Ever. She says she's going for double-digits and who is to argue with her? Not I.

God save the Queen.



=1990 NOTES=


...Steffi Graf missed the final of a tournament for the third time in 43 events, missed her first grand slam final since 1986, and may be in serious danger of losing the #1 ranking she has held since August 1987.

...Monica Seles' winning streak ended at seven tournaments and 36 matches, and five million grunts.

...Gabriela Sabatini, 20, changed coaches four days before Wimbledon and has been seeking help from a sports psychologist. It must have worked. The shy Argentine reached the semis here for the first time since she did it as a 16-year old in 1986, and showed a new volley game in her match versus Navratilova.

...Jana Novotna, 21, continued to show improvement as she followed up her French Open semifinal performance by reaching the quarters at Wimbledon.

...Hana Mandlikova, 28, ended her 13-year singles career with a 2nd Round loss.

...Jennifer Capriati, 14, continued to add "The Youngest to..." titles to her list of achievements as she reached the Round of 16 and lost to Graf. Making her Centre Court debut in her first pro match at Wimbledon is quite a feat, as is her attitude in the face of all the publicity that has followed her all year. Capriati, who attended a Prince and Rolling Stones concert after she was ousted, said this when asked if she could catch up to Graf: "Well, I mean, I don't know. I don't think she's ever going to change. Unless I improve -- which I hope I do, which I think I will, maybe. I could do better, but, I mean, she was just great. I got to see her forehand. I finally got to hit against it. Now I know why they call it THE forehand. I really hope I improve next year and maybe do better. But I think she had a lot of experience out there. Maybe, you know, I will gain some experience, too."

...'Nuff said.







*ALL-TIME WIMBLEDON LADIES CHAMPIONS*




[title span]


9...Martina Navratilova, 1978-90
8...Helen Wills Moody, 1927-38
7...Dorothea Douglass Lambert Chambers, 1903-14
7...Steffi Graf, 1988-96



So much was changing in women's tennis in 1990.

Steffi Graf's title-less streak would eventually reach five slams. Meanwhile, after losing in the 3rd Round at the U.S. Open later that summer, Monica Seles would win seven of the next eight slams in which she took part. Graf held onto the #1 ranking at the end of '90, but Seles was breathing down her neck. The Yugoslav finally rose to the top spot in March '91, ending Graf's record 186 straight week reign. Seles held the #1 ranking for 21 weeks. Then, in September, she replaced Graf as #1 once again, holding the position for 91 straight weeks until June '93, two months after she was stabbed in the back by an unbalanced Graf fan during a changeover at a tournament in Hamburg.

Graf re-claimed the #1 ranking, just as her "fan" has hoped. Seles didn't play in a grand slam again until the 1995 U.S. Open, and won just one slam singles crown the rest of her career.

Even before Seles' career path was altered, Graf had inherited the role of Wimbledon Queen from Navratilova. She won titles there in 1991-93, and five of six years (the last in' 96) after Navratilova's '90 triumph. She ended up with seven Wimbledon titles in her career, two less than Navratilova. After the '90 Wimbledon, Graf would go on to win 13 more slam titles in her career, the last at Roland Garros in '99.

The first African-American women's grand slam champion since Althea Gibson turned out to be Serena Williams at the U.S. Open in 1999, soon followed by sister Venus Williams at Wimbledon in 2000.

Garrison finished 1990 ranked #10, but her career never again reached the heights it did at Wimbledon that year (she also won the Mixed Doubles title with Rick Leach). She won four WTA singles titles after Wimbledon '90, the last coming in Birmingham in '95. She played Navratilova five more times in her career, losing each time and finishing with a career mark of 1-33 against Martina. Garrison went on to become the U.S. Fed Cup team captain.

The disappointing Sabatini would finally win her first and only grand slam title at the U.S. Open in the summer of 1990, defeating Graf in the final.

Less than a year before her '90 Wimbledon triumph, Navratilova's former Czechoslovakian homeland had undergone great change during the "Velvet Revolution" of 1989. After having played in the country for the first time in more than a decade in Fed Cup action in 1986, she didn't return again until 2006 in a tournament in which she played doubles with Barbora Strycova. Earlier this year, Navratilova regained the Czech citizenship she forfeited when she defected in 1975 (and became a U.S. citizen in 1981).

Navratilova finished the 1990 season ranked #3, and remained a Top 5 player until '93 and a Top 10er in '94. She reached the Wimbledon QF in '91, the SF in '92-'93, and one more final in '94 (losing to Conchita Martinez). She retired from singles that season, but continued to play doubles from 1995-96 before retiring and not playing at all between 1997-99. She returned to the tour in doubles in 2000 (and even played some singles in 2002, '04-'05, becoming the oldest woman to win a WTA singles match, and played in the Wimbledon main draw in '04 at age 47). She claimed twelve doubles titles from 2002-06, including her King-tying 20th Wimbledon title in '03 when she won Mixed Doubles with Leander Paes.

Navratilova retired for good after winning the '06 U.S. Open Mixed Doubles with Bob Bryan at age 49, less than two months before her 50th birthday. Needless to say, she's the oldest grand slam title winner ever.

The '90 Wimbledon was Navratilova's final slam singles title, bringing her career total to 18, equal to career-long rival Chris Evert, behind Margaret Court-Smith's 24 and Graf's 22 (11 of which were won after Seles' stabbing).

The next few years will determine how long Navratilova's historic Wimbledon singles mark will hold up. Graf was never able to match her nine titles there, coming up two short. The one-in-a-generation threat continues. As Steffi followed Martina, Venus has followed Graf. If Navratilova had salted away #10 in '94, it would be difficult to fathom she would ever be caught. But Williams has an outside shot, as she's currently at four titles (and counting).

Navratilova's mark has lasted eighteen years, and is probably safe from being matched for at least another five-to-seven years even in the most optimistic career outlook for Venus at Wimbledon. That would make Martina's mark a quarter-century old. If Williams fails to catch her, it could be stretched to a half-century or longer before Wimbledon's greatest champions from the next two-to-three tennis generations take their shots. But with the improving depth of the women's game, and the absence of much grass court expertise on tour, the chance that one post-Venus player will be able to rack up Wimbledon titles as Navratilova did becomes tougher and tougher all the time. Of course, there could always be that ONE truly special player who can do it... but they're few and far between.

It could be that Martina's Wimbledon record will NEVER be broken. What better tribute could there be to the greatest women's tennis player (and maybe greatest female athlete) who ever lived?

All for now.

LATER THIS WEEK:
1990 Wimbledon (Edberg vs. Becker)
NEXT UP:
1991 U.S. Open - Connors' Magical Trip to New York
PREVIOUS TIME CAPSULES:
1987 Roland Garros (Graf)