Deconstructing Federer
After years of picking apart his opponents' games, turning grand slam finals into a man-vs.-boy exhibition (
ask Lleyton Hewitt about that U.S. Open final in '04
) and generally coming THIS CLOSE to completely humiliating some of the best players in the world, Roger Federer learned how "the other half" has often lived in his large shadow in Sunday's Roland Garros singles final.
Not surprisingly, it was the indomitable Rafael Nadal who taught him this lesson in an awesome display of tennis dominance that the four-time RG champion has possibly never exhibited before and likely never will again.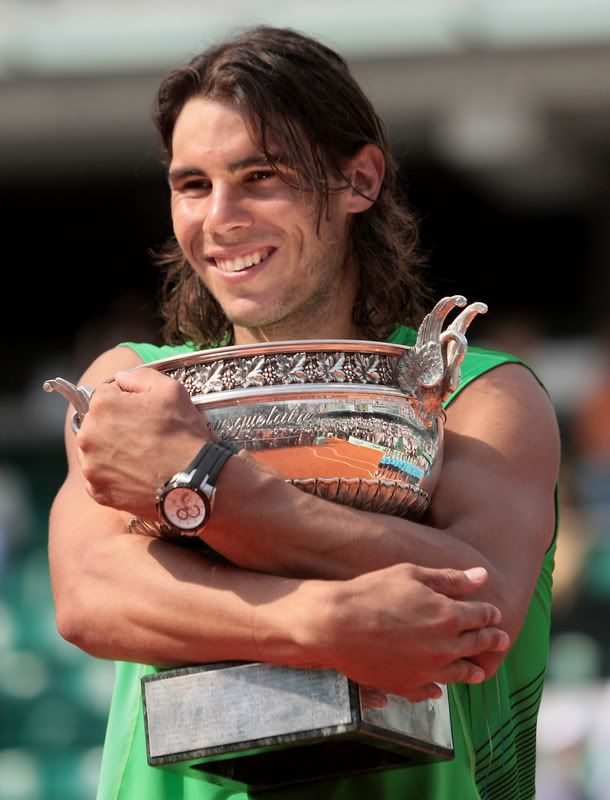 JACQUES DEMARTHON/AFP/Getty Images
But, then again, we are talking about Rafa and Roland Garros, so who knows?


Nadal and Federer met in Paris for the sixth time at a slam, for the fifth time in a slam final and for the fourth straight year at Roland Garros. Not surprising, considering the two have now won fourteen of the last sixteen grand slam titles. But the superior form Nadal had shown over the past two weeks, for maybe the first time ever, caused there to be very little support for Federer's chances to emerge with a victory to complete a career Grand Slam, not even with Bjorn Borg publicly stating that he'd deem the Swiss Mister "the best player ever" if he were to do so (and prevent Nadal from matching the Swede's record four straight RG titles... hmmm, can you say, "ulterior motive?").

Long shots might have been in style this sports weekend, but Federer was hardly up to playing the Da'Tara role to Nadal's Big Brown... err, I mean Secretariat.

Federer essentially had one shot in each of the first two sets to potentially make a match of things, but no more. After he was broken in the first game of the match, he managed to get a break point with a chance to even the set in the early going. He didn't convert, and Nadal proceeded to blow him off the court in shocking fashion by a 6-1 score. By the time the score was 2-0 Rafa in the 2nd set, he'd put together an incredible run of winning twenty-four of twenty-seven points as he answered everything that a hardly-recognizable Federer had to offer with perfect shot after perfect shot.

In the 2nd set, Federer earned another break point on Nadal's serve at 3-3. He failed to grab an advantage in a long rally... and never won another game. For the rest of the ENTIRE match. Nadal swept the final nine games, winning 6-1/6-3/6-0. After having bageled opponents in six sets in grand slam final play during his career, Federer was on the receiving end of the ignominy for the first time.

But it didn't end there.

Federer faced a break point on ten of his eleven service games. With just four games to his name, it was Federer's worst loss in 173 grand slam matches. And the twenty-two total games in the match were the fewest in a Roland Garros final since 1977.

Meanwhile, Nadal committed just seven unforced errors for the entire match (Federer had 35), and finished up the tournament without losing a set. It's just the seventh time it's been done in grand slam competition during the Open Era, only the second time in the last twenty-eight years (Federer - '07 Australian), and the first time at Roland Garros since Borg in 1980. Speaking again of Borg, Nadal now stands just two behind his Open Era RG title record of six. With a 41-0 career record on clay in best-of-five-set matches, and a perfect 28-0 in Paris, Nadal might just be able to catch the Swede before he even loses his first-EVER match at Roland Garros.

Of course, Rafa being Rafa, he displayed no need to lord his brilliance over Federer's head on this day. During the post match ceremony, he said, "Roger, I'm sorry for the final." And you could actually believe the Spaniard meant it, and would savor the chance to win a classic battle with Federer on the clay (probably more so than Roger would want to be stretched to the limit by Nadal at Wimbledon, at least).

So, Federer's seemingly star-crossed quest to win in Paris continues after being thuddingly thwarted in '08, even as he'd seemed to be moving in the right direction heading into Roland Garros. He hired Jose Higueras as a coach, won the first tournament he played while working with him, then played Nadal tightly in two matches in Monte Carlo and Hamburg. But, still, in Paris it didn't matter. Nadal was healthy and slightly more rested coming into this event than in past seasons, and it seemed to do him much good. As great as he'd been during his three previous title runs, he was remarkably (and definitively) even better this time around.

So, the question remains whether Federer will EVER win in Paris and complete his career mastery of all four slams. Can he ever solve the Nadal riddle at Roland Garros? Maybe, but it'll take much work, and even while he's still at the top of the sport, nearly 27-year old Federer's "best years" have probably already passed. Certainly, as today showed, he can sometimes be handled and unable to get his game together on his worst days, something which never occurred a few seasons ago. Maybe he'll be able to stick around long enough to take advantage of the 22-year old Nadal's eventual decline. It'll happen eventually, but will Federer be able to still be the second or third best clay court player on earth as he reaches age 30? Could he stick around long enough to mount one final charge in Paris as a "grizzled veteran" of say, age 33 or 34, ala Andre Agassi in his later years? If so, that would be one dramatic final chapter, huh?

Call it, "Indiana Federer and the Search for the Secret of the Terre Battue."

What shouldn't be lost in the results of Paris and Nadal's clay court mastery, though, is that Federer is still a major force to be reckoned with. He trails Nadal 11-6 in career head-to-head meetings, but that's largely because they've played nine times on clay with Nadal winning eight times. Federer is good enough on his worst surface to still survive long enough to meet Nadal in clay finals, while Nadal hasn't been able to say the same in hard court events (though he has reached the Wimbledon final on grass two years running). Federer leads 5-2 in career matches on those two surfaces.

Which leads us to the All-England Club, and where Federer's season REALLY begins. Federer has won just one title so far in 2008, while Nadal has four and Novak Djokovic three. Those numbers should tighten up as the world #1 plays tournaments on more favorable surfaces, but he WILL be challenged at the Wimbledon and U.S. Open this time around. SW19 is HIS Roland Garros (he's won 54 straight matches on grass going back to 2003), but Nadal has shown vast improvement on grass the past two seasons. He stretched Federer to five sets in the Wimbledon final a year ago, and he's certainly closer to winning in London than Federer is in Paris.

As things stand, Federer is STILL the best player in the world... until further notice. But that could change in a month. If Nadal can manage to knock off King Roger on his "home turf," the Spaniard will officially cease to be "The Sorcerer's Apprentice."

Today, Nadal was indomitable... but he's on the brink of what dreams are made of.



=DAY 15 NOTES=
...BOG-... umm, HALEP WATCH: #10-seed Elena Bogdan didn't claim the Girls title, but #9-seed Simona Halep did in a 6-4/6-7/6-2 final over her fellow Romanian. Finally, the Swarm has a champion to call their own.

...in the Boys final, the runners-up from the last two grand slam junior competitions, Poland's Jerzy Janowicz ('07 US Boys RU) and Taiwan's Yang Tsung-Hua ('08 Oz Boys RU), met to determine who'd finally take home a title. In the end, it was Yang who emerged victorious by a 6-3/7-6 score.

...and finally, Nadal's RG title means the last three men's slam titles have been won by three different people for the first time since 2004-05, when Federer (US Open), Marat Safin (Australian Open) and Nadal (Roland Garros) divided up three straight majors.





*MOST CONSECUTIVE ROLAND GARROS TITLES*




[since 1925]


4...Bjorn Borg, 1978-81
4...RAFAEL NADAL, 2005-08


[before 1925]


4...P.Ayme, 1897-1900
3...A.Vacherot, 1894-96
3...Max Decugis, 1907-09
3...Max Decugis, 1912-14



*MOST ROLAND GARROS TITLES - ALL-TIME*


8...Max Decugis
6...Bjorn Borg
5...Henri Cochet
5...A.Vacherot
4...RAFAEL NADAL
4...P.Ayme



*NADAL vs. FEDERER - SURFACE HEAD-TO-HEAD*


Hard court - Federer leads 3-2
Grass court - Federer leads 2-0
Clay court - Nadal leads 9-1
Carpet - never played



*WON SLAM WITHOUT LOSING A SET - OPEN ERA*


1971 Australian Open - Ken Rosewall
1973 Roland Garros - Ilie Nastase
1976 Wimbledon - Bjorn Borg
1978 Roland Garros - Bjorn Borg
1980 Roland Garros - Bjorn Borg
2007 Australian Open - Roger Federer
2008 Roland Garros - Rafael Nadal



*RECENT RG BOYS CHAMPIONS*


1998 Fernando Gonzalez
1999 Guillermo Coria
2000 Paul-Henri Mathieu
2001 Carlos Cuadrado
2002 Richard Gasquet
2003 Stanislas Wawrinka
2004 Gael Monfils
2005 Marin Cilic
2006 Martin Klizan
2007 Uladzimir Ignatik
2008 Yang Tsung-Hua



TOP QUALIFIERS:
Maria Jose Martinez Sanchez/ESP & Yanina Wickmayer/BEL
TOP EARLY ROUND (1r-2r):
Ana Ivanovic/SRB
TOP MIDDLE-ROUND (3r-QF):
Ana Ivanovic/SRB
TOP LATE ROUND (SF-F):
Ana Ivanovic/SRB
TOP EARLY RD. MATCH (1r-2r):
1st- Sharapova d. Rodina 6-1/3-6/8-6
TOP MIDDLE-RD. MATCH (3r-QF):
4th- Safina d. Sharapova 6-7/7-6/6-2 [Shar. 2 MP]
TOP LATE RD. MATCH (SF-F):
SF- Ivanovic d. Jankovic 6-4/3-6/6-4
=============================
FIRST SEED OUT:
#15 Nicole Vaidisova/CZE (1st-Benesova)
UPSET QUEENS:
The Czechs
REVELATION LADIES:
The Czechs
LAST QUALIFIER STANDING:
Carla Suarez-Navarro/ESP (QF)
IT GIRL:
Dinara Safina/RUS
MADEMOISELLE OPPORTUNITY:
Ana Ivanovic/SRB
COMEBACK PLAYER:
Elena Dementieva/RUS
CRASH & BURN:
Serena Williams/USA (3r- lost to Srebotnik)
ZOMBIE QUEENS:
Maria Sharapova/RUS [2 pts from 1st Rd. loss]
Dinara Safina/RUS [came back from 2 MP down in both 4th Rd. & QF]
LAST PASTRIES STANDING:
Alize Cornet & Emilie Loit (both 3rd Rd.)
DOUBLES STARS
Anabel Medina-Garrigues & Virginia Ruano-Pascual, ESP/ESP
JUNIOR BREAKOUTS:
Simona Halep/ROU & Elena Bogdan/ROU



All for now.



TOMORROW:
Odds & Ends (Ms. Backspin POY Update, Grasscourt Preview & Week 24 picks)