Wk.17- Sigmund, Justine & Me
True Story:

Two weeks ago, I had a dream. I was sitting in a large college lecture hall just before the start of class. I looked around, and who did I see sitting in the front row? Why, Justine Henin, of course. The professor was informing everyone about a change of plans -- that the previous writing assignment was being scrapped, and that a new one was going to be delivered in an oral presentation TODAY, without any prior warning or preparation. As I racked my brain thinking of something to do, including considering finding someone to run into the classroom from the hallway and physically "attack" me as I spoke (don't ask me exactly WHAT kind of assignment/performance art this was supposed to be, nor why that particular idea sprung to mind), I realized that I feared I wasn't going to be prepared when my turn arrived. It was at that moment that I glanced in Henin's direction. I was immediatly struck by how unworried SHE appeared to be. She was laughing and talking with the person next to her, even as the student just to their left was being called to the front of the room to "dazzle" our fellow students. "What was her secret?," I wondered. Moments later, when her turn came up, Henin casually walked to the piano setting in the front of the class. She sat down and started to play, then began to sing a beautiful song as if such an awe-inspiring moment was second nature to her. Once she finished, a big smile appeared on her face.
That's when I woke up. Ever since then, I've been trying to figure out the meaning of my trippy little early-morning moment. Was my inner Backspinner telling me that I was crazy to wonder/worry that Henin might be a shadow of her former self in Paris come late May? Were the Tennis Angels sending me a message? Was the Belgian Barbie trying to telepathically screw with my head? Then, wouldn't you know it, Henin broke her left pinky, and lost a Fed Cup match to Kaia Kanepi. Less than a week later, a new "Nightmare on Elm Street" movie opened starring the latest version of the fabled movie villain who kills people in their dreams. Coincidence? Probably, I surmised...
buy maybe not, I considered.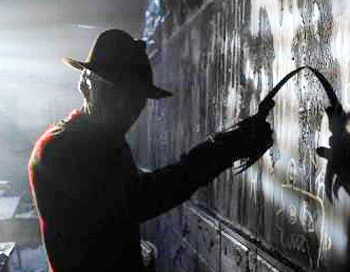 But on Sunday, Henin met Samantha Stosur, who entered as the hottest clay court player (
not named Rafa
) in the world, in the Stuttgart final. A few hours later, everything was much more clear.
I've filled this space in recent weeks with lots of talk (
gobbledygook?
) about who could possibly rise to the occasion in Paris should Henin 2.0 not yet be up to the task of reasumming the original's previous spot on the Roland Garros throne. First, it was Caroline Wozniacki who struck my fancy. Then I considered Stosur. In the background, I yearned to give the nod to Serena Williams and a potential quest for a true Grand Slam.
Ummm, trash all that.
With the reassertion of Henin's clay court comfortability with her 6-4/2-6/6-1 win over Stosur in Germany for her first LPT 2.0 title, all that blah-blah-blah about multiple birds in the bush possibly being worth more than the knowledge already in hand might just have been utter nonsense.
A Petit Taureau in the hand is STILL worth considerably more than however many birds are in that thorny bush.
The odds are still pretty good that Henin, the best clay courter in women's tennis over the last quarter-century, will once again hoist the Coupe Suzanne Lenglen come June.
We're still three weeks away from the start of play in Paris, but a year ago Stuttgart surely gave us a hint of what was to come. In 2009, the big-time EuroClay season opened with Svetlana Kuznetsova defeating Dinara Safina in a final. Guess how it ended less than a month and a half later. Might this first-ever Henin vs. Stosur tilt turn out to simply be the first of a spring series? Maybe.
Of course, others MIGHT have a say. Such as a certain Serb who prays nightly to the Draw Gods that she never sees Henin in her path again. Or a sore-ankled Dane whose continued weekly sojourns to the court makes one wonder what's rotten in the scheduling state of Denmark. And then there's at least one half of a pair of Sisters who return to action in Rome this week. Anything COULD happen in France. But, as of today, I'm thinking that it probably won't.
Not that interpreting one's dreams is ever a sure-fire prognosticator for sporting events (
I mean, I didn't dream about making the two winning Kentucky Derby bets I pulled off on Saturday... thank you, Super Saver and Ice Box
), but I sense that something has fallen into place. The 2010 clay court puzzle's corner piece appears to have been found...
right where we left it three years ago.
Truth:
But that's for Sigmund Freud to know for sure, and the rest of us to find out next month in Paris.
*WEEK 17 CHAMPIONS*



STUTTGART, GERMANY (Premier $700K/red clay/indoor final)


S: Justine Henin def. Samantha Stosur 6-4/2-6/6-1
D: Dulko/Pennetta d. Peschke/Srebotnik



FES, MOROCCO (Int'l $220K/red clay outdoor)


S: Iveta Benesova def. Simona Halep 6-4/6-2
D: Benesoav/Medina-Garrigues d. Hradecka/Voracova

PLAYER OF THE WEEK: Justine Henin/BEL
...
career title #42, behind only Venus Williams amongst active players (
as well as being a single crown behind Venus and Monica Seles' shared Top 10 all-time WTA career total of 43
) came with a string of impressive victories over Julia Goerges, Yanina Wickmayer, Jelena Jankovic and Shahar Peer before the decisive 3rd set put-away of Stosur in the final. Consistency's name, for the most part, was once again "Justine." Back in the Top 20 at #19, and sparked by a brilliant 3rd set against Stosur that was the more aggressive LPT 2.0 (
which even seemed to manage to open up a small crack in the Aussie's psyche with one double-fault on break point
) at it's finest, she's going to be an even bigger headache for a Top 8 seed in Paris than she was for Elena Dementieva in Melbourne.
=============================
RISERS: Samantha Stosur/AUS & Gisela Dulko/Flavia Pennetta, ARG/ITA
...
even with the loss to Henin, Stosur ran her clay court match-winning streak to eleven and consecutive finals appearances to two before she left Germany. Wins over Marion Bartoli (
2 & 1
) and Li Na provided some early-week confidence, no doubt helping considerably to produce the new career-high rank of #8 that the Aussie enjoyed this morning. Meanwhile, Dulko & Pennetta followed up their hard court Miami title with a red clay one in Stuttgart, the fifth tour doubles crown for the pair. With Black/Huber on the outs, and Paris being the Sisters' least successful slam (
not to mention lingering pre-tournament injuries possibly making them reconsider their doubles participation
), SOMEONE new might be able to have a grand time in France. Why not these two?
=============================
SURPRISE: Anna Lapushchenkova/RUS
...
a few weeks ago, the Russian won three ITF titles over a five-week span, but it was her surprise SF run in Stuttgart that now serves as her career highlight. After making it through qualifying, A-Lap notched impressive wins over Olga Govortsova (
a tour finalist this season
), Victoria Azarenka (
still holding onto a Top 10 ranking, though by he skin of her Belarusian teeth at this point
) and Lucie Safarova (
a roll-the-dice sort who was coming off a win over #1-seeded C-Woz
). The Hordette with the Connors-like groundstrokes whose flatness always seemed to threaten to cause the ballt to skip off the top of the net, had a chance to make things interesting against Stosur in the SF, too, before her serve (
and maybe her nerves
) turned against her one match before the final.
=============================
COMEBACKS: Alize Cornet/FRA & Michaella Krajicek/NED
...
the fortunes of a pair of former junior slam champions are stirring again. Maybe Cornet's successful teaming with Julie Coin in France's deciding World Group Playoff doubles match DID help her sagging confidence. In Fes, not only did Cornet & Coin reach the doubles SF, but Cornet knocked of Petra Martic, Arantxa Parra-Santonja and Anne Keothavong to reach her first singles SF since last July in Bad Gastein (
which was her only SF-or-better result in '09 after her six SF/2 Final/1 title breakthrough season in '08
). Might she take another step this week in Estoril? Meanwhile, Krajicek has quietly been rebuilding her career over the past year after some pretty disasterous results after she won a tour title in '06 and reached the Top 30 in '07, then fell out of the Top 200 while riding the dangerous currents of a flood of defeats in '08. Earlier this year, Krajicek made it through qualifying in Melbourne, and won a doubles title with Vania King (
Memphis, then RU in Charleston
). Over the weekend, she won the $50K challenger in Charlottesville, Virginia with wins over Lilia Osterloh, Arina Rodionova and Laura Siegemund in the final.
=============================
VETERANS: Iveta Benesova/CZE & Renata Voracova/CZE
...
the Maidens, both veteran and fresh faced, have given the formerly-dominant Czech tennis establishment a shot in the arm in 2010. In Fes, Benesova won her first tour singles title in six years (
Acapulco '04
), knocking off the likes of Alize Cornet and then Simona Halep in the final along the way to her second career title. She won the doubles, too, joining Serena (
Oz
) as the only single event title-sweepers so far this season. Voracova, a two-time challenger titlist in' 10, reached her first career tour SF in the same Fes tournament, notching victories over Melinda Czink, Katie O'Brien and Angelique Kerber, and has moved into the Top 100 for the first time in her career.
=============================
FRESH FACES: Simona Halep/ROU & Bopana Jovanovski/SRB
...
Halep qualified in Fes, then advanced all the way to her first career tour final with wins over Lucie Hradecka, Olga Savchuk, Patty Schnyder and Voracova. Along with Sofia Arvidsson (
Memphis
), Halep is the second qualifier to reach a tour final this season. While AnaIvo's star continues to dim, at least Serbian tennis fans can keep a watchful eye on Jovanovski. A week after getting a win over Magdalena Rybarikova to keep Serbia's hopes alive in the Fed Cup World Group Playoffs (
alas, it proved to be for nothing
), the teen notched a win over Barbora Zahlavova-Strycova in Fes, then made it through Rome qualifying by defeating vets Nuria Llagostera-Vives and Alicia Molik. She lost in the 1st Round today to Yaroslava Shvedova.
=============================
DOWN: Svetlana Kuznetsova/RUS & Cara Black/Liezel Huber, ZIM/USA
...
seeing that Kuznetsova was just coming back from her shoulder injury last week in Stuttgart, I was going to go with Victoria Azarenka here. Kuznetsova got a win over Katarina Srebotnik in Germany, then lost to Li Na in the 2nd Round. But once she publicly complained about people criticizing her tennis, then went out and lost to Maria Kirilenko today in Rome (
while Azarenka, an early loser to A-Lap in Stuttgart, won a Rome 1st Rounder over Sesil Kartantcheva
), she inched "ahead." Looks like the Contessova is right on schedule to pick up her third career slam title in 2014. In other news, Huber confirmed the news that many were expecting after she mysteriously played doubles with Nadia Petrova two weeks ago -- her solid partnership with Cara Black is now a thing of the past. In Stuttgart, Huber played with Jankovic. The pair reached the QF, while Black and Shahar Peer were one better with a SF result. This week in Rome, Huber is back with Petrova, and don't be surprised to see title #2 from THAT pair this weekend.
=============================
ITF PLAYER: Kaia Kanepi/EST
...
a week after her upset of Henin in Fed Cup play, Kanepi claimed a $100K challenger in Cagnes-Sur-Mer, France with a victory in the final over Masa Zec-Peskiric. She got additional wins over Lourdes Dominguez-Lino, Anastasiya Sevastova (
who just defeated Agnes Szavay is Estoril
), Maria Elena Camerin (
a winner over Zheng in Rome on Sunday
) and Mariya Koryttseva.
=============================
JUNIOR STAR: Karolina Pliskova/CZE
...
18-year old Pliskova, the Girls champ at the Australian Open a few months ago, won her fourth career ITF crown over the weekend in the $50K challenger in Gifu, Japan. She defeated China's Sun Sheng-Nan 6-3/3-6/6-3 in the final, but the most interesting of her matches probably came in the semifinals --
where she knocked off twin sister Kristyna by a 6-3/6-2 score.
=============================

1. Stutt Final - Henin d. Stosur
...6-4/2-6/6-1.
Gefore this final, which ended up being played indoors under the closed stadium roof in Stuttgart, three different Belgians had never won WTA singles titles in the same season. Now they have.
=============================
2. Stutt QF - Henin d. Jankovic
...3-6/7-6/6-3.
As usual, JJ looked like a potential winner against Henin. For a while. The last time Jankovic lost ten straight, she considered retirement. Though, to be fair, THOSE ten lost matches were all in a row against all sorts of different opponents.
=============================
3. Stutt 2nd Rd - Li d. Kuznetsova 6-3/7-5
Stutt QF - Peer d. Safina 6-3/6-3
...
what a difference a year makes for 2009's Stuttgart and Rome (
and RG
) finalists. Peer is now tied with Henin for the most semifinals (
four
) on tour this season.
=============================
4. Fes Final - Benesova d. Halep
...6-4/6-2.
Even with this loss, it must be heartening to know now that Fes will lead the list of Google search items about Halep rather than stories about her breast reduction surgery from last year.
=============================
5. Stutt 1st Rd - A.Radwanska d. Ivanovic
...7-6/6-4.
And Snezana lets out a (
not-so-silent
) whoop while sipping some coffee in a cafe?
=============================
6. Stutt 1st Rd - Lapushchenkova d. Govortsova
...6-4/6-1.
Times have been tough for Govortsova ever since she blew that 4-1 2nd set lead (
with two set points
) against Wozniacki in the Ponte Vedra Beach final a few weeks ago. She's gone 0-3 since, with one retirement and a 1st Round loss today in Rome to Lucie Safarova.
=============================
7. Stutt 2nd Rd - Safarova d. Wozniacki
...6-4/6-4.
Speaking of Wozniacki and Safarova. Apparently, Caroline doesn't know that the phrases "much-needed rest" and "sore injured ankle" should probably have meant she'd been better off spending a few extra days in Rome.
=============================
8. USA Wild Card Playoff Final - Christina McHale d. Beatrice Capra
...3-6/6-3/6-2.
McHale's entrance into the Roland Garros main draw is now secure.
=============================
9. Stutt SF - Stosur d. Lapushchenkova
...7-5/6-3.
With her own serve getting the best of her, the Russian squandered a 4-1 lead in the opening stanza, and failed to put away the set after serving at 5-2.
=============================
10. Rome 1st Rd - Kvitova d. Zvonareva 6-4/6-0
Rome 1st Rd - Mattek-Sands d. Oudin 6-1/6-3
...
Hmm, maybe Vera isn't going to be a threat in Paris, after all. On the other hand, maybe her Fed Cup heroics have stoked enough confidence in Mattek-Sands to make HER a dangerous early/middle-round slam opponent over the rest of the spring/summer.
=============================
HM- Stutt 2nd Rd - Henin d. Wickmayer
...6-3/7-5.
Henin led 5-1 in the 2nd, and twice failed to serve out the match as Wickmayer knotted things at 5-5. But, as has been the case on more than one occasion with the younger Belgian in '10, she wasn't up to taking down a fabled countrywoman. Remember, Henin also ended Wickmayer's twelve-match winning streak when they met up in Melbourne.
=============================

**ALL-TIME WTA TITLES**
167...Martina Navratilova
154...Chris Evert
107...Steffi Graf
92...Margaret Smith-Court
68...Evonne Goolagong-Cawley
67...Billie Jean King
55...Lindsay Davenport
55...Virginia Wade
53...Monica Seles
43...VENUS WILLIAMS
43...Martina Hingis
42...JUSTINE HENIN
**LONG 2010 WIN STREAKS**
15...Venus Williams, February-April (ended vs. Barbie, Miami Final)
11...Yanina Wickmayer, January (ended vs. Henin, AO 4th Rd) #
11...Samantha Stosur, April-May (ended vs. Henin, Stuttgart Final)
-
# - one additional win to end '09
**2010 SINGLES/DOUBLES TITLE SWEEPS**
Serena Williams - Australian Open (def. Henin; doubles with V.Williams)
IVETA BENESOVA - FES (def. HALEP; doubles with MEDINA-GARRIGUES)
**2010 FIRST-TIME FINALISTS**
Bogota - Mariana Duque-Marino, COL (W-Kerber)
Bogota - Angelique Kerber, GER (L-Duque-Marino)
Kuala Lumpur - Alisa Kleybanova, RUS (W-Dementieva)
Acapulco - Polona Hercog, SLO (L-V.Williams)
Monterrey - Anastasia Pavlyuchenkova, RUS (W-Hantuchova)
FES - SIMONA HALEP, ROU (L-BENESOVA)
**LOW-RANKED '2010 FINALISTS**
NR - Justine Henin, BEL - Brisbane (L)
NR - Justine Henin, BEL - Australian Open (L)
#145 - SIMONA HALEP, ROU - FES (L)
#143 - Mariana Duque-Marino, COL - Bogota (W)
#102 - Sofia Arvidsson, SWE - Memphis (L)
**TWO CAREER TITLES**
[active, season of last title]
Sybille Bammer, AUT (2009)
IVETA BENESOVA, CZE (2010)
Alona Bondarenko, UKR (2010)
Sara Errani, ITA (2008)
Tatiana Golovin, FRA (2007)
Anne Kremer, LUX (2000)
Li Na, CHN (2008)
Nuria Llagostera-Vives, ESP (2008)
Mirjana Lucic, CRO (1998)
Maria Jose Martinez-Sanchez, ESP (2009)
Pauline Parmentier, FRA (2008)
Virginie Razzano, FRA (2007)
Aravane Rezai, FRA (2009)
Samantha Stosur, AUS (2010)
Roberta Vinci, ITA (2009)
Klara Zakopalova, CZE (2005)
**TEAM DOUBLES TITLES - active players**
32...Lisa Raymond/Rennae Stubbs, USA/AUS
29...Cara Black/Liezel Huber, ZIM/USA
20...Lisa Raymond/Samantha Stosur, USA/AUS
17...Venus Williams/Serena Williams, USA/USA
11...Yan Zi/Zheng Jie, CHN/CHN
11...Cara Black/Rennae Stubbs, ZIM/AUS
9...Nuria Llagostera-Vives/Marie Jose Martinez-Sanchez, ESP/ESP
7...Chan Yung-Jan/Chuang Chia-Jung, TPE/TPE
5...GISELA DULKO/FLAVIA PENNETTA, ARG/ITA
5...Anabel Medina-Garrigues/Virginia Ruano-Pascual, ESP/ESP

ROME, ITALY (Premier $2m/red clay outdoor)
09 Final: Safina d. Kuznetsova
10 Top Seeds: S.Williams/Wozniacki
=============================
=QF=
S.Williams d. Cibulkova
V.Williams d. Jankovic
Dementieva d. Petrova
Martinez-Sanchez d. Pennetta
=SF=
V.Williams d. S.Williams
Dementieva d. Martinez-Sanchez
=FINAL=
Dementieva d. V.Williams
...no Henin in Rome, so the battle for "second choice" in Paris might be on. Of course, with Serena not having played since Melbourne the odds aren't good that the #1-ranked player we see in Rome will be the same one that shows up in Paris. Thus, I'll pick Venus to reach the final.
ESTORIL, PORTUGAL (Intl' $220K/red clay outdoor)
09 Final: Wickmayer d. Makarova
10 Top Seeds: Szavay/Cirstea
=============================
=SF=
Makarova d. Rodionova
Cornet d. Parra-Santonya
=FINAL=
Makarova d. Cornet
...top-seeded Szavay is already out of this tournament, and don't expect form to hold from this point on, either.
All for now.
NEXT:
It's One Month into the Clay Court Season...
do you know where your Roland Garros favorites are?
Plus, the opening-month clay season awards.