Wk.1- Act 1, Scene 1 (2011)
Well, if you began 2011 being considered an Australian Open title contender, unless your name was Vera (
and maybe Justine... but only maybe
), you had a pretty bad Week 1.


One never knows what to make of opening week results, but you can be certain that every player not named Serena (and she doesn't count this year) has to feel a bad case of the "omen hives" coming on if they open their season on the wrong foot (Serena... foot... get it? Nevermind.).




With the aforementioned Ms. Williams back home getting ready to announce her return a few months from now, Melbourne is another of the sort of crapshoot slams that make the WTA especially interesting when they occur, but also serve to only highlight the less-than-headline-worthy aspects of the tour. Yet again, a grand slam title will be there for the taking three weekends from now. But most of the names mentioned as potential champions stubbed their toes (or worse) this past week with the curtain about to be raised on the season's first slam (Elena D... are you having second thoughts yet?).

Amongst them:



Samantha Stosur:

Anastasia Rodionova recently touted her as a possible slam champ, but it was another naturalized Aussie -- Jarmila Groth -- who dumped her out in straight sets in the 2nd Round in Brisbane in Week 1, costing Sam the chance to earn enough points to move to #5 in the rankings and earn the important 4th-seed for the AO. She ended up three points behind Venus Williams. Speaking of...



Venus Williams:

we already knew her return from her knee injury was going to take a little time, so her 0-2 record in last week's exhibition in Hong Kong isn't worrying. Still, this AO will be one of the few times she's been able to play in Melbourne without her Oz Master sister awaiting as a possible opponent down the line.



Maria Sharapova:

same questions, and still no answers. After losing to 40-year old Kimiko Date-Krumm late in '10, she was taken down by 31-year old Greta Arn in Auckland. Age-wise, the losing trend is going in the desired direction, but it's still a bad trend.



Svetlana Kuznetsova:

one never knows where Kuznetsova's head and heart are, so losing in a 6-4 3rd set to Peng Shuai in the 2nd Round in Auckland isn't TOO bad (and she's off to a winning start in Sydney, too). But winning would have been better.



Francesca Schiavone:

all right, she's probably not an AO contender, but she IS a 2010 slam winner. She was hobbled in Hopman Cup play, eventually retiring from a match with young Kristina Mladenovic after just eight games. Today, she lost a set lead and was taken down by Alisa Kleybanova is a quick 2nd & 3rd set combo in Sydney. For a player who enjoyed such good karma a season ago, are the Demons of Paris already whispering bad tidings in her ear for 2011?



Ana Ivanovic:

Schiavone isn't the only player with ill-time injury questions. After seeing Serbia advance to the Hopman Cup final, AnaIvo had to withdrawal with an abdominal muscle injury that allowed Belgium to take her and Novak Djokovic's place in the "so-called" final. Ivanovic is one of the few players expected to be in the AO draw who actually has an Oz final berth on her resume, but now her form is as big a mystery as ever. Again.

And last, but not least:



Caroline Wozniacki:

the Dane went to Hong Kong for a friendly exhibition event, but all she got was a lousy t-shirt that said, "I won one game off Vera... and ONLY one." As far as I was concerned, there were already some issues about C-Woz's ability to win that elusive slam title in Melbourne (or even reach the final, or maybe semis) after her busy offseason. Now, after being destroyed by a second serve-feasting Zvonareva in a stunning 6-0/6-1 loss the other day, one has to wonder whether it's a very bad sign. The one saving grace for Wozniacki, who good-naturedly shrugged off the result, is that it wasn't a "real" match. But, still, Zvonareva has to be brimming with confidence after that performance.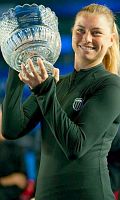 And that's why Zvonareva, the world #2 who'll begin play in Melbourne next week with back-to-back slam finals still hanging onto her coattails, is looking for all the world to see like the best player on tour without a slam title. Yeah, yeah. The Russian QUALIFIED for, but didn't really SHOW UP in those two finals in London and New York, but maybe she's sick and tired of that little note being attached to her career's biggest accomplishments, not to mention being in far better shape to do something about it than, say, a certain other Hordette named Dinara was when she faced a similar situation. Still, though, until Zvonareva changes that line in her career bio it WILL be part of it.

So, that being the case...

Probably the player who had the "best" week was named Kim... and she didn't even play until Sunday in Sydney, defeating Alexandra Dulgheru in straight sets in a 1st Round match.

To paraphrase the "immortal" words of General "Buck" Turgidson, "We are rapidly approaching a moment of truth both for ourselves as human beings as for the life of our tennis nation. And truth is not always a pleasant thing." And, yes, that's an early you-might-not-get-it-now-but-that's-okay hint about this weekend's Australian Open Preview post.

(swallows hard, and tries to bear it)



*WEEK 1 CHAMPIONS*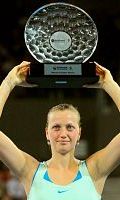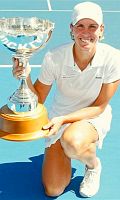 BRISBANE, AUSTRALIA (Int'l $220K/hard outdoor)
S: Petra Kvitova/CZE def. Andrea Petkovic/GER 6-1/6-3
D: Kleybanova/Pavlyuchenkova d. Jans/Rosolska
AUCKLAND, NEW ZEALAND (Int'l $220K/hard outdoor)
S: Greta Arn/HUN def. Yanina Wickmayer/BEL 6-3/6-3
D: Peschke/Srebotnik d. Arvidsson/Erakovic
HOPMAN CUP; PERTH, AUSTRALIA (exhib./hard indoor)
FINAL: USA (Mattek-Sands/Isner) d. BEL (Henin/Bemelmans) 2-1 [Serbia: w/d]
HONG KONG CHALLENGE (exhib./hard outdoor)
FINAL: RUS (Zvonareva/Kirilenko/Kafelnikov) d. EUR (Wozniacki/Rezai/Edberg) 3-1


PLAYER OF THE WEEK: Vera Zvonareva/RUS
...Wow. What does Hong Kong mean for Zvonareva? A 4 & 2 win over Venus, and that love & 1 demolishing of Wozniacki in an early "unofficial" #1 vs. #2 match-up, might just mean a great deal for the '09 Australian Open semifinalist and '10 Wimbledon and U.S. Open runner-up. If she can maintain that level of play this week in Sydney and beyond, she might not need very strong binoculars to see Wozniacki's #1 ranking in a few weeks time. Of course, that is if it's Caroline who is actually ranked #1 a little while from now, for, as Yoda once said, "there IS another."


=============================


RISERS: Petra Kvitova/CZE & Andrea Petkovic/GER
...Auckland champ Kvitova was at a loss for why she's now won both of her career titles in Dorothy Tour competition, postulating that it might show that she trains well in the offseason. Here's another possibilty: with the season so young, her January self is carrying far less pressure and expectations on her shoulders than she will be a few months from now. It's one thing winning in Hobart ('09) and Auckland, but collapsing in matches in Fed Cup and Wimbledon action probably says more about the player. Still, I hope this is a sign of even better things to come for her. I always love it when a Czech comes out on top -- it brings back good memories of the "good old days" of Hana & Jana. Wins over Petrova, Pervak, Cibulkova, Pavlyuchenkova and Petkovic surely shows what Kvitova is CAPABLE of. Doing such things on a consistent basis is her next hurdle. Speaking of Petkovic, her Auckland wins over Dulgheru, Dokic (love & 1 -- ouch, Jelena) and Groth were impressive, but I was more taken with her comment about herself after her slow-starting win over Marion Bartoli in the SF. Acting as her own Backspin moniker-creator, she said, ""I'm a diesel. It takes me a while to get going." And, hence, The Diesel is born.


=============================


SURPRISE: Greta Arn/HUN
...the 31-year old Hungarian's merry trip to the Auckland title, her second career crown (Estoril '07), qualifies as the biggest feel-good surprise of Week 1. Coming in ranked #88, she got upset wins over both the #1 seed (Sharapova) and the defending champion (Wickmayer) and left New Zealand saying that her week there was her "dream come true."


=============================


COMEBACK: Bethanie Mattek-Sands/USA
...looking as fit as ever and with her return game and backhand in just as fine form, Mattek-Sands looks like she might finally be ready to live up to those expectations people had for her about two seasons ago. Sure, she still has an unnerving penchant for wearing knee socks, but she really IS about the tennis now rather than being content with being a novelty. The American went 3-1 in singles play, getting a win over Schiavone, while leading the U.S. to the Hopman Cup title, but I wonder if, given the choice, she'd rather have found a way to win that match against Justine Henin than hold up the trophy. She held two set points in the opening stanza against Henin, but saw the Belgian best her on the most important points. Today in Hobart, she opened Week 2 by advancing past Anastasia Pavlyuchenkova when the Russian retired after dropping the 1st set.


=============================


VETERANS: Justine Henin/BEL & Kveta Peschke/Katarina Srebotnik, CZE/SLO
...Justine should send a little thank-you note to AnaIvo, since if not for the Serb's abdominal injury during her loss to the Belgian than Henin wouldn't have gotten to play that match against Mattek-Sands in the so-called "final" after the finalist Serbia team was forced to pull out. After talking about being exhausted after playing three round robin matches (plus three doubles contests) after being off tour for six months with an elbow injury, Henin ended up having to take to the court again against the Americans before she finally escaped the Perth city limits. The Belgians lost 2-1, but Henin's come-from-behind win over Mattek-Sands while on the outskirts of her expected endurance level in Perth will probably mean much more to her next week in Melbourne than her week's previous wins over the likes Molik, Karatantcheva and even Ivanovic did combined. Meanwhile, in Auckland, Kveta Peschke and Katarina Srebotnik claimed their third career doubles crown as a duo. With no Williams/Williams, Black/Huber, or King/Shvedova (thanks to Yaroslava's Hopman Cup knee injury which will keep her sidelined for six weeks) in Melbourne, and with Dulko/Pennetta entering without a slam win to their names, might Peschke/Srebotnik be able to be considered "favorites" to win in Oz?


=============================


FRESH FACE: Heather Watson/GBR
...the 18-year old Brit, ranked #176, advanced to her first career tour QF (aha -- that's one pre-season prediction checked off in my favor) in Auckland, getting wins over Carla Suarez-Navarro and Noppawan Lertcheewakarn. Yeah, those aren't exactly career-defining victories... but, hey, Laura Robson went 0-3 and was injured in Hopman Cup play last week, so I'd think Heather has cause to celebrate her accomplishment.


=============================


DOWN: Maria Sharapova/RUS
...nothing against Arn, but she's not the sort of player that a potential (??) slam winner loses to in straight sets in the QF after deciding to play a smaller event in Week 1 in order to, one would think, maybe pick up a title and build some confidence heading into a slam that she won three years ago, though it seems so much more in the past than that. She got two wins under her belt, but the week as a whole was a big net loss for Sharapova.


=============================


ITF PLAYER: Lu Jing-Jing/CHN
...Lu, 21, claimed a $50K challenger in Quanzhou, China in the the opening week of the 2011 ITF circuit's schedule, notching wins over Yulia Beygelzimer, Zheng Saisai, Sun Sheng-nan and Stephanie Foretz-Gacon in the final. For Lu, who defeated the likes of Carla Suarez-Navarro, Chang Kai-Chen and Ayumi Morita in matches last season, it was her first challenger title since November '08.


=============================


JUNIOR STAR: An-Sophie Mestach/BEL
...the 16-year old Waffle won the Grade 1 junior event in San Jose, Costa Rica. She defeated Pastry Caroline Garcia in the final. Hmmm, why am I suddenly hungry?


=============================






1. HK Final/#1 Singles: Zvonareva d. Wozniacki
...6-1/6-0. C-Woz has done a great many things this past offseason but, if Zvonareva's mastery of it over fifty-eight mintues is any indication, significantly improving her second serve wasn't one of them. Is the clock counting down the remaining time she'll spend at #1 now officially ticking?


=============================


2. Hopman Final/WS: Henin d. Mattek-Sands
...7-6(6)/6-3. In Week 1 a year ago in Brisbane, Henin lost to Clijsters in what turned out to be the "Match of the Year." This one wasn't exactly that, but these two DID come together to produce a whale of a 1st set (1:09!) in Perth. On the whole, this match put on display all the incongruent angles of Henin at this stage of her comeback. There were eight straight breaks of serve in the 1st set here, as four times the Belgian went up a break but failed to solidify it by winning her own service game moments later. In the tie-break, she went up an early mini-break, only to immediately give it back, too. But... when things mattered, it was Henin, not the seemingly more in-form Mattek-Sands, who rose to the occasion on the points that mattered. Once the American went up 6-4 in the tie-break, it was Henin's match. She saved two set points, won four straight points to claim the set, then grabbed a break mid-way through the 2nd set and ran off with the victory. What's it mean for the AO? Well, maybe that if she can find her groove we might see a final run similar to last year's in Melbourne, but believing that she could keep all the parts of her game in tune through seven matches and win slam #8 might take a bit of wishin' and hopin'.


=============================


3. Auck QF - Arn d. Sharapova
...6-2/7-5. The Ex-Supernova's shaky serve and lack of patience -- which has to continue to chip away at what's left of her confidence -- continue to raise questions and eyebrows. But, hey, the Russian's discontent DID lead thirtysomething Arn to gush, "I'm like a little girl whose dream has come true" after this match. So at least something good came of it.


=============================


4. Bangkok Exhib. - Clijsters d. Wozniacki


...6-3/4-6/12-10(STB). Keep your friends close, and your enemies closer, Caroline. Kim is. Or does it just seem that way? First, she and Henin get over their past difficulties (a previously icy relationship that Justine finally admitted to the other day... as if anyone didn't already know that she sort of, kind of, used to "hate Kim's guts" years ago), then KC goes 3-0 against her last year. Mental block over. Now, it's world #1 Wozniacki that Clijsters is buddying up with for exhibitions and the like, such as this pre-Week 1 match-up in Bangkok, which only served to show that the Belgian can beat the Dane in matches in Thailand that don't count just as well as she can in ones that do in New York (US Open Final '09) and Doha (Tour Championships Final '10). Then, after this particularly "chummy" moment, Wozniacki went to Hong Kong and got blistered and nearly double-bageled by Zvonareva. You know, just like Clijsters did against Petrova last January. I'm not saying that this is a concerted effort by Barbie to "kill" -- or at least soften up -- her opponents with kindness, but I'd advise Vera to stay as far away from Kim as possible this week in Sydney.

Of course, I'm kidding about all that (well... umm, yeah, I'll stick with that), but when I look at the above image I can't but at least have a passing wonder about whether or not Kim's image showed up in that photo. I know, I know... I just can't help myself. (But, on the bright side, it's going to make my AO Preview that much more "fun.")


=============================


5. Bris Final - Kvitova d. Petkovic
...6-1/6-3. The Diesel ran out of gas, I guess. Pay at the pump, Andrea.


=============================


6. Auck Final - Arn d. Wickmayer
...6-3/6-3. Since Venus won't turn 31 until June, the Hungarian could end up being the oldest champion on tour this season. Well, unless Date-Krumm is at it again.


=============================


7. HK SF/#2 Singles: Kirilenko d. Oudin
...3-6/7-6/6-0. Well, Melanie, MJF is never going to pick you to play a Fed Cup match again if you continue to blow set and a break leads like you did in this one.


=============================


8. Bris Q1 - McHale d. Marino
...0-6/6-2/6-2. Well, Rebecca was probably reminding Venus of herself again the other day -- not exactly impressive in Week 1. The Vancouver native also lost in Sydney qualifying to Sanda Zahlavova, dropping the 3rd set at love.


=============================


9. Auck 1st Rd - Wickmayer d. Safina
...6-3/6-7/6-1. Dinara lost, but "lost well" in this one. But then she got pulverized by Bartoli today in Hobart, losing by a very Wozniackian score of 6-0/6-1. For the love of Marat... yikes.


=============================


10. Bris 2nd Rd - Groth d. Stosur
...6-2/6-4. I was going to knock around Sam's Melbourne prospects a little bit more here, but since she took down Wickmayer in straight sets today in Sydney I'll hold off.


=============================


11. Syd 1st Rd - Clijsters d. Dulgheru
...6-1/6-2. Beware Barbie.


=============================


12. Syd 1st Rd - Rezai d. Jankovic
...7-5/3-6/6-3. Come on, you have to admit that there's just too much crazy here for one match to contain.


=============================








**BACKSPIN Week 1 PLAYER-OF-THE-WEEK WINNERS**


2002 Venus Williams, USA
2003 Serena Williams, USA
2004 Lindsay Davenport, USA & Eleni Daniilidou, GRE
2005 Elena Dementieva, RUS
2006 Lucie Safarova, CZE
2007 Dinara Safina, RUS
2008 Li Na, CHN
2009 Victoria Azarenka, BLR
2010 Kim Clijsters, BEL
2011 Vera Zvonareva, RUS



**HOPMAN CUP CHAMPS - since 1999**


1999 Australia (Jelena Dokic/Mark Philippoussis)
2000 South Africa (Amanda Coetzer/Wayne Ferreira)
2001 Switzerland (Martina Hingis/Roger Federer)
2002 Spain (Arantxa Sanchez Vicario/Tommy Robredo)
2003 United States (Serena Williams/James Blake)
2004 United States (Lindsay Davenport/James Blake)
2005 Slovak Republic (Daniela Hantuchova/Domnik Hrbaty)
2006 United States (Lisa Raymond/Taylor Dent)
2007 Russia (Nadia Petrova/Dmitry Tursunov)
2008 United States (Serena Williams/Mardy Fish/Meghann Shaughnessy)
2009 Slovak Republic (Dominika Cibulkova/Dominik Hrbaty)
2010 Spain (Maria Jose Martinez-Sanchez/Tommy Robredo)
2011 United States (Bethanie Mattek-Sands/John Isner)



**MOST CAREER "DOROTHY TOUR" TITLES - ACTIVE**


6...Justine Henin, BEL
5...Serena Williams, USA
4...Kim Clijsters, BEL
3...Eleni Daniilidou, GRE
3...Patty Schnyder, SUI
2...PETRA KVITOVA, CZE
2...Alicia Molik, AUS




SYDNEY, AUSTRALIA (Premier $618K/hard court outdoors)
10 Final: Dementieva d. S.Williams
11 Top Seeds: Wozniacki/Zvonareva
=============================


=SF=


#3 Clijsters d. #1 Wozniacki
#2 Zvonareva d. #8 Li


=FINAL=


#3 Clijsters d. #2 Zvonareva

...Henin isn't here, so it won't provide a complete (pre-)picture, but there's going to be a great deal read into who wins this tournament when it comes to which player is going to be the odds-on favorite in Melbourne.



HOBART, AUSTRALIA (Int'l $220K/hard court outdoors)
10 Final: A.Bondarenko d. Peer
11 Top Seeds: Bartoli/Pavlyuchenkova
=============================


=SF=


#6 Groth d. #1 Bartoli
Peng d. Mattek-Sands


=FINAL=


#6 Groth d. Peng

...one of those events where virtually any player could end up grabbing a first career title. This would be Groth's second, but it could just as easily be the first for the likes of Peng, Mattek-Sands, Vesnina or someone else.



ALSO:






AUSTRALIAN OPEN QUALIFYING



All for now.






Juump

is a free online community that makes it easy to meet people and play more tennis – right in your neighborhood. . With Juump, you can

FIND

players and groups who play at your favorite courts,

MEET

players with similar skill levels, interests and schedules, and

PLAY

more tennis.