Wk.6- Kvitova Kicks Kim's Keister
Many great stories have already sprouted through the surface of this 2011 season, from Kim Clijsters' rise back to #1 to Li Na's groundbreaking run in Melbourne, but none may have more legs than Petra Kvitova's surge to the front of the pack of young players threatening to make deep marks in the tour's power pyramid.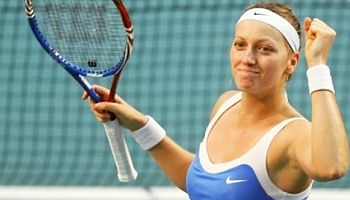 As we stand six weeks into the new season, no player has a better season record (16-1) than the 20-year old Czech. None has more titles than her two crowns, either. As Clijsters re-assumes the #1 ranking amid great fanfare as this week begins, the Belgian does so one day after having been handled in straight sets by Kvitova in the Paris final in her most thorough defeat in a meaningful match in which she didn't suffer any noticable "lapses" since losing to Vera Zvonareva in Montreal early last August (and Zvonareva again at Wimbledon before that) before her most recent run that propelled her to the top of the rankings.

So, what does Paris say about Kvitova then? Maybe quite a bit. In fact, if THIS Kvitova is the one who shows up at the slams over the next year we might be looking at the player who could finally break the stranglehold that tour veterans -- Clijsters, Schiavone and the Williams Sisters -- have had on the game's biggest championships over the last two and a half years, where they've combined to win ten of the last eleven slams.

On Sunday in Paris against the about-to-be-newly-christened-again #1, Kvitova was simply the better player. She broke the Belgian in the first game of the match. Kvitova dropped her serve in the next game, but then proceeded to lose just one point on serve the rest of the set. After grabbing a break to go up 3-2, she rode out the advantage to take the set at 6-4, then opened the 2nd by breaking Clijsters with a screamer of a crosscourt forehand on a 1st serve return. Again, Clijsters managed to even things in the next game (after the Czech had held two game points, and double-faulted on one). The two held the set even at 2-2 and 3-3, but Kvitova never allowed her opponent to take control of the action. When Clijsters netted a swing volley in the seventh game, Kvitova got a break to go up 4-3 and never let the soon-to-be-top-ranked player get back up on her feet. The Czech won five of the final six games of the match, and the final four to win 6-4/6-3.

In Kvitova's two prior meetings with Clijsters, she'd won just a total of five games, losing 6-1/6-1 and 6-3/6-0, the latter loss coming at last year's U.S. Open. As the Belgian noted both before and after the match, Kvitova always had the goods to be successful. But after playing a few fine games, she'd throw in a few bad ones. Armed with better consistency and being a bit fitter, she was able to turn those previous results on their collective ear in Paris. On serve, she put away ten aces in her nine service games, giving her slightly more than one "free" point every times she lines up. Combined with those beautiful power groundstrokes, a consistent Kvitova is a headache-inducing out for players who have a hard time grabbing the offensive in rallies, even for the player who has been better at such a thing than any other woman on tour over the last six months. The Czech's offensive game never allowed Clijsters to move her around the court. Although a side-to-side posture isn't and never will be her game, Kvitova's better condition helps her stay in more points than she might have been able to a year ago. With her penetrating groundstrokes and power serve (a lefty one, too -- a big bonus), much like was the case with Lindsay Davenport (who also took a big leap when she got into better shape, cutting down the liability that her court coverage had once been), she can routinely dictate points from the baseline without needing to completely change her style of play, unlike another 20-year old at the top of the rankings who generally has to pull a few surprising rabbits out of her hat while attempting to do the same.

Speaking of Caroline Wozniacki, there is a potentially table-changing draw on tap this week in Dubai. New world #14 Kvitova could face now-#2 C-Woz in the 3rd Round (and Li in th QF, too) in a match-up of the player who most needs to win a slam versus the player who might be the most likely next first-time slam champ of the 21-and-under generation. It's a contest that would both test Kvitova's consistency against the Danish backboard, as well as Wozniacki's progressing ability to take the in-point initiative against a hard-hitting player who could physically push her around the court with her power. Very intriguing.

Based only on form, it'd be hard to go against Kvitova there. Kvitova has built herself up both on the court and between the ears every time out in '11, going from Brisbane champ to Australian Open quarterfinalist and dominant Fed Cup leader. In Paris, she pulled back two matches from near-defeat, strengthening her match toughness by saving a match point against Barbora Zahlavova-Strycova and erasing a 5-3 3rd set deficit against Yanina Wickmayer before taking out Clijsters. No matter the issue of Clijsters' potential neck/shoulder soreness, likely brought on by the fatigue of playing so many weeks in a row, Kvitova moved up yet another notch on Sunday. Aside from her slow start against Zvonareva in the AO QF in the only match she's lost this season, a legit case could be made that she's been the most complete player on tour through 2011's first six weeks.

With the current vacuum of young power players with an unquestionable ability to sport a slam-worthy game, Kvitova's early-season story might be the most important one we've seen so far this season when it comes to what'll happen on tour in the near future. She reached the Wimbledon semis a year ago (when she first showed her mettle by saving those five match points against Kaia Kanepi in the QF) as a somewhat-unformed, barely-out-of-her-teens revelation. She's battle-tested now, and getting better all the time.

Kvitova said before the Paris final that she likes to play big matches on big stages, and her unwavering performance on Sunday did nothing to dissuade anyone from thinking that she meant what she said. For years, she's listed the Paris indoors event as her favorite tournament, oddly, in a way, foreshadowing the events of last week. Thus, it should be noted that the Czech lists another Czech-born lefty as her playing idol while growing up. That woman -- Martina Navratilova, of course -- made Wimbledon HER favorite playground for decades, and it shouldn't go unnoticed that Kvitova's big breakthrough came at the same All-England Club. She surely has the look of a player that might have just been warming up in Southwest London a year ago, too. Consistency and nerves are often the final, most tricky, obstacles for young players to clear when it comes to reaching their on-court potential. Conquering them can open the door for anything to be possible.

Does that mean Petra Kvitova will win Wimbledon, maybe even this year? Well, no. Not necessarily. But as surely as she was fighting back tears on Sunday when she dedicated her win to her grandfather (who died only a week ago), Kvitova is getting closer to being able to have such dreams setting right in front of her.

Soon, it'll be just a matter of realizing them.



*WEEK 6 CHAMPIONS*




PARIS, FRANCE (Premier $618K/greenset indoor)


S:

Petra Kvitova def. Kim Clijsters 6-4/6-3


D:

Bethanie Mattek-Sands/Meghann Shaughnessy d. Vera Dushevina/Ekaterina Makarova




PATTAYA CITY, THAILAND (Int'l $220K/hard outdoor)


S:

Daniela Hantuchova def. Sara Errani 6-0/6-2


D:

Sara Errani/Roberta Vinci d. Sun Shengnan/Zheng Jie








PLAYER OF THE WEEK:

Petra Kvitova/CZE


...while Kvitova was able to successfully hold back her tears in Sunday's post-match, her coach in the stands wasn't as successful. He was practically a "bawling fool," and that's a good thing. Of course, it was hard to tell if his tears were ones of sorrow for his charge's deceased relative, or of joy for the same young player. One gets the feeling that more of THOSE could be on the horizon down the line. Of course, she DID narrowly avoid a very disappointing trip to France, narrowly escaping defeat twice before standing tall to take the biggest match of her career in the final against Clijsters. It just goes to show you how small a difference there sometimes is between "failure" and "fantastic" on the WTA tour, something that the first career of Kvitova's final Paris opponent, Kim Clijsters, surely illustrates better than most. But while KC had to retire to finally live up to her potential, Kvitova is getting closer and closer to having the opportunity to do so the first time around. Turning rocky moments into gold has a tendency to embolden a young (or "old") player. Kvitova has the goods to back it up, and every time she does her confidence only becomes greater. If it continues this week in Dubai, how long before a "monster" is born?


=============================




RISERS:

Sara Errani/Roberta Vinci, ITA & Bethanie Mattek-Sands/USA


...the Fed Cup partnership of Italians Errani & Vinci has become more and more of an all-event thing of beauty over the last two seasons, and the trend continued in Pattaya, where they teamed to win their fourth career tour title as a team (second in '11) at the end of a week in which both also excelled in singles. Errani advanced all the way to the singles final, becoming the first woman to pull double duty at a tournament's final weekend this season, after getting wins over Chang Kai-Chen, Ayumi Morita, Galina Voskoboeva and, yep, Vinci in the SF. Vinci had gotten a big win over Ana Ivanovic in the QF to get there. It was Errani first singles final since 2009, when she played the championship match in Portoroz. She's now 2-3 in career finals. For her part, Mattek-Sands continued to impress (but I still can't help but cringe every time I see the knee-socks, and sure hope that Yanina Wickmayer's copying of the style last week in Paris isn't the beginning of a tour-wide trend), reaching her second semifinal of the season after getting a particularly nice win over Petkorazzi herself, Andrea Petkovic. After getting run off the court by Kvitova in the SF, she even bounced back well, grabbing the doubles title with Meghann Shaughnessy.


=============================




SURPRISES:

Galina Voskoboeva/KAZ & Ashley Weinhold/USA


...finally returning to action after a prolonged injury absence a year ago that cost her half the season, the Moscow-born Kazakh, with a new coach in recently-retired player Alina Jidkova in tow, had a nice "welcome back to the not-quite-big-time" week in Pattaya. After qualifying with a win over Sania Mirza, she matched her career-best tour result by reaching the QF after notching victories over Romina Oprandi and Maria Kirilenko, the latter of which came after falling behind 6-1/5-3 and saving three match points (the loss may have rocked the Russian, as she lost Monday in Dubai to Chanelle Scheepers, too). 21-year old Weinhold won the $25K Rancho Mirage, California challenger by knocking off a string of veterans (Julie Ditty) and youngsters (Chanel Simmonds, and both Pliskova sisters, Karolina in the SF and Kristyna in the Final).


=============================




COMEBACK:

Daniela Hantuchova/SVK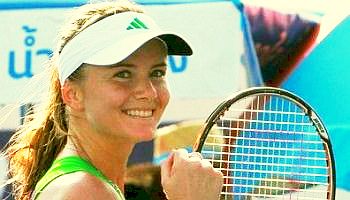 ...the tour's one-time Wonder Girl got off to a slow start in '11 while battling injury. Likely as a result, she was the first seed to exit in Melbourne. But as she's gotten healthy, she's played better every time out since. It all culminated in a superior week in Pattaya, where she once again reminded us why she was once a Top 5 player with grand slam dreams by upsetting two-time defending champ Vera Zvonareva in the SF to reach her eleventh career tour singles final. There, she easily handled Errani 6-2/6-0 to win her fourth WTA title, but her first since taking Linz in 2007.


=============================




VETERANS:

Kim Clijsters/BEL & Jelena Dokic/AUS


...once again, Clijsters grabbed a lot of headlines (she's back at #1 after the second-longest period of time ever between top rankings), pats on the back (of course, many had to leap on the fact that she's now the first mother to hold the #1 spot, as if the other nineteen women who accomplished the feat without having given birth "had it easy") and accolades (it's a good thing she beat Dokic in the QF, or else what would the future have held for the crystal trophy she got after the match -- becoming a new vase for tournament director Amelie Mauresmo's foyer perhaps?), but didn't win the title. Oh, it was like old times in Paris for Barbie. But, lo and behold, she managed to pull it off without throwing a wrench in Backspin's still-holding-firm truce with the "new" Kim. I even understood her comment that becoming #1 again now will never mean as much as when she did it the first time at age 20 in '03, and sort of gave her an approving nod for her apparently NOT buying into the thought that having the career she's put together after becoming a mother somehow means "more." Sweet Goolagongis, have I really learned to (sort of) ♥ Kim? Meanwhile, once upon a time, Dokic was a win away from being the champion of the Paris indoors. In 2002, she reached the final, only to hand the title to Venus in a walkover. Returning to the tournament for the first time since 2004, the Aussie put together quite an encouraging week. She made it through qualifying, then came back from a set down in the 1st Round to defeat Lucie Safarova. In the 2nd Round, she defeated Nadia Petrova in straights. She lost to Clijsters in the QF, but was at least in the game in the 1st set against the player who she once was battling to seemingly be the best young player of their generation a little over a decade ago. Before the season, Dokic said she was hoping to be able to have a competitive full season in '11 in order to send her into the closing act of a career she said that she hopes can last another five or six years. With her ranking now making a huge jump from #120 to #91 today, this was a good start in the direction of that goal.


=============================




FRESH FACES:

Kristina Kucova/SVK & Kristina Mladenovic/FRA


...Kucova, 20, was the U.S. Open junior Girls champ back in 2007. After making it through qualifying in Paris with wins over Julia Schruff and Sandra Zahlavova (who just bounced back with a win over Alla Kudryavtseva in Memphis on Sunday), the Slovak got a main draw win over Ekaterina Makarova for maybe the best win over her young career (though she did knock off Kvitova in late '09, but that was before the Czech began to make her mark on tour). In a $25K event in Stockholm, 17-year old Pastry Kristina Mladenovic, the junior #1 in '09 and Roland Garros Girls champ that year, won her second of back-to-back challenger titles, defeating Arantxa Rus in the final.


=============================




DOWN:

Vera Zvonareva/RUS & Tsvetana Pironkova/BUL


...with Zvonareva's inability to win her third straight title in Pattaya, the world #3 has now gone over a year without winning a tour singles title. #1 Clijsters has claimed five, and #2 Wozniacki six, in the same timespan. While it's not a situation to fret about at this point, the Russian's consistency in results has taken a semi-wild ride so far in this early-season, as well. After looking so good in Hong Kong, she exited quickly in Sydney. After working her way to the Oz semis, she failed to win in Thailand as the favorite, ultimately losing in straight sets to Hantuchova, who hadn't won a tour title in over three years. While she ddin't implode, Zvonareva's closing moments in Pattaya were a bit (rightfully, I think) on the testy side, too, as Hantuchova got to match point after the Russian was given a point penalty for cursing after disappoving of a line call (she'd earlier received a warning for, naturally, racket abuse... what else?). She argued the penalty, even bringing out the tournament referee after questioning the chair umpire's decision. Apparently, from what I could tell from the discussion, the umpire admitted to not actually hearing Zvonareva curse, and from the way Zvonareva reacted it seems as if she said she could read her lips... which VZ found astounding, since she was speaking Russian, as she said she had been after nearly every point during the match. The match ended one point later, so we -- and Vera, I'm thinking -- were lucky enough to not have to see how she might have reacted had things gone on in such a fashion for much longer. Meanwhile, as '10 Wimbledon semifinalist Kvitova had a great week in Paris, fellow SW19 Final Four participant Pironkova continued to go in the opposite direction. Fresh off a particularly bad group of matches in Fed Cup play, the Bulgarian lost to Zahlavova-Strycova in the 1st Round of the same tournament. Since she defeated Venus Williams to reach the semis at the All-England Club, Pironkova is now a combined 6-15, and is 1-6 in 2011.


=============================




ITF PLAYERS:

Irina-Camelia Begu/ROU & Lucie Hradecka/CZE


...these two won the season's first two $100K challenger events over the weekend. 20-year old Begu was victorious in Cali, Colombia, making it through qualifying, then defeating the likes of Mariana Duque-Marino, Petra Cetkovska and Patricia Mayr-Achleitner before taking out Laura Pous-Tio in the final. She also picked up the doubles title. Meanwhile, in Midland, Michigan, Lucie Hradecka claimed the same $100K event at which she lost last year's final (to Elena Baltacha). She defeated Jamie Hampton, Ksenia Pervak and Sabine Lisiski before knocking off Irina Falconi in the final.


=============================




JUNIOR STAR:

Ilka Csoregi/ROU


...the 14-year old Swarmette won the Grade 2 Inka Bowl in Arequipa, Peru. The #14 seed, she defeated top-seeded Marie Elise Casares 6-4/2-6/6-4 in the final.


=============================






1. Paris Final - Kvitova d. Clijsters
...6-4/6-3. For all that Clijsters has done and accomplished recently, she's still 1-2 in finals in 2011 (with losses to the other two players with the best season records, Kvitova and Li). I'm not exactly sure what it means, but one thing that I DO bet is that it's not a stretch to say that this will be the last time this year (and maybe in her career) that Clijsters is in action five weeks in a row.


=============================


2. Paris QF - Clijsters d. Dokic
...6-3/6-0. The match that officially got KC back to #1 (at least for now). Of note, the last time these players met was also indoors, in the semis in Zurich way back in 2003. Dokic won the match. Combined, I'd say that result was about three or four (or maybe I'm being conversative on that count?) careers ago for these two.


=============================


3. Pattaya Final - Hantuchova d. Errani
...6-0/6-2. Clijsters, Dokic, Shaughnessy, Hantuchova all in the news on the same weekend for good things they accomplished on the court. Are we sure it's 2011, and not actually 2002?


=============================


4. Pattaya SF - Hantuchova d. Zvonareva
...7-6/6-4. So, now, with Zvonareva unable to win in Thailand for the third straight year, Wozniacki's three-year title run at the Wozniacki Open -- err, New Haven, actually -- is STILL the only three-peat championship run currently breathing air on the WTA tour.


=============================


5. Paris 2nd Rd - Dokic d. Petrova
...6-4/7-6. These two, who teamed to claim a pair of doubles titles nine and ten seasons ago as teenagers, hadn't met on the court since 2001. After this, Dokic moved to 2-0 in career tour matches against Petrova. The last time the Russian beat the Aussie was in the 1998 Roland Garros Girls final.


=============================


HM- Paris Doub 1st Rd - Cornet/Razzano d. Huber/Petrova
...3-6/6-3/10-7. Maybe it was the sight of Petrova -- a Russian -- just a few days after France's come-from-ahead Fed Cup loss to the Hordettes that pushed the two Pastries, whose big wins last weekend had given France a 2-0 lead over Russia, to the upset?


=============================








**MOST WEEKS BETWEEN STINTS AT #1**


265 weeks...Serena Williams (August 2003/September 2008)
256 weeks...KIM CLIJSTERS (March 2006/February 2011)
156 weeks...Chris Evert (June 1982/June 1985)
144 weeks...Lindsay Davenport (January 2002/October 2004)
--
ALSO: Clijsters (Nov.'03/Jan.06), Henin (Sept.'04/Nov.'06) & Seles (Jun.'93/Aug.'95) had gaps of two-plus years between #1 rankings



**2011 WTA FINALS**


3...KIM CLIJSTERS (1-2)
2...PETRA KVITOVA (2-0)
2...Li Na (1-1)



**LONGEST SINCE LAST TITLE - 2011 CHAMPS**


3 years, 8 months - Greta Arn, HUN (Estoril/May '07 - Auckland/Jan.'11)
3 years, 3 months, 2 weeks - DANIELA HANTUCHOVA, SVK (Linz/Oct.'07 - Pattaya/Feb.'11)



**RECENT CZECH PLAYERS - MOST TITLES**




[title spans]


6...Nicole Vaidisova [2004-06]
4...Lucie Safarova [2005-08]
3...PETRA KVITOVA [2009-11]
2...Iveta Benesova [2004-10]
2...Klara Zakopalova [2005]



**CAREER TITLES - ACTIVE**




[Four, w/ last title year]


DANIELA HANTUCHOVA, SVK [2011]
Li Na, CHN [2011]
Agnieszka Radwanksa, POL [2008]
Lisa Raymond, USA [2003]
Aravane Rezai, FRA [2010]
Lucie Safarova, CZE [2008]
Francesca Schiavone, ITA [2010]
Katarina Srebotnik, SLO [2005]
Tamarine Tanasugarn, THA [2010]


[Three, w/ last title year]


Elena Bovina, RUS [2004]
Gisela Dulko, ARG [2008]
Michaella Krajicek, NED [2006]
PETRA KVITOVA, CZE [2011]
Maria Jose Martinez-Sanchez, ESP [2010]
Roberta Vinci, ITA [2010]
Yanina Wickmayer, BEL [2010]
Zheng Jie, CHN [2006]




DUBAI, UAE (Premier-9 $2.05m/hardcourt outdoors)
10 Final: V.Williams d. Azarenka
11 Top Seeds: Wozniacki/Zvonareva
=============================


=QF=


#13 Kvitova d. #5 Li
#12 Kanepi d. #4 Stosur
#3 Schiavone d. #8 A.Radwanska
#7 Azarenka d. #2 Zvonareva


=SF=


#13 Kvitova d. #12 Kanepi
#7 Azarenka d. #3 Schiavone


=FINAL=


#12 Kvitova d. #7 Azarenka

...whew! Kvitova is the most in-form player here, so I'll go with her to be able to keep up this run at least one more week (yep, as I eye being able to legitimately pick her to win in London come summertime... come on, Petra, I want to walk out on that limb, though it might not be a long one by then). But it won't be easy. She might have to go through Wozniacki AND Li just to get to the semis. Speaking of potentially great matches, a rematch of that record-breaking AO marathon between Schiavone and Kuznetsova could come in the 3rd Round. I'm going with Kanepi over Petkovic in the 2nd Round, and Stosur in the QF, because the Estonian seems to be slowly rounding into post-injury form, and her three-setter with Clijsters (and 4-1 3rd set lead there) would seem to point to her being ready to put up another good result, while the German might be getting a bit tired after a busy early season, and the finally-out-of-Australia-for-her-own-good Aussie could have a hard time with AnaIvo in the 3rd Round. I'm not sure about the numbers, but if Wozniacki were to slip through and win this title I wonder if it's possible for her to grab back the #1 ranking from the idle Clijsters? If so, maybe Clijsters should ship to the Dane a few of those (overkill-R-us... really, I somehow think she could have done without the flowery sculture of the number 1, you know?) baubles she received from Amelie Mauresmo & Co. in Paris?



MEMPHIS, TENNESSEE USA (Int'l $220K/hardcourt indoors)
10 Final: Sharapova d. Arvidsson
11 Top Seeds: Zahlavova-Strycova/Arvidsson
=============================


=SF=


Rybarikova d. #7 Voracova
#2 Arvidsson d. #3 Oudin


=FINAL=


#2 Arvidsson d. Rybarikova

...I wanted to pick Zahlavova-Strycova to win here, but she's already out. I'll go with Arvidsson, who has a nice history at this event.



BOGOTA, COLOMBIA (Int'l $220K/red clay outdoors)
10 Final: Duque-Marino d. Kerber
11 Top Seeds: Goerges/Hercog
=============================


=SF=


Duque-Marino d. #7 Halep
#4 Parra-Santonja d. Ondraskova


=FINAL=


Duque-Marino d. #4 Parra-Santonja

...ah, the first red clay event of the season. So, bring on the headaches. Picking the defending champion in her home nation would seem a "safe" pick, so it probably has little chance of coming true. Of course, Duque-Marino just lost in a challenger event in Colombia, so there you have it. Grrr... the clay season gives me hives.


All for now.






Juump

is a free online community that makes it easy to meet people and play more tennis – right in your neighborhood. . With Juump, you can

FIND

players and groups who play at your favorite courts,

MEET

players with similar skill levels, interests and schedules, and

PLAY

more tennis.