Wk.17- The Cruelest Month?
April is over. Do you know what your WTA clay season pattern is?


Psych!

The only pattern thats' so far surfaced this spring is that there really isn't one. Caroline Wozniacki wins a big title, then looks shaky. Victoria Azarenka is playing great, then retires after winning the opening set against Julia Goerges, who goes on to take the title, defeating Wozniacki in the final. Meanwhile, 2010 Roland Garros champ Francesca Schiavone has been little more than a rumor so far this clay season, while a string of other veterans have taken her place in the winner's circle in recent weeks.

When the month began with Wozniacki and Azarenka both winning titles on the same weekend for the first time ever, the clay season looked as if it was going to be as poppin' as the previous three months had proven to be. Since then, though, the average rank of the four tour singles champions has been #57.




So far, no one is jumping up and down in celebration of the '11 clay court season, ala that surreal scene outside the White House last night. But that's to be expected. It's clay, after all, so it's best to expect the unexpected and not bemoan the shape of the things when it happens.



*April Awards - Wk.14-17*




**TOP PLAYERS**


1.

Caroline Woziacki, DEN


...clearly a work in progress, but it's progress worth watching.


=============================


2.

Victoria Azarenka, BLR


...is she ready to accept her invitation to the big party?


=============================


3.

Julia Goerges, GER


...if the player who was in Stuttgart shows up in Paris, Steffi Graf might be forced to attend the final. What are the chances of that, though?


=============================


4.

Jelena Jankovic, SRB


...only Queen Chaos could toil throughout a 6:04 Fed Cup work day and make the resulting drama seem almost "routine."


=============================


5.

Anabel Medina-Garrigues/ESP, Alberta Brianti/ITA & Roberta Vinci/ITA


...one year later, can Francesca continue to inspire?


=============================


HM-

Sania Mirza/Elena Vesnina, IND/RUS



Additionally...


RISERS:

Andrea Petkovic/GER, Sara Errani/ITA & Peng Shuai/CHN


SURPRISES:

Nadia Lalami/MAR, Irina-Camelia Begu/ROU & Estrella Cabeza-Candela/ESP


VETERANS:

Iveta Benesova/Barbora Zahlavova-Strycova, CZE/CZE & Kristina Barrois/GER


COMEBACKS:

Sabine Lisicki/GER, Dinara Safina/RUS & Casey Dellacqua/AUS


FRESH FACES:

Christina McHale/USA, Simona Halep/ROU & Monica Niculescu/ROU


DOWN:

Aravane Rezai/FRA & the Italian, U.S. and Australian Fed Cup Teams


JUNIORS:

Monica Puig/PUR, Samantha Crawford/USA & Kyle McPhillips/USA


ITF STARS:

Marina Erakovic/NZL, Valeria Savinykh/RUS & Andrea Benitez/ARG



*FED CUP STARS*


1. Jelena Jankovic, SRB
2. Petra Kvitova, CZE
3. Vera Zvonareva, RUS
4. Andrea Petkovic, GER
5. Olga Savchuk/Lesya Tsurenko, UKR
HM- Iveta Benesova/Barbora Zahlavova-Strycova, CZE



**TOP PERFORMANCE**


Victoria Azarenka backs up her hard court win in Miami with a red clay title in Marbella, Spain one week later. Since 2000, only Venus Williams (twice) has managed to pull off a similar back-to-back hard court & red clay title combo. They both did it on different continents, too.



*TOP MATCH COMBINATION*


Fed Cup World Group Playoffs - Serbia vs. Slovak Republic
Singles #4 - Jankovic/SRB d. Hantuchova/SVK 6-2/3-6/7-5
Doubles - Jankovic/Krunic (SRB) d. Hantuchova/Rybarikova (SVK) 2-6/7-5/9-7
...down 2-1 to the Slovaks, Jelena Jankovic was called into action to save the (long) day and return Serbia to the FC World Group final eight for 2012. On the final day of the tie, she defeated Hantuchova in 2:47, the came back later with teenager Alexandra Krunic to survive another 3:17 marathon. The Slovaks led the doubles 6-2/5-1, served at 5-4 in the 2nd and 6-5 in the 3rd, and held two match points. But the Serbs prevailed, thanks to six hours and four minutes of save-the-day hard work from JJ.



*BIGGEST COMEBACK/CHOKE*


Fed Cup World Group Playoffs - Ukraine vs. Australia
Savchuk/Tsurenko (UKR) d. Gajdosova (then-Groth)/Rodionova (AUS) 0-6/7-6/6-3
...the Aussies were playing at home without Sam Stosur or Jelena Dokic, but still led the Sisters Bondarenko-less Ukrainians 2-1. Anastasia Rodionova, who'd already lost to ranked-59-spots-below-her Lesya Tsurenko on Saturday, then dropped two tie-break sets to Olga Savchuk as the tie went to the doubles. There, she and Groth won the opening set at love, and Rodionova held two match points on her serve, before the entire weekend came crashing down around her and her teammates' ankles.



*MOST ANTICLIMACTIC EXIT*


Fed Cup SF - Russia def. Italy 5-0
...the two-time defending champs, minus usual team leaders Pennetta and Schiavone, went out with barely a whimper, while Russia moved forward to play the Czechs, who are looking for their first FC title since the Czech and Slovak Republic split from the what had been Czechoslovakia more than twenty years ago.



*BEST IT-ALMOST-DIDN'T-HAPPEN ENTRANCE*


Goerges in Stuttgart
...the German was losing in the 2nd Round to Victoria Azarenka, only to move forward thanks to an in-match retirement and go on to defeat Stosur and Wozniacki en route to the biggest title of her career and her official introduction as a true threat on the WTA tour.



*AND THE "TEMPORARY EXIT" THAT NEVER SEEMS TO END*


...Kim Clijsters began the month by announcing that shoulder and wrist injuries would keep her off the tour for 4-6 weeks, putting her clay season in jeopardy one season after a foot injury had wiped out the same period of her schedule a year ago. Soon afterward, it was learned that she'd torn ankle ligaments while dancing at her cousin's wedding and that her chances of playing in Paris appeared slim. Since then, Time magazine included her on its "100 Most Influential People" list for her "juggling" of motherhood with her tennis career.

Ack! Ack! Hairball! Please, make it stop!

Now I understand why some people call April the "cruelest month."


*WEEK 17 CHAMPIONS*
ESTORIL, PORTUGAL (Int'l $220K/red clay outdoor)


S:

Anabel Medina-Garrigues def. Kristina Barrois 6-1/6-2


D:

Kleybanova/Voskoboeva d. Daniilidou/Krajicek
BARCELONA, SPAIN (Int'l $220K/red clay outdoor)


S:

Roberta Vinci def. Lucie Hradecka 4-6/6-2/6-2


D:

Benesova/Zahlavova-Strycova d. Grandin/Voracova

PLAYER OF THE WEEK:
Anabel Medina-Garrigues/ESP

...Medina-Garrigues' '11 comeback has produced something of a low hum over recent weeks. It was easy to write her off -- at least in singles -- after she ended her '10 season on a nine-match losing streak, a nosedive that was only ended when she reached the SF in a $75K challenger in Dubai in mid-December. But through the early months of this season, AMG has turned doubles success into gradually-better singles results. It all came to a head in Estoril, where the unseeded 28-year old Spanish vet surged through the draw with wins over a string of youngsters and vets -- Simona Halep, Greta Arn, Klara Zakopalova, Monica Niculescu and Kristina Barrois -- to claim her tenth career title in her sixteenth tour final appearance. This title, just like eight of her other crowns, came on red clay. And, best yet, I finally get to complete the sentence that I've been writing around since '09, as now Medina-Garrigues FINALLY HAS joined Anna Smashnova as the only two players in WTA history with ten or more tour titles, but zero grand slam quarterfinal results. Hey, Paris is right around the corner, though. Maybe Anabel needn't be forever connected to Anna, after all.


=============================




RISERS:

Iveta Benesova/Barbora Zahlavova-Strycova, CZE & Sara Errani/ITA


...in Barcelona, Czechs Benesova and Zahlavova-Strycova continued to stake a claim to being 2011's "best doubles team" as they claimed their tour-leading third crown of the season, their eighth overall as a duo. The pair met on the singles court today in Madrid, with Benesova advancing in straight sets. Meanwhile, in Barcelona, Errani reached her third semifinal of the season. Her best victory came in the form of her QF dispatching of Week 16 Fes champ Alberta Brianti.


=============================




SURPRISES:

Lucie Hradecka/CZE & Estrella Cabeza-Candela/ESP


...I suppose Hradecka's success will always be considered a "surprise" in this spot until/as long as she remains title-less for her WTA career. A capable player on the ITF for years, she's comes close to great WTA triumphs but has so far come up short. The 25-year old reached her fourth career tour final (over the last four seasons) in Barcelona after getting wins over Iveta Benesova, Gisela Dulko and Sara Errani, but her result against Roberta Vinci in the final was similar to what has occurred in her previous three attempts to lift a trophy. Thus, she's now 0-4 and staring over the shoulder of Elena Vesnina (currently 0-5 in finals). Hradecka also got a win last week ove Cabeza-Candela, as the Spaniard's week back home in Spain proved to be even more unexpected than the Czech's. The game of ECC, 24, has shown some movement prior to last week, as she recently won an ITF title and defeated Aravane Rezai in Marbella, but Barcelona topped all that. After qualifying, the world #245 notched wins over Arantxa Parra-Santonja and Alexandra Dulgheru to reach for first career tour QF. In the new rankings, she jumped all the way up to #202.


=============================




COMEBACKS:

Galina Voskoboeva/KAZ & Olga Puchkova/RUS


...Voskoboeva continued her comeback in doubles in Barcelona, winning her second tour title this season with one of her former Russian countrywomen. Earlier this year in Kuala Lumpur, she and Dinara Safina were victorious. Last week in Estoril, Voskoboeva shared the honors with Alisa Kleybanova.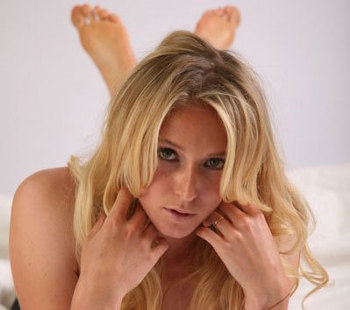 But it was yet ANOTHER of Galina's former Hordette teammates who made a big comeback splash on the ITF circuit in Week 17. Remember Olga Puchkova? About five years ago, she was another of those young players who were looking to follow in the footsteps of Anna Kournikova and become a star both on and off the court. Puchkova had a personal website complete with fancy model portfolio photos, and her game was pretty impressive, as well. Back in August '06, she won the pre-U.S. Open ITF challenger in the Bronx, then had a super-impressive end-of-season WTA run in which she reached the Kolkata final, Tashkent SF and Quebec City final (upsetting Jelena Jankovic along the way). She lost that last final 6-0/6-0 to Marion Bartoli, and it foreshadowed a deep slide. She still finished '06, while still a teenager, ranked in the Top 40. In June, despite mediocre results, she reached a career high of #32, then promptly went into a tailspin. Translation: an eleven-match losing streak. For the full year after she reached the late '06 October final in Quebec, she went 11-24. She's barely been heard from since. She reached ITF finals in November '07 and April '08, but was but a familiar name from the past after that. Until last week in Minsk, at least. There, the now-23 year old Puchkova won her first ITF title since that win in the Bronx almost five years ago, defeating Nadiya Kichenok in the final (she'd also defeated Nadiya's sister Lyudmyla in the QF, though the Ukrainian twins rebounded to win the doubles crown). Her old website -- when she was spelling her name "Poutchkova" -- is still up, so maybe there's a second act stewing in the Puchkova pot?


=============================




VETERANS:

Roberta Vinci/ITA & Kristina Barrois/GER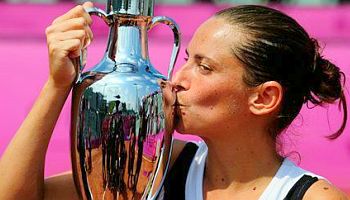 ...completing the recent surge of veterans on clay, 28-year old Vinci joined her countrywoman Alberta Brianti and this week's POW AMG as 2011 champions. In Barcelona, with wins over Yaroslava Shvedova, Virginie Razzano and Laura Pous-Tio she reached her fifth career tour singles final, then defeated Hradecka to win her fourth career title. Of course, this sort of result has come to be expected from Vinci in Barcelona. She won the title in '09 and reached the final in '10 (and won the doubles) before taking the crown again this year. In Estoril, the 29-year old Barrois (a quarterfinalist last week in Stuttgart) couldn't carry on the German surge, but she did manage to reach her second career final ('09 Strasbourg) with wins over Sofia Arvidsson, Elena Vesnina, #1-seed Alisa Kleybanova and Johanna Larsson.


=============================




FRESH FACES:

Monica Niculescu/ROU & Sloane Stephens/USA


...in Estoril, both Niculescu and Stephens made noise. Niculescu reached her first career tour SF after upsetting the likes of Bethanie Mattek-Sands and Jarmila Gajdosova (from a set and a break down). She followed up by quickly qualifying in Madrid, but she's already lost her 1st Round match there to Chanelle Scheepers. Meanwhile, Stephens continued to nose ahead of several fellow Bannerettes. In qualifying, she defeated Madison Brengle, then handled Melanie Oudin 2 & 1 in the 1st Round. And -- Bonus! -- she didn't have cause or feel the need to Tweet profane comments agaisnt the USTA, either. Imagine that... these days, such behavior from prospective future American stars isn't a given. Right, Mr. Young? Anyway, the player who ultimately took Stephens out of Estoril? Why, Niculescu, of course. See how that all came full circle? (Wink.)


=============================




DOWN:

Gisela Dulko/ARG


...Dulko lost the co-#1 doubles ranking to partner Flavia Pennetta a few weeks ago, then was taken out in the 2nd Round in singles by Lucie Hradecka in Barcelona. In Madrid, she's already been ousted by Sam Stosur in the 1st Round. Thing is, with Dulko, she could STILL go out and win her next event.


=============================




ITF PLAYER:

Stephanie Dubois/CAN


...a bunch of Canadians invaded Charlottesville, Virginia last week and had a grand old time. Sharon Fichman and Marie Eve Pelletier won the doubles, but it was Dubois who was the biggest star. After knocking out a trio of Americans -- Ditty, Weinhold and Stevenson -- she defeated Portugals' Michelle Larcher de Brito 1-6/7-6/6-1 to claim the $50K singles crown.


=============================




JUNIOR STAR:

Monica Puig/PUR


...the 17-year old Puerto Rican -- the #6 junior, and '11 AO Girls runner-up -- won her third career ITF title (second in '11) in a $25K in Chiasso, Switzerland. After making it through qualifying, Puig defeated Patricia Mayr-Achleitner, Masa Zec-Peskiric and Pauline Parmentier to reach the final, where she upset Andrea Hlavackova.


=============================






1. Est QF - Niculescu d. Gajdosova
...5-7/6-4/6-2. Gajdosova led this one 7-5/4-2 against the qualifier. Blame it on Sam?


=============================


2. Est 1st Rd - Dellacqua d. Zhang
...6-2/6-1. This was Dellacqua's first tour victory since last summer. She lost to Gajdosova in the 2nd Round, then in Madrid qualifying to yet another Aussie, Anastasia Rodionova. Casey needs to order more Chinese, I guess.


=============================


3. Est Final - Medina-Garrigues d. Barrois
...6-1/6-2. This was the third all-unseeded finalists match-up of the season, and it produced the second Spanish champion under such circumstances in '11, as well as the second German runner-up. Meanwhile, AMG was dumped out of Madrid early by Lucie Safarova.


=============================


4. Madrid 1st Rd - Azarenka d. Dushevina 6-0/6-0
Madrid 2nd Rd - Azarenka d. Arvidsson 6-1/6-1
...is Vika mad about what transpired in Stuttgart? At the very least, she must be physically sound. Of course, the tournanent just started.


=============================


5. Madrid 1st Rd - Cibulkova d. Kuznetsova
...6-3/6-2. Well, I guess we know who ISN'T back strong.


=============================


6. Barc Final - Vinci d. Hradecka
...4-6/6-2/6-2. Hmmm, last year another Italian vet won the Barcelona title about a month before Roland Garros and it served as a prelude to a stunning grand slam moment. Of course, Vinci isn't Schiavone.


=============================


7. Zell Am Harmersbach $10K Final - Carina Witthoeft d. Vanessa Henke
...4-6/6-4/6-4. Yet another German to keep an eye one? In this final, 16-year old Witthoeft (world #776) knocked off her 30-year old countrywoman to claim her first career ITF challenger title.


=============================


8. Madrid 1st Rd - Parra-Santonja d. Pennetta
...6-3/7-5. Hey, at least Pennetta today tied Anna Kournikova for 19th on the all-time WTA list as she begins her tenth career week in the #1 spot in the doubles rankings.


=============================


9. Madrid 1st Rd - Kleybanova d. Peer
...6-3/6-2. A few weeks ago, Peer was one win away from becoming the first Israeli woman to reach the Top 10. She didn't get it, ultimately inching as close as #11 and coming up five points short of #10. She entered this week ranked #13, 145 points out of the Top 10. That's not the sort of trend she wants.


=============================


10. Madrid Doubles 1st Rd - Dellacqua/Stubbs d. Halep/Hercog
...6-4/6-4. Well, I guess Stubbs isn't really TOTALLY retired.


=============================








**CAREER WTA SINGLES TITLES - ACTIVE**


43...Venus Williams, USA
41...Kim Clijsters, BEL
37...Serena Williams, USA
22...Maria Sharapova, RUS
15...Caroline Wozniacki, DEN
13...Svetlana Kuznetsova, RUS
12...Jelena Jankovic, SRB
12...Dinara Safina, RUS
11...Patty Schnyder, SUI
11...Vera Zvonareva, RUS
10...Ana Ivanovic, SRB
10...ANABEL MEDINA-GARRIGUES, ESP



**OLDEST 2011 SINGLES CHAMPIONS**


31y,9m - Greta Arn, HUN (Auckland)
31y,3w - Alberta Brianti, ITA (Fes)
29y,10m,3w - Lourdes Dominguez-Lino, ESP (Bogota)
28y,11m,3w - Li Na, CHN (Sydney)
28y,9m - ANABEL MEDINA-GARRIGUES, ESP (ESTORIL)
28y,2m,2w - ROBERTA VINCI, ITA (BARCELONA)



**EARLIEST 2011 LOSSES...**




[for defending 2010 champions]


1st Rd - Mariana Duque-Marino (Bogota, lost to Han)
1st Rd - ARAVANE REZAI (MADRID, lost to Arvidsson)
1st Rd - ANASTASIYA SEVASTOVA (ESTORIL, lost to U.Radwanska)
2nd Rd - Alisa Kleybanova (Kuala Lumpur, lost to Krajicek)


[for 2011 #1 seeds]


1st Rd - Barbora Zahlavova-Strycova (Memphis, lost to Krajicek)
1st Rd - Francesca Schiavone (Kuala Lumpur, lost to Dokic)
1st Rd - MARION BARTOLI (BARCELONA, lost to Rybarikova)



**2011 WTA CHAMPS BY NATION**


2...Australia (Dokic/Gajdosova)
2...Italy (Brianti/Vinci)
2...Russia (Pavlyuchenkova/Zvonareva)
2...Slovak Republic (Hantuchova/Rybarikova)
2...Spain (Dominguez-Lino/Medina-Garrigues)
1...8 nations



**2011 SEMIFINALISTS BY NATION**


14...Russia
7...Italy
6...Belgium, Czech Republic, Denmark, Germany, Spain



**TWO UNSEEDED PLAYERS IN 2011 FINALS**


Brisbane - Petra Kvitova/CZE def. Andrea Petkovic/GER
Bogota* - Lourdes Dominguez-Lino/ESP def. Mathilde Johansson/FRA
ESTORIL* - ANABEL MEDINA-GARRIGUES/ESP def. KRISTINA BARROIS/GER
--
* - all four semifinalists were unseeded



**2011 WTA CHAMPS - SEASONS w/ A TITLE STREAKS**


4 years - Caroline Wozniacki, 2008-11
4 years - Vera Zvonareva, 2008-11
3 years - Victoria Azarenka, 2009-11
3 years - Kim Clijsters, 2009-11
3 years - ROBERTA VINCI, 2009-11



**2011 TITLES - DOUBLES TEAMS**


3...IVETA BENESOVA & BARBORA ZAHLAVOVA-STRYCOVA
2...Kveta Peschke & Katarina Srebotnik
2...Sara Errani & Roberta Vinci
2...Sania Mirza & Elena Vesnina



**2011 WEEKS SPENT AS DOUBLES #1**


8...Gisela Dulko, ARG (solo)
7...Dulko/Pennetta, ARG/ITA (co-#1)
3...FLAVIA PENNETTA, ITA (solo)



**2011 ITF TITLES**




[North America + territories]


2...Eugenie Bouchard, CAN
2...Monica Puig, PUR
1...Madison Brengle, USA
1...Gail Brodsky, USA
1...STEPHANIE DUBOIS, CAN
1...Sharon Fichman, CAN
1...Ashley Weinhold, USA




MADRID, SPAIN (Premier+ $4.5m/red clay outdoors)
10 Final: Rezai d. V.Williams
11 Top Seeds: Wozniacki/Zvonareva
10 Doubles Champions: Williams/Williams
=============================


=SF=


#4 Azarenka d. #1 Wozniacki
#16 Kvitova d. #6 Li


=FINAL=


#4 Azarenka d. #16 Kvitova

...I really hate these events that start main draw matches on Saturday. Not that it matters much as far as this section goes. Here, champion picks blow 7-5/4-2 leads in the QF, ala Gajdosova last week. I don't expect much different this time around. I've already lost an original "flier" SF pick in MJMS, as she went out in the 1st Round to a player who'd won exactly one match since January. Thus, I'll pick that player -- Li Na -- in her now-vacant semifinal spot. I'll go with Azarenka again to win, after the Stuttgart pick blew up after such a promising start. So, I suspect that whoever defeats Azarenka will win this time. Oh, Caroline?


All for now. The 1991 Roland Garros "Time Capsule" arrives in the next couple of days.






Juump

is a free online community that makes it easy to meet people and play more tennis – right in your neighborhood. . With Juump, you can

FIND

players and groups who play at your favorite courts,

MEET

players with similar skill levels, interests and schedules, and

PLAY

more tennis.