Wk.14- That's What Friends Are For
Another weekend, another great WTA story (
or two
).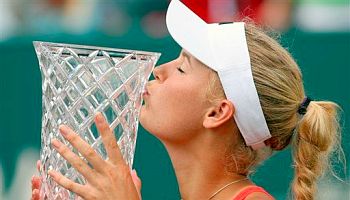 I wonder if anyone will notice what Caroline Wozniacki and Victoria Azarenka pulled off last week? Once again...
♥ ya Kim.


(Yep, my "reverse-the-curse" tactics seem to have worked on the Belgian, even if I'm still waiting for a little sugar to come MY 0-for-13 way in all this... but more on that in a bit.)

As we stand in April 2011, with the future/longevity of the Williams Sisters murky, Justine Henin gone again, Elena Dementieva in Russia probably saying she's still confident in her choice to retire (but maybe secretly staring blankly at the ceiling at 3am) and the aforementioned Mrs. Clijsters injuring herself and making her plight the center of attention on someone else's wedding day, much of this season has and will continue to be about which players will fill the void and begin to create their own legacies. Technically, though she's a couple of years older than her younger peers, Ana Ivanovic was the first (and, so far, only) player in the WTA's post-Williams/Belgians/first wave of Hordettes generation to win a slam, but it seems far morely likely that Wozniacki and Azarenka will eventually both total more slam titles on their own than that AnaIvo will ever get #2 at this point.

Really, that future scenario has been wafting through the air for a few seasons now, as the Dane and the Belarusan have always given off the "vibe" that they were on the leading edge of their generation of stars. They've been following each other around for years. Azarenka won the Girls Australian and U.S. Open titles in '05 and finished as the #1 junior in the world. Wozniacki was #4. A year later, Wozniacki won the junior title at Wimbledon and finished #2. In March '09, Azarenka became the 96th player to reach the WTA singles Top 10. Less than two months later, Wozniacki became the 97th. Since then, though, C-Woz has mostly distanced her good friend. She reached the Top 5 first, and wasn't joined there until today when Azarenka broke through that ranking barrier for the first time, and has now been ranked #1 for more weeks in her career than any other active player not named Serena. While Wozniacki has yet to win a slam, she HAS reached a slam final. Azarenka is still looking for her first slam semi.

Other than with the recent distance the Dane has put between them, they've been easy to couple (and, oh, how I've tried... until I finally took a step back and took a "prove it to me before I continue" stance with Azarenka). Recently, they even jointly brought out that Japanese flag before their match in Indian Wells to show solidarity with that nation's earthquake/tsunami victims. But while Wozniacki's rise has been steady and sure, Azarenka's has come in fits and starts, often set back by physical issues (some her fault, some not) and battles with on-court anger. By the start of '11, there was reason to wonder if she'd EVER get over the proverbial hump.

The 21-and-under set's "Big Two" have combined for twenty-two tour singles titles, but this weekend was the first time they've ever won crowns on the same weekend. Is it a sign? Maybe the time has finally come where Azarenka will pick up the slack in this potentially-great tennis relationship, close the gap and help to create something that every sport needs. A good rivalry. Every yin needs a yang, and this media-friendly combo of "the girl next door" vs. the "champion in waiting" (which is assigned each of those monikers might seem simple at first, but they're actually capable of passing them back and forth), only today in its infancy, has already revealed some compelling angles.

Wozniacki's steadiness and inner toughness has served her well the last couple of years, but Azarenka's outward fire has always tantalized. Never was the potential of this combo seen in better light than at the Tour Championships in '09, when a cramping Wozniacki battled back from match point against Azarenka to show the "harm" that lurks beneath the "charm." Azarenka's has never been accused of containing her "harm," sometimes to her own detriment. Her emotion/anger has sometimes provided the spark in a great comeback win (vs. Suarez-Navarro at Roland Garros two years ago), but it has also sent her careeming off course as the "firecracker" blew up in her face, too. Meanwhile, sometimes Wozniacki's lack of outward aggression can sometimes be blamed for her not having yet won that elusive slam title.

The last four WTA titles of the season have been split equally by Wozniacki and Azarenka, but they both went about their business if far different ways last week. Azarenka's Marbella experience, in many ways, was more impressive than her Miami title run. So what if she won far more prize money ($700K to $37K), earned more points (1000-to-280) and triumphed over a far more prestigious field (wins over five players ranked #25 or better, including the world #2 and #3 a week ago, compared to a best ranking of #43 amonst her five opponents last week) in Miami? Azarenka had to struggle to make it through in the early going in Miami, and didn't face the best games from her highest-ranked opponents in the latter rounds. In Marbella, she never allowed more than five games to an opponent in a single match, and so smooth was her transition from hard courts to red clay that she pulled off a freakishly rare feat. From what I could tell, the only other player since 2000 (that's all further a looked back) to win hard court and red clay titles in back-to-back weeks has been Venus Williams in Dubai and Acupulco in both '09 and '10. That's it. That's the list. Azarenka even jumped continents in the process, just like V did. A few other players have followed up hard court crowns with ones on clay, but none on consecutive weeks (Serena pulled off a Miami/Charleston combo in '08, but back then Amelia Island week was sandwiched between those events).




I was looking to see if Azarenka had learned from her Miami run, and whether or not she could carry it over into Europe. Well, she didn't lose a set in Spain, extending her streak to seventeen consecutive sets won since she dropped the 1st against Anastasia Pavlyuchenkova in the Round of 16 in Miami. So far, so good, I'd say.

Meanwhile, while Azarenka cruised, Wozniacki, though she only lost one set, struggled before finally prevailing. Fatigued at times, inconsistent with her serve, forehand and decision-making at others, she wasn't at her best. She survived a pair of tie-breaks (8-6 and 11-9) against Barbora Zahlavova-Strycova, with the Czech holding set points in both stanzas; and she trailed Yanina Wickmayer 4-6/4-4 love/40 on her own serve, with the Belgian missing on an easy shot at the net that would have allowed her to serve for the match. With an opponent letting her off the hook, C-Woz accepted the gift and ended up winning her fifteenth career singles title. By the time the final arrived, the Dane even managed to hold her serve throughout. Like Azarenka last week in Miami, Wozniacki survived and might be all the better for it.

No matter what occurs over the next few months with the Sisters or Clijsters, if by the end of the season Wozniacki and Azarenka have become tied together in ways other than a close friendship and birthdates, this season will have proven to be an enticing stepping stone. Tennis, maybe more than any other indvidual sport, makes its hay with rivalries. Whether they be friendly (Evert/Navratilova), or not (Clijsters/Henin), short-lived (Graf/Seles) or even particularly competitively intriguing on game day in the early going (Serena/Venus), they're great for the sport. The up and down nature of recent women's #1's have, more than anything, robbed the tour of any sustained history between two top players. On the men's tour, while Federer/Nadal was in the spotlight, Nadal/Djokovic was warming up in the background and is now ready to hit the big time in '11. Where are the WTA's similar head-to-head storylines? There really haven't been any since the expected Jankovic/Ivanovic tussle fizzled out along with AnaIvo's post-Roland Garros title standing.

Wozniacki and Azarenka could change all that. They're just similar, as well as different, enough to grab a sporting public's attention. It could be great for tennis. Now they just have to make it happen.

Of course, there's probably little discussion of those two as this week begins, what with Clijsters once again thrusting herself into the headlines for something unrelated to on-court business. Yep, she managed to injure herself again... dancing at her cousin's wedding. What's been termed a "severe" injury has resulted in torn ankle ligaments that will take at least six weeks to heal, meaning she's pretty much an assured no-go for RG, especially since she was already out at least a month with shoulder and wrist injuries. Forget Paris, and wonder about London, too... not to mention all the expected handwringing about another player not on the court taking away from the great things happening on it.

Caroline and Victoria, the stage is now cleared just a tiny bit more for you in Paris. But you might have your work cut out for you trying to get the attention of a large chunk of the audience. Good luck.



*WEEK 14 CHAMPIONS*




CHARLESTON, SOUTH CAROLINA (Premier $721K/green clay outdoor)


S:

Caroline Wozniacki def. Elena Vesnina/RUS 6-2/6-3


D:

Mirza/Vesnina d. Mattek-Sands/Shaughnessy




MARBELLA, SPAIN (Int'l $220K/red clay outdoor)


S:

Victoria Azarenka def. Irina-Camelia Begu 6-3/6-2


D:

Llagosters-Vives/Parra-Santonja d. Errani/Vinci








PLAYER OF THE WEEK:

Caroline Wozniacki/DEN


...Wozniacki's Charleston title gives her a tour-leading three this year, meaning she's now won three or more crowns in four straight seasons. No other professional player can say that. Just her. That's it. That's the list. Rafael Nadal and Roger Federer have notched 3+ wins every season from 2008-10, but have combined for only one title so far in 2011. Last week began for C-Woz with a quick win over Irina Falconi, followed by struggles against Zahlavova-Strycova and Wickmayer, then progressively more matter-of-fact wins over Jelena Jankovic and Elena Vesnina as she seemingly got a second wind, got her consistency back in order and got used to the clay (maybe not necessarily in that order). So, while she's not the biggest women's tennis story today, it should be noted yet again that Wozniacki continues to take forward steps. Yesterday, she even said she feels confident and "knows" that she can win a slam. Two years ago, she lost in the Charleston final. A year ago in South Carolina, she suffered the injury that slowed her down all spring. This year, she's the champion. That slam title may not come THIS year, but it WILL come. Somewhere. One day.


=============================




RISERS:

Victoria Azarenka/BLR & Peng Shuai/CHN


...Azarenka's seventh career title in Marbella was a pretty pristine affair. She never lost a set all week, and never allowed more than five total games in a match. Her additional wins came over Arantxa Parra-Santonja, Laura Pous Tio, Sara Errani and Irina-Camelia Begu, while Dinara Safina wasn't physically able to complete the 1st set of their QF match. If Step 1 was Miami, then Step 2 was Marbella for the Belarusan. Still looking for that first career slam semi, Azarenka's momentum for Paris -- where she was dumped out in the 1st Round a year ago, after reaching the QF in '09 -- is now an official entity to contend with. But slams aren't played in April. Now, with Clijsters additional wedding-related (???) injury -- are we going to get endless speculation about that like we have with Serena's restaurant-related one? -- the door for slam success is swinging open just a wee bit more. Can Azarenka walk through it? Peng would just like to reach a final in '11. Charleston wins over Sloane Stephens, Ayumi Morita, Nadia Petrova and Sania Mirza put her in her third SF of the season. Only three players have appeared in more, but maybe more importantly, of the eighteen women who have reached two or more singles semis this year, Peng is the ONLY one to have yet to reach a 2011 final.


=============================




SURPRISES:

Elena Vesina & Sania Mirza (RUS/IND) & Irina-Camelia Begu/ROU


...Mirza and Vesnina have seeming been so good for each other that you have to consider whether they're wondering where the other has been all their lives. As they've teamed up to great success in doubles in recent weeks -- winning Indian Wells before claiming Charleston this weekend -- they've also been able to carry over their shared momentum to singles success. For her part, a finally-healthy-again Mirza made it through qualifying, then got wins over Alison Riske, Vania King and Sabine Lisicki to reach the QF. Vesnina took down even bigger prey: Rebecca Marino, Bethanie Mattek-Sands, defending champ Sam Stosur, Julia Goerges and Peng Shuai to reach her fifth career final. For the second time in those final trips, though, she was defeated by Wozniacki (she's now 1-5 against the Dane). Begu, 20, has been one of the lesser-registering Swarmettes the last couple of years, but she's managed to win her fair share of challenger titles. Of course, nothing she's even done before compares to her miraculous run in Marbella last week. After first qualifying (def. Glushko and Koryttseva), she pulled upsets over Alberta Brianti, Klara Zakopalova and Svetlana Kuznetsova to reach her first career tour singles final. She's the third player -- with Mathilde Johansson and Rebecca Marino -- to be a first-time finalist in '11, but the first to do so "the long way around" through qualifying.


=============================




COMEBACKS:

Sabine Lisicki/GER & Casey Dellacqua/AUS


...before injuries and illness played havoc with her life and career, Lisicki was actually the Charleston singles champ (def. Wozniacki in the final) in 2009. Back in Charleston, her slow climb back progressed a few steps more as she reached the 3rd Round with wins over Renata Voracova and Marion Bartoli. She'll be part of the Germany/USA FC tie this weekend. And, in what has now seemingly become a weekly segment around here, it's time for Week 14's "Dellacqua Update." And, once again, things are looking better and better all the time. Not unexpectedly, Casey and Olivia Rogowska won their fourth straight doubles titles in the $25K challenger in Bundaberg, Australia. But the surprise came in singles as, after not registering a solo win in over a year, Dellacqua also grabbed the singles title. It was somewhat bittersweet, as she defeated partner Rogowska in the final, but you'd like to at least hope that Olivia felt good about Casey's success in the end. After all, she's had a front row seat at her ongoing comeback show for over a month now.


=============================




VETERANS:

Nuria Llagostera-Vives/Arantxa Parra-Santonja, ESP/ESP


...nearly four years after they shared a doubles titles in Barcelona in '07, the Spanish vets won their second in Marbella. It's NLV's fourteenth career tour crown, while APS has four.


=============================




FRESH FACES:

Christina McHale/USA & Lara Arruabarrena-Vecino/ESP


...McHale's rise continued in Charleston, as the 18-year old reached the QF with wins over Heather Watson, Alisa Kleybanova and Daniela Hantuchova. She'll be on the U.S. Fed Cup team this week in the World Group Playoff tie against Germany. Arruabarrena-Vecino, 19, has won two challenger titles this season, and last week managed her first success on the big tour. After qualifying with wins over Eleni Daniilidou and Nina Bratchikova, she got main draw victories over Monica Niculescu and Sandra Zahlavova in Marbella on her way to her first career QF result.


=============================




DOWN:

Samantha Stosur/AUS, Aravane Rezai/FRA & Alisa Kleybanova/RUS


...none of these three had 1st Quarters to write home about (except maybe over tear-soaked pages or keyboards), and things didn't get any better in the opening week of Quarter #2. Stosur was the Charleston defending champ, but she managed just five games against Vesnina in the 3rd Round. 2010 Rome champ Rezai, already dealing with unfortunate off-the-court issues, won just three games in her 1st Round match in Marbella against Estrella Cabeza-Candela. She's now 2-6 on the season, and hasn't won two matches in a tournament since last July. Meanwhile, Kleybanonova lost 6-1/6-0 to Christina McHale in the 2nd Round in Charleston.


=============================




ITF PLAYER:

Marina Erakovic/NZL


...Marina's been having a great time in North America. From Mexico to Alabama to, this past week, Mississippi (Jackson, to be exact), she's strung together back-to-back-to-back ITF titles, fifteen straight match wins and, now, a second consecutive "ITF Player of the Week" honor in this space. Ranked #230, the Kiwi notched wins over Julia Boserup, Chan Yung-Jan and Alja Tomljanovic in a 6-1/6-2 final.


=============================




JUNIOR STAR:

Samantha Crawford/USA


...last year, big-serving Florida resident Crawford won the Eddie Herr 16s championship. Last week, as a wild card entrant in her first career Grade 1 event at the USTA International Spring Championships in Carson, California, the 6-foot-1 sixteen-year old pulled off a dream run to the title. She defeated four seeds along the way, including #2 Grace Min (6-3/6-2) and #3 Madison Keys (6-1/6-1) in the final. Keys injured an abdominal muscle early in the 1st set in the final, but was classy enough to not blame her loss on the ailment, choosing instead to give her big-hitting fellow Bannerette full credit. Colette Lewis of Zoo Tennis provides a great rundown of the final featuring yet another girl on the lengthening list of young Americans to keep an eye on.


=============================






1. Chas QF - Wozniacki d. Wickmayer
...4-6/6-4/6-4. Oh, Wickmayer has to still be seeing that ball that popped off the top of the net, providing her with a perfect setter to put away for a winner when she led this match 6-4/4-4 and 40/love on Wozniacki's serve. She failed to win the point and get a chance to serve for the set, and C-Woz won nine straight points to take the set and go on to win here and take the title. Now, she's supposed to lead the Belgian team in the FC semifinals against the Czechs. I guess we'll learn how short-term her memory really is.


=============================


2. Marb QF - Azarenka d. Safina
...5-1 ret.. It's never a good thing when "retired" and "lower back injury" are uttered in the same sentence with "Safina."


=============================


3. Chas 3rd Rd - Vesnina d. Stosur 6-4/6-1
Chas SF - Vesnina d. Peng 7-6/6-3
...Vesnina should have known pretty early on that she'd have no chance against C-Woz in the final, considering the two previous times she'd lost in tour finals to the Dane she'd also beaten both Stosur (New Haven '09) and Peng (Ponta Vedra Beach '09) en route to the championship match.


=============================


4. Marb 1st Rd - Cabeza-Candela d. Rezai
...6-3/6-0. I sure hope the Pastries aren't counting on Aravane to play a big part in France's World Group Playoff tie this weekend with Spain. She had hard enough of a time handling Spaniard Cabeza-Candela. I'd be afraid to guess what might happen if she takes on more than one.


=============================


5. Char 1st Rd - Scheepers d. Schnyder
...6-4/6-4. Sneaky Patty's farewell to Charleston wasn't as long of a goodbye as one might have hoped it'd be.


=============================


6. Chas 1st Rd - Vesnina d. Marino 6-7/6-2/6-3
Chas 1st Rd - Mirza d. Riske 2-6/6-3/6-3
...Marino and Riske just can't get out of each other's shadow. During the same afternoon in Charleston, they even dropped separate singles matches to on-court partners who would go on to win the doubles title.


=============================


7. Chas 2nd Rd - McHale d. Kleybanova
...6-1/6-0. Sure, Kleybanova has been having a poor excuse for a season. But unless the Russian is playing hurt, she really has NO excuse for being nearly double-bageled by anyone.


=============================


8. Chas 3rd Rd - Goerges d. Peer
...6-2/6-4. If Peer had won this match she'd been the first Israeli woman to reach the Top 10. As it is, she's STILL five ranking points short.


=============================


9. Chas Final - Wozniacki d. Vesnina
...6-2/6-3. This one was nothing like their meeting in the PVB tour semifinal in '09, when Wozniacki came back from a 4-2 3rd set deficit, saving four match points while Vesnina played out all the parts in her own Shakespearean tragedy on the other side of the net. She was rather subdued on this afternoon, but did grab a doubles title later in the day to put a smile on her face.


=============================


10. Marb Final - Azarenka d. Begu
...6-3/6-2. Let's see, over the last few weeks I've picked Wozniacki to NOT win titles twice in events that she won, and picked her TO win one in the week that she didn't. In Marbella, I decided to go against form and picked an unseeded champion. So, naturally, #1-seeded Azarenka took the crown. Neither Kim, nor I, have been fairing very well since our "break-up."


=============================


HM- 10K Antalya Final - Quirine Lemoine d. Isabella Shinikova
...6-4/6-2. The 19-year old Dutch girl, ranked #858, made some noise two seasons ago when she upset Laura Robson in the Wimbledon Girls competition on her way to the quarterfinals.


=============================


HM- 10K Sibenik Final - Eugenie Bouchard d. Jessina Ginier
...6-2/6-0. It's the Canadian junior's second challenger title of the season.


=============================








**2011 WTA LEADERS**




[Singles Titles]


3...CAROLINE WOZNIACKI, DEN
2...VICTORIA AZARENKA, BLR
2...Petra Kvitova, CZE


[Winning Streaks]


12...Kim Clijsters, January-February
11...Li Na, January
11...VICTORIA AZARENKA, MARCH-APRIL (active)


[Consecutive Finals]


3...Kim Clijsters, January-February
3...Caroline Wozniacki, February
2...Li Na, January
2...VICTORIA AZARENKA, MARCH-APRIL (active)


[Low-Ranked Semifinalists]


#150 - Michaella Krajicek, NED (lost Kuala Lumpur SF)
#138 - IRINA-CAMELIA BEGU, ROU (lost Marbella Final)
#119 - Petra Martic, CRO (lost Bogota SF)
#105 - Magdalena Rybarikova, SVK (won Memphis title)
#102 - Lucie Hradecka, CZE (lost Memphis SF)


[Singles/Doubles Final in Event]


Pattaya - Sara Errani, ITA - L/W
Acapulco - Arantxa Parra-Santonja, ESP - L/L
Charleston - ELENA VESNINA, RUS - L/W



**2011 TOP SEED WON TITLE**


Dubai - Caroline Wozniacki def. Kuznetsova
Indian Wells - Caroline Wozniacki def. Bartoli
Marbella - VICTORIA AZARENKA def. Begu
Charleston - CAROLINE WOZNIACKI def. Vesnina



**SEASONS w/ 3-or-more TITLES - WTA/ATP**




[active streak, extended in 2011]


4 years - CAROLINE WOZNIACKI, 2008-11


[3 years, 2008-10]


Roger Federer
Rafael Nadal


[3+ in 2010 only]


Kim Clijsters
Juan Carlos Ferrero
Sam Querrey


[3+ in 2011 only]


Novak Djokovic
Robin Soderling



**WORST RECORDS IN WTA FINALS, 2009-11**




[career titles in parenthesis]


0-5...ELENA VESNINA (0)
0-3...Sara Errani (2)
0-3...Lucie Safarova (4)
0-3...Patty Schnyder (11)



**WEEKS SPENT AT #1 - active players**




[singles, as of next Monday]


122...Serena Williams
27...CAROLINE WOZNIACKI
26...Dinara Safina
20...Kim Clijsters
18...Jelena Jankovic
17...Maria Sharapova
12...Ana Ivanovic
11...Venus Williams


[doubles, as of next Monday]


163...Cara Black
147...Liezel Huber
117...Lisa Raymond
61...Samantha Stosur
25...GISELA DULKO
8...FLAVIA PENNETTA
8...Serena Williams
8...Venus Williams
4...Kim Clijsters




FED CUP SF & WG PLAYOFFS
=============================


=SF=


Russia(H) def. Italy(A) 4-1
Czech Republic(A) def. Belgium(H) 4-1


=World Group Playoffs=


Germany(H) d. United States(A) 4-1
Spain(H) d. France(A) 4-1
Serbia(A) d. Slovak Republic(H) 3-2
Australia(H) d. Ukraine(A) 5-0


=World Group II Playoffs=


Belarus(H) d. Estonia(A) 4-1
Slovenia(H) d. Canada(A) 3-2
Sweden(A) d. Switzerland(H) 3-2
Japan(H) vs. Argentina(A) - postponed

...two-time defending champion Italy enters as the #1-ranked FC team. But THAT team isn't the team that'll be going up against Russia in Moscow. With Pennetta and Schiavone absent, the hard work will fall on the shoulders of Vinci, Errani, Brianti and Camerin. With Zvonareva, Kuznetsova, Pavlyuchenkova and Makarova on the Hordette roster, it would seem a safe bet that Russia will be get a shot to re-claim the FC title later this year. Of course, the Russians DID fall behind France 0-2 in the 1st Round and were lucky to escape. Meanwhile, six months ago it looked like the forminable Belgian team would include Clijsters, Henin and Wickmayer. As it turns out, only Wickmayer is here, with the likes of Flipkens and youngsters Mestach and van Uytvanck round out the roster. Kvitova, Safarova, Benesova and Zahlavova-Strycova would seem to have a huge advantage, but while the Czechs are talented they're also a bit flighty at times. Kvitova DID successfully put the team on her back earlier this season, but that tie didn't have a trip to the FC final at stake with a pro-Belgium crowd on hand. We'll see. I like the Belgians' chances for an upset better than those of the Italians, but only slightly so.


All for now.






Juump

is a free online community that makes it easy to meet people and play more tennis – right in your neighborhood. . With Juump, you can

FIND

players and groups who play at your favorite courts,

MEET

players with similar skill levels, interests and schedules, and

PLAY

more tennis.