US.2- Serena vs. the World
Join me, a few years into the future...


Serena Williams steps to the podium to make her Tennis Hall of Fame speech in Newport. Someone has just called her "the best ever," and everyone who she ever beat looks up and says to themselves, "Yeah, maybe she was." If she holds to form, Serena is about to see fit to thank all those players for helping her get to such an exalted position in the history of the sport. After all, without all those other women to climb over, she'd never have had the opportunity to reach the top.





"I want to thank you for making this day necessary."

-

Yogi Berra, former New York Yankee catcher, (mis)speaking on "Yogi Berra Day" in 1947


Williams makes her 2011 Open debut on Ashe tonight (in the featured second match up, no less) against Serbia's Bojana Jovanovski. It should be the kick-off for what might be a very telling tournament that was set to revolve around Serena long before the first ball was set to be struck in anger on Monday. Barring a monumental, chaos-inducing loss along the way (or maybe even IF that were to happen), the next two weeks in New York might just provide a template for the tour's four biggest events for the next few seasons.

It'll be Serena vs. the world.

Fittingly, it'll be her first match in this tournament since her "F-Bombs Heard 'round the World" loss to Kim Clijsters in '09. Williams (sort of) addressed the issue when questioned
about it yesterday, saying, "I just remember I lost, and that I got really popular; a lot of people were telling me I was, like, super cool, that they never saw me so intense." Alllll-right. One thing Serena isn't good at is talking around topics she is tired of or doesn't want to discuss too much. From Dinara Safina's rise to #1 ("(She) had a great year. She won... Rome and Madrid. Hahaha.") to whether or not her failure to win Wimbledon after a year-long absence was "good" for the WTA ("Yay, go women's tennis!), Serena usually goes the sometimes-snide, usually dryly humorous and sarcastic route with her comments. She doesn't always pull off the trick as gracefully as some players (say, Federer, when he was at the top of his off-court "game"), and even sometimes when she's not outwardly showing a lack of interest in a topic (such as her saying yesterday that she's "always wanted" to win the U.S. Open Series) you sort of believe she's PROBABLY thinking along those lines inside her head. I don't have a problem when she does this (the tour can always use a little flavor), but some likely do. Just like with what happened two years ago AFTER the incident with the linesperson.

Serena vs. the world.


Such is the situation of any player who can "defeat" another before they ever walk onto the court. The desire to chip away at the edifice is often impossible for some to resist (hence, the "love her or hate her" Sports Illustrated cover last year. Williams has faired pretty well in the arena, though. In the end, just like Andre Agassi and Jimmy Connors and John McEnroe, she'll likely far outrun and outlast her detractors and nemeses.



"The pitchers were afraid of him because he'd hit anything, so they didn't know what to throw. Yogi had them psyched out and he wasn't even trying to psych them out."

-

Hector Lopez, on Berra



Similar things will likely be said about Serena's abilities come her day of honor. Which means that every time Williams hits the court, big dealings will be going on inside the head and body of her opponents. It's surely the case at this slam.

At the '11 Open, trying to succeed where so many others have failed against Serena, are a growing group of talented twentysomethings trying to sniff out a few slam victories in the soon-to-be 30-year old Williams' "golden years" on tour (which might just last a bit longer than anyone would have even thought a few years ago, as Serena's injury-related absence has led her to talk about having five or six "good years" left in her career). The major contenders were there in force as this tournament began. Caroline Wozniacki (21), Victoria Azarenka (22), Petra Kvitova (21), Sabine Lisicki (21) and Andrea Petkovic (23) amongst them, with Maria Sharapova (24) not nearly as long in the tooth as our memories might lead us to assume. Aside from the bounced Kvitova, they're all still there. Aside from Sharapova, who struggled to advance on Day 1, they all moved forward with ease on Day 2.

This U.S. Open could turn out to be "an example for the ages," as Williams, after a year out, right after the rise of young twentysomethings into Wimbledon's Final 4, hot off her sizzling hard court season, attempts to face them ALL down as the #28-seeded near-unanimous choice by the pundits (Carl just about stands alone... something he's used to, I'm assuming, since most people have a sense of smell) to walk away with the title.

Serena vs. the world. What else is new?

One day, if thirteen-time slam champ Williams catches up with Martina Navratilova and Chris Evert (both with 18) on the all-time WTA slam title list, and puts pressure on Steffi Graf (22) and Margaret Court (24), she'll have cobbled together even more evidence for all the eventual (and current) "best ever" talk. While they may still be relegated to being simply "ladies in waiting" by the time this Open concludes, those aforementioned twentysomethings will likely be the players charged with trying to prevent Williams from reaching such epic tennis statistical heights.

Well... game on, then.


=DAY 2 NOTES=
...so, winning slams in 2011 gets you what at the U.S. Open? Ummm, zip. Nada. Nothing. Zero. Well, that's not entirely true. Kim Clijsters got a few extra weeks off, since she didn't even make the trip to New York. As for both Petra Kvitova and Li Na, they got the chance to catch early flights out of NYC, avoiding all the post-slam hustle-and-bustle that neither has handled particularly well this summer.

#6 Li became the second women's seed to exit this Open, following Kvitova becoming the first on Monday, losing to Romanian Simona Halep 6-2/7-5. Kvitova, too, lost to a Swarmette (Alexandra Dulgheru). Both the Czech and Chinese women had 28 unforced errors in their 1st sets, and ended with around 50 UE's for the match, too. Not shockingly, it's the first time both the RG and SW19 champs have gone out in the 1st Round at the Open... just like it's no surprise that they'll now share this slam's "Crash & Burn" award, as well.

...Sabine Lisicki now has a date with history (and why ESPN2 commentators seem to have brain-lock when it comes to highlighting this contest in advance is beyond me... it'll be the first really big match of the tournament, and it was visible in the crystal ball as soon as the draw was released), as she'll face Venus Williams in the 2nd Round. Lisicki, like Venus' 1st Round opponent Vesna Dolonts, had a little difficulty hopping a non-cancelled flight to New York (she was trapped in Dallas a little longer than she wanted to be after winning the title there on Saturday), but the German seemed none the worse for wear today against Alona Bondarenko. She never lost more than three games in any of her five matches in Big D, and she only lost three in each set against the Ukrainian in the Big Apple today. Now, though, the proverbial rubber will hit the road.

Venus' history at this tournament is quite compelling. She debuted in '97, the last time she was unseeded before this year, and went all the way to the final. It set up a pattern that has carried through nearly her entire career at Flushing Meadows. For one, she's never lost before the Round of 16, but even more impressively, she's never lost in NY to a player who doesn't have a slam title AND a #1 singles ranking on their current career resume. Also, in her twelve previous Opens, Venus was twice the champ, and the player who defeated her has ultimately been crowned the champion eight other times. So, other than in '99 and '04, the road to the title has gone through Venus for most of the last fourteen years.

Lisicki is 23-4 since Roland Garros, with two singles titles and a slam SF under her belt. But she'll be facing down an entirely different mountain of achievement come the next round. If she can triumphantly ascend it, who knows what she might be capable of not only in this slam, but in her career. Well, at least that what history will be whispering in her ear when she takes the court.

...in other matches of note: #21 Daniela Hantuchova fell to Pauline Parmentier, while Victoria Azarenka surely had a better 1st Round (def. Johanna Larson 6-1/6-3) this year than she did 2nd Round last year.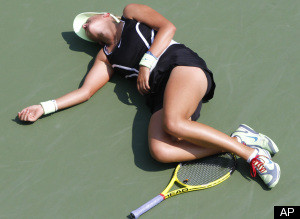 Meanwhile, Caroline Wozniacki had a good, Rory-less time against Nuria Llagostera-Vives (6-3/6-1), Flavia Pennetta finally rediscovered her game against Dallas finalist Aravane Rezai, Shahar Peer narrowly avoided becoming the "Second Seed Out" (after being the first sent packing at the last two slams) when she won a streaky three-setter over Sania Mirza (getting her first win in five tries against the Indian) and Roberta Vinci won the third installment of her summer trilogy with Irina-Camelia Begu, taking the rubber match in straights sets.

Queen Chaos made her first appearance at this Open, and had a rather calm afternoon, defeating American Alison Riske (one of the few young U.S. women NOT to win her 1st Round match) 6-2/6-0. She'll next play in a "Battle of the Jelenas" match with Ms. Dokic, who (surprisingly, a little, to be honest) knocked out Olga Govortsova 6-3/6-1. Heck, even two of the former slam champs in the draw not named Serena won: Svetlana Kuznetsova in straights over Sara Errani, and Ana Ivanovic over Ksenia Pervak, who squandered an early advantage against the Serb, who was playing with a heavy heart after the death of her grandfather.

...one of the bigger 1st Round stories this week so far has been the success of the young American women. Bannerettes Madison Keys, Irina Falconi, Christina McHale and Coco Vandeweghe have advanced to the 2nd Round, along with Vania King and Venus Williams (with Serena still to play). 18-year old Wild Card Sloane Stephens added her name to the list in dramatic fashion in the early evening, notching her first career main draw slam win over Hungarian qualifier Reka-Luca Jani, whose name I absolutely LOVE. Quick -- say it five times fast! Or, even better, try it in a "drunken voice." Oh, it'll provide great fun for hours... or at least a few seconds. Jani twice served for the match in the 3rd, and held a mini-break in the deciding tie-break, but Stephens pulled through 6-2/3-6/7-6.

Stephens, along with Keys, is one of two Wild Cards to win 1st Round matches. Three qualifiers -- Laura Robson, Romina Oprandi and Silver Soler-Espinosa -- advanced. Qualifier Michaella Krajicek is still playing as I post this.

...through (most of) the 1st Round, this slam's nation awards are producing some really interesting nominees. Despite competion from the Spaniards (Pous-Tio, Soler-Espinosa and Suarez-Navarro) and Americans, it's hard to imagine the Romanians NOT winning the "Upset Queens" award simply on the strength of their wins over the season's two participating slam winners, Kvitova (lost to Dulgheru) and Li (Halep). In the "Revelation Ladies" race, the Brits registered some notice, but the Americans seem ready to clean up here what was swiped away in the "UQ" competition.

Elsewhere, while Clijsters said earlier this year that she wouldn't play in Asia, the Asians seem to have boycotted the tournament that the Belgian has won the last two years. The "Poor Souls" award isn't finalized just yet, but while the Czechs (Kvitova, Zakopalova, Benesova & Hradecka, with Zahlavova-Strycova losing as I post this) have been pretty woeful so far, the overall (lack of) success of the countries of Asia has been astonishing. Only three women -- Peng Shuai, Zheng Jie and Agkul Amanmuradova -- from an Asian country advanced, as the continent produced as overall 3-10 record. Ouch.


...and, finally, following on the heels of her "trivalry" comment about the Djokovic/Nadal/Federer dynamic earlier this summer, Tennis Channel's Mary Carillo pulled another good one out of her quiver today. New York Jet quarterback Joe Namath picked up the nickname "Broadway Joe" during his playing
days. Today, during an interview with Jo-Wilfried Tsonga, she called the fan favorite Frenchman "Broadway Jo-Willie." It's even a better moniker when you consider that Namath's middle name is Willie, as well. Nudge, nudge. Good one, Mary.




**"CRASH AND BURN" WINNERS**




[U.S. Open]


2007 Maria Sharapova, RUS (3rd Rd.)
2008 Ana Ivanovic, SRB (2nd Rd.)
2009 Elena Dementieva, RUS (2nd Rd.)
2010 Victoria Azarenka, BLR (2nd Rd.)
2011 Petra Kvitova, CZE & Li Na, CHN (both 1st Rd.)


[2011]


AO: Jelena Jankovic, SRB (2nd Rd.)
RG: Kim Clijsters, BEL (2nd Rd.)
WI: Jelena Jankovic, SRB (1st Rd.)
US: Petra Kvitova, CZE & Li Na, CHN (both 1st Rd.)



**VENUS AT OPEN**




1997 RU - lost to Hingis




1998 SF - lost to Davenport


1999 SF - lost to Hingis


2000 - Champion




2001 - Champion




2002 RU - lost to S.Williams


2003 -
2004 4th Rd. - lost to Davenport


2005 QF - lost to Clijsters


2006 -


2007 SF - lost to Henin




2008 QF - lost to S.Williams




2009 4th Rd. - lost to Clijsters




2010 SF - lost to Clijsters


2011 ??
--


blue

- Venus or player lost to won title



*SLAM MATCH WINS - OPEN ERA*




[women]


306...Martina Navratilova
299...Chris Evert
278...Steffi Graf
210...Arantxa Sanchez-Vicario
210...Venus Williams (post-US 1r)
202...Serena Williams (post-Wimbledon)


[men]


232...Jimmy Connors
224...Roger Federer (post-US 1r)
224...Andre Agassi
222...Ivan Lendl
203...Pete Sampras



*BACKSPIN 2011 PLAYERS-OF-THE-MONTH*


JANUARY & AO: Kim Clijsters, BEL
FEBRUARY: Caroline Wozniacki, DEN
MARCH/APRIL: Caroline Wozniacki, DEN
APRIL/MAY: Caroline Wozniacki, DEN
MAY/pre-RG: Maria Sharapova, RUS
MAY (RG): Li Na, CHN
JUNE/JULY (grass): Petra Kvitova, CZE
JULY: Serena Williams, USA
AUGUST (pre-US): Serena Williams, USA





TOP QUALIFIER:

Romina Oprandi/ITA




TOP EARLY ROUND (1r-2r):

xx


TOP MIDDLE-ROUND (3r-QF):

xx


TOP LATE ROUND (SF-F):

xx


TOP QUALIFYING MATCH:

Q3: Alexandra Panova/RUS def. #6q Andrea Hlavackova/CZE 3-6/6-2/7-6(7)




TOP EARLY RD. MATCH (1r-2r):

xx


TOP MIDDLE-RD. MATCH (3r-QF):

xx


TOP LATE RD. MATCH (SF-F/Jr.):

xx


TOP NIGHT MATCH:

xx


=============================




FIRST WINNER:

Monica Niculescu/ROU (def. Patricia Mayr-Achleitner/AUT)




FIRST SEED OUT:

#5 Petra Kvitova (lost to Dulgheru/1st Rd.)




UPSET QUEENS:

xx


REVELATION LADIES:

xx


NATION OF POOR SOULS:

xx


LAST QUALIFIER STANDING:

xx


LAST WILD CARD STANDING:

xx


LAST AMERICAN STANDING:

xx


IT:

xx


MS. OPPORTUNITY:

xx


COMEBACK PLAYER:

xx


CRASH & BURN:

Nominees: Wimbledon champ, #5 Kvitova (1st Rd./lost to Dulgheru) & Roland Garros champ, #6 Li (1st Rd./lost to Halep)


ZOMBIE QUEEN:

xx


LADY OF THE EVENING:

xx


BROADWAY-BOUND:

xx


DOUBLES STAR

xx


JUNIOR BREAKOUT:

xx





All for Day 2. More tomorrow.