Wk.38- To Be or Not To Be... Ms. Backspin
Let the debate begin.


Since Justine Henin was an easy choice in 2007, the process of figuring out each season's "Ms. Backspin" has been akin to a live-action Sudoku puzzle. When it's come to determining a worthy season honoree, I've often had to be a little creative, looking at the numbers and trying to "divine" an appropriate ending. A Fed Cup team, a doubles pair and a first-time slam winner who swept to the top on the wave of one beautifully emotional performance have been recent winners. But since Henin, there hasn't been a locked-in, dominant singles-based choice to be found. Early on, it looked as if 2011 might offer a return to "the basics" when it comes to this yearly debate. But it hasn't turned out that way.

"Ms. Backspin" is supposed to be about the best, most all-consuming, best-at-what-she-does female tennis player in the world. Ah, but there's the rub. Who's been that this season? Ummm, what day is it?

At the start of the season, it was Kim Clijsters. Then it was Li Na. Finally, this summer, Petra Kvitova looked like she was the choice of a new generation. But the Czech was bounced early a few times, and Serena Williams became THE dominant player of the hard court season... only to be trumped by Samantha Stosur in the Open final. Meanwhile, another player has won more matches and titles than any other, AND is the #1-ranked woman in the world, but, because of her lacking late-stage slam success (after coming within one point of the Oz final in January) no unbiased opinion could ever really see fit to place Caroline Wozniacki at the top of any "Player of the Year" list for 2011.

The case for "Ms. B," of course, HAS to begin with the slam winners. AO champ Clijsters has pretty much endured a lost season since picking up her first of multiple '11 injuries not long after winning in Melbourne. She's essentially been a wedding party ghost ever since. Li is the only woman with two slam finals to her credit on the season, but is it enough considering her general lack of results elsewhere? She's got the best chance of all the slam winners to be dubbed "Ms. Backspin," though, since her status as the Roland Garros winner and the first-ever Asian slam champ carries a great deal of weight now, and will probably mean even more not too far into the future. Kvitova? Oh, Petra. After Wimbledon, the crown was her's for the taking. Thing is, she could still pull off a late run to grab the honor, as she'll lead the Czech team in the Fed Cup final. A win there, plus another big one elsewhere (the WTA Championships, or at another Premier event, possibly giving her a shot to catch Wozniacki on the season titles list) likely puts her in the opening statement of the conversation. U.S. champ Sam Stosur is no "Ms. Backspin" contender after a generally subpar season leading into North American hard courts, but there will certainly be a place reserved for her at (well, make it "near" since Kvitova's SW19 run isn't going away) the top of the "Best Performance" list in the 2011 BSA's.

Still, even with such "squishy" footing when it comes to the four biggest names on the board, it's hard to imagine anyone OTHER than a slam champ taking home the honors this time around, as none of the doubles pairs have been dominant enough over the course of the season to be given serious consideration, another Russian FC title would seem perfunctory, and a win by the Czechs would add more juice to Kvitova's candidacy than that of the team's. Thus, it looks like this race is really down to a simple either/or head-to-head competition:



=UPDATED 2011 "Ms.Backspin" RANKINGS=




[w/ previous rank]


1.

Li Na (2)

...has "most important" win of season
2.

Petra Kvitova (1)

...a(nother) nod to the future?
3.

CZE & RUS Fed Cup Teams (7)

...no threat to move up
4.

Caroline Wozniacki (5)

...ditto (well, probably)
5.

Peschke/Srebotnik (8)

...they've had the best overall season in doubles
6.

Kim Clijsters (3)

...big start, small finish
7.

Samantha Stosur (--)

...small start, big finish
8.

Victoria Azarenka (6)

...progress, but still seeking that "career-defining" victory
9.

Maria Sharapova (4)

...promising, but still with lingering "career-resuscitation" questions
10.

Serena Williams (10)

...if she'd won in NYC, she'd possibly been as high as #3 or #4
HM (in order)-

Liezel Huber, Roberta Vinci, Andrea Petkovic, Huber/Raymond, Hlavackova/Hradecka, Sabine Lisicki, Anabel Medina-Garrigues, Maria Jose Martinez-Sanchez, Vera Zvonareva, Marion Bartoli, Katarina Srebotnik



Really, only Wozniacki seems to have any potential to push herself between the Li/Kvitova stranglehold on the top two spots in the current "Ms. Backspin" rankings, but it would take some look-out-mama-here-she-comes results in the season's final handful of events to do it. She'd need a defense of her '10 title this week in Tokyo, and (at least) her first-ever WTA Championships win, as well. A double-digit cache of '11 titles would provide her with a compelling argument to finish #2 in the rankings. But even that wouldn't get her to THIS #1 spot.

I'm inclined to go with Li at the moment, but I'm keeping an eye on Kvitova. A little movement from her, and a certain friendly neighborhood Backspinner might find her charms too hard to resist about two months from now.


*WEEK 38 CHAMPIONS*
SEOUL, SOUTH KOREA (Int'l $220K/hard court outdoor)


S:

Maria Jose Martinez-Sanchez def. Galina Voskoboeva 7-6/7-6


D:

Grandin/Uhlirova d. Dushevina/Voskoboeva
GUANGZHOU, CHINA (Int'l $220K/hard court outdoor)


S:

Chanelle Scheepers def. Magdalena Rybarikova 6-2/6-2


D:

Hsieh/Sai.Zheng d. C-W.Chan/Han

PLAYER OF THE WEEK:
Maria Jose Martinez-Sanchez/ESP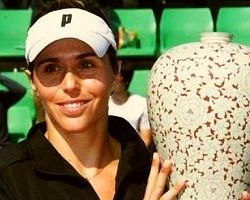 ...quick! Who has the best record in tour singles finals the last three seasons? Well, obviously, since I'm asking the question here, it's pretty obvious that the answer is MJMS. But I bet no one would have thought of her if the query had come up elsewhere, huh? Since 2009, with her win this weekend in Seoul, Martinez-Sanchez is 5-0 in WTA singles finals. She's 5-1 overall, so she's now won five in a row, and she's even starting to branch out even more at age 29, as this weekend's win marks her first hard court title. Her second title in '11, MJMS's week's work included victories over Irina Falconi, Kristyna Pliskova, Julia Goerges and Galina Voskoboeva.


=============================




RISERS:

Vera Dushevina/RUS & Vania King/USA


...Dushevina, though she was a Wimbledon Girls champ (defeating Sharapova in the '02 final) and reached her first WTA final (Eastbourne '05) while still a teenager, has always been one of the quieter Hordettes. Despite her quick start, she didn't win her first (and, so far, only) title until two years ago, but she manages to stick around and occasionally has some very good weeks. Last week was one of them. She opened things by knocking off #1 Seoul seed Francesca Schiavone, then backed up the win by taking down Alexandra Dulgheru, as well, before losing in the QF to her doubles partner, Galina Voskoboeva. Their partnership undamaged, the pair teamed to later reach the doubles final. Also in Seoul, King continued the recent surge that began with great doubles success in '10, and has carried over to her singles of late in '11. Last week, after quite a few years on tour, King (after having knocked off Kimiko Date-Krumm in the 1st Round) finally got her first win over a Top 10 player when she upset #2-seed Marion Bartoli in the 2nd Round to reach the QF.


=============================




SURPRISES:

Chanelle Scheepers/RSA & Tetiana Luzhanska/UKR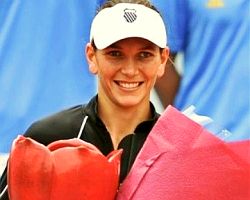 ...proving to be another member of the "late bloomer" club, 27-year old Scheepers reached her first career WTA final in Guangzhou after wins over Anastasija Sevastova, Hsieh Su-Wei, Urszula Radwanska and top-seeded Maria Kirilenko, then grabbed her first title in a straight sets win over Magdalena Rybarikova. The first tour singles champion from South Africa since Amanda Coetzer in '03, Scheepers' ranking jumped from #73 to #41 today. In the same event, 27-year old Ukrainian Luzhanska also tread new career ground. A two-time ITF finalist (0-2) this season, Luzhanska has never finished a year ranked higher than #222. But she's already managed to raise her ranking into the Top 150, in '11 and she reached her first tour QF last week after making her way past Bojana Jovanovski by taking their 1st Round match in a 3rd set tie-break.


=============================




COMEBACKS:

Galina Voskoboeva/KAZ & Urszula Radwanska/POL


...the season-long comeback bids of both of these players progressed still further in Seoul and Guangzhou, respectively. Continuing to show improvement in her game since taking on Alina Jidkova as coach, Voskoboeva, though she failed to become the first woman representing Kazakhstan to win a tour singles title, DID manage to reach her first career singles final on the back of wins over Ekaterina Makarova, Iveta Benesova, Vera Dushevina and Polona Hercog. She and Dushevina also reached the doubles final, making Voskoboeva the fifth woman this season to reach both finals in the same event. Meanwhile, a week after reaching her first career singles QF and SF in Tashkent, U-Rad backed up the result by reaching another quarter with wins over Anastasia Rodionova and Chan Yung-Jan. Over the weekend, she also made it through qualifying in Tokyo.


=============================




VETERANS:

Natalie Grandin/Vladimira Uhlirova (RSA/CZE)


...living out the notion that "practice makes perfect," Grandin & Uhlirova finally got fed up with finishing second. In Seoul, in their fifth appearance in a WTA final in '11 (and sixth over the last two seasons), the pair finally won their first tour title as a duo with a win in the deciding match over Dushevina/Voskoboeva. Czech Uhlirova, 33, had at least already won four previous WTA doubles crowns, but this was 30-year old Grandin's first tour title after having previously gone 0-11 in doubles finals. As surprising as Scheepers' title was, one could make a case that the OTHER South African's championship run of Week 38 was an ever LONGER shot.


=============================




FRESH FACES:

Magdalena Rybarikova/SVK & Chieh-Yu Hsu/USA


...22-year old Slovak Rybarikova reached her second final this season in Guangzhou after notching wins over Jill Craybas, Aravane Rezai, defending champ Jarmila Gajdosova and Zheng Jie. On the ITF circuit, yet another Bannerette made news, as Taiwan-born American Chieh-Yu Hsu, 19, claimed her second challenger title this month by taking the $10K event in Adana, Turkey. After having taken the doubles crown with Nikola Frankova, Hsu then went out and defeated Frankova in the singles final.


=============================




DOWN:

Marion Bartoli/FRA & Bojana Jovanovski/SRB


...Bartoli's loss to King in the 2nd Round in Seoul means that ever since her trip to the Stanford final early this summer, she's exited prior to the QF at four of her last five events. Meanwhile, Bojo's season continues to slowly unwind after a nice start. Jovanovski started 2011 with an overall mark of 15-5, but has gone 13-20 since, including her fifth and sixth straight losses in the past week. After losing to Luzhanska in the 1st Round in Guangzhou, the Serb has already been rocked in Tokyo, losing her opening match by a 6-1/6-0 score to U.S. Open semifinalist Angelique Kerber.


=============================




ITF PLAYER:

Sorana Cirstea/ROU


...despite slightly improved results this season, the Romanian has continued to slip into the WTA shadows in '11 as the memory of her Roland Garros quarterfinal result in '09 fades a little more all the time. She HAS made some headlines on the level just below the tour, though. This weekend, she won her second $100K event of the season, defeating Silvia Soler-Espinosa (who just won a $100K event a week earlier) in the final in Saint Malo, France.


=============================




JUNIOR STAR:

Anna Karolina Schmiedlova/SVK


...the 17-year old Slovak won her first career Grade 1 title at the Perin Memorial in Umag, Croatia. The #25-ranked junior, and #2-seeded girl at this event, outlasted the top-seeded Natalija Kostic 7-5/4-0 before the Serb retired from the match.


=============================






1. Seoul Final - MJMS d. Voskoboeva
...7-6/7-6. First-time tour singles finalists are now 0-9 in 2011. MJMS has handed out two of those losses, as she also defeated Patricia Mayr-Achleitner in the Austrian's first career final in Bad Gastein in the spring.


=============================


2. Guang Final - Scheepers d. Rybarikova
...6-2/6-2. Scheepers is the third first-time champion on tour in the last two weeks. In Birmingham in 2009, Rybarikova claimed HER first career tour title. That week, she defeated Scheepers in the 2nd Round on her way to the winner's circle.


=============================


3. Guang 1st Rd - Chan d. Pervak 4-1 ret.
Seoul 1st Rd - Suarez-Navarro d. Birnerova 6-4/6-4
...days earlier, Pervak and Birnerova had met in the Tashkent final.


=============================


4. Tokyo 1st Rd - Kanepi d. Pennetta
...3-6/6-4/6-4. Might today's victory over the recently-in-form Pennetta be Kanepi's best win in a disappointing season? Even without any truly great results in her ledger (aside from a SF at the Paris indoors), she's managed to also beat the likes of Rybarikova, Cibulkova and Petkovic in '11.


=============================


5. $75K Shrewbury Final - Mona Barthel/GER d. Heather Watson/GBR
...6-0/6-3. The German wins her second challenger title in two weeks. She also got wins over Ekaterina Bychkova, Anne Keothavong and Kristina Mladenovic.


=============================


6. $10K Madrid SF - Julia Mayr/ITA d. Evelyn Mayr/ITA
...6-2/6-1. There have been a few sister-vs.-sister match-ups lately, and this was another. Julia went on to lose in the final to Rocio de la Torre Sanchez, but did manage (w/ Evelyn) to take down de la Torre Sanchez in the doubles final.


=============================


7. $25K Tbilisi Final - Lesia Tsurenko/UKR d. Reka-Luca Jani/HUN
...7-6/6-3. Ah, here's the I-love-to-say-her-name Hungarian back for more after her recent U.S. Open exposure. Don't worry, though. Her week wasn't a complete disappointment -- she won the Tbilisi doubles title.


=============================








**MOST WTA TITLES - LAST 3 SEASONS**


15...Caroline Wozniacki, DEN (3/6/6)
7...Victoria Azarenka, BLR (3/2/2)
7...Serena Williams, USA (3/2/2)
7...Kim Clijsters, BEL (1/5/1)
5...Petra Kvitova, CZE (1/0/4)
5...Roberta Vinci, ITA (1/1/3)
5...Maria Sharapova, RUS (1/2/2)
5...Vera Zvonareva, RUS (2/1/2)
5...MARIA JOSE MARTINEZ-SANCHEZ, ESP (2/1/2)



**2011 FIRST-TIME CHAMPIONS**


Fes = Alberta Brianti, ITA (age 31)
Bastad = Polona Hercog, SLO (age 20)
Tashkent = Ksenia Pervak, RUS (age 20)
Quebec City = Barbora Zahlavova-Strycova, CZE (age 25)
Guangzhou = CHANELLE SCHEEPERS, RSA (age 27)



**2011 WORST WIN PCT in 3+ FINALS**


.000 - Irina-Camelia Begu, ROU (0-2)
.000 - Jelena Jankovic, SRB (0-2)
.000 - MAGDALENA RYBARIKOVA, SVK (0-2)
.000 - Lucie Safarova, CZE (0-2)
.250 - Marion Bartoli, FRA (1-3)
.333 - Kim Clijsters, BEL (1-2)
.333 - Maria Sharapova, RUS (1-2)
.333 - Samantha Stosur, AUS (1-2)



**BEST FINAL WIN PCT - LAST 3 SEASONS**




[3-or-more finals]


1.000 - MARIA JOSE MARTINEZ-SANCHEZ, ESP (5-0)
1.000 - Anastasia Pavlyuchenkova, RUS (3-0)
1.000 - Agnes Szavay, HUN (3-0)
.833 - Roberta Vinci, ITA (5-1)
.800 - Aravane Rezai, FRA (4-1)
.778 - Kim Clijsters, BEL (7-2)
.750 - Sabine Lisicki, GER (3-1)
.750 - Anabel Medina-Garrigues, ESP (3-1)
.714 - Petra Kvitova, CZE (5-2)
.700 - Victoria Azarenka, BLR (7-3)
.700 - Serena Williams, USA (7-3)



**WORST 2011 SF WIN PCT - 3+**


.000 - KLARA ZAKOPALOVA, CZE (0-3)
.000 - Ana Ivanovic, SRB (0-2)
.000 - Angelique Kerber, GER (0-2)
.000 - Michaella Krajicek, NED (0-2)
.000 - Petra Martic, CRO (0-2)
.000 - Tamira Paszek, AUT (0-2)
.000 - Flavia Pennetta, ITA (0-2)
.200 - Peng Shuai, CHN (1-4)
--
NOTE: Cibulkova is 0-1 in finals, and has walkover loss in final



**DEFEATED TOP SEED, WON TITLE**


Auckland = Greta Arn, HUN (QF-Sharapova)
Paris = Petra Kvitova, CZE (F-Clijsters)
Pattaya City = Daniela Hantuchova, SVK (SF-Zvonareva)
Doha = Vera Zvonareva, RUS (F-Wozniacki)
Kuala Lumpur = Jelena Dokic, AUS (1st Rd-Schiavone)
Monterrey = Anastasia Pavlyuchenkova, RUS (F-Jankovic)
Stuttgart = Julia Goerges, GER (F-Wozniacki)
Rome = Maria Sharapova, RUS (SF-Wozniacki)
Strasbourg = Andrea Petkovic, GER (F-Bartoli)
College Park = Nadia Petrova, RUS (F-Peer)
Carlsbad = Agnieszka Radwanska, POL (F-Zvonareva)
Guangzhou = CHANELLE SCHEEPERS, RSA (SF-Kirilenko)



**SINGLES/DOUBLES FINAL IN SAME EVENT**


Pattaya City - Sara Errani, ITA (L / W)
Acapulco - Arantxa Parra-Santonja, ESP (L / L)
Charleston - Elena Vesnina, RUS (L / W)
Madrid - Victoria Azarenka, BLR (L / W)
Seoul - GALINA VOSKOBOEVA, KAZ (L / L)



**CAREER WTA TITLES - SOUTH AFRICANS**


9 - Amanda Coetzer, 1993-03
5 - Yvonne Vermaak, 1977-84
3 - Linky Boshoff, 1976-77
3 - Patricia Pretorious-Walken, 1969-70
2 - Brigitte Cuypers, 1976-78
2 - Joannette Kruger, 1995-97
2 - Greer Stevens, 1976-79
1 - Mariaan de Swardt (1998)
1 - Ros Fairbank-Nideffer (1983)
1 - Jennifer Mundel-Reinbold (1983)
1 - Elna Reinach (1993)
1 - CHANELLE SCHEEPERS (2011)
1 - Dinky van Rensburg (1990)



**MOST 2011 ITF $100K FINALS**


3...Irina-Camelia Begu, ROU (2-1)
3...Pauline Parmentier, FRA (2-1)
3...Petra Cetkovska, CZE (0-3)
2...SORANA CIRSTEA, ROU (2-0)
2...Anastasiya Yakimova, BLR (2-0)
2...SILVIA SOLER-ESPINOSA, ESP (1-1)
2...Laura Pous-Tio, ESP (0-2)



=BACKSPIN PLAYER-OF-THE-YEAR HISTORY=




[pre-Backspin]


1997 Martina Hingis, SUI
1998 Jana Novotna, CZE
1999 Steffi Graf, GER
2000 Venus Williams, USA


["Ms. Backspin"]


2001 Jennifer Capriati, USA
2002 Serena Williams, USA
2003 Justine Henin-Hardenne, BEL
2004 Maria Sharapova, RUS
2005 Kim Clijsters, BEL
2006 Amelie Mauresmo, FRA
2007 Justine Henin, BEL
2008 Cara Black/Liezel Huber, ZIM/USA
2009 Italian Fed Cup Team
2010 Francesca Schiavone, ITA




TOKYO, JAPAN (Premier $2.05m/hard outdoor)
10 Final: Wozniacki d. Dementieva
11 Top Seeds: Wozniacki/Sharapova
10 Doubles Champions: Benesova/Zahlavova-Strycova
=============================


=QF=


#1 Wozniacki d. (Q) Kerber
#3 Azarenka d. #10 Peng
#6 Stosur d. #4 Zvonareva
#2 Sharapova d. #5 Kvitova


=SF=


#1 Wozniacki d. #3 Azarenka
#2 Sharapova d. #6 Stosur


=FINAL=


#1 Wozniacki d. #2 Sharapova (in a hail of UE's)

...if only Kvitova had some post-Wimbledon results to look kindly upon, she'd be a nice pick here. With expectation now her daily companion, it'll be interesting to see how Stosur handles this first post-Open outing. The Czech or the Aussie would be fun picks, but, hedging bets, I'll go a safer route as Wozniacki tries to pull off her third successful title defense of the season.


All for now.






Juump

is a free online community that makes it easy to meet people and play more tennis – right in your neighborhood. . With Juump, you can

FIND

players and groups who play at your favorite courts,

MEET

players with similar skill levels, interests and schedules, and

PLAY

more tennis.