Wk.44- On the Road -- and Champions -- Again
And with a picture-perfect winning backhand up the middle from Lucie Hradecka, 2011 came to its fitting conclusion.
Go crazy, Czechs! Go crazy!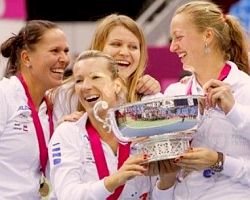 By defeating the Russians in Moscow by a 3-2 score, the Czechs won their first Fed Cup championship since 1988 (at that time, it was the old Soviet Union that went down in the final in a battle dripping with political implications... but not for too much longer). But it was the Czech Republic's first title since it became an independent nation, belatedly following in the footsteps of their former countrywomen, the Slovaks, who won a FC crown of their own back in 2002.

The final turned out to be a true salute to the Czech team's effort, as Petra Kvitova, Lucie Safarova, Kveta Peschke and Hradecka were once again forced to do things "the hard way." As they had done in the opening round against the Slovaks, and then in the SF versus the Belgians, the Czechs were forced to go on the road for the tie. Just as occurred against the Waffles, too, the final came down to a do-or-die doubles match pitting the Maidens against the Hordettes.

Such an all-or-nothing predicament came as no surprise, really. As expected, Kvitova held up her end, going 2-0 in #1 singles action (though she did lose a set, and face down a 3-0 3rd set deficit against Svetlana Kuznetsova in Match #3 after having taken out Maria Kirilenko in straights in the opening match). Safarova, also as expected, didn't thrive under the pressure of the moment, going 0-2 and failing to take a set off either Kuznetsova or Anastasia Pavlyuchenkova (in a late switch for Kirilenko, who'd replaced an ailing Vera Zvonareva, who was out with an injured shoulder). Thus, the entire ball of wax fell on the shoulders of Hradecka and Peschke, who faced off with Kirilenko and Elena Vesnina in the deciding doubles contest.

Peschke had been a slightly eyebrowing-raising choice for the team, having a checkered FC past (see below) to contend with, and with Hradecka's usual doubles partner also being Czech, left-off-the-team Andrea Hlavackova, with whom Hradecka had won Roland Garros this spring. The pair immediately fell behind 4-2 in the 1st, but, as Kvitova had earlier, managed to erase their one break down status and seize control of the match in front of the Russian crowd. Vesnina managed to save the first three match points she faced on her serve in what would be the the final game, but Hradecka's solid backhand winner put to end any notions of a Czech collapse.

In a season in which more and more players from the Czech Republic have become key contributers -- and winners -- on the WTA tour, waking up the echoes of their stellar tennis past, this final triumph was a fitting end to the 2011 season. None more so than for Kvitova, who adds a Fed Cup title to a list of seasonal accomplishments that already included titles at Wimbledon and the WTA Championships. She's only the third woman -- with Martina Navratilova in '86 & Lindsay Davenport in '99 -- to win all three in the same calendar year. After making her way through a few slightly unstable moments over the course of her season, Kvitova ended up closing out '11 by adding another unofficial title to her burgeoning reputation -- "team leader."

As Kvitova tries to back up her individual success next season, could the Czechs, also, repeat in 2012, matching the 1983-85 FC title run of the old line Czech team? They're set to open next year's 1st Round against Germany... on the road, again. Well, the role of "road warriors" seemed to fit them in 2011, so who's to say it won't again?



*WEEK 44 CHAMPIONS*
FED CUP FINAL (Moscow, Russia/hard court indoor)
Czech Republic def. Russia 3-2
TOURNAMENT OF CHAMPIONS (Bali, Indonesia/hard court indoor)


S:

Ana Ivanovic def. Anabel Medina-Garrigues 6-3/6-0




PLAYER OF THE WEEK:

Petra Kvitova/CZE


...about the only thing Kvitova didn't manage to grab that was even slightly within her reach in the season's closing weeks was the year-end #1 ranking. Look out, 2012. Her 2-0 record in Moscow ran her season FC mark to 6-0, and her '11 indoor record to 21-0. Hmmm, I guess that occasional talk of one day an indoor grand slam becoming a reality would be something of a boon to her, huh?


=============================




RISER:

Ana Ivanovic/SRB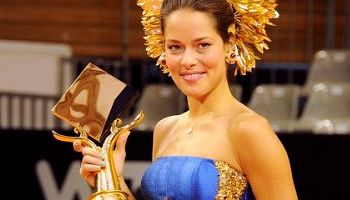 ...nevermind that Ivanovic hadn't won a 2011 singles title coming into Bali, begging the question of what she was doing in the season's "Tournament of Champions" to begin with. After all, Peng Shuai was there, too, and she's NEVER won a tour singles crown. Anyway, kudos (I love it when people use that word, since it's often difficult to tell whether or not they're REALLY being sincere... through I am in this case, at least I THINK so) to AnaIvo for taking her wild card into the TOC and defending her '10 title there. Wins over Roberta Vinci, Nadia Petrova and Anabel Medina-Garrigues got her the eleventh singles title of her career... the perfect gift to herself for her 24th birthday on Sunday.


=============================




SURPRISE:

Anabel Medina-Garrigues/ESP


...it's a little surprising that AMG reached the Tournament of Champions final in Bali. In fact, I'd hazard a guess that even the Spanish vet herself is a little taken aback that it happened, considering she never actually completed ANY victory by converting a match point last week. She faced top-seeded Marion Bartoli in the opening round of the eight-player (totally unnecessary event, especially a week after the actual WTA tour's "end of season" championship) event, and saw the Pastry retire in the 3rd set with an ankle injury. In the SF, Medina-Garrigues saw #3-seeded Sabine Lisicki retire in the 3rd set with a back injury. In the final, faced with playing an ENTIRE match against defending champ AnaIvo, AMG won only three total games. Oh, well. AMG still had an unexpectedly resurgent season, reaching six semis, three finals and winning two singles titles to go along with her pair of doubles crowns.


=============================




COMEBACK:

Nadia Petrova/RUS


...Nadia has become more a doubles force in recent seasons than a singles would-be star, but one of the least talked about subplots of '11 was her improved singles (largely due a little more healthy campaign) results. She won her first singles title in three years in College Park before the U.S. Open, a victory which got her into the TOC (well, at least theoretically). In Bali, she got a win over Peng to reach the SF, and ended up as the "3rd Place" finisher in the event when she won the "consolation match" that wasn't really a match at all, since fellow semifinal loser Lisicki's injury didn't allow her to play it.


=============================




VETERAN:

Kveta Peschke/CZE


...Peschke managed to redeem herself, Fed Cup-wise, in the FC final in Moscow. Two years ago, in the semifinals against the U.S. team, Peschke and Iveta Benesova played in the deciding doubles match with a chance to send the Czechs to their first FC final since 1988, and first ever as an independent nation. The pair led 6-2/5-2 and held a match point. But Peschke's wild, nervous shot on MP started an avalanche of a choke that saw the Czech Republic lose in three sets and the Americans go to the final. This weekend in Moscow, 36-year old Peschke (this time with Hradecka by her side), again found herself playing in a deciding doubles match, this time in the FC final. She had a shaky start, and Hradecka was the stronger player of the two throughout the match, but Peschke didn't collapse this time (even after the Russians fought off three match points). After a career year which saw her reach the #1 doubles ranking and claim her first slam doubles title at Wimbledon, Peschke, just like Kvitova, couldn't have had a more fitting ending to her season than by having the honor of celebrating one of her nation's most sterling tennis accomplishments with her countrywomen.


=============================




FRESH FACE:

Alison Riske/USA


...after suffering through an eight-match summertime losing streak, the 21-year old Riske has since gone 13-2. Her latest success came in a $50K challenger in Nantes, France. There, she notched wins over Alize Cornet, Arantxa Parra-Santonja and Pauline Parmentier before taking out Iryna Bremond in straight sets in the final.


=============================




DOWN:

Marion Bartoli/FRA & Sabine Lisicki/GER


...both players can end their 2011 seasons knowing that they managed to kick-up the expectation levels for their future endeavors in the WTA, reaching slam semifinals in Paris (Bartoli) and London (Lisicki). But both will also have to contend with the somewhat troubling course their seasons took in the second half as injuries and health issues kept them from capitalizing on their previous success and sending themselves into 2012 on a high(er) note. Bartoli had a severe dip in results late in the hard court season, rebounded a bit in the 4th Quarter, winning a title, then got sick in Moscow and was forced to withdraw from her QF match. In Bali, her injured her ankle prevented her from completing one match. Lisicki, too, suffered the aftereffects (i.e. matches ending in retirement or with an expected loss) of food poisoning down the stretch, then hurt her back in Bali. Both are still players who will be worth watching come slam time next season, but the things that have held them back in the past will continue to linger in the back of their -- and everyone else's -- minds.


=============================




ITF PLAYER:

Ayumi Morita/JPN


...after knocking off the likes of Olga Govortsova and Karolina Pliskova in earlier rounds, Morita defeated her countrywoman (twenty years her senior) Kimiko Date-Krumm in the final of the $100K challenger in Taipei, Taiwan. KDK was coming off winning a Week 43 $100K event in France.


=============================




JUNIOR STAR:

Alison van Uytvanck/BEL


...early in 2011, van Uytvanck couldn't lose, winning junior and ITF events all over the place. Then, in the middle of the season, it seemed as if she almost couldn't win. She finally got back in the winner's circle this weekend in the Sunderland, GBR $10K event (her fourth challenger title of the season), defeating Brit Tara Moore in the final.


=============================






1. FC Final Match #5 - Hradecka/Peschke (CZE) d. Kirilenko/Vesnina (RUS)
...6-4/6-2. And CZE Fed Cup captain Petr Pala avoids having to answers questions about why he didn't put Hlavackova -- rather than the higher-ranked Peschke -- on the team so that Hradecka could play with her regular doubles partner when the team's fate came down to one final match.


=============================


2. FC Final Match #4 - Kvitova/CZE d. Kuznetsova/RUS
...4-6/6-2/6-3. Oh, Petra. You just couldn't leave '11 without one final wink at that "other" side of yourself, could you? Down 3-0 in the 3rd, you charge back to take the final six games. Have fun in the mountains, Ms. K. (Hmmm, perhaps I should jump the gun and use a different letter? Nah. I'll wait a few days.)


=============================


3. TOC Final - Ivanovic d. Medina-Garrigues
...6-3/6-0. Serbia becomes the 20th different -- and final -- nation to produce a WTA singles champion during the 2011 season.


=============================


4. $50K Ismaning, GER Final - Anne Keothavong/GBR d. Yvonne Meusburger/AUT
...6-3/1-6/6-2. The 28-year old Brit wins her second of back-to-back challenger titles, running her winning streak to 10 matches and adding to her recent 16-1 WTA/ITF run.


=============================


5. $50K Grapevine, TX Final - Kurumi Nara/JPN d. Sessil Karatantcheva/KAZ
...1-6/6-0/6-3. Sessil didn't win here, but it struck me a little while looking at her bio that she's STILL only 22 years old. It seems like she's been here, gone, here, gone -- with a nation change and a few name spelling alternations in between -- for about, oh, I don't know... forever.


=============================


6. NCAA Indoors Final (Flushing Meadows) - Marta Lesniak (SMU) d. Joanna Mather (Florida)
...7-5/6-1. In the college season's first slam, unseeded SMU senior Lesniak (POL) knocked off unseeded Gator Mather in the final, overcoming a 4-0 1st set deficit to win in straights. Lesniak didn't get a HUGE win of her own during the tournament, but she did defeat the players who DID have those sort of moments. Her semifinal opponent, Washington's Denise Dy, had upset #1 seed and 2010-11 NCAA champ Jana Juricova of Cal in the QF, while Mather had earlier knocked off #2 seed Nicole Gibbs (Stanford) and #3 seed Chelsey Gullickson (Georgia). Colette Lewis has a recap of the first NCAA major of the 2011-12 season over at Zoo Tennis.


=============================




7.

$100K Taipei Doubles Final - Yung-Jan Chan/Zheng Jie (TPE/CHN) d. Karolina Pliskova/Kristyna Pliskova (CZE/CZE) 7-6/5-7/10-5




$25K Istanbul Doubles Final - Lyudmyla Kichenok/Nadiya Kichenok (UKR/UKR) d. Mervana Jugic-Salkic/Ana Vrljic (BIH/CRO) 4-6/6-1/10-7


$10K Minsk Final - Olga Ianchuk/UKR d. Julia Valetova/RUS 6-3/4-6/6-4
...ah, one final weekly Sister Update before this new regular Backspin feature returns in early January. In Taiwan, the Pliskova twins left as the doubles runners-up (in singles, Kristyna went out in the 1st Round to Olga Govortsova, while Karolina lost in the QF to eventual champ Ayumi Morita). The Kichenok sisters did them one better in Istanbul. And, in Minsk, Olga Ianchuk proved once again that Ukraine has cornered the WTA market on tennis playing sisters (first the Bondarenkos, then the Kichenoks) as the 16-year old won her first career ITF title. Back in June, Olga's 18-year old sis Elizaveta won her first ITF crown. Just last month, the pair reached the final of a challenger event as a doubles duo. Coming soon -- a Kichenok/Kichenok vs. Ianchuk/Ianchuk battle for a title? (Crossing fingers.)


=============================


8. $10K Kuching Final - Luksika Kumkhum/THA d. Nungnadda Wannasuk/THA
...7-6/6-3. Umm, just because.


=============================








**FED CUP HISTORY**




[recent finals]


2000 United States def. Spain 5-0
2001 Belgium def. Russia 2-1
2002 Slovak Republic def. Spain 3-1
2003 France def. United States 4-1
2004 Russia def. France 3-2
2005 Russia def. France 3-2
2006 Italy def. Belgium 3-2
2007 Russia def. Italy 4-0
2008 Russia def. Spain 4-0
2009 Italy def. United States 4-0
2010 Italy def. United States 3-1
2011 Czech Republic def. Russia 3-2


[all-time titles]


17...United States
7...Australia
5...Czechoslovakia
5...Spain
4...Russia
3...Italy
2...France
2...Germany/West Germany
1...Belgium
1...Czech Republic
1...Slovak Republic
1...South Africa



**BACKSPIN FED CUP PLAYER-OF-THE-YEAR**


2005 Elena Dementieva, RUS
2006 Francesca Schiavone, ITA
2007 Svetlana Kuznetsova, RUS
2008 Svetlana Kuznetsova, RUS
2009 Flavia Pennetta, ITA
2010 Flavia Pennetta, ITA
2011 Petra Kvitova, CZE



**CAREER WTA TITLES - ACTIVE**


43...Venus Williams, USA
41...Kim Clijsters, BEL
39...Serena Williams, USA
24...Maria Sharapova, RUS
18...Caroline Wozniacki, DEN
13...Svetlana Kuznetsova, RUS
12...Jelena Jankovic, SRB
12...Dinara Safina, RUS
12...Vera Zvonareva, RUS
11...ANA IVANOVIC, SRB
11...Anabel Medina-Garrigues, ESP
10...Nadia Petrova, RUS
9...Flavia Pennetta, ITA



**DEFENDED SINGLES TITLES IN 2011**


Anastasia Pavlyuchenkova - Monterrey 2010-11
Caroline Wozniacki - Copenhagen 2010-11
Caroline Wozniacki - New Haven 2008-11
Ana Ivanovic - Bali TOC 2010-11



**2011 WILD CARDS IN FINAL**


Monterrey - Anastasia Pavlyuchenkova, RUS (def. Jankovic)
Bad Gastein - Patricia Mayr-Achleitner, AUT (lost to Martinez-Sanchez)
College Park - Nadia Petrova, RUS (def. Peer)
Cincinnati - Maria Sharapova, RUS (def. Jankovic)
Linz - Petra Kvitova, CZE (def. Cibulkova)
Osaka - Marion Bartoli, FRA (def. Stosur)
Bali TOC - Ana Ivanovic, SRB (def. Medina-Garrigues)



**2011 ALL-UNSEEDED FINALS**


Brisbane - Petra Kvitova/CZE def. Andrea Petkovic/GER
Bogota - Lourdes Dominguez-Lino/ESP def. Mathilde Johansson/FRA
Estoril - Anabel Medina-Garrigues/ESP def. Kristina Barrois/GER
Bad Gastein - Maria Jose Martinez-Sanchez/ESP def. Patricia Mayr-Achleitner/AUT
Quebec City - Barbora Zahlavova-Strycova/CZE def. Marina Erakovic/NZL
Bali TOC - Ana Ivanvoic/SRB def. Anabel Medina-Garrigues/ESP



**2011 DIFFERENT CHAMPS BY NATION**


5...RUS (Pavlyuchenkova, Pervak, Petrova, Sharapova & Zvonareva)
3...AUS (Dokic, Gajdosova & Stosur)
3...GER (Goerges, Lisicki & Petkovic)
3...ESP (Dominguez-Lino, Martinez-Sanchez & Medina-Garrigues)
3...SVK (Cibulkova, Hantuchova & Rybarikova)
2...CZE (Kvitova & Zahlavova-Strycova)
2...ITA (Brianti & Vinci)
1...ARG,BEL,BLR,CHN,DEN,FRA,HUN,POL,RSA,SLO,SRB,SVK,USA


[most in recent seasons]


2007: 8-RUS, 5-FRA, 4-USA, 3-ITA, 2-BEL/SRB (17 different nations)
2008: 7-RUS, 3-USA, 2-ESP/FRA/ITA/SRB (18 different)
2009: 6-RUS, 3-FRA/ITA, 2-BEL/ESP/GER/HUN/USA (20 different)
2010: 9-RUS, 3-BEL/ITA, 2-AUS/SRB/USA (21 different)



**MOST BACKSPIN POW WINS - BY SEASON**


2002: 9 - Serena Williams, Venus Williams
2003: 10 - Kim Clijsters
2004: 7 - Lindsay Davenport, Amelie Mauresmo
2005: 9 - Kim Clijsters
2006: 7 - Justine Henin-Hardenne
2007: 10 - Justine Henin
2008: 4 - Jelena Jankovic, Dinara Safina, Serena Williams
2009: 3 - Svetlana Kuznetsova, Dinara Safina, Serena Williams
2010: 5 - Kim Clijsters, Caroline Wozniacki
2011: 6 - Petra Kvitova


Later this week, part two of the 2011 Backspin Awards arrives, with the final "Ms. Backspin" standings, "Performance of theYear" and "Match of the Year" lists, as well as a slew of info regarding the year-end 2011 WTA singles and doubles rankings.

All for now.