Wk.16- Turning Rivers Into Applesauce
You just can't keep a good Queen Chaos down.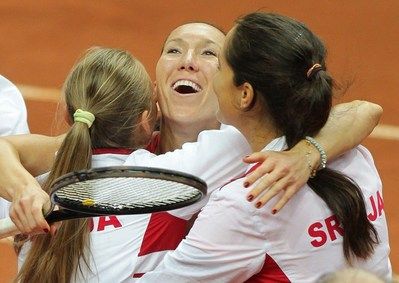 As far as this space's lore goes, Jelena Jankovic isn't Justine Henin. Or probably even Petra Kvitova. But there is rarely more joy expressed around Backspin HQ than when JJ is winning. At any moment, a smile seems ready to be cracked on even the most steadfast drone's face... and not just because "cracked" and "Jankovic" can both so naturally find their way into the same sentence, either. You see, when the a-little-bit-crazy-but-we-love-her-for-it Serb is in "high gear," banging off the walls and leaving a trail of tears (from laughing so hard) behind her it's akin to flowing rivers turning into applesauce and trees suddenly transforming into pretzel sticks. And if that makes absolutely no sense -- and why would it? -- then that's all right. When JJ is in top form, nothing ever really does.

When it comes to Queen Chaos, the prospect of winning something BIG is so wrong that it just HAS to be right.

A year ago, when Serbia continued on its unexpected Fed Cup trek, it was Indefatigable Serb Jankovic's 6:04 FC odyssey that proved to be the spark. JJ was clearly in her element against the Russians in Moscow, as well. After a leg injury had limited her participation to a single match (which she won) in Serbia's February tie, Jankovic came into this weekend back in her customary #1 position on the team's depth chart. But, as is often the case when it comes to the Jankobot-5200, things didn't always go smoothly. Versus Anastasia Pavlyuchenkova, against whom she had a 0-3 record, the J-bot went down a break twice in the 1st set. She still won 6-4/6-3. On Day 2, with the Serbs one win away from the Final after Ana Ivanovic's own win over the young Russian, Jankovic was tasked with handling the Hordettes' best-ever Fed Cup stalwart, Svetlana Kuznetsova, who was ready to add another chapter to a FC legacy that has seen the Russian team win four titles and play if five of the last eight finals.

Jankovic won the 1st set, but was forced to weather another Moscow storm in the 2nd. After falling behind 3-0, she "out-Sveta'ed" Sveta, shifting momentum back in her direction with a five game winning streak of her own. She won 6-1/6-4 to send the Serbs to their first-ever FC Final.


"I have goosebumps right now because it's so exciting for us. At the end I was thinking, 'Oh my God, we're going to get in the Final.' I was like, 'Just get the serve in, just play the point!' I was so happy to win in the end, it wasn't easy." -

Jelena Jankovic, on serving for the FC Final against Svetlana Kuznetsova


Really, it's hard to believe that anyone saw this recent Serbian Fed Cup surge coming. Not just because the best days of the nation's best players seemed behind them -- it's been years since AnaIvo and JJ reached #1, and nearly four since either was in a slam final -- but because the Serbs' path to the Final could have gone (and nearly did go) so horribly off course at any stop along the way. The trek began in February of last year in World Group II, the first of three consecutive FC appearances in which the Serbs went to the deciding doubles match with the ultimate winner still in question. The first time, JJ and AnaIvo were out, so Bojana "Wrong-Way" Jovanovski had to shoulder the load of the entire team. She did it, winning the clincher with 17-year old Alexandra Krunic. Last April's WG Playoffs involved Jankovic's 6:04 marathon day, including another clinching doubles win with Krunic. In February, with Ivanovic absent again, and then JJ injured after winning the opening match, BoJo once again had to pick up the pieces from a 2-1 deficit and drag the team over the finish line, wrapping things up once more with a doubles victory alongside a now-18 year old Krunic. After this year's earlier FC action, I rightfully wondered whether some of Jelena's "Jankovician-ness" had managed -- in a good way -- to rub off on her teammates.

Maybe it did. Because in Moscow, Krunic wasn't called upon to play for the Serbian team's life for a fourth straight time. Ah, progress.

Ivanovic might be the most talented of the Serbs, but it's no fluke that she's the only member of the team that hasn't been involved in any of these death-defying Fed Cup matches where a loss would have prevented this thrilling road to the Final from moving along in its own odd little way. JJ is this team's leader, and her other teammates have been very Jelena-like when its come to seeing those rivers transform into applesauce and simply shrugging it off with a "yeah, what's so strange about that?" attitude. AnaIvo might have see such a sight, and fretted herself into a hole in the ground wondering how someone had managed to grind down so many apples.

Remember, like I said, it's not supposed to make sense. It's better just to shake it off and go on.

As it is, Jankovic is simply the Serb who refuses to stop spinning. At least not yet. She was the second Serb to become the women's #1. She was the second Serbian woman to reach a slam final. And now, she has the chance to become the second Serb, following in Novak Djokovic's Davis Cup footsteps, to lead a national team to an unprecedented tennis title. Jankovic hasn't had many reasons to smile lately, but there was that uncontrollable grin was once again this weekend... right where it'd always been. Her slam window is likely closed. She'll probably never reach another major singles final. Recently, she's had even a hard time finding a coach. But now she's in the Fed Cup Final, with one more (and maybe her final?) shot at a career-defining moment that would complete the cycle of her career-long, oddball quest to become an honest-to-goodness tennis folk hero.

Sure, the Serbs won't be favored on the road against the Czechs. But what good are odds when immortality is at stake? After all, Kvitova can only win TWO matches. The champion will need three. Who's to say that JJ & the Serbs can't shake things up one more time?

Chaos, indeed.



*WEEK 16*



=Semifinals=


Czech Republic(H) def. Italy 4-1
Serbia def. Russia(H) 3-2


=World Group Playoffs=


United States def. Ukraine(H) 5-0
Japan(H) def. Belgium 4-1
Slovak Republic def. Spain(H) 3-2
Australia def. Germany(H) 3-2


=World Group II Playoffs=


France(H) def. Slovenia 5-0
Switzerland(H) def. Belarus 4-1
Sweden(H) def. Great Britain 4-1
Argentina(H) def. China 3-1


=Zone Promotion Finals=


[Europe/Africa II]: Turkey def. South Africa 3-0
[Europe/Africa II]: Georgia def. Montenegro 3-0
[Europe/Africa III]: Lithuania def. Morocco 2-1
[Europe/Africa III]: Tunisia def. Ireland 2-1
[America's II]: Mexico def. Trinidad & Tobago 2-0
[America's II]: Chile def. Guatemala 2-0




[Semifinal MVPs]




Jelena Jankovic/SRB

(overall P.O.W.)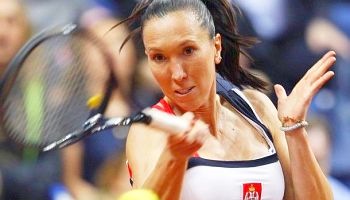 ...she's not The Radwanska, but you shouldn't turn your back on Queen Chaos, either. At least not when she's got the collective support of the Serbian people, and a team of fellow players -- even AnaIvo -- behind her. No one should get too ahead of themselves, but one has to wonder if the happenings in Moscow might prove to be a boost to JJ's ENTIRE season. With the pot of gold of a Fed Cup final awaiting her in November, the whirling-dervish-may-care attitude that used to fuel her success might just return, at least for a while. Of course, the high of being THIS CLOSE to becoming a Fed Cup folk hero might cause her to be a bit unfocused this week in Stuttgart, too. If not, though, Germany surely could provide JJ with something to continue to build upon. She'll face Caroline Wozniacki in the 1st Round, and could get Kvitova in the quarterfinals. But those are potential headaches for later. As for right now, all is well in the Land of Jankovic. Until it isn't. Which could be soon. Or maybe not. Oh, well. Even if things go haywire along the way, there's still November took look forward to. Hmmm, if she weaves her Queen Chaos magic once again, would the Hall of Fame suddenly begin to seep into her career's conversation? Other than a few nice passing shots one afternoon in London, what's the big difference between JJ's career and that of HOFer Conchita Martinez?


=============================




Petra Kvitova/CZE


...kudos to JJ, for you know it takes something special for Kvitova to NOT be named the overall POW after once again leading the Czechs to the Fed Cup final, extending her FC winning streak to eight matches (she's 15-4 for her career) and her indoor string to twenty-five (29 counting January's Hopman Cup play). Playing just thirty minutes from her hometown of Fulnek, Kvitova's two wins over Sara Errani and Francesca Schiavone came in straight sets. She handled adversity well on Sunday against Schiavone, coming back from a break down in both sets, winning all the big points and jumping to a commanding 6-0 lead in the 2nd set tie-break. Finally away from the American weather, and with a boost of confidence, Kvitova now gets the chance to settle down in Europe for a few months and try to get her 2012 WTA results more in line with the outrageous success (8-0) she's so far had in team competition this season. First stop, indoors (again) in Stuttgart, where she could face the likes of Schiavone, Wozniacki or Jankovic (in a FC Final preview), and Sharapova or Stosur just in the bottom half of the draw. The top half includes Azarenka, Radwanska, Bartoli and Li. Should be a good test to see if she might be able to pick up momentum heading into slam season.


=============================





[WG Playoff MVPs]




Serena Williams/USA


...still in good form, and making everyone wonder if it can hold until she arrives in Paris, Serena managed to make her career 7th and 8th FC singles wins against Ukraine something other than the "ugly" ones her 5th and 6th were against Belarus back in February.


=============================




Ayumi Morita/JPN


...Morita, named the Japanese FC MVP in this space for the fourth consecutive time, has unquestionably emerged as her nation's Fed Cup leader. Her 2-0 mark against the Belgian kids helped send Japan into 2013's World Group. Morita has now won nine straight FC singles matches, and is a combined 12-0 in singles/doubles action over the last few seasons.


=============================




Dominika Cibulkova/SVK


...Cibulkova's post-"26 the Hard Way" rebirth got a bit of a shot in the arm in Spain. After Daniela Hantuchova dropped her singles match on Saturday, Cibulkova followed up her own Day 1 win over Lourdes Dominguez-Lino with one over Hantuchova's conqueror, Silvia Soler-Espinosa, on Sunday to push the Slovaks into the lead on foreign clay. Hantuchova's three-set win over LDL clinched the tie victory. Of note, if they both stay in the field, teammates Cibulkova and Hantuchova are slated to meet in the 1st Round in Stuttgart.


=============================




Samantha Stosur/AUS


...safely a long way from Down Under, Stosur's confidence was able to soar on the clay in Germany. Straight set wins over Angelique Kerber and a returning Andrea Petkovic powered the Aussies to victory, and quite possibly set the stage for a big spring in Europe for Stosur.


=============================





[WG II Playoff MVPs]




Pauline Parmentier/FRA


...the Pastries' roster included little real "star power," but it didn't matter against the Slovenes. After Virginie Razzano struggled to defeat Petra Rampre in Match #1, Parmentier entered the fray and added the back-to-back singles wins that put France over the top and into the 2013 World Group Playoffs next February.


=============================




Stefanie Voegele/SUI


...after Timea Bacsinszky lost the opening match to Olga Govortsova, the host Swiss found their backs against the wall against the same Belarusian team (well, at least Govortsova was there) that put up a bit of a fight against the Americans in February. Voegele calmed the waters, though, with back-to-back singles wins (including one over Govortsova) that set up Bacsinszky's tie-clinching win over teenager Aliaksandra Sasnovich.


=============================




Sofia Arvidsson/SWE


...the leader of the Swedish FC Avengers, Arvidsson was once again hard at work in her 46th career Fed Cup appearance. She notched career FC wins #32 and #33 over Anne Keothavong and Laura Robson. I wonder if, when they grow up, Robson and Heather Watson could ever become for Britain what the battling, dependable FC duo of Arvidsson and Johanna Larsson -- who've combined for 57 Fed Cup singles wins -- have been for Sweden for so many years?


=============================




Paula Ormaechea/ARG


...against the Chinese "C" team, Ormaechea's 2-0 mark led the way in Argentina's easy victory. I also named Ormaechea as Argentina's FC MVP back in February.


=============================





[Zone Play MVPs]




Cagla Buyukakcay/TUR


...the world #233 won three of four singles matches as Turkey advanced out of the Europe/Africa II zone playoffs.


=============================




Anna Tatishvili/GEO


...the Boca Raton native, ranked #85, went 4-0 in singles, including a pool play win over Buyukakcay, as Georgia was the second nation to advance in E/A II.


=============================




Lina Stanciute/LTU


...the 26-year old world #222 was 5-1 in singles, as Lithuania advanced out of the Europe/Africa III zone playoffs.


=============================




Ons Jabeur/TUN


...the 17-year old, the '11 Roland Garros Girls champ, went 6-0 in singles pool and promotional playoff action for Tunisia, including a straight sets E/A III Promotional Playoff win over Ireland's Amy Bowtell (1-1 in ITF finals in '12).


=============================




Marcela Zacarius/MEX


...the 18-year old has been inching into this space on occasion in '12, and here she is again. Her 4-0 singles mark for the Americas II Zone host nation led the way for Mexico, which defeated Trinidad & Tabago in the Promotional Playoff.


=============================




Cecilia Costa-Melgar/CHI


...19-year old Costa-Melgar, the world #532, had an undefeated week in zone play, going 5-0 in singles, and 4-0 in doubles as Chile defeated Guatemala in the second Americas II Promotional Playoff.


=============================





[RISERS]




Lucie Safarova/CZE


...I said last week that the Czechs might really need a singles win from Safarova in order to get back to the FC final. According to the final 4-1 score, maybe it didn't turn out to be the case. But if Safarova hadn't avoided collapsing against Francesca Schiavone in Match #1, who knows what might have happened had the veteran Italian team gotten a whiff of victory on Saturday. Her 7-6/6-1 win, in which she saved three set points in the 1st (after being broken after coming within two points of the set herself) and raced to a big tie-break lead (5-1) in the stanza, was hardly a given considering Safarova's history. She came into the weekend with just a 5-10 career FC record, after all (something that'll be worth remembering come FC Final weekend in November). In recent ties, Day 1 losses by Schiavone have been erased by either Francesca or Flavia Pennetta saving the Italian's pancetta on Day 2. With neither Schiavone nor the injury-nursing Pennetta able to right an early wrong this time, one might say that Safarova's win was the most important of the weekend.


=============================




Johanna Larsson/SWE


...the other half of the Swedish FC Avengers added two more singles wins to her career total (for 24) in her 32nd Fed Cup appearance in the WG II Playoffs. Of note, even with the score at 3-0 and the tie officially decided, Larsson was still fighting to win her last singles match of the weekend. She did, too, taking out Anne Keothavong 7-6/3-6/6-4 in the most competitive contest of the entire SWE/GBR matchup, which ended up being a far easier win for the Swedes than might have been expected at the outset.


=============================





[FRESH FACE]




Christina McHale/USA


...well, I guess McHale is a Fed Cup "vet" now, right? She entered the year with no FC experience, but her two wins against Ukraine in the WG Playoffs give her a sterling 4-0 career mark.



[SURPRISE]




Silvia Soler-Espinosa/ESP


...SSE's upset of Daniela Hantuchova on Day 1 gave the host Spaniards life on Day 1 in the WG Playoffs. It was short-lived, though.



[VETERAN]




Kimiko Date-Krumm/JPN


...a nice portion of Japan's FC resurgence can be attributed to the return of Date-Krumm a few years back. Now 41, she's still contributing. In the team's WG Playoff win over Belgium, she won singles and doubles matches over the Kid Waffles -- Tamaryn Hendler, Alison Van Uytvanck & Ysaline Bonaventure -- whose COMBINED age is just thirteen years fewer than her own.



[COMEBACK]




Japanese Fed Cup Team


...a year ago, Japan was rescheduling a Fed Cup zone tie in the aftermath of the earthquake/tsunami/nuclear meltdown tri-disaster. Now, with the team's win over the underwomaned/overgirled Belgian team in the World Group Playoffs, come February 2013, the Japanese woman will find themselves in the World Group 1st Round for the first time since 2007.



[DOWN]




Francesca Schiavone/ITA


...Schiavone complained of a nagging injury bothering her over the last two weeks, but her play in the SF against the Czechs sort of went along the lines of her entire season. The want is there, but the results just aren't coming. She broke Safarova when the Czech was serving for the set in Match #1, but then blew three set points of her own and lost in straights. On Day 2, she was up a break on both sets against Kvitova, but lost the lead, and quickly fell down 6-0 in the 2nd set tie-break of her second straight sets loss of the weekend. She's now 7-11 in singles on the season. Today, to twist the knife just a little bit more, Schiavone joined with Roberta Vinci in one of the two main draw matches (doubles, with no singles) scheduled for Monday in Stuttgart... and lost once again, this time to the all-German team of Barrois/Woehr.


=============================




Anastasia Pavlyuchenkova/RUS


...few players have had more disappointing seasons than Pavlyuchenkova. The former junior #1 has been on the waiting list for "next big thing" for a couple of seasons now, but she's failed to adapt her game and fitness to seize upon the opportunity her talent should present her. Thus, you had to know the Russian team was in a bad spot when it was depending on her to get the Hordettes through the storm that Serbia kicked up over the weekend. In her opening match loss to Jankovic, Pavlyuchenkova twice was up a break in the 1st, but had eleven double-faults in a straight sets loss. With the tie knotted at 1-1 after Day 1, Pavlyuchenkova took the first set off Ana Ivanovic in Match #3, then everyone held their breath to see which player would fold first. It turned out to be the Russian. She lost the 2nd set at love, then the match. When Russia has failed on the Fed Cup stage in the past, there have been questions about whether the "correct" players were chosen to bear the burden of the pressure. This has to be looked at as another of those cases. But, then again, with the likes of Sharapova, Zvonareva and Kirilenko off in parts unknown, there weren't all that many other places (or faces) to turn to, either.


=============================




German & Chinese Fed Cup Teams


...the Germans have been flying high on the WTA ciruit in 2012, but the hosts proved no match for the stress-free band of traveling Aussies. No worries, though, as most of the entire contingent of post-Grafites will be on hand this week in Stuttgart. Meanwhile, after finally breaking their four year long Fed Cup losing streak in February, the Chinese once again went into battle without their big weapons -- Li, Peng & Zheng -- in the World Group II Playoffs. Naturally, they lost 3-1 to Argentina, only getting a match win after they'd fallen behind 3-0, and then seeing fit to cancel the doubles rubber. Back to Zone play.


=============================





ITF PLAYER:

Camila Giorgi/ITA


...well, at least one Italian had a good weekend. The 20-year old Giorgi, probably best known of late for her early takedown of #1-seeded Nadia Petrova in Memphis a few weeks back, claimed the $50K challenger in Dothan, Alabama. She notched wins over Alison Riske, Jill Craybas, Lauren Davis and Edina Gallovits-Hall in the final. Giorgi has a long history of success in North American events. Aside from Memphis and Dothan, she's won three challengers on the continent, too, taking crowns in Toronto ($50K), Rock Hill, South Carolina ($25K) and Carson, California ($50K) over the previous three seasons.



JUNIOR STAR:

Victoria Bosio/ARG


...the #30-ranked junior, the 17-year old Argentine didn't win anything this weekend, but she's managed to put together a string of consistently successful results. A few weeks ago, she won a junior level B1 title in La Paz, Bolivia. She followed that up with a SF result in a challenger, then reached her first professional singles final in the $10K Villa del Dique event this weekend. She lost to Daniela Sequel (it's the Chilean's third circuit crown of '12), but she certainly has momentum on her side.



VETERAN:

Lisa Raymond/USA


...the 38-year old American joined partner Liezel Huber as the co-#1 in the doubles rankings today. It's her first time in the top spot since 2007. Fuel for a possible Olympic berth?



DOWN:

Kim Clijsters/BEL


...the rapidly de-evolving entity that is KC 2.0 continued to slip back into the primordial ooze last week, as Clijsters announced that she was (once again) going to skip the entire clay court season, including Roland Garros. Essentially, she's sort of taking the "advice" I suggested a few weeks ago of wrapping herself in bubble wrap and putting her body away for safekeeping in order to better (well, as best she can) ensure that she'll actually be healthy enough to play in the Olympics this summer.




1. FC WG PO (AUS/GER) - Stosur d. Petkovic 6-4/6-1
Stuttgart Q1 - Meusburger d. Szavay 7-6/6-3
...in what turned out to be losing efforts, Petkovic (January) and Szavay (May '11) nevertheless returned from longer and longer injury-related absences, respectively. Petkovic found herself in a very sticky situation, charged with keeping Germany's hopes alive in the first match of Day 2 after both Kerber and Goerges had lost opening day matches in front of the home crowd. While Szavay, who climbed as high as #13 in 2008, came into her first comeback match ranked #431, and has quite a long road ahead of her if she's to become relevant again.


=============================


2. Stuttgart Q1 - Chakvetadze d. Cirstea 6-1/6-0
Stuttgart Q3 - Chakvetadze d. K.Bondarenko 6-3/7-6
...after qualifying in Copenhagen, Chakvetadze won three matches in a row once again to do so in Stuttgart, as well. Her work included the big hurt she put on Cirstea in the first round of qualifying.


=============================


3. Stuttgart Q2 - Ivanova d. Rezai
...6-4/4-6/6-4. Unfortunately for Rezai, her recent "qualifying fever" wasn't carried over to Stuttgart.


=============================


4. $10K Les Franqueses del Valles Final - Ksenia Milevskaya/BLR d. Anastasiya Yakimova/BLR
...7-5/6-7/6-4. Coming in from the proverbial cold, 21-year old Milevskaya claimed her first ITF title since 2008 in this Spanish challenger. At one time, Milevskaya was part of the conversation when it came to the best junior players of a few years ago. In 2005, countrywoman Victoria Azarenka was the Girls #1-ranked player, while Milevskaya finished at #3 one season later, just behind top-ranked Anastasia Pavlyuchenkova and #2 Caroline Wozniacki that year.


=============================


5. Stuttgart Q1 - Witthoeft d. Pironkova
...7-5/3-6/7-5. Hmmm, when does Wimbledon begin? And, on a side note, I wonder how much of a threat Bulgaria's Pironkova will be at the Olympics? Considering she won't have to win seven matches to walk away with a medal at SW19 come late summer, her All-England Club prowess might come in handy when it comes to getting a chance to play for hardware.


=============================


HM- $10K Caracas Final - Jennifer Elie/USA d. Marina Giral Lorres/VEN
...6-4/2-6/6-4. The 25-year old American won her second challenger event in two weeks, sweeping both the singles and doubles in Venezuela.


=============================






1. Fes Q2 - Arina Rodionova d. Karolina Pliskova 6-3/0-6/6-1
Fes Q3 - Kiki Bertens d. Kristyna Pliskova 6-1/4-6/6-4
...there is no joy in (non-FC) Czechville, the Pliskovas have both been knocked out.


=============================


2. FC WG PO - Huber/Stephens (USA) d. Kichenok/Kichenok (UKR)
...6-4/6-1.Liezel & Sloane take out Lyudmyla & Nadiya, the only sisters who participated in weekend Fed Cup action, in the "meaningless" doubles match of the USA/Ukraine tie.


=============================


3. Stuttgart Q1 - Barbora Zahlavova-Strycova d. Sandra Zahlavova
...6-4/6-2. All right, so this isn't really a SISTERS match-up. But it IS a SISTERS-IN-LAW one. And that's enough to be included here... since I didn't want to make up a whole different section logo that would get very little use over the course of time.


=============================








*FED CUP FINALS - since 2000*


2000 United States def. Spain
2001 Belgium def. Russia
2002 Slovak Republic def. Spain
2003 France def. United States
2004 Russia def. France
2005 Russia def. France
2006 Italy def. Belgium
2007 Russia def. Italy
2008 Russia def. Spain
2009 Italy def. United States
2010 Italy def. United States
2011 Czech Republic def. Russia
2012 Czech Republic vs. Serbia (in November, at CZE)



*FED CUP FIELD - for February 2013 ties*




=World Group=


Australia
Czech Republic
Italy
Japan
Russia
Serbia
Slovak Republic
United States


=World Group II=


Argentina
Belgium
France
Germany
Spain
Sweden
Switzerland
Ukraine



*WTA WEEKS AT DOUBLES #1*


237...Martina Navratilova
181...LIEZEL HUBER*
163...Cara Black*
124...Natasha Zvereva
118...LISA RAYMOND*





STUTTGART, GERMANY (Premier $740K/red clay indoors)
11 Final: Goerges d. Wozniacki
11 Doubles Champions: Lisicki/Stosur
12 Top Seeds: Azarenka/Sharapova
=============================


=SF=


#1 Azarenka d. #4 A.Radwanska
#3 Kvitova d. #5 Stosur


=FINAL=


#3 Kvitova d. #1 Azarenka

...so many interesting matchups are possible in Stuttgart. Azarenka/Petkovic. A Wozniacki/Kerber Copenhagen rematch, if the Dane survives a 1st Round clash with Jankovic, probably still in the clouds after her time in Moscow, put maybe still able to find her focus against the player who stole away her former coach, then threw him aside a month later. A potential "do-over" of the only '12 loss Vika has had -- against Bartoli -- in the QF. Vika/A-Rad, Part V in the SF. Kvitova/Sharapova. Azarenka vs. either Kvitova or Sharapova in the final. And there's the prospect of a confident Stosur coming off her FC heroics, and not even having to leave Germany to keep her momentum going (she could face defending champ Goerges, who she missed playing in FC this weekend, in the 2nd Round). Ah, but while this is a red clay event, it's INDOORS. So, of course, Kvitova's under-a-roof streak will truly be put to a test this week. I'll go with her, but if her indoors run is going to end in 2012, it probably goes without saying that Stuttgart might be the most likely place where it will happen.



FES, MOROCCO (Int'l $220K/red clay outdoors)
11 Final: Brianti d. Halep
11 Doubles Champions: Hlavackova/Voracova
12 Top Seeds: Medina-Garrigues/Kuznetsova
=============================


=SF=


(Q) Muguruza-Blanco d. #5 Halep
Begu d. (LL) Johansson


=FINAL=


(Q) Muguruza-Blanco d. Begu

...Brianti and Halep, the '11 finalists, were set to possibly meet in the 2nd Round this time out, then defending champ Brianti lost in the 1st Round to Alexandra Cadantu. And with #2 seed Kuznetsova probably having a case of FC hangover, this one might be up for grabs and a first-time champion a likely outcome. Well, unless AMG wins and I get to pull out the old "Smashnova Notes" again.



So, Carl finally back after being forced to miss Fed Cup pick week. Don't ask -- Carl had things to do!! Sure, Todd get nine of ten of his picks right while away, but Carl know that Carl would have gone TEN-for-ten. Todd know, too. And if think Carl forget that Carl pick Barcelona champion correct last time here, Todd mistaken. Carl been back picking only two weeks, and Carl already got two picks right. Todd get ZERO over that time. Carl not surprised.




STUTTGART




=SF=


4 a.radwanska def. 7 bartoli
2 sharapova d. 3 kvitova


=FINAL=


4 a.radwanska d. 2 sharapova



FES




=SF=


1 medina-garrigues d. 6 scheepers
7 zakopalova d. 3 cetkovska


=FINAL=


1 medina-garrigues d. 7 zakopalova

...obviously, Carl not afraid of The Radwanska. Carl not afraid of ANYBODY.

(pause)

Carl hope Carla no hear that.


All for now.