...the Worst of Times
They've been part of the best of Backspin times. They've been part of the worst of Backspin times. Next up, the worst.


While there have been a whole crop of players who've managed to get on my good side over the years, there are also quite a few who've irritated me, put a crimp in my style, thwarted my -- or one of my favorite's -- best laid plans, disappointed and frustrated me... or just plain made me mad. Some players more than "earned" their demerits over time, like a certain Belgian, but at least one Czech and a Dane managed to find a way to exchange "good" money for "bad" after I'd had their backs early on. No one has ever been able to go from good to bad, then back to good, in my eyes... but I suppose there's always a first time for everything.

So, after extolling the virtues of my all-time "most favored" players, now is the time when I'll be Your Not-So-Friendly Neighborhood Backspinner. But, hey, it's April Fool's Day... so it's nothing "personal." Well, at least not most of the time.



=ALL-TIME ANTI-BACKSPIN TEAM=




**1st Team**




Kim Clijsters, BEL


...come on, now. I couldn't do an "Anti-Backspin" team without listing my "Anti-Queen," could I? I've easily had more fun at Clijsters' expense on this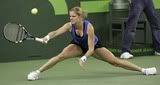 blog than any other player. I mean, no one will EVER surpass her in terms of nicknames. Just an abbreviated selection of a few of them: Kim C. Clijsters (the "C" standing for "choke"), Easy-Bake Kim (for her propensity to cook herself when under pressure), FilaKim (after KC skipped the Athens Olympics because the Belgian team would have to wear outfits made by a company other than her clothing sponsor), Nice Kim (dripping with insincerity), and Barbie (after Mattel made a doll in her likeness). And then, of course, there was that little tactic of dubbing her Jada's Mama, Brian's Wifey, Elke's Sister, Justine's Countrywoman or a few others as a way to describe her without ever having to actually type her name during the bulk of the '10 season. Oh, great passive-aggressive fun, I say.

As things have played out, I've mostly come to view Clijsters in two distinctly different forms -- as "Old Testament" Kim during her 1.0 career, and then "New Testament" Kim in her far-more-successful, (mostly) wound-healing, career-redefining second act in 2.0. She's here because of the hotly-debated aspects of the first phase of her career, which filled more than a month of Backspins back in the day. But it should be pointed out that one thing that has never been in question in this space is the vastness and versatility of KC's talent. Personally, I've held wildly testy opinions on Clijsters at times, but largely they've been based on what was perceived as her "underperformance" and almost "waste" of a talent that should have produced so much more in her first go-around. If Justine Henin got more than expected out of HER abilities, then KC achieved FAR less with her's. During 1.0, the comparison with her Belgian counterpart was always going to be one that she was going to lose in this space. From the moment they both arrived on the scene, Clijsters' was always going to be stacked against Henin's magnificent career, and only her spectacular summer of '05 (when she finally won a slam in NYC) prevented her first career from being a complete whiff. Fact is, there was a pre-Backspin time when I was debating whether or not Clijsters or Jelena Dokic was going to be my "most-favored" player in the wake of Jana Novotna's retirement. To say the least, Dokic won out... and, truthfully, as you'll see, had a hand in helping me construct a large portion of this "Anti-Backspin" list. For the longest time, I said that many of Kim's more admirable qualities would make her a great friend, but that for an elite athlete with all-timer possibilities, she had a very wanting profile that led her to be a career underachiever in a sport where heart and desire are sometimes as important as natural talent (especially in clutch moments in big matches, where KC so often came up short). Thing is, it was precisely the "good" side of Clijsters that often riled me up the most. "Nice Kim" almost religiously courted approval, squeegeeing courts and handing out champagne bottles to fans, giving her a Teflon-like coating and protection from most of the media when it came to criticizing all that she didn't achieve ON the court. Unlike when the likes of Mauresmo, Janokvic, Safina and Wozniacki did it later, hardly a word of protest was uttered when Clijsters became first woman to rise to #1 without ever having won a slam.

So often a bridesmaid, Clijsters retired and literally became a bride in 2007. She had a daughter, and then her father died. In the summer of '09, she returned to the sport and quickly found the success that had eluded her in her previous career. She won the U.S. Open in just her third tournament back, then won two more slams in a little more than a year. By the time she went to Melbourne in January '11, even I'd finally called a truce with her. Giving in and learning to ♥ Clijsters, I held my breath and decided to back "My Kim" for that tournament, knowing that if she won it she would officially have re-written her career legacy with a brilliant Second Act. In the AO final, after having won three slams in which her opponent wilted under the pressure, Clijsters finally showed that she could put a boot on an opponent's neck and win a 3rd set to claim a major, taking down Li Na and proving that 2.0 truly WAS different. Belatedly living up to her talent, I could no longer view her as an underachieving "pretender." After so many years, she was finally a TRUE champion. Even the Clijsters contrarian in me could no longer deny it.

Of course, right on cue, ever since winning that AO title, Clijsters has been mostly a ghost on the WTA tour due to a string of injuries, a neverending 2.0 pattern which essentially began when she injured her ankle dancing at her cousin's wedding last year. Which leads me to mention, of course, that Clijsters 2.0 has essentially fallen apart ever since I decided to give her the full Backspin hug. Immediately after Oz, nursing the first of her string of second career injuries, she was blitzed in the Paris Indoors by Petra Kvitova, and a new Backspin era seemingly began. She hasn't won a title since that AO and, after going 27-2 in SLAMS during her comeback up until winning in Melbourne, she's only been able to play in twenty-eight TOTAL tour matches ever since. You don't think I inadvertently jinxed her, do you? I wasn't trying to do that. REALLY. Anyway, as she soon heads down the stretch of what she says will be her final year on tour, it's safe to wonder if she'll even make it to the finish line, or even play in the Olympics in London this summer (I suspect, though, that she'll put herself in a full body cast for a month leading into the Games just to assure that she'll be able to make the opening ceremonies). Maybe "The Mummy" will be her final Backspin nickname?

Ahh, it's always something. No one has been a better antagonist and/or adversary than Clijsters, and I really WILL miss her when she's gone... for all the (finally) right, as well as (classically) wrong, reasons.



Petra Mandula, HUN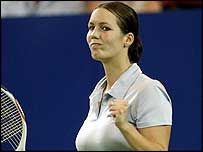 ...if you're asking, "Who the heck is that?," then, well, you'd be right to wonder. This one's a LITTLE personal, going back nearly a dozen years, right before I began, in busy bee fashion, to churn out my old weekly "Jelena Corner" columns on Jelena-Dokic.com. You see, back then, my most favored former Aussie (hmmm... yeah, I think she was an ex-Sheila by then, having left Australia for Serbia a few months before after her father's crazy claims of Melbourne "draw rigging," only to return many years later and reclaim her past Australian citizenship without her dad... then team up with him again some time later in a tennis saga that never really seems to end) was entering into the EuroSlam season after having reached the Wimbledon QF and SF the previous two summers. At the time, even with all the AO warning signs flashing so brightly, all great things seemed possible... and then Mandula brought reality crashing down in the 3rd Round of the '01 Roland Garros. Well, not really. But, yes, REALLY. "Pulling a Mandula" quickly became Corner shorthand for a shocking Dokic loss, born with the three-set upset at the hands of the virtually unknown Hungarian. Entering the match with the RG draw having opened up with a series of big-name upsets, Jelena had grabbed an early lead in the match, then later admitted to losing her concentration because she started thinking about her golden opportunity to reach a slam final (as it turned out, a very young Clijsters ended up beating Henin in a SF match to advance to HER first slam final), setting the stage for Dokic her ultimately bow out in shocking fashion. The past turned out to be prologue, as "Great Mandula's Ghost" always seemed to linger in the air -- ready to be resurrected -- whenever Jelena was having a bad day. Mandula has long since passed into tennis history, but her memory will survive in the Land of Backspin. As nothing has every really been able to adequately replace it, I'm planning on reinstating the "Great Mandula's Ghost" phase when it comes to talking about a particularly big loss which seems to continue to haunt a player down the road, unable to be effectively exorcised. If for nothing else, it'll be a "tribute" to JD, and all that she was, as well as never really turned out to be.



Nicole Vaidisova, CZE

...at one time, Vaidisova seemed like she would be the WTA's "next big thing." In 2004, she was a tour titlist at 15 (still the sixth youngest ever). A week before the start of Roland Garros in '06, she put away her sixth career title (in seven finals). She seemed THIS CLOSE to a huge breakthrough. In fact, she was arguably one SWING away from it. Specifically, in the RG semifinals that spring. After so many correct decisions and the flashing of an almost preternatural ability to ignore pressure in Paris through five matches, Vaidisova's potentially career-making slam journey was undone by a few nervous moments and one bad shot. Up 7-5/5-3, the Czech teenager served for the match, only to appear to back off her shots just enough to allow Svetlana Kuznetsova to find a backdoor through which to enter a match that was all but a handshake at the net from being over. After the steadier Russian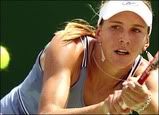 gained the lead in the set at 6-5, Vaidisova got herself under control and forced a tie-break. There, at 5-5, she approached a less-than-mediocre Kuznetsova drop attempt that bounced at the back of the deuce court service box and prepared to hit the most important shot of the match. Rather than crushing a stinging forehand down the line, likely out of reach of Kuznetsova, who was stationed on the left side of the court, the Czech attempted a riskier crosscourt flick-of-the-wrist shot behind her opponent. The ball sailed wide and, rather than a match point for a slam final berth, Vaidisova faced a set point in Kuznetsova's favor. One point later, the match was knotted at a set apiece, but it turned out to be, once again, all but over save for a handshake at the net. She lost the 3rd set at 6-2. Her points grab pushed her into the Top 10 for the first time later that summer, and she climbed as high as #7 a season later. But after having become mentally undone in the RG semis, Vaidisova never won another title. She never even reached another final, as every tense moment seemed to call up her own "Great Mandula's Ghost," leading to ultimate disaster. Her final, last ditch run came in Melbourne in '07, where she reached another slam semi. She lost a tight 7-6/6-4 match to the eventual champion, and that was essentially all she wrote. Vaidisova hung around for a few more years, with diminishing results at every turn. In 2010, at just 20, after being unable to even win 1st Round matches in challenger events, she quit the sport, walking away as the latest example of the sport eating its young. Or maybe it was just a case of a player, rather than buckling down (ala, say, Andre Agassi at the low point of his career, or Jennifer Capriati), just throwing up her hands and giving up. Vaidisova quickly married Czech tennis player Radek Stepanek, hardly removing the sport from her life, and has often been seen in the stands at events over the last two years. Either way, any mention of "Anti-Czech" Vaidisova in Backspin these days is invariably as a jab against some player who is looking as if she might rather take her ball and go home rather than learn to fix what ails her game and live up to the potential her talent says she has. Irritating.



Lleyton Hewitt, AUS

...oh, I've never really been a fan of Hewitt. Sure, he had great timing (unlike Andy Roddick, he hit his peak a bit before Roger Federer arrived on the scene) and was an admirable fighter. But I couldn't stand HIM. The scowl. The "Come on!" chants. Ugh. I wanted to punch him. And then he hooked up with and became engaged to Clijsters, and the whole thing snowballed. To me, KC went down a few notches in my book, just by association, and she never fully recovered. Their relationship helped give rise (or at least give stronger legs) to the whole "Aussie Kim" thing Down Under, even though the pair never made it to the altar and/or spawn some sort of blonde, tennis-playing antichrist (a Clijsters-Hewitt daughter wouldn't have been as "awwwwl-inducing" as Jada, I'm figuring). My antipathy toward Hewitt has dulled a bit as he's aged, undergone hip surgery, gotten married, become a father, matured and made a few slam cameos posing as the "last chance" underdog trying to carve out a few more great slam moments. Still, once he lets loose with one of his "Come on!" shouts, it all comes flooding back, as all sorts of bad thoughts once again flash before my mind's eye.



**2nd Team**




Andy Murray, GBR

...this one isn't a "lost cause," by any stretch. But I've always had something of an adverse reaction to Murray. Maybe it's the woe-is-me look he used to get so often late in matches, or his old unwillingness to force the issue with more aggressive play against players -- like Federer, Nadal, etc. -- that he essentially HAD to up his game against in order to win matches against in slams (not surprisingly, he's 0-3 in slam finals), or that Brad Gilbert is still a bit of annoyance years after the end of his and Murray's coach/pupil relationship because he's ALWAYS picking the Scot to win a slam title to become the first man from Great Britain to win a slam since 1936. How about the over-coverage of Murray -- apparently as "close to an American" as the Powers That Be can find to go out of their way to show matches of in the absence of any actual Americans with slam-winning potential in recent years -- that takes place on U.S. slam tennis broadcasts? Yeah, that, too. Oh, and maybe that far too many -- led by Gilbert, again -- try to lump Murray into a "Big 4" of men's tennis (with Rafa, Roger & Novak Djokovic), even though the often #4-ranked Murray, no matter how many times he manages to upset Djokovic, has no business being included in the group considering they outnumber him 31-0 in slam titles. Until things change, and I seriously doubt that they ever will, he's "the best of the rest." No more. No less.



Rita Kuti Kis, HUN

...the player behind Dokic's original Hungarian disaster. JD's stunning 1st Round loss to Kuti Kis at the 2000 Australian Open turned out to be one of the early lowlights in the string of events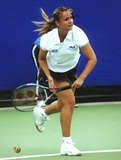 that led to her departure from Australia and long AO absence. Jelena, still just 16 at the time, showed her immaturity during her post-match comments when she expressed her anger at losing to RKK, someone "who's never been a player and probably never will be." I had nothing against the Hungarian, but just the sight of her name still sends a bit of a shiver down my spine, and earns her a spot on this Anti-Team all these years later. In the end, such a loss is a good learning experience, serving to provide a lesson to any player (or fan) that overlooks a "lesser" opponent. Oh, and said player probably shouldn't essentially insult that "lesser" opponent AFTER losing to them, either. It really makes EVERYONE look bad.



John McEnroe, USA

...hey, I thought Bjorn Borg was "cool," and Jimmy Connors was my favorite player during my earliest tennis years. I sort of felt like I was SUPPOSED to not like SuperBrat and all his temper tantrums. Of course, he sort of made it easy back then.



James Blake, USA

...blame this one on the American television networks. Rather than show better matches that I preferred to see, slam coverage often instead was focused on matches with Blake, although he always managed to underperform at the slams, and any hope that he'd make a big run were pretty much pipe dreams no matter how much the commentators talked about how it was his "big chance," or how loud the "J-block" cheering section at Arthur Ashe Stadium yelled and screamed during his matches. That said, when the super-quick Blake was in good form, he was always great fun to watch, and hardly a player one could really root against. All I wanted was a bit of equality when it came to talking about and showcasing the top-ranked players. As usual, it was often the women who were shortchanged when it came to coverage, bumped off the air in favor of the lower-ranked Blake, and then "demeaned" in later rounds on the air because no one was very familiar with them even though they'd reached the latter stages of a slam. Well, maybe if you'd shown them earlier... I always just sort of let all the overwrought Blake coverage slide for a long time, but once he literally verbally went after Pam Shriver during a match for deigning to talk on the balcony above his court during another early Wimbledon loss, then essentially tried to lay the blame on her distraction for his poor play -- even though he'd been taking care of that just fine before she ever opened her mouth) -- I sort of took the gloves off when it came to Blake. Of course, he's rarely been in any match that's really mattered since that London afternoon, so it's been kind of a too little, too late change of course. Of course, that fact is probably the leading reason why Blake was so testy that day, anyway, as he could see the end of his career, up close and personal-like, by then.





Of course, I can't end this without a short parade of other players who, while their offenses never rose to so great a height that I held legitimate antipathy towards them, did enough to raise my ire. At least temporarily. Sometimes my fits of displeasure were correct, as far as I'm concerned. Sometimes, though, they were dead wrong.



**Old Habits Die Hard**




Gael Monfils, FRA

: now, let me say this, Monfils is often a spectacular shot-maker and crazy athletic player. He can be a joy to watch. Aye, but there's the rub. Rather than play up to his should-be level of play on a consistent basis (remember, he almost claimed a true Grand Slam as a junior), he has often always gone for the wildly flairfull shot -- just like so many other French athletes, such as Henri Leconte or Jean Van de Velde, to name a few -- rather than the smart one that would lead to more victories. So, he expends too much energy in matches that go longer than they should. Even with all his talent, and an ability to jump up and defeat ANYONE on any given day, he's never really been a slam threat because he can't sustain a high level of play playing as he does. Plus, he tires himself out with all his "extra" traits, so a big slam win is almost always followed by a disappointing result a round or two later. Either that, or an injury. Still, we see a lot of his matches during slams on American coverage. Really, Monfils is the sort of player better suited to being the focus of a highlight package than actual match coverage. That way, we'd always get the best of him. In a way, he's like many a slam-dunking NBA star -- he can pull off sometimes-spectacular athletic and artistic feats, but you'd never want him on your side if you absolutely, positively had to WIN something. Thus, following his career often seems like a waste of time.



Daniela Hantuchova, SVK

: this one is another "Anti" team member whose placement is linked to Jelena Dokic. Just as Dokic was rising into the Top 5 in the early 2000's, so was Hantuchova. So, as a ardent JD backer, Hantuchova was looked upon as something of a rival. Couple this with the media and WTA's constant pushing of Hantuchova -- with a great serve, net play and a vocal desire to be #1 -- as that time period's "next big thing," and I came to dub Hantuchova as "Wonder Girl." At first glance, this would seem to be a laudatory nickname. But it wasn't. It was actually a sarcastic Backspin jab precipitated by the intense (and overdone) fawning over the Slovak, both before and (especially) after she won one title -- her first, at Indian Wells -- back in 2002. In the pre-Sharapova/post-Kournikova era of the time, the WTA was openly desirous for a young "hotty" to take the Russian's place as the sex symbol of the tour... but, this time, the "it" girl was to be one who actually was able to win singles titles, as well. Hantuchova seemed the perfect fit, and she tried to fill Kournikova's large shoes, both on and off court. But the tour marketers' desperate act of propping up Hantuchova as the "new and improved Anna" was a bit hasty, for she was no superhero-like "Wonder Woman." No one factored in the ability of the teenager to handle the pressure, nor avoid becoming engulfed by the myriad entrancing opportunities presented to her off the court. Hantuchova became the subject of sensational stories about her health, as she seemed to be withering away before our eyes (and she had already always been amongst the thinnest players on tour). It took her five years to grab career title #2, as she fought through the weight, fitness and emotional issues, not to mention poor play, that dogged her for many seasons. As she's become a tour veteran, the eye-rolling "Wonder Girl" moniker first softened, the went out of style as she matured. All the pressure she once felt as a young player is now a thing of the past. She's reclaimed her fitness, and overcome (well, at least sometimes) many of the on-court emotional issues that often brought her to tears in between points during tight matches. She's become a great doubles player (she won a career Mixed Grand Slam), and is still an occasional very good singles one. She finally won title #3 in 2011. In the Slovak's case, time has been on her side. Unlike a certain aforementioned Czech, Hantuchova stuck with it and found her footing in the sport after learning to deal with disappointment. Her career hasn't turned out the way she would have liked, or most might have predicted, but she's STILL HERE. And that's something for which she can be commended.



Brad Gilbert, USA

: no, it's not because of his sometimes eye-rolling commentary during tennis coverage these days. It's because Gilbert literally made me sick. Way back when, when Gilbert was simply a consummately scrappy tennis player, a younger version of a certain Backspinner was present in the stands in the Washington, D.C. ATP event in the late's 1980's. Back then, the ATP often played best-of-five matches in regular tour events, and Gilbert was facing off against my all-time favorite men's player Boris Becker in the ungodly sort of heat that has always descended upon the area in the dead of summer. Becker led two sets to none, and things looked good. Then Gilbert put on one of his patented never-give-up shows, and made the match go the distance. The whole distance. Five sets. And he won, too. Worse yet, I'd stupidly come to the match without a hat, and hadn't seen fit to properly hydrate. As the 5th set wore on, and Gilbert dragged things out longer and longer, I felt sicker and sicker. Finally, sitting near the left edge of the stands, within distance of the clay courts at the Rock Creek Tennis Center, I mentally mapped out a plan of how, when the time for action came, I was going to slip between a couple of fans sitting a few feet away and try to throw up over the side of the stands without getting vomit on anyone around me. I very nearly had to follow through with the plan, too. But, thankfully, Gilbert finally put Becker -- and me -- out of our misery before it came to that. Never before or since have I ever been that close to becoming sick (or worse) due to heat illness, but I was on that afternoon. And I still blame Gilbert for it.



**Maybe I Was Onto Something at the Start?**




Agnieszka Radwanska, POL

: I'd known about Radwanska since her junior days, but it wasn't until she made a big splash by upsetting Maria Sharapova at the U.S. Open in 2007 that I really began to form any real opinions about her. Lacking much power, A-Rad depended on creating angles with cunning play, and using good defense to force her opponents to hit a large number of shots until they eventually committed an error. Needless to say, the style sort of ticked me off. Her serve wasn't a weapon to speak of, and she largely depended on her opponents' inconsistency in order to win matches against top players. When she met up with defending champ Sharapova at the Open, I described what happened like this: "Weaned on the crafty play of Martina Hingis, A-Rad's main weapons in this match seemed to be her intense desire to mess with Sharapova's head. The Pole rarely actually hit a winning shot of her own volition, and instead was intent on sending back off-speed shots of various spins and such just to see if Sharapova was smart enough to figure out how to win a match when her opponent wasn't doing her a favor by trying to get into a ball-striking contest with the queen of the smash-the-hell-out-of-the-fuzzy-yellow-thing set. The teenager didn't play that game, and the defending Open champion let her get away with it during the most important parts of the match -- its beginning and end. But it wasn't Radwanska's style that got under my skin that day, it was her on-the-edge tactics. I said, "A-Rad's practice of hopping up to just behind the service box as Sharapova began her serve machinations, then hopping back as the Russian's toss went up, surely served its stated purpose to distract Sharapova into mistakes. Of course, if the likes of a certain Belgian had stepped this close to the gamesmanship line she'd have been hung out to dry for it, but the Pole's brash youth might provide her with a pass. I suppose it does from Backspin, too, for it would be sort of hypocritical to bum-rush A-Rad after defending Henin's technically-within-the-rules moves in season's past, huh? So, I'll just say this: some corners might say that Sharapova, who was noticeably bothered by the tactic during the match, though she smartly didn't make an issue of it at the time nor afterward, should have launched a quick second serve at (or over, if she'd wanted to take the "nice girl" approach) A-Rad's head before she pranced back to the baseline during Sharapova's serve toss. You know, just to give her a little warning and to see if she'd continue with her psychological warfare after receiving a virtual warning shot across the bow. After all, all's fare in love, war and U.S. Open tennis, right? Hey, this IS New York City... it's all right to play with a little "are you talkin' to me?" attitude. Ah, where's Irina Spirlea when you need her? Although I didn't hold her actions that day against her at the time, the memory of it surely lingered and kept me from embracing her as a player. Plus, for the longest time, her game remained the same, and she rarely ever won anything, reinforcing my initial rejection of her. That said, ever since Radwanska's very public run-ins with her father last summer, she's become a different player. They've since reconciled, but her immediate reaction to the situation was to back away from him, her longtime coach, and seek a new set of eyes. The result: her first serve improved greatly, she got physically fitter and stronger and was more willing to take chances during rallies and go for a winner when the opportunity presents itself. Oh, she's still defensive-minded and often wins sets with miniscule numbers in her winners column, but the improved pop on her serve allows her to play big points more on her terms, and she's utilized her supersmart tactical play in ways that allow her to wisely pick her spots during matches when she'll go for a few of those winners. Often, sets turn on just a few points, and the improvements in Radwanska's game have given her a chance to WIN matches rather than simply allow her opponents to lose them. Essentially, all the problems I used to have with her game are no longer in evidence. Recently, though, I've found issue with her vocal criticism of the loudness of players such as Azarenka and Sharapova, calling their shrieking a distraction and wishing for rules to penalize them for it. It seems a bit hypocritical on her part, to be honest, considering how her first major win five years ago was so predicated on distracting her opponent as she was about to serve. I find A-Rad's game too fascinating to watch now for her to be included on the actual "Anti-Backspin" team, but it seems as if there will always be SOMETHING about Aga that manages to get under my skin.



**On Backspinner Probation**




Caroline Wozniacki, DEN

: Wozniacki is a difficult one to include on this list, because it was never supposed to turn out this way. A year ago, after watching the Dane rise to the top of the rankings, she seemed like a nice addition to the WTA landscape, and she even showed up on the fringes of possible entry onto the "All-Time Backspin" team. But, now, here she is on the fringes of "Anti-Backspin" infamy. Geez. What happened? Hmmm, well, I'm not really sure. Over the course of the 2011 season to now, I've gone from defending her against Lindsay Davenport's on-air criticism to arguing with LD as she's suddenly become the Dane's Great Apologizer now that's she fallen way off the #1-ranked pace she formerly set. Well, for one, I think it was because Wozniacki stubbornly refused to "see the light" about all the criticism she was receiving from all corners (and, eventually, even in this spot). Rather than try to improve certain aspects of her game -- namely, her serve and willingness to become more aggressive -- that would allow her to take down consecutive big-hitting players at slam time, she became defensive about the whole situation, talked about "having time," said that, since she was #1, nothing was "broken," so why fix it, and then saw fit to criticize her critics for being too harsh rather than take their constructive criticism and use it to her benefit. Meanwhile, when she should have been improving her game (which doesn't mean it's "broken," by the way), she was running around the world playing in every tournament and exhibition she could, including the week before slams, giving herself even less of a chance to be in top form at the end of one of the two-week periods of play that will ultimately define a #1-ranked player's career in this era of tennis where slam results far outweigh anything else when it comes to the top players in the game. And I won't even talk about the whole "mystery coach" debacle, or how Wozniacki belatedly became an advocate for punishing the tour's "shriekers," which includes at-least-thought-to-be-her-friend Victoria Azarenka, just as WTA head Stacey Allaster began to publicly speak out about the same subject. It reeked of a you-scratched-my-back, I'll-scratch-your's situation, for Allaster had always steadfastly defended Wozniacki's viability as the #1 player even as it was generally agreed that the Dane, while top-ranked, wasn't the BEST player on tour. I'd always felt a tinge of the sort a "too willing to please," Clijsters-like characteristic in Wozniacki from the start, which should have been a warning sign. But I chose to ignore it, called it a "breath of fresh air," and was determined that this time, with this blonde, I would take it to heart and make it work. Umm, no. It was a doomed combination from the start, I'm afraid. In many ways, just as was the case as Wozniacki rose to #1 when no one else seemed to want to take the position, I think I ascribed all the hoped-for traits of a potential post-Henin "Face of Backspin" onto Wozniacki. As soon as the likes of Kvitova and Azarenka became slam champions, I remembered what it was like when young players would strive to be the best they could be, damn their critics and work to let their on-court actions do their talking for them. Wozniacki always came up short in that area. BUT... I haven't completely sold my stock in Caro. Now that's she lost her #1 ranking, maybe even HER hard-headedness can be broken down enough to force her to realize that all the things her critics -- myself included -- have said about her game should have been taken far differently. So far in 2012, she DOES seem to have improved her serve. She even got a big win over Serena Williams (her first ever) in Miami, and showed a little aggression in winning points... even if Serena's walking-in-quicksand demeanor and sting of errors made her hardly something to be feared on that night, and that Wozniacki failed to follow up the win with another over Maria Sharapova the next round. As things stand, I no longer cut Wozniacki any slack when it comes to her game, behavior or potentialy-disingenuous comments or immature reactions. See, I never would have said that a year ago. But Wozniacki need look no further than her friend Agnieszka to see how just little improvements in a player's game can make a world of difference. Without the pressure of the #1 ranking, or the potential to lazily rest on her laurels in the top spot, maybe Wozniacki can turn this ship around yet. I don't think I could ever feel exactly the same way about her as I used to, but she could slowly climb back into my good graces and fully escape any future "Anti-Backspin" mentions. Surely, I'd LIKE to mark her off my version of Carl's "Squish List," and I'd LIKE be able to watch her matches again without having to consciously try to avoid grumbling under my breath every time the commentators talk about how nice she is while also giving her a pass on petulant on-court behavior that would be used to cut down many other players. I'm not saying it's going to happen, but I'd LIKE it to. Time will tell, I guess.



**I Should Have Disliked Her, but so help me...**




Irina Spirlea, ROU

: Oh, Irina. You dastardly Romanian, you. During her career-best run to the semifinals of the '97 U.S. Open, Spirlea just didn't care what anyone thought of her. Venus Williams made her Open debut at that event, and was the center of attention from Day 1. When the two faced off in the semis, during a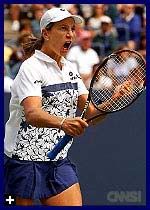 changeover, as both walked to their chairs, they were set to cross paths in front of the chair umpire. Usually, one player will slow just a bit as the two move past each other without contact. But not Spirlea. Spying Williams out of the corner of her eye, seeing that the American wasn't even paying attention to her and was expecting Spirlea to avoid some sort of collision, Spirlea seemed to intentionally time out her steps so that the two would clang into each other before they reached their seats. They did, too, as Venus was suddenly shocked out of her blinders-on path to her chair. Williams won the match, but the big topic of discussion after it was over was the collision. And Spirlea was anything but apologetic. In fact, it was pretty obvious that she purposely caused the run-in, the end result of two weeks of her own irritation about all the attention paid to "Venus f------ Williams," as Spirlea famously called the teenager during her post-match press conference. Sure, it would have been easy to greatly dislike Spirlea for the whole incident. But it was really her only time in the spotlight, and she seemed to take so much joy in her villain's role (not that differently from another tennis-playing, sometimes-dastardly Romanian, Ilie Nastase) that it was impossible not to laugh a little at the whole thing. Now, rather than think of her with cross feelings, I can't help but smile and think, "I can't believe she actually DID that."



**Stupidity... belatedly recognized**




Hana Mandlikova, CZE/AUS

: back during the tail-end of the Martina/Chris era, Mandlikova was often the player who was on the outside looking in. Blessed with a great all-court game, she might be the one of the most underrated players of all time (her too-low ranking of #62 on Tennis Channel's "Greatest" list attests to that fact), as she managed to win three slams -- coming within a Wimbledon title, and she reached two SW19 finals, of claiming a Career Slam -- during an era dominated by Navratilova and Evert, who won a combined thirty-six slam titles. But in the early years of my career as a tennis fan, I knew her mostly as that player with the long hair seemingly matted-down to her head, and with that arrogant UnSmile on her face. I really didn't like her. Hey, I was in, like, junior high or something. Late in the game, though, as I started to play tennis more often myself, I fell in love with Mandlikova's game. I was rooting for her to finally win Wimbledon in her last final there in 1986 (she lost to Martina), but got to celebrate when she won the '87 Australian Open. Later, I was present in the stands when Mandlikova won what would be the final singles title of her career at the WTA's Washington, D.C. event. Plus, Mandlikova's game eventually lived on in the form of Jana Novotna, who I latched onto as a player before I'd even known that Mandlikova was her coach. When Novotna won Wimbledon in '98, Mandlikova "sort of" finally completed her career Grand Slam. Both are on the "All-Backspin" team. Ultimately, I was pretty lucky to realize that my initial reaction to Mandlikova was a stupid one. Without her, I would have missed out on a lot of fun.



Amelie Mauresmo, FRA

: for a long time, my opinion of Mauresmo revolved around her inability to win in the clutch. Before the likes of Safina, Jankovic and Wozniacki, Mauresmo (after Clijsters had originally led the way) was the player who got to #1 without winning a slam. Blessed with a graceful game that heavily featured picture-perfect volleys and fluid groundstrokes, Mauresmo was often undone by fragile nerves that made her appear to be a head case, no matter how eloquent and thoughtful she might have been both before and after matches. If Mauresmo hadn't had her grand '06 campaign, in which she won both the Australian Open and Wimbledon titles, she would have gone down in history as an elegant chapter with an ending that left her true legacy hanging forever after. While I sort of resisted her breaking out of her pattern at first, I was wrong to feel that way. Thankfully, her title at the All-England Club finally brought me FULLY to my senses, as the graceful nature of her game was finally impossible to resist. In the end, while Mauresmo might not have won as many major titles as her fans and France would have hoped, the footsteps she left behind cannot be erased.



**It was One Bad Day, but many good ones followed**




Venus Williams, USA

: though the irritation about the moment eventually wore
off, I really didn't take too kindly to Venus' a-little-TOO-joyful hopping binge throughout the 2005 Wimbledon trophy ceremony. At the time, considering Lindsay Davenport had held match point late in the final and was visibly crushed by what turned out to be her last best chance to win a slam title, I felt Williams' unbridled emotional response to winning her first Wimbledon title after a four-year drought was somewhat disrespectful to her opponent. That said, as Venus and Wimbledon become so synonymous over the years, viewing the post-match images recently (during Tennis Channel's "100 Greatest Players" series) sort of made me chuckle at Williams' child-like, in-the-moment innocence. It no longer irritates me, but I DO remember how I originally felt. All is forgiven, but not necessarily forgotten.



Justine Henin, BEL

: back before Henin became Backspin's beloved La Petit Taureau, one of her first impressions didn't exactly leave a good taste in the mouth. At Roland Garros in 2003, her "wave-off" (due to an apparent distraction in the crowd) of a Serena Williams serve just as she was about to begin her service motion should have resulted in the proceeding fault being judged a let and Williams getting another serve. Ah, but Henin refused to admit she'd asked her opponent to hold up. Needless to say, Serena was incensed. Not to a point where she threatened to shove a tennis ball down Justine's throat, but it needled her enough that nearly a decade later when, in Rome in 2009, Williams, who'd held up her hand just before Jelena Jankovic served, prompting a re-serve from the miffed Serb, told her opponent that she "wasn't like Justine, if you know what I mean." Of course, my uneasiness with the legality of Henin's (overly?) competitive nature was put to rest when she called up one of the great physical feats in the sport later that summer when she knocked off Jennifer Capriati and Kim Clijsters in back-to-back days, while fighting exhaustion, to claim the U.S. Open title. After that brief moment of questioning, the relationship between this space and the Belgian was more that rock solid. When she won Olympic Gold in Athens a year later, I'd already been fully converted into an Henin acolyte.



Victoria Azarenka, BLR

: hmmm, could history be repeating itself? Nearly three years ago, I watched Azarenka just about suffer a total and complete meltdown while falling behind 7-5/4-1 to Carla Suarez-Navarro in a match at Roland Garros. During her near emotional breakdown during the match, as I said then, "she was putting on a show, honestly, quite unbefitting a top player. Squawking. Ranting. Muttering. Throwing her racket. Smashing signs. Azarenka was leering at the crowd. The crowd was getting on her." Ultimately, as darkness forced the match to be completed one day later, Azarenka easily put away the Spaniard down the stretch but, with her histrionics from the day before still fresh in everyone's minds, she left the court to a mixed fan reaction that was, conservatively, 60-70% anti-Azarenka. At the time, her antics made the reaction justified. Flashforward to 2012, though, and the Whack-a-Vika mood that often wafts through a crowd, now that the Belarusian has learned to better control her more self-destructive "inner Vika," is kicked up by the noise she makes during her strokes (pointed out often by commentators, Radwanska and WTA officials), and likely the athletic strut (which looks a little like Navratilova's, really) and somewhat demonstrative intensity she sometimes displays during particularly fierce battles on the court. THAT I like, though. It reminds me a little of Henin's games(wo)manship and unapologetic desire to win, and my defenses of Vika during recent situations is reminiscent of my past words while backing LPT, too. In the cases of Henin and Azarenka, whether it's the fondness for the player that leads to the defensive posture, or whether my propensity to defend a player more vociferously whenever they're "attacked" by the most people leads to the fondness is unknown. But with these two, it's sort of gone hand-in-hand. Maybe being on the other side of the argument at the start with both players allowed me to feel more justified once I got behind them. Either way, as closing ranks around Justine served Backspin well for a long time, maybe this whole recent embrace of Azarenka is just the beginning stages of another beautiful friendship. We'll see.


Well, that's about it for the "Anti-Backspin" team as it stands now. Of course, things can change. It's all up the players. Well, and whether or not I'm in a forgiving mood, I guess.


All for now.