Wk.24- Please Don't Eat the Grass
A robed individual emerges from a side room and walks to a podium positioned in front of an appreciative audience.
He places the sacred text in front of him, carefully opening it to the bookmarked page. He takes a step back, and gazes into the faces staring back at him in rapt attention. Without a word, he paces back and form on the carpeted floor behind the podium.

Faster. Faster. With ever-increasing purpose, and a seriously perturbed look on his face. Finally, he speaks:

"I'm disappointed in you, my brothers and sisters." The followers are taken aback. "Deeply... deeply... deeply... ASHAMED." He shakes his head. "You are all here. Yet you have lost faith!" He points to individuals sitting in the front row of pews. "You! And You! And You, too! ALL OF YOU! Lost faith."

He takes a deep breath, and there appear to be tears in his eyes.

"What do you NEED to see? After all that She has done for you, what do you NEED to see?" He looks to the old woman on the far right. "Must She cook YOU dinner?" He looks to the middle-aged man directly in front of him. "Must She buy YOU a car?" And then to the teenager, who tries to hide the iPhone he'd been sneaking a peek at. "Must She tell YOU that She loves you unconditionally... and pay your cell phone bill?"

The followers chuckle. He smiles.

"Well, She just might do all those things... (angry) but She shouldn't have to!!" He starts to pace. "She deserves more than that, don't you think?" He pulls out an imaginary notebook, and begins to "check off" items. "She's been on top of the world... and did you not enjoy her for it? She's brought you enjoyment where it has so often never been, in both joy AND sorrow. She's filled you with pride -- more than once!! -- and never asked anything from you. Nothing. NOTHING!! Except faith. Faith in her."

The followers begin to nod in agreement.

"Do you have it, brothers and sisters? Do you have faith in Her?" He hears a soft assertion of affirmation from his audience. "I can't hear you!" Louder. "I STILL can't hear you!" VERY LOUD.

He begins to pace back and forth again. With every step, and every drop of perspiration dripping off his forehead and falling onto his neatly-pressed, flowing satin vestments, the followers are stoked with more and more passion. Suddenly, he stops. Slowly, he reaches inside his robe and pulls out a plain white handkerchief. He gently dabs the beads of sweat on his temples, then wipes his face until he is sufficently refreshed. He then walks back to the podium, takes a drink of water, and then stares out directly into the adoring faces of his -- and, more importantly, HER -- followers.

Dead silence.

"So, do we have an agreement? Will we no longer question Her? Will we offer our support to Her, without question or want for more?" The followers nod. "Good, my brothers and sisters. For She will need all of our support when she travels to Prague later this year. She may not emerge the victor there in what will surely be Her greatest test. But She WILL NOT be wanting of our support. Do we have an agreement!?"

The followers shout all sorts of encouragement to Her, gazing up at the large photograph of her positioned directly behind the preacher.

"Good, good. She will be pleased. And so will we... simply because She IS."

He walks a few steps to his left, as if he's about to leave. Then he suddenly stops, as if he hears something in the distance. "Do you hear that?," he asks. "Do you hear that sound?" The followers struggle to hear. "Is it...? Could it be...? Yes, yes. I do believe it is." He falls to his knees.

"Glory... glory hallelujah. She HAS been resurrected!" The audience seems to hear it, too. "Join with me, brothers and sisters. Glory hallelujah..." The followers repeat back the phrase. He asks again. They follow. And again. And again. They definitely hear it now.

"She HAS been resurrected, my brothers and sisters. Of that I am CERTAIN. You will see. All of you. Within the next few days, She will re-emerge." He shakes his head, a broad smile appearing on his face. "Glory... glory."

He wipes away the streak of a lone tear that has fallen over his cheek, then walks back into the open doorway and into the side room from which he originally entered.

After being frozen in their seats for a moment, the followers, seemingly as one, rise and applaud... staring up into the smiling face of the photo of their Chosen One, draped in her colors of choice.




They can't be quite certain... but they do believe that She is smiling right back at them.

(Just another sermon overheard early last week at the Church of the Holy Chaos.)

Amen. And please don't eat the grass.



*WEEK 24 CHAMPIONS*
BIRMINGHAM, ENGLAND (Int'l $220K/Grass)


S:

Melanie Oudin/USA def. Jelena Jankovic/SRB 6-4/6-2


D:

Babos/Hsieh (HUN/TPE) d. Huber/Raymond (USA/USA)
BAD GASTEIN, AUSTRIA (Int'l $220K/RCO)


S:

Alize Cornet/FRA def. Yanina Wickmayer/BEL 7-5/7-6


D:

Craybas/Goerges (USA/GER) d. Groenefeld/Martic (GER/CRO)

PLAYER OF THE WEEK:
Melanie Oudin/USA

...ever since her star-making turns at Wimbledon (4th Rd.) and the U.S. Open (QF) in '09, Oudin has been struggling to find her way. At least year's U.S. Open, her Mixed Doubles title with Jack Sock at least provided a light at the end of the tunnel for her. Still, she dropped her eighth straight match earlier this season and, as recently as April, she was barely ranked in the Top 400. But then she won a $50K event in Charlottesville, Virginia -- her first challenger title since before her '09 heroics -- and things started to change. In Paris, she got her first main draw slam match win since 2010. Last week in Birmingham, Oudin made it through qualifying, then got wins over Sorana Cirstea, Michelle Larcher de Brito, Elena Vesnina, Irina Falconi (who she also knocked off en route to the ITF title) and Ekaterina Makarova to reach her first tour singles final. After having the final delayed by rain until today, Oudin took out Jelena Jankovic (the same JJ she defeated in the 3rd Round of Wimbledon in '09) in straight sets to get her maiden title. Within a few hours, her ranking rocketed from #208 to #122. Still just 20, Oudin is the youngest American to win a tour singles title since Vania King (17) in 2006. As things like this sometimes kick off a chain of events, it'll be interesting to see if Oudin's title inspires one or more of the other young Bannerettes to breakthrough with THEIR first title(s) by the end of the summer.


=============================




RISERS:

Alize Cornet/FRA & Ekaterina Makarova/RUS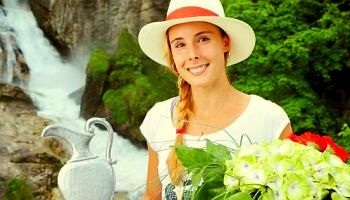 ...there was a time when Cornet looked like a player to contend with. Back in 2008, she finished the season at #16, reached three finals and won her first WTA singles crown. Since then, though, she hasn't finished a season ranked higher than #50 and hadn't reached another final until a few weeks ago. Apparently, her run to the Strasbourg final the week before Roland Garros has stoked her confidence. Cornet lost in the 1st Round in Paris to Zheng Jie, but rebounded last week by taking the Bad Gastein title with wins over Edina Gallovits-Hall, Ksenia Pervak and Yanina Wickmayer. While the scheduling of a clay court event two weeks before Wimbledon is more than dubious, it was a nice turn of events for Cornet since all five of her career final appearances have come in red clay events. Her ranking jumped from #73 to #58 today. Meanwhile, Makarova seems to have an affinity for the grass courts. Her only tour singles title came at Eastbourne in 2010, and her SF run last week in Birmingham was her best result in any event since that title two years ago. She got wins over Sesil Karatantcheva, Marina Erakovic and Hsieh Su-Wei last week, but her QF result at the Australian Open last January continues to be her signature moment of '12. Remember, she defeated somebody named Serena in Melbourne.


=============================




SURPRISES:

Mandy Minella/LUX & Chichi Scholl/USA


...in Bad Gastein, both Minella and Scholl had career-best results. Luxembourg's Minella, 26, reached her first tour semifinal with victories over Ajla Tomljanovic, Carla Suarez-Navarro and Johanna Larsson. 19-year old Scholl, whose little sister Chalena just reached the Roland Garros Girls QF, qualified and then put up her first tour QF result. She notched win over Zuzana Ondraskova and Irina-Camelia Begu, the latter of which continues to have one those not uncommon, but still perplexing seasons after being named the tour's "Most Impressive Newcomer" for 2011.


=============================




VETERANS:

Zheng Jie/CHN & Jill Craybas/USA


...Zheng is a former Wimbledon Final Four participant (2008). A winner in Auckland earlier this season, the world #32 had to go through qualifying in Birmingham last week. She made it, then put together a semifinal run with victories over Alla Kudryavtseva, Anne Keothavong, Andrea Hlavackova and Roberta Vinci. Craybas, 37, won the Bad Gastein doubles with Julia Goerges. The fifth of her career, it's the American's first tour doubles crown since 2008. She also got a singles victory over Nina Bratchikova.


=============================




COMEBACKS:

Jelena Jankovic/SRB & Hsieh Su-Wei/TPE


...forget The Radwanska. After seven weeks of hibernation following JJ's glorious Fed Cup weekend in Moscow, Queen Chaos was back in business last week in Birmingham. It didn't take long to see that something was different. In her opening match, the wild card Serb (come on, isn't Jelena a virtual "wild card" in every event she participates in?) bobbed and weaved between dodging and running away from a particularly-interested-in-her bee and saving two set points in a straight sets victory over Melanie South. But it didn't end there. Casey Dellacqua was ill, so JJ got a walkover in her match-up with the Aussie. After wins over Misaki Doi and Zheng Jie -- both played on Sunday due to the rain... are you seeing the familiar chaotic footprints of The Divine Miss J yet?, Jankovic advanced to her first singles final since last summer in Cincinnati. The final was postponed until Monday, as JJ had to wait to try to get her first title since 2010 (Indian Wells). As it turned out, she didn't get it, losing in straights to Melanie Oudin. Hey, no one's perfect. Not that anyone would ever begin to accuse QC of being something like THAT. Still, after seeing her 300-week Top 20 streak end a short while back, Jankovic's Birmingham run nudged her back up there in the latest tour rankings. Meanwhile, Hsieh's season-long comeback probably isn't so much a "comeback" anymore as it is simply a "pretty good season." When the year began, the 26-year old from Taiwan hadn't reached a tour singles semifinal since 2001. But after reaching a semi in Pattaya, she won her first WTA title in Kuala Lumpur earlier in 2012. Last week in Birmingham, Hsieh knocked off Vera Dushevina, Alexandra Panova and Melinda Czink to reach the QF, then went on to win the doubles title (the ninth of her career) with Timea Babos, defeating world co-#1's Liezel Huber & Lisa Raymond in the final. Hsieh, 28-11 on the season, is now the only woman to win titles in WTA singles & doubles AND ITF singles & doubles in '12, and is at a career-best #62 in the rankings.


=============================




FRESH FACES:

Urszula Radwanska/POL & Ksenia Pervak/KAZ


...coming off her $75K grasscourt challenger event title, ex-junior Wimbledon winner Radwanska went to Birmingham and took out defending champ/'11 SW19 semifinalist Sabine Lisicki in straight sets. On the clay in Bad Gastein, Pervak reached the semifinals with wins over Lara Arruabarrena-Vecino, Sarah Gronert and Chichi Scholl. After reaching two finals in '11 (going 1-1) while representing Russia, this was Pervak's best result since beginning to rep Kazakhstan this season. In the 1st Round on the grass today in the Netherlands, Pervak was taken out by -- guess who -- U-Rad. Nope... it never DOES end.


=============================




DOWN:

Sabine Lisicki/GER & Kaia Kanepi/EST


...last summer, Lisicki's career transformed itself on the grass as she won the Birmingham title and then, with wild card in hand, reached the semifinals at Wimbledon. Well, as the defending champ, she lost last week in her opening Birmingham match to Urszula Radwanska. She won't need that (apparently) wonderfully-heartfelt letter to the All-England Club to get into the SW19 main draw this time around, but she's going to surely need SOMETHING that she currently doesn't look to have in order to stick around very long there next week. The German is just 10-14 this season. Meanwhile, a week after making a QF run at Roland Garros and, finally healthy, less than two weeks from looking at trying to get back some of the mojo of her near-semifinal run at Wimbledon in '10, Kaia Kanepi pulled out of SW19 with a heel injury. One step forward, two steps back. Sigh.


=============================




ITF PLAYER:

Ashleigh Barty/AUS


...Lourdes Dominguez-Lino won a $100K challenger in Marseille this weekend, but 16-year old Barty swept the singles and doubles at the circuit's $50K grasscourt event in Nottingham, so the Aussie gets the nod. She defeated Karolina Pliskova, Madison Brengle, Valeria Savinykh, Channel Simmonds and Tatjana Malek for her third ITF singles title of the season. The 2011 Wimbledon Girls champ's qualifying wild card for Wimbledon has since been upgraded to a free trip into the main draw.


=============================




JUNIOR STAR:

Jamie Loeb/USA


...the 17-year old won the International Grasscourt Championships (G4) in Philadelphia, sweeping the singles (defeating 13-year old Usue Maitane Arconada in the final) and doubles titles to extend her current singles/doubles junior winning streak to eighteen matches.


=============================






1. Birm Final - Oudin d. Jankovic
...6-4/6-2. There have been fifteen title-less players who've reached tour singles finals this year, and Oudin's win makes them a combined 7-8. With France's Cornet joining Bannerette Oudin in the winner's circle this week, there have now been WTA singles champs produced by fifteen different nations through the season's first twenty-four weeks (but no Dane or Czech has YET to win a '12 title).


=============================


2. Birm 2nd Rd - U.Radwanska d. Lisicki 6-3/6-4
Birm 2nd Rd - Czink d. Hantuchova 7-5/7-6
...Lisicki defeated Hantuchova in the 2011 Birmingham final.


=============================


3. Birm 1st Rd - Karatantcheva (LL) d. Tanasugarn 6-4/6-2
Eastbourne Q1 - Vesnina d. Tanasugarn 6-3/3-6/6-2
...well, at least Tanasugarn USED to be a "grass court specialist." But, hey, look at Sesil -- just like in Paris -- making hay as a "lucky loser" AGAIN.


=============================


4. Birm 2nd Rd - Watson d. Baltacha 7-6/6-3
Eastbourne Q1 - Robson walkover Baltacha
...this is the time of the season when Brits populate the draws like ants on a piece of candy thrown on parking lot pavement. But Baltacha wasn't nearly as sticky as that candy.


=============================


5. BG 1st Rd - Hogenkamp d. Goerges 3-6/6-3/6-3
Birm 1st Rd - Babos d. Riske 6-4/4-6/7-6
...nice to see that correctly picking Sharapova to win Roland Garros hasn't taken away my "Midas touch" when it comes to picking the champs at regular tour events. Of note, world #211 Hogenkamp would go on to lose in 's-Hertogenbosch qualifying to #327 Audrey Bergot, who then lost to #63 U-Rad, who'd begun the week taking out #15 Lisicki, countrywoman of #25 Goerges. See, when a Radwanska is involved, EVERYTHING is connected... eventually.


=============================


6. Netherlands 1st Rd - Clijsters d. Oprandi
...6-7/6-2/6-3. KC is back after being out since March. Interestingly (or not), when it comes to the Belgian's prospects for her final WTA summer, Oprandi actually defeated Clijsters last year in this same tournament.


=============================


7. BG Final - Cornet d. Wickmayer
...7-5/7-6. Congratulations go out to the starving-for-ranking-points Cornet, but it's hard not to lose a little respect for any Top 40 player -- especially one like Wickmayer, a former slam semifinalist and '11 Wimbledon Round of 16er -- playing in a clay court event two weeks before the the start of Wimbledon. Of course, the tour should be blamed for even scheduling this event in this spot. The ATP has four grass events over the two weeks before Wimbledon, while the WTA has just three. I saw there's talk of the Halle event adding a women's competition in 2014. If that happens, maybe it'll abolish such counterintuitive, self-defeating and flat-out stupid scheduling as this.


=============================


8. Birm 2nd Rd - Hlavackova d. Barthel 7-6/6-2
Eastbourne 1st Rd - Scheepers d. Barthel 6-1/4-6/6-1
...with her loss today in the Netherlands, Barthel is now on a five-match losing streak. At least she won a set, though, after having lost eight straight until taking the 1st from Scheepers. Maybe Caroline's 'roo bit Mona in Madrid? That's where the German lost the match that started this recent slide. Oh, and speaking of Caro... ain't delusion grand, or should I say Grand?


=============================


9. Eastbourne Q1 - Konta d. Broady
...3-6/6-1/7-6. More Brit-on-Brit crime in England, as newly-minted GBRer (and ex-Aussie) Johanna Konta takes out "old" GBRer Naomi Broady. Both have been awarded wild cards into the Wimbledon main draw, so there won't be any rematch in the SW19 qualies this week.


=============================


10. $50K Craiova ROU Final - Maria-Teresa Torro-Flor/ESP d. Cristina-Andreea Mitu/ROU
...6-3/6-4. The Spaniard has won back-to-back ITF crowns.


=============================


11. $10K Meppel NED Final - Ysaline Bonaventure/BEL d. Julia Kimmelman/GER
...6-2/6-4. The 17-year old Waffle won her first career ITF title, and grabbed the doubles crown, too. Side note: "Basketball Singing" is listed under personal interests on Bonaventure's ITF site bio. I'm going to assume that that's TWO interests. If not, this girl needs to post a YouTube video. Stat!


=============================


12. Netherlands 1st Rd - K.Bondarenko d. Errani
...5-7/6-3/6-4. The grass is different. Still, Errani and Roberta Vinci DID win their 20th consecutive doubles match today.


=============================


HM- Netherlands 1st Rd - Flipkens d. Stosur
...7-6/6-3. Sammy is no stranger to early exits on the green stuff. She's just 5-9 at Wimbledon, after all.


=============================






1. $25 Bukhara 2nd Rd - Zarina Diyas/KAZ d. Nadiya Kichenok/UKR 6-1/2-0 ret.
$25K Bukhara Final - Zarina Diyas/KAZ d. Lyudmyla Kichenok/UKR 6-0/6-0
...whew! Diyas must've had a score to settle with the Kichenoks (she DID lose 6-0/2-0 to Lyudmyla in '10). 20-1 in total games and a TKO!


=============================


2. $25K Bukhara Doubles F - Kichenok/Kichenok (UKR/UKR) d. Ivakhnenko/Kozlova (UKR/UKR)
...7-5/7-5. In Week 23, Ivakhnenko defeated Lyudmyla, then Nadiya got revenge by beating her later in the tournament. This week, the Kichenoks teamed up to beat her down a little bit more. Sisters.


=============================


3. $50 Nottingham 1st Rd - Jade Windley/GBR d. Kristyna Pliskova/CZE
...2-6/6-1/7-5. Karolina reached the Notthingham SF, but Kristyna is the former Wimbledon Girls champ (2010) and has a grasscourt challenger title to her credit.


=============================








**2012 FIRST-TIME CHAMPIONS**


Hobart (January) - Mona Barthel, GER
Paris (February) - Angelique Kerber, GER
Bogota (February) - Lara Arruabarrena-Vecino, ESP
Monterrey (February) - Timea Babos, HUN
Kuala Lumpur (March) - Hsiech Su-Wei, TPE
Fes (April) - Kiki Bertens, NED
Birmingham (June) - MELANIE OUDIN, USA



**YOUNGEST 2012 CHAMPIONS**


18...Timea Babos, HUN (Monterrey)
19...Lara Arruabarrena-Vecino, ESP (Bogota)
20...Kiki Bertens, NED (Fes)
20...MELANIE OUDIN, USA (Birmingham)
21...Mona Barthel, GER (Hobart)



**2012 LOW-RANKED FINALISTS**


#208 - MELANIE OUDIN, USA - Birmingham (W)
#174 - Lara Arruabarrena-Vecino, ESP - Bogota (W)
#149 - Kiki Bertens, NED - Fes (W)
#124 - Hsieh Su-Wei, TPE - Kuala Lumpur (W)
#118 - Alexandra Panova, RUS - Bogota (L)



**QUALIFIERS & WILD CARDS IN FINALS**


Hobart - (Q) Mona Barthel, GER - W
Kuala Lumpur - (Q) Hsieh Su-Wei, TPE - W
Fes - (Q) Kiki Bertens, NED - W
Strasbourg - (WC) Alize Cornet, FRA - L
Birmingham - (Q) MELANIE OUDIN, USA - W
Birmingham - (WC/#5 seed) JELENA JANKOVIC, SRB - L



**2012 WTA SF**


7...Agnieszka Radwanska, POL (3-4)
6...Victoria Azarenka, BLR (6-0)
6...Maria Sharapova, RUS (6-0)
6...Angelique Kerber, GER (2-4)
5...Sara Errani, ITA (4-1)
4...JELENA JANKOVIC, SRB (1-3)
4...Petra Kvitova, CZE (0-4)



**OLDEST 2012 DOUBLES CHAMPIONS**


41...Kimiko Date-Krumm, JPN (Copenhagen)
38...Lisa Raymond, USA (4 titles)
37...Janette Husarova, SVK (Budapest)
37...JILL CRAYBAS, USA (BAD GASTEIN)
36...Kveta Peschek, CZE (Sydney)
35...Liezel Huber, USA (4 titles)



**2012 ITF TITLES**


4...ANNA-LENA FRIEDSAM, GER (Week 24 champion)
4...Ana Savic, CRO
4...Anna Schmiedlova, SVK
4...Maryna Zanevska, UKR



**WIMBLEDON #1 SEEDS SINCE 2002**


2002 Venus Williams, USA
2003 Serena Williams, USA
2004 Serena Williams, USA
2005 Lindsay Davenport, USA
2006 Amelie Mauresmo, FRA
2007 Justine Henin, BEL
2008 Ana Ivanovic, SRB
2009 Dinara Safina, RUS
2010 Serena Williams, USA
2011 Caroline Wozniacki, DEN
2012 Maria Sharapova, RUS (9th con. different #1 seed)





EASTBOURNE, ENGLAND (Premier $637K/grass outdoor)
11 Final: Bartoli d. Kvitova
11 Doubles Champions: Peschke/Srebotnik
12 Top Seeds: A.Radwanska/Kvitova
=============================


=SF=


#1 A.Radwanska d. #4 Bartoli
#2 Kvitova d. #3 Wozniacki


=FINAL=


#2 Kvitova d. A.Radwanska

…it's just time. Kvitova is 16-2 in her last 18 grass court matches.



s-'HERTOGENBOSCH, NETHERLANDS (Int'l $220K/grass outdoor)
11 Final: Vinci d. Dokic
11 Doubles Champions: Zahlavova-Strycova/Zakopalova
12 Top Seeds: Stosur/Errani
=============================


=SF=


#6 Vinci d. #8 Petrova
Clijsters d. #7/WC Jankovic


=FINAL=


Clijsters d. #6 Vinci

...we'll soon see what kind of final WTA summer this will be for KC.



ALSO:

WIMBLEDON QUALIFYING



...wouldn't you know it, Oudin has been given a wild card into the SW19 main draw. Those Wimbledon tournament officials don't let anything get past them, huh?

*

(They did this sort of thing with Zheng a few years back, and she rode her WC all the way into the semifinals... not that anyone should expect Little MO to do that.)



*

- [ It must be nice. SOME slams -- like the ones where they build too-big stadiums on swampy land that prevents them from keeping up with the times -- just spit into the wind thinking they won't get wet. Literally. Tell me, while Ashe is apparently a never-can-go, why can't a roof be put on the soon-to-be-rebuilt Louis Armstrong Stadium, which used to be THE show court, so that IT could be the "emergency fall back #1 court" again so that weather delays don't push the singles finals back until, oh, say about Halloween one of these years? ]

Oh, and what's with the Wimbledon poster (above) for this year? Did they not have any individual potential poster images worthy of a single work of art, so they just decided to throw them all onto one big poster and hope that no one noticed? Judging from the mini-images on the poster, I'm thinkin' that might just be the case, as none of them really seem capable of standing alone.

And, finally, another busy Backspin week is coming up (this is such a hectic time of the season!), as I'll drop another entry in the "MVP List," and Bare Bones Backspin and the Wimbledon preview will arrive before the start of play in London next Monday. At least we won't be having any of that Parisian-style Sunday start nonsense.


All for now.