BSMVP 2002-12, Pt.1
Where does the time go?


Soon, it will have been ten years since the first stand-alone edition of Backspin first appeared on Tennisrulz.com back in 2002. Versions of a "WTA Report" first appeared in various forms on Jelena-dokic.com as far back as 2001, but they'd been included as part of my old weekly "Jelena Corner" columns there. But the "2002 Grass Court Awards" marked the first time any version of Backspin (or "SpinBack", as it was first called) appeared without any connection to its JD.com past, and that continued to be the case from that point on until everything was moved to the space this report currently occupies.

Over all this time, the idea that I've generally strived to run with has been to tell the weekly happenings of the WTA's seasons as something of a ongoing story and, sometimes, even soap opera, complete with its own specific characters and personalities (hence, the nicknames... though they also serve a dual purpose of allowing me to refer to a player multiple times in a single paragraph without having to repetitively use the same name). Some are more "real-to life," some "less so." Occasionally, a player, such as Serena Williams, is such a force of personality that they make it easy to not be tempted to "color outside the lines" of her character. With Serena, no construction has ever been needed. She's stood on her own two feet, wielding her racket like a weapon and possessing an intimidating gameday aura simply by walking onto a tennis court that most players could only dream of imagining for themselves. What might seem fanciful and exaggerated with another player is just the way things are with Serena. Sometimes, though, through various forms of "cooperation" and consternation, I've often seen fit to "mold" other players into identifiable characters based on certain personal traits that would allow them to be referenced as part of the overall "story" even after they'd left the scene (hello there, LPT).

Naturally, for these purposes, some work better than others. And that's what this "MVP" list is about.

Over the last ten years, there has been developed a collection of, for lack of a better word, "essential" players, personalities, and even "supernatural entities" and notions that have provided me with much assistance when it's come to developing as "Backspinny" a weekly update as possible. As a result, they've filled more space -- both in my head and on the actual blog -- than most of their counterparts. Some were simply fun to write about and develop stories around. Some were downright aggravating... but every story needs antagonists, right? Some are the most successful players of their generation, while some have been the most frustrating. Some have been admired from the seat of Backspin HQ, while others have driven me up a wall. The players (and "other") that made the final list aren't necessarily the "best" or, in some cases, even my "favorite" players. As a result, sometimes "up" might seem like "down" on this countdown, and vice versa. But the rankings ARE, if nothing else, totally subjective.

At it's core, "essential" means "indispensable," and I think the entries here have definitely been that for Backspin. Without them, things just wouldn't have been the same.

So, let's get things started with Part 1 in this special series:





First, I'll start off a bit slowly...



Honorable Mention

-

"Citizen Anna"



...citizen of the world. Tennis star. Leader of searches for fantastic notions. And who knows what else? She's not a regular part of the Backspin narrative, but I have a sneaky suspicion we'll be seeing her again in the not too distant future. "Citizen Anna" is all that we want her to be, and so many things that we don't yet know. No relation to you-know-who, we could do worse than to have her keeping watch over our international peace and security in the back alleys and Centre Courts of Europe and beyond.



#25

-

Caroline's 'Roo


...back in 2011, Caroline Wozniacki told a tall tale at the Australian

Open about a kangeroo that had scratched her. Everyone believed it. Of course, she was just joking, and had made up the whole thing. It's all in the delivery, right? Naturally, I turned the whole incident into a "search" (taking typical liberties with the idea) for her "metaphorical 'roo," the notion that the Dane could one day win a grand slam title. As she's so often told everyone in the past, she's "got time" to find that little critter. But, in the space of one year, it's become more and more apparent that the imaginary scratching mammal from Melbourne might not be the only mythical creature in this ungoing tale.



#24

-

Anna Smashnova & Anabel Medina-Garrigues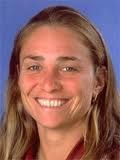 ...ah, Anna S. and AMG. Good players, but not exactly ones who "moved the needle" TOO MUCH around these parts for their actual play. But the little factoid I stumbled onto over the course of my "if-it's-happened-I-can-make-a-list-with-it" research certainly has. Well, four times per season, that is. You see, back in 2005-06, one-time Top 20er, Belarusian-born Israeli Smashnova -- who, stating the rather obvious, has simply one of the best tennis player names E-V-E-R -- was winning tour singles titles and compiling a remarkable unbeaten record in finals. By the time the 2006 season was in full swing, Smashnova was up to a 12-0 record in career WTA finals, and a 7-0 mark in ITF finals, as well. An impressive record on any level. But her inability to make a run in a slam throughout her career made her, I surmised, "the best, worst slam player in WTA history." She never reached a slam quarterfinal in her career, and usually was dumped out in the 1st Round (30 times in 49 attempts, to be exact). Sure, it's not a HUGE deal for a player to never reach a slam QF. It's not like they hand them out on the street. But add in the fact that she was the only player in WTA history with ten or more tour singles titles to her credit to have never done it and, well, then it becomes something perfectly suited for a certain Backspinner to beat into the ground like a dead horse on the backstretch of a race called on account of rain... for as long as humanly possible. Smashnova finally DID lose a final in Forest Hills (vs. Meghann Shaughnessy) in 2006, then retired the next season. Her best slam results were a pair of 4th Rounders at Roland Garros in '95 and '98, both coming in her first twelve slam main draws. After that, she went 0-for-37 when it even came to getting into a Round of 16. I was sad to see my chronicling have to end, but my "dead horse beating" didn't end there. You see, there was another. Another woman capable of helping
me to keep this little crusade alive. Her name was Anabel Medina-Garrigues. I'd always liked AMG, and thought she was a vastly underrated player, with especially good skills on clay. Also a one-time Top 20 player, she'd somehow never managed to slip into a slam QF, either, yet she consistently won tour singles titles and was closing in on #10 in the late 2000's. Finally, Smashnova looked as if she wouldn't forever be stranded on this statistical island all by her lonesome. I counted down AMG's titles, and waited. For a bit, she was stalled at nine crowns, and it looked like she was never going to get to #10. Then, in 2011, after about a two-year drought, she did. She got #11, too. She still hasn't reached a slam QF, though, going 0-for-39 to date, with three 4th Round results. So, there Smashnova and Medina-Garrigues remain, locked arm-in-arm, walking through Backspin history in odd lockstep... symbols of just how good a player can be while still managing to keep one foot forever stuck in the mud. So, to paraphrase what I say at EVERY slam in which AMG continues to live up (or down) to advance billing... there, that's one Backspin MVP -- or two -- checked off the list.



#23

-

"The Next Big Thing"


...there's something of a Backspin tradition of trying to push an eventual superstar into the spotlight before she actually accomplishes a grand achievement on the court. You know, just so that it can be said, "I told you so." I mean, I still like to tout that I picked Maria Sharapova to reach the Wimbledon final in '04, after all. I used to -- but do not and will no longer, by the way -- write pre-season reviews about an individual player, extolling there virtues and talking about why they would soon be "Szuper" (Agnes Szavay) or a "Dynamova" (Nicole Vaidisova), or even the "Princess of Charm" who could soon be a Queen. Needless to say, I've learned my lesson, and now I try to ride (and extend) the wave of players who actually prove they CAN win slams. Right, Petra and Vika? Still, did you see (insert rising star's name here -- maybe "Sloane Stephens" or a player-to-be-named-later), she could TAKE OVER THE WORLD! Well, I didn't say I've got it COMPLETELY out of my sytem.



#22

-

Daniela Hantuchova



...Hantuchova's involvement in Backspin goes back a full ten years now, as calling her "Wonder Girl" was one of the first nicknames I ever hung on a player. As an ardent Jelena Dokic backer, I couldn't help but view Hantuchova as something of a rival to JD as they simultaneously climbed into the Top 5 as teens. Of course, at first glance, "WG" might seem to have been a laudatory way to refer to a player I truly enjoyed. But it wasn't. It was actually a sarcastic Backspin jab precipitated by the intense (and overdone) media/tour fawning over Hantuchova after she won a single title (Indian Wells in '02). The laudatory talk was so rampant that I, as is sometimes the case, could take it no longer and sarcastically dubbed the Slovak "Wonder Girl" since so many seemed to want to instill her with seemingly superhuman powers. Of course, all the praise heaped upon her came with ulterior motives. Remember, this was the post-Kournikova/pre-Sharapova era, and the WTA was openly desirous for a young "hotty" to take the original glamorous Russian's place as a marketable symbol of the tour... but, this time, the 2.0 version was to be one who actually was able to win singles titles, as well. Hantuchova seemed the perfect fit, but the tour powers-that-be's desperate act of propping up Hantuchova as the "new and improved Anna" was a bit hasty, for she was no superhero-like "Wonder Girl." She reached the Top 5 in both singles and doubles while still a teenager, but she turned out to be a textbook case of a player simply not able to physically or emotionally handle the pressure she suddenly found herself under. But while her career -- she openly talked about being #1 -- hasn't turned out as she's hoped, she HAS persevered. She eventually shed the "Wonder Girl" tag, and not just because it became age inappropriate, either. She completed a Career Mixed Doubles Slam in '05 and, just this season, defended a singles title (in Pattaya) for the first time in her career and spent more than three months in the Top 20 after a nearly four-year absence from such a high ranking position. At 29, she's a tour vet now. In the end, after all the trouble she once encountered, Hantuchova, the former "Wonder Girl," HAS become something of a wonder. Sometimes longevity makes up for everything. Well, SOME of it. And speaking of longevity...



#21

-

Martina Navratilova


...considering that some of my earliest childhood tennis memories involve Martina winning Wimbledon in the late '70s/early '80s, it's sort of stunning that she was actually still playing during the "Backspin era." In her forties, Navratilova returned to the WTA as a doubles specialist, adding twelve additional tour Doubles titles and three Mixed slam crowns to her career totals. She
even made brief returns to singles over the course of 2002-05, playing both Roland Garros and Wimbledon in '04, where she got a 1st Round SW19 win at age 47. Five weeks from her 50th birthday, she became the oldest grand slam titlist ever when she and Bob Bryan won the U.S. Open Mixed crown in '06. Of course, Martina is still around, just not on the court (except in the Legends competitions at the slams, where she's often teamed up with All-Time Backspin 1st-Teamer Jana Novotna. While her "Dancing with the Stars" stint didn't really work out all that well, Martina's television commentary during the slams (especially when she's teamed with Mary Carillo) is must-listen-to stuff. And I'll still go down fighting for her (should-have-been-the-top-ranked woman) ranking on Tennis Channel's "100 Greatest Players" list from earlier this year. It has been -- and continues to be -- an honor to be able to talk about all that Navratilova has done on the court, what she stands for off it, and how her opinions are (usually... as I'll continue to politely disagree with her on the on-court noise issue) "more worthy" and more entertainingly delivered than just about anyone else's on the tennis landscape.





1.
2.
3.
4.
5.
6.
7.
8.
9.
10.
11.
12.
13.
14.
15.
16.
17.
18.
19.
20.


21.

Martina Navratilova




22.

Daniela Hantuchova




23.

"The Next Big Thing"




24.

Anna Smashnova & Anabel Medina-Garrigues




25.

Caroline's 'Roo




HM-

"Citizen Anna"



Next time, at #16-20: an all-time favorite, an all-time nemesis, the original "It" girl and a Thing of which, on this day, I shall not speak It's name.

All for now.