Wk.10- At Indian Wells, Maria Puts the Sugar in Pova (so far)
Hmmm, what's happened through three and a half rounds of action at Indian Wells? Well, Maria Sharapova seems to be back (
and with samples of Sugarpova, too
), but Serena Williams wasn't, as her
boycott
of the event continued. "Future Sloane" is still M.I.A., while Fraulein Petkovic is no longer a distant memory (
or at least she wasn't for a few days
).
Oh, yeah. And Vika STILL hasn't lost in 2013.




RISER:

Urszula Radwanska/POL


...while Aga got a bit of a scare on Sunday, having to come back from a set down to take out Sorana Cirstea, Ula hasn't had as much trouble. Wins over Arantxa Rus and Sloane Stephens have her in the 3rd Round, where she'll face off with Jamie Hampton for a potential shot at Victoria Azarenka in the 4th.


=============================




SURPRISES:

Lara Arruabarrena-Vecino/ESP & Garbine Muguruza/ESP


...the overall improvement of the WTA's Spanish contingent has been apparent on the hard court -- not red clay -- of Indian Wells. Leading the way have been these two. Arruabarrena-Vecino is in the 4th Round (she'll face Sharapova) after wins over Sesil Karatantcheva and Varvara Lepchenko, while qualifier Muguruza is in the 3rd (vs. Rybarikova) after impressively upsetting the likes of Bojana Jovanovski, Ekaterina Makarova and Roberta Vinci.


=============================




VETERAN:

Maria Sharapova/RUS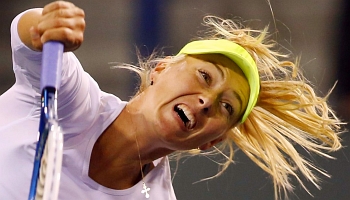 ...if there'd been an award this week, I suppose Sharapova would be the "Half-Way Player of the Tournament," what with Vika struggling a bit with her serve the other day against Daniela Hantuchova and having to come back from being a break down in the 1st on multiple occasions before opening up her I.W. title defense with a deceptively "easy-looking" 6-4/6-1 win over the Slovak. Sharapova took down Francesca Schiavone 2 & 1 in her first match, then Carla Suarez-Navarro 5 & 3 in the 3rd Round. There's still a long way to go for Maria, though, as she may well have to face Petra Kvitova AND Azarenka, who she lost to in the final a year ago.


=============================




COMEBACK:

Svetlana Kuznetsova/RUS Marion Bartoli/FRA Svetlana Kuznetsova/RUS Marion Bartoli/FRA
...early-rounds wins over Andrea Hlavackova and Jelena Jankovic, the latter after dropping the opening set at love, seemed to set up Kuznetsova well for this award. Her quick 4-0 lead over Bartoli in their 3rd Round match did, as well. But, remember, this IS Sveta we're talking about... and Bartoli. With her 6-4/6-4 win in Doha over Bartoli fresh in her mind, Kuznetsova went on to lose the next eight games to La Trufflette as the French woman charged back to take a 6-4/2-0 lead. Then, of course, Kuznetsova woke up and got a break of serve to win a third straight game to lead 3-2. Naturally, Bartoli then broke the Russian's serve one game later and never lost another, closing out the match with her own four-game winning streak. Sheesh.


=============================




FRESH FACES:

Taylor Townsend/USA & Allie Kiick/USA


...Townsend, 16, only lasted two rounds in Indian Wells, ultimately losing to Ana Ivanovic. But the Bannerette's 1st Round victory over Lucie Hradecka was the first WTA main draw victory of her career. On the ITF circuit, 17-year old Allie Kiick won the $10K tournament in Gainesville, Florida, defeating Czech Katerina Kramprova in the final to get her first circuit crown since winning at Amelia Island in 2011.


=============================




DOWN:

Sloane Stephens/USA & the top doubles teams


...Future Sloane appears to be trapped somewhere in space and/or time. After blowing leads in recent losses, Stephens didn't even have anything to regret after her 1st Round loss to Urszula Radwanska in Indian Wells. She lost in straight sets. Since her upset win over Serena Williams in Melbourne, Stephens has gone 1-4. Meanwhile, the world's top doubles teams have really taken it on the chin in California. Five of the eight seeds have failed to escape the 2nd Round, including #1 Errani/Vinci (lost 2nd Round to Hsieh/Peng, ending the three-title, four-final streaks of the Italians), #2 Hlavackova/Hradecka (2nd), #5 Huber/Martinez-Sanchez (1st, after Huber won I.W. last year w/ Lisa Raymond), #7 Kops-Jones/Spears (1st) and #8 Mattek-Sands/Mirza (1st, to Raymond/Stosur, who then promptly lost THEIR next match).


=============================




ITF PLAYER:

Aleksandra Krunic/SRB


...all hail, the Serbian Wonder Girl/Good Luck Charm. 19-year old Krunic (the big 2-oh comes up on March 15th, by the way) grabbed her seventh career ITF singles crown in a $25K challenger in Irapuato, Mexico. After getting past '13 circuit force (w/ an ITF-leading three titles) Tara Moore in the quarterfinals when the Brit retired after dropping the first five games of the match, Krunic went on to defeat Olga Savchuk in the final. Savchuk & Alla Kudryavtseva defeated Krunic & Amra Sadikovic in the doubles final.


=============================




JUNIOR STAR:

Katerina Siniakova/CZE


...the 16-year old Czech, the #2-ranked junior in the world, claimed her first career ITF singles title in a $10K in Frauenfeld, Switzerland. Siniakova, the AO Girls runner-up defeated Kathinka von Deichmann (LIE) in this weekend's final.


=============================






[I.W. Week 1]
1. IW 2nd Rd - U.Radwanska d. Stephens
...6-3/6-4. At least Sloane showed a bit of something near the end, saving two match points and breaking U-Rad when the Pole served for the win at 5-2 in the 2nd. While Stephens has now lost four of her last five, Ula, after a four-match losing streak in January, has put together a nice 7-2 record since.


=============================


2. NYC Exhibition - S.Williams d. Azarenka
...6-4/6-3. Yes, there was an on-court Serena sighting early last week in New York. Not that a match like this really means anything. But, still... it's worth a mention.


=============================


3. IW Q1 - Petkovic d. Putintseva 6-0/6-2
IW Q2 - Puig d. Petkovic 7-6/6-3
...well, Andrea. At least it was good while it lasted.


=============================


4. IW Q1 - Svitolina d. Bouchard
...7-6/5-7/6-2. Svitolina gets a measure of "revenge" for the 2012 Wimbledon Girls final.


=============================


5. IW 1st Rd - Schiavone d. Pennetta
...7-5/6-1. "Well this could be the last time? This could be the last time? Maybe the last time? I don't know.


=============================


6. IW 1st Rd - Peer d. Erakovic
...6-3/6-4. Answering two lingering questions. One, "Is Shahar still around?" And, two, "How does a Kiwi react to winning her first tour singles title?"


=============================


7. IW 1st Rd - Keys d. Oudin
...6-4/4-6/6-3. American hope, circa 2009, meet American hope, circa 2013. NewGirl wins.


=============================


8. IW 1st Rd - Begu d. Watson 6-2/6-4
IW 1st Rd - Arvidsson d. Robson 2-6/7-6/6-1
...and during the same afternoon, too. Needless to say, not a good day for the Brits.


=============================






1. IW Q1 - Puchkova d. Ka.Pliskova
...6-4/6-2. Courtesy of the Florianopolis runner-up, the Kuala Lumpur champion didn't extend her celebration into a second week. Well, at least not ON-court.


=============================


2. IW Q1 - Min d. Kr.Pliskova
...4-6/7-6/6-3. Karolina's first career title a few days earlier didn't propel Kristyna to a singles win her next time out, as the '10 junior Wimbledon winner squandered match points and lost to the '11 junior U.S. Open champ.


=============================








**2013 ITF TITLES - NORTH AMERICANS**


1...Madison Brengle, USA
1...Lauren Davis, USA
1...Sharon Fichman, CAN
1...Noelle Hickey, USA
1...ALLIE KIICK, USA
1...Sonja Molnar, CAN



**BACKSPIN PLAYER-OF-WEEK WINNERS**




[Comeback]


Week 1 - Anastasia Pavlyuchenkova, RUS & Cara Black, ZIM
Week 2 - Svetlana Kuznetsova, RUS
Week 3/4 - Svetlana Kuznetsova, RUS (AO)
Week 5 - Sabine Lisicki, GER
Week 6 - Yaroslava Shvedova, KAZ (FC)
Week 7 - Caroline Wozniacki, DEN & Paula Ormaechea, ARG
Week 8 - Jelena Jankovic, SRB & Caroline Wozniacki, DEN
Week 9 - Olga Puchkova, RUS
Week 10 - Marion Bartoli, FRA



**RECENT INDIAN WELLS FINALS**


2006 Maria Sharapova d. Elena Dementieva
2007 Daniela Hantuchova d. Svetlana Kuznetsova
2008 Ana Ivanovic d. Svetlana Kuznetsova
2009 Vera Zvonareva d. Ana Ivanovic
2010 Jelena Jankovic d. Caroline Wozniacki
2011 Caroline Wozniacki d. Marion Bartoli
2012 Victoria Azarenka d. Maria Sharapova


All for now.