Wk.13- Maria Tries, But Fails, To Hide the Daylight from the Sun
No one can make what sometimes looked like a "work-in-progress" title run at a high-level Premier event seem quite as routine as Serena Williams just did in south Florida. Of course, she's made a Hall of Fame career out of wiggling out of jams and going on to win major titles, so what happened in Miami is pretty "normal" by her standards.


And by "normal" I mean coming back from a 6-2/4-1 deficit one round, then in the next, while seemingly having some difficulty with a hip flexor injury, coming back from another opponent serving at 5-3 in the 2nd to erase any notion of a 3rd set becoming a reality, then flicking away the defending champion of this event as if she were but an annoying fly one round after that.

And then there was the final -- Williams' eighth in Miami -- against Maria Sharapova. For a while, that one didn't look like it was going to go Serena's way, either. But as great as the always-confident-no-matter-the-odds-against-her world #2 has sometimes looked on hard court this season, what became clear in the match was that against the #1-ranked Williams the Russian still has to play very well just to hang with her, and just a bit better than that to stay a step ahead. And keeping that up, and Serena down, for a whole match is sort of like trying to hide the daylight from the sun. But for about a set and a half, though, that's exactly what Sharapova did... at least until Williams gained her bearings, upped her game just a tad, then saw Maria's hopes melt like an ice cube on a Key Biscayne sidewalk. In the end, we learned that nothing has really changed in the nearly decade-long "not-really-a-rivalry" (it's hard to term it one when one player goes winless for nine years), and that this expected end result just came after a bit more scenic early-match stroll than what has become the norm in their more recent match-ups.

In the beginning, though, all things seems possible for Maria. She quickly saw break point opportunities (three, in fact) in game #3. Serena held, but Sharapova capitalized two games later with a break of serve after a deep return off the baseline tied up Williams, who made an error into the net on a point that was eerily reminiscent of some of those deep-down-the-middle shots that helped Maria win the Wimbledon final over Serena in '04. Williams quickly broke back for 3-3, but it was Sharapova who was winning rallies with her forehand and committing few errors. She got another break to go up 5-4, then served out the set to end Serena's 13-set dominance over her in their past seven meetings dating back to '08 in Charleston. It's the first time Maria has gone up a set in a match against Williams since 2005 (AO SF). Thing is, Sharapova held three match points in that match in Melbourne eight years ago, but Serena ultimately won it, kicking off the long winning streak over Maria that still existed even as the Russian led the Miami final.

Hmmm.

For the set, Serena led 15-5 in winners, but had twenty errors compared to just nine for Sharapova, not to mention a 51% 1st Serve Percentage (to Sharapova's 68%). As is often the case with Williams, any improvement in her own game was likely to begin to turn the tide. But, still, even with her history of troubles against Serena, this was STILL Sharapova. The same Sharapova who looked ready to take the title on hard court in Melbourne, but didn't, as well as the one who looked quite similar in Indian Wells, but did. Even with Serena's own history taken into account, a turnaround wasn't a certainty, not even after the American got an early break in the 2nd to take a 2-0 lead.

Williams gave that break back one game later, as Sharapova continued to win rallies from the baseline, and when Serena DID seize control of a point, Maria managed to turn defense into offense by lobbing over an approaching Williams looking to put a period at the end of sentence that she'd finally managed to construct after much trial and error in the Miami sun. Everything was simply going swimmingly for Sharapova. Right on course during the afternoon, as Sharapova's serve used to inform the rest of her game and acted as a consistent platform from which the rest of her game could jump, it was being proven here again that now it's the Russian's forehand that serves that purpose these days. As long as her serve doesn't degenerate into a total liability -- and even sometimes when it temporarily does -- Sharapova's improved movement and groundstrokes are able to make up the difference. She broke Serena at love to take a 3-2 lead.

And then everything changed. Said Williams, "I just was like, 'Serena, are you really going to get to the final and not play up to your potential?,'" adding, "I don't think I was as energized as I could be."

Serena picked up some power and cleaned up her play, while Sharapova's ground game went down just a tick, at first, then got even worse pretty quickly. It was enough to unleash a tidal wave that looked far more familiar to Sharapova than she'd likely ever care to admit when Serena shows up on the other side of the net. Williams broke Sharapova at love for 3-3. Up 40/15 in game #8, a Sharapova double-fault gave Williams a break point, and then a Sharapova groundstroke error converted it. Up 5-3, Serena fired an ace to get to set point, then Sharapova couldn't get back a hard 2nd serve. The match was tied at one set each, but, as it turned out, it was as good as over. The Russian wouldn't win another game.

Williams broke in the first game of the 3rd set, successfully challenging a Sharapova shot on the baseline on break point (it was shown to be out). With the rest of her game abandoning her, Sharapova's serve did, as well. Back-to-back double-faults gave Serena a break for 3-0, and after that it was just best to cover your eyes. Williams ended on a 10-game winning streak, taking the final 4-6/6-3/6-0, putting up only her second love set in fourteen matches against Sharapova (the other was in last year's Olympic final at Wimbledon). Serena was 7-for-7 on break point chances.

"I was controlling a lot of the points in the 1st set and the beginning of the 2nd. Then toward the end, I wasn't there," a succinct Sharapova said after the match.

While the end result in Miami had a "usual" quality, it might have been interesting to see what would have happened had things gone the other way in the last set and a half. I mean, a Serena loss would have meant that she'd been #1, but with losses in finals this year to BOTH #2 Sharapova and #3 Azarenka. Why, talk of whether Williams was the REAL #1 might have cropped up. She might have been called a "fraud" in some corners!

Haha! No, just kidding. It IS April Fool's Day, after all.

But, really, the scenario would have at least allowed Serena to chuckle a bit as she fielded a few post-match questions on the subject and feel -- at least a little -- what it's like to be on the OTHER side of the same discussion that dogged the WTA for multiple seasons until Vika Azarenka and Sharapova traded off the #1 ranking last season (and even then, Serena was considered the "real #1," and had multiple wins against Vika and Maria in finals to provide tangible evidence of it). Oh, well. I guess you can't expect Serena to "play along" when she has to lose a match to do it.

As it is, though, the 1st Quarter of the 2013 season has played out in fitting fashion. Serena is #1, Vika won a slam, and each of the Big 3 has won one of the three high-level Premier events contested so far this year. The three women have even filled five of the six finalist slots in those finals in Doha, Indian Wells and Miami.

So THIS is what the sunlight the ATP has basked in for most of the last decade feels like, huh? Interesting.



*WEEK 13 CHAMPIONS*
MIAMI, FLORIDA USA (Premier $5.185/HCO)
S:

Serena Williams/USA def. Maria Sharapova/RUS 4-6/6-3/6-0


D:

Petrova/Srebotnik (RUS/SLO) d. Raymond/Robson (USA/GBR)

PLAYER OF THE WEEK:
Serena Williams/USA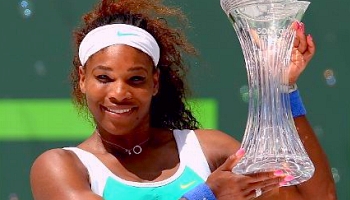 ...career title #48 comes courtesy of a best-ever sixth Miami crown, which resulted from a far-from-ordinary passage through the draw for Serena. Oh, the wins over Flavia Pennetta and Ayumi Morita got things off to a nice start, and she positively crushed defending champ A-Rad, but falling behind 6-2/4-1 to Dominika Cibulkova wasn't exactly your normal "day at the office." Even if Vika did pretty much the same thing and was also able to charge back and win against the Slovak 364 days earlier in Miami. Serena's win over Li Na wasn't as easy as a "straight-sets win" makes it sound, either, as she once again had to overcome a bad stretch that nearly saw the contest go three. And, of course, Sharapova had real reason to believe -- at least for a set and a half -- that the final was going to go far differently than all her other matches with Williams have over the last nine years, too. But they didn't. Seems like that happens quite a bit where Serena is concerned, doesn't it?


=============================




RISERS:

Sara Errani/ITA & Roberta Vinci/ITA


...as the top-ranked and top-seeded doubles team in Miami, Errani/Vinci came up short with a shockingly too-quick exit in the semifinals, but it was the singles work of the two team members that carried their week. Errani, once again showing herself to be something more than a "clay court specialist," got wins over Daniela Hantuchova, Simona Halep and Ana Ivanovic before losing a tight QF match with Maria Sharapova by a score of 7-5/7-5, after hold a pair of set points in the 2nd. Meanwhile, Vinci matched her best friend's Final 8 result, defeating Christina McHale, Carla Suarez-Navarro (just ranked in the Top 20 for the time today, by the way) and Alize Cornet (overcoming a 3-0 deficit in the 3rd) before falling in three sets to Jelena Jankovic. Vinci, ranked #1 in doubles, currently sits at #13 in singles.


=============================




SURPRISES:

Lisa Raymond/Laura Robson (USA/GBR)


...an odd pairing here, with 39-year old Raymond being more than twice 19-year old Robson's age, but it worked quite well in Miami after the American and the Brit (they share an agent) teamed up at the last minute when Sam Stosur was a no-go as Raymond's partner because of her calf injury. Get this -- Raymond played in this same Miami event for the first time back in 1994, when Robson was just two months old. While the Tennis Gods didn't gift the duo with a title in their first-ever pairing, Raymond & Robson did string together some pretty impressive wins en route to the final, including victories over Raquel Kops-Jones & Abigail Spears, Ekaterina Makarova & Elena Vesnina (who entered on a 20-1 run) and top-seeded Errani/Vinci (1 & 2 - geez!) before falling to Nadia Petrova & Katarina Srebotnik in the final. Stosur isn't likely to go down as some sort of Wally Pipp character here, but you've got to think that Raymond & Robson might have to think about teaming up again sometime down the road just to see if this sort of lightning can strike twice.


=============================




VETERANS:

Maria Sharapova/RUS & Nadia Petrova/Katarina Srebotnik (RUS/SLO)


...10-0. Try as she might, one has to think that that's what Sharapova will remember about Miami, as in Serena's game record against her in the last ten games of a final that the Russian clearly had her eyes set on in south Florida. Well, that is, unless it's 11-0, as in Williams' record against her in the eleven meetings they've had since the start of the '05 season. Riding an 11-match, 22-set winning streak, and coming off her first hard court title in two seasons in Indian Wells, Sharapova has to be fighting off lingering notions in the back of her mind that she might NEVER be able to best Serena again (she's now 2-12 against her), at least not on hard court (or grass). But, then again, Maria wouldn't find herself in her current position if she focused on the negative and didn't constantly look for ways to change her fate, would she? So, even as this loss drops her to 0-5 in Miami finals, she won't be discouraged. And, hey, the EuroClay season is close to starting, and one has to think she's got the advantage over the other members of the Big 3 there. Speaking of not getting discouraged. Petrova & Srebotnik have been the second-hottest doubles team on tour this season, but they came to Miami with just one title (in Week 2) to show for it despite having made three straight finals. Well, the pair tied Errani & Vinci's season-best mark of four straight finals by reaching the championship match in Miami. And, this time, the Russian and Slovenian vets saw their work pay off with '13 title #2 (the duo won a third title back in '08). Not only that, but #3-ranked doubles player Petrova actually defended her Miami crown, having won the title last year with Maria Kirilenko as her partner.


=============================




COMEBACK:

Jelena Jankovic/SRB


...hmmm, is Queen Chaos starting to stir? Over the last few weeks, JJ has won her first title in ages in Bogota, then put up a respectable follow-up effort in Indian Wells -- losing in a tight three-setter to Svetlana Kuznetsova -- before notching wins over the likes of Nadia Petrova, Sorana Cirstea and Roberta Vinci en route to a high-level semifinal berth in Miami. Sure, she was taken out there by Sharapova in the last of the Russian's eleven straight match wins. But Jankovic jumped back up into the Top 20 today at #18, and is just around 350 ranking points from surpassing #17 Ana Ivanovic to, once again, become the highest-ranked Serb in the WTA.


=============================




FRESH FACE:

Mallory Burdette/USA


...the former Stanford Cardinal was the 2012 NCAA singles runner-up, as well two-time NCAA doubles champion in 2011-12. Her initial pro success last season came pretty quickly, too, as she won a $100K challenger in Vancouver and reached the U.S. Open 3rd Round after being given a wild card into the main draw. Over the last few days, Burdette made it through Charleston qualifying, getting wins over Valeria Solovieva and young Louisa Chirico. Then, today she got a 1st Round upset victory over Kristina Mladenovic.


=============================




DOWN:

Agnieszka Radwanska/POL


...yes, she had the 360-degree, backhand flip volley off a net cord shot from Kirsten Flipkens in the quarterfinals -- a shot that will live in infamy, as any lethal Radwanska shot should, but when you're the defending champion at one of the biggest non-slam events on the WTA calendar and your reign ends in the semifinals this time around against the eventual champion, you'd probably prefer to not put up a reign-ending performance that could be favorably (or unfavorably, whichever would be "worse") compared to being run over by a downtown bus. Thing is, that's precisely what happened to Radwanska when she was crushed by Serena, love and three, in the semis. Really, just the three games she got feel like they were something of a "gift" from Williams. There's always a chance an in-form power player will hit A-Rad off the court, but it's still a little shocking how easily she's taken down sometimes in those instances. Her SF match-up with Serena was one of those them, as the Pole was the one pulling her hair out in frustration, not one of her opponents. For a player who thinks so much and so well on the court against most other players, A-Rad is still capable, it seems, of losing her bearings against a player like Serena. It's a shame, really, considering how she avoided such a fate at last year's Wimbledon and actually made a match of things, pushing the final to three sets and getting as close as she'll now likely ever get to grabbing the #1 singles ranking in the world. But sometimes against the very best players on tour, as was the case here, the bigger first serve that has helped A-Rad climb up the rankings just disappears (poof!), making her already-wanting second serve an even bigger liability than it usually is. The cleverness doesn't work so well in the face of Serena's power, either, and at times Aga seems to be psyched out just by the presence of Williams on the other side of the net. Of course, this isn't a new phenomenon when Serena is in the mix, and this also doesn't mean that Radwanska's not going to continue to embarrass and befuddle any number of opponents with her sneaky, well-constructed approach on gameday in the vast majority of her matches this season. It's just that matches like this one in Miami make you wonder if her other results are even more smoke-and-mirror accomplishments than they sometimes already seem to be. The might just be even smarter than we think. Yikes.


=============================




ITF PLAYER:

Mariana Duque-Marino/COL


...the 23-year old Colombian grabbed her fourteenth career ITF crown in the $50K challenger in Osprey, Florida. After making her way through qualifying, Duque-Marino raced through the main draw without dropping a set, and barely being challenged in any, either, as Arantxa Rus, Chalena Scholl, Julia Cohen, Katerina Siniakova and Estrella Candela-Cabeza (in the final) all fell by the wayside.


=============================




JUNIOR STAR:

Katerina Siniakova/CZE


...the #2-ranked junior in the world, and the AO Girls runner-up, Siniakova followed up her qualifying run in Miami (wins over Mandy Minella and Alexa Glatch) by putting Garbine Muguruza, who'd later go on to defeat Pavlyuchenkova and Wozniacki, to a three-set test. Then, she stayed in Florida and played in the $50K challenger in Osprey, reaching the semifinals with wins over Alexandra Cadantu and Irina Falconi.


=============================






1. Mia QF - A.Radwanska d. Flipkens
...4-6/6-4/6-2. Really, no matter your allegience, there's only thing we'll remember from this one.



=============================


2. Mia Final - S.Williams d. Sharapova
...4-6/6-3/6-0. Listen closely and you can hear Serena winning yet another consecutive game off Sharapova. Of course, if you really ARE hearing that then you might have found a way to get inside Maria's dreams/nightmares. If so... well, that's just cool.


=============================


3. Mia QF - S.Williams d. Li
...6-3/7-6. The Cibulkova comeback will be what's remembered most about Serena from last week, but don't forget that Li served at 5-3 in the 2nd here, too.


=============================


HM- $50K Croissy-Beaubourg Final - Keothavong d. Zahlavova
...7-6/6-3. The 29-year old Brit defeated five opponents in France that averaged 30 years of age. And, no, Date-Krumm wasn't in there to screw around with the numbers, either (actually, the youngest-of-the-lot, 27-year old Zahlavova, brought the average DOWN). This was Keothavong's 20th career ITF singles crown, but her first since 2011.


=============================






1. Mia SF - S.Williams d. A.Radwanska
...6-0/6-3. Umm, it really wasn't even as close as the score might indicate... even though it already didn't indicate much of anything good for Aga.


=============================


2. Chas Q1 - Kr.Pliskova d. Cha.Scholl 6-0/6-1
Chas Q2: King d. Ka.Pliskova 6-4/6-2
Chas Q2: Garcia d. Kr.Pliskova 6-2/6-1
...hmmm, maybe the Pliskovas needed to face another tennis-playing sibling in order to qualify in Charleston. It worked in the first Q-round, anyway.


=============================


3. $25K Bundaberg QF - Sanders d. E.Sema
...6-4/7-5. Aussie Storm Sanders is 3-0 against the Sema sisters over the last two weeks.


=============================


4. $25K Bundaberg Final - Rajicic d. Y.Sema
...6-4/6-3. Serena was the only WTA sister who was title-worthy in Week 13. See below.


=============================


5. $25K Tallinn Final - Sasnovich d. N.Kichenok
...7-6/6-2. See above. And see below again.


=============================


HM- $25K Tallinn Doubles Final - Kontaveit/Ostapenko d. L.Kichenok/N.Kichenok
...2-6/7-5/10-0. Even with two Kichenoks for the price of one, a title wasn't in the cards against two teenagers who both reached the Australian Open Girls singles QF in January. This was the biggest pro title yet for either Anett Kontaveit (EST) or Jelena Ostapenko (LAT).


=============================








**#1 vs. #2 MATCH-UPS - 2012-13**


2012 Indian Wells Final - #1 Victoria Azarenka d. #2 Maria Sharapova
2012 Stuttgart Final - #2 Maria Sharapova d. #1 Victoria Azarenka
2012 Beijing Final - #1 Victoria Azarenka d. #2 Maria Sharapova
2012 WTA Chsp SF - #2 Maria Sharapova d. #1 Victoria Azarenka
2013 Doha Final - #1 Victoria Azarenka d. #2 Serena Williams
2013 Miami Final - #1 Serena Williams d. #2 Maria Sharapova


[players]


3-2...Victoria Azarenka
2-3...Maria Sharapova
1-1...Serena Williams


[#'s]


#1 - 4-2
#2 - 2-4



**DEFEATED DEFENDING CHAMP, WON TITLE**


Hobart - Elena Vesnina (def. Barthel in Final)
Cali 125 - Lara Arruabarrena-Vecino (def. Dulgheru in 2nd Rd.)
Memphis - Maria Erakovic (def. Arvidsson in 2nd Rd.)
MIAMI - SERENA WILLIAMS (def. A.RADWANSKA in SF)



**REACHED BACK-TO-BACK I.W. & MIAMI FINALS**


1991 Monica Seles (L-W)
1994 Steffi Graf (W-W)
1996 Steffi Graf (W-W)
1999 Serena Williams (W-L)
2000 Lindsay Davenport (W-L)
2000 Martina Hingis (L-W)
2005 Kim Clijsters (W-W)
2006 Maria Sharapova (W-L)
2012 Maria Sharapova (L-L)
2013 MARIA SHARAPVOA (W-L)



**LONG 2013 WINNING STREAKS**


15...Victoria Azarenka (January-March) *
13...Agnieszka Radwanska (January)
11...Maria Sharapova (March)
--
* - Azarenka was 2-0 before walkover loss, then went 15-0 before another walkover loss (17-0 in '13 matches)



**OLDEST 2013 DOUBLES CHAMPIONS**


42 - Kimiko Date-Krumm (Pattaya, w/ Dellacqua)
33 - Cara Black (Auckland, w/ An.Rodionova)
33 - Catalina Castano (Cali 125, w/ Duque-Marino)
32 - KATARINA SREBOTNIK (MIAMI, w/ Petrova)



**MOST 2013 WTA FINALISTS - BY NATION**


6...RUSSIA (3 titles)
4...UNITED STATES (2)
4...Germany (1)
3...Czech Republic (2)
3...Italy (1)





CHARLESTON, SOUTH CAROLINA USA (Premier $794K/green clay outdoor)
12 Final: S.Williams d. Safarova
12 Doubles Champions: Pavlyuchenkova/Safarova
13 Top Seeds: S.Williams/Wozniacki
=============================


=SF=


#1 S.Williams d. #6 V.Williams
#2 Wozniacki d. #3 Stosur


=FINAL=


#1 S.Williams d. #2 Wozniacki

...Serena is the defending champ, and could face last year's runner-up -- Lucie Safarova -- in a quarterfinal rematch. But it's Safarova, who also won the '12 doubles title, so what are the odds that she follows up a good result here a year ago with another this time around? The real interesting part of the draw is the bottom half, where the chaotic stew involving the likes of the resurgent-if-you-totally-forget-about-Miami Wozniacki, showing-small-signs-of-optimism Stosur and, of course, the things-are-suddenly-looking-up Jankovic will push someone into a rather nice kick-off to her 2Q clay court season.



MONTERREY, MEXICO (Int'l $235K/hard court outdoor)
12 Final: Babos d. Cadantu
12 Doubles Champions: Errani/Vinci
13 Top Seeds: Kerber/Bartoli
=============================


=SF=


#3 Kirilenko d. #1 Kerber
#4 Ivanovic d. #2 Bartoli


=FINAL=


#3 Kirilenko d. #4 Ivanovic

...sheesh! Kerber STILL isn't taking a week off. Thing is, she has a decent shot at winning this title if her back holds up. Still, I'll go with Kirilenko.


1Q BSA's later this week. All for now.




There is great disappointment as Andrea Petkovic has announced her withdrawal from the Family Circle Cup. Petkovic sustained a potentially serious injury to her right calf muscle which has forced her to withdraw from the prestigious competition. Second-seeded Caroline Wozniacki thus gets a walkover straight into the quarterfinals, where she will either play Stefanie Voegele or Julia Goerges.

Petkovic was originally scheduled to play Wozniacki to open Thursday's round of 16 play, but felt that she may cause more damage to her leg by competing and it therefore was in her best interest to withdraw completely. Petkovic told a small group of reporters after her first round win over Taylor Townsend that she was really having trouble in Miami after the long match against Alja Tomjanovic. "My knee swelled up pretty big because we played three hours so I had to rest for three days and try to get it back to normal. And I've been having troubles with my calf because I was compensating because of the knee. So I was really scared for the past few days but now it's calming down with the clay," said Petkovic.

After being granted a late wild card into the Family Circle Cup Tournament she tweeted that taking into account her recent spate of injuries, which included ruptured ligaments in her ankle, a stress fracture to her back and a right meniscus tear in her knee, she had to act wisely and put her health first.

Professionals will tell you that playing any sport whilst injured is like playing Russian roulette. Whilst there is a very good chance that no further injury will occur, there's also the sobering possibility of permanent damage which in many cases could see the end of a promising career. If playing whilst injured was more like free slots and less like Russian roulette, most athletes would power through the pain, but at the end of the day the player needs to decide whether the prize is worth the gamble.

Regardless of the sport, professional athletes understand that there are many physical risks when competing at such a level. Only their best is required each time they compete in order to maintain their position on the leader board, however, one needs to respect a player's decision to withdraw from a competition when injured as there are some risks which just not worth taking.