W.1- It's Only Day 1, and The Rad Already Has Bloodied Knuckles

Well, I guess The Radwanska isn't fooling around at this Wimbledon. The carnage has already started to pile up at the All-England Club.
If we learned anything on Day 1 of the 2013 Wimbledon, it's that Radwanska Abbey is forever a base for dastardly evil and malicious mayhem, not to mention panic that makes your eyes pop out of your head.


The Radwanska Threat Level has been appropriately tuned... to an all-time high starting-out point, too.

Yep, it's clear now that The Rad was in the room during Serena's Rolling Stone interview, and probably even changed the television to the channel that would kick off immediate controversy before telepathically reminding Williams that things didn't work out between her and a particular ATP player from Bulgaria, but that things seem to be going well between him and Maria Sharapova. Oh, and, of course, The Rad was also "sitting on Maria's shoulder" when she decided to strike back at Serena in the press room this weekend, as well. Really, we should have recognized all this a little bit earlier. Will we ever learn? Citizen Anna, where are you to shake some sense into us?!

Ah, but our "favorite" evil alter ego was only just beginning. Apparently, It also oiled up the backcourt on Court 1, threw a little magic dust on the Centre Court lawn, and gave Steve Darcis a few pointers, as well.

The results of The Radwanska's overlooking presence were felt rather early, as it was apparent that the tournament's first Top 5 seed was on her way out the door before play had even started at 1 p.m. on the show courts. On Court 18, #5 Sara Errani was bounced quickly by Puerto Rico's Monica Puig, losing just as Roger Federer was walking onto Centre Court to open play there for the eighth time in his career. Errani is the second straight slam "First Seed Out" whose defeat came at the hands of the teenager, who also sent Nadia Petrova packing last month as the first seeded player to lose in Paris. Apparently, The Rad must not like Italian food, as three of the last "FSO's" at Wimbledon have hailed from Italy. And, remember, Errani was also the victim of that "Golden Set" (zero points won) in a match at this slam a year ago. Yep... The Rad is most definitely NOT a fan.

But it was still early on Monday. Things were yet to get ugly in London. Are there still any WWII-era underground bunkers to hide in?!

Nothing looked -- or at least sounded -- uglier than what happened to Victoria Azarenka on Court 1 during her match against Maria Joao Koehler, with the Belarusian serving up 6-1/1-0, as she slipped and did a split on the baseline, immediately screamed and grabbed her knee, curling up on the ground, crying and looking as if she was playing out Act One of what might be an extended absence ended only by a long rehab.



Seriously, Vika sounded like she'd been shot, or literally had broken or severely torn something. As things turned, after a nearly twenty-minute injury timeout, Azarenka came back, tentatively. She finished out a 6-1/6-2 win and reported afterward that the doctor was encouraged after examining her that nothing serious had occurred. Still, she felt SOMETHING when she hit the dirt, even if it was only fear. Yes, that's natural when the scent of The Rad is permeating the air, but considering Vika's injury past you have to wonder if she'll be able -- whether by her choosing or not -- to be able to play out this Wimbledon the way many of us had been hoping that she would.

Ah, but The Radwanska wasn't through flexing Its muscles. Not by a long shot.

Next up was Maria Sharapova, always a favorite nemesis of The Rad (the current rumor is that It sleeps with a Maria Voodoo Doll tucked under Its smoky arm). She faced off with another photogenic long-legged blonde -- Kristina Mladenovic -- in the second match up on Centre Court. And it wasn't easy, at least for a while. The opening set went to a tie-break, where the Pastry's nerves started to get the best of her. Mladenovic, after all, came to London with just a 4-10 slam record, with seven 1st Round exits in the eight attempts before her pair of 2nd Round results this year in Melbourne and Paris. Still, the two were knotted at 5-5, with Mladenovic one point away from getting a chance to serve out the set. But she didn't get it, then Sharapova's retrieval of a drop shot was followed up by a set-winning high backhand volley winner that gave her a one-set advantage she never gave up. She won 7-6(5)/6-3, but The Rad's message was more than delivered. Watch your back, Maria.

Of course, It saved the "best" example of Its work for last.

In the Court 1 follow-up to the Azarenka match, male Waffle Steve Darcis put an abrupt end to all the talk about whether or not two-time Wimbledon champion Rafa Nadal should have been seeded in the Top 4 rather than at #5, dispensing the reigning Roland Garros champ in straight sets, 7-6/7-6/6-4 (let the talk about Rafa's knees commence yet again). Ranked #135, Darcis' upset of Nadal (now 34-1 in slam 1st Round matches) comes one round earlier than #100-ranked Lukas Rosol's SW19 upset of him in the 2nd Round a year ago. Nadal is the first RG men's champ to lose in the 1st Round of Wimbledon since it happened to Gustavo Kuerten in 1997. Of course, the Brazilian was only 7-5 in London during his career, while Nadal was 36-6 before today.

But we know The Rad has no use for history. It makes (or messes with) it. Yikes! And it's only Day 1. What new horrors are about to play out before our eyes over the next two weeks?

Hold on... tight.












=DAY 1 NOTES=
...there was a bit more drama later in the day, but it's hard to attribute it to The Rad because it involved Petra Kvitova, who sort of attracts it all on her own. Petra won the opening set against Coco Vandeweghe, then (naturally) lost the 2nd. She was up 5-3, leading 40/15 with match points on the American's serve. One turned against Kvitova on a replay challenge, and then Vandeweghe held serve to force the Czech to serve out the match, never a sure thing in the two years since Kvitova won the Ladies title at the All-England Club. But this is still the grounds of Wimbledon, and Kvitova DID serve things out, going up 40/love and holding easily to win 6-1/5-7/6-4 and run her slam/Olympic record on the Club grass to 20-5.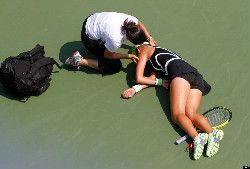 ...hmmm, Azarenka flat on the court on Day 1 brings to mind the image of her head injury-related fainting at the U.S. Open a few years ago. Adding today to that, along with Vika's wobbly, heat-related retirement in Melbourne in that match against Serena, and the Belarusian is working on a "Career Slam" when it comes to troubling images that will provide an odd counterpoint to shots of her holding up slam trophies when her career is over. So, I guess a photo of Vika, face down in the red dirt at Roland Garros, will be coming to us from Paris in the near future?

...if Puig hadn't used seven match points to finally take out Errani, the Italian might just have gone from the first woman to get a singles win at Roland Garros last month to the first woman to get a singles loss at this Wimbledon. Puig led 6-3/5-1 in her first professional grass court match, but the 19-year old took a half-step back before winning 6-3/6-2. As things turned out, the delay caused her win over Errani to come in the SIXTH match completed on Day 1.

Lesia Tsurenko's win over Lara Arruabarrena-Vecino was the first match to end.

...in other women's matches of note, Caroline Wozniacki didn't stumble and bloody herself or her confidence and exit Wimbledon in the 1st Round for a second straight year. Instead, she took out Estrella Candela-Cabeza 6-0/6-2. And while the Sloane Stephens/Jamie Hampton match-up had such promise, there was the sense that Hampton's busy week in Eastbourne might leave her a bit less threatening to her fellow Bannerette on Day 1. Well, that's just what happened, as Stephens had little trouble in a 6-3/6-3 win, erasing a 3-1 deficit in the 2nd set to set up a 2nd Round meeting with Andrea Petkovic, who took her wild card into the main draw and got a win today over Pauline Parmentier. Meanwhile, Ana Ivanovic, who had a bit of a time against another Pastry in that Wimbledon "Kiss of Life" match vs. Nathalie Dechy back in '08, had a bit of a time today against Virginie Razzano, too. The pair went to a 1st set tie-break, but from that point on Razzano notched a total of just ten points as AnaIvo won 7-6(1)/6-0. Like I said, a BIT.

If Eugenie Bouchard was as big of a star on the women's tour (not yet) as she was in the juniors (then again, the Canadian DID win the Girls title at SW19 last year), her flirting-with-Radwanskian disaster might rank a bit higher today. But the time is not right for that. Still, her comeback win over Galina Voskoboeva does rate a mention, as she charged back from a 7-5/5-4 deficit, with the Kazakh serving for the match, to win 5-7/7-6/6-4.

QUALIFIER WINS: Eva Birnerova/CZE, Petra Cetkovska/CZE, Michelle Larcher de Brito/POR

WILD CARD WIN: Andrea Petkovic/GER

BRIT RESULTS: Elena Baltacha, Anne Keothavong, Johanna Konta, Samantha Murray all lost (so that's 0-4, with three to play on Day 2)

...LIKE FROM DAY 1:

--the Serena/Maria/Rolling Stone stuff, and everything else, was kept to a low simmer on ESPN2 on Day 1. A bit of a welcome surprise. Of course, not that the focus was always where it should have been...

...DISLIKE FROM DAY 1:

-- ...as the Stephens/Hampton match that Pam Shriver talked about on air being so anticipated when the draw was released didn't actually make it to air on the ACTUAL ESPN2 network until mid-way through the 2nd set, or just a few games before it was completed. What was being shown instead? Wawrinka/Hewitt, which is odd because during the "anticipated" Stephens/Sharapova match at Roland Garros it was a Wawrinka/Gasquet match that (mostly) bumped it from the air. Is there a closet "Stan fan" at ESPN trying to convert the rest of us?

...WHAT-A-DIFFERENCE-A-YEAR-MAKES FROM DAY 1:

--while Nadal suffered a worse Wimbledon fate this year than last, so did the man who defeated him at SW19 a season ago. Lukas Rosol, whose win over Rafa in the 2nd Round was recently ranked by Tennis magazine as the biggest slam upset ever, was dumped out of the 1st Round today by qualifier Julian Reister.

...and, finally, some Week 25 housekeeping. And it involves all four finalists from the 2013 junior Girls slams.

The "ITF Player of the Week" is 16-year old German Antonia Lottner, the recent Girls runner-up at Roland Garros. Lottner won the $10K Koeln challenger, defeating Anastasia Vasylyeva (RUS) in the final to claim her third career circuit title. Meanwhile, the 15-year old that Lottner defeated in the junior semis in Paris, Ana Konjuh, is the "Junior Star." Konjuh, the Croat who won the Australian Open Girls title, took the $25K Montpelier event with a win in the final over Irina Khromacheva to win her first career ITF crown.

Also, the junior #1, RG Girls champ Belinda Bencic, won the doubles at the $25K in Lenzerhaide along with another junior, Katerina Siniakova, who lost in the AO Girls final to Konjuh. Bencic also reached the singles semis, after having beaten Siniakova in the QF.

Elsewhere, Russian Alisa Kleybanova, back from being out most of the past two years after her Hodgkin's lymphoma diagnosis and treatment, in her second event of the season, saw her twelve-match winning streak come to an end in the Buffalo $10K final against Bannerette Alexandra Mueller. And in the $25K Ystad event, Montenegro's Danka Kovinic defeated Austrian Melanie Klaffner in the final. Klaffner had been 4-0 in '13 ITF singles finals.
















*WIMBLEDON "FIRST SEED OUT"*


2005 #10 Patty Schnyder, SUI (lost to Antonella Serra-Zanetta/ITA)
2006 #28 Sofia Arvidsson, SWE (lost to Eva Birnerova/CZE)
2007 #30 Olga Puchkova, RUS (lost to Elena Vesnina/RUS)
2008 #30 Dominika Cibulkova, SVK (lost to Zheng Jie/CHN)
2009 #23 Aleksandra Wozniak, CAN (lost to Francesca Schiavone/ITA)
2010 #5 Francesca Schiavone ITA (lost to Vera Dushevina/RUS)
2011 #22 Shahar Peer, ISR (lost to Ksenia Pervak/RUS)
2012 #16 Flavia Pennetta, ITA (lost to Camila Giorgi/ITA)
2013 #5 Sara Errani, ITA (lost to Puig/PUR)



*WIMBLEDON "FIRST WINNER OF FORTNIGHT"*


2009 Anastasia Pavlyuchenkova/RUS (def. Cetkovska/CZE)
2010 Chan Yung-Jan/TPE (def. Schnyder/SUI)
2011 Kimiko Date-Krumm/JPN (def. O'Brien/GBR)
2012 Samantha Stosur/AUS (def. Suarez-Navarro/ESP)
2013 Lesia Tsurenko/UKR (def. Arruabarrena-Vecino/ESP)







TOP QUALIFIER:

Petra Cetkovska/CZE




TOP EARLY-ROUND (1r-2r):

xx


TOP MIDDLE-ROUND (3r-QF):

xx


TOP LATE-ROUND (SF-F):

xx


TOP QUALIFYING MATCH:

Q3: #11q Mariana Duque-Marino/COL d. An-Sophie Mestach/BEL 6-7/6-3/8-6




TOP EARLY-RD. MATCH (1r-2r):

xx


TOP MIDDLE-RD. MATCH (3r-QF):

xx


TOP LATE-RD. MATCH (SF-F/Jr.):

xx


TOP UNDER-THE-ROOF MATCH:

xx


=============================




FIRST WINNER:

Lesia Tsurenko/UKR (def. Arruabarrena-Vecino/ESP)




FIRST SEED OUT:

#5 Sara Errani/ITA (lost to Puig/1st Rd.)




UPSET QUEENS:

xx


REVELATION LADIES:

xx


NATION OF POOR SOULS:

xx


LAST QUALIFIER STANDING:

1st Rd. wins: Birnerova/CZE, Cetkovska/CZE, Larcher de Brito/POR


LAST WILD CARD STANDING:

1st Rd. wins: Petkovic/GER


LAST BRIT STANDING:

1st Rd. wins: 0-4 on Day 1


IT (?):

xx


Ms.OPPORTUNITY:

xx


COMEBACK PLAYER:

xx


CRASH & BURN:

xx


ZOMBIE QUEEN:

Nominee: V.Azarenka injures knee in 1st Rd.


DOUBLES STAR

xx


JUNIOR BREAKOUT:

xx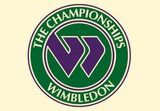 All for Day 1. More tomorrow.