Wk.37- Yes, WTA, There is Life After the Open... right?
Maybe it's the impending changing of the seasons, or the time difference as most of the remaining WTA schedule takes on a decidedly Asian feel in the closing months of the year. Whatever it is, the annual "post-U.S. Open lull" began in earnest last week in Quebec City and Tashkent.

*WEEK 37 CHAMPIONS*
QUEBEC CITY, QUEBEC CAN (Int'l $235K/Carpet Indoor)
S:

Lucie Safarova/CZE def. Marina Erakovic/NZL 6-4/6-3


D:

Kudryavtseva/An.Rodionova (RUS/AUS) d. Hlavackova/Hradecka (CZE/CZE)
TASHKENT, UZBEKISTAN (Int'l $235K/HCO)
S:

Bojana Jovanovski/SRB def. Olga Govortsova/BLR 4-6/7-5/7-6


D:

Babos/Shvedova (HUN/KAZ) d. Govortsova/Minella (BLR/LUX)

PLAYER OF THE WEEK:
Bojana Jovanovski/SRB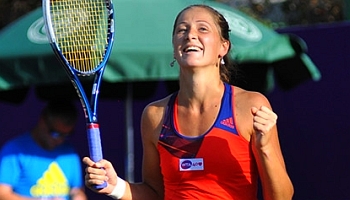 ...BoJo was a late entry into the Tashkent tournament, forcing her into the qualifying event, knowing that if she made it through she'd be installed as the #1 seed in the main draw. Well, with a set-up that sounds very Jankovician, Jovanovski did her countrywoman proud. After making it through qualifying, the suddenly-#1-seeded qualifier got wins over Kurumi Nara, Misaki Doi, Galina Voskoboeva, Maria-Teresa Torro-Flor and Olga Govortsova in the final to earn the 21-year old Serb her second career title. Ahh, Bojana really HAS learned a lot from JJ during those Fed Cup weekends over the years. Of course, I guess that was sort of apparent a while back when she boarded a plane for a tournament in Carlsbad, California and ended up in an airport in New Mexico, huh?


=============================




RISERS:

Marina Erakovic/NZL & Timea Babos/HUN


...Kiwi Erakovic loves being indoors in North America. She reached her fourth career singles final in Quebec City (she was also runner-up there in '11) with wins over Mallory Burdette, Barbora Zahlavova-Strycova, Ajla Tomljanovic and Christina McHale. She won her first tour title earlier this season in Memphis, where she was runner-up in '12. So, not only have all four of her singles finals come in just two events, but they've also been at the only two indoor WTA events held on the continent each season. Babos lost in the 1st Round in the Tashkent singles, but went on to win the doubles with Yaroslava Shvedova, defeating U.S. Open champs Hlavackova/Hradecka in the final. It's the Hungarian's fourth WTA-level doubles crown in 2013, tied for the most on tour, and if you count her 125 Challenger title then she's won more women's doubles crowns than any other player this year. Better yet, she's won the five titles with four different partners, having also celebrated with Mandy Minella, Kimiko Date-Krumm and Michaella Krajicek.


=============================




SURPRISES:

Olga Govortsova/BLR & Maria-Teresa Torro-Flor/ESP


...the tour's OTHER Belarusian, Govortsova (ranked 111 spots below you-know-who) did something in Tashkent that Vika hasn't this season -- she reached the final in both singles AND doubles. Of course, she went 0-2, dropping her career WTA singles final mark to 0-4. Still, the 25-year old has to feel good about singles victories over Michaella Krajicek, Donna Vekic and Mandy Minella. 21-year old Torro-Flor, Backspin's 2012 ITF Player of the Year (7 titles), reached her first career WTA semifinal in Tashkent with wins over defending champ Irina-Camelia Begu and #3-seed Yvonne Meusburger.


=============================




VETERANS:

Lucie Safarova/CZE & Mandy Minella/LUX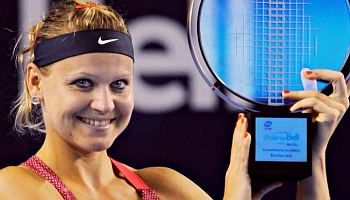 ...Safarova, 26, won her first tour singles title in five years (Forest Hills '08... which isn't even a tournament anymore) in Quebec City to end her string of five straight WTA final losses. Career title #5 came after wins over Anna Tatishvili, Mirjana Lucic-Baroni, Lauren Davis, Eugenie Bouchard and Marina Erakovic in the final. Safarova, who reached the Quebec City final in '09, is now one of four women with WTA and ITF titles this season. Coming off her heartbreaking loss to Sloane Stephens at the U.S. Open, 27-year old Minella rebounded well in Tashkent, reaching her third career tour semifinal (and second in '13) with wins over Olga Puchkova, Vesna Dolonc and Nastassja Burnett.


=============================




COMEBACK:

Christina McHale/USA


...the last time McHale fumbled away a lead at a slam (5-0 in the 3rd in a 1st Round match vs. Errani at Roland Garros in '11...ouch), she rebounded by going out and winning an ITF title. After failing to put away her 3rd Round match against Ana Ivanovic (the American served for a straight sets win) at Flushing Meadows, she went to Quebec City last week and reached her second career tour semifinal (the first was also in Quebec, in 2010). McHale got wins over Tamira Paszek, Caroline Garcia and Polona Hercog.


=============================




FRESH FACES:

Eugenie Bouchard/CAN & Ines Ibbou/ALG


...the 19-year old has had a great summer, and she closed it out by being able to celebrate in front of a home crowd (Bouchard is from a suburb of Montreal) the feat of producing the best-ever result by a Canadian woman in the Bell Challenge event, reaching the semifinals (her second such result in '13). Thing is, Bouchard can do even better. The former Girls slam champ defeated #2-seed Kristina Mladenovic and was a set up in the semis against eventual title winner, #3 Lucie Safarova. A month ago in Cincinnati, she took a set off Serena Williams, too. If you don't think Bouchard won't one day (soon) be the first Canadian champion in Quebec City (and elsewhere on tour) then you're not paying very close attention. She's now in the Top 50, and the rise is nowhere near its conclusion. Meanwhile, at a $10K challenger in Tlemcen, Algeria a 14-year old made her professional debut and walked away with a singles title. Algeria's Ines Ibbou is the player in question, and she defeated Pastry Amandine Cazeaux 6-1/6-1 in the final. Looking at her ITF site bio, I almost did a double-take when I looked at her birth year because it seemed like a typo. But then I realized... oh, yeah, I guess she WAS born in 1999. Sheesh.


=============================




DOWN:

Kirsten Flipkens/BEL


...a year ago, Flipkens' confidence soared after reaching her first career tour final in Quebec City and taking the title. Eventually, it led to the Waffle reaching the Wimbledon semifinals this summer. Well, she went back to Quebec last week as not only the defending champ, but also the #1 seed. It was a different experience, and it didn't last long. Flipkens fell to Polona Hercog in the 1st Round, her third opening match loss in four events since SW19.


=============================




ITF PLAYER:

Karolina Pliskova/CZE


...the 21-year old Maiden's $50K challenger win in Sanya, China equals her biggest circuit crown ever, and makes her one of four woman to win both WTA (Kuala Lumpur) and ITF singles titles in 2013. Just one of three non-Asian/Pacific players (w/ Maria-Fernanda Alvarez-Teran & Jovana Jaksic) in the singles main draw, Pliskova notched victories over Chinese players Tian Ran, Duan Ying-Ying and Zheng Saisai en route to her eleventh career challenger win.


=============================




JUNIOR STAR:

Jasmine Paolini/ITA


...the 17-year old Italian put a fight at the U.S. Open, qualifying and then getting main draw junior wins over Victoria Rodriguez and Katy Dunne before falling to Tornado Alicia Black in the 3rd Round (and her doubles loss to the team of Konjuh/Lottner meant Paolini faced three of the four Girls singles semifinalists at some point in Flushing Meadows). Last week in a $10K pro challenger in Santa Margherita di Pula, Italy Paolini (w/ Giorgia Marchetti) defeated the #1 (QF), #2 (Final) and #3 (SF) seeds en route to her first pro doubles title. She won her first singles challenger at a $10K in Locri in August.


=============================






1. Tashkent Final - Jovanovski d. Govortsova
...4-6/7-5/7-6. BoJo trailed 4-2 in the 3rd set.


=============================


2. Quebec City Final - Safarova d. Erakovic
...6-4/6-3. Safarova lost to Melinda Czink in the '09 final. This time, she became the third Czech to win a tour title in 2013.


=============================


3. Quebec City 1st Rd. - Davis d. Giorgi 6-7/6-3/6-2
Quebec City 2nd Rd. - Davis d. Hlavackova 6-1/2-6/6-3
Tashkent 2nd Rd. - Voskoboeva d. Glushko 6-3/6-1
Quebec City Doub. Final - Kudryavtseva/An.Rodionova d. Hlavackova/Hradecka 6-4/6-3
...after U.S. Open success often comes an immediate letdown. Kudos to the Czechs for reaching a second straight doubles final, though.


=============================


4. Tashkent 1st Rd. - Dolonc d. Shvedova
...7-6/7-5. The Serbian Bad Luck Charm defeats the Kazakh in a match-up of former Hordettes.


=============================


5. $50K Trabzon Doubles Final - Kalashnikova/Krunic d. Amiraghyan/Jakupovic
...6-2/6-1. One week after winning an ITF singles titles, the Serbian Good Luck Charm gets hold of something even more in her wheelhouse -- her third doubles crown of the season. Krunic also reached the singles semis.


=============================


HM- Quebec City 2nd Rd. - Tomljanovic d. Mattek-Sands
...7-5/3-6/4-1 ret. BMS's career takes a another turn, as she'll miss the rest of the season with a knee injury.


=============================






1. $25K Incheon Final - Erika Sema d. Yurika Sema
...6-3/6-4. The 24-year old #2-seeded Sema sister defeats her 26-year old top-seeded sibling, running her pro record against her to 4-1.


=============================


2. Guangzhou Q2 - Nadiya Kichenok d. Lyudmyla Kichenok
...6-4/6-4. Nadiya is now 3-6 against her twin sister in their pro careers. No Radwanska vs. Radwanska match this week, though, as Aga is in Seoul while Ula plays in Guangzhou.


=============================


3. $25K Sofia Final - Mayr-Achleitner d. Kr.Kucova
...6-2/1-6/6-3. Technically, not REALLY a sister result to touch upon, even with Kristina here, as I just wanted to point out that after reaching the U.S. Open 3rd Round as a "lucky loser," Mayr-Achleitner won in Sofia as a #1 seed. Ah, versatility.


=============================








**2013 BEST QUALIFIER RESULTS**


Champion - BOJANA JOVANOVSKI, SRB - Tashkent (#58/#1 seed)
Runner-Up - Jamie Hampton, USA - Eastbourne (#41)
SF - Teliana Pereira, BRA - Bogota (#156)
SF - Alexandra Cadantu, ROU - Katowice (#117)
SF - Simona Halep, ROU - Rome (#64)
SF - Flavia Pennetta, ITA - Strasbourg (#158)
SF - Alison Riske, USA - Birmingham (#167)
SF - Garbine Muguruza, ESP - 's-Hertogenbosch (#70)
SF - Magda Linette, POL - Baku (#226)



**ALL-TIME WTA TITLES - CZECHS**


51...Martina Navratilova (1974-81) *
27...Hana Mandlikova (1978-87)
24...Jana Novotna (1988-99)
10...Petra Kvitova (2009-13)
10...Helena Sukova (1982-92)
10...Regina Mariskova (1976-81)
6...Nicole Vaidisova (2004-06)
5...LUCIE SAFAROVA (2005-13)
--
* - total before she became American citizen. Navratilova won 4 titles representing Czechoslovakia in 1974-75, and 47 more while "stateless" from 1974-81 following her Sept.'75 defection; she then won 116 more from 1981-94 after becoming U.S. citizen in Sept.'81; career total titles: 167



**SINGLES/DOUBLES FINAL IN SAME EVENT**


Paris - Sara Errani, ITA (L/W)
Cali 125 - Catalina Castano, COL (L/W)
Tashkent - OLGA GOVORTSOVA, BLR (L/L)



**2013 CHAMPIONS - LONGEST SINCE LAST TITLE**


5 yrs, 3 wks - LUCIE SAFAROVA, CZE (Quebec City) - 2008 Forest Hills
4 yrs, 4 mo, 1 wk - Maria Kirilenko, RUS (Paris) - 2008 Seoul


[WTA 125 winner]


Shahar Peer, ISR - 2013 Suzhou 125 = 2009 Tashkent



**2013 MULTIPLE CHAMPIONS BY NATION**


4...RUS - Kirilenko,Pavlychenkova,Sharapova,Vesnina
3...CZE - Kvitova,Ka.Pliskova,SAFAROVA
3...ITA - Errani,Schiavone,Vinci
3...SVK - Cibulkova,Hantuchova,Rybarikova
2...FRA - Bartoli,Cornet
2...ROU - Niculescu,Halep
2...SRB - Jankovic,JOVANOVSKI



**DEFEATED TOP SEED/DEFENDING CHAMP - DIDN'T WIN TITLE**


Wimbledon - Sabine Lisicki, GER [S.Williams 4th Rd.; to F]
Baku - Ons Jabeur, TUN [Jovanovski 2nd Rd.; to QF]
Guangzhou - POLONA HERCOG, SLO [Flipkens 1r; to QF]



**2013 WTA/WTA 125/MIXED DOUBLES TITLES**


5...Kristina Mladenovic, FRA (4 WTA, 1 Mixed)
5...TIMEA BABOS, HUN (4 WTA, 1 WTA 125)
4...Katarina Srebotnik, SLO (4 WTA)



**2013 ITF TITLES**


8...Reka-Luca Jani, HUN
6...Deniz Khazaniuk, ISR
5...Jovana Jaksic, SRB
5...Melanie Klaffner, AUT
4...Monserrat Gonzalez, PAR
4...Anna Morgina, RUS
4...STEPHANIE VOGT, LIE



**2013 WTA & ITF TITLES**


Yvonne Meusburger, AUT - 3 ITF / 1 WTA
KAROLINA PLISKOVA, CZE - 1 ITF / 1 WTA
LUCIE SAFAROVA, CZE - 1 ITF / 1 WTA
Elina Svitolina, UKR - 2 ITF / 1 WTA





SEOUL, SOUTH KOREA (Int'l $500K/hard court outdoor)
12 Final: Wozniacki d. Kanepi
12 Doubles Final: Kops-Jones/Spears d. Amanmuradova/King
13 Top Seeds: A.Radwanska/Kirilenko
=============================


=SF=


#1 A.Radwanska d. #4 Zakopalova
#7 Petkovic d. #6 Goerges


=FINAL=


#1 A.Radwanska d. #7 Petkovic

...Aga's title drought ends? I will say, though, the presence of the recently-slumping #2-seed Kirilenko -- seven of her twelve career finals, and four titles, have come in events held in Asia -- does give me reason to ponder the prediction. But the Russian has dropped from her Top 10 ranking earlier this season to nearly out of the Top 20, and Aga is 6-3 head-to-head against her. I just went with an all-German semifinal battle, anyway.



GUANGZHOU, CHINA (Int'l $500K/hard court outdoor)
12 Final: Hsieh d. Robson
12 Doubles Final: Tanasugarn/Shu.Zhang d. Gajdosova/Niculescu
13 Top Seeds: Cirstea/Cornet
=============================


=SF=


#1 Cirstea d. J.Zheng
#2 Cornet d. #6 Hsieh


=FINAL=


#2 Cornet d. #1 Cirstea

...I might be pushing it to go with the #1 seed to reach the final, considering her post-Toronto form. With the draw setting up like it has, if Robson picks up her game a bit, a rematch of last year's final next weekend is totally impossible.




And, finally, a fond farewell to Anna Chakvetadze, who announced her retirement from tennis due to ongoing back problems. The (still just) 26-year old Muscovite was one of the original Backspin favorites, so there's a bit of a melancholy mood around HQ with the arrival of this news.

The slight Hordette won eight career tour singles titles with a game that lacked power, but had great heart and intensity. Her title list includes a truly wonderful win in Moscow in 2006, after which I dubbed her "The Porcelain (or Russian) Doll."

On her Backspin Nickname Page description, I wrote:



ANNA CHAKVETADZE:

"The Porcelain Doll," "The Russian Doll," "The Doll." Yet another Russian, the teenager's fierce heart belied her somewhat fragile-looking outward appearance when she went to Moscow and wiped out three Top 10-ranked Russians to win her first career Tier I crown and put herself into the Top 20 for the first time. "The Doll" nickname comes from those famous Russian nesting dolls (also called Babushka, Matryoshka or stacking dolls) that reveal smaller, sometimes surprising, new dolls inside as each outer shell is removed. With Chakvetadze, after winning her maiden tour title two weeks prior to Moscow in Guangzhou, what was underneath the first shell was quite a revelation.

Less than a year later, she'd reached the QF at the Australian Open and Roland Garros, then the U.S. Open semifinals (pushing Svetlana Kuznetsova to three sets), climbing as high as #5 in the singles rankings in a season in which she won big titles in Stanford and Cincinnati and qualified for the 2007 WTA Championships (where she defeated Serena Williams in round robin play to reach the SF).

Unfortunately, soon after her career had begun to take off, she and her family were the victims of an horrific home invasion just before Christmas in Moscow. Chakvetadze returned to the court, probably a bit too early, the next season and managed one more great moment when she won the Paris indoors early in 2008, and then reached the Wimbledon Round of 16 and New Haven final that summer. But her career would never quite be the same as, much like Monica Seles after her on-court stabbing, the mental toughness that got her through so many tight matches just wasn't as strong as it has previously been. Thus, all the promise that the Russian had shown earlier in her career was never quite recaptured or realized.

A few years later, Chakvetadze rebounded on some level on the court, winning her final singles title in Portoroz in 2010. Late in 2011, she ran for political office back home in Russia, but was defeated. Last year in Tashkent, she reached her final tour final, losing in the doubles with Vesna Dolonc.

Dos-vidaniya (goodbye in Russian, phonetically), Anna. You won't be forgotten.


All for now.