Wk.41- The Unbreakable Porcelain Doll
It's been a transforming few weeks for Anna Chakvetadze. I tell you, sometimes it's utterly amazing what winning a first title can do for a player.


A few months ago, during the North American hard court season, the 19-year old Russian was routinely getting close to upending some big-time players. Oh, she knocked off Nadia Petrova twice during her summer of mental discontent, and got a win over Ana Ivanovic in the middle of AnaIvo's U.S. Open Series title stretch, but the signature Chakvetadze moment was probably her near upset of Nicole Vaidisova in San Diego, and the early 4Q nipping-at-her-heels September loss to Lindsay Davenport in Beijing. She was close, that was certain. But how long it would take for her to traverse that often difficult learning curve was the question.

Then, two weeks ago, Chakvetadze put together a complete week in Guangzhou, got a win over Jelena Jankovic when the Serbian retired, and claimed her first tour singles crown with a victory over Anabel Medina-Garrigues. It wasn't a prestigous title won on a big stage, but it stoked her confidence... enough for her to return home to Moscow with a sneaky fire in her belly last week, then proceed to shred three Top 10-ranked Russians to win the first Tier I title of her young career.

So much for the learning curve.

Suddenly, the teenager's career has blossomed at an exponential rate. Her current winning streak stands at nine matches, and two tournaments. With a positively Martina-esque (Hingis, not Navratilova) game full of variety, intelligence, pluck and well-timed aggression to make up for a lack of natural power, Chakvetadze got to virtually every shot in the Moscow final against Petrova and managed to find the perfect response nearly every time.

"The Porcelain Doll's" outward, almost fragile appearance belies a surprisingly fierce heart, sort of like one of those Russian nesting dolls which gets more and more surprising with each painted shell that is removed to reveal another one inside.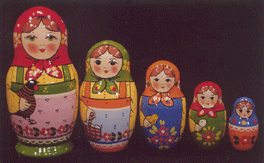 Like one of those Babushka's, Chakvetadze might just have more surprises in store for everyone as her career path shoots upward once again after the joy of Moscow. Who knows what we'll learn next, but it should be noted that, in her official WTA bio at the start of this year, she said she wanted to be in the Top 5 within three years... and that her preferred surface is grass.

Just something to keep in mind.


**WEEK 41**


MOSCOW, RUSSIA (I-SI)
S: Anna Chakvetadze d. Nadia Petrova 6-4/6-4
D: Peschke/Schiavone d. Benesova/Voskoboeva


BANGKOK, THAILAND (III-HO)
S: Vania King d. Tamarine Tanasurgarn 2-6/6-4/6-4
D: King/Kostanic d. Diaz Oliva/Grandin
=============================




PLAYER OF THE WEEK: Anna Chakvetadze
...Nadia Petrova is Backspin's avowed fave Hordette, but seeing Chakvetadze continue to defy expectations isn't too bad, either. The 19-year old's Moscow crown was her second consecutive title, but it was the murderer's row of Russians she beat -- and how she beat them -- that's immensely impressive. She wiped out Dinara Safina, bageled Elena Dementieva in a 3rd set, and took out Petrova in straights to run her '06 record against her to 3-0. That's three Top 10 players, with Francesca Schiavone thrown in for good measure. Sure, she skirted the Maria Sharapova Threat when the Supernova withdrew before their QF matchup... but she can't beat someone she doesn't get to face. From the look on The Doll's face afterward, she certainly didn't truly think she'd be in this position at the end of the season's 41st weekend. But here she is, ready or not. Hmmm, now that #16 Anna has become another Russian in the Top 20, maybe expectations are going to have to officially be ramped up just a bit in '07 as those shells continue to be peeled away. After wildly missing on that Wimbledon '05 prediction that Chakvetadze would be a surprise semifinalist (is it better to be early to the party, or late?), I figured I'd never have a chance or whim to duplicate it. That might not be the case anymore.
-----------------------------
RISER: Nadia Petrova
...Petrova was battling hip and chest injuries, but seemed pretty pleased at having reached the Moscow final, her third Tier I deciding match appearance in '06. Even though she lost, at least she knows the dark days that dogged her summer have finally passed away into the mist (for now, at least, for they're always lurking around the corner). Wins over Groenefeld, Likhovtseva, Zvonareva and Vaidisova surely made it a very nice week that pretty much wrapped up her berth in the YEC.
-----------------------------
SURPRISE: Vania King


...just when you think there are no American teenagers worth mentioning, King alters that assertion. Seriously, though, even though King's only been a pro for three months, she'd made enough waves (and not all of them at Alicia Molik's expense, either) to have already been mentioned around here quite a few times before she swept the Bangkok singles and doubles titles (her second in two weeks with Jelena Kostanic, who she'd dusted off in singles earlier in the week), becoming the first American 17-year old to win a tour singles title since Serena Williams at the 1999 U.S. Open. Now, the American Idol really has something to sing about.
-----------------------------
VETERANS: Tamarine Tanasugarn & Kveta Peschke
...Tanasugarn, 29, needed a return home to Bangkok to gather the game to reach her first tour final since winning in Hyderabad in 2003. She got wins over Jamea Jackson and Severine Bremond along the way, but the world #68 couldn't hold her lead on King to grab her second career title. Peschke, 31, won the doubles in Moscow with Schiavone. It's her fourth doubles title this year, and third in '06 with the Italian.
-----------------------------
FRESH FACES: Chakvetadze, King & Nicole Vaidisova
...Vaidisova finally righted herself for her battle to claim a season-ending Top 10 ranking (she's currently #11). The 17-year old's highlight in her Moscow SF run was her second 2006 win over world #1 Mauresmo in the QF, in which she saved three match points and erased a 1-6/2-5 deficit and won in a 3rd set tie-break.
-----------------------------
DOWN: Amelie Mauresmo
...Mauresmo hasn't really been holding up her end of the world #1 bargain since she won Wimbledon, and it might cost her the ranking at season's end. Her failure to convert any of three match points against Vaidisova in the Moscow QF only highlighted her current lack of match toughness, something she'll need to find before she attempts to defend her WTA Championships title in Madrid.
-----------------------------




1. Mos QF - Vaidisova d. Mauresmo
...1-6/7-5/7-6. Mauresmo led 6-1/5-2 and blew two match points in the 2nd set, then saw Vaidisova outlast her (saving five break points) in an 11-deuce game that gave the teenager a 3-1 lead in the 3rd. Mauresmo battled back for a 6-5 lead, where she lost a third match point before finally succumbing in the tie-break.
-----------------------------
2. Mos SF - Petrova d. Vaidisova
...6-0/4-6/7-6. On her seventh match point, Petrova finally told Vaidisova she was out of comebacks.
-----------------------------
3. Mos F - Chakvetadze d. Petrova
...6-4/6-4. Even in her refurbished, though still a bit hobbled, form, Petrova couldn't scratch out a win in this third (along with San Diego & Montreal) losing effort against Chakvetadze in less than three months.
-----------------------------
4. Bang F - King d. Tanasugarn
...2-6/6-4/6-4. World #80 (and now #54) King overcame a set deficit, then a 2-4 hole in the 3rd set.
-----------------------------
5. Mos SF - Chakvetadze d. Dementieva
...7-5/3-6/6-0. Any lingering questions about Chakvetadze's worthiness after advancing past Sharapova in a QF walkover were wiped away by that love set.
-----------------------------
6. Mos 1st - Peer d. Bovina
...6-0/6-2. A shoulder injury had kept Bovina off the tour since May '05, but she made her return in her hometown. It wasn't a sterling effort, but at least she's back on the court.
-----------------------------
7. Mos 1st - Vaidisova d. Pavlyuchenkova
...6-3/6-3. The junior #1 finally made her WTA debut, unfortunately she did it against Vaidisova.
-----------------------------
8. Mos Q2 - Rodionova d. A.Bondarenko
...3-6/6-4/6-1. That Luxembourg title and a few bucks gets Bondarenko a Mocha Grande at the Moscow Starbucks.
-----------------------------
9. Mos 1st - Chakvetadze d. Safina
...6-1/6-2. Dinara's been experiencing something of a Marat-like fade since she reached the Top 10. (Of course, Marat reached the final in Moscow this weekend... so maybe Dinara has one more rabbit to pull out of her bag before season's end.)
-----------------------------
10. Bang 1st - King d. Molik
...6-1/7-5. Now, after the American won the title, Molik will be able to explain to everyone how she's lost two of three matches to the teenager in the last two months.
----------------------------
HM #1- Bang SF - King d. Shaughnessy
...6-1/6-4. Did you realize that these two are the only American women to win tour singles titles in 2006?
----------------------------
HM #2- San Francisco $50K F - Harkleroad d. Fernandez
...6-2/6-3. Wow, it was a pretty good week for the Americans. It must mean something bad is going to happen soon.
----------------------------



**MOST CONSECUTIVE 2006 WTA TITLES**
3...Amelie Mauresmo (Jan/Feb)
3...Nadia Petrova (Apr/May)
2...Justine Henin-Hardenne (June)
2...Svetlana Kuznetsova (September)
2...ANNA CHAKVETADZE (OCTOBER)

**2006 WINS OVER REIGNING WORLD #1**
[WTA matches]
Jan - #6 Henin-Hardenne d. Davenport (AO QF)
Feb - #2 Mauresmo d. Clijsters (Antwerp F)
Mar - #14 Kuznetsova d. Mauresmo (Miami SF)
May - #7 Henin-Hardenne d. Mauresmo (Berlin SF)
Jun - #16 Vaidisova d. Mauresmo (RG 4th)
Jun - #25 Dechy d. Mauresmo (E'bourne 2nd)
Aug - #11 Davenport d. Mauresmo (NH QF)
Sep - #3 Sharapova d. Mauresmo (US Open SF)
Sep - #5 Kuznetsova d. Mauresmo (Beijing F)
OCT - #11 VAIDISOVA d. MAURESMO (MOSCOW QF)

**SINGLES/DOUBLES TITLE SWEEPS**
March - Anna-Lena Groenefeld (Acapulco)
May - Shahar Peer (Prague)
OCT - VANIA KING (BANGKOK)

**2006 TITLES WON BY TEENAGERS**
[by nation]
5...RUSSIA (Sharapova-3, CHAKVETADZE-2)
3...Israel (Peer-3)
2...Czech Republic (Vaidisova-1, Safarova-1)
2...Netherlands (Krajicek-2)
1...Austria (Paszek-1)
1...Serbia (Ivanovic-1)
1...USA (KING-1)
---
(2005: Russia-6, Czech Republic-5, 1- India, 1-Netherlands, 1-Serbia

**2006 TIER I FINALS**
Tokyo - Dementieva(RUS) d. Hingis(SUI)
Ind.Wells - Sharapova(RUS) d. Dementieva(RUS)
Miami - Kuznetsova(RUS) d. Sharapova(RUS)
Charleston - Petrova(RUS) d. Schnyder(SUI)
Berlin - Petrova(RUS) d. Henin-H.(BEL)
Rome - Hingis(SUI) d. Safina(RUS)
San Diego - Sharapova(RUS) d. Clijsters(BEL)
Montreal - Ivanovic(SCG) d. Hingis(SUI)
MOSCOW - CHAKVETADZE(RUS) d. PETROVA(RUS)
Zurich - ??

**4Q FIRST-TIME CHAMPIONS**
Tamira Paszek (age 15) - Portoroz
Anna Chakvetadze (age 19) - Guangzhou
Alona Bondarenko (age 22) - Luxembourg
Tiantian Sun (age 25) - Tashkent
VANIA KING (age 17) - BANGKOK

**2006 DOUBLES TITLES**
7...Samantha Stosur
7...Lisa Raymond
6...Zi Yan
6...Jie Zheng
4...KVETA PESCHKE


ZURICH, SWITZERLAND (I-HI)
05 FINAL: Davenport d. Schnyder
06 TOP: Mauresmo/Sharapova
=============================
SF: Mauresmo d. Hingis; Sharapova d. Vaidisova
FINAL: Sharapova d. Mauresmo

...assuming Sharapova plays a full tournament this week, and that Mauresmo plays like a world's #1. At this point, the picks don't really matter (bring on '07 and a chance to rebound). This scenario would offer up the first Supernova vs. Dynamova matchup, by the way.


All for now.

============================

ALSO THIS WEEK: "2006's 10 Most Intriguing Answers, Pt.I"