Wk.38- Aga Is as Aga Does
Just a little weekly WTA recap, yearning to breathe free...
but Aga demands a little extra attention.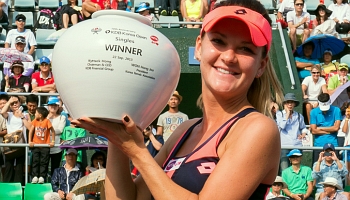 Thirty-six weeks ago, Agnieszka Radwanska began her 2013 season on a tear, winning back-to-back titles and double-bageling Dominika Cibulkova in the Sydney final. Since then, things have been pretty interesting on the Radwanska front, as she's had quite an eventful year, but it took over eight months for her to return to the winner's circle this weekend in Seoul.

Hmm, let's see, what's happened since January? Well, she had those tastefully nude photos in ESPN Magazine, then was criticized back home in Poland by Catholic groups and dropped as a youth group spokesperson. As the highest-remaining seed in the semifinals at Wimbledon, she looked to have quite possibly her best-ever chance to win a slam crown... until she was ousted by Sabine Lisicki. After leaving London, she came to North America and found still more disappointment there, blowing a big lead in the Stanford final to none other than Cibulkova.

While it's been, at times, both a tough summer and overall season for Radwanska, the world #4 has still had quite a fine, under the radar campaign. Nestled right behind the Big 3.

At the slams, she had arguably her best-ever combined year. Even without matching her Wimbledon final run from '12, she reached at least the Round of 16 at all four slams for just the second time (2008) ever, and for the first time put up three QF-or-better results at those majors as she had, in order, QF-QF-SF-4th Round results. The finishes matched (AO/US) or bettered (RG) her career-best advancement at three slams.

Also, when, or if (I guess), Marion Bartoli's name ever drops out of the rankings, Radwanska will sport the longest active streak of weeks ranked in the Top 20 (she's at 293). She has the third-longest -- behind Azarenka & Sharapova -- current Top 10 streak with 103 weeks, too.

But, wait. There's more.

Aga's fifty-two wins are second on tour to only Serena, she's set to finish in the Top 5 (maybe Top 4) for the second straight season, and her title run this weekend in Seoul not only gives her three crowns in 2013, but it makes this year the third straight in which she's managed to win so often. The only other pro players who can say that? Ummm, just some people named Rafa, Andy, Novak and Vika.

No, she didn't win Wimbledon. Her malicious alter ego played out a scorched earth policy at SW19 that got WAY out of control instead. But, make no mistake, Radwanska demands to be recognized.

If we know what's good for us.



*WEEK 38 CHAMPIONS*
SEOUL, SOUTH KOREA (Int'l $500K/HCO)
S:

Agnieszka Radwanska/POL def. Anastasia Pavlyuchenkova/RUS 6-7(6)/6-3/6-4


D:

Chan Chin-Wei/Xu Yi-Fan (TPE/CHN)
GUANGZHOU, CHINA (Int'l $500K/HCO)
S:

Zhang Shuai/CHN def. Vania King/USA 7-6/6-1


D:

Hsieh/Peng (TPE/CHN) d. King/Voskoboeva (USA/KAZ)




PLAYER OF THE WEEK:

Agnieszka Radwanska/POL


...eleven sets up in Seoul. Ten sets down in Aga's win column. In fact, after easily dusting off the likes of Alexandra Cadantu, Estrella Cabeza-Candela, Vera Dushevina and Lara Arruabarrena, the only set Radwanska lost last week came in a 1st set tie-break against Anastasia Palvyuchenkova in the final as A-Rad swept to her thirteenth career title. Hmmm, thirteen... well, considering what's happened with a few current players when they hit #13 it might be advisable for Aga to get #14 as quickly as possible. Remember, Serena's German restaurant excursion came after winning slam #13, while the likes of Svetlana Kuznetsova and Nadia Petrova are stuck on thirteen career tour titles, and one has to wonder at this point whether they'll EVER get to fourteen. Jelena Jankovic has thirteen titles, as well, but considering who we're talking about there there's no reason to chalk up any occurrences and/or strange moments to anything having to do with anyone's potential case of triskaidekaphobia. Of course, the fear of The Rad might be even stronger than superstition... so Aga will likely be just fine.


=============================




RISERS:

Zhang Shuai/CHN & Hsieh Su-Wei/Peng Shuai (TPE/CHN)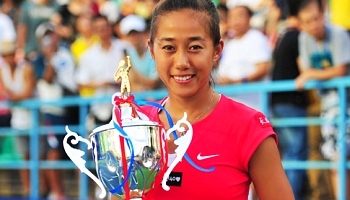 ...if you're Chinese and you want to win your first title, Guangzhou is a pretty good place to visit. Over the weekend, 24-year old Zhang Shuai became the fifth woman from her country to claim a WTA singles title, and the third (after Yan Zi and Li Na) to win her first crown inside China's borders in Guangzhou. A wild card last week, Zhang has placed her name back into many conversations over the course of this season. She first garnered big headlines late in '09 when, ranked at #226, she became the lowest-ranked woman to ever defeat a world #1 (Dinara Safina at the time), a record that still stands. She finished 2010 in the Top 100, so far her only such year-end finish. Still, she hadn't managed to win an ITF crown for three years before she took a $75K challenger earlier this season. Zhang has had success in Guangzhou before, reaching a singles semi in '10 and winning the doubles there a year ago with Tammy Tanasugarn. This time around, wins over Olga Puchkova, defending champ Hsieh Su-Wei, Johanna Konta, Yvonne Meusburger and Vania King have put into another category altogether. Better yet, she insists this isn't just a new career highlight, but is actually just "the beginning." Also in Guangzhou, Hsieh & Peng continued to make a case for being the best doubles duo on tour in '13. Their eighth career title as a team is their fourth this season, more than any other WTA combo, though it's actually quite small compared to their other crowns this year -- "little trinkets" picked up in Rome, Cincinnati and Wimbledon.


=============================




SURPRISES:

Teliana Pereira/BRA & Jang Su Jeong/KOR


...Pereira reached a tour-level semifinal in Bogota this year as a qualifier, but the 25-year old is still at her best on the ITF level. In a $25K in Saint Malo, France she grabbed her fourth challenger title of the season this weekend, knocking off Pauline Parmentier in the final. Meanwhile, in Seoul, 18-year old wild card Jang, the world #540 and fifth-highest ranked Korean, took out world #33 Klara Zakopalova, the second-ranked Czech, in straight sets in the 1st Round, then followed up with an upset of Ons Jabeur to become the first Korean in a WTA quarterfinal since Cho Yoon Jeong was a finalist at Canberra in 2006.


=============================




VETERANS:

Francesca Schiavone/ITA & Zheng Jie/CHN


...Schiavone, 33, reached her second semifinal of the season (she won the title in Marrakech) in Seoul with wins over Andrea Petkovic, Virginie Razzano and 42-year old Kimiko Date-Krumm. Once there, she engaged Anastasia Pavlyuchenkova in a two-set battle that included 13-11 and 8-6 tie-breaks. Unfortunately for Francesca, she lost both of them. In Guangzhou, Zheng advanced to her first semi of '13, getting wins over Yaroslava Shvedova, Timea Babos and '12 finalist Laura Robson.


=============================




COMEBACK:

Vania King/USA


...the 24-year old is still the youngest American to win a tour singles title since a 17-year old Serena Williams took the U.S. Open by storm in 1999. King, also 17, won a title in Bangkok in '06. Her Guangzhou final run last week, which began in the qualifying rounds, was her best WTA result since that improbable performance in Thailand seven years ago. King's wins included triumphs over Anastasia Rodionova and Chan Yung-Jan in qualifying, and then main draw victories over Chanelle Scheepers, Bojana Jovanovski, Monica Puig and Zheng Jie before losing to Zhang Shuai. To top things off, King also reached -- but also lost -- the doubles final with partner Galina Voskoboeva.


=============================




FRESH FACE:

Lara Arruabarrena/ESP


...the #113-ranked Spaniard, who won a tour title in Bogota last year and a WTA 125 challenger crown earlier this year in Cali, reached her first regular tour semifinal of 2013 in Seoul. She notched wins over Elina Svitolina, Alexandra Dulgheru and wild card mover-and-shaker Jang Su Jeong.


=============================




DOWN:

Maria Kirilenko/RUS


...well, on the bright side, at least Kirilenko is maybe finding some extra free time for some wedding planning. Ever since the Russian climbed into the Top 10 for the first time after Roland Garros her fortunes have gone decidedly south. She was 27-10 for the season up until her new career height, but had gone just 7-6 since, including a 2nd Round loss to Kimiko Date-Krumm last week as the #2 seed in Seoul, where she's twice reached the final (winning in '08). Kirilenko, currently #19, is in danger of not even finishing the season in the Top 20 after doing so two of the past three years.


=============================




ITF PLAYER:

Shelby Rogers/USA


...Rogers grabbed the USTA's wild card into the U.S. Open main draw by putting up the best results in a series of North American challenger events. Well, she's not playing for a spot in a slam now, but she's still winning. She claimed her third ITF title of the season in a $75K in Albuquerque, breaking good with wins over Sachia Vickery, Veronica Cepede Royg and Anna Tatishvili in the final.


=============================




JUNIOR STAR:

Belinda Bencic/SUI


...the girls Roland Garros and Wimbledon champion picked up her first WTA win in the 1st Round in Tokyo, defeating Daria Gavrilova. She lost today in the 2nd Round to Petra Kvitova.


=============================






1. Seoul Final - A.Radwanska d. Pavlyuchenkova
...6-7(6)/6-3/6-4. A-Rad had lost eleven games in her first four matches before dropping fourteen against the Hordette in the final. By the way, it's easy to forget that Pavlyuchenkova has reached a career-best four finals in '13 (as many as she'd made the last three years combined) -- but that's the case mostly because of the seven players who've done it this season the Russian is by far the lowest-ranked.


=============================


2. Seoul SF - Pavlyuchenkova d. Schiavone
...7-6(11)/7-6(6). Schiavone failed to convert on three set points in the 1st, and it took Pavlyuchenkova five tries herself to lock it away. She eventually won the two and half hour (but just two sets long!!) contest on her third match point.


=============================


3. Seoul 1st Rd. - Jang d. Zakopalova
...6-3/6-1. Just based on the numbers -- #540 vs. #33 -- it'll be difficult to top this one in the Upset of the Year contest.


=============================


4. Seoul QF - Schiavone d. Date-Krumm
...4-6/6-4/6-4. "You make me feel so young," said Francesca to Kimiko... then she beat her in three sets.


=============================


5. Guangzhou Final - Sh.Zhang d. King
...7-6/6-1. Players ranked #100+ in 2013 finals are 2-12 this season, but a win was assured for one of them here, as Zhang was #112 and King #124.


=============================


HM- $25K Dobrich Final - Mayr-Achleitner d. Dinu
...6-1/6-2. The "lucky loser" who reached the U.S. Open 3rd Round has done it again, winning the second of back-to-back ITF challengers as a #1 seed.


=============================






1. Ningbo WTA 125 1st Rd - A.Schmiedlova d. Ka.Pliskova
...6-3/6-3. Slovak sister-on-Czech sister crime, in the post-Czechoslovakian era.


=============================


2. Tokyo Q1 - Watson d. Y.Sema 6-1/6-0
Tokyo Q1 - Torro-Flor d. E.Sema 6-7/6-3/6-1
...last weekend, the Sema sisters were facing off in the Incheon challenger final. They shared an experience in Tokyo this weekend... just not a good one.


=============================


3. Guangzhou 1st Rd - Dolonc d. U.Radwanska 7-5/6-2
Tokyo 1st Rd - Cibulkova d. U.Radwanska 6-3/6-3
...sure, Ula isn't exactly in good form lately, but is it wise for Dominika to poke a Radwanska with a stick when she could possibly face off with Aga again the 3rd Round? I'm sure A-Rad remembers Stanford in even more detail than Cibulkova did Sydney.


=============================








**CAREER WTA TITLES - ACTIVE**


55...Serena Williams
44...Venus Williams
29...Maria Sharapova
20...Caroline Wozniacki
17...Victoria Azarenka
13...AGNIESZKA RADWANSKA
13...Jelena Jankovic
13...Svetlana Kuznetsova
13...Nadia Petrova



**2013 WTA TITLES**


9...Serena Williams, USA
4...Simona Halep, ROU
3...Victoria Azarenka, BLR
3...AGNIESZKA RADWANSKA, POL



**2013 WTA FINALS**


11...Serena Williams (9-2)
6...Victoria Azarenka (3-3)
5...Maria Sharapova (2-3)
4...Simona Halep (4-0)
4...AGNIESZKA RADWANSKA (3-1)
4...ANASTASIA PAVLYUCHENKOVA (2-2)
4...Sara Errani (1-3)



**2013 FIRST-TIME WTA/WTA 125 CHAMPIONS**


Hobart - Elena Vesnina, RUS (age 26, #68)
Memphis - Marina Erakovic, NZL (age 24, #71)
Kuala Lumpur - Karolina Pliskova, CZE (age 20, #127)
Florianopolis - Monica Niculescu, ROU (age 25, #75)
Nuremberg - Simona Halep, ROU (age 21, #58)
Bad Gastein - Yvonne Meusburger, AUT (age 29, #86)
Baku - Elina Svitolina, UKR (age 18, #71) [won WTA 125 in '12]
Guangzhou - ZHANG SHUAI, CHN (age 24, #112)


[first-timers in recent seasons]


2006: 11
2007: 13
2008: 6
2009: 13
2010: 9
2011: 6
2012: 13
2013: 8



**DEFEATED DEFENDING CHAMP, WON TITLE**


Hobart - Elena Vesnina, RUS (Barthel in Final)
Cali 125 - Lara Arruabarrena (Dulgheru in 2nd Rd.)
Memphis - Marina Erakovic, NZL (Arvidsson in 2nd Rd.)
Miami - Serena Williams, USA (A.Radwanska in SF)
Palermo - Roberta Vinci, ITA (Errani in Final)
New Haven - Simona Halep, ROU (Kvitova in Final)
Guangzhou - ZHANG SHUAI, CHN (Hsieh in 2nd Rd.)



**SINGLES/DOUBLES FINAL IN SAME EVENT**


Paris - Sara Errani, ITA (L/W)
Cali 125 - Catalina Castano, COL (L/W)
Tashkent - Olga Govortsova, BLR (L/L)
Guangzhou - VANIA KING, USA (L/L)



**ALL-UNSEEDED FINALS**


Kuala Lumpur - Karolina Pliskova/CZE d. Bethanie Mattek-Sands/USA (WC)
Florianopolis - Monica Niculescu/ROU d. Olga Puchkova/RUS
Birmingham - Daniela Hantuchova/SVK d. Donna Vekic/CRO
Eastbourne - Elena Vesnina/RUS d. Jamie Hampton/USA (Q)
Bad Gastein - Yvonne Meusburger/AUT d. Andrea Hlavackova/CZE
Guangzhou * - Zhang Shuai/CHN (WC) d. Vania King/USA (Q)
--
* - all-unseeded semifinalists



**AGE AT FIRST WTA TITLE - CHINESE**


20 - Yan Zi (2005 Guangzhou)
21 - Zheng Jie (2005 Hobart)
22 - Li Na (2004 Guangzhou)
24 - ZHANG SHUAI (2013 Guangzhou)
25 - Sun Tiantian (2006 Tashkent)



**2013 DOUBLES TITLES - TEAMS**


4...HSIEH SU-WEI & PENG SHUAI, TPE/CHN
3...Sara Errani & Roberta Vinci, ITA/ITA
3...Nadia Petrova & Katarina Srebotnik, RUS/SLO
2...Timea Babos & Mandy Minella, HUN/LUX
2...Andrea Hlavackova & Lucie Hradecka, CZE/CZE
2...Raquel Kops-Jones & Abigail Spears, USA/USA
2...Ekaterina Makarova & Elena Vesnina, RUS/RUS
2...Bethanie Mattek-Sands & Sania Mirza, USA/IND



**LOWEST-RANKED PLAYER TO DEFEAT WORLD #1**


#226 Zhang Shuai def. Safina ('09 Beijing 2nd)
#188 Julie Coin def. Ivanovic ('08 US Open 2nd)
#133 Zheng Jie def. Ivanovic ('08 Wimb 3rd)
#133 Kim Clijsters def. Davenport ('05 IW Final)
#132 Chang Kai-Chen def. Safina ('09 Tokyo 2nd)
#129 Jelena Dokic def. Hingis ('99 Wimb 1st)



**RECENT JUNIOR FED CUP FINALS**


2003 Netherlands d. Canada
2004 Argentina d. Canada
2005 Poland d. France
2006 Belarus d. Russia
2007 Australia d. Poland
2008 United States d. Great Britain
2009 Russia d. Germnay
2010 Russia d. China
2011 Australia d. Canada
2012 United States d. Russia
2013 Russia vs. U.S.





TOKYO, JAPAN (Premier $2.216m/hard court outdoor)
12 Final: Petrova d. A.Radwanska
12 Doubles Final: Kops-Jones/Spears d. Groenefeld/Peschke
13 Top Seeds: Azarenka/A.Radwanska
=============================


=SF=


#1 Azarenka d. Kuznetsova
#2 A.Radwanska d. Pennetta


=FINAL=


#1 Azarenka d. #2 A.Radwanska

...what scares Aga most? Hmmm, I don't know for sure. But I bet Vika is pretty high on the list.



NINGBO, CHINA (WTA $125K Challenger/hard court outdoor)
12 Final: ($100K ITF) Hsieh d. Sh.Zhang
12 Doubles Final: ($100K ITF) Aoyama/Chang d. Luzhanska/Sai.Zheng
13 Top Seeds: Jovanovski/J.Zheng
=============================


=SF=


#1 Jovanovski d. Larsson
#4 Meusburger d. #2 J.Zheng


=FINAL=


#1 Jovanovski d. #4 Meusburger

...BoJo landed in the correct airport and already has a main draw win in Ningbo, so at least she's got that under control. By the way, one look at the draw of this WTA 125 Challenger and you can't help but smirk about how the tour once said these small events were supposed to be designed for young players to get much needed experience, etc.



JUNIOR FED CUP FINAL (Mexico)
12 Final: USA d. RUS
=============================
Russia d. United States

...a rematch of the '12 final, but with a different result without the likes of Townsend, Chirico & Andrews on the Bannerette team.


All for now.