Wk.6- Some New Blood, Along with Some Longtime Favorites
Well, well. Look who's in the Fed Cup semifinals.


A quick rundown of some stand-outs from 2014's first week of Fed Cup action:



*EIGHT THINGS THAT WERE GOOD*




1.

No matter how it came about, what with so many top players M.I.A., there is some new(ish) blood on the Fed Cup scene. The Germans are in their first semifinals since 1995, while the Aussies haven't been there since 1993. Spain still has a shot in the rain-delayed tie with the Czech Republic to advance and reach a first semi since 2008.


=============================




2.

Meanwhile, the Italians -- even without Errani, Vinci, Pennetta or Schiavone -- continue to march forward. On the road, they wiped out the Americans with Karin Knapp leading the way, reaching their sixth consecutive FC semifinals.


=============================




3.

Belinda Bencic. Wow. The 16-year old has looked spectacular and played totally without newbie nerves versus big-name opponents in the early weeks of 2014, and in her FC singles debut she was, quite frankly, maybe even better. The Swiss teen stunned Alize Cornet in front of a Parisian crowd on Day 1, then completed her second straight sets win of the weekend on Day 2 over Virginie Razzano. In the deciding doubles, she failed to serve out the 1st set against Bacinszky & Kristina Mladenovic and the Pastries went on to win 7-5/6-4 to advance, but a new star now looks without question to have been born in the early months of the new season.


=============================






4.

The Canadians. With Genie Bouchard and Aleksandra Wozniak leading the charge against an Ana & JJ & BoJo-less Serb team shackled with the presence of "Serbian Bad Luck Charm" Vesna Dolonc (who blew a 5-1 1st set lead vs. A-Woz in Day 1's loss, then opened Day 2 by losing the first set at love in eighteen minutes in the tie-clinching loss vs. Bouchard), Team Canada is on to a World Group playoff for the first time since 2004. The Canadians haven't reached the final eight since 1988.


=============================




5.

Aga Radwanska. The most underappreciated FC player on tour, A-Rad (surprise, surprise) carried the Polish team past the Swedes on the road, extending her FC singles winning streak to twelve matches (her last loss in Polish colors came vs. Azarenka three years ago), and then teaming with a countrywoman not named Ula (it was Alicja... Alicja Rosolska) in the deciding doubles. For the first time, Aga will now play in a World Group playoff this spring.


=============================




6.

Romania, step right up. One team that looked like a winner and turned out to be one was the quartet of Simona Halep, Sorana Cirstea, Monica Niculescu and Irina-Camelia Begu. Advancing into the Group II playoffs out of Europe/Africa I zone play, Romania could very well be a big-time FC player come the 2015-16 seasons, especially if the other nations continue to put up "B" or "C" teams against this "A" group of Swarmettes.


=============================




7.

Luksika Kumkum, proving that her Australian Open success was no fluke. After upsetting Petra Kvitova in Melbourne, the 20-year old Thai led her nation's rise from Asia/Oceania I zone play with good work in both singles and doubles as Thailand outran the Kazakhs and Chinese to win a promotion.


=============================




8.

And, of course, Samantha Stosur. On Aussie soil, no less. Sure, she was playing against Fed Cup neophytes, but Sam led the Aussies into the semis by ending her six-match World Group losing streak. Doing it in Hobart was a bonus. Australia will host Germany in the semifinals this spring, right in the middle of the EuroClay season. Will Stosur be there? Said Sam, before the site was confirmed, "It would be nice if it was in Europe for my own selfish reasons. And everyone else, I guess will be heading to Europe. But we will see what happens with the draw and go from there." With so much as stake, it'd be a tough decision for Stosur to stay away... from either Europe or Australia.



*FOUR THINGS THAT WEREN'T*




1.

The Chinese, who finally posted a "B"-level team in Asia/Oceania I zone play, then only played their two best singles players (Top 50ers Peng Shuai & Zhang Shuai) in one of eight singles matches. Instead, players ranked #256 and #312 were sent into battle. Again, the nation failed to advance out of zone play.


=============================




2.

Ditto for the Kazakhs, who seem to be poised with enough talent to make at least a little noise, but very rarely do. In the same A/O I zone section as China, the Kazakhs also failed to advance, felled by the continued exploits of AO upset queen Kumkhum and vet Tammy Tanasugarn, who knocked off the Kazakhstan team in doubles to claim the pool they shared. In a fitting conclusion to the weekend, the disappointing Kazakhs defeated the equally disappointing Chinese to finish in 3rd place in the zone. Yippee.


=============================




3.

The Slovaks. Sure, they had the toughest World Group opponent of them all in a German team that was stacked with talent even without the injured Sabine Lisicki. But the Slovaks were probably the second most talented team in WG action this weekend, with a nice blend of veteran and young players who last year very nearly reached SVK's first FC final in more than a decade. But after blowing a 2-0 Day 1 lead vs. Russia in the 2013 semifinals, the Slovaks continued such missed-it-by-that-much play this weekend. AO finalist Dominika Cibulkova held match point in Match #1, but lost. Daniela Hantuchova held set point in Match #2, but lost in straights. On Day 2, Cibulkova opened things by dropping the first nine points of her match against Angelique Kerber as the Germans swept the singles.


=============================




4.

Mary Joe Fernandez. Whether it be bad luck (vs. the fightin' Italians in the 1st Rd.) or injuries (to Serena Williams, Sloane Stephens and Jamie Hampton), MJF always seems to have a ready reason to get her off the hook for the U.S.'s continued Fed Cup failures. But, unlike with the woeful U.S. men's Davis Cup team, Fernandez has a deep and/or young pool of players to build a roster from these days. Still, MJF can't get anything accomplished unless the Williams Sisters put the team on their backs and carry it over the finish line. Hosting a tie in Cleveland against the defending FC champs, and with the "big" stars sitting out for Team Italia, the Bannerettes still had zero chance to emerge with a victory and advance to a FC semifinals that would suddenly look very winnable with Serena's assistance (w/ AUS, GER and ESP or CZE joining the mix). With Bethanie Mattek-Sands not in attendence, and Varvara Lepchenko in Doha, the U.S. debuted three new FC roster members, but it was MJF's decisions that made the mountain to climb even steeper for the team. With Christina McHale barely out of the shadow of a long '13 slump, and with a long history of folding in clutch situations (not too many players can squander a 5-0 set lead in a slam match, you know), MJF put her up against the Italian #1, Karin Knapp. It didn't work, then Madison Keys was but a shadow of a promising player while faced with the pressure put on her shoulders that McHale's Match #1 loss had applied. Meanwhile, surging Alison Riske was left on the bench until Day 2, where she put up a better effort than Keys, while Cleveland native Lauren Davis (who's arguably shown more on-court fire and moxie than any of her teammates over the past year) never got onto the court in singles. Really, if MJF thought that her best chance of winning, or even competing, in the tie vs. Italy was to rely upon McHale's fragile psyche, one has to question her judgment. Of course, Fernandez can't be expected to make good coaching decisions without the Williamses, Sloane or any other name players on the team, right? Well, tell that to Amelie Mauresmo, and Anastasia Myskina. Those coaches' decisions gave a tricky tie and a lost cause either a brilliantly-devised path to victory where France is concerned, or at least was a well-crafted class in allowing young players to get their feet wet without submerging their entire head under water in the case of the Russians.



*ONE THAT'S STILL IN QUESTION*


Rain marred both days of action in the World Group tie between Spain and the Czech Republic in Seville. Due to delays, it took six hours to complete a 52-minute match on Saturday. With just one match in the books for Day 1, Day 2 didn't even achieve that less-than-lofty goal, and only a set and two games were completed in Match #2 before things were called off for the day. They'll try all over again on Monday.



*ONE THAT RAISES A FEW QUESTIONS ABOUT KARMA*


A week after a pair of Russians swept the WTA's singles titles in Paris and Pattaya, and in the same week as the start of the Sochi Olympics at which both Elena Vesnina and Maria Sharapova participated in the final legs of the torch relay as the flame made its way to the lighting ceremony that officially opened the Games, the Russian Fed Cup team was again met with mass indifference from the top thirteen Hordettes in the WTA rankings. Hmmm, I guess the tennis federation wasn't involved in any of those "alleged" (wink, wink) kickback schemes that helped balloon the bill for the Sochi Games to astronomical levels. It'll be interesting to see how the Russian FC roster takes shape over the next year. This is the Hordettes' first 1st Round loss since 2006, but unless things change the four-time champions will likely find themselves having fallen into zone play by the end of 2015.



*AND ANOTHER THAT I'LL CONTINUE TO BRING UP AT THIS TIME EACH YEAR*


The past few seasons in this space, I've used the occasion of the first FC weekend of the year to comment on how great it would be if the Fed Cup adopted the same rule that Davis Cup uses regarding doubles matches. Namely, that each tie's doubles match be moved from the #5 to #3 position, making it a viable match in EVERY tie, not to mention allowing all team members to contribute in a "live" rubber and bringing about some interesting coaching decisions, since top singles players would be potentially-necessary doubles team choices while still possibly having to play an additional singles match later (and, with best-of-three matches in play, the ties wouldn't have to be stretched from two to three days, unlike with DC). I've always longed for the sort of dramatic winner-take-all singles matches that would occur if the FC adopted the DC format. Last year there was at least a change -- the decision to move the doubles match up from #5 to the #4 dead rubber position if the first three singles matches are won by the same nation, throwing at least a small bone to the doubles participants.

This year, with some top players arriving injured (or healthy and simply begging off by choice) and confining themselves to doubles (Safarova, for example) moving the usual #5 match to #3 would have meant that those players would have been assured of taking part in a "live" match. Who knows, such a thing might even lure a few bigger names to the table on the first FC weekend if they knew they could still be a meaningful part of the tie and not be pressured into tiring themselves out by also playing singles right after the Australia/Asia swing, and immediately before a big event in Doha.

Hey, a Backspinner can dream, right?



*WEEK 6*



=1st Round=


Italy def. United States (H) 3-1
[ Spain (H) leads Czech Republic 1-0]
Germany def. Slovak Republic (H) 3-1
Australia (H) def. Russia 4-0


=World Group II=


Canada (H) def. Serbia 3-1
Poland def. Sweden (H) 3-2
France (H) def. Switzerland 3-2
Argentina (H) def. Japan 3-1


=Zone I Promotion Finals=


[Europe/Africa]: Netherlands def. Belarus 2-0
[Europe/Africa]: Romania def. Ukraine 2-0
[Americas]: Brazil def. Paraguay 2-0
[Asia/Oceania]: Thailand def. Uzbekistan 2-1


=Zone II Promotion Finals=


[Asia/Oceania]: Hong Kong def. Philippines 2-0


=Zone III Promotion Finals=


[Europe/Africa]: Estonia def. Denmark 2-0
[Europe/Africa]: Ireland def. Greece 2-1

[1st Rd. MVPs]



Andrea Petkovic/GER

(overall P.O.W.)
...all right, I know a better case can probably be made here for Angelique Kerber, who took out both Daniela Hantuchova (saving set points in the 1st) on Day 1 and then Dominika Cibulkova on Day 2, both in straight sets, to close out this tie and send Germany to the semis. But Petkovic set the tone for the entire weekend, simultaneously waking the echoes of Germany's FC past (champs in '87 and '92, but having not won a 1st Round WG tie since 2002) and the Slovaks' recently bad, psyche-stabbing history (blowing a 2-0 lead vs. Russia in the semis last spring) when she opened the tie on Saturday by saving match point against AO finalist Cibulkova and gave the Germans a momentum-grabbing 1-0 lead. After dropping the 1st set, Petkovic -- playing a big role because of Sabine Lisicki's shoulder injury -- was forced to hold at 4-5 and 5-6 to stay in the match and force a tie-break in which she raced to a 5-0 lead. But Cibulkova reeled off six straight points to reach match point, only to dump a weak service return into the net. Petkovic went on to win 2-6/7-6(6)/6-2, and the rest was history as Kerber cleaned up what was left of the Slovak team. Petkovic didn't play another game all weekend... but she didn't have to. Her work was done.


=============================




Samantha Stosur/AUS


...Stosur playing matches in Australia is rarely ever something to look forward to, but it seemed a pretty safe bet when the Aussies faced off with Anastasia Myskina's band of newbies in Hobart. As it turned out, it was, too. Not that it was always especially easy, as Stosur took on 16-year old Veronika Kudermetova in the second match of Day 1. Sporting a big serve and few nerves, the Junior FC star was in the 1st set all the way, getting broken for 3-4 but immediately breaking back a game later. Stosur won the set 6-4, but Kudermetova's service games were good enough to prevent the Aussie from registering a winner on the Russian's serve during the set. The Aussie took the 2nd at love, then wiped out Victoria Kan (who says Stosur is her favorite player) on Day 2, 6-2/6-3, to clinch the tie. Stosur won 24 of 25 of her first serves vs. Kan.


=============================






Karin Knapp/ITA


...no Sara. No Roberta. No Flavia. No Francesca. No problem. Knapp has become a known player in her own right over the past year, and if her AO battle with Maria Sharapova was her audition for bigger things, the Italian's performance in Cleveland was her first award-winning effort in a lead role. Opening things with a three-set takedown of Christina McHale, Knapp not only took the heart out of the Bannerette, she removed any emotion from the crowd that might have kicked up has the Americans actually, you know, been able to win a match when it mattered. Faced with a more game Alison Riske on Day 2, Knapp simply went about her business and clinched the tie with a 6-3/7-5 win, even it did take her serving for the match three times to do it. Closing out is closing out, no matter how it comes about. Right, Domi? Nope... no Slovaks around these parts.


=============================




TBD


...the Czech/Spain tie in Seville is set to continue on Monday after rain prevented all but three sets and change from being completed. With Petra Kvitova already out with a virus, Lucie Safarova limited herself to doubles action with her own illness (hmmm, might that change with things going several days past the original end date, should things come down to a singles match with say, the Czechs up 2-1?). Carla Suarez-Navarro defeated replacement-for-a-replacement Barbora Zahlavova-Strycova in Match #1, but Klara Zakopalova was up a set and a break against Maria Teresa Torro-Flor in Match #2 when things were called off for the weekend.

I'll add a section at the end of this post when (or if?) this tie is finished. So, to be continued...


=============================





[WG II MVPs]




Eugenie Bouchard/CAN


...Aleksandra Wozniak laid down the foundation for Canada's win over Serbia, then Bouchard put up the walls and topped things off by placing the roof over the weekend with an dominating win over "Serbian Bad Luck Charm" Vesna Dolonc. In her two matches against Jovana Jaksic and Dolonc, Bouchard produced two love sets, allowed just four games and was on court for just 108 minutes.


=============================




Agnieszka Radwanska/POL


...Aga has done some pretty heavy lifting the last couple of years raising the Polish Fed Cup team from the depths of zone play to now within one tie victory of reaching the 2015 World Group. In Sweden, she was at it again. While Katarzyna Piter went 0-2 against Sofia Arvidsson and Johanna Larsson, A-Rad went 2-0 AND joined with Alicja Rosolska to win the deciding doubles over both Arvidsson & Larsson. Radwanska, with a 12-match FC winning streak, is now 31-6 in singles and 7-1 in doubles in Fed Cup play.


=============================






Alize Cornet/Kristina Mladenovic, FRA


...a case could be made for teenager Belinda Bencic, even in the ultimately losing Swiss effort, being the MVP in the FRA/SUI tie, as her 2-0 singles record, on the road, in her FC singles debut might have been THE performance of the weekend. A case could also be made that French coach Amelie Mauresmo's decision to put Virginie Razzano into Match #1 (she handily defeated Stefanie Voegele), then to keep Mladenovic fresh for what became the deciding doubles match, made her the most valuable woman in Paris this weekend. But I'll go the MJF-styled, simpler route and pick the French doubles team that locked away the tie. Bacsinszky/Bencic actually served for the 1st set, but the Pastries took the match 7-5/6-4 to clinch the 3-2 win. An additional nod to Cornet for her nice comeback on Day 2 after falling to Bencic to close out play on Saturday. She came back on Sunday to have a hand in both the Day 2 points (def. Bacsinszky 6-2/7-6) claimed by France in the victory.


=============================




Paula Ormaechea/ARG


...in what was probably the quietest tie of the weekend, even with an opening match that last 3:39, Ormaechea continued to prove herself to be a true FC star for Argentina. On the clay in Buenos Aires, Ormaechea notched wins over Misaki Doi and Kurumi Nara to push her FC record since 2012 to 11-1 (with her only loss coming via retirement).


=============================





[Zone Play MVPs]




Simona Halep/ROU


...Halep didn't go undefeated in Romania's promotion from the Europe/Africa I zone, losing in pool play vs. Timea Babos (HUN), but when push came to shove it was the nation's first Top 10 player in nearly twenty years who locked away the promotional playoff victory over Ukraine with a win over Elina Svitolina, who HAD previously been undefeated for the week.


=============================




Kiki Bertens/NED


...she led the way in the Netherlands' perfect week, as the Dutch team won all eleven matches played. Bertens went 4-0 in singles, notching impressive pool play wins over Yanina Wickmayer and Donna Vekic, then clinched the promotional playoff triumph over Belarus with a victory over Olga Govortsova.


=============================




Teliana Pereira/BRA


...the South American FC teams are starting to become more and more competitive, and Brazil won out over a handful of them in Americas I zone play, going 10-0 in matches played. The most impressive win might have been a sweep of Colombia, in which Pereira defeated Mariana Duque-Marino. In the promotional playoff, Brazil defeated host nation Paraguay as Pereira knocked off Veronica Cepede Royg to run her record for the week to 3-0.


=============================



Luksika Kumkhum/THA


...what Petra Kvitova learned about the never-say-die Thai in Melbourne, Yaroslava Shvedova already knew. Kumkhum's upset of the Kazakh in pool play, by a 0-6/6-4/6-1 score, then additional win in doubles (w/ Tamarine Tanasugarn) over Shvedova and Galina Voskoboeva in doubles gave Thailand the edge it needed to claim Pool A. In the promotional playoff vs. Uzbekistan, after the team fell behind 0-1 when Noppawan Lertcheewakarn dropped the opening match to 19-year old Sabina Sharipova, Kumkhum knotted things with a win over Nigina Abduraimova, and then she and Tanasugarn again won another big doubles match to win the playoff with a three-set win over Abduraimova & Sharipova. Oddly enough, Kumkhum's performance against Kazakhstan and Shvedova were almost identical to her exploits of a year ago in this same zone. In 2013, after Shvedova had double-bageled her first opponent, the Kazakh opened with a bagel 1st set win over the Thai, only to see Kumkhum come back to win 0-6/6-4/6-4


=============================




Zhang Ling/HKG


...the 24-year old, ranked #360, went 4-0 in singles, leading the way in the first part of a promotional playoffs win over India before Hong Kong's defeat of the Philippines in the final promotional playoff round.


=============================




Kaia Kanepi/EST


...if host nation Estonia hadn't emerged from the Europe/Africa III it would have fallen on Kanepi's shoulders, as she was by far the best player in action in the zone (with teammate Anett Kontaveit likely the 2nd-best). As expected, Kanepi went 3-0 in singles and dusted off Danish #1 Karen Barbat (Caro wasn't there) to clinch the promotional playoff win over Denmark.


=============================




Amy Bowtell/IRE


...in her first FC action since 2012, the 30-year old world #636 carried the Irish team on her back as it emerged from the not-exactly-loaded-with-talent section (a pool vs. Iceland and Malta?) of the Europe/Africa III zone. Bowtell went 3-0 in both singles and doubles, having a hand six of the seven points won in Ireland's three ties, and erased a 0-1 deficit in the promotional playoff vs. Greece.


=============================





[RISER]






Angelique Kerber/GER


...with her wins over Daniela Hantuchova (saved SP in a 1:07 1st set) and Dominika Cibulkova (winning the first nine points in the match en route to the singles-sweeping tie-clinching win) were arguably the most impressive of the weekend this side of Belinda Bencic.


=============================





[FRESH FACES]






Belinda Bencic/SUI


...could a young player have had a better open to her debut WTA season than this sixteen year old? Bencic qualified for the AO and made her slam debut with a 1st Round win over a player (Kimiko Date-Krumm) 27 years her senior before pushing eventual champ Li Na in the 2nd Round (losing a 7-5 2nd set TB). Well, all she did in her FC singles debut was upset both Alize Cornet (from 5-2 down in the 1st) and Virginie Razzano -- in straight sets -- in front of a French crowd to twice knot the FRA/SUI tie. Sure, she eventually ended her busy weekend by losing with Timea Bacsinszky in the deciding doubles, failing to hold while trying to serve out the 1st set in a straight sets loss. But why quibble with that? Bencic still had an awesome weekend.


=============================




Richel Hogenkamp/NED


...the 21-year old Dutch matched MVP Berten's undefeated record for the week, going 4-0 with wins over Petra Martic, An-Sophie Mestach and Aliaksanda Sasnovich.


=============================




Elina Svitolina/UKR


...going 3-0 in pool play with wins over Yvonne Meusburger and Shahar Peer, 19-year old Svitolina is showing signs of being the FC leader the Ukrainian team needs. Last year, she notched Fed Cups wins over both Genie Bouchard and Sharon Fichman in Ukraine's 3-2 loss to Canada in the WG II Playoffs.


=============================




Anett Kontaveit/EST


...the 18-year old matched veteran Kanepi's undefeated mark for the week, also going 3-0.


=============================




Sabina Sharipova/UZB


...the 19-year old went 4-0 in singles in Uzbekistan's ultimately unsuccessful attempt to advance out of zone play, a run which included a promotional playoff match win over Noppawan Lertchweewakarn that had put the Uzbekis up 1-0 over the Thai team.


=============================





[JUNIOR]




Nina Stojanovic/SRB


...not a lot to choose from, so I'll go with the 17-year old Serb making her FC debut in Montreal in the tie with Canada. After her teammates went 0-3 in singles, Stojanovic, a 1st Round loser in the AO girls singles last month, joined with Jovana Jaksic to take out the fine doubles duo of Gabriela Dabrowski and Sharon Fichman in a 2-6/6-3/10-8 match to get Serbia's only point of the weekend.


=============================





[SURPRISES]




Lyudmyla Kichenok/Olga Savchuk, UKR


...while sister Nadiya was on the team, and had been slated to play doubles with Savchuk in the promotional playoff vs. Romania, Lyudmyla played all three pool play doubles matches with Savchuk by her side rather than her twin sister. While the two unrelated Ukrainians couldn't have been as in-sync as the Kichenoks, they still went 3-0.


=============================





[VETERANS]




Aleksandra Wozniak/CAN


...A-Woz's FC history goes all the way back to 2004, the last time the Canadians reached a World Group playoff. She recorded her 30th career FC singles win with the tone-setting, three-set victory over Vesna Dolonc in the very first match in Montreal. Wozniack is a combined 38-9 in singles/double Fed Cup play.


=============================




Tamarine Tanasugarn/THA


...yes, she's still around. At 36 and a veteran of over fifty FC ties (her first was in 1993), Tammy showed that she's still got something to give, too. Twice during Thailand's run to promotion form the Asia/Oceania I zone, Tanasugarn teamed with Luksika Kumkhum to win deciding doubles matches, including in the promotional playoff vs. Uzbekistan.


=============================





[COMEBACK]




Casey Dellacqua/AUS


...in her first FC singles action since 2009, Dellacqua opened up the AUS/RUS tie with a dominating 6-0/6-2 win over young Russian Irina Khromacheva, then came back with Ashleigh Barty to defeat Khromacheva (what'd she do to Casey???) and Solovyeva to complete the shutout of the Hordettes in the final match.


=============================





[DOWN]




The Slovaks


...again. Well, at least they didn't blow a 2-0 lead this time.


=============================




Team Serbia


...again. No Ana, JJ or Bojo, and barely even a point. Since reaching a first-ever FC final in 2012, the Serbs have lost four straight ties.


=============================




Vesna Dolonc/SRB


...the symbol of the Serbia's post-2012 ineptitude has to be Dolonc. Placed into key positions immediately after becoming a new Serbian citizen last year, with little success, the ex-Hordette continued to put up swirling-down-the-drain, momentum-eradicating results for Serbia. Just this weekend alone, Dolonc squandered a 5-1 1st set lead against Wozniak in Match #1 to kick off the nation's latest butt-kicking, then won just seven total points in an 18-minute 1st set against Bouchard to open Day 2. So far, the "Serbian Bad Luck Charm" has gone 1-4 in singles & doubles (with the singles win coming via retirement in a match she was losing 6-4/5-4) while playing FC with "SRB" next to her name, and the Serbian team has yet to win a tie with her on the roster.


=============================




Kazakhstan & China


...so much potential, but so few real results. With China, it's mostly due to a lack of really trying now that the Beijing Olympics are way back in the rear view mirror. With Kazakhstan, the team rosters seem fine, but the players just don't come through when it counts. A year after Yaroslava Shvedova went 1-2 in singles in first week zone play, she twice failed to get wins -- in singles and doubles -- in a tie vs. Thailand which decided the pool winner and, ultimately, which team would be promoted from the zone.


=============================





ITF PLAYER:

Olivia Rogowska/AUS


...the 22-year old Aussie won the $50K Launceston challenger Down Under, defeating Pastry Irena Pavlovic in a 5-7/6-4/6-0 final. Rogowska has won ten career ITF singles titles, all in Australia, and eighteen of her nineteen finals have come back home, as well. She also claimed the doubles crown with Monique Adamczak.




1. WG 1st Rd. - Petkovic (GER) d. Cibulkova (SVK) 2-6/7-6(6)/6-2
WG 1st Rd. - Kerber (GER) d. Cibulkova (SVK) 6-3/7-6(5). Ummm. Maybe we should hold off a little while on all the "new woman" talk when it comes to Cibulkova? You know, until we have a little more evidence.


=============================


2. WG II - Bencic (SUI) d. Cornet (FRA)
...7-5/6-4. Bencic ran off seven straight games to steal the 1st set and grab an advantage in the 2nd. I thought the time was past when sixteen year olds had these sort of debuts. Hmmm... but maybe if you're Swiss and are coached by Melanie Molitor it's simply what HAS to happen, no matter the decade.


=============================


3. A/O I Pool Play - Kumkhum (THA) d. Shvedova (KAZ) 0-6/6-4/6-1
A/O I Pool Play - Kumkhum/Tanasugarn (THA) d. Shvedova/Voskoboeva (KAZ) 6-4/7-6
A/O I Promotional Playoff - Kumkhum/Tanasugarn (THA) d. Abduraimova/Sharipova (UZB) 6-2/3-6/6-4
...this Kumkhum thing is starting to get serious.


=============================


4. WG 1st Rd. - Knapp (ITA) d. McHale (USA)
...6-3/3-6/6-1. Any spare thoughts that McHale would come through in the clutch went astray somewhere around when Knapp took a 4-0 lead in the decisive 3rd set.


=============================


5. WG II - Wozniak (CAN) d. Dolonc (SRB)
...7-5/2-6/6-4. How do you spell "bad luck charm?" Ummm, maybe double-faulting on your opponent's set point after having already blown a 5-1 lead. Yeah, I know... you actually spell it D-O-L-O-N-C.


=============================


6. WG II - Cornet/Mladenovic (FRA) d. Bacsinszky/Bencic (SUI)
...7-5/6-4. Hmmm, maybe Kiki has found yet another doubles partner?


=============================


7. WG II - Irigoyen (ARG) d. Nara (JPN)
...6-7/6-4/6-4. Not many people were paying close attention, but world #173 Irigoyen took out world #65 Nara on her fourth MP in a 3:39 match that kicked off what turned out to be a far more competitive (even with a 3-1 final score) tie than had been expected on the red clay in Argentina.


=============================


8. E/A I Promotional Playoff - Halep (ROU) d. Svitolina (UKR)
...6-3/7-5. Okay, thus ends any sideways-glancing comparisons to Current Sloane.


=============================


HM- WG 1st Rd. - Barty/Dellacqua (AUS) d. Khromacheva/Solovyeva (RUS)
...6-1/6-3. The Aussies weren't big on being charitable this weekend, not even allowing the Hordettes a single point in the 4-0 shutout. Why, it was as if Vika Azarenka was on the other side of the net. You know, Russian and Belarusian aren't the same thing, don't you Casey? Ash?


=============================






WG II - A.Radwanska/Rosolska (POL) d. Arvidsson/Larrson (SWE)
...6-2/6-2. Ula who?


=============================








**OVERALL FED CUP TITLES**


17...United States
6...Australia
5...Czechoslovakia
5...Spain
4...Italy
4...Russia
2...Czech Republic
2...France
2...West Germany/Germany
1...Belgium
1...Slovak Republic
1...South Africa


[2000's]


4...Italy
4...Russia
2...Czech Republic
1...Belgium
1...France
1...Slovak Republic
1...United States


[2010's]


2...Czech Republic
2...Italy



=2014 Semifinals=


Germany vs. Australia
Italy vs. Czech Republic/Spain winner


=World Group I Playoffs=


Argentina
Canada
France
Poland
Russia
Slovak Republic
United States
+Czech Republic/Spain loser


=World Group II Playoffs=


Brazil
Japan
Netherlands
Romania
Serbia
Sweden
Switzerland
Thailand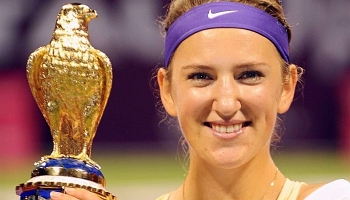 ...ah, has it already been a year?







DOHA, QATAR (Premier $2.4m/hard outdoor)


13 Final: Azarenka d. S.Williams
13 Doubles Final: Errani/Vinci d. Petrova/Srebotnik
14 Top Seeds: Li/A.Radwanska
=============================


=SF=


#1 Li d. #5 Jankovic
#2 A.Radwanska d. #7 Halep


=FINAL=


#2 A.Radwanska d. #1 Li

...one of the biggest matches of 2013 was the Doha final in which Azarenka took out Serena. Well, neither are here this week. So, Li should be able to take over the #2 ranking no matter what happens here. She's yet to lose in '14, but has a potentially rocky draw, so I'll go with Aga.


All for now.







MONDAY UPDATE:





*THREE MORE THINGS THAT WERE GOOD...at least for the Czechs*




1.

Never giving up. For surely the Czechs could have done that when team leader Petra Kvitova was too ill to head to Seville for the 1st Round match-up with Spain. If not then, when replacement-leader Lucie Safarova suddenly begged off of singles due to still more illness before the start of the tie would have surely been another time for the Czech team to throw up their collective hands. How about after dropping the first match, and then having rain destroy the schedule for the entire weekend? Oh, wait...


=============================




2.

The rain took away any real momentum that the Spaniards might have been able to gather over the weekend. And then...


=============================




3.

As I theorized might be a possibility, the extra time seemed to have (partly) healed Safarova enough for the '12 FC star to swoop in when the Czech team's back was against the wall on Monday as she DID ultimately take the court in singles with the Spanish team one win away from advancing to the semis.


=============================





=WG 1st Round=


Czech Republic def. Spain (H) 3-2



1st Rd. MVPs:

Andrea Hlavackova/Barbora Zahlavova-Strycova, CZE




RISER:

Carla Suarez-Navarro/ESP




COMEBACK:

Lucie Safarova/CZE


...after Klara Zakopalova finished off Maria Teresa Torro-Flor in Match #2 (but not until after dropping six straight games from the jump to allow the Spaniard to erase her 6-3/2-0 lead and send things to a 3rd), then lost in three herself to Carla Suarez-Navarro (who did her job as the Spanish #1, going 2-0 for the tie), Safarova rose from the bench to attempt to level things for a second time. In the third straight three-set singles clash of the day, Safarova outlasted Silvia Soler-Espinosa to send things to the deciding doubles. There, even without longtime former doubles partner Lucie Hradecka around, Andrea Hlavackova was called upon to save the Czech team with a different countrywoman by her side. It turned out to be replacement roster member Barbora Zahlavova-Strycova, who'd opened this tie seemingly eons ago in that 52-minute match that took six hours to complete on Saturday. After saving two set points in the 1st, the Czechs claimed the momentum-grabbing tie-break and went on to win 7-6(7)/6-3 to complete the comeback and take the tie 3-2 to put the Czechs into their sixth consecutive FC semi. They'll face the defending champion Italians in a semifinal match-up that will happen for a third consecutive year (fourth in five). In the three previous ties -- 2010, '12 & 13 -- the winner of CZE/ITA went on to take the FC title.



**RECENT CZE/ITA SEMIFINAL MEETINGS**


2010 Italy d. Czech Republic
2012 Czech Republic d. Italy
2013 Italy d. Czech Republic
2014 ??


All for now... and this time I mean it.