Wk.41- Where There's a Radwanska There's a Way
If you're thinking that an Aga-taking-selfies open to this week's Backspin HAS to be good news, well...
ding-ding-ding, you'd be right!
@ARadwanska selfies from @ChinaOpen pic.twitter.com/IEv7jKWrpc

— Aga Radwanska (@ARadwanskaLive) October 15, 2015


Radwanska's week in Tianjin opened with new friends by her side...


Our girl at the Tianjin Open players party :) pic.twitter.com/RoAufpSztZ

— Aga Radwanska (@ARadwanskaLive) October 12, 2015


It closed with another, more shiny, one having taken their place. Aga's latest BFF didn't have much to say, for sure, but that they were able to get together at all means she won't have to take that trip to Moscow she'd been dread-... err, I mean planning had that ChampionsOnly.com match not worked out so well.


Sweet 16! @ARadwanska captures 16th career #WTA title at the #TianjinOpen--> http://t.co/obuwS5UlaM pic.twitter.com/1TH8Fdztr7

— WTA (@WTA) October 18, 2015


Up to #6 in the new rankings, Radwanska is now staring directly at the possibility of a fourth straight Top 6 finish. Go figure. After a 15-13 start to her season, a slump which had the Aga faithful lamenting all that had been lost, she's put together a 33-10 rush since the end of Roland Garros, including a two title-winning, 14-2 flourish since the close of the U.S. Open.

Who says you can't turn around a "bad" season, reversing your fortunes and re-writing an entire season's storyline over the span of just a few months?


You can change the direction of this train just by thinking about it. pic.twitter.com/E1j4rt7KJj

— WTF Facts (@WTFFacts) October 12, 2015


Maybe Aga simply thought about it and made it so... just like with that train.



*WEEK 41 CHAMPIONS*
TIANJIN, CHINA (Int'l $427K/HCO)
S:

Aga Radwanska/POL def. Danka Kovinic/MNE 6-1/6-2


D:

Xu Yifan/Zheng Saisai (CHN/CHN) d. Darija Jurak/Nicole Melichar (CRO/USA) 6-2/3-6 [10-8]
HONG KONG, CHINA (Int'l $227K/HCO)
S:

Jelena Jankovic/SRB def. Angelique Kerber/GER 3-6/7-6(4)/6-1


D:

Alize Cornet/Yaroslava Shvedova (FRA/KAZ) d. Lara Arruabarrena/Andreja Klepac (ESP/SLO) 7-5/6-4
LINZ, AUSTRIA (Int'l $227K/HCI)
S:

Anastasia Pavlyuchenkova/RUS def. Anna-Lena Friedsam/GER 6-4/6-3


D:

Raquel Kops-Jones/Abigail Spears (USA/USA) def. Andrea Hlavackova/Lucie Hradecka (CZE/CZE) 6-3/7-5

She's in! Radwanska routs Kovinic 6-1, 6-2 to win #TianjinOpen and qualify for #WTAFinals: http://t.co/SfsiWjOVpx pic.twitter.com/uUsDhNC4fe

— TENNIS.com (@Tennis) October 18, 2015



PLAYER OF THE WEEK:

Aga Radwanska/POL


...I'm not sure anyone came into the 4Q truly expecting a great post-U.S. Open Asian swing that would enable Radwanska to qualify for the WTA Finals for a fifth straight season, but that's precisely what Aga has accomplished over the past few weeks. In Tianjin, the Pole won her second title of the fall (after the Tokyo Premier event, with a Beijing SF mixed in for good measure), becoming the first woman this season to win TWO '15 titles without dropping a set in either week. Radwanska (sporting the athletic tape-covered shoulder look again) swept through the likes of Olga Savchuk, Wang Qiang, Elizaveta Kulichkova, Karolina Pliskova and first-time finalist Danka Kovinic to claim career title #16 and punch her ticket for Singapore. With her work done and heading off to Moscow (and then back to Asia again next week) now a totally unnecessary round trip, Aga pulled out of this week's Kremlin Cup after securing the title. Whew!

Tennis: @ARadwanska wins Tianjin Open, books spot in @WTA Finals in Singapore. http://t.co/L5gwEroi7p pic.twitter.com/yGvHlqhev6

— ST Sports Desk (@STsportsdesk) October 18, 2015
===============================================
What a AMAZING and COOL city #HongKong pic.twitter.com/u3jETaWCp8

— Angelique Kerber (@AngeliqueKerber) October 12, 2015



RISERS:

Angelique Kerber/GER & Aleksandra Krunic/SRB


...Hong Kong finalist Kerber got within one victory (which also would have given her five titles this season, tying Serena Williams for the tour lead) of assuring herself a spot in Singapore, but her three-set loss to Jelena Jankovic in the championship match means, unlike Aga, she WILL be in Moscow this week looking to makes things official. The German's wins over Francesca Schiavone, Kurumi Nara, Caroline Garcia and Samantha Stosur DID allow her to tie for the tour lead with her fifth appearance in a final, though, as her post-U.S. Open string of events in the 4Q have produced, in order, a quartet (QF-SF-QF-RU) of consistent, though not spectacular, results that have lifted her back up to #7 in the rankings. Meanwhile, in Linz, Krunic put together her best string of outings since early this summer, when she went 8-3 (all but one win coming on the grass) and reached a career high of #62 in July. After arriving in Austria on a 1-8 skid, The Bracelet got qualifying victories over Anastasija Sevastova and Amandine Hesse, then polished off two of her five biggest wins of the season in the MD against #49 Mona Barthel and #17 Roberta Vinci. Krunic's previous '15 bests all came against Italians, including Vinci on two other occasions (as #35 at Wimbledon and #45 in Bucharest), as well as a win over #19 Sara Errani at SW19. Not facing another Italian, Krunic lost to Anastasia Pavlyuchenkova in the Linz QF.

Of course, she also had this unfortunate moment last week:


When you try to show off but it goes all wrong pic.twitter.com/DiWxNgTKed

— WTA Reactions (@WTAreactions) October 16, 2015


But she CAN pull off that shot, though. See?


Tweener denemesiyle puani kazanan Krunic https://t.co/dLV3lWbgzN

— Vine Trend (@VineTrend) June 21, 2015


Don't worry, Bracelet... Backspin's got your back.


===============================================




SURPRISES:

Anastasia Pavlyuchenkova/RUS & Anna-Lena Friedsam/GER


...leave it to Pavlyuchenkova to have her best stretch of the season during the very weeks that I've talked about never predicting her to do much of anything again. Oh, of course she has. A week after her QF run in Beijing, the Russian retreated indoors, where she's had some of her best results (including titles in Paris and Moscow last year) in recent seasons. In Linz, wins over Katerina Siniakova, Stefanie Voegele, Aleksandra Krunic and Kirsten Flipkens put the Hordette into her second final this season (w/ Washington), where she defeated first-time finalist Anna-Lena Friedsam to claim her eighth career title. Pavlyuchenkova is the third Russian to win a singles title in '15 (Sharapova & Gasparyan), but their four combined titles are still the lowest in a WTA season by the collective Hordette contingent since they were shut out entirely back in 2001.

.@NastiaPav earns 1st title of 2015 at @WTALinz!?? ??--> http://t.co/EXekjho85s #WTA pic.twitter.com/MvTteatfUI

— WTA (@WTA) October 18, 2015

Friedsam, the world #118, didn't quite check her name off my preseason list for 2015 first-time champions, but she did manage to live up to the accompanying first-time finalist prediction thanks to her career week in Linz. Probably best known this season for pushing Serena Williams to three sets in the 2nd Round at Roland Garros this past spring, Friedsam got wins over Magdalena Rybarikova, Andreea Mitu, Margarita Gasparyan and Johanna Larsson (the Swede served at 5-3 in the 3rd) that placed the 21-year old German into her maiden tour final. Her week's work lifts her back into the Top 100 at #96, but she's still got a ways to go to match the career-best standing of #73 she achieved in July.

#annalenafriedsam makes the @WTALINZ Final with a 6/3 4/6 7/5 victory over #johannalarsson #wtalinz15 #wta #friedsam pic.twitter.com/ABT6AEZGJB

— WTA Linz (@WTALinz) October 17, 2015



===============================================




VETERANS:

Jelena Jankovic/SRB & Venus Williams/USA


...JJ and Asia have gone very, very well together in the back-half of 2015. Early in the summer hard court season, Jankovic grabbed a title against an over-matched field in the WTA $125K Series event in Nanchang, and in recent weeks she's followed up with tour-level title runs in Guangzhou and, this weekend, Hong Kong. The 30-and-flirty Serb defeated Ana Bogdan, Anastasia Rodionova, Daria Gavrilova, Venus Williams and Angelique Kerber in the final to win career title #15, her second in a month. This is JJ's first two-title season since 2009, and the last time she won a pair of titles in such a short period of time was when she won back-to-back weekends in Stuttgart and Moscow seven years ago this October. Up to #22 in the new rankings, Jankovic has a shot to once again finish the year in the Top 20, which would mark the ninth time she's done so in the last ten years. She's finished in the Top 22 every season since 2005.

Jankovic rallies to beat Kerber and win her 15th #WTA title at Hong Kong Open. Read: http://t.co/jd04vhYlsm #PHKTO15 pic.twitter.com/al27lINLP3

— TENNIS.com (@Tennis) October 18, 2015

Meanwhile, Venus' semifinal loss in HK to Jankovic may be the last we'll see of her in the 2015 season. Seeking to make the Singapore field, Williams nearly managed to pull off the feat, as well as climb back into the Top 10, but ultimately came up short. Still, she came back from a break down three times in the 3rd set in her opening Hong Kong match against Yuliya Beygelzimer, and also notched victories over Wang Yafan and Alize Cornet to reach her fourth semifinal of the season (two in the last three weeks). Williams is an alternate for the round robin competition at the WTA Finals, though, so we may not have seen the last of her this year just yet.


===============================================




COMEBACKS:

Alize Cornet/FRA & Nicole Vaidisova/CZE


...Cornet hasn't been able to duplicate her success of last season over the course of 2015, but she had one of her best weeks of the season in Hong Kong. In singles, she got wins over Kateryna Kozlova and Yaroslava Shvedova to reach the quarterfinals (she lost to Venus), her first such result since Katowice in April, and in doubles she won her first tour title since 2010. Teaming with earlier singles victim Shvedova, the Pastry won career title #3 with a victory in the final over Lara Arruabarrena & Andreja Klepac.

Feeling so lucky to have played with this great champion and unbelieveble nice person @SlavaSays ?? pic.twitter.com/b2TgALf1RS

— Alize Cornet (@alizecornet) October 18, 2015
Mastering the art of photobombing like pic.twitter.com/tz4QeDj8cS

— WTA Reactions (@WTAreactions) October 18, 2015

In Tianjin, Vaidisova had one of her better outings in a comeback that officially kicked off late last year. The Czech won three qualifying matches (one over Zhang Shuai) to reach her first tour-level main draw since Miami, when she got a win over Timea Babos before losing in three sets to Simona Halep. Vaidisova lost in the 1st Round last week to Duan Yingying, but this week she'll see her ranking rise inside the Top 250 after having ended the 2014 season at #615.


===============================================




FRESH FACE:

Danka Kovinic/MNE


...while JJ was winning a title in Hong Kong, her friend and protege Kovinic was busy becoming the first woman from Montenegro to reach a tour-level singles final in Tianjin. The 20-year old, who'd never before reached a semi in a WTA event, notched victories over Kateryna Bondarenko, Teliana Pereira, Duan Yingying and Bojana Jovanovski before falling in straight sets in the final against Aga Radwanska. Kovinic will reach a new career-high of #59 on Monday. The Montenegrin's run adds to the total number of different nations to produce a singles semifinalist (32, up from 30 in '14) and finalist (26, two more than last year) on tour in 2015, while she's the seventeenth (7th in the 4Q alone) first-time singles finalist this season (in '14 there were 18), joining with Anna-Lena Friedsam to make this a two first-timer week.

Thank you everyone for amazing support this week! Hvala svima na podrsci! ?????? #wta #tennis #Montenegro pic.twitter.com/5stdJCGSrT

— Kovinic Danka (@KovinicDanka118) October 18, 2015



===============================================




DOWN:

Elina Svitolina/UKR & Caroline Wozniacki/DEN


...yeah, it's getting a bit picky to put Svitolina in this category, but it's true that her 4Q results have been a bit lacking. Her 1st Round loss to Elena Vesnina in Tianjin dropped her post-U.S. Open record to 4-4 just days after she'd fallen out of the Top 20 after being ranked there the previous eighteen consecutive weeks. The 21-year old world #21 hasn't reached a QF at any of her six events since playing in Cincinnati. As for Wozniacki, though, it's probably a somewhat overdue "honor" to show up here. Playing out the final moments of her season while dealing with nagging injuries (she just pulled out of action for Week 42 w/ a knee injury), the Dane's 2015 has been a decided step back from the Top 10 campaign (her sixth consecutive) that ended with so much promise a year ago. The expected wins over top players just didn't come this season, as the aggression she showed on the court following the end of her relationship with Rory McIlroy and the start-up of her friendship with Serena Williams (it fueled a trip to the U.S. Open final, remember) hasn't been as big a part of her game as one would have hoped over the course of the year. Ranked #11 and having qualified for the ironically-named "Elite Trophy" event in Zhuhai, Wozniacki still might slip into the Top 10 by season's end, but the fact remains that she's racked up twenty-two losses in '15, including a 9-9 record since Wimbledon (she was a hard-charging 28-8 post-SW19 in '14) following her 2nd Round loss to #110 Kirsten Flipkens in Linz. Quite a few players have simply "had her number" this year, as more than half her defeats have come against just four top players -- Belinda Bencic (0-4), Victoria Azarenka (0-4), Angelique Kerber (0-2) and Venus Williams (0-2).


===============================================




ITF PLAYER:

Misa Eguchi/JPN


...23-year old Eguchi swept the singles and doubles titles in the $25K challenger in Toowoomba, Australia, defeating Noppawan Lertcheekwarn, Cindy Burger and Susanne Celik in a 7-6(6)/7-5 victory in the final. It's the Japanese woman's fifth career circuit singles title, and her fourth in doubles. Eguchi was just 4-12 in MD matches in 2015 going into last week.

Good week in Toowoomba!! Singles & Doubles title???? pic.twitter.com/jhIrMEQ3FK

— Misa Eguchi (@misa_eguchi) October 18, 2015



===============================================




JUNIOR STARS:

Kayla Day/USA & Mai Hontoma/JPN


...Day, 16, played a leading role in the run of the U.S. 16s team to the Junior Fed Cup final a few week ago, and last week she was the star of her own more successful title run at the Pan-American Championships in Tulsa, Oklahoma. The #2 seed at the Grade B1 junior event, Day saved two match points in the semifinals and went on to defeat her roommate and constant companion during the week -- fellow Bannerette Kelly Chen -- in a 6-4/6-1 final to claim her biggest career title. Here's a great piece on the final from Zoo Tennis.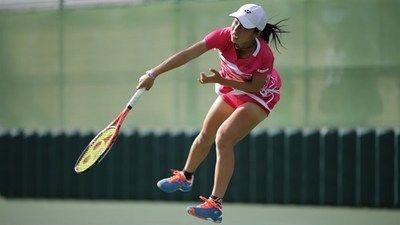 Meanwhile, unseeded 16-year old Mai Hontoma won the all-Japanese match-up with 14-year old qualifier Yuki Naito in the Osaka Mayor's Cup final to become the first girl from the home nation to take the crown since Kurumi Nara was champion in 2007. Hontoma, who defeated the #4 and #6 seeds (as well as Gao Xinyu, who'd upset #1-seeded Katie Swan) along the way, had previously only won a Grade 4 event this season before claiming the title at the Grade A Mayor's Cup. Naito's best result had been a win in a Grade 5 junior tournament, and the 14-year old is now the first player born in 2001 to reach a GA junior final. All right, that's your cue -- go ahead and feel super old now.


===============================================



Congrats Raquel Kops-Jones & Abigail Spears! You are heading back to #WTAFinals!! https://t.co/loAN2pzpCf

— WTA (@WTA) October 18, 2015



DOUBLES:

Raquel Kops-Jones/Abigail Spears (USA/USA) & Xu Yifan/Zheng Saisai (CHN/CHN)


...the American thirtysomething duo of Kops-Jones (32) & Spears (34), the oldest doubles team champs of '15, claimed their third title of the season with a win over Hlavackova/Hradecka in the Linz final. The run gave them their thirteenth career title as a duo, and qualified them for the eighth and final berth in the Singapore doubles competition.

The @WTAFinalsSG doubles field is set. Here are the eight teams who will be in Singapore: pic.twitter.com/AIE6v54YzT

— WTA Insider (@WTA_insider) October 18, 2015

Meanwhile, in the absence of Li Na (retirement) and Peng Shuai (injury), and Zheng Jie's limited schedule, Zheng Saisai has quietly become the best Chinese tennis player in the world in 2015. The top-ranked singles player from her county and the only one in the Top 100 at #75, 21-year old Zheng won her first career WTA $125K Series event crown in Dalian five weeks ago, but it's in doubles where she's truly put up some great results. She won the doubles at that 125 event with Zhang Kai-Lin (her second of the year after winning in Nanchang w/ Chang Kai-Chen), but before that she grabbed her biggest career tour-level title in Stanford with Xu Yifan during the summer (she won a previous title in Guangzhou w/ Hsieh Su-Wei in '11). This weekend, she and Xu won their second tour title in Tianjin (they've also won a $75K event in '15) as Zheng now threatens to become the highest-ranked Chinese woman in doubles, as well. Ranked inside the Top 50, she entered last week third in China behind Zheng Jie and Liang Chen.

Second @WTA title this year with Xu Yi-Fan! So excited winning at home! #LoveTianjin #PoweredByKeepImproving pic.twitter.com/WRCEIulGbR

— Zheng Saisai (@Zheng_Saisai) October 18, 2015
===============================================
Classic Sharapova Instagram
You, too, can be as bad-ass as Maria... if you dare.
Maria Sharapova shares 6 tips to be a stronger, more bad-ass woman http://t.co/wy2lcvWknH pic.twitter.com/DXbM6WcR5U

— HuffPost Sports (@HuffPostSports) October 13, 2015


1. HK Final - Jankovic d. Kerber
...3-6/7-6(4)/6-1. The German's 4-0 winning streak in finals comes to an unceremonious end.


===============================================


2. Linz Final - Pavlyuchenkova d. Friedsam
...6-4/6-3. Pavlyuchenkova (4-2-2) is one of just ten women who've reached multiple singles finals in each of the last three seasons. The others: see after this match list. How many can you name?


===============================================


3. Tianjin 1st Rd. - Pereira d. Hibino
...7-5/6-2. Hibino's Tashkent title run didn't mean much in Tianjin.


===============================================


4. HK 1st Rd. - Komardina d. Chang 6-4/7-5
Linz 1st Rd. - Konta d. Beck 6-1/6-3
...the 18-year old Hordette and the British #1 were the 16th and 17th lucky losers to post 1st Round victories in 2015.

Great win for @JoKonta91 in Linz beating Beck 6-1, 6-3! Catch up with all the Brits in action http://t.co/By5OpDIdii pic.twitter.com/Xr4nEX7hOi

— British Tennis (@BritishTennis) October 13, 2015



===============================================


5. Moscow Q1 - Kalinskaya d. Beygelzimer
...1-6/6-2/7-5. After dropping that match to Venus after being up a break three times in the 3rd, Beygelzimer followed up by failing to close out this match after serving at 5-2 in the 3rd. She held five MP in game #9. Kalinskaya finally won after converting on her fourth MP attempt of game #12.


===============================================


6. Linz 1st Rd. - Mitu d. Safarova
...6-3/6-4. The road back for Safarova wasn't expected to immediately straighten out. She's back in action in Moscow, and could face DC Pavlyuchenkova in her first match in the 2nd Round.


===============================================


7. Tianjin 2nd Rd. - Babos d. Riske
...6-3/6-3. Had you forgotten that Riske won her only tour singles title at this event a year ago? Well, Babos made sure you won't have to try to recall that fact NEXT fall.


===============================================



World No.110 @FlipperKF upsets Wozniacki 6-4, 6-4 @WTALinz 2R! 1st Top 20 win of 2015--> http://t.co/mVPb0oUrY0 pic.twitter.com/KNA9LA8J05

— WTA (@WTA) October 15, 2015

8. Linz 2nd Rd. - Flipkens d. Wozniacki
...6-4/6-4. #110 Flipkens is the second player ranked outside the Top 100 to defeat Caro this season. The other was #149 Petra Cetkovska at the U.S. Open.


===============================================


9. Tianjin 1st Rd. - Jurak/Melichar d. Hingis/XY.Han
...7-5/3-6 [10-2]. Playing without Sania Mirza, Hingis was supposed to play this event with Belinda Bencic. But when the New Swiss Miss was injured in Beijing the Original Swiss Miss took on a Chinese partner. The loss ended her personal 17-match WD winning streak (plus four more in MX). Meanwhile, the Croat-American pair of Jurak/Melichar went on to play in the final.

Thank you for exciting week partner ?????? last week in Asia ??#doubles #China pic.twitter.com/ycZ2c929FL

— Darija Jurak (@daryjurak) October 18, 2015



===============================================


10. HK QF - Jankovic d. Gavrilova
...6-1/6-1. JJ and Dasha TOGETHER was just a case of too much good for one court to handle, I guess. Still, it'd be nice to see this combo again on a better day.

.@Daria_gav & @jelena_jankovic at the net. Two fierce competitors with lots of class.. pic.twitter.com/QCL5aeeJRn

— Jimmie48 Photography (@JJlovesTennis) October 16, 2015



===============================================


11. $10K Sao Paulo Final - Maria-Fernanda Alvarez-Teran d. Laura Pigossi
...2-6/7-5/6-4. The Bolivian takes down the Brazilian in an all-South American clash, but they teamed to take the doubles title.


===============================================


12. $10K Sharm El Shiekh Final - Katharina Lehnert d. Veronica Miroshnichenko
...6-4/6-3. The 21-year old ex-German from the Philippines wins her third circuit title of 2015.


===============================================


HM- $10K Antalya Final - Bondar/Stolmar d. Sanchez-Quintanar/Negreanu
... 6–1/2–6 [10–5]. CSQ didn't get another doubles title here, and she lost in the singles semifinals, as well.


===============================================





The others:

S.Williams (13-7-5), Sharapova (5-5-3), Halep (6-5-5), Kerber (3-4-5), Radwanska (4-2-3), Kvitova (4-4-3), Errani (4-2-2), Wozniacki (2-3-3), Vinci (2-2-2)




Come on, you knew it was coming. A Serena Williams U.S. Open 1st Round Victim Update. Back home in Sochi.



?????? ?????? ????, ? ????????????? pic.twitter.com/BQgtuE5R6u

— Vitalia Diatchenko (@VDiatchenko) October 12, 2015
Meanwhile...
what up pic.twitter.com/KEsMwIX30u

— Andrea Petkovic (@andreapetkovic) October 12, 2015
A long time ago in a galaxy far, far away… More @WTALinz? player party ??--> http://t.co/WSxmsUs12j #WTA pic.twitter.com/rFhpxzI5a9

— WTA (@WTA) October 13, 2015
Beware of Roberta Vador !!! (Photo: @WTALinz) pic.twitter.com/zAgRrcQY6N

— We Are Tennis (@WeAreTennis) October 13, 2015


1. Tianjin Final - Aga Radwanska d. Kovinic
...6-1/6-2. On Monday, Aga will have been ranked in the Top 20 for 400 consecutive weeks, 127 more than the second-longest active streak on tour (Sharapova w/ 273).


===============================================


2. HK 1st Rd. - Venus Williams d. Beygelzimer
...2-6/6-4/6-4. Venus was down a break three times in the 3rd set. She finally held serve in game #9, then broke the Ukrainian to take the 2:13 match.


===============================================



World No.414 Lyudmyla Kichenok shocks US Open champ Pennetta 6-3, 7-5 in #TianjinOpen 1R--> http://t.co/HMo5nrXHSz pic.twitter.com/FO5rrtdjFy

— WTA (@WTA) October 13, 2015
US Open champion Flavia Pennetta shocked by 414th-ranked Kichenok at #TianjinOpen. Read: http://t.co/L1xGXtqMOP pic.twitter.com/aEbqfZcMwJ

— TENNIS.com (@Tennis) October 13, 2015

3. Tianjin 1st Rd. - Lyudmyla Kichenok d. Pennetta 6-3/7-5
Tianjin 1st Rd. - Ula Radwanska d. Nadiia Kichenok 6-4/6-0
...Pennetta's quest to secure a career-ending berth in Singapore failed in Tianjin when she lost to world #414 Lyudmyla on the same day that her sister Nadiia (both had made it through qualifying) was felled by a Radwanska... but not the one who'd eventually win the title. Pennetta will make another run at securing the spot this week as a wild card entry in Moscow.

.@Flavia_Pennetta receives @KremlinCup_ru wildcard. Looking to secure #WTAFinals qualification! pic.twitter.com/Ninw0zXci9

— WTA (@WTA) October 16, 2015



===============================================


4. Tianjin 1st Rd. - Karolina Pliskova d. Kristina Kucova 6-3/7-5
Tianjin SF - Aga Radwanska d. Karolina Pliskova 6-3/6-1
...without the USTA pulling strings and making the concept of "fair rules" an absolute farce, Pliskova also failed to secure a WTA Finals spot last week. Speaking of the USTA...

Bouchard suing USTA for negligence in locker room fall at US Open: http://t.co/k3IFRGrc1a pic.twitter.com/vSchDHb4m1

— TENNIS.com (@Tennis) October 15, 2015

Finally, a situation where EVERYONE can be on Genie's side.


===============================================


5. HK SF - Jankovic d. Venus Williams
...6-4/7-5. JJ now leads the head-to-head 7-6. Not sure many would have called that stat without prior direct knowledge. Of course, they hadn't met since 2012, and Jankovic hadn't defeated Venus since 2010.


===============================================


6. Tianjin SF - Jurak/Melichar d. Lyudmyla Kichenok/Nadiia Kichenok
...6-3/7-6(5). The recent success of the Chans didn't rub off on the Kichenoks last week.


===============================================


7. $10K Albena Final - Kuncikova/Stuchla d. Gabriela Pantuckova/Magdalena Pantuckova
...6-1/6-3. Are the Pantuckovas, aged 20 and 16, respectively, a future all-sister Czech Fed Cup duo?


===============================================


8. $10K Tel Aviv QF - Daniel d. Lina Glushko
...6-4/6-4. Julia's 15-year old sister Lina qualified and notched two main draw wins, her first ever, in her seventh overall career ITF event. The Israeli teen had made two previously successful Q-runs, but had been 0-2 in MD.


===============================================




Vika + Onesie = Instagram gold
Telling it like it is...
-110C is cold as f... There is no other way to describe it

— victoria azarenka (@vika7) October 13, 2015
After ?????? #mood pic.twitter.com/bk4The0C2u

— victoria azarenka (@vika7) October 18, 2015

Wozniacki officially qualified for Zhuhai. (Via tournament Weibo) pic.twitter.com/RWszDd2yhm

— Ratazana (@Ratazana) October 18, 2015

When in Hong Kong, foot massages are necessary. @Daria_gav and @bambamsam30 had the same idea... pic.twitter.com/jNTC6Y36dz

— Jeff Watson (@Jeff_Watson88) October 12, 2015
Getting a foot massage in Hong Kong! My jeans were to long so.... pic.twitter.com/Q84GHrtNc3

— Daria Gavrilova (@Daria_gav) October 13, 2015
Calling out Alize Lim...
@AlizeLim doesn't look like you are running.... you are posing Alize..............

— Daria Gavrilova (@Daria_gav) October 13, 2015
They got her humor?
Why are they laughing @Daria_gav ? pic.twitter.com/KVdSGGREsn

— Waqas RF (@Fed_436) October 12, 2015




**2015 WTA TITLES RUNS w/o LOSING A SET**


Hobart - Heather Watson, GBR
Bogota - Teliana Pereira, BRA
Bastad - Johanna Larsson, SWE
Bucharest - Anna Schmiedlova, SVK
Washington - Sloane Stephens, USA
Tokyo TPP - Aga Radwanska, POL
Tianjin - Aga Radwanska, POL



**2015 WTA FINALS**


5...Serena Williams (5-0)
5...ANGELIQUE KERBER (4-1)
5...Simona Halep (3-2)
5...Karolina Pliskova (1-4)
4...Timea Bacsinszky (2-2)
4...Belinda Bencic (2-2)
3...Petra Kvitova (3-0)
3...Maria Sharapova (2-1)
3...AGA RADWANSKA (2-1)
3...JELENA JANKOVIC (2-1)
3...Anna Schmiedlova (2-1)
3...Garbine Muguruza (1-2)
3...Lucie Safarova (1-2)
3...Caroline Wozniacki (1-2)
3...Carla Suarez-Navarro (0-2+L)



**2015 INDOOR/OUTDOOR WTA FINALS**


Annika Beck, GER (Out: 0-1, In: 1-0)
Camila Giorgi, ITA (Out: 1-0, In: 0-1)
ANGELIQUE KERBER, GER (Out: 3-1, In: 1-0)
ANASTASIA PAVLYUCHENKOVA, RUS (Out: 0-1, In: 1-0)
Anna Schmiedlova, SVK (Out: 1-1, In: 1-0)
Carla Suarez-Navarro, ESP (Out: 0-2, In: 0-1)
Caroline Wozniacki, DEN (Out: 1-1, In: 0-1)



**2015 WTA FINALS - BY NATION**


13 Czech Republic (5 titles)
10 United States (8)
10 GERMANY (6)
9 Romania (4)
8 Italy (4)
8 Switzerland (4)
7 RUSSIA (4)
6 Spain (1)
5 POLAND (2)
4 Slovak Republic (3)
4 SERBIA (2)



**2012-15 WTA FINALS**


32 - Serena Williams (30-2)
22 - Maria Sharapova (11-11)
17 - Simona Halep (11-6)
17 - Victoria Azarenka (9-8)
16 - ANGELIQUE KERBER (7-9)
14 - AGA RADWANSKA (9-5)
13 - Petra Kvitova (10-3)
13 - Sara Errani (6-7)
12 - Caroline Wozniacki (5-7)
11 - Karolina Pliskova (4-7)
11 - Li Na (4-7) - retired
9 - Samantha Stosur (5-4)
9 - ANASTASIA PAVLYUCHENKOVA (5-4)
9 - JELENA JANKOVIC (3-6)



**LOW-RANKED WTA FINALISTS IN 2015**


#154 Patricia Maria Tig, ROU (Baku - L Gasparyan)
#137 Donna Vekic, CRO (Tashkent - L Hibino)
#136 Aliaksandra Sasnovich, BLR (Seoul - L Begu)
#130 Teliana Pereira, BRA (Bogota - W Shvedova)
#118 ANNA-LENA FRIEDSAM, GER (Linz - L Pavlyuchenkova)
#117 Nao Hibino, JPN (Tashkent - W Vekic)
#112 Margarita Gasparyan, RUS (Baku - W Tig)
#101 Jelena Ostapenko, LAT (Quebec City - L Beck)



**ALL-TIME RUSSIAN WTA TITLE WINNERS**


35...Maria Sharapova (2003-15)
16...Elena Dementieva (2003-10)
14...Svetlana Kuznetsova (2002-14)
13...Nadia Petrova (2005-12)
12...Vera Zvonareva (2003-11)
12...Dinara Safina (2002-09)
10...Anastasia Myskina (1999-05)
9...Olga Morozova (1969-75)
8...ANASTASIA PAVLYUCHENKOVA (2010-15)
8...Anna Chakvetadze (2006-10)



**2015 WTA DOUBLES TITLES - TEAMS**


8 - Hingis/Mirza, SUI/IND
4 - Mattek-Sands/Safarova, USA/CZE
3 - Babos/Mladenovic, HUN/FRA
3 - Chan/Chan, TPE/TPE
3 - KOPS-JONES/SPEARS, USA/USA
2 - Bertens/Larsson, NED/SWE
2 - Gasparyan/Panova, RUS/RUS
2 - Muguruza/Suarez-Navarro, ESP
2 - XU YIFAN/ZHENG SAISAI, CHN/CHN



**2015 DOUBLES CHAMPIONS IN HOME NATION**


Prague - Katerina Siniakova, CZE
Bastad - Johanna Larsson, SWE
Toronto - Bethanie Mattek-Sands, USA
Tianjin - Xu Yifan/Zheng Saisai, CHN
--
ALSO: Dabrowski/Zhao (CAN) won Pan-American Games gold in Toronto



**BEST 2015 WTA LUCKY LOSER RESULTS**




=SF=


Acapulco - Sesil Karatantcheva, BUL
New Haven - Lesia Tsurenko, UKR
Quebec City - Naomi Broady, GBR


=QF=


Brisbane - Alla Kudryavtseva, RUS
Katowice - Elizaveta Kulichkova, RUS
Eastbourne - Daria Gavrilova, RUS/AUS


=3rd Rd.=


U.S. Open - Daria Kasatkina, RUS


=2nd Rd.=


Pattaya City - Yuliya Beygelzimer, UKR
Pattaya City - Zhu Lin, HKG
Acapulco - Mariana Duque, COL
Miami - Zheng Saisai, CHN
Stuttgart - Marina Melnikova, RUS
Rome - Kristina Mladenovic, FRA
Bad Gastein - Richel Hogenkamp, NED
Toronto - Julia Goerges, GER
Hong Kong - ANASTASIYA KOMARDINA, RUS
Linz - JOHANNA KONTA, GBR


=2nd Rd. via walkover=


Sydney - Nicole Gibbs, USA
Cincinnati - Mirjana Lucic-Baroni, CRO




See ya in '16, Daniela.



Of Timea and... Bessie?





MOSCOW, RUSSIA (Premier $703K/HCI)


14 Final: Pavlyuchenkova d. Begu
14 Doubles Final: Hingis/Pennetta d. Garcia/Parra-Santonja
15 Top Seeds: #2 Safarova/#3 Pennetta
=============================


=SF=


#4 Kerber Kuznetsova d. Gavrilova
Pavlyuchenkova d. #7 Begu


=FINAL=


Pavlyuchenkova d. #4 Kerber Kuznetsova

...I know how to stop this Pavlyuchenkova roll -- pick her to do well. It might finally get Kerber that fifth season title.



UPDATE:

Kerber is apparently smarter than the WTA schedule makers (was there any doubt?) as she has pulled out of Moscow with an injury, rolling the dice that the seemingly-million things that would have to happen for her NOT to qualify for Singapore will indeed ALL not occur. So, I've updated my picks. Hey, why not Sveta in an All-Consternation Final?





LUXEMBOURG, LUXEMBOURG (Int'l $227K/HCI)


14 Final: Beck d. Strycova
14 Doubles Final: Bacsinszky/Barrois d. Hradecka/Krejcikova
15 Top Seeds: Bacsinszky/Ivanovic
=============================


=SF=


#1 Bacsinszky d. #3 Errani
#5 Jankovic d. #2 Ivanovic


=FINAL=


#1 Bacsinszky d. #5 Jankovic

...the Queen of Luxembourg?



And, of course, saving the best for last. Literally.


Happy Birthday to the evergreen @Martina Navratilova, a true tennis icon and an inspiration to all! pic.twitter.com/JMTtojPiQs

— hotstar (@hotstartweets) October 18, 2015



All for now.