Wk.40- To Be a Backspin MVP, or Not To Be a Backspin MVP... umm, what was the question?
We've gotten to the point where we can see the 2015 season's finish line from here. So, it's time to define what "most valuable" has meant around these parts.
Yes, "recapping days" continues with the arrival of the moment when I piece together this space's fourth annual listing of the people, personalities, scenarios, hopes, dreams, near-misses, mascots and even trophies (
you'll see
) that provided me with a "helping hand" in shaping this past season of Backspin shenanigans.

HM-
Serena Williams' 1st Round U.S. Open victim
...yeah, I don't know why I've latched onto the postscript of the Grand Slam That Never Was, focusing of the happenings in the life/career of Vitalia Diatchenko for over a month now. Originally, the Russian, who retired against Williams in the 1st Round at Flushing Meadows, was going to be viewed in this space as the soon-to-be-forgotten-but-I-wasn't-going-to-let-her-be player over which Serena took her first NYC step toward history, and one who'd been (literally) left broken in the wake of that quest for immortality.
But then Roberta Vinci overturned that particular Big Apple cart.
But, no matter, Diatchenko still had to recover. And, as it's turned out, so did Serena after HER Open experience.
And, yes, there's at least ONE MORE update on this whole thing... as you'll see later in this post.
===============================================
50.
Marija Cicak (The Empress of Umpire Cool)
Marija Cicak was umpiring the Sharapova - CSN match, running at tight ship as usual.. pic.twitter.com/DB7SNjSpIv

— Jimmie48 Photography (@JJlovesTennis) January 8, 2015

...sure, Eva Asderaki-Moore got a lot of attention for her expert umpiring of the men's U.S. Open final, but she'll still be challenged by some players (umm, -- clears throat -- Vika) during matches. But doing so with Cicak, who umpired the women's final, would seem to be akin to putting your eternal soul at the mercy of the Tennis Gods. Even Kader Nouni (who's earned his "coolness" props at least partially due to his smooth jazz DJ voice and dark sunglasses) can't stand up to those standards.


#icymi - Marija Cicak solving the mystery of the missing balls. ?? What an umpire! pic.twitter.com/aI5q8XkhKa

— CicakoholicS (@cicakinG) March 14, 2015
Great Venus Williams smile after realizing umpire Marija Cicak overruled correctly (as usual). pic.twitter.com/uVpymKoLQa

— Bobby Chintapalli (@bobbychin) March 28, 2015



===============================================




49.

Vicky Duval


...she's back after fighting Hodgkin's lymphoma, armed with a smile and, obviously, quite a few more essential weapons underneath that sunny surface.

===============================================




48.

The Great Wall Void
...one would think that a nation with nearly 1.5 billion people would be able to produce more than one top-flight tennis star at a time, but the retirement of Li Na last year mostly left China as a WTA afterthought in 2015. With Peng Shuai's back injury decimating her season, no Chinese woman is currently ranked in the Top 100, and only Zheng Saisai has even reached multiple tour-level singles quarterfinals (3, with one final), while Duan Ying-ying has the only other QF result.


===============================================




47.

The NextGen FC Maidens


...the Czechs have been dominating the Fed Cup for a while now, so is it really any huge surprise that the winners of this year's Junior Fed Cup 16s title was none other than the girls of the Czech Republic? I didn't think so.


===============================================




46.

The Kuznetsova Curse (Grass Court Strain)
...since 2005, The Kuznetsova Curse has been working its voodoo magic all over Backspin and the WTA tour. After proving its continued strength LAST year when I predicted a Grand Slam season for Serena Williams one year BEFORE she very nearly pulled one off, the Curse was mostly quiet in 2015. But then it was noticed that a potential "new strain" had been identified during the grass court season. "Patient Zero" appeared to be Kristyna Pliskova, who defeated Sveta in the 2nd Round of Wimbledon to reach the Final 32, lasting longer than Top 10 sister Karolina and achieving her best-ever slam result. Since then, the Czech has gone a combined 1-9. Meanwhile, Spaniard Carla Suarez-Navarro went on her own long losing streak after defeating Kuznetsova in a grass court warm-up event in Birmingham, going 0-8 before only recently seeming to finally slip out from under the Curse's influence while playing in Asia. This is likely just a short-term alert issued as a precautionary measure, but after more than a decade of seeing it do damage, the Curse -- new strain or old -- is nothing to ignore.


===============================================




45.

Ol' QC


...thirty and flirty, JJ was a winner of a WTA $125K Series event, a tour-level singles champion, a big-event finalist at Indian Wells and a "too-perfect-for-words" sometimes-partner in doubles for fellow Serb Aleksandra Krunic.

===============================================




44.

Francesca's Chase


...Schiavone's results in the majors (1st Round exits at eleven of the last thirteen) have been more than wanting for a while now, but she's just one tournament away from matching Ai Sugiyama's WTA record of sixty-two consecutive appearances in majors. It's not a given that she'll get the record, though, as she may soon be forced to go through qualifying (unless she can get a wild card) to keep the streak alive since the Italian's faltering ranking (#115 this past week) might prevent her from benefiting from an automatic entry into slam main draws in the first half of 2016.


===============================================




43.

Mark Twain


...for Roland Garros, the literature legend served as my most recent slam Daily Backspin "co-author." His wit and homespun wisdom was utilized to comment upon the on-court happenings over the course of the two weeks of action in Paris.


Born Samuel Langhorne Clemens, November 30, 1835 – April 21, 1910. American author, lecturer and humorist. Writer of The Adventures of Tom Sawyer (1876) and its sequel, Adventures of Huckleberry Finn (1885). Twain's writing and large personality made him a public figure and, ultimately, an American icon. A renowned traveler, Twain entertained fans around the world with his opinionated wit.

Meanwhile, former 2011 U.S. Open "co-author" Yogi Berra passed way. As for the likes of Søren Kierkegaard... umm, still dead.


===============================================




42.

Stale Pastries


...the Pastries are still fun, but they weren't as entertainingly fattening in '15 as '14. Alize Cornet followed up her career year with her worst season since 2011. Meanwhile, Caroline Garcia could have her own section in 2015's list of the biggest "chokes" and blown leads. Oh, yeah, and she admitted to trying to talk the tournament schedulers out of forcing her to play on Chatrier Court during Roland Garros because she, essentially, knew she couldn't handle the pressure.


===============================================




41.

The "Rebirth" of Brazilian Women's Tennis


...while there is no Maria Bueno in the bunch, one year before the Rio Olympics, the likes of Teliana Pereira (the first Brazilian in twenty-seven years to win a tour singles title, and then first in thirty to win two), Beatriz Haddad (one of two 18-year old tour doubles champs in '15, along with Belinda Bencic) and Paula Cristina Goncalves (with Haddad, the duo helped Brazilians sweep the singles and doubles crowns in Bogota) at least enabled the nation to become part of the WTA conversation again this season. A small part, yes... but A PART.


===============================================




40.

@WTAreactions


...bringing WTA GIFs to life, and making you wonder how we ever got by without it before this year.

Taking candy from a baby like pic.twitter.com/GbbsCOkaRa

— WTA Reactions (@WTAreactions) June 29, 2015



===============================================




39.

The Who-Needs-a-Racket? Entertainment Value of Belinda Bencic


...from angry outbursts to shocked expressions and knowing winks, from smirks to looks of absolute astonishment, no one is ever going to say the New Swiss Miss "lacks personality." And she plays a pretty mean game of racket, too (see Toronto).

Bencic's reaction to the potential US Open Series bonus is spectacular... https://t.co/ZWsDrfuufW (via @fedele_giulio)

— Leigh Walsh (@LeighWalsh87) August 16, 2015



===============================================




38.

The Monica Seles Stabbing


...all these years later, the 1993 stabbing of the then #1-ranked Yugoslav is still THE example of how quickly things can change, and how the rise/fall of a single player can forever alter the history of the entire sport.


===============================================




37.

Cristina Sanchez-Quintanar


...the former Texas A&M Aggie went 0-7 in ITF singles finals (0-6 this year after throwing herself into a pro career after her tennis/soccer college experiences) before FINALLY winning her first in September. A week later, CSQ "went back to normal" -- losing in ANOTHER final.


===============================================



36.

Petra, Jr.?


...the top Czech girl is looking very similar to many of the very best tour-level Czechs of past and current vintage. Marketa Vondrousova reached the junior #1 ranking and won a pair of junior doubles slams this year, but was woefully inconsistent, too. The #3 seed at the Australian Open, then #1 at the final three majors, Vondrousova had one semifinal, two 1st Round defeats and retired from a 2nd Round match at those events. But, keeping up with national tradition, she led the 16s Czech girls squad to its first Junior Fed Cup title since 2001. Oh, Marketa.


===============================================




35.

"Fear the Kasatkina"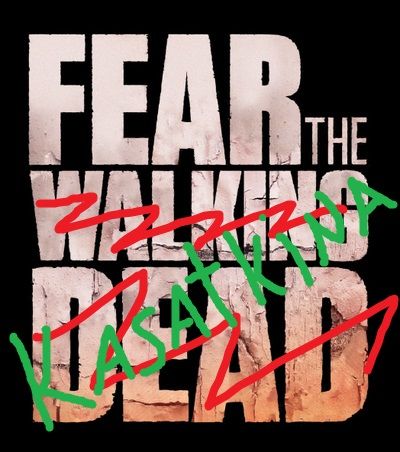 ===============================================




34.

The Day of the Kiki


...Mladenovic's day is coming. It'll get here. Soon. Eventually. Unless she gets in her own way, of course. Have faith.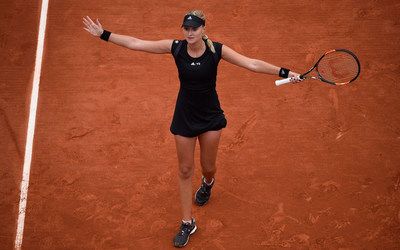 ===============================================




33.

Ana? AnaIvo?


...for the first time since 2008 (when she won Roland Garros), the Serb actually reached a slam semifinal this spring in Paris. Of course, she didn't advance past the 2nd Round at any of the other three majors, and lost in the opening round in two of them (she was "First Seed Out" in NYC).


===============================================




32.

Maidens vs. Hordettes


...Italians aside, will this year's Fed Cup final determine once and for all which nation is the unofficial FC "generational champion" when the three-time champion (since 2011) Czech Republic squad faces off with four-time champions (since '04) from Russia?


===============================================




31.

The Coach-Player Game of Musical Chairs


...you probably just THINK you know the current combinations and who's in, out or just a "consultant"... as of 8 a.m. this morning, at least. Of course, the offseason is almost here... so the music is surely about the begin to play all over again.


===============================================




30.

Lucie Safarova


...the 28-year old Czech has become something of a perfect example of the "new template" for WTA success: a player with a promising early career marked by underachievement and inconsistency gains traction and confidence through Fed Cup participation (first as an "apprentice/strong #2," then occasionally as THE leader) and finally breaks out in singles (slam semi in '14, slam final and Top 5 ranking in '15) in her late twenties as she becomes part of a slam-winning doubles Dynamic Duo and is the biggest dual threat (Top 10 in both disciplines) on tour. Follow in those footsteps, if you dare.

Lucie Safarova has become the first Czech woman to reach the French Open final in 34 years http://t.co/oyz97hqmR4 pic.twitter.com/7VcITkJx0l

— BBC Sport (@BBCSport) June 4, 2015
===============================================
29.
Vika & Big Sascha
I need decorations for my house??Me and @BigSascha stealing stuff from museum?????? #wecouldnteventhowetried#tooheavy pic.twitter.com/cD5zzg8jb6

— victoria azarenka (@vika7) April 23, 2015
Should I draw on his face? ?????? #imsooooobad#butitssotempting#comeonyouallwoulddoit #dontjudgeme pic.twitter.com/7JCV2RPXTV

— victoria azarenka (@vika7) April 28, 2015



===============================================




28.

Tessah Andrianjafitrimo


...I know how to spell it. Do you? Even better -- how many ESPNers will even TRY to SAY it? Hopefully, the junior Pastry will one day force the issue. (Rubbing hands in anticipation.)


===============================================




27.

The Bannerettes


...after years of waiting, the U.S. women (other than Venus and Serena, I mean) are starting to make a collective name for themselves. Whether there's a future slam winner in the mix or not (though Madison Keys is certainly in the running, and Future Sloane can't be counted out, either), at least there's finally another a generation of players worthy of full attention.


===============================================




26.

Garbi, Future Slam Champion (and maybe Fed Cup, too)
...I've said it before, and I'll say it again. The Spaniard will win a slam one day. Maybe very soon. And likely more than just one. Her run to the Wimbledon final one year after upsetting Serena Williams at Roland Garros may have only begun to scratch the surface of what she's capable of in her career.

What's in the box??? @GarbiMuguruza's ticket to #WTAFinals!!?? https://t.co/4aki0TiYEv

— WTA (@WTA) October 8, 2015



===============================================




25.

The ATP's Patron Saint of Women's Tennis


...if it's happening on the WTA tour, Andy Murray likely has at least some knowledge of it... and is more than ready to throw some congratulations in the appropriate direction.

Congrats to jo konta and naomi broady on the big wins up in Birmingham today?? well done ladies??

— Andy Murray (@andy_murray) June 15, 2015



===============================================




24.

That Swedish Open Trophy


...I figure the story behind this little guy is likely far, far less interesting than any we could come up with in our own imagination.

===============================================
23.

The Player Formerly Known as Genie


...few players have tumbled as far as Bouchard has over the past twelve months (she was #5 at last year's WTA Finals, and is currently barely holding onto a Top 40 ranking... though if feels like she should be ranked even lower, and WILL be once her Singapore '14 points fall off the computer). So snakebit was the Canadian in '15 that as soon as things started to begin to look headed in the right direction for her at the U.S. Open, she (no pun intended) slipped and hit her head and is still suffering from concussion-related symptoms over a month later.


===============================================



22.

Venus & Serena Nostalgia Continued Relevance
...we knew 34-year old Serena would still be going strong throughout 2015. But Venus? The collective heart wants what it wants... but that doesn't mean it gets it. But 2015 saw Venus, now 35, win titles in the opening AND closing stages of the season. Back in the Top 20 and nearly the Top 10, she might just earn a spot in Singapore... and get on the 2016 Rio Olympic team on her own merit, without some sort of "pass" that would allow her to play for yet another Gold Medal with Serena.


===============================================




21.

The (Belated) Appreciation of Angie Excellent


...the German's slam results didn't set anything afire, but Angelique Kerber participated in (likely, conservatively) three times as many "Match of the Year" candidates as any other player on tour. Oh, and she won four titles on four different surfaces, too.


===============================================




20.

Suddenly Swiss


...like clockwork, new/old Swiss stars are suddenly popping up all over the tennis landscape. Federer was joined by Wawrinka on the men's side, and now the same is happening on the women's. Martina Hingis' comeback, Timea Bacsinszky's breakthrough and Belinda Bencic's breakout are challenging the notion that the biggest Swiss accomplishments of note are nice time pieces and some really loud guardsmen outfits.

#martinahingis #Wawrinka #Federer #belindabencic pic.twitter.com/khbUi64wJq

— MiniPeople.ch (@SwissMinipeople) October 5, 2015
===============================================
19.

Italian Quartet Love


...sure, they've been around for years. And they've often taken their turn in the spotlight. But the Fed Cup titles, Francesca Schiavone's Roland Garros win, Sara Errani's RG final, Flavia Pennetta's past NYC heroics and the Career Slam of Errani/Vinci didn't cement the Italian quartet -- maybe the most noteworthy four-headed national beast since the U.S. quartet of Sampras, Agassi, Courier and Chang... unless some combination of Hordettes edges them out -- into the minds of ALL as effectively as Roberta Vinci's upset of Serena Williams at this year's U.S. Open, and then her loss in the final to countrywoman Pennetta, who then announced her intentions to retire. Is there some way that they can all go into the Hall of Fame together, maybe as "the Italian Fed Cup team" of the 2000's?


===============================================



18.

Radwanskian Massacre Anniversary Day (x 2)
...the memory of the seed-decimating Day 3 destruction at Wimbledon on June 26, 2013 continues to be commemorated here. In this second year of remembrance, the anniversary suddenly "grew another head," as the new, later start of play at SW19 means that there's an official (on the 26th, when other tournaments are taking place -- this year, a gull swooped down at Aga in Eastbourne), as well as an "observed" (Day 3 at every Wimbledon - this year, a heat wave hit London, and Centre Court was evacuated) date on which the Radwanskian Massacre takes its place front and center on the Backspin stage.



===============================================




17.

Future Sloane, is that you?
...after over two years of waiting for her to finally reveal herself, Future Sloane time traveled back to give us another taste of what COULD still be possible down the line as Sloane Stephens won her first tour singles title in Washington.

===============================================




16.

The Dane's SI Swimsuit Issue participation


...did you hear about the Dane posing for the Sports Illustrated swimsuit issue? Well, if you hadn't, Caroline Wozniacki took the time remind you.



Over..



And over...



And over again.



All right, Caro. We get it. The photos are great -- now go win another title. It's been a while.


===============================================




15.

The NextGen vs. the Thirtysomethings vs. Everyone-in-Between


...rarely has the tennis tour been presented with a clear case of THREE different generations operating on near-equal footing while battling for WTA prominence, but that's pretty much what we've seen in 2015. The thirtysomethings (Serena, Venus, Flavia, etc.) have more than held their own, while the twentysomethings (the older wave: Kerber, Safarova & Co., as well as the younger: Kvitova, Halep, Muguruza, Svitolina, et al.) are facing off with the new teen set (Bencic & Konjuh have won titles, while players born in the 2000's are now earning computer rankings) for the right to push out the "seniors." It makes for an exciting, compelling season-long race... even if the WTA year DOES go on WAY too long.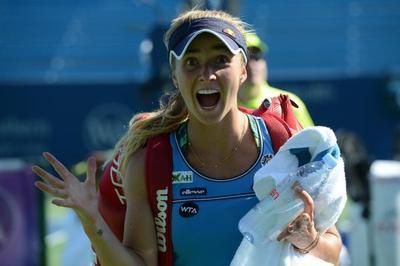 ===============================================




14.

The Queen of Mexico


...Timea Bacsinszky officially earned her WTA stripes south of the border, winning two titles in Mexico BEFORE big slam runs in Paris and London, and now a Top 10 ranking. And she did it all with a big smile on her face and oodles of appreciation for the life her job is allowing her to live. And, in her case, it makes every win and accomplishment extra sweet.

===============================================
13.

The Bracelet


...Aleksandra Krunic, the "Serbian Good Luck Charm," has entered the building... and with the Bracelet came a change in fortune for the Serbian Fed Cup team in '15. After five straight losing ties during which the Serbian FC Powers That Be either left Krunic off the squad, or limited her involvement to "dead" doubles matches despite her importance to the cause as the squad made a run to the FC final in 2012, she was finally given a prominent role in this season's action following her star turn at last year's U.S. Open. Naturally, with their Good Luck Charm back in the fold, the Serbs ended their skid, advancing out of Zone play with Krunic leading the way, then winning in the WG II Playoffs as she once again assumed a leadership role due to an injury to Jelena Jankovic (and w/ AnaIvo assuming the #2 role), providing the clinching singles win that makes the Serbian FC team relevant again for 2016. All right, Serbia... do you understand now?


===============================================




12.

The Magic of Aga


...much of this season has been trying for Aga Radwanska, but she began to turn a figurative corner during the grass court season. In good or bad, though, she's always capable of inspiring a bit of awe.

Ninja sighting! Incredible lob from @ARadwanska over Kerber--> http://t.co/AtAqJIndUw #WTA https://t.co/tFQxDne93R

— WTA (@WTA) August 8, 2015



===============================================




11.

The Many Faces of Petra


...we've come to expect to NOT know what to expect from Petra Kvitova. Over the years we've gotten Good Petra and Bad Petra, and also, on occasion at Wimbledon (though not this year) Lethal Petra. This season, with her mononucleosis diagnosis, we even got a taste of Bad Petra's cousin, Mono Petra, as well as Good Petra's sometimes-twin Stereo Petra (I just couldn't resist that one, I guess). Who knows what -- or who -- we'll see in 2016. Oh, Petra.

===============================================




10.

Serena & Steffi


...the side benefit of Serena Williams' chase of what turned out to ALMOST be a Grand Slam was that we were reminded of the awesome career of Steffi Graf, whose 1988 feat is assured of being the last of its kind for yet another year. Soon, her Golden Slam season will be older than she was (29) when she retired in 1999.


===============================================



9.

The Romanian Fed Cup Team


...I've been touting the coming surge of the Swarmettes as far back as 2008. Well, the long talked-about (and predicted) 2016-17 window for a Fed Cup title run officially opens next season. The deep, dedicated and fiery (thanks, Ms. Dulgheru) Romanian team finally advanced to the Group I 1st Round for 2016 and it's possible that one year from now they COULD be preparing to play for the nation's first FC title, or at least might be appearing in a maiden final. Thing is, the key to a title run SHOULD be world #2 Simona Halep... but the occasional propensity to crumble in the clutch that has developed in her game over the past year might ultimately turn Romania's #1 weapon into its greatest liability if and when the team ever does get within one tie of a championship.


===============================================




8.

Vika


...we saw glimpses of "the old Vika" in 2015, but nagging injuries continued to hold the former #1-ranked, two-time slam winner back when it came to reclaiming her rightful place in the world Top 10. She often played like a Top 10er, but as long as her ranking remains stuck somewhere between #15-#25, she'll continue to go through the two steps forward, one step back process that marked her season. First step for 2016: get 100% healthy. Next step: train to get back that half-step of quickness that has been lost during her string of leg and foot injuries over the past two years. Imagine how much better an already super-competitive, week in and week out tour could be next year if Azarenka, the only player to ALWAYS have belief in her ability to compete with and defeat Serena Williams, could be back in fine, Verisimilitude of Vika form. Hopefully we'll get to find out first hand.

===============================================




7.

The Eternal Sunshine of the Gavrilovian Mind


...Daria Gavrilova, Backspin's Official Mascot, and her poppy, skippy, jumpy, just off-center approach and never-slow-down game is a joy to watch and root for, as the 21-year old Moscow-born Aussie's rise from #233 to inside the Top 35 in less than ten months has put her squarely into the discussion concerning 2015's Most Improved Player. But it's not just Gavrilova's play that bears watching, as it's her sense of humor -- which she says no one gets -- on which the sun ALWAYS shines.

So I thought "Pisa" was a boring caption and an obvious caption.... No one gets my humour... ever.. ?? pic.twitter.com/mD1wY9iBL0

— Daria Gavrilova (@Daria_gav) April 29, 2015
===============================================
6.

The Doubles Resurgence


...who knew that all it'd take was absolute chaos -- small "c," not large "C" -- for the tour's doubles resurgence to take root? Due to a Pick-Up-Stix situation that saw nearly all the world's top doubles teams disbanded and scattered across the floor (four of last year's eight WTAF teams are no longer in existence, including both finalists that competed for the '14 season's final title in Singapore) the entire landscape of the sometimes-neglected and overlooked competition changed seemingly overnight. Errani/Vinci, Hsieh/Peng, Hingis/Pennetta, Mirza/Hsieh (which had already replaced Black/Mirza) and Barty/Dellacqua went away, and it all seemed to come at the expense of WD's reputation as a whole. But out of the ashes emerged a Dream Team (Hingis/Mirza), a Dynamic Duo (Mattek-Sands/Safarova), a set of BFFs (Babos/Mladenovic, the latter of which still takes time to win titles with others, too), a NEW all-sister force (the Chans), a cobbled-together duo of Dellacqua/Shvedova that can compete with anyone, as well as several all-nation holdovers that'll be in place for Rio '16 (Makarova/Vesnina, Kops-Jones/Spears, Muguruza/CSN and Gasparyan/Panova). Hingis (a huge presence on tour for the first time since her singles heyday) and Mirza (the first Indian woman to be ranked #1), in particular, have sparked an interest in doubles (the non-Williams Sisters variety, at least) that we haven't seen in years. Go figure.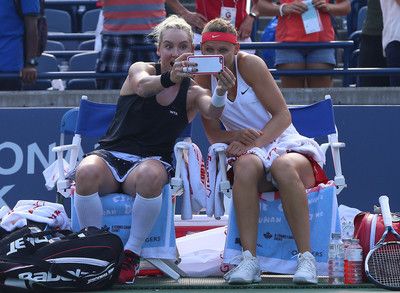 ===============================================




5.

The Fed Cup Captains


...over the past two or three years, a few things have become clear.


1)

French FC Captain Amelie Mauresmo always puts together as good a roster for a Fed Cup weekend as possible, with her set of players allowing for a "Plan B" if things don't go as planned, her desire to "go with her gut" about a player coming through in the clutch (even if they've never done so in their FC past), while also providing for a "winning ticket" duo to be available should things come down to the deciding doubles. Mauresmo almost always makes the right decision (leading to some remarkable recent French results, even with players with a history of nervousness in the clutch), and is in tune with what her young charges require to play at their best.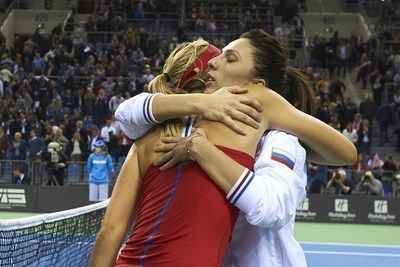 2)

Anastasia Myskina is still feeling her way through her new role as Russia's FC Captain, but with a history of leading the Hordettes to victory as a player, and with her roster members trusting her judgment, she's found a way past the squad's recent controversy and gotten it back into this year's FC final (which would be Russia's first since '08). She's on her way to becoming a Russian tennis legend for the SECOND time.


3)

Mary Joe Fernandez has none of the qualities inherent in the skill sets listed in either #1 or #2 on this list.

===============================================




4.

The USTA's "Playoff" Practices


...so, let's get this straight. At the end of a three-event "playoff," the USTA awards a Roland Garros wild card not to a player who won two titles and reached the final of a third event, but to a player who won a title, reached a final and lost in the 1st Round of a third event because only two of the results from the three events "count." Thus, via a tie-breaker (even though there was never REALLY any tie), the lower-ranked Katerina Stewart, the former example, lost out to the higher-ranked Louisa Chirico, the latter, despite outplaying and literally beating her in two of the three events. Stewart was positioned in first place in the "race" heading into the final challenger event -- which she won, defeating Chirico in the final -- because, essentially, she played and excelled in TOO MANY events. Later in the summer, the USTA's sponsored U.S. Open Series was "won" by Karolina Pliskova (w/ one final appearance) after the Czech went 6-4 and totaled just 75 points compared to the 145 won by Serena Williams (she won the biggest title) and 140 by Simona Halep (2 RU), but was awarded the crown BECAUSE she played in more tournaments (her results in the events, naturally, meant nothing) and had her total doubled to 150 points. This happened because of a rule that began to be enforced in 2014, one year after both Series winners (Serena and Nadal) went on to win the U.S. Open and collect their $2 million bonuses. In other words, the USTA seeks to reward attendance over success... except when it rewards ranking over success in the very "playoff" in which success was necessary in order to win. Well, except that success got Stewart nothing. Crazy. Although, I guess all this does explain how MJF can maintain her position of Fed Cup Captain despite years of poor roster building, gameday mismanagement and a tin ear when it comes to what the young players on the U.S. FC roster often need and can handle while the American squad has continually squandered home court advantage against undermanned teams, and even had a hard time winning (and sometimes actually losing, as occurred vs. Italy this year) with Serena Williams in action because Fernandez failed to stock the roster with at least one doubles player in ties that everyone figured might end up being determined in a deciding doubles match. In that loss to Italy, the U.S. duo in action was Serena, just after a long singles match that she nearly dropped, and Alison Riske, who'd only met for the first time a few days earlier. Way to think ahead, Mary Joe.


===============================================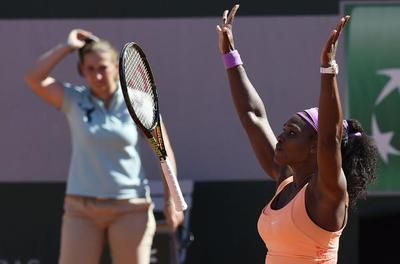 3.

The (Almost) Grand Slam


...much of the talk about the WTA all summer -- well, ALL of it, really -- centered around Serena's quest for the Grand Slam. Then Roberta Vinci's monumental upset in the semifinals, for as great and moving as it was, robbed the tour of probably the biggest moment in the spotlight it had experienced since, ummm, maybe the 2001 U.S. Open primetime final featuring the Williams Sisters. A title run in Flushing Meadows would have cemented Serena's legacy and, for a day or so, made the WTA a top-tier sports topic. It didn't happen. For as fun as Vinci's win (especially for her) was, and as unique as the all-Italian final that resulted from it turned out to be, it'll always have to be seen a huge missed opportunity. Not just for Serena, but for the sport as a whole. Of course, there's always 2016. And at least then no one could call Williams' quest one for a "Calendar Golden Slam." So there's that.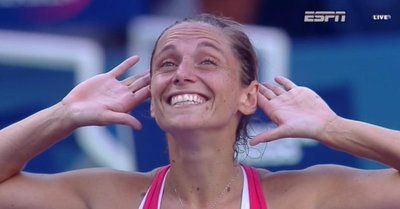 ===============================================




2.

Maria Sharapova's Instagram account


...sure, Maria's great on the court and all. But her Instagram account is cool. And not just for the pseudo-or-not behind-the-scenes peeks at all (or some) things Sharapova, either. If there's another athlete with a social media presence who offers up such casually constructed (or at least she makes it seems that way) photos that are as artistic and interesting as the majority of Sharapova's, then I apologize to them for leaving them out of this discussion. But while it's a simple throwaway moment to see the personal images posted by other athletes, any trip to Sharapova's Instagram is accompanied by a quick hit of anticipation about what might be found there. Maria's just got a good eye. (Rolls eyes.) Of course she does.

===============================================




1.

Being Simona Halep


...at the beginning of 2015, the view of Halep, even after a few seemingly minor missteps last season, was unquestionably that of an intelligent problem-solving player about to take "the final leap." After ending her year with a win over Serena Williams in Singapore, only potential injury issues that might take away her great court movement seemed to stand in her way of becoming the next player to get her "grand slam champion" merit badge. But, right under our collective nose, it was Halep's OTHER match with Williams at the WTA Finals -- when she went away very quickly in a loss in the final -- that provided the key to the TRUE aspect of Halep's career that we needed to pay the MOST attention, too. After a quick start to her season (titles at three of her first four events), the storyline changed. Then changed again. And again. After being bludgeoned by Garbine Muguruza in a Fed Cup tie, then admitting to succumbing to the pressure of the moment, the proverbial cat was out of the bag. What followed was a season that saw Halep play well, even winning Indian Wells, then crumble again later on big stages. She'd faithfully admit her error and vow to never give up in a match on the court. And she wouldn't... until she sort of would again, on another big stage (at the U.S. Open, for example), after having called upon her personal "Simonativity" while gutting out tight matches to get to the semifinals, only to essentially fail to show up there against an in-form Flavia Pennetta. She rebounded with a QF her next time out, then crumbled again (blowing a 5-1 3rd set lead for which she -- as honestly has been her calling card all season long -- admitted she had no ready explanation), only to most recently go down with an Achilles injury that makes one wonder if she'll be up to returning to Singapore to begin to mend things where, to some degree, they first began to break. What seemed as if it'd be an easy transition for the Pride of Romania has turned into a rather complicated (though fascinating) affair over the past year. Heading into 2016, the journey into Halep's mind -- and how everything we and she learn plays out on court -- might be the tour's most intriguing plotline of all.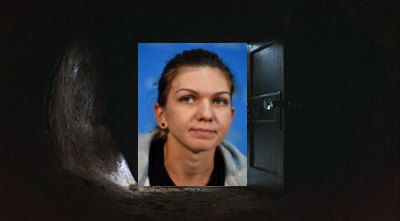 ===============================================





**PAST "Backspin MVP" Top 3's**


[2012]
1st - The Radwanska
2nd - Victoria Azarenka
3rd - Carl & Carla
[All-Time Backspin MVP List]
1st - Kim Clijsters
2nd - Justine Henin
3rd - Jelena Jankovic
[2013]
1st - Serena Williams & Vika Azarenka
2nd - The Radwanska
3rd - Citizen Anna
[2014]
1st - Team Genie and/vs. Team Sloane
2nd - 2004 Revisited (Russian Revolution)
3rd - Captain/Coach Amelie Mauresmo















*WEEK 40 CHAMPIONS*
BEIJING, CHINA (Premier Mandatory $4.72m/HCO)
S:

Garbine Muguruza/ESP def. Timea Bacsinszky/SUI 7-5/6-4


D:

Martina Hingis/Sania Mirza (SUI/IND) d. Chan Hao-Ching/Chan Yung-Jan (TPE/TPE) 6-7(9)/6-1 [10-8]

?? INCREÍBLE SEMANA! AMAZING WEEK! ?????????? #Champion #Campeona #beijing2015 pic.twitter.com/1UykWr6Sx2

— Garbiñe Muguruza (@GarbiMuguruza) October 11, 2015



PLAYER OF THE WEEK:

Garbine Muguruza/ESP


...well, so far so good with the Muguruza-Sam Sumyk teaming, huh? Two events. Two finals. And now the Spaniard's first title since Hobart in January of last year. Not that Muguruza hadn't done well for herself before hooking up with Sumyk (working with his third player in '15, after leaving his longtime pairing with Victoria Azarenka for one with Genie Bouchard, which didn't last nearly as long, nor was it anywhere near as successful... or successful at all, actually). She reached the Wimbledon final this year, and recently climbed into the Top 10, then Top 5. But she's still occasionally prone to losing leads with error-strewn patches that she can't find her way through, and she had a difficult time getting things back in order after her SW19 run, too, going 1-3 on North American hard courts and winning just one match in Tokyo. That hasn't been the case the past two weeks since she began to work with Sumyk, though. After often dominating opponents in Wuhan before being forced to retire with a foot injury in the final, Muguruza's movement didn't seem compromised too much in Beijing. Wins over Irina Falconi, Mirjana Lucic-Baroni and Bethanie Mattek-Sands were followed by a three-set win over Aga Radwanska and win in the final over Timea Bacsinszky in which the Spaniard came back from being a break down twice in the 1st (w/ Bacsinszky serving for the set) and once more in the 2nd to win in straight sets to become the seventh different woman to win one of the nine biggest Premier events on the WTA's '15 schedule (only Serena and Halep won two each).

Happy Birthday @GarbiMuguruza from the #WTA!??????http://t.co/vfGtcheiVs pic.twitter.com/0tfHsh91KH

— WTA (@WTA) October 8, 2015

While this is Muguruza's biggest career title, winning it wasn't her only highlight of the week: she also celebrated her 22nd birthday, qualified for the WTA finals and on Monday will find herself just one point behind #3 Maria Sharapova in the tour singles rankigns. As Muguruza wrote on the televison camera lens after her big win: "What?"

Garbiñe Muguruza on working with Sam Sumyk in Asia. "Now everything can only be worse (laughter)." pic.twitter.com/TRkObIPhlW

— WTA Insider (@WTA_insider) October 11, 2015



===============================================




RISER:

Timea Bacsinszky/SUI


...Timea is back, and the tour is all the better for it. Bacsinszky's rise from essential-retirement to player-of-relevance over the past two seasons has been one of the best WTA stories of 2015, largely because of the charming, appreciative attitude that has accompanied the comeback of the 26-year old Swiss. But after winning two titles, reaching the Roland Garros semis (nearly final) and Wimbledon QF, Bacsinszky was winless (0-4) during the summer hard court season (failing to convert MP in her opening loss, then dropping three consecutive in straight sets) and went from the top Swiss tennis story of the season to, arguably, the FIFTH-biggest (behind Federer, Wawrinka, Hingis and Bencic). After finally putting away a hard-earned victory in the 1st Round in Beijing over Camilia Giorgi (staging a comeback from 6-1/4-2 down), Bacsinszky found her groove once again with wins over Mariana Duque, Carla Suarez-Navarro, Sara Errani (in a match of wildly swinging momentum) and Ana Ivanovic to reach the final and assure herself of jumping from #17 into the Top 10, becoming the first Swiss woman to debut there since Patty Schnyder in 1998 (she's just the fourth Swiss to do it, and only the third who played their entire career for the nation). Even with her loss in the final to Garbine Muguruza, Bacsinszky was at her winning best in her fan-friendly post-match address to the crowd that went on for quite a while (as she herself joked) but, to her credit, was a joy to listen to the entire time.

To smile & wanting to cry at the same time...emotions comming every time...no matter where #LoveMyJob #Limitless ?????? pic.twitter.com/WTghbBSw5Y

— Timea Bacsinszky (@TimiBacs) October 10, 2015
Bacsinskzy: Never thought she'd be Top 10. "Looking back at what I've achieved right now I just have goosebumps because the road was long."

— WTA Insider (@WTA_insider) October 11, 2015



===============================================




SURPRISE:

Anastasia Pavlyuchenkova/RUS


...in true Pavlyuchenkovian fashion, a week after I vowed to "never again" predict anything good of note for Pavlyuchenkova, the Hordette put up the sort of result that makes you think she's capable of much more. Of course, don't be fooled by the her results from last week -- it isn't likely a prelude to something bigger. It never is. The 24-year old Russian, who has won seven career titles and reached three other finals (winning her last at the 2014 Kremlin Cup) yet still carries an "underachiever" label, has been her regular inconsistent self in '15. She came into Beijing sporting an overall 23-20 record, compiled in the usual fits and starts. She won multiple matches at just three of her first fourteen tournaments this year, but put together a nice 10-3 stretch early in the summer hard court season before leveling off with a 2-2 stretch from the U.S. Open until the start of play a week ago. In Beijing, Pavlyuchenkova ran good off wins over Julia Goerges, Elina Svitolina and Flavia Pennetta to reach her fifth QF of the season. She lost to Ana Ivanovic in three sets (blowing a nice lead along the way), but her earlier win over U.S. Open champ Pennetta was her first against a Top 10 player since defeating AnaIvo (via retirement) in Wuhan last year. Her most recent full match win over a Top 10er came against Aga Radwanska in Eastbourne in 2014. The Russian will move up slightly (just three spots) to #29 on Monday, and looks to be positioned quite well for her fourth consecutive (mediocre, frustrating... take your pick) finish between #25-#36 on the WTA computer. Truthfully, what's going on in the Pavlyuchenkova household looks like it might, be, umm, more interesting.

Just got a pic from home, my dog is wearing my @adidastennis socks! ?????? pic.twitter.com/xjii81IkXB

— A. Pavlyuchenkova (@NastiaPav) October 8, 2015



===============================================




VETERANS:

Ana Ivanovic/SRB & Sara Errani/ITA


...days after dropping out of the Top 10 (to #15), Ivanovic reached her fourth semifinal of the year (but first since Roland Garros) with wins over Casey Dellacqua, Venus Williams, Svetlana Kuznetsova and Anastasia Pavlyuchenkova (after being down a set and a break). In the semis, she lost a three-setter to Timea Bacsinszky after "pulling an Ana" and seemingly losing all confidence in her game after a quick start, then calling for a trainer to treat a back injury in the final set. Oh, and she announced that she's setting up a training base in the U.K. to be near her soccer-playing beau, too... but I think we all know she'd be smart to not be TOO quick to change her billing address for all her online purchases just yet. Considering her history, I'm just sayin'. Meanwhile, Errani's post-U.S. Open results are sure showing signs of the 28-year quite possibly looking ahead to '16 with the intent of personally extending the Italian veteran wave of success that picked up steam at Flushing Meadows. Since the Open, Errani has reached a semifinal in Guangzhou and returned to the Top 20, then last week put on a QF run in Beijing with wins over Petra Kvitova (her first Top 5 win since knocking off Li Na in Rome last year), Caroline Garcia and Andrea Petkovic. And, yes... I'm already scribbling down notes on Errani for next season's "Prediction Blowout." To be continued...

.@SaraErrani is 1st through to @ChinaOpen QFs! Defeats Petkovic 3-6, 6-3, 6-2--> http://t.co/VKYHhyiYt2 #WTA pic.twitter.com/PPqVcmo6u8

— WTA (@WTA) October 7, 2015



===============================================




COMEBACK:

Bethanie Mattek-Sands/USA


...BMS has spent much of the year building back (and then some) her doubles standing after missing six months last year following hip surgery, but in the season's second half she's been picking things up considerably in singles, as well. She qualified and reached the 3rd Round at Wimbledon (def. AnaIvo along the way), put up a SF result in Florianopolis in July and pushed Serena Williams in the 3rd Round of the U.S. Open. Last week in Beijing, she was back at it, qualifying with wins over Patricia Maria Tig and Lucie Hradecka, then grabbing MD victories over Alize Cornet, Lara Arruabarrena and Roberta Vinci to reach her second QF of '15. She'll make a big leap from #90 to #63 in the Monday rankings.

.@BMattek moves into @ChinaOpen QFs! Beats Vinci 6-1, 3-6, 6-2--> http://t.co/Cimw67tTgo #WTA pic.twitter.com/wp1VQ62QiH

— WTA (@WTA) October 8, 2015



===============================================




FRESH FACE:

Danielle Collins/USA


...in the Riviera ITA All-American Championships in Pacific Palisades, California 2014 NCAA champ Collins took the title with a win over the University of Miami's Sinead Lohan in the final. Lohan had defeated Collins' Virginia Cavalier teammate Julia Elbaba in the 1st Round.

Collins claims her second national title/third tournament title of the 2015 fall season. The girl is unstoppable. ???? pic.twitter.com/jDPIA3rMO4

— ITA Tennis (@ITATennis) October 11, 2015



===============================================




DOWN:

Simona Halep/ROU


...the world's #2-ranked player retired from her 1st Round match in Beijing, citing an Achilles tendon injury. Halep says she hopes to play in the WTA Finals, as the Romanian is one of the few players who have already secured a berth in Singapore and aren't involved in some sort of race-to-the-finish toward a season-concluding deadline to make the cut. But the fact remains that even if Halep can play, it'll be a question whether or not she'll be physically able to be at her best in the three round robin matches she'd be required to play just to get into the semifinals. As it stands, the WTAF event offers Halep a chance for several "do-overs." For one, she failed to take the title a year ago, losing to Serena Williams in the final despite dominating the world #1 in their RR match-up. Halep is also currently riding a seven-month title drought that has turned what looked to be a fantastic season into one that is ending under something of a cloud, with multiple lingering questions as a result of her mediocre clay and grass court campaigns, disappointing slam results, continued injury issues (especially with her legs, feet and ankles) and, maybe even more troubling, her continued (and sometimes shocking) inability to handle the pressure of some big stage situations, even after periods during which she's seemed to conquer the problem, which only really cropped up as a big issue for her this season after her rise up the rankings had placed her squarely in the spotlight back home in Romania and she was forced to deal with the weight of expectation that has been placed upon her shoulders as a result of her previous (though still not "ultimate" slam) success. A title run in Singapore would answer many of those questions, at least temporarily, and allow her to go into the offseason on a high note. If that doesn't (or can't) happen, though, it's likely that Halep will feel an even greater pressure to fully rebound heading into '16. Even with so many issues, she's managed to lift her year-end '14 ranking (#3) this season, but with Serena not likely to move out of her way, there's probably only one direction for her to go next year. Ending 2015 on the right foot -- no pun intended -- could prove to be very important.


===============================================




ITF PLAYER:

Lourdes Dominguez-Lino/ESP


...the 34-year old vet was just the SECOND-most successful Spanish singles champ of the weekend, but her title in the $50K challenger in Tampico, Mexico is the eighteenth of her career (third in '15). LDL's 7-5/6-4 win in the final over Pastry Alize Lim is her second $50K title of the season and will lift her ranking back into the Top 100.

F ITF Women Tampico: Congratulations to Lourdes Dominguez-Lino! She wins in straight sets against Alize Lim! #Tennis pic.twitter.com/ebuSJivwco

— Tennisweek.de (@TennisweekDE) October 11, 2015



===============================================




JUNIOR STAR:

Dalma Galfi/HUN


...the U.S. Open-winning #1-ranked junior, Galfi is continuing to show mettle on the ITF challenger circuit. The 17-year old Hungarian won her second consecutive event in Australia in the $25K in Cairns, winning her third title of the season and running her career record in pro finals to 5-0. Her 6-4/6-7(9)/6-1 win in the final over 18-year old Aussie Olivia Tjandramulia will move her into the Top 300. Of some note, Andrea Temesvari, Galfi's coach, knows a little something about early-career success. Also from Hungary, Temesvari won the Italian Open as a 16-year old in 1983 and reached a career-high of #7 before injuries complicated her career. Ultimately, she won five tour singles titles and won a Roland Garros doubles crown with Martina Navratilova in 1986.

WOMEN'S SINGLES Winner Dalma Galfi (HUN) and Runner up Olivia Tjandramulia (Qld) #protour #cairns pic.twitter.com/ewvRHtvbuv

— Tennis Results (@oztennisresults) October 11, 2015



===============================================




DOUBLES:

Martina Hingis/Sania Mirza (SUI/IND) & Chan Hao-Ching/Chan Yung-Jan (TPE/TPE)


...the Dream Team continues to rule the courts. In Beijing, Hingis & Mirza made it four straight finals and four straight titles. Wins over Errani/Pennetta, Goerges/Ka.Pliskova and the Chan sisters in the final gives the duo eight titles on the season (the most by a team since 2006), provides the ninth WD crown for both woman in '15 (both won early season titles with other partners before joining forces), and extends their winning streak to seventeen matches (the longest on tour -- singles or doubles -- this season). For Mirza, it's WTA career doubles crown #31, while Hingis is now just one shy of fifty. If it wasn't for the Dream Team, the Chans would be THE on-fire doubles team of the back-half of the season. The sisters reached their fifth final as a duo in '15 (four in their last six tournaments) and became just the third all-sibling team (Kateryna & Manuela Maleeva '86, the Williams Sisters '09) to qualify for the year-end championships. Since playing in Toronto in August, the Chans have gone 22-1 against the rest of the tour, but are 1-4 vs. the Dream Team.

We are going to Singapore!!! @WTA #WTAFinals #chansis #sisterpower pic.twitter.com/Y8m6ACsKqm

— ???~YungJan Chan (@YungJan_Chan) October 9, 2015
===============================================
Beijing: The Great Wall Series
The world and its treasures... #GreatWallOfChina Le monde et ses trésors... #MurailleDeChine #Magique pic.twitter.com/M2EAh4mFAM

— Alize Cornet (@alizecornet) October 6, 2015
Saying farewell to Beijing and the Great Wall. Next stop my second home: Hong Kong! pic.twitter.com/3QpJppb8VW

— Christina McHale (@ChristinaMcHale) October 7, 2015
Clear skies in Beijing, what better time for a stroll along the #Greatwall hey @MonicaAce93 ??? #chinatennis pic.twitter.com/qsoVqGmtlp

— China Open (@ChinaOpen) October 8, 2015
Lugar maravilhoso!! #muralhadachina #GreatWall pic.twitter.com/mktgwHP8Ha

— Teliana Pereira (@telianapereira) October 8, 2015
Visitando una de las maravillas del mundo #GreatWallOfChina ?????????? pic.twitter.com/OzKKoiVEXh

— Lara Arruabarrena (@laraarrua) October 9, 2015
Hiking the great wall with family & friends..awesome & inspirational visit..thanks @chinaopen for making it happen pic.twitter.com/Dy1ajAPQRs

— Novak Djokovic (@DjokerNole) October 7, 2015


1. Beijing Final - Muguruza d. Bacsinszky
...7-5/6-4. In a match that often showed Muguruza at her best, after an error-filled start, the Spaniard twice overcame break disadvantages in the 1st and Bacsinszky serving for the set at 5-3 to run off five straight games and grab the set for herself. After dropping her serve three straight times, Muguruza put together two consecutive holds and a break of the Swiss before successfully holding again for 7-5. Muguruza fell behind an early break (at 2-0) once more in the 2nd, but again played well down the stretch, breaking Bacsinszky and giving herself a chance to serve out the set (and match). She did, and she's now won nineteen straight matches after winning the opening set.

.@GarbiMuguruza picks up 1st title of 2015 & 2nd career title at 2015 @ChinaOpen--> http://t.co/5YiFEuwLBA #WTA pic.twitter.com/ZWk7aHMgLr

— WTA (@WTA) October 11, 2015
Garbiñe Muguruza and her new "poker face". pic.twitter.com/4WGQsreZat

— WTA Insider (@WTA_insider) October 11, 2015



===============================================


2. Beijing 1st Rd. - Bencic d. Brengle
...6-7(4)/6-4/6-3. Add the New Swiss Miss to the late season Disabled List, as she withdrew with a hand injury following this victory. Still, she's put up a 31-8 record since Roland Garros, and is surely in line to become the NEXT Swiss in the Top 10.

.@BelindaBencic has withdrawn from the @ChinaOpen due to a right hand injury--> http://t.co/KI8HeZNxms #WTA pic.twitter.com/mwGOrOU4mT

— WTA (@WTA) October 6, 2015



===============================================


3. Beijing 1st Rd. - Petkovic d. Bouchard
...6-2/1-1 ret. Once again, concussion symptoms ended Bouchard's comeback. I said it last week, and I will again: it's time for the Canadian to stop rolling the dice and to just pull up stakes on '15 and try to be healthy for January.

.@GenieBouchard retires in the 2nd set. @AndreaPetkovic moves into @ChinaOpen 2R--> http://t.co/93WsKuWIZG #WTA https://t.co/qe3K7HY64e

— WTA (@WTA) October 5, 2015
Petkovic on her exchange with Bouchard after the latter retired from their match. pic.twitter.com/S9KWIJOrqq

— WTA Insider (@WTA_insider) October 5, 2015



===============================================


4. Beijing QF - Ivanovic d. Pennetta 6-3/7-5
Beijing 2nd Rd. - Hingis/Mirza d. Errani/Pennetta 1-6/6-4 [10-6]
...barring a change of mind, there aren't many more left. Not that Teliana Pereira will miss Flavia keeping her on her toes. Literally.

When the haters try and come for you pic.twitter.com/h4MbQUiHyk

— WTA Reactions (@WTAreactions) October 6, 2015

Meanwhile...

On the couch: @usopen champion @flavia_pennetta expresses herself on our new feature couch #chinaopen #happycouch pic.twitter.com/qhKxJDTIbl

— China Open (@ChinaOpen) October 2, 2015
More like #VaguelyCreepyCouch, I say.
===============================================
Casually slicing the ball to perfection like https://t.co/1JKCsj0GiH

— WTA Reactions (@WTAreactions) October 7, 2015

5. Beijing 3rd Rd. - Bacsinszky d. Suarez-Navarro 6-4/4-6/7-5
Beijing QF - Bacsinszky d. Errani 0-6/6-3/7-5
...it wasn't easy for Bacsinszky, as she blew a 6-4/4-1 lead (and was the victim of that slice) in a 2:23 match vs. CSN, then overcame a 6-0/2-0 deficit (then nearly squandered a 3-0 3rd set lead) against Errani. Either way, she's still TPT -- The People's Timea. See?

Making someone's day like pic.twitter.com/us8c4StJI4

— WTA Reactions (@WTAreactions) October 7, 2015



===============================================


6. Linz Q1 - Kasatkina d. Chirico
...6-2/6-4. The U.S. Open's "Lucky Loser" handles the Bannerette who lost twice to Katerina Stewart over a three-event USTA "playoff" but still managed to get the wild card over her for Roland Garros. No, I won't be letting that one go until the calendar switches over until 2016.


===============================================


7. $10K Hilton Head Island Final - Alexa Graham d. Ulrukke Eikeri
...6-4/7-6(5). Graham, 17, wins her first pro title in her third 2015 final, defeating the Norwegian after getting previous wins over fellow Bannerette teens Reveena Kingsley and Makenna Jones.


===============================================


8. $10K Sharm El Sheikh Final - Jacqueline Cabaj Awad d. Freya Christie
...2-6/7-6(5)/6-4. The nineteen year-old Swede defeats the 17-year old Brit to win her second career ITF singles title. Christie also lost in the singles final in Egypt last week, but she DID grab her first pro title in doubles this week with a victory with partner Alexandra Riley.


===============================================


HM- $10K Port El Kantaoui QF - Michaela Honcova d. Patty Schnyder
...6-2/6-7(6)/6-2. The loss ends Schnyder's nine-match winning streak, as she was playing in her first event since winning a challenger title in early September.


===============================================




So what was Maria's week like...?



Filled with anticipation.



Tomorrows date with @StellaMcCartney #PFW pic.twitter.com/Da9mQV4ax4

— Maria Sharapova (@MariaSharapova) October 4, 2015
And inner thoughts.
Some time in the spotlight.
At @StellaMcCartney. She's just so good! pic.twitter.com/yT8wMnsCYd

— Maria Sharapova (@MariaSharapova) October 5, 2015
Gorgeous @MariaSharapova at @StellaMcCartney shared her view of fashion w/ @Pascal_Mourier (link in bio) #pfw #ss16 pic.twitter.com/l6YLyW0Uak

— Babstudio Paris (@Babstudioparis) October 5, 2015
Fashion afterglow.
Post show with @StellaMcCartney and @LewisHamilton pic.twitter.com/pnmiMigLNb

— Maria Sharapova (@MariaSharapova) October 5, 2015
Oh, but the week wasn't over. Onto the Chanel show...
Don't I look like a @Chanel sweater bunny? Perfect for my first flight on #ChanelAirlines #PFW pic.twitter.com/HcCiaKYdwR

— Maria Sharapova (@MariaSharapova) October 6, 2015
And dropping names in public.
While also leaving a mark in her wake.
.@MariaSharapova wore #Spring16 at #Valentino #SS16 show. Watch it on http://t.co/DgW1rOZKLU Image by @am_bitieuse pic.twitter.com/aknWHqUiXs

— Valentino (@MaisonValentino) October 7, 2015


1. Beijing Final - Hingis/Mirza d. Chan Hao-Ching/Chan Yung-Jan
...6-7(9)/6-1 [10-8]. With eight titles (all this season), only one player has won more doubles titles with the Original Swiss Miss during her career than Sania: Anna Kournikova, with eleven. Both Mirza and Jana Novotna have won eight each. Next up: bathing in the Beijing championship cup?

.@MHingis & @MirzaSania win 8th title of 2015 at @ChinaOpen! Extend win streak to 18--> http://t.co/JsYmbE310n #WTA pic.twitter.com/kQpO8hMu8y

— WTA (@WTA) October 10, 2015



===============================================


2. Beijing 2nd Rd. - Ivanovic d. Venus Williams
...7-6(3)/6-2. After her title run (w/ injury) in Wuhan, not much was expected from Venus here. Still, she served for a 5-3 lead in the 1st set (holding a GP) before being broken by AnaIvo on the Serb's third BP of the game. Ivanovic carried things through the 2nd set from there.


===============================================


3. Beijing QF - Aga Radwanska d. Kerber 6-1/6-4
Beijing SF - Muguruza d. Aga Radwanska 4-6/6-3/6-4
...after a brilliant performance against Kerber, Aga was up and down against Muguruza. The win over the German was Radwanska's first over a Top 10er this season, and her 1-1 record in Beijing makes her 1-5 vs. Top 10 players in 2015. A-Rad got the benefit of two retirements (from Vandeweghe and Keys) en route to the QF last week, but they helped run her overall record to 9-2 since the end of the U.S. Open.


===============================================


4. Beijing QF - Chan Hao-Ching/Chan Yung-Jan d. Mattek-Sands/Vesnina
...4-6/7-5 [10-7]. This makeshift doubles team didn't fare as well against the Chans as each might have had BMS and Vesnina been playing with their regular (injured/ill) partners. At least Bethanie can see the light at the end of the tunnel, though...

.@LucieSafarova's almost back ?? Will play next week's @WTALinz--> http://t.co/dnExA5ue1x #WTA pic.twitter.com/NhePm7GUEb

— WTA (@WTA) October 7, 2015



===============================================


5. Tianjin Q3 - Lyudmyla Kichenok d. Z.Yang 6-3/6-2
Tianjin Q3 - Nadiia Kichenok d. J.Lu 6-2/6-2
...look out, Tianjin. Here come the Kichenoks!


===============================================





Twitter Q&A highlights
Yes I did. Marat Safin https://t.co/O9TgeDbtfx

— victoria azarenka (@vika7) October 10, 2015
I think Belinda Bencic has been pretty impressive this year https://t.co/WYAHT64dyA

— victoria azarenka (@vika7) October 10, 2015

Rubbing elbows.
Selfie time with @DjokoMare and @DjokerNole ..???? #birdsnest #beijing pic.twitter.com/AthqXfyRNv

— Caroline Wozniacki (@CaroWozniacki) October 5, 2015
Meanwhile, is her friendship with Serena rubbing off on Caro?
She won the best dressed female at the #chinaopen player party tonight, Wow Thing @CaroWozniacki pic.twitter.com/kJmDhAn1SY

— China Open (@ChinaOpen) October 5, 2015





**2015 PREMIER MANDATORY/PREMIER 5 FINALS**


Dubai - #4 Halep/ROU d. #18 Ka.Pliskova/CZE
Indian Wells - #3 Halep/ROU d. #21 Jankovic/SRB
Miami - #1 S.Williams/USA d. #12 Suarez-Navarro/ESP
Madrid - #4 Kvitova/CZE d. #29 Kuznetsova/RUS
Rome - #3 Sharapova/RUS d. #10 Suarez-Navarro/ESP
Toronto - #20 Bencic/SUI d. #3 Halep/ROU
Cincinnati - #1 S.Williams/USA d. #3 Halep/ROU
Wuhan - #24 V.Williams/USA d. #8 Muguruza/ESP
Beijing -


[doubles champions]


Dubai - Babos/Mladenovic, HUN/FRA
Indian Wells - Hingis/Mirza, SUI/IND
Miami - Hingis/Mirza, SUI/IND
Madrid - Dellacqua/Shvedova, AUS/KAZ
Rome - Babos/Mladenovic, HUN/FRA
Toronto - Mattek-Sands/Safarova, USA/CZE
Cincinnati - Chan/Chan, TPE/TPE
Wuhan - Hingis/Mirza, SUI/IND
Beijing - Hingis/Mirza, SUI/IND



**2015 WTA FINALS**


5...Serena Williams (5-0)
5...Simona Halep (3-2)
5...Karolina Pliskova (1-4)
4...Angelique Kerber (4-0)
4...TIMEA BACSINSZKY (2-2)
4...Belinda Bencic (2-2)
3...Petra Kvitova (3-0)
3...Maria Sharapova (2-1)
3...Anna Schmiedlova (2-1)
3...GARBINE MUGURUZA (1-2)
3...Lucie Safarova (1-2)
3...Caroline Wozniacki (1-2)
3...Carla Suarez-Navarro (0-2+L)



**RECENT TOP 10 DEBUTS**




=2008=


Aga Radwanska, POL


=2009=


Victoria Azarenka, BLR
Caroline Wozniacki, DEN
Flavia Pennetta, ITA


=2010=


Li Na, CHN
Samantha Stosur, AUS
Francesca Schiavone, ITA


=2011=


Petra Kvitova, CZE
Andrea Petkovic, GER


=2012=


Angelique Kerber, GER
Sara Errani, ITA


=2013=


Maria Kirilenko, RUS


=2014=


Simona Halep, ROU
Dominika Cibulkova, SVK
Genie Bouchard, CAN


=2015=


Ekaterina Makarova, RUS
Carla Suarez-Navarro, ESP
Lucie Safarova, CZE
Garbine Muguruza, ESP
Karolina Pliskova, CZE
Timea Bacsinszky, SUI



**SWISS WOMEN DEBUTING IN TOP 10**


Manuela Maleeva (1990; first reached Top 10 in '84 rep. Bulgaria)
Martina Hingis (1996)
Patty Schnyder (1998)
Timea Bacsinszky (2015)



**2015 CONSECUTIVE DOUBLES TITLES**


4 - Sep/Oct - HINGIS/MIRZA (US-Guangzhou-Wuhan)
3 - Mar/Apr - Hingis/Mirza (IW-Miami-Charleston)
2 - Jan - Bethanie Mattek-Sands (Sydney-AO)
2 - May - Babos/Mladenovic (Marrakech-Rome)



**2015 WTA WINNING STREAKS**


17...HINGIS/MIRZA (doubles), September-October (active)
15...Serena Williams (singles), May-July
15...Timea Bacsinszky (singles), February-March
15...Sania Mirza (doubles), March-April
14...Martina Hngis (doubles), March-April
14...Hingis/Mirza (doubles), March-April
14...Simona Halep (singles), February-April



**DOUBLES TITLES TEAM LEADERS SINCE 2000**


2000 (6) Julia Halard-Decugis & Ai Sugiyama
2001 (7) Lisa Raymond & Rennae stubbs
2002 (8) Lisa Raymond & Rennae Stubbs
2003 (7) Ai Sugiyama & Kim Clijsters
2004 (6) Cara Black & Rennae Stubbs
2005 (5) Lisa Raymond & Samantha Stosur
2006 (10) Lisa Raymond & Samantha Stosur
2007 (9) Cara Black & Liezel Huber
2008 (10) Cara Black & Liezel Huber
2009 (7) Nuria Llagostera Vives & Maria Jose Martinez Sanchez
2010 (7) Gisela Dulko & Flavia Pennetta
2011 (6) Kveta Peschke & Katarina Srebotnik
2012 (8) Sara Errani & Roberta Vinci
2013 (5) Hsieh Su-Wei & Peng Shuai
2014 (5) Sara Errani & Roberta Vinci
2015 (8) Martina Hingis & Sania Mirza



**2015 WTA SINGLES SEMIFINALISTS - BY NATION**


26 - USA
19 - CZE
15 - GER,ITA,ROU
14 - RUS (w/ Gavrilova)
10 - ESP
9 - SRB,SUI,SVK
8 - POL




Memories...



#TBT 1991, Compton, with Dad #tennis #coaching pic.twitter.com/x0YnnEY5d9

— Venus Williams (@Venuseswilliams) October 8, 2015
October 11th, 2010! Exactly 5 years ago today @CaroWozniacki became World No.1--> http://t.co/30NxiwiqKQ #WTA pic.twitter.com/uaIJ3cihsL

— WTA (@WTA) October 11, 2015
A new British #1.
There's a NEW British No.1, @JoKonta91--> http://t.co/p9ThP0yHIJ #WTA ???? pic.twitter.com/QvooGeSKOh

— WTA (@WTA) October 5, 2015
A new CEO.
BNPPO Tournament Director Steve Simon named @WTA CEO. More Here --> http://t.co/WCm0I4t7RM pic.twitter.com/YL4OPoIwaI

— BNP Paribas Open (@BNPPARIBASOPEN) October 5, 2015
And... it's time to dance.
Spicing up your life! ?? @heatherwatson92 pic.twitter.com/FjT1OoBON2

— Monica Puig (@MonicaAce93) October 7, 2015





LINZ, AUSTRIA (Premier $227K/HCI)


14 Final: Ka.Pliskova d. Giorgi
14 Doubles Final: Olaru/Tatishvili d. Beck/Garcia
15 Top Seeds: Safarova/Wozniacki
=============================


=SF=


#4 Petkovic d. #6 Giorgi
#2 Wozniacki d. (qualifier?)


=FINAL=


#4 Petkovic d. #2 Wozniacki

...Safarova returns, but it's hard to expect much after her recent ordeal. The bottom half looks ripe for a deep run by a qualifier (or two?), but since the Q-rounds won't be completed until Monday, I'll just leave open the idea that a Konta or Ostapenko might sneak through to the semis, or maybe even the finals.





HONG KONG, CHINA (Int'l $227K/HCO)


14 Final: Lisicki d. Ka.Pliskova
14 Doubles Final: Pliskova/Pliskova d. Mayr-Achleitner/Ar.Rodionova
15 Top Seeds: V.Williams/Kerber
=============================


=SF=


#1 V.Williams d. #6 Gavrilova
#2 Kerber d. #5 Stosur


=FINAL=


#1 V.Williams d. #2 Kerber

...does she have one more in her? Can Angie be excellent for a fifth time, tying Serena for the tour title lead?





TIANJIN, CHINA (Int'l $426.8K/HCO)


14 Final: Riske d. Bencic
14 Doubles Final: Kudryavtseva d. An.Rodionova d. Cirstea/Klepac
15 Top Seeds: Pennetta/A.Radwanska
=============================


=SF=


#5 Mladenovic d. #1 Pennetta
#2 A.Radwanska d. #3 Ka.Pliskova


=FINAL=


#2 A.Radwanska d. #5 Mladenovic

...Aga's trying to stuff 55% of her season through a 25%-sized window. She might just pull it off.


And, finally...



Serena finds different things than you and I do when cleaning out the house...



Serena's 1st Round U.S. Open Victim: Epilogue
Physiotherapy???? pic.twitter.com/qpUKB8CtYw

— Vitalia Diatchenko (@VDiatchenko) October 8, 2015
So patriotic, colors of Russian flag on my foot???? Nice job, my physio is happy???? #FromRussiaWithLove pic.twitter.com/fVwIGLYfWC

— Vitalia Diatchenko (@VDiatchenko) October 8, 2015
And, last, but certainly not least...
When you find out bae forgot about your birthday pic.twitter.com/a8eJ4qtvGW

— WTA Reactions (@WTAreactions) October 8, 2015
Maybe Garbi should have just screamed it into the void.
Remember: Instead of posting awful things online, scream them into the void! http://t.co/hAS4gLNNfL pic.twitter.com/sXX9mFMhyG

— Last Week Tonight (@LastWeekTonight) October 5, 2015




And if that doesn't work: If you see a racket today... give it a hug. Just to even things out.



All for now.