US.5 - Building the Perfect Madison, Pt. 21 (or so)
Some have recently attempted to compare Madison Keys to Serena Williams. It's never really been a good fit... in part, because it's been an act of lazily fitting together not-really-matching puzzle pieces, while also bordering (at best) on being insulting and offensive.
But today, well, yeah, Keys had a little bit of Serena in her.
Comeback!@Madison_Keys rallies from 1-5 down in the final set to defeat Osaka 7-5, 4-6, 7-6(3)! #USOpen pic.twitter.com/KjRN5IYS13

— WTA (@WTA) September 2, 2016


In the 1st Round, the 21-year old #8 seed had to fight for her U.S. Open life against fellow Bannerette Alison Riske. Riske was one shot away from holding a match point for a straight sets victory, only to miss it and eventually lose a three-setter that didn't end until two o'clock in the morning.

But Keys outdid even herself today.

She faced off in a 3rd Round match at Ashe Stadium with 18-year Naomi Osaka, a Japanese player who also holds U.S. citizenship and whose big game, at its best, can hit with the likes of the hard-slugging Keys. Already with a win over another seeded Bannerette (#28 CoCo Vandeweghe) this week, Osaka was playing in her third 3rd Round at a major this season, having flashed the big shots and large serve that has never failed to make observers' eyes widen throughout 2016 as they think of the possibilities her future holds if she can just harness her power into a more finely-tuned threat. Sort of how Keys was viewed two or three years ago.

But that Osaka wasn't threatening Keys in this match for the first set and a half today. Keys was dominating. She faced a break point in the opening game of the match, but didn't feel the pressure of another until she'd already won the 1st set 7-5 and was half-way through the 2nd. At 4-4, Keys found herself with a triple game point. But a few loose errors led to her game very nearly unraveling like it used to when SHE was the one trying to harness her skills into a more consistent force, when waves of errors would intrude upon an otherwise fine match and send her packing for the next stop on her schedule immediately after the match.

Actually, Keys DID unravel today... but, like the current #1, who recently said that Keys would one day top the rankings, has done so often in her own career, her younger countrywoman reeled back a seemingly "unwinnable" match and produced an "eleventh hour" surge that led to victory.

With Keys suddenly sending shots all over the court, Osaka took the 2nd set 6-4, then proceeded to simply out-hit her opponent in the 3rd. While Keys' game went off the tracks in a hail of overzealous errors, Osaka grabbed an early break of serve and took off. Keys' double-faulted on BP to go down a double-break at 4-1, and Osaka had an easy hold to take a 5-1 lead. It seemed to be all over except for the post-match deconstruction of the Keys collapse.

But that's why nothing is ever a given in this sport, especially when the pressure of a big slam weighs on the shoulders of a player ready for more, as well as one who is not quite "there" yet.

When Keys held for 5-2, the burden shifted to Osaka. That's when the teenager began to feel the moment, just as Keys got the scent of victory and refused to let it get away. Twice the Japanese teen served for the match. Twice she failed to do so. Meanwhile, the flailing errors disappeared from the game of Keys, replaced by confidence and a string of winners. It was time for Osaka's game to go off the rails, which it did while she fought back tears as she watched it all slip away.

Serving for the match for the second time at 5-4, Osaka's forehand error was followed by a big Keys return winner to take a love/30 lead. Osaka got to 30/30, but then missed long on a volley and pulled a crosscourt forehand wide to give Keys the break and tie the score at 5-5. Keys then held at 15 and found herself just four points from a victory that seemed an impossible dream not fifteen minutes earlier.

Osaka managed to hold to force a deciding tie-break, but it would only be Keys' proving ground, not her own.

Keys' wide second serve was unreturnable as she escaped what would have been an early TB hole, holding for 2-2. She then fired a forehand return winner to go up a mini-break at 4-2. She move around to get to her lethal forehand a point later, blasting a second serve return winner to go up 5-2. A serve into the corner was returned well beyond the baseline by Osaka, giving Keys her first MP at 6-3. She'd only need the one. Osaka's missed forehand ended the 7-3 tie-break, as Keys won 7-5/4-6/7-6(3).


The thrill of victory; the agony of defeat. @Madison_Keys escapes a valiant effort from Naomi Osaka. pic.twitter.com/PLKEzkwVJA

— Ash Marshall (@AMarshallSport) September 2, 2016


Only three years seperate Keys and Osaka, buy they're an important three. What Keys has learned about herself and her tennis since she was 18 is enough to fill two Osaka heads at this point. While Keys still has more to learn to reach her potential, Osaka, while on schedule for great future success, is still a few big steps behind. But the raw materials are surely there.

It's days like this that can make a player like Keys, a Top 10er whose next logical career step involves a grand slam final and/or title, into an elite star on the WTA tour. She'll use this experience to get better, just as she has so many over the past two or three years. It could be that this is the match that she had to win to get take that "final step" at the end of this tournament. But this day can also make (or break, I suppose, depending on her psyche) Osaka something more, too. She now knows she can challenge the current "NextGen future major winner" on a big stage. She just needs to learn how to close the deal. She just needs to get a little bit better. Then, a short ways down the road, she might be looking to take the final step toward reaching her own tennis dream.

Just like Keys is now.

Both may just get there, too. And if or when that happens, what happened today will still be important. This is all part of how champions are built. From the ground up.

Keys is eyeing the penthouse, while Osaka is eyeing the "up" elevator.

And both have the tools to get there. We saw them all today.




=DAY 5 NOTES=
...don't look now, but...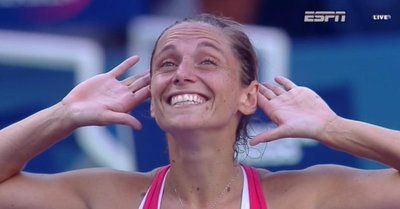 Of course, that doesn't mean that things went totally smoothly on Friday for 2015 Open runner-up Roberta Vinci. The 33-year old Italian came into this season's final slam with nothing resembling momentum. But she did have the muscle/mental memory of last year's dream run on her side. So far, they're making beautiful music together. Again.

Vinci opened today's 3rd Round match with a love set win over 21-year old German Carina Witthoeft (blonde, tall, broad-shouldered and wearing a visor... it was easy to see how those kids mistook her for a certain well-known Russian on a practice court at the start of the tournament), but things got tricky after the veteran led 5-3 in the 2nd set. Witthoeft swept the next four games to force a 3rd set. After giving away an early break lead, Vinci eventually won the final three games of the match for a 6-0/5-7/6-3 victory that puts her in the Round of 16 for a second straight year, and four of the last five (she reached the QF in 2012-13, too, further evidence of the overblown hyperbole -- and the lack of knowledge at hand for the casual "experts" who chimed in about the sport for the first time all season -- in all the "upset of the century" nonsense that was thrown around so casually after last year's semifinal).


Last year's runner-up is moving on. No. 7-seeded Vinci takes out Germany's Carina Witthoeft in three. #USOpen pic.twitter.com/6d19dfr1XS

— TennisNow (@Tennis_Now) September 2, 2016


So, while a lacking summer and the hard-to-repeat career-best nature of her NYC run last year seemed to be working against the Italian a week ago, making Vinci one of least likely players to catch a wave into the second week of this event, well, now it looks like she might just be capable of doing just that.


80% of all tennis pundits & fans :"Can't help but go with Roberta Vinci for 'early upset' this tournament!"

Vinci: pic.twitter.com/iSYHkU8vRp

— René Denfeld (@Renestance) September 2, 2016


Again, remember, Francesca in Paris... in 2011, not 2010. Roberta's got her New York groove back.


.@roberta_vinci walks into her press conference wearing a US Olympic Team shirt. "I got it in New Haven. You like it?" #USOpen

— WTA Insider (@WTA_insider) September 2, 2016


...and now it'll be #7 Vinci, not #12 Dominika Cibulkova, who has the shot to reach the QF without facing a seeded player, as the Slovak fell in three sets to Ukraine's Lesia Tsurenko, nursing a knee injury (with a tape job that covers a large portion of her leg), but still able to get to everything she needed to today to advance to her first career slam Round of 16 with a 3-6/6-3/6-4 victory.




For a bit, it looked as if Tsurenko might squander her big chance. Serving for the match at 5-4, her DF put her down love/30 and she was soon broken. But Cibulkova couldn't back up the break, ultimately ending things on the Ukrainian's first MP when she dumped a backhand volley into the net.

Since every slam has its own fashion component, here's a look at Tsurenko's outfit today. I sort of like it, though that's largely because twenty other players aren't wearing the exact same thing. But, in all honesty, I think it probably looks better from a distance than it does close-up (when it goes from "intriguing" to maybe a bit "busy"... but, then again, maybe that's perfect for the U.S. Open).


.@LTsurenko makes first Grand Slam Round of 16!

Edges Cibulkova 3-6, 6-3, 6-4! #USOpen pic.twitter.com/wnzcMOz4ba

— WTA (@WTA) September 2, 2016


...well, when you get this far into a slam recap on a day when Petra Kvitova played, well, you know IT didn't happen.

Yep, Good Petra showed up in the Czech's match against Elina Svitolina, just as she did when the two faced off in the Olympic quarterfinals a few weeks ago, when Kvitova won 6-2/6-0 after the Ukrainian had upset Serena Williams one round earlier.

Of course, that doesn't mean that you-know-who -- "Bad P.," let's call her -- wasn't on hand. Eventually.

Kvitova took an early break lead in the 1st, but was immediately broken at love a game later with Svitolina fired a backhand return winner crosscourt to knot the set at 2-2. But, likely to co-coach Justine Henin's consternation, Svitolina was out of sorts, especially on serve, throughout this match. She doubled-faulted on BP to give the break back to Kvitova a game later. Serving down 3-5, Svitolina's third DF of the set put her in a precarious position, but anyone who knows Petra knew she wasn't out of it when, with the set within reach, Kvitova fired several wayward forehands, allowing Svitolina a chance to hold. If she could just push the set a little bit deeper, she might just see the Czech open a door to let her back in (or maybe even more). Svitolina went up 40/15, but could not put the game away. Kvitova hit back-to-back winners, then another on a backhand crosscourt return to reach SP. Svitolina's long forehand error ended any hope she had, as Petra won 6-3.

In the 2nd set, Kvitova jumped out to a 4-0 lead. Good Petra was flying high. Svitolina's winner in game #5 was just her seventh in the entire match, but it helped to lure you-know-who out of the shadows. The Ukrainian went out to a love/40 lead on Kvitova's serve and got on the board with a break for 4-1. Again, she had a shot, if she could just hold on long enough.

Svitolina went up 40/love a game later. She had another DF, but held for 4-2, then led love/30 on Kvitova's serve a game later. The Czech's DF broke her own serve, and the two-break lead was gone. Svitolina held at love a game later when Bad Petra fired a forehand long, and suddenly the set was knotted at 4-4. But Kvitova's easy hold in game #9 proved to be the final momentum swing of the set. With Svitolina serving to stay in the match, her sudden surge of confidence and good form just as suddenly left her and she bowed out in a rather routine break of serve as Kvitova won 6-3/6-4.

Oh, which version of Kvitova will rule the day next time out? Well, with the likely opponent being none other than #2 Angelique Kerber (vs. CiCi Bellis in the night session), I think we know which one it MUST be if the run of the New York production of "Petra/Petra" is going to have an encore in the second week of this event.

...elsewhere in the day session, a case can be well made that Anastasija Sevastova making handy work of Kateryna Bondarenko in a 6-4/6-1 victory to reach her second career slam Round of 16 might be more impressive than her 2nd Round win over #3 seed Garbine Mugurza under the lights of Ashe two days ago. After defeating the Spaniard, the Latvian said that it was only "one match," so maybe the perspective she showed then was the key to her managing her emotions and backing up her career-best match win with another to give her her career-best slam result. Of course, giving up the sport and then coming back to such success probably played a large part in such a mature take on things, so one can't expect EVERY player to be able to follow suit.


?? perfect! #Sevastova steams past #Bondarenko 6-4, 6-1 into 4R. She hasn't dropped a set this #usopen. pic.twitter.com/9quI7rNvgY

— US Open Tennis (@usopen) September 2, 2016


Caroline Wozniacki continued her run today, as well, playing her best match yet at this Open with a 3 & 1 takedown of Monica Niculescu; while Johanna Konta, who came back from the brink (literally, though "gracefully") two days ago vs. Tsvetana Pironkova, unceremoniously ended the slam season of Belinda Bencic, as the Swiss teen's injury-and-inactivity issues over the course of 2016 means that after opening the campaign with a three-win Round of 16 result in Melbourne she only notched three more wins at majors the rest of the year. Konta took her out hard today, winning 6-2/6-1.

...in doubles, the Dashas are no more, 7-5 3rd set losers to Klepac/Srebotnik on Day 5. Mattek-Sands/Safarova posted another win, while the Chan sisters were sent packing. Also advancing were Olympic Gold medalists Makarova/Vesnina (who saved a MP) and Roland Garros champions Garcia/Mladenovic.




"AND..." ON DAY 5:

Karolina Pliskova is still undefeated at this Open. "Crazy women's tennis tour," remember?


An easy WIN for @juliagoerges & @KaPliskova #TeamPliskoerges are safely into R3 of #USOpen ?????? pic.twitter.com/r77QL0A8ht

— Team Pliskoerges (@TeamPliskoerges) September 2, 2016




LIKE ON DAY 5:

It's that time of year again.


Happy birthday, @JimmyConnors! Career of a legend: https://t.co/UO1xJfR1ZR #ATP #tennis #Connors pic.twitter.com/wEfYd2RSiZ

— ATP World Tour (@ATPWorldTour) September 2, 2016




"WELL..." ON DAY 5:

...except for that being exactly what it is. It's not as if it's a dirty word or something.


Don't call it a comeback! @CaroWozniacki continues to make a run in this year's #usopen https://t.co/8XqNHs7dQR pic.twitter.com/KDLuDGPGE6

— US Open Tennis (@usopen) September 2, 2016
"SO MANY NONVERBAL SIGNS IT MAKES YOUR HEAD SPIN" ON DAY 5:
the thirst of that girl for Domi, lol pic.twitter.com/MaZyuOojO8

— Stroppa Del (@stroppadel) September 1, 2016




LIKE ON DAY 5:

Yep.


A gem from @andyroddick's impromptu Periscope tonight, on Serena's longevity... pic.twitter.com/rhK7N1niTB

— Chris Oddo (@TheFanChild) September 2, 2016




LIKE ON DAY 5:

Good seats.


September 1, 2016
"NEED I SAY MORE?" ON DAY 5:
Well this is awkward...#USOpen pic.twitter.com/UZN9sEmwQX

— ESPNTennis (@ESPNTennis) September 2, 2016




"NEW ON CBS THIS FALL!" ON DAY 5:

The premiere of "Everybody Loves Flavia."


Look who is here! My forever fav #USOpen champ ?? @flavia_pennetta @usopen pic.twitter.com/RnfbynraEc

— Kristina Mladenovic (@KikiMladenovic) September 2, 2016




LIKE ON DAY 5:

If anyone else does it, it's just an umpire gettin' wet. When it's Cicak, well, it's an epic humanizing and everyday moment in Cicakian lore. Sort of like being able to see George Washington trip over a rock.


It's a hard knock #umplyfe pic.twitter.com/cQ6ZWNdjm2

— René Denfeld (@Renestance) September 1, 2016
Things are getting Wet & Wild with Marija Cicak on Court 17. Climbs the ladder trying to dry off the umpire's chair. Water dumped on her.

— Courtney Nguyen (@FortyDeuceTwits) September 1, 2016




"TRUTH-TELLIN'" ON DAY 5:

If this had been a photo of a certain Frenchman, everyone would have been acting like...


Tough day but gave my best out there!Nice to play under the roof on Ashe stadium!#usopen #teamsafarova @robsteckley pic.twitter.com/QSWDUaebOC

— lucie safarova (@luciesafarova) September 1, 2016


...well, acting something like this...


the thirst of that girl for Domi, lol pic.twitter.com/MaZyuOojO8

— Stroppa Del (@stroppadel) September 1, 2016
...and, finally...








*WOMEN'S SINGLES ROUND OF 16*


x vs. x
x vs. x
x vs. x
x vs. x
#8 Madison Keys/USA vs. Caroline Wozniacki/DEN
#13 Johanna Konta/GBR vs. Anastasija Sevastova/LAT
#7 Roberta Vinci/ITA vs. Lesia Tsurenko/UKR
#14 Petra Kvitova/CZE vs. x




"I always believe in myself and I always think that in my head I belong to the top of the game." @CaroWozniacki pic.twitter.com/BiucgKffMH

— ESPNTennis (@ESPNTennis) September 2, 2016
Having a bit of fun today on set w @espn .. If Phil Collins needs a backup drummer, I'm ready ?? pic.twitter.com/3P5HmyczzH

— Caroline Wozniacki (@CaroWozniacki) September 2, 2016

EVERYBODY WAS KUNG POOTS FIGHTING pic.twitter.com/jMgiRY8X79

— René Denfeld (@Renestance) August 31, 2016
@Renestance love you @Yulka1995P ???? pic.twitter.com/HtMGhxUjG5

— Daria Gavrilova (@Daria_gav) September 2, 2016




*BACKSPIN 2016 "COMEBACK" WINNERS*




JAN:

Victoria Azarenka, BLR


FEB:

Genie Bouchard, CAN


MAR:

Ekaterina Makarova, RUS


1Q:

GENIE BOUCHARD, CAN


APR:

GER Fed Cup Team


MAY:

Dominika Cibulkova, SVK


JUN:

Ekaterina Makarova/Elena Vesnina, RUS/RUS


2Q Clay Court:

DOMINIKA CIBULKOVA, SVK


JUN:

Anastasija Sevastova, LAT


JUL:

Genie Bouchard, CAN


2Q Grass Court:

ASHLEIGH BARTY, AUS


JUL:

Vania King, USA


AUG:

Laura Robson, GBR


[2016 Weekly COMEBACK Award Wins]


6...Genie Bouchard, CAN
5...Anastasija Sevastova, LAT
4...Sorana Cirstea, ROU
4...Peng Shuai, CHN
3...Ashleigh Barty, AUS
3...Dominika Cibulkova, SVK
3...Vania King, USA
3...Laura Robson, GBR
2...Nicole Gibbs, USA
2...Simona Halep, ROU
2...Petra Kvitova, CZE
2...Ekaterina Makarova/Elena Vesnina, RUS/RUS
2...Melanie Oudin, USA
2...Tamira Paszek, AUT
2...Amra Sadikovic, SUI
2...Anna Karolina Schmiedlova, SVK





TOP QUALIFIER:

Taylor Townsend/USA




TOP EARLY-ROUND (1r-2r):

#1 Serena Williams/USA




TOP MIDDLE-ROUND (3r-QF):

xx


TOP LATE-ROUND (SF-F):

xx


TOP QUALIFYING MATCH:

Q2: Eri Hozumi/JPN d. (WC) Amanda Anisimova/USA 6-1/2-6/7-6(1) [Hozumi trails 4-0 in the 3rd, saves a MP vs. the 14-year old]




TOP EARLY-RD. MATCH (1r-2r):

2nd Rd. - Kateryna Bondarenko/UKR d. Zheng Saisai/CHN (5-7/7-6(5)/7-5; Zheng served up 5-4 2nd and 5-3 in TB; 3:01)




TOP MIDDLE-RD. MATCH (3r-QF):

xx


TOP LATE-RD. MATCH (SF-F/Jr.):

xx


TOP ASHE NIGHT SESSION MATCH:

xx


=============================




FIRST VICTORY:

Cagla Buyukakcay/TUR (def. Falconi/USA)




FIRST SEED OUT:

#30 Misaki Doi/JPN (lost 1st Rd. to Witthoeft/GER)




UPSET QUEENS:

China




REVELATION LADIES:

Ukraine




NATION OF POOR SOULS:

Belgium (0-4 in 1st Rd.)




CRASH & BURN:

#32 Monica Puig/PUR (Olympic Gold medalist; lost 1st rd. to Sai.Zheng/CHN)




ZOMBIE QUEEN (TBD at QF):

Nominees: #31 Babos (1st Rd. def. Haas/AUT, trailed 4-0 in 3rd); #13 Konta (2nd Rd. - collapses at end of 2nd set due to heat vs. Pironkova, wins 6-2 3rd set); #25 Garcia (2nd Rd. def. Siniakova, traield 4-1 in 3rd, won last 5 games); #8 Keys (3rd Rd. - down 5-1 vs. Osaka in 3rd set, two points from defeat, wins 7-3 TB)


IT ("??"):

Nominees: C.Bellis/USA, M.Keys/USA, Konjuh/CRO


Ms.OPPORTUNITY:

xx


LAST QUALIFIER STANDING:

CiCi Bellis/USA (in 3rd Rd.)




LAST WILD CARD STANDING:

Lauren Davis/USA, Kayla Day/USA, Vania King/USA (all 2nd Rd.)




LAST BANNERETTE STANDING:

In 3rd Rd.: C.Bellis, M.Keys(W), V.Lepchenko, S.Williams, V.Williams


COMEBACK PLAYER:

Nominees: C.Wozniacki/DEN, A.Sevastova/LAT, Zhang Shuai/CHN


KIMIKO DATE-KRUMM VETERAN CUP (KDK CUP):

Nominees: R.Vinci/ITA, V.Williams/USA


DOUBLES STAR:

xx


BROADWAY-BOUND:

xx


LADY OF THE EVENING:

Nominee: M.Keys/USA (won latest-ending women's match - 1:48 a.m.), S.Williams/USA


JUNIOR BREAKOUT:

xx





All for Day 5.