Wk.5- Divergent Paths to One Destination
The major storylines on the courts of Melbourne swirled around a group of veterans continuing to claim (
or returning to
) prominent positions on one of the sport's grandest stages. But, in the return to the "regular" tour, the spotlight shifted to the foundation and resume-building successes of the thriving-but-striving-for-more faces of the next generation of WTA stars.
Two rose above the rest in Week 5, though their paths to such success have rarely crossed over the years.
Literally, or figuratively.
But that could be about to change.
The 2?0?1?7? hot-streak continues!! @KikiMladenovic and @ElinaSvitolina both take home WTA titles this weekend with their new Burn rackets! pic.twitter.com/WCmMgztnav

— Wilson Tennis (@WilsonTennis) February 5, 2017


Elina Svitolina and Kristina Mladenovic are roughly the same age. 22 and 23, respectively. But the two, who were crowned the Roland Garros girls champ in successive years (Mladenovic in '09, Svitolina in '10), never met as juniors, and have only faced off once in a pro event (not even meeting in doubles over the years). But even that meeting came not in a tour-level event, but in Ankara, Turkey, in a $50K challenger that took place in late December of 2011 (Kiki won). Fittingly, the progression of their pro careers have taken place "off the beaten path," as well. At least when it comes to any attempts to compare (but mostly contrast) their paths to the success they both saw this weekend.

By far, Mladenovic (hey, she's French, it's her birthright) has been the more flashy player of the two over the years, producing much doubles (including a RG crown in '16) and Fed Cup ('16 final) success, but she's often been an underperforming disappointment in singles play, even while often impressing against top players and showing off an athletic style that has produced eye-opening shots (tweeners have been in her repertoire for years) on a regular basis.

Svitolina has mostly been a defensive-minded player in her early career, but never one who could be deemed a "disappointment." Mostly because she's always been a winner, claiming her first tour singles title at age 18 in 2013, and winning one every season ever since, making what has essentially been slow-as-it-goes, step-by-step, steady progress up the WTA rankings (improving every year since her first season-ending ranking in 2010) in a way that has been admirable and impressive, but such "base-to-base" movement has also led the Ukrainian to sometimes be overlooked and lost in the tour shuffle by those not paying close attention, even as she ended '16 at #14, on the cusp of becoming the first player from Ukraine to ever crack the Top 10.

Mladenovic, on the other hand, has made headlines with her (often just as admirably, though not always) opinionated comments on various topics, from Maria Sharapova to criticism of the French tennis federation. But, between the lines, her season-ending rankings chart resembles that of an unstable business operating in a dodgy economy, going from #76 in 2012 to #56 a year later, then back down to #81, up to #29, then down again to #42 at the end of last season.

But while their paths have been different over the years, and never crossed since things truly "went live" in their WTA careers, they've often walked in each others footsteps. Svitolina followed Mladenovic as the RG girls title, but two years later they also were the two singles champions in the first year of the WTA 125 Series of challenger tournaments that began in 2012 (you know, back when those events actually DID pave the way for young players seeking early-career success, something which has often gotten away from the series in recent seasons). In 2015, Svitolina posted her (so far) only slam QF result in Paris, followed by Mladenovic doing the same a few months later in New York.

Both have taken advantage of the wisdom of Hall of Famers, as well. The Pastry has seemed to learn quite a bit about compartmentalizing her emotional nature and "using it for good" while playing under the watchful eye of Fed Cup captain Amelie Mauresmo, while Svitolina's time in '16 consulting with Justine Henin (who, ironically, crossed paths with Mauresmo quite often in THEIR careers) seems to have successfully focused her sights on just what it takes to develop a "champion's mentality." As Mladenovic has sought to find her calm in big moments, reaching three tour singles finals in 2015-16, Svitolina (much like 2016's defensive-to-offensive game-changer Angelique Kerber) has looked to add some well-timed aggressive to her defensive game. It's worked quite well for her, as she's gotten three victories over world #1's since last summer (two vs. Angelique Kerber, one over Serena Williams at the Olympics) and reached the two biggest finals of her career in New Haven and Zhuhai.


Congrats @ElinaSvitolina! ??

Lift that @WTA_Taiwan_Open ??! pic.twitter.com/R8UrQ5WK5H

— WTA (@WTA) February 5, 2017
.@KikiMladenovic lifts her first-ever #WTA title! @Formula_TX pic.twitter.com/9jF7qMTleC

— WTA (@WTA) February 5, 2017


Somehow, over the nearly nine years since their names began to be bandied about as truly being future star players in the tennis world, Week 5 might be the first time when their accomplishments have essentially been mentioned in the same breath. While Mladenovic and Svitolina's wins in Saint Petersburg and Taipei City, respectively, took place 4,774 miles (7683 km) apart, this could very well be the initial step toward their paths finally beginning to appropriately intersect. Svitolina's fifth career title will get the world #13 a little closer to the Top 10, while Mladenovic's maiden win will nearly lift her into the Top 30 (her career-best is #27). Their divergent paths -- and stylistically opposing games -- can't avoid each other for much longer. Though they've traveled far different paths to get there, BOTH appear to be ready to reach a higher level of WTA accomplishment. At some point, they'll look across the net and find the other seeking to block their way.

Maybe 2017 is the year. For both of them. For everything.




*WEEK 5 CHAMPIONS*
SAINT PETERSBURG, RUSSIA (Hard/Indoor)
S:

Kristina Mladenovic/FRA def. Yulia Putintseva/KAZ 6-2/6-7(3)/6-4


D:

Jelena Ostapenko/Alicja Rosolska (LAT/POL) d. Darija Jurak/Xenia Knoll (CRO/SUI) 3-6/6-2 [10-5]
TAIPEI CITY, TAIWAN (Hard/Indoor)
S:

Elina Svitolina/UKR def. Peng Shuai/CHN 6-3/6-2


D:

Chan Hao-Ching/Chan Yung-Jan (TPE/TPE) d. Lucie Hradecka/Katerina Siniakova (CZE/CZE) 6-4/6-2




PLAYER OF THE WEEK:

Kristina Mladenovic/FRA


...let's be honest -- it's sort of absurd that a player of Mladenovic's talent came into the week without a tour singles title to her name, ranked #51 in the world. So her long-overdue win in Saint Petersburg is a reason for congratulations, but it also SHOULD just be the first of many such occasions in the coming seasons. Including at least one more time before the end of 2017.


.@KikiMladenovic wins maiden #WTA title at @Formula_TX--> https://t.co/xhEK3B5OLF pic.twitter.com/zqe2o0q2F7

— WTA (@WTA) February 5, 2017


The Pastry's big week began with her ending Hobart champ Elise Mertens' eleven-match winning streak, and she followed up with wins over Venus Williams (just in from Melbourne), defending champ Roberta Vinci, wild card Cinderella Natalia Vikhlyantseva and Yulia Putintseva in a spirited three-set final in which Mladenovic blew a big 2nd set lead, and nearly let slip another in the 3rd, before finally putting down the Kazakh on her fifth MP. The week finally erased Kiki's 0-3 career mark in tour-level singles finals, and actually gives her TWO indoor titles in 2017, as she also won (w/ Richard Gasquet) the Hopman Cup team competition in Perth in Week 1.

Mladenovic also teamed up with Dasha Gavrilova in doubles, producing a totally different kind of "Dasha & Kiki" show than the one that we've seen in Melbourne. Mladenovic defeated Gavrilova in the '09 Roland Garros junior final, but came up a little short of "making it up" to the Aussie this weekend as the duo fell in the WD semis in Saint Petersburg. Dasha didn't seem to mind, though.


Kiki what a speech! Proud of you girllll @KikiMladenovic https://t.co/LoHpK1cppx

— Daria Gavrilova (@Daria_gav) February 5, 2017



===============================================




RISERS:

Elina Svitolina/UKR and Yulia Putintseva/KAZ


...Svitolina's gradual ascent up the WTA ladder added another successful rung in Taipei City, where the 22-year old Ukrainian picked up her fifth career tour-level singles title, claiming a tournament win for the fifth straight season. But it took one heart-stopping comeback victory to get it done. Wins over Galina Voskoboeva and Lucie Hradecka set the stage for a QF match vs. Ons Jabeur, the first WTA meeting between the two (they did play in a $25K semi in 2012, though) since Svitolina defeated the Tunisian in the '10 Roland Garros girls final. Svitolina had to rally from a 5-3 3rd set deficit, saving four MP, to advance, then she never lost another set (two 3 & 2 wins) while taking out Mandy Minella and Peng Shuai to grab the title. Her four MP saved are the most by any singles champ on tour since Andrea Petkovic saved eight en route to the Antwerp title in '15.


?? Thanks @wta_taiwan_open @wta @apg_world for a warm welcome and great accommodation! #FamEli ?? Grateful for all your sweet support ?? pic.twitter.com/JfS9nam2M4

— Elina Svitolina (@ElinaSvitolina) February 5, 2017


But, for all the signposts that Svitolina has consistently chugged on past, she's still got a few intermediate ones to knock down on her way to the top. Namely, getting a Premier title under her belt. Her Taipei City crown is her fifth International event win in her five singles titles. Another is to become the first player from Ukraine to reach the Top 10. Svitolina entered Week 5 at #13

Moscow-born Kazakh Putintseva had quite the week in Russia herself, though she didn't have the same final result as Svitolina's in Taiwan. The 22-year old DID reach her first tour-level singles final, though. Naturally, she did it with much fight and drama along the way. After wins over Johanna Larsson and Annika Beck, Putintseva came back from a break down in the 3rd to defeat BOTH Svetlana Kuznetsova and Dominika Cibulkova (the latter, in so many ways, Putintseva's emotional on-court doppelganger), and threatened to do the same in the final against Kristina Mladenovic. She erased a 5-2 2nd set deficit to force a 3rd, then battled the Pastry to the endge after trailing 5-1 in the 3rd, as well. She broke Mladenovic when she served for the match at 5-2, saving three MP, then fired a winner to save a fourth MP when the Frenchwoman served at 5-4. Finally, Kiki closed it out, but Putintseva is getting closer and closer to putting (or would it be "pooting?") her foot down and officially announcing that she's ready to annoy and pick away at the nerves of opponents on a regular basis on nearly every stage on tour... AND win, too.


Yulia Putintseva comes back from a break down in the third to def. Cibulkova 3-6 6-4 6-4 and reach her first WTA final in St. Petersburg. pic.twitter.com/W8cvp02zfC

— Adrin (@Chalk_Flew_Up) February 4, 2017



===============================================




SURPRISES:

Donna Vekic/CRO and Asia Muhammad/USA


...what looked to be a lost week for Vekic turned out not so bad, after all.

Vekic lost in the final qualifying round (7-5 in the 3rd) in Saint Petersburg to Kirsten Flipkens, and was do disappointed that she had to be consoled by the veteran Waffle (her doubles partner last week) after the match. But, as it turned out, she got into the draw as a lucky loser, put up a win while dropping just four games against Jelena Ostapenko, and even had some memorable moments in a 2nd Round loss to Dominika Cibulkova.


Wow! ??

Incredible shot from @DonnaVekic! pic.twitter.com/rxgKOA2JuX

— WTA (@WTA) February 2, 2017


The Croat ended up lasting longer in the MD than Flipkens (1st Rd.), though they both fell in their first doubles match.

In Burnie, Australia, Muhammad's upswing continued with the biggest title of her career at the $60K challenger there. The 25-year old, who recently qualified and notched a tour-level MD win in Brisbane in Week 1, posted victories over Tamara Zidansek, Marie Bouzkova and Arina Rodionova in a 6-2/6-1 final to claim her fourth career ITF singles title. Muhammad saw great progress last year, seeing her singles results pick up significantly as she finished with her first Top 200 singles season, while also having her first Top 50 campaign in doubles. She reached a career high of #151 before the AO, where she lost in qualifying, and entered this week at #165, so another new career-best standing should be around the corner.


Good week here and happy to leave Burnie with some hardware ?? pic.twitter.com/Wq51t0Cxas

— Asia Muhammad (@asiamuhammad) February 4, 2017



===============================================




VETERANS:

Mandy Minella/LUX, Lucie Safarova/CZE and Dominika Cibulkova/SVK


...Minella has carried over the late-season run that saw her finish strong over back-half of '16, a stretch which saw her win a $75K challenger and her biggest-ever singles title in the WTA 125 Series event in Bol, allowing her to finish with her best ranking (#103) since 2012. In Taipei City, she reached the semifinals, her first such result at a tour-level event since 2013 in Tashkent. Her wins included defeats of Jana Cepelova (who served for the match), Caroline Garcia (for Minella's first career Top 25 win) and Zhu Lin (who got within two points of victory). The 31-year old from Luxembourg came into the week off a 1st Round win in Melbourne, where she marked her third straight appearance in a slam MD after having failed to do so in the previous eight majors (losing seven times in qualifying during that stretch).




Also in Taipei City, #55 Safarova took a wild card into the MD and rode it all the way to the semifinals, defeating Aleksandra Krunic, Anastasija Sevastova and Misaki Doi without dropping a set before falling in two against Peng Shuai on Saturday, which just so happened to also be the Czech's 30th birthday.


Thank you #taiwanopen for this great bday celebration! 30 is the new 20 right?! Thank you for all your nice wishes! ?????? pic.twitter.com/8bhJWxhc6h

— lucie safarova (@luciesafarova) February 4, 2017


In Saint Petersburg, Cibulkova was back indoors, where she put up some of the biggest results (winning in Linz and Singapore) of her late season run that ended up with her finishing in the Top 5. Last week, she took out Donna Vekic and Elena Vesnina before dropping a three-setter against Yulia Putintseva. Still, it's her best result of the season thus far.


===============================================




COMEBACKS:

Peng Shuai/CHN and Andrea Petkovic/GER


...31-year old Peng has really taken this "second chance" thing to heart. Even with her U.S. Open singles semifinal and twenty weeks as doubles #1 in 2014, Peng has come back so strong after missing half the '15 season and having pre-2016 back surgery that what was often viewed as an "underachieving" list of overall career singles achievements prior to the surgery has somewhat been left behind. The Chinese vet finally notched her first career tour-level singles title in Tianjin in October after losing in her first six tour-level finals (though she had won a 125 Series event in '14), as well putting up a $100K challenger win and semi in consecutive weeks in November. It was enough to get her close to a return to the Top 100 by season's end. Through the opening weeks of 2017, Peng has won a doubles title in Shenzhen and reached her third career slam WD final in Melbourne with old/new partner Andrea Hlavackova, as well as upset Daria Kasatkina in the 1st Round of the Australian Open. Last week in Taipei City, she reached the singles final without losing a set against an impressive lineup of opponents that included Zheng Saisai, Katerina Siniakova, Samantha Stosur and Lucie Safarova. She fell in straights to Elina Svitolina in her eighth career tour-level final, but she'll rise back into the Top 60 on Monday and looks to possibly be in the mix to become one of the next thirtysomethings to possibly spark at a major and pull off a deep second week run, possibly once again this summer in New York where, at her current pace, she could be ranked high enough to earn a respectable U.S. Open seed.


Peng Shuai advances to @WTA_Taiwan_Open Final!

Scores an impressive 6-4, 6-2 win over Safarova! pic.twitter.com/Q9RfpBg5G0

— WTA (@WTA) February 4, 2017


A healthy Petkovic, 29, has seemed to have a bit more pep in her step in the early weeks of '17. She's been smiling, having fun and putting up some pretty respectable results, too. She got a win over Kristina Mladenovic in Perth, and posted MD victories in both Hobart and Melbourne. In Saint Petersburg, ranked #52, she had to go through qualifying to reach the MD. But she did it, then knocked off Irina-Camelia Begu before losing 6-4/6-4 to defending champ Roberta Vinci. Oh, and she had some "sculptural fun" on a museum visit, too (see below).


===============================================




FRESH FACES:

Natalia Vikhlyantseva/RUS, Ons Jabeur/TUN and Marketa Vondrousova/CZE


...the NextGen Russian contingent keeps growing in numbers and stature, and 19-year old Vikhlyantseva's name is now officially on everyone's lips (as is the Buyukakcay-esque memorization drill associated with making sure it's spelled correctly). After being granted a wild card into the MD, the six-foot-one big-hitting Hordette powered her way to the semifinals, becoming the Last Russian Standing in Saint Petersburg, as well as the first woman from her country to put up such a result in a tour event through the first five weeks of the season. She knocked off multiple impressive foes, including Yaroslava Shvedova and Daria Kasatkina, then, after getting a walkover from an injured Simona Halep, lost a three-setter to Kristina Mladenovic, finally running out of steam down the stretch as she appeared to be battling an illness. Coming in ranked #115, after a qualifying run in Melbourne that preceded her slam MD debut at the AO, Vikhlyantseva will now climb into the Top 100 for the first time. A year ago, the teenager appeared in a pair of $100K challenger finals, defeating Donna Vekic to claim her biggest title in another Saint Petersburg event. In 2015, in the same city, she also reached a $25K final.




In Taipei City, 22-year old Jabeur very nearly reeled in a WHALE of a result. It was still her biggest week as a pro, after having been a junior star at the start of this decade. Ranked #181, Jabeur made it through qualifying, then put up wins over Nicole Gibbs and Shelby Rogers to get the opportunity to face #1-seeded Elina Svitolina. She'd lost to the Ukrainian in the Roland Garros girls final in 2010 (Jabeur came back in '11 and won the RG junior crown), and almost had her revenge served quite cold seven years later on Friday. Jabeur led 5-3 in the 3rd set, served for the match and held four MP before being unable to close things out and seeing Svitolina wiggle off the hook.




Down on the ITF circuit, 17-year old Maiden Vondrousova claimed her second challenger title of the season with a 7-5/6-4 victory over 18-year old Anna Blinkova in the $25K Grenoble final. The Czech, who reached the girls #1 ranking in 2015, is now 5-1 in career singles finals as a pro, with this win now ranking as her biggest so far.



VONDROUSOVA and BLINKOVA

===============================================




DOWN:

Belinda Bencic/SUI, Simona Halep/ROU and Martina Hingis/SUI


...fifty-one weeks ago, Bencic defeated Daria Kasatkina in the semifinals to reach the Saint Petersburg final and rose into the Top 10 for the first time in her career on the following Monday. But after an injury-plagued '16 season, she slipped to #43. She failed to pick up any points in Week 1, playing the Hopman Cup exhibition (but the Mister Federer, so why not?), then retired in her only Week 2 match with an ugly broken toe nail. Unseeded, she was handed an horrendous AO draw (Serena in the 1st Round... I mean, really?), then returned to Russia in Week 5 still looking for her first official '17 win. She's still looking after this time falling to Kasatkina in the 1st Round in front of the Hordette's home soil crowd. Bencic will drop out of the Top 100 after her '16 Saint Petersburg points drop off following next week's Fed Cup action.

Bencic's week didn't get any better in doubles, and neither did the 2017 season of countrywoman/mentor Hingis.

The all-Swiss duo lost in the 1st Round to Dabrowski/Krajicek, falling 6-4/4-6 [10-3] to drop Hingis, already having slipped to #8 in the doubles rankings, to just 10-8 (sans Sania) in doubles play since the break-up of her partnership with Mirza late last summer.

At least Martina has some good memories of this week in her past...


Legend in the making: On this day in 1998, @mhingis defended her #AusOpen title, notching her 4th Grand Slam singles title at the age of 17! pic.twitter.com/OGYBmoIjPP

— Tennis Hall of Fame (@TennisHalloFame) January 31, 2017


Meanwhile, in the same event, Halep's troubling beginning to the new season continued. After being outplayed in Shenzhen by Katerina Siniakova, then upset in the 1st Round in Melbourne by Shelby Rogers while dealing with a knee injury, the Swarmette showed up in Saint Petersburg looking to rebound. She got a nice win over Ana Konjuh, but then pulled out of the event before her next match, citing the same knee ailment that plagued her in Australia. For a player who relies on her wheels to be effective, this was not the development she was looking for.


===============================================




ITF PLAYER:

Tatjana Maria/GER


...in the first $100K challenger of the season, Maria took the title in Midland, Michigan, for the second time in three years, defeating defending champ Naomi Broady in a 6-4/6-7(6)/6-4 final. The 29-year German (#128) had recorded previous wins over Sonya Kenin, Catalina Pella, Kayla Day and Julia Boserup, and her win gives her fourteen career ITF singles crowns, four of which have now come in $100K tournaments.


#DTC17 #WINNER ????@Maria_Tatjana ????
vs. Noami Broady ????

?? 6:4 / 6:7(6) / 6:4
? 2:11 h
? Final
?? @DowTennisCL pic.twitter.com/tX9tpGuLUU

— Tatjana Maria (@Maria_Tatjana) February 5, 2017



===============================================




JUNIOR STAR:

Whitney Osuigwe/USA


...Bannerette Osuigwe grabbed the title at the Grade 1 Asuncion Bowl in Paraguay. The 17-year old defeated #1-seeded Maria Carle and #4 Shelly Krolitzky en route to the final, where she took out Serbia's Draginja Vukovic 6-3/6-2 to claim her biggest win. Osuigwe defeated just-crowned AO junior champ Marta Kostyuk during her run to the semifinals at the Orange Bowl in December, and (AO girls doubles winner) Carson Branstine in the final of the Grade 4 Plantation (Fla.) event in 2015.


Whitney Osuigwe takes one for #TeamUSA in Paraguay G1 today ?????????? pic.twitter.com/m4nfr02PIL

— USTA Player Dev. (@USTA_PD) February 4, 2017


Here she is with new U.S. Fed Cup captain Kathy Rinaldi and Chris Evert late in 2016.


Many thanks to these 2 legends for their input & advice to @whitney_osuigwe after today's matches @USTA_PD @ChrissieEvert & Capt Kathy pic.twitter.com/2dzLBjLQHc

— Temba Makurdi (@temba59) December 22, 2016



===============================================




DOUBLES:

Chan Hao-Ching/Chan Yung-Jan (TPE/TPE) and Jelena Ostapenko/Alicja Rosolska (LAT/POL)


...after a quick start in '16 (16-4, two titles), the Chan sisters slumped a bit over the course of last season (21-14, zero titles) before an October title run in Hong Kong led to a better (6-1) finish. Still, they missed out on their first dual Top 10 season after both had been ranked as high as #5 earlier in the year. They finished as co-#12's, one year after Yung-Jan had been #7.

The high point of the Chans' '16 season was a stretch of back-to-back titles in Kaohsiung and Doha. Last week, with their home nation event moving indoors to Taipei City, they defended the Taiwan Open crown, surviving a 3rd set tie-break over Liu Chang/Zheng Saisai in the semis, then taking down Czechs Lucie Hradecka & Katerina Siniakova 4 & 2 in the final to pick up their ninth title as a duo. Overall, it's Yung-Jan's 18th, and Hao-Ching's 12th.


Our 9th title @wta_taiwan_open pic.twitter.com/O4uVuxxBzE

— ???~YungJan Chan (@YungJan_Chan) February 5, 2017


In Saint Petersburg, 19-year Ostapenko's week began with a singles loss to lucky loser Donna Vekic, but it ended with her first career tour-level title of any kind with 31-year old vet Rosolska. The duo won a pair of 3rd set TB to advance to the final, with took another (10-5) there to defeat Darija Jurak & Xenia Knoll and claim the crown. Jurak/Knoll had also won a pair of TB 3rd sets during the week, and defeated Gavrilova/Mladenovic in the semifinals. For Rosolska, this is career title #6, with the wins coming six different partners. Her first came back in 2008 with Liga Dekmeijere, four years after she'd reached her maiden final with Klaudia Jans in 2004. Ostapenko was six years old at the time.


The doubles winners St. Petersburg Ladies Trophy 2017??E. Ostapenko/A. Rosolska ???? #wta #formulatx #itstennistime pic.twitter.com/h9MJkOPOkT

— Formula TX Company (@Formula_TX) February 5, 2017
===============================================
When Petko goes to an art museum, every masterpiece is fair game...
When you forget your tennis shoes for practice: pic.twitter.com/4qtputMW25

— Andrea Petkovic (@andreapetkovic) February 1, 2017
When somebody talks too much. And nonsense: pic.twitter.com/4MeeLBRzsT

— Andrea Petkovic (@andreapetkovic) February 1, 2017
When you lose 2 pounds after a stomach virus: pic.twitter.com/vLVraHcvmI

— Andrea Petkovic (@andreapetkovic) February 1, 2017
When paparrazzi waits in the bathroom: pic.twitter.com/37Pfuo49GE

— Andrea Petkovic (@andreapetkovic) February 1, 2017
When bae is angry. Do not touch. pic.twitter.com/Me2reirJWB

— Andrea Petkovic (@andreapetkovic) February 1, 2017
When you try to take a "pensively-gazing-off-in-the-distance" selfie. pic.twitter.com/1BEQu8p6Dh

— Andrea Petkovic (@andreapetkovic) February 1, 2017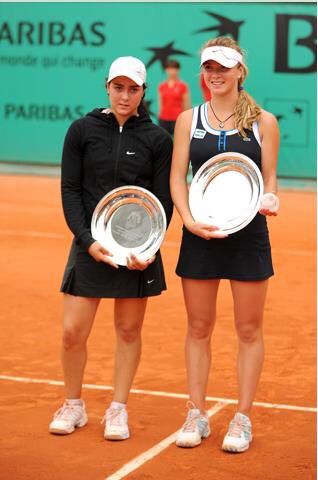 JABEUR and SVITOLINA at RG in 2010


1. Taipei City QF - Elina Svitolina def. Ons Jabeur
...6-1/3-6/7-6(4). Trailing Jabeur, her victim in the '10 RG junior final, 5-3 in the 3rd, things didn't look good for Svitolina. When Jabeur served for the match at 5-4, it looked even worse. Four match points? Well, you know. But experience in big matches counts, and so does a lack of it. How things played out in the closing games showed how differently the pro careers of Svitolina and Jabeur have gone so far, and (for the most part) likely will continue to play out.


Unbelievable tennis from @ElinaSvitolina and @Ons_Jabeur!! ?? #TaiwanOpen pic.twitter.com/pOuBtR2N0T

— WTA (@WTA) February 3, 2017
Elina beats Jabeur 6-1 3-6 7-6(4) after been 3-5 down in the final set and saving 4MPs!!! Once a fighter, always a fighter #FamEli pic.twitter.com/r38nQcl6SF

— E. Svitolina Spain (@SvitolinaSP) February 3, 2017



===============================================


2. Saint Petersburg Final - Kristina Mladenovic def. Yulia Putintseva
...6-2/6-7(3)/6-4. In another match-up which would crown a first-time singles champ (the fourth such winner already in '17), these two battled for 2:36, producing 94 total winners (Mladenovic 62-32) and 67 UE's (46-21). Putintseva made the Pastry work, battling back from 5-2 down in the 2nd to force and win a TB, then nearly climbing out of a 5-1 hole in the 3rd. Mladenovic served at 5-2, only to see Putintseva save three MP, then a fourth when Kiki served for the title again at 5-4. Finally, Mladenovic fired a winner on her 5th MP, ending her 0-3 career run in finals (and leaving Czech Lucie Hradecka unchallenged as the most star-crossed active player in WTA singles finals -- 0-7 career -- on tour today, after Peng Shuai prettied-up her own 0-6 mark with a title run late last season).


This is how you save a match point. @PutintsevaYulia take it away...WOW. #WTA #FormulaTX https://t.co/RbAHbfzfs3

— beIN SPORTS USA (@beINSPORTSUSA) February 5, 2017
First #WTA Title!@KikiMladenovic wins @Formula_TX after defeating Putintseva 6-2, 6-7 (3), 6-4! pic.twitter.com/Iktzpbpg8D

— WTA (@WTA) February 5, 2017
===============================================
Exchange at the net. #Putintseva #Kuznetsova pic.twitter.com/NxQhQkI0jp

— Ashish Jena (@ashishjena94) February 3, 2017


3. Saint Petersburg QF - Yulia Putintseva def. Svetlana Kuznetsova
...6-3/6-7(4)/7-5. Let's see... Kuznetsova stages a comeback in the 2nd, pushing things to a TB, then overcomes a 4-1 deficit there to force a 3rd set. From 3-1 down, the Russian puts herself in position to serve out the match at 5-4. Then she doesn't win another game in the match. Naturally. You can take Sveta back to Russia, but you can't take Sveta (totally) out of Sveta.


===============================================


4. Taipei City Final - Elina Svitolina def. Peng Shuai
...6-3/6-2. The only players with longer season streaks with a singles title than Svitolina's five have either won or reached slam finals.


Top Seed @ElinaSvitolina captures @WTA_Taiwan_Open title!

Defeats Shuai 6-3, 6-2! pic.twitter.com/4x20X1H1QR

— WTA (@WTA) February 5, 2017



===============================================


5. Saint Petersburg 1st Rd. - Daria Kasatkina def. Belinda Bencic 6-2/7-5
Saint Petersburg 2nd Rd. - Natalia Vikhlyantseva def. Daria Kasatkina 7-6(4)/6-2
...days after a shared experience watching the AO men's final, Kasatkina won her Saint Petersburg rematch with Bencic one year after losing to the Swiss in the semis.


The amounts of Stress right now #rafaroger pic.twitter.com/HwGCfbXyZV

— Belinda Bencic (@BelindaBencic) January 29, 2017


But against fellow Hordette teen Vikhlyantseva, any Fear of the Kasatkina from her opponent was nowhere to be found.


===============================================


6. Saint Petersburg 1st Rd. - Elena Vesnina def. Ekaterina Makarova
...6-3/6-1. Makarova leads the doubles partners' singles head-to-head 7-3, but Vesnina has won two of their three match-ups the last two seasons.


===============================================


7. Taipei City 1st Rd. - Mandy Minella def. Jana Cepelova
...1-6/7-6(2)/6-4. Cepelova served for the match at 6-1/6-5, after having come back from 5-2 down. But Minella surged back to force a 3rd set. There, Minella led 5-1, but ultimately had to hold off the Slovak for the win. She took advantage of the victory, reaching the semifinals.


===============================================


8. Saint Petersburg Q3 - Kirsten Flipkens def. Donna Vekic
...6-4/5-7/7-5. In a match-up of doubles partners, Flipkens claimed a MD spot in the final round of qualifying, only to see Vekic get in as a lucky loser and get a 1st Round victory, something which Flipkens did not accomplish. Go figure.


===============================================


HM- Taipei City 1st Rd - Misaki Doi def. Nao Hibino 6-2/2-6/6-4
Taipei City 2nd Rd. - Misaki Doi def. Risa Ozaki 6-4/6-2
...Doi hasn't gotten off to a good start in '17, but back-to-back wins over her countrywomen is something to build on as the season continues.


===============================================






Just Cagla's normal, everyday sort of run. Wait for it...



Basina geleceklerden habersiz kendi halinde kosuyordu ?????? Life is like a box of chocolates, you never know what you're gonna get #runforest?? pic.twitter.com/ThSW4YPpoH

— Çagla Büyükakçay (@CaglaBuyukakcay) February 1, 2017


1. $15K Antalya Final - YANA MORDERGER def. TAYISA MORDERGER
...6-4/6-3. Meeting for the first time in a pro singles final (Tayisa won a junior final match-up in '12), Yana wins the all-Morderger clash of 19-year old, Ukrainian-born Germans. After putting up previous wins over the tournament's #1 and #5 seeds before upsetting her #2-seeded sister, it's world #625 Yana's first pro singles title (#496 Tayisa has three), but she just missed out on sweeping the Antalya event when the twins lost in the doubles final.


===============================================


2. Taipei City Final - CHAN HAO-CHING/CHAN YUNG-JAN def. Lucie Hradecka/Katerina Siniakova
...6-4/6-2. Since the Pliskovas don't seem to be inclined to form a consistent doubles duo, the Chans remain (quite easily) the most formidable all-sisters pair in the world this side of Venus & Serena. Ever, really. They have more than twice as many career titles as the #3 sister duo in tour history.


High ???????????? ???? @wta_taiwan_open pic.twitter.com/TFF6twHa9e

— ???~YungJan Chan (@YungJan_Chan) February 4, 2017



===============================================


3. Saint Petersburg 2nd Rd. - Kristina Mladenovic def. VENUS WILLIAMS
...6-3/6-1. I think we sort of saw this coming. Venus surely didn't think she'd still be playing on the Saturday before the start of this event.


.@VenusesWilliams explores the beautiful city of St. Petersburg--> https://t.co/bLF60pVydj pic.twitter.com/nxo8ZVP4Xy

— WTA (@WTA) February 5, 2017



===============================================


HM- $100K Midland QF - Julia Boserup def. ANNA KAROLINA SCHMIEDLOVA
...2-6/6-2/7-5. AKS, ranked #273, is still trying to work her way back one year after she was still ranked in the Top 30. So far, she's 3-3 on the season, including a straight sets 2nd Round win over Irina Falconi last week. Baby steps. Schmiedlova is scheduled to play Fed Cup for Slovakia next week.


===============================================






Going incognito in public, it's Kristyna and Karolina... or is it Karolina and Kristyna?



To be continued on court again soon, hopefully.

Gettin' in on the act...

Eternal sunshine of the what?
Have you ever had to hit 3 exactly the same overheads to win a point? ??thanks for carrying me @KikiMladenovic ? pic.twitter.com/OpZaYGC3Pn

— Daria Gavrilova (@Daria_gav) February 3, 2017
My dog is kinda an artist..???? pic.twitter.com/OaHm8RtYe4

— A. Pavlyuchenkova (@NastiaPav) February 2, 2017
@NastiaPav hahahahahahaha

— Daria Gavrilova (@Daria_gav) February 2, 2017
@NastiaPav or maybe you are? ??

— Daria Gavrilova (@Daria_gav) February 2, 2017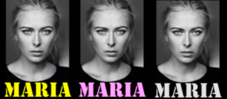 So,you're the most beautiful woman in the world @MariaSharapova ? pic.twitter.com/2Toijjeawq

— Dreampova ? (@dorota_biskup) February 3, 2017
This picture ?????? #draaaama! https://t.co/drHyajaLys

— Maria Sharapova (@MariaSharapova) February 4, 2017




**2017 FIRST-TIME WTA SINGLES CHAMPS**


Auckland - Lauren Davis, USA (23/#61)
Shenzhen - Katerina Siniakova, CZE (20/#52)
Hobart - Elise Mertens, BEL (21/#127)
SAINT PETERSBURG - KRISTINA MLADENOVIC, FRA (23/#51)



**2017 WTA CHAMPIONS BY AGE**


35 - Serena Williams, USA
25 - Johanna Konta, GBR
24 - Karolina Pliskova, CZE
23 - KRISTINA MLADENOVIC, FRA
23 - Lauren Davis, USA
22 - ELINA SVITOLINA, UKR
21 - Elise Mertens, BEL
20 - Katerina Siniakova, CZE



**CON.YEARS W/ WTA SINGLES TITLE - long active streaks**




[won '17 titles]


11 years - Serena Williams (2007-17)
5 years - Karolina Pliskova (2013-17)
5 years - ELINA SVITOLINA (2013-17)


[most recent title in '16]


9 years - Caroline Wozniacki (2008-16)
6 years - Aga Radwanska (2011-16)
6 years - Petra Kvitova (2011-16)
4 years - Simona Halep (2013-16)



**2017 LOW-RANKED WTA SF**


#340 Jana Fett/CRO (Hobart - SF)
#127 Elise Mertens/BEL (Hobart - W)
#115 NATALIA VIKHLYANTSEVA/RUS (SAINT PETERSBURG - SF)



**MOST 2015-17 WTA SEMIFINALS**


19...Angelique Kerber (8/11/0)
18...Aga Radwanska (8/9/1)
16...Serena Williams (9/6/1)
15...ELINA SVITOLINA (6/7/2)
15...Simona Halep (9/6/0)
15...Karolina Pliskova (8/6/1)
11...DOMINIKA CIBULKOVA (1/9/1)
11...Petra Kvitova (5/6/0)
11...Caroline Wozniacki (7/4/0)



**WTA ALL-SISTERS DOUBLES TITLES**


22...Serena & Venus Williams, USA
9...CHAN HAO-CHING & YUNG-JAN, TPE
3...Karolina & Kristyna Pliskova, CZE
3...Alona & Kateryna Bondarenko, UKR
2...Lyudmyla & Nadiia Kichenok, UKR
1...Chris & Jeanne Evert, USA
1...Katerina Maleeva & Manuela Maleeva-Fragniere, BUL/BUL-SUI
1...Cammy & Cynthia MacGregor, USA
1...Aga & Ula Radwanska, POL
1...Adriana & Antonella Serra-Zanetta, ITA



**MIDLAND (ITF) CHAMPIONS - since $100K event**


2010 Elena Baltacha, GBR
2011 Lucie Hradecka, CZE
2012 Olga Govortsova, BLR
2013 Lauren Davis, USA
2014 Heather Watson, GBR
2015 Tatjana Maria, GER
2016 Naomi Broady, GBR
2017 Tatjana Maria, GER
--
OTHER FORMER $75K EVENT WINNERS: Hradecka (2009), Li (2002), Kournikova (1996)



**ALL-TIME HIGH RANKS FOR CZECH PLAYERS**


#1 - Martina Navratilova
#2 - Petra Kvitova*
#2 - Jana Novotna
#3 - Hana Mandlikova
#3 - Karolina Pliskova*
#4 - Helena Sukova
#6 - Lucie Safarova*
#7 - Nicole Vaidisova
--
*-active



Meanwhile, the post-MJF era begins...
Captain #KathyRinaldi announces the @FedCup team. ????vs ????in Maui, Feb 11-12: @CoCoVandey, @BMATTEK, @Riske4rewards & @Shelby_Rogers_ #USTA pic.twitter.com/mTdrwhPp03

— USTA (@usta) February 2, 2017
There aren't any WTA events in Week 6, but that only means it's the first Fed Cup week of 2017.
I'll be back later this week with a preview of all the upcoming ties.
All for now.