AO.7 - Venus, Far and Wide

"When the brown plains spread before me,
And I slacken out the rein,
With a noon sun burning o'er me,
Then I know my loss is gain.

Let me watch the sea-rain falling,
Smell the salt, deck-driven spray;
Let me hear the bush-birds calling
At the dawning of the day.

Let me see the sun-bars streaming
Down the valley, ere the night
Fills the world with pleasant dreaming,
Love and coolness and delight."
---
Excerpt from "Far and Wide"
by E.J. Brady
Bells and Hobbles (1911)


In what was Day 7's second women's Round of 16 match-up, it was expected that #13-seeded Venus Williams would advance past qualifier Mona Barthel to reach her ninth career AO quarterfinal, but just her second in Melbourne in the last seven years. That's just what happened, too, as Venus prevailed over the 26-year old, #181-ranked German both in a 1st set marked by five breaks of serve in its nine games, as well as in a 2nd in which the first break didn't occur until Williams seized final control of the match in game #11 with a forehand winner to break Barthel and take a 6-5 lead.

With a hold to close out a 6-3/7-5 win, Williams ended with 31 winners and was successful on seventeen of twenty-five ventures to the net. Through four rounds, she's yet to lose a set, hasn't had to extend herself in a long match in which she failed to close things out when she had the chance, and hasn't been forced to spend a prolonged amount of time in the Australian summer heat. Or, essentially all the factors that were listed before the start of this tournament and deemed necessary for a deep run at this slam from the 36-year old.


QF awaits @Venuseswilliams after defeating Mona #Barthel 6-3 7-5 #AusOpen pic.twitter.com/HvCLNGBYfU

— #AusOpen (@AustralianOpen) January 22, 2017


Just a day after the anniversary of her first professional match-up with sister Serena, in Melbourne in 1998 (next year it'll be TWENTY years), Venus is still going strong. Playing an active role in the USTA's pick of Kathy Rinaldi as the new Fed Cup captain, a business magazine cover star, and likely with a future in some position of power in the sport if she wants it once she hangs up her racket. Her plate is more than full. But she plays on, not ready to go away anytime soon. She talked of the 2020 Olympics last year, as well. So we can stop asking. She has so much left to give this sport, and much of it might remain within the white lines.


Thrilled to bring my passion for @ElevenByVenus and VStarr Interiors to the cover of @Inc! #femaleentrepreneur https://t.co/RBvVcicXGp pic.twitter.com/8oEpAjYpgV

— Venus Williams (@Venuseswilliams) January 18, 2017


"I was born to play this game," the Grand Dame and Ambassador of Tennis said after today's match. Indeed.


"I was born to play this game...I was meant to do this." @Venuseswilliams #AusOpen pic.twitter.com/1zpqPYrXCH

— #AusOpen (@AustralianOpen) January 22, 2017





=DAY 7 NOTES=
...as for Barthel, even with this loss, Melbourne has been an unqualified success. A Top 25 player as recently as 2013, the German has won three tour titles, but this run as an AO qualifier to her first career slam Round of 16 less than a year after missing time with a back injury and chronic fatigue must make her feel as she's "reset" her entire career. Ranked #181 heading into this event, she's well on her way back, a player all over again within the same German generation that also produced the likes of Kerber, Petkovic and Lisicki.

...with the first half of this Australian Open behind us, Day 7 presented a moment to take stock, then take a step forward... into the unknown. First up on the Laver schedule were a pair of Hordettes who have spent much of the past decade taking stock of things. Sometimes for good, and sometimes for something else. But their paths crossed on this day, and only one would take full advantage of the Melbourne sunshine.


Anastasia #Pavlyuchenkova and Svetlana #Kuznetsova are out on RLA to get 4R underway #AusOpen pic.twitter.com/YAcyOFjxol

— #AusOpen (@AustralianOpen) January 22, 2017


In this all-Russian affair, #8 Svetlana Kuznetsova and #24 Anastasia Pavlyuchenkova met for the eighth time. Sveta held a 5-2 advantage in the head-to-head going into the match, but Pavlyuchenkova won their most recent match-up just a week ago in Sydney, where Kuznetsova was the defending champion.

Kuznetsova outlasted Jelena Jankovic in a 3:36 marathon one round ago at this AO, having been unable to close out the Serb after holding a set and 4-1 advantage before "balancing the scales of tennis karma" by overcoming a 3-0 deficit in the 3rd set. Meanwhile, Pavlyuchenkova had taken it to #11-seeded Elina Svitolina, aggressively outhitting her for the most of the match, though a lapse while trying to close out the win in straight set had forced her, too, to go the distance to get the victory.

Though Kuznetsova had the most slam experience of the two, having twice claimed major titles while Pavlyuchenkova went into the day seeking to match her best-ever slam result (and complete a "Career QF Slam" in her 37th appearance in a major event), it was the 31-year Hordette who was more tentative, not her 25-year old opponent. Perhaps it's precisely that particular trait in Kuznetsova that makes her so relatable to so many. After all, in so many ways, Sveta is us. How we are. How we see ourselves at our very best at some times, but also how we really are when we're so often quite the opposite at others. Just which version of her/us shows up on a given day is often a roll of the dice, but she has found a way -- for one full decade and half of another -- to find a way to shrug it off, smile through the pain, and look for the sunshine that she knows will be just around the bend.

Unfortunately, we didn't see the Kuznetsova of our/her good angels on Sunday. While Pavlyuchenkova was moving into the court with aggression on her mind, Kuznetsova's first step in most points was a backward one, and she often found herself off-balance and lunging for shots that should have been in her strike zone, producing errors rather than solid groundstrokes that might set up a well-constructed point.

Pavlyuchenkova broke Kuznetsova to take a 2-0 lead, and the slow-starting veteran didn't get on the board until she held for the first time in game #4. A double-break lead had Pavlyuchenkova up 5-1 before her nerves quite possibly made their first appearance in the match. Nearly back in the flow of things, Kuznetsova broke to close to within 5-2, then held a game later. But her late arrival had come too late to have any impact on the goings-on in the 1st. Serving for the set, the younger Russian took a 40/love lead, though it took her three set points to finally put the 1st in her back pocket by a 6-3 score.

In the previous seven meetings between the two, the player who claimed the opening set went on to take the win. And nothing would change on Day 7.

Maintaing her aggression, Pavlyuchenkova opened the 2nd set with another break. Come game #6, it was apparent it was going to take a severe change in momentum for anything other than a first career AO quarterfinal berth for Pavlyuchenkova to be the end result. And, for a brief moment, the door appeared to crack open for such a possibility. Serving at 3-2, the younger Russian missed on a backhand down the line, giving Kuznetsova a BP opportunity (just her second in the match). Sveta got the break to level things at 3-3, but wasn't able to back it up with a hold of serve. After a Pavlyuchenkova hold, Kuznetsova spent most of game #9, down 5-3, fighting herself from point to point.

See? Who on tour is more relatable, and a walking and talking symbol of the human existence, than Sveta?

In a match that saw Kuznetsova hold three game points, while also fighting off one match point, the last straw that finally broke the veteran Russian's back turned out to be a weak forehand error into the net on Pavlyuchenkova's second MP.


A dream #AusOpen continues for @NastiaPav.

Into the QFs for the first time after def. #Kuznetsova 6-3 6-3. pic.twitter.com/c2QvJ6EdGT

— #AusOpen (@AustralianOpen) January 22, 2017


With a 6-3/6-3 win, the younger Russian, a two-time junior champ in Melbourne (2006-07) takes another firm step in the direction of the sort of career she was predicted to have a decade ago. Of her four career slam quarterfinal results, two have come in the last six months. The other two were six seasons ago. How many are to follow is anyone's guess.


#Throwback to former Junior Champ @NastiaPav in 2006! #socute #ausopen pic.twitter.com/B6KtlUW9uK

— #AusOpen (@AustralianOpen) January 21, 2017


At the same time, Kuznetsova will now do what she has for so long. Move on, move forward, and look for that burst of sunlight to warm a future day. It'll come, too. She'll will it into existence if she has to.

Meanwhile, Pavlyuchenkova might not be able to explain exactly what she's doing now that is working so well...


"I take it match by match." @NastiaPav into the QF #Pavlyuchenkova #AusOpen pic.twitter.com/St31vpGoh9

— #AusOpen (@AustralianOpen) January 22, 2017


But, hey, why question it or overanalyze the fine points until your head hurts, right? Take it match by match, day by day, and hope for the best.

Just like Sveta, and the rest of us.

...in doubles, there will be no defense of the 2016 women's title, from either woman who shared it.

Following in the footsteps of former partner Martina Hingis (who lost in the 2nd Round with CoCo Vandeweghe), Sania Mirza (with Barbora Strycova) was upset in the 3rd Round on Day 7 by the Japanese pair of Eri Hozumi & Miyu Kato, 6-3/2-6/6-2. It's the best slam result for both of the 22-year olds, who combined to win both a tour-level WD title (Katowice), WTA 125 Series event (Honolulu) and ITF challenger in 2016.

...in the juniors, the first big upset occurred when the player who swept the singles and doubles titles at this past week's Grade 1 tune-up event in Traralgon, Poland's #8-seeded Iga Swiatek, fell in the 1st Round to Taiwan's Pei Hsuan Chen in three sets, 2-6/7-5/6-1. Maja Chwalinska, who won the doubles with Swiatek last week, also lost, losing to #3-seeded Wang Xiyu of China.

#15 Natasha Subhash (USA) was upset by Russia's Sofya Lansere, while another Bannerette, #13-seeded Carson Branstine knocked off Patricia Apisah (PNG), whose sister knocked off #12-seeded U.S. girl Caty McNally yesterday. Meanwhile, Aussie Michaela Haet defeated Hurricane Tyra Black.
The weekend schedule in Melbourne ends with #7 Garbine Muguruza facing off with Sorana Cirstea on a late-in-the-day starting match on MCA, which will have no "official" night session schedule. Meanwhile, the final Sunday match on Laver will feature defending champ and world #1 Angelique Kerber going against CoCo Vandeweghe.

The winners face each other in the QF as things TRULY begin to get serious come Monday.



...MEMORIES ON DAY 7:
January 21, 1998 ??@VenusesWilliams played @SerenaWilliams at the @AustralianOpen in their first professional match against each other! pic.twitter.com/FBuRuC1RsI

— WTA (@WTA) January 21, 2017





...LIKE ON DAY 7:

When the "Barty Party" carries off the court...


Absolutely nailed my drawing of @caseydellacqua in the #AusOpen Blue Room ?? Not too sure the boss agrees ?? pic.twitter.com/u5I2Nmujsy

— Ash Barty (@ashbar96) January 21, 2017





...LIKE ON DAY 7:

It continues...


?? til the one day when the lady met with J.Loeb ??

[@jennifurbrady95 & @jloeb308 punting on Ornamental Lake at @RBG_Victoria ??????]#AusOpen pic.twitter.com/jLDne2g76g

— #AusOpen (@AustralianOpen) January 22, 2017


Who gets to play Alice the housekeeper?






...LIKE ON DAY 7:

Petko


.@andreapetkovic tries some #AusOpen karaoke in the Twitter Blue Room pic.twitter.com/cYwgIcCXCj

— #AusOpen (@AustralianOpen) January 22, 2017





...LIKE ON DAY 7:

Really, Lindsay Davenport's son Jagger is the real star here.

"I hope you don't die."


Mary Carillo visits the Melbourne Aquarium and swims with sharks! Would you swim with sharks? #MaryinMelbourne #AusOpen pic.twitter.com/bkD3BKjCHB

— Tennis Channel (@TennisChannel) January 22, 2017





...Hmmm... ON DAY 7:

There's got to be more to the story here...


...and, finally... yep, in the U.S., we worry about the big stuff, like angrily holding everyone "accountable" for reporting crowd sizes. Or, you know, making sure your thin-skinned boss doesn't has his woottle feewings hurt on his first day on the job.


Never seen anything this petty & angry from a government spokesman in my life and I write about the Middle East, which is currently on fire. https://t.co/rKEWzu5UQK

— Arash Karami (@thekarami) January 22, 2017
"This was the largest audience to ever witness an inauguration -- period," Trump White House press secretary falsely claims. Patently false. pic.twitter.com/QL971jmyMt

— Bradd Jaffy (@BraddJaffy) January 21, 2017




*WOMEN'S SINGLES ROUND OF 16*


#1 Angelique Kerber/GER vs. CoCo Vandeweghe/USA
Sorana Cirstea/ROU vs. #7 Garbine Muguruza/ESP
#13 Venus Williams/USA def. (Q) Mona Barthel/GER
#24 Anastasia Pavlyuchenkova/RUS def. #8 Svetlana Kuznetsova/RUS
#5 Karolina Pliskova/CZE vs. #22 Dasha Gavrilova/AUS
(Q) Jen Brady/USA vs. Mirjana Lucic-Baroni/CRO
#30 Ekaterina Makarova/RUS vs. #9 Johanna Konta/GBR
#16 Barbora Strycova/CZE vs. #2 Serena Williams/USA



*WOMEN'S DOUBLES ROUND OF 16*


#1 Garcia/Mladenovic (FRA/FRA) vs. #13 Srebotnik/Sai.Zheng (SLO/CHN)
Groenefeld/Peschke vs. (WC) Barty/Dellacqua (AUS/AUS)
#3 Makarova/Vesnina (RUS/RUS) def. Golubic/Kr.Pliskova (SUI/CZE)
#12 Hlavackova/Peng (CZE/CHN) def. Klepac/Martinez-Sanchez (SLO/ESP)
Lucic-Baroni/Petkovic (CRO/GER) def. #8 King/Shvedova (USA/KAZ)
Hozumi/Kato (JPN/JPN) def. #4 Mirza/Strycova (IND/CZE)
Ch.Liang/Zhao.Yang (CHN/CHN) vs. #11 Atawo/Yi.Xu (USA/CHN)
Babos/Pavlyuchenkova (HUN/RUS) vs. #2 Mattek-Sands/Safarova (USA/CZE)




Racing into Sunday like...#ausopen pic.twitter.com/JDfovvpAj6

— #AusOpen (@AustralianOpen) January 21, 2017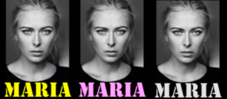 So that's where she gets it from...









*AO "LAST QUALIFIER STANDING" WINNERS*




=2006=


Olga Savchuk, UKR (3rd Rd.)


=2007=


Anne Kremer, LUX (all 2nd Rd.)
Alla Kudryavtseva, RUS
Tamira Paszek, AUT
Julia Vakulenko, UKR
Renata Voracova, CZE


=2008=


Marta Domachowska, POL (4th Rd.)


=2009=


Elena Baltacha, GBR (all 2nd Rd.)
Alberta Brianti, ITA
Sesil Karatantcheva, KAZ


=2010=


Yanina Wickmayer, BEL (4th Rd.)


=2011=


Vesna Manasieva (now Dolonc/SRB), RUS (3rd Rd.)


=2012=


Nina Bratchikova, RUS (3rd Rd.)


=2013=


Valeria Savinykh, RUS (both 3rd Rd.)
Lesia Tsurenko, UKR


=2014=


Zarina Diyas, KAZ (3rd Rd.)


=2015=


Lucie Hradecka, CZE (3rd Rd.)


=2016=


Zhang Shuai, CHN (QF)


=2017=


Mona Barthel, GER (lost in 4th Rd.)
Jennifer Brady, USA (to play in 4th Rd.)



*AUSTRALIAN OPEN GIRLS FINALS - since 2005*


2005 Victoria Azarenka/BLR def. Agnes Szavay/HUN
2006 Anastasia Pavlyuchenkova/RUS def. Caroline Wozniacki/DEN
2007 Anastasia Pavlyuchenkova/RUS def. Madison Brengle/USA
2008 Arantxa Rus/NED def. Jessica Moore/AUS
2009 Ksenia Pervak/RUS def. Laura Robson/GBR
2010 Karolina Pliskova/CZE def. Laura Robson/GBR
2011 An-Sophie Mestach/BEL def. Monica Puig/PUR
2012 Taylor Townsend/USA def. Yulia Putintseva/RUS
2013 Ana Konjuh/CRO def. Katerina Siniakova/CZE
2014 Elizaveta Kulichkova/RUS def. Jana Fett/CRO
2015 Tereza Mihalikova/SVK def. Katie Swan/GBR
2016 Vera Lapko/BLR def. Tereza Mihalikova/SVK
2017 ?



*AO WOMEN'S DOUBLES CHAMPIONS - since 2005*


2005 Svetlana Kuznetsova & Alicia Molik, RUS/AUS
2006 Yan Zi & Zheng Jie, CHN/CHN
2007 Cara Black & Liezel Huber, ZIM/RSA
2008 Alona Bondarenko & Kateryna Bondarenko, UKR/UKR
2009 Serena Williams & Venus Williams, USA/USA
2010 Serena Williams & Venus Williams, USA/USA
2011 Gisela Dulko & Flavia Pennetta, ARG/ITA
2012 Svetlana Kuznetsova & Vera Zvonareva, RUS/RUS
2013 Sara Errani & Roberta Vinci, ITA/ITA
2014 Sara Errani & Roberta Vinci, ITA/ITA
2015 Bethanie Mattek-Sands & Lucie Safarova, USA/CZE
2016 Martina Hingis & Sania Mirza, SUI/IND
2017 ?



**AO MIXED DOUBLES CHAMPIONS - since 2005**


2005 Samantha Stosur & Scott Draper, AUS/AUS
2006 Martina Hingis & Mahesh Bhupathi, SUI/IND
2007 Elena Likhovtseva & Daniel Nestor, RUS/CAN
2008 Sun Tiantian & Nenad Zimonjic, CHN/SRB
2009 Sania Mirza & Mahesh Bhupathi, IND/IND
2010 Cara Black & Mahesh Bhupathi, ZIM/IND
2011 Katarina Srebotnik & Daniel Nestor, SLO/CAN
2012 Bethanie Mattek-Sands & Horia Tecau, USA/ROU
2013 Jarmila Gajdosova & Matthew Ebden, AUS/AUS
2014 Kristina Mladenovic & Daniel Nestor, FRA/CAN
2015 Martina Hingis & Leander Paes, SUI/IND
2016 Elena Vesnina & Bruno Soares, RUS/BRA
2017 ?



**WTA "CAREER QF SLAM" - active**




[w/ slam where completed, quickest-to-slowest]


V.Williams - 1998 WI (6th appearance in major)
S.Williams - 2001 RG (12th)
Sharapova - 2005 US (12th)
Kuznetsova - 2006 RG (16th)
Halep - 2015 US (22nd)
Date - 1995 WI (23rd)
Cibulkova - 2014 AO (26th)
Azarenka - 2012 US (28th)
Kvitova - 2015 US (30th)
Kerber - 2016 AO (33rd)


Pavlyuchenkova - 2017 AO (37th)


Schiavone - 2011 AO (42nd)
==
ALSO: Hingis - 1997 WI (11th)












TOP QUALIFIER:

Elizaveta Kulichkova/RUS




TOP EARLY ROUND (1r-2r):

#5 Karolina Pliskova/CZE (4 games lost)




TOP MIDDLE-ROUND (3r-QF):

x


TOP LATE ROUND (SF-F):

xx


TOP QUALIFYING MATCH:

Q1 - Ons Jabeur/TUN def. Dalila Jakupovic/SRB 2-6/7-6(5)/7-5 (comeback from 6-2/4-1 down)




TOP EARLY RD. MATCH (1r-2r):

1st Rd. - Lucie Safarova/CZE def. Yanina Wickmayer/BEL 3-6/7-6(7)/6-1 (saved 9 MP)




TOP MIDDLE-RD. MATCH (3r-QF):

3rd Rd. - Kuznetsova d. Jankovic (3:36)


TOP LATE RD. MATCH (SF-F/Jr./Doub.):

x


TOP LAVER/MCA NIGHT MATCH:

3rd Rd. - Ka.Pliskova d. Ostapenko (double-break down at 5-2 in 3rd set)


=============================




FIRST VICTORY:

#29 Monica Puig/PUR (def. Tig/ROU)




FIRST SEED OUT:

#4 Simona Halep/ROU (lost to Rogers/USA)




UPSET QUEENS:

United States




REVELATION LADIES:

Australia




NATION OF POOR SOULS:

Romania (First Loss, First Seed Out & two players ranked in Top 32 ousted in 1st Rd.)




LAST QUALIFIER STANDING:

In 4th Rd.: Barthel/GER(L), Brady/USA


LAST WILD CARD STANDING:

Ash Barty/AUS (3rd Rd.)




LAST AUSSIE STANDING:

Dasha Gavrilova (in 4th Rd.)




Ms. OPPORTUNITY:

Nominees: Konta/GBR, Pavlyuchenkova/RUS, Vandeweghe/USA, Makarova/RUS
IT (??): Nominee: Brady/USA, Cirstea/ROU, Barty/AUS, Pavlyuchenkova/RUS


COMEBACK PLAYER:

Nominees: Barty/AUS, Cirstea/ROU, Barty/Dellacqua


CRASH & BURN:

#4 Simona Halep/ROU (1st Rd./Rogers; 2 con. AO 1st Rd. exits)




ZOMBIE QUEEN:

[Day 7 Standings]


1.

Safarova (1st Rd. - saved 9 MP vs. Wickmayer)


2.

#5 Ka.Pliskova (3rd Rd. - down double-break 5-2 in 3rd set vs. Ostapenko, who twice served for match; won 10-8)


3.

Brady (2nd Rd. - saved 5 MP vs. Watson; 3rd Rd. - Vesnina served for 1st set, Brady wins in straights)


KIMIKO VETERAN CUP:

Nominees: Lucic-Baroni/CRO, V.Williams/USA, S.Williams/USA, Strycova/CZE


LADY OF THE EVENING:

Nominee: Gavrilova/AUS ("The Dasha Show: The Sequel")


DOUBLES STAR:

x


JUNIOR BREAKOUT:

x



All for Day 7. More tomorrow.