Wk.31- Scenarios-a-Poppin'
Earth to the WTA... the Supernova may have just landed.


With Maria Sharapova's defense of her San Diego title, which a year ago served as a prelude to her U.S. Open victory, is the Russian world #2 now ready to rumble into New York City with Scenarios a poppin' for turning around a disappointing season (by her standards) in grand fashion? In fact, showing how quickly things can change on the WTA tour (just ask Miss Chakvetadze, who USED to lead the U.S. Open Series points standings), could she step onto Arthur Ashe Stadium on Night 1 (oh, U.S. Open matches under the lights... I just got goosebumps) favored to repeat as champ, even as six different women have reigned at the year's final slam the last six years?

Remember, Justine Henin's injured wrist has kept her out since Wimbledon. Ana Ivanovic is just returning to action this week. Serena's left wrist doesn't seem to want to heal. Venus blew a nearly-won match last week against Anna Chakvetadze, who's still not proven to be a force at a slam in her own right. Jelena Jankovic has wobbled a bit since not playing that new-city-every-week schedule. While Svetlana Kuznetsova and Amelie Mauresmo haven't played a WTA match this quarter.

If the Supernova wins this week in Los Angeles it will be difficult to deny her the "favorite" tag. At the very least, her mind, game and serve (maybe not necessarily in that order) seem to be back in tune. Her first singles title in nearly ten months also places Sharapova back at the head of the Horde class, if there was ever any true doubt that's she'd abdicated her position. San Diego was the first Tier I won by a Russian this season, but they're three-for-three in North American hard court events this summer, and the other Russian champion, Chakvetadze, holds a career 0-5 record against Sharapova.

So, once again, the "Sharapova Scenario" rears its head in these parts.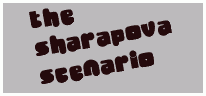 **BACKSPIN HISTORY OF THE SCENARIO**
December 2005 - Intriguing Question #5
August 2006/Week 31-"The Scenarios Abound"
October 2006/Week 42-"The Supplemental Scenario"
January 2007 - Intriging Question #3

This month was originally designed to be the eve of the Scenario's commencement, leading into a late '07 surge that would include a U.S. Open title and possible YEC crown thrown in for good measure, followed up by a title in Oz and at SW19 in '08 to solidify a 12-18 month period of relative Supernova dominance. After shortening her serve motion and finding a way back into the winner's circle, maybe the biggest hinderance (an injured shoulder that led to a scratchy serve and ever-more-fragile confidence) to the Scenario's kickoff has been eradicated.

Barring a bad L.A. story, and unless Serena miraculously is healed (again) and fierce (again) in New York, the rest of the field might want to clear a path for the possibility of only the second U.S. Open repeat in the past decade, and only the fifth in the last twenty years.

I'm just sayin', Houston... maybe we don't have a problem anymore.



*WEEK 31 CHAMPIONS*




SAN DIEGO, CALIFORNIA USA (I-Hard)
S: Maria Sharapova d. Patty Schnyder 6-2/3-6/6-0
D: Black/Huber d. Azarenka/Chakvetadze


STOCKHOLM, SWEDEN (IV-Hard)
S: Agnieszka Radwanska d. Vera Dushevina 6-1/6-1
D: Medina-Garrigues/Ruano-Pascual d. C.Chan/Luzhanska




PLAYER OF THE WEEK: Maria Sharapova
...the Supernova's title defense was the first time she'd tasted such success since winning Zurich and Linz back-to-back last October.


=============================


RISERS: Anna Chakvetadze & Sania Mirza
...hmmm, I'm sensing a pattern here. So far, every week of the North American hard court season has seen a string of highlight results for these two 20-year olds. In San Diego, the Doll followed up her back-to-back Cincinnati & Stanford titles with a SF and victory over Venus Williams (plus another Doubles RU); while Mirza knocked off Top 20 players Shahar Peer and Dinara Safina. In fact, the only thing that could seem to stop these two last week was Sharapova, who beat both of them.


=============================


SURPRISES: Julia Goerges & Maria Kirilenko


...the German blitz this week includes 18-year old qualifier Goerges reaching her first tour SF in Stockholm with wins over Camerin, Zakopalova and Loit. Meanwhile, just when it was starting to appear easy to write off Kirilenko as anything but Maria Version 2.0, she goes to San Diego and posts big wins over Lucie Safarova and Jelena Jankovic in reaching the QF. Thing is, it's week like this that make the Russian's mediocre results the rest of the season so vexing.


=============================


VETERANS: Cara Black/Liezel Huber & Patty Schnyder


...in her first event since becoming an American citizen, South African-born Huber joined with Cara Black to win their tour-leading sixth title of the season in San Diego. It's the pair's biggest title of the year... umm, if you don't count those Australian Open and Wimbledon titles, that is. Sneaky Patty didn't have to deal with Sania this week, and instead went down to Sharapova in the SD final. Sure, she was likely ticked off about that love set to end the tournament, but hopefully wins ovr Dementieva, Petrova and Hingis will spare Rainer from too many dirty looks this week.


=============================


FRESH FACES: Agnieszka Radwanska & Vera Dushevina
...18-year old A-Rad became the first Polish singles champ in WTA history in Stockholm, appropriately going through a fellow countrywoman -- Marta Domachowska in the 2nd Round -- who'd once been expected to accomplish the feat to do it. Radwanska also got nice wins over Caroline Wozniacki, Tsvetana Pironkova and Vera Dushevina while pushing her ranking to a career-best #33. (Of course, I wish she'd done this a few weeks ago when I picked her to check herself off my preseason "first title" prediction list... rather than when Pierre picked her last week. Grrr.) Dushevina was RU in Stockholm after reaching her first final since Eastbourne '05, knocking off Emma Laine and Dominika Cibulkova (who had knocked off #1-seed Anabel Medina-Garrigues) along the way.


=============================


DOWN: Venus Williams
...Venus' SF collision with Sharapova was derailed when she lost to the same Chakvetadze she'd destroyed a few weeks ago in Fed Cup play. Of course, it's not so much the loss that will be remembered here as the double-fault Williams committed on match point in the 2nd set of the three-set loss. Meanwhile, Serena's left wrist injury lingers and the questions will soon begin to become louder when it comes to her availability for play at the U.S. Open.


=============================






1. SD QF - Chakvetadze d. V.Williams
...6-7/7-6/6-2. Was Venus' double-fault on match point, and subsequently blown match, a sign that her summer surge has already reached its zenith and it might be June/July 2009 before we see THAT Venus again?


=============================


2. Stock Final - A.Radwanska d. Dushevina


...6-1/6-1. A-Rad is the eleventh first-time champion in '07, and she claimed a crown in her first WTA final (fellow Pole Domachowska is 0-3).


=============================


3. SD Final - Sharapova d. Schnyder
...6-2/3-6/6-0. And the Supernova closes out the history of the 24-year old tournament.


=============================


4. SD 1st - Mirza d. Peer
...6-3/4-6/6-2. The Princess' Greatest Hits keep comin' on the North American hard courts.


=============================


5. SD QF - Dementieva d. Kirilenko
...6-2/6-4. Punch-Sober also knocked off La Trufflette, and she tries to defend her L.A. title this week.


=============================


HM- Stock 1st - Cohen Aloro d. Meusburger
...6-2/6-2. Consistency is what separates the contenders from the pretenders on the tour. Days after reaching her first career final in Bad Gastein, Meusburger fell in straights in the 1st Round.


=============================





**DEFENDED TITLES IN 2007**


Feb - Amelie Mauresmo, Antwerp 2005-07
Feb - Justine Henin, Dubai 2006-07
Jun - Justine Henin, Roland Garros 2005-07
Jun - Justine Henin, Eastbourne 2006-07
AUG - MARIA SHARAPOVA, SAN DIEGO 2006-07



**CAREER TIER I TITLES - ACTIVE**


17..Martina Hingis
11..Lindsay Davenport
8...Justine Henin
8...Serena Williams
6...Amelie Mauresmo
6...Venus Williams
5...MARIA SHARAPOVA
5...Mary Pierce



**2007 TEEN CHAMPS**


18...AGNIESZKA RADWANSKA/POL (STOCKHOLM)*
18...Agnes Szavay/HUN (Palermo)
19...Tatiana Golovin/FRA (A.Island)
19...Yaroslava Shvedova/RUS (Bangalore)
19...Ana Ivanovic/SRB (Berlin)
19...Anna Chakvetadze/RUS (Hobart)
-


*-18 years, 5 months





**2007 SEMIFINALISTS BY COUNTRY**


33...RUSSIA
16...France
16...Serbia
14...Italy
12...Belgium
8....United States



**2007 DOUBLES TITLES**


6...CARA BLACK
6...LIEZEL HUBER
5...Lisa Raymond
5...Samantha Stosur
4...Mara Santangelo
3...Yung-Jan Chan
3...Chia-Jung Chuang
3...Sania Mirza



**WON 2007 ITF/WTA TITLES**


Agnes Szavay/HUN - Zagreb $75K, Palermo I
AGNIESZKA RADWANSKA/POL - BIELLA $100K, STOCKHOLM IV


LOS ANGELES, CALIFORNIA USA (II-HCO)
2006 FINAL: Dementieva d. Jankovic
2007 TOP: Sharapova/Jankovic
=============================


=QF=


Sharapova d. Dementieva
Petrova d. Mirza
Ivanovic d. Kirilenko
Jankovic d. Azarenka


=SF=


Sharapova d. Petrova
Ivanovic d. Jankovic


=FINAL=




Sharapova d. Ivanovic



...the Supernova is a-poppin'.





QF:


Sharapova(1) def Hantuchova(5)
Petrova(4) def Mirza
Ivanovic(3) def Kirilenko
Jankovic(2) def Safina(8)


SF:


Sharapova(1) def Petrova(4)
Jankovic(2) def Ivanovic(3)


F:




Jankovic(2) def Sharapova(1)




All for now.